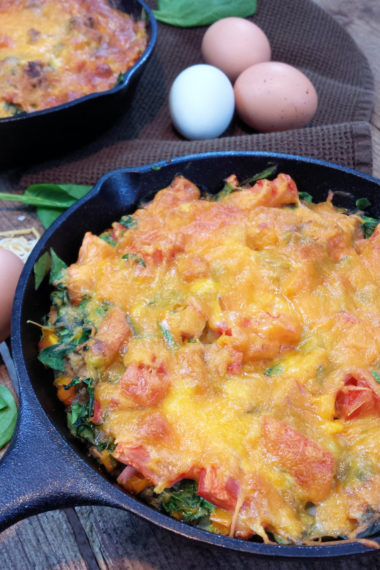 Everyone knows that breakfast is an extremely important meal. Therefore, start your day off right with delicious and hearty breakfast skillets. 

To help support our blogging activities, our site contains affiliate links. If you make a purchase from a link on our site, we may receive a small percentage of that sale, at no extra cost to you. Blessed Beyond Crazy is a participant in the Amazon Services LLC Associates Program, an affiliate advertising program designed to provide a means for sites to earn advertising fees by advertising and linking to amazon.com.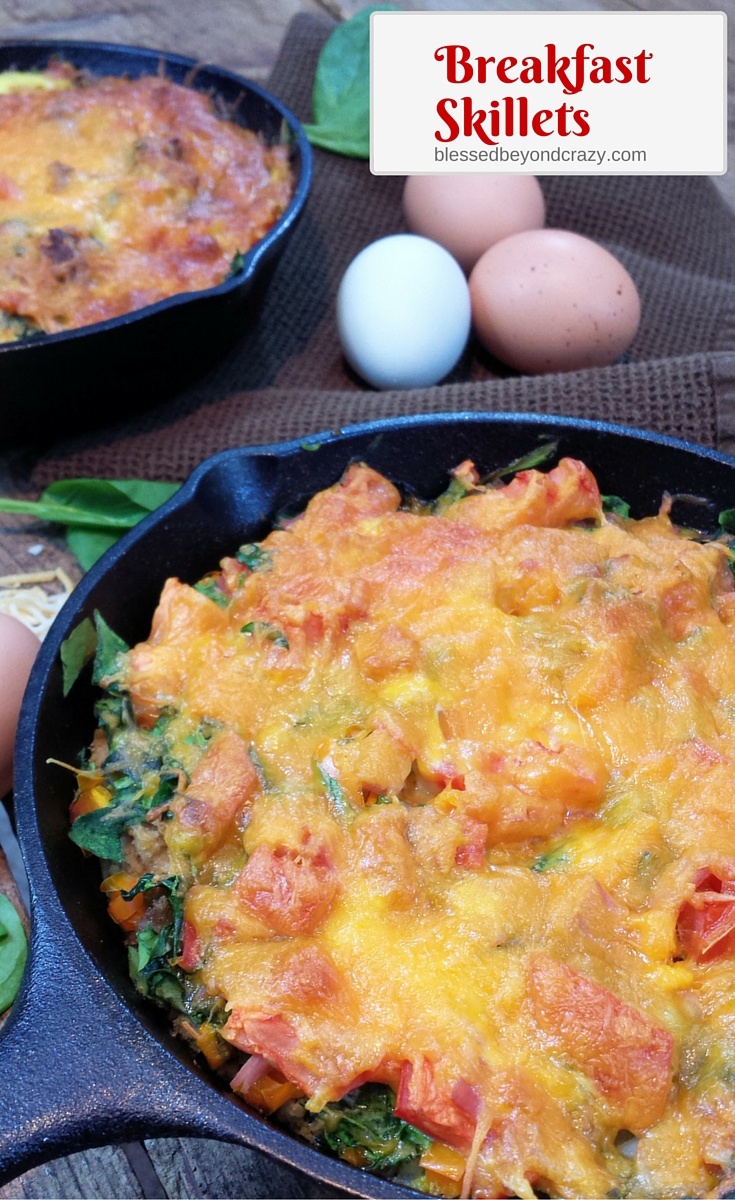 I don't know about you, but I love all kinds of breakfast food. I have found that if I eat a hearty breakfast (including protein and vegetables) I'm not starving within a couple of hours. It's easy to add your favorite veggies, meat, cheese, and seasonings.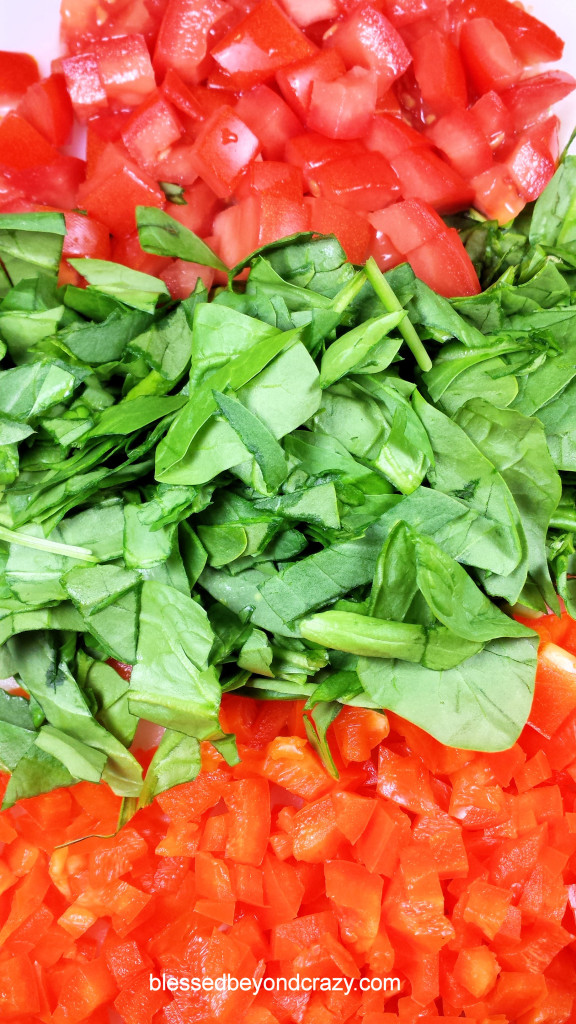 Breakfast skillets provide you options:
A great way to use up some of those leftover fresh veggies

They are a great way to get the kiddos to eat more veggies

Perfect for whenever you have an overnight guest

You can make these skillets for any meal of the day

The skillets can easily be modified to be gluten-free, dairy-free, soy-free, low-carb, vegan, vegetarian, or paleo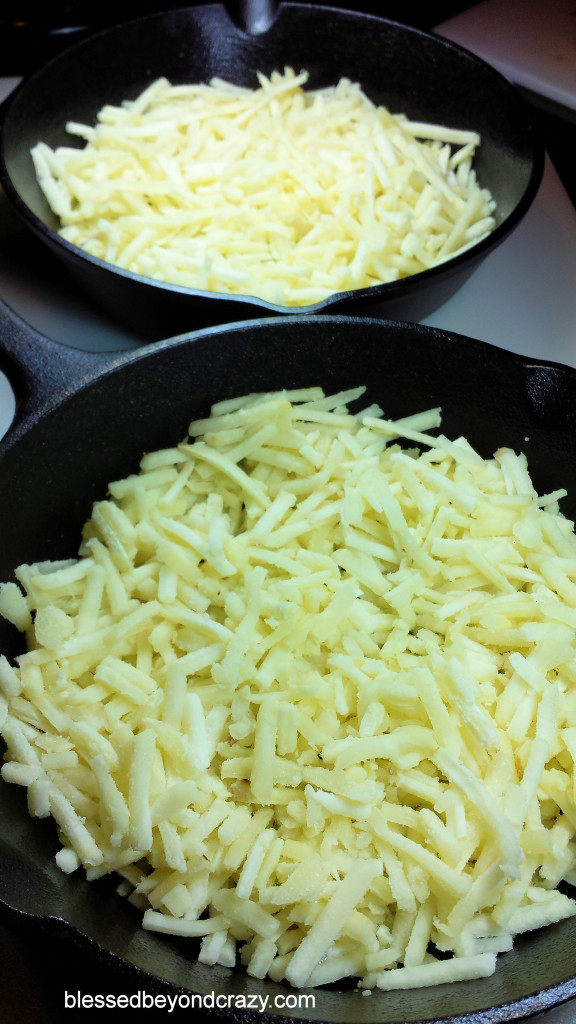 Cast-Iron Skillets
For my breakfast skillets, I greased two 9-inch mini cast iron skillets and covered the bottom of each with thawed and uncooked gluten-free hash browns. If you are on a low-carb diet you can easily skip this step.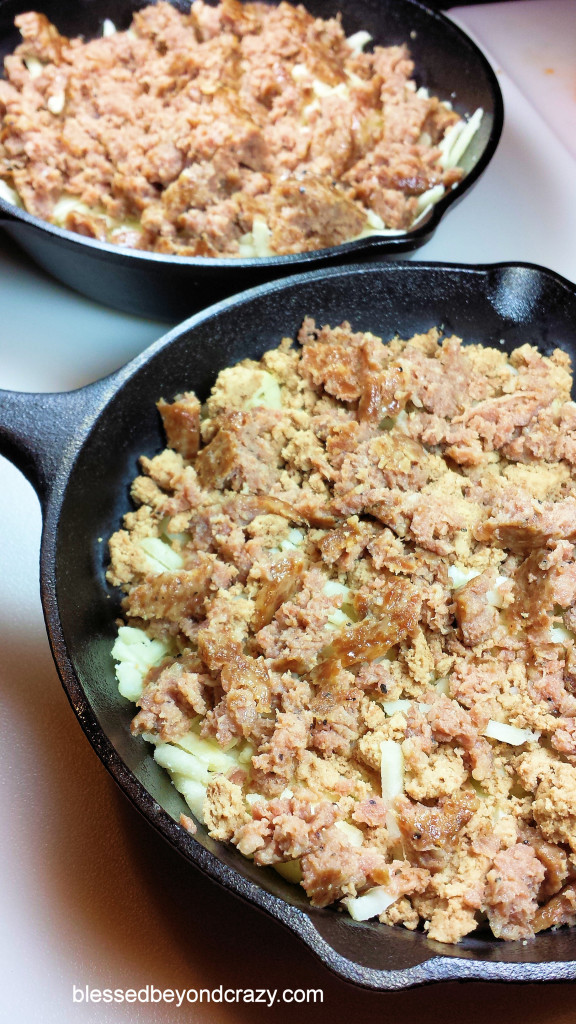 Layer Ingredients
I then placed gluten-free sausage on top of the hash browns.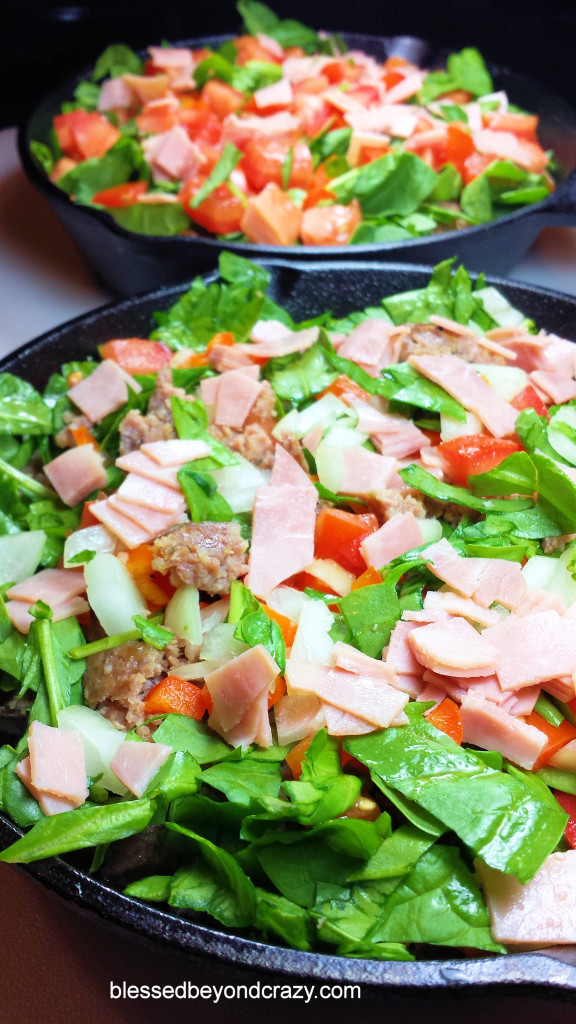 Veggies
Next, I added chopped red peppers, tomatoes, onions, spinach and chopped ham to the breakfast skillets. I added extra tomatoes and spinach and omitted the onion and used less cheese on mine.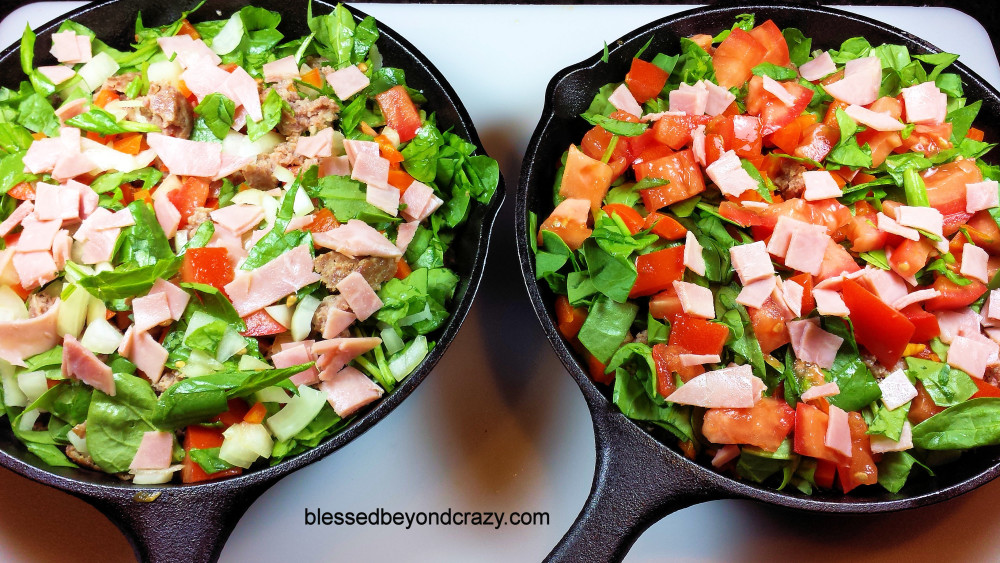 Eggs
For the next step, I whisked together 8 large cracked eggs, 1/2 cup milk and a dash of salt and pepper into a mixing bowl. I poured half of the mixture over one of the ingredients in one skillet and the remaining egg mixture over the other skillet.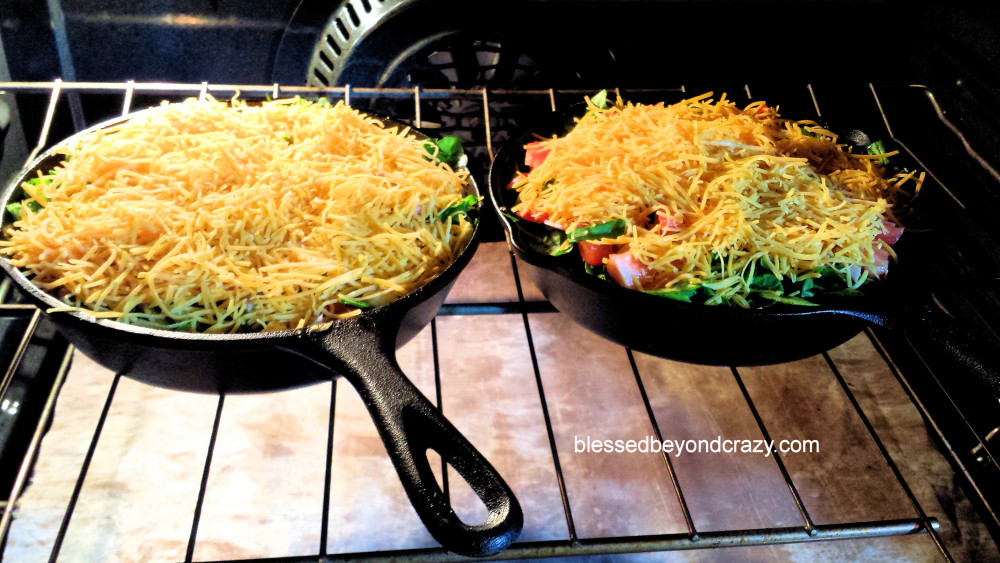 Bake
I topped each skillet off with some shredded cheddar and plopped them into my preheated oven and baked them at 350 degrees F for approximately 30 – 35 minutes.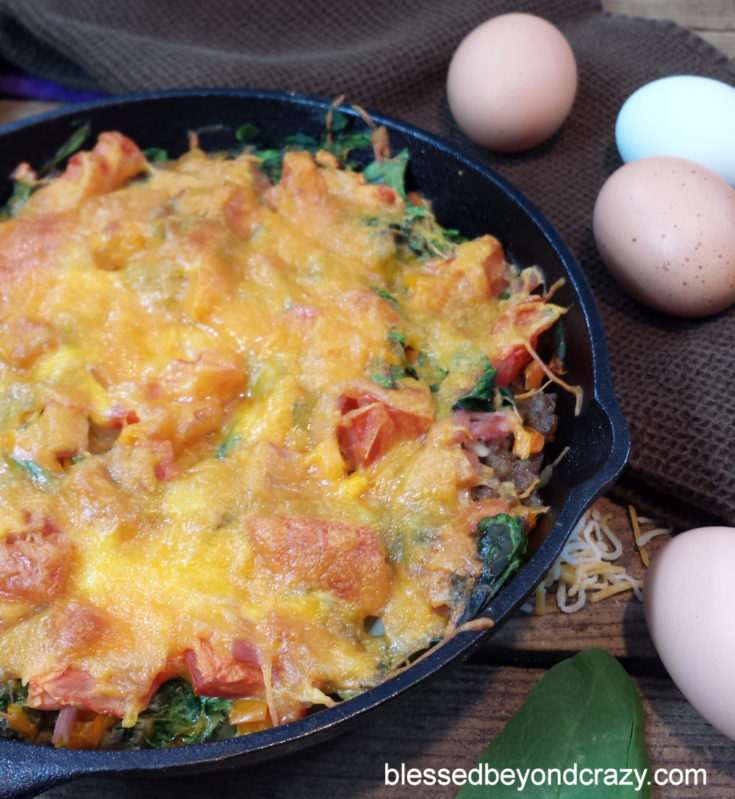 Yield:

Yields two 9-inch cast iron skillets
Breakfast Skillets
A delicious and hearty breakfast.
Ingredients
1 pound hash Browns (GF Option: use gluten-free brand of hash browns)
1 pound sausage (GF Option: use gluten-free brand of sausage)
2 cups red pepper, chopped
2 cups tomatoes, diced
2 cups onions, chopped
2 cups spinach, chopped
1 pound ham, chopped
8 large eggs
1/2 cup milk
dash of salt and pepper
1 pound cheese, shredded
Instructions
Grease two 9-inch cast iron skillets. Cover the bottom of each with thawed, uncooked hash browns. Top with cooked sausage, red peppers, tomatoes, onions, spinach, and chopped ham.
In a bowl, whisk eggs, milk, salt, and pepper. Pour half of the mixture over the ingredients in one skillet and the remaining egg mixture over the second skillet.
Top each skillet with cheese.
Bake in a preheated 350-degree F oven for approximately 30 - 35 minutes.
Notes
Feel free to add additional vegetables and meat.
Notice the Heavy Duty Non-Stick Oven Liner? I always use this in my oven to catch any spills when my creations are baking. It works like a gem and it's so easy to clean and prevents you from having to clean your oven so much. Simply wipe it off with a dishcloth or sponge. (Think stocking stuffer!)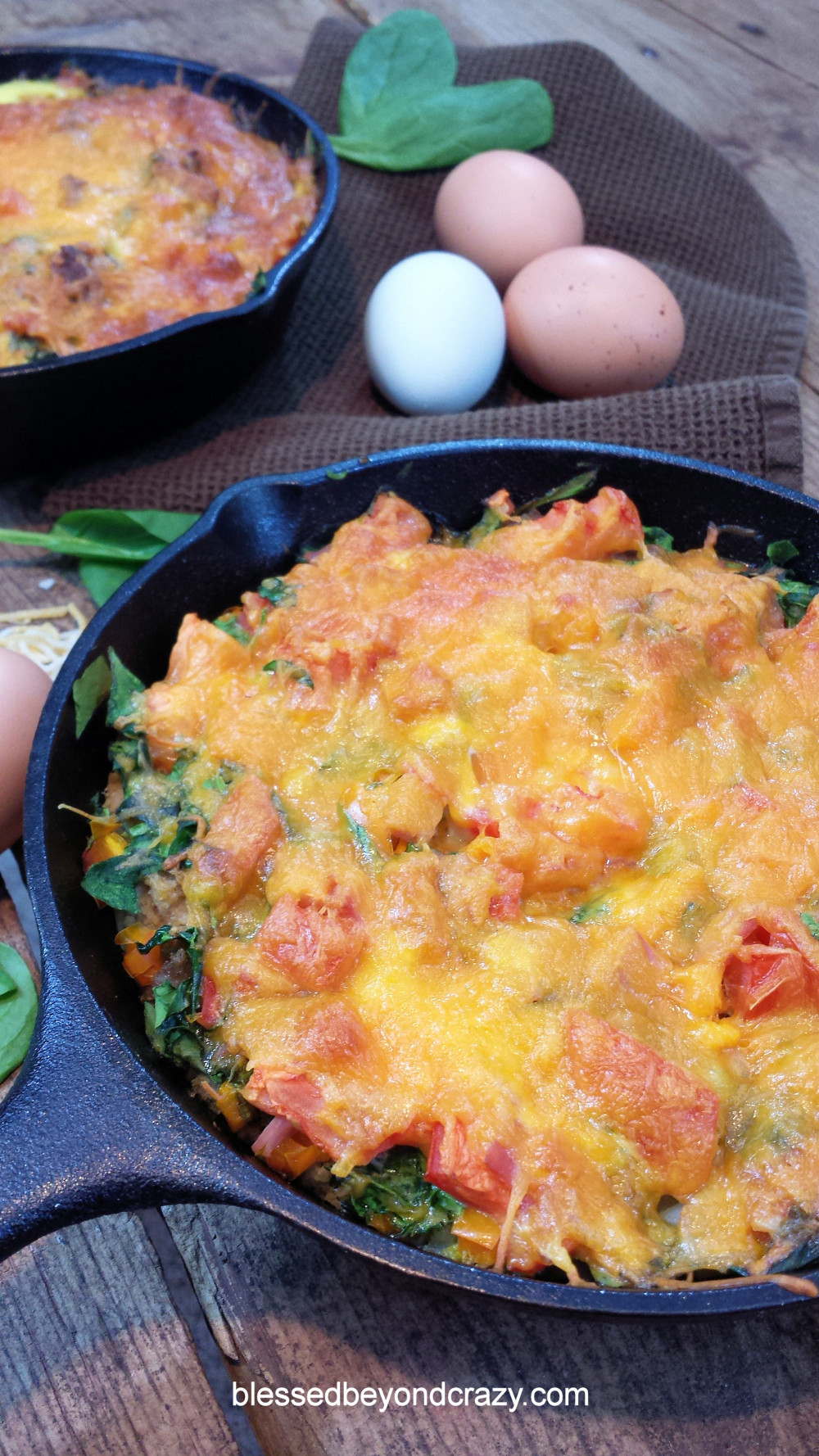 Serve
These breakfast skillets are super filling and neither my husband nor I could eat the whole thing in one sitting. We ate what we wanted, placed the leftovers in a glass container with a lid, and heated it up the next morning for breakfast. If you and your sweetie like the exact same ingredients, you could easily share one skillet between the two of you.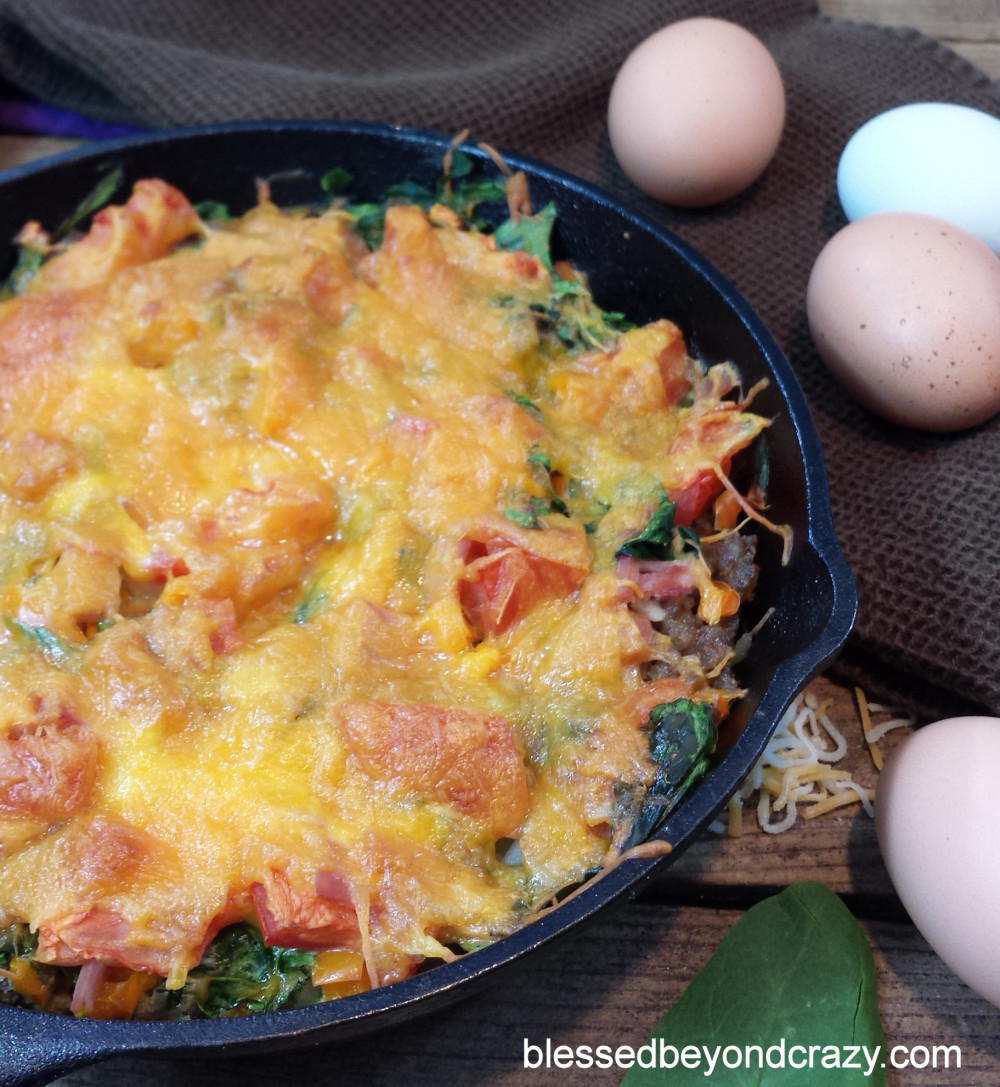 I love the layers of yummy hash browns, meat, veggies, and cheese.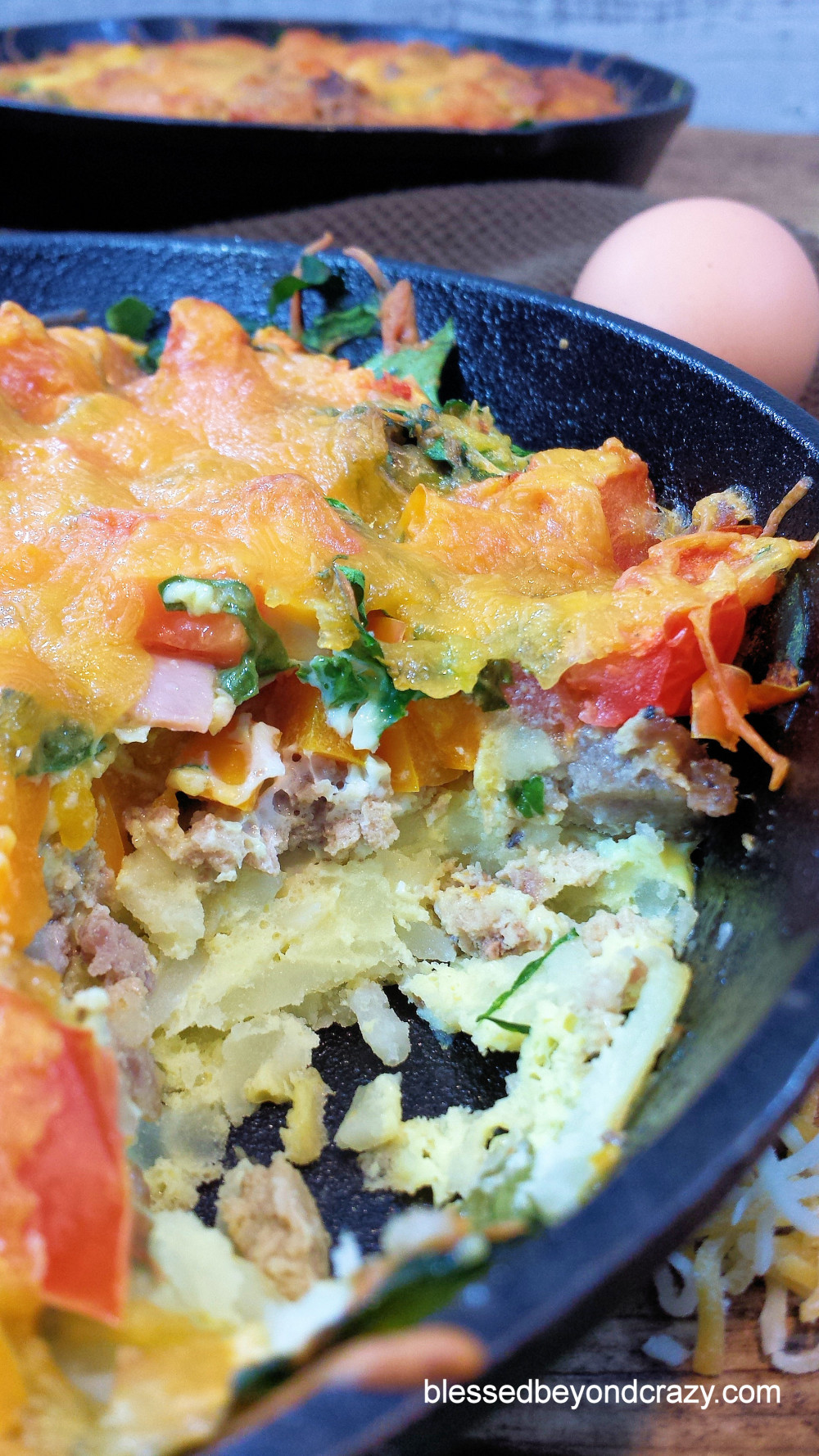 Breakfast skillets are great for overnight guests too. Allow your guests to create their own personalized skillet by supplying a variety of ingredients.
Have fun creating your very own personalized breakfast skillet!
Linda
Check out more great breakfast ideas: