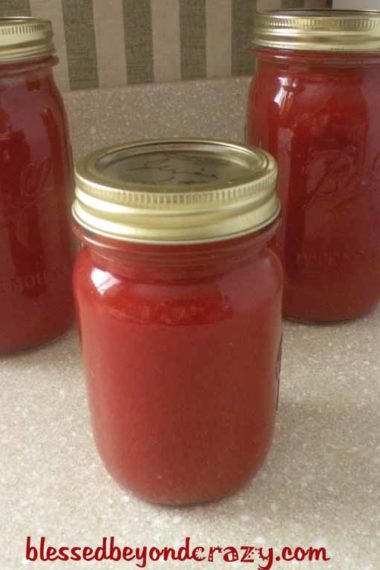 Have you ever tasted the difference between a homegrown tomato and one you can buy in the store? There really is no comparison. If you are able to grow your own tomatoes then you know exactly what I am talking about. This recipe for Homemade Versatile Tomato Sauce is our family's all-time favorite and we use it for a wide variety of dishes.

This tomato sauce makes a wonderful base for homemade spaghetti sauce, lasagna sauce, chili, vegetable soup, and a whole lot more. That's what makes this sauce so versatile!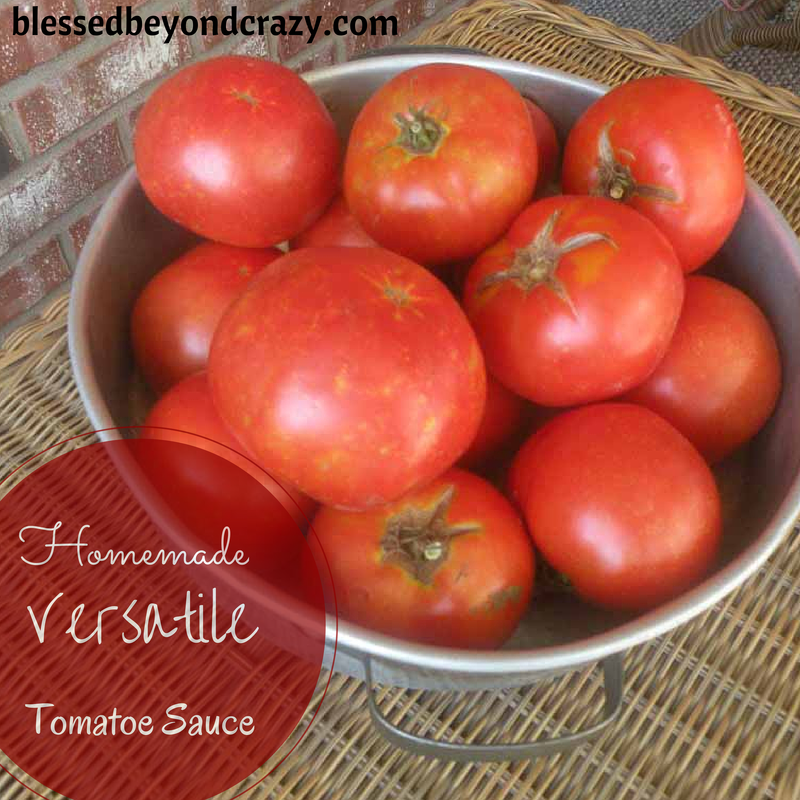 To help support our blogging activities, our site contains affiliate links. If you make a purchase from a link on our site, we may receive a small percentage of that sale, at no extra cost to you. Blessed Beyond Crazy is a participant in the Amazon Services LLC Associates Program, an affiliate advertising program designed to provide a means for sites to earn advertising fees by advertising and linking to amazon.com.
Family Favorite
This recipe has been in my family ever since I can remember. It is a recipe for old-fashioned tomato sauce and it is absolutely amazing. If you try this recipe I think you will probably agree with me that it's a keeper. You can tweak the recipe to make it spicier or you can go easy on the spices. Just make it according to your taste.
Let's take a visit to my Mom's garden. See those green bushy plants? Those are tomato plants. The taller plants behind is a row of sweet corn. My Mom and Dad place homemade wire cages around the tomato plants when they are young. When they mature the cages help support the vines; especially when the tomatoes get heavy and ripe.
Fresh Tomatoes
The tomatoes start out small and green until they start to mature; then they turn red. See the newspapers under the plant? Those are there to help keep the weeds from growing under the tomato plant and it also helps keep moisture in the ground.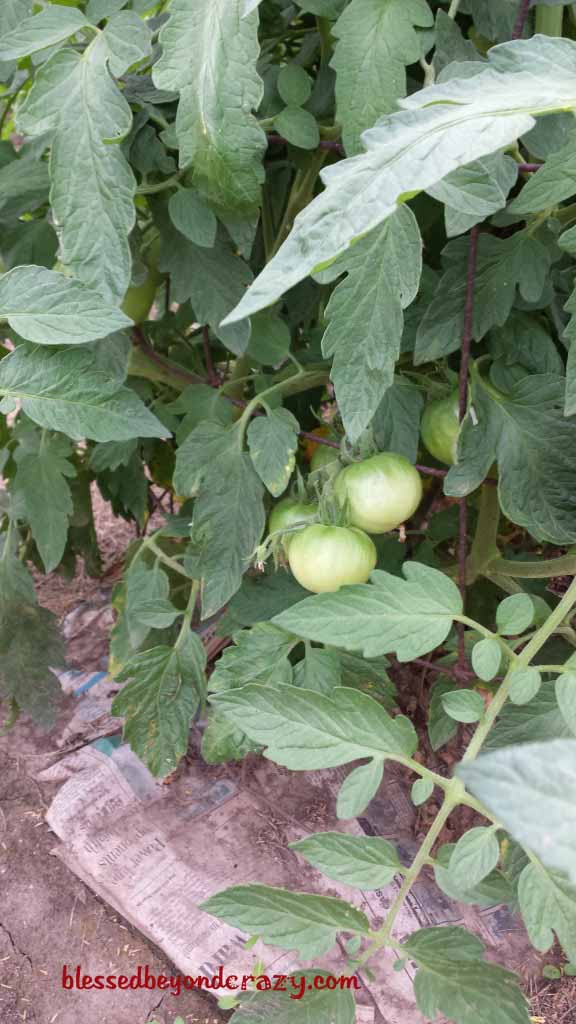 Ripe Tomatoes
When the tomatoes are ripe we pick them right off of the plant and take them home for processing. My Mother's favorite tomato plants are Big Boy, Early Girl, and Roma.
You can find them here: Big Boy Tomato Seeds,
Early Girl Hybrid Tomato Seeds
, and Roma Tomato Seeds
.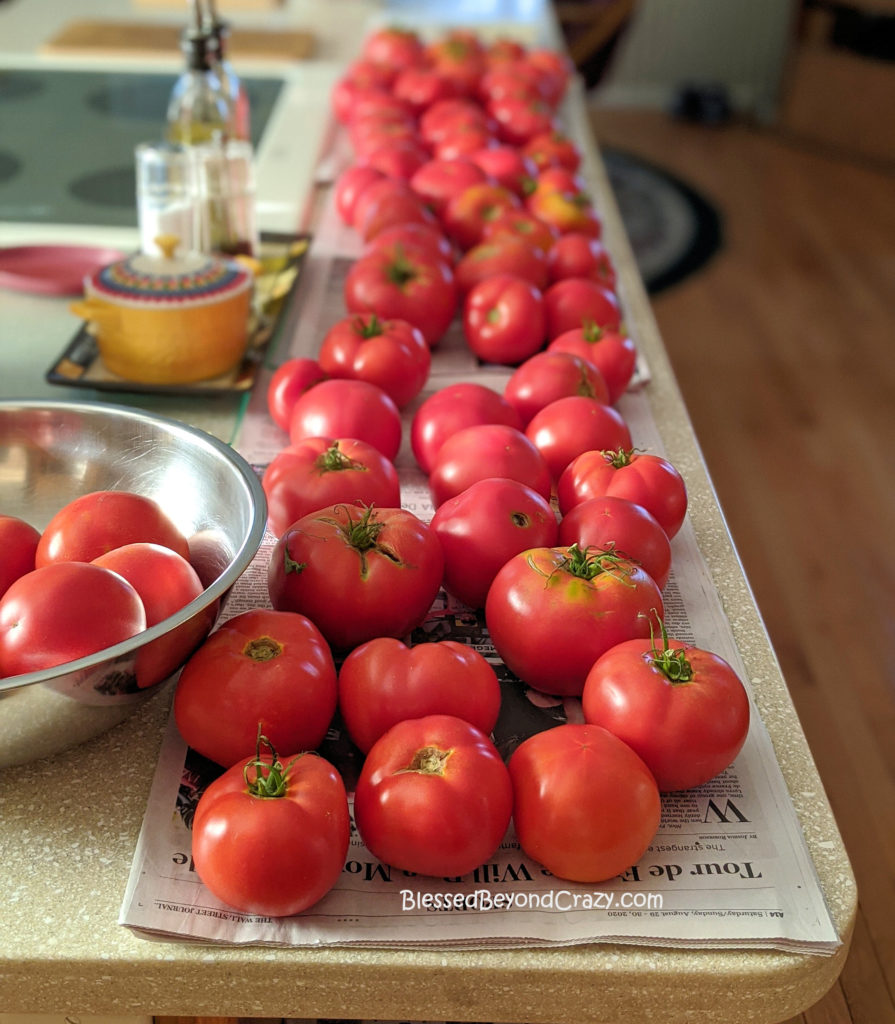 Clean the Tomatoes
Once we have gathered all of the ripe tomatoes, we wash them and cut the stems off and any spots or discolorations. These tomatoes are all organic so we do not need to worry about rising off pesticides or chemicals.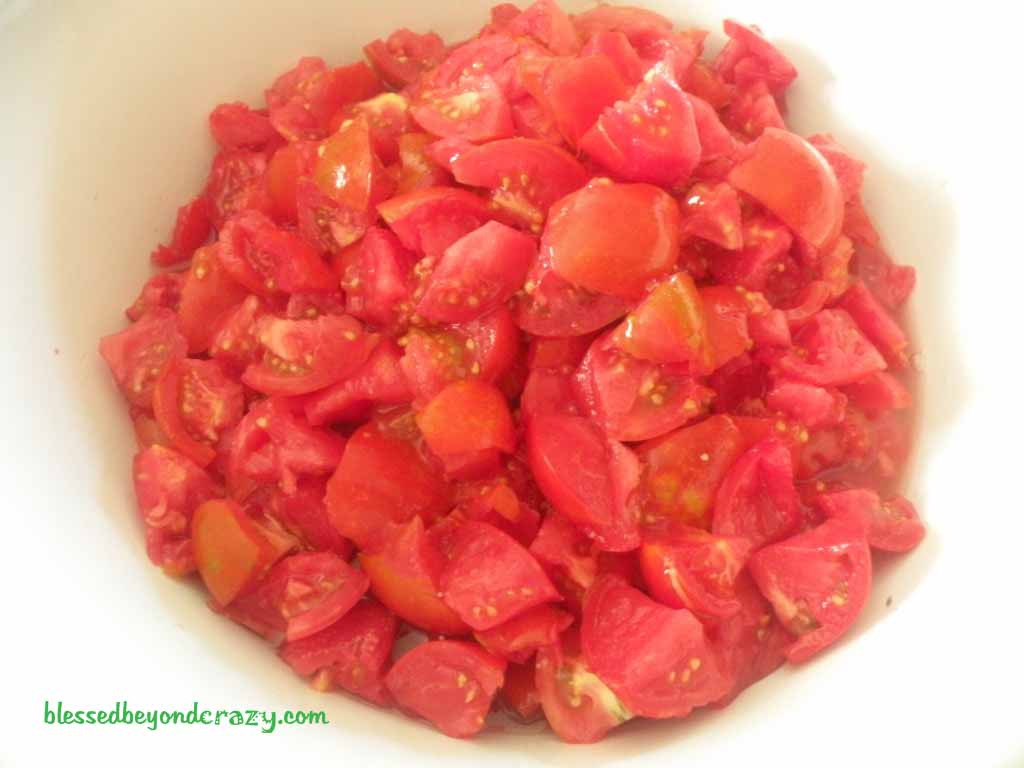 Cut Into Segments
We cut them into chunks and place them in a large pan.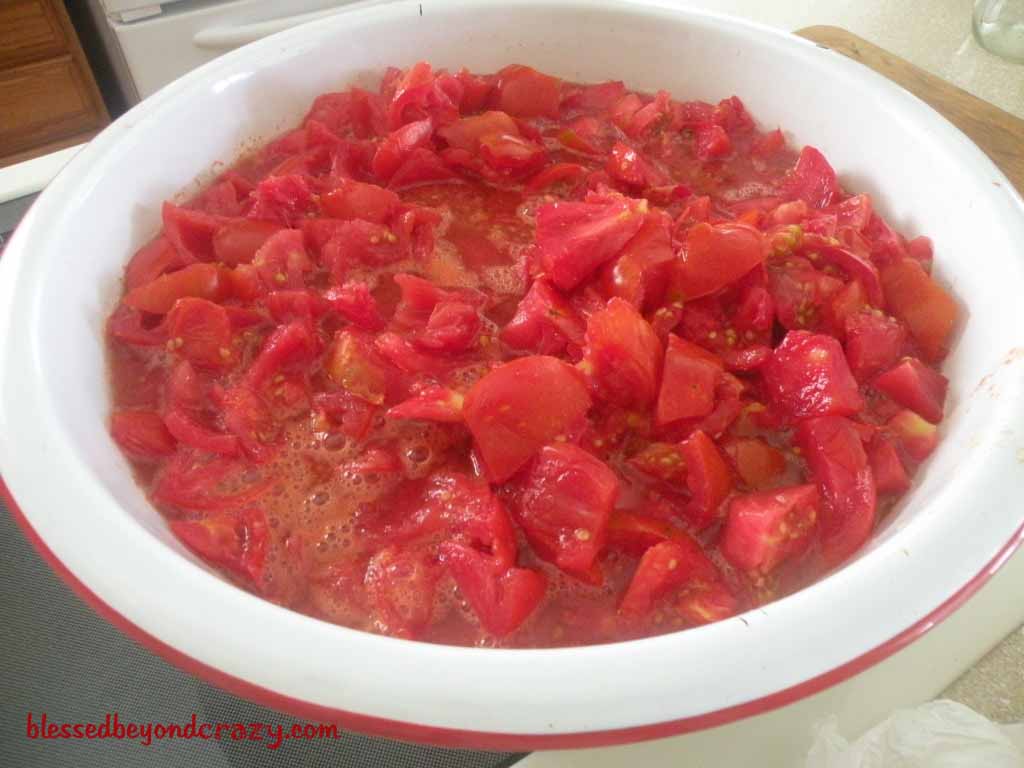 Heat
The next step is to heat the tomatoes until they come to a complete boil for 4 minutes. Remove from the heat and allow to cool for 15 minutes.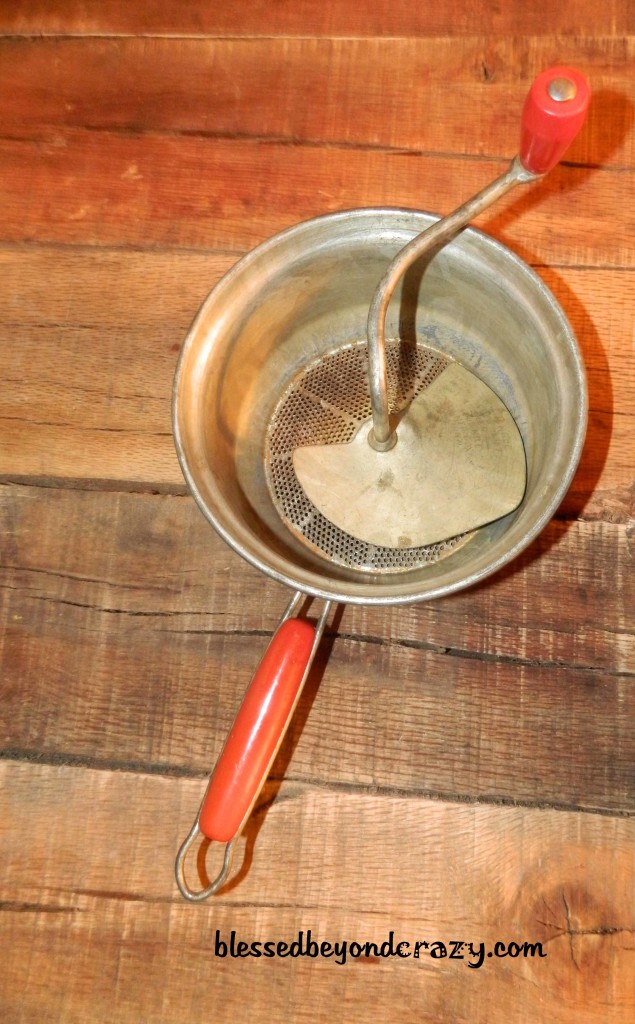 Vegetable Mill
Now we run the tomatoes through a vegetable mill. This process separates the tomato skin and seeds from the juice.
The vegetable mill makes this process go quickly and smoothly. You obviously want to put the vegetable mill over a bowl to catch all your juice.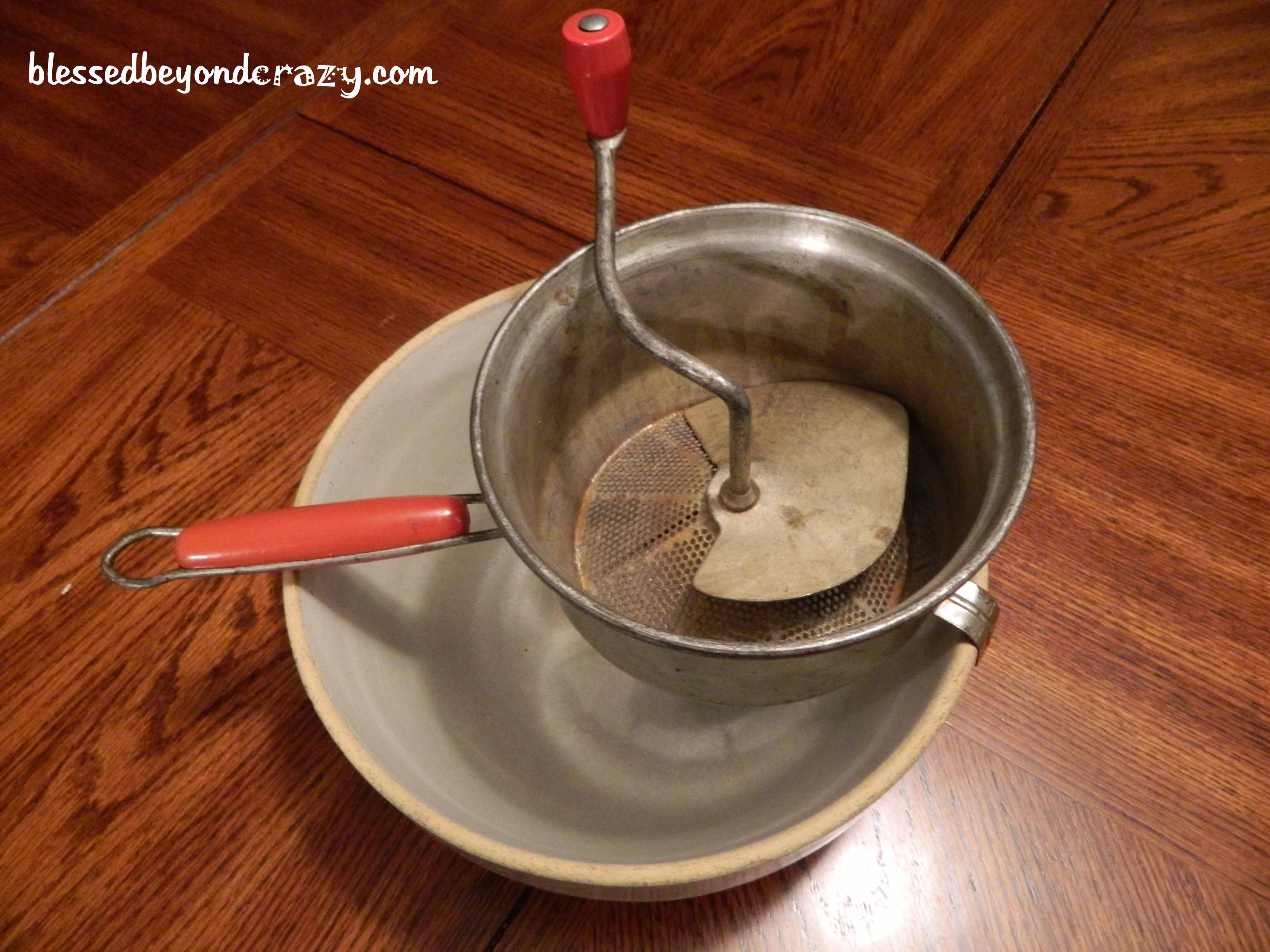 I used a large measuring cup to transfer the tomatoes and juice into the mill. Give a few turns until all the juice is separated. Discard all the skin and seeds.
My mom has had this vegetable mill for decades! As you can tell, it has served her well over the years! Here is where you can find a vegetable mill: Stainless Steel Food Mill. (I have not personally used this exact product, but based on the price and user ratings, this is the product I recommend.)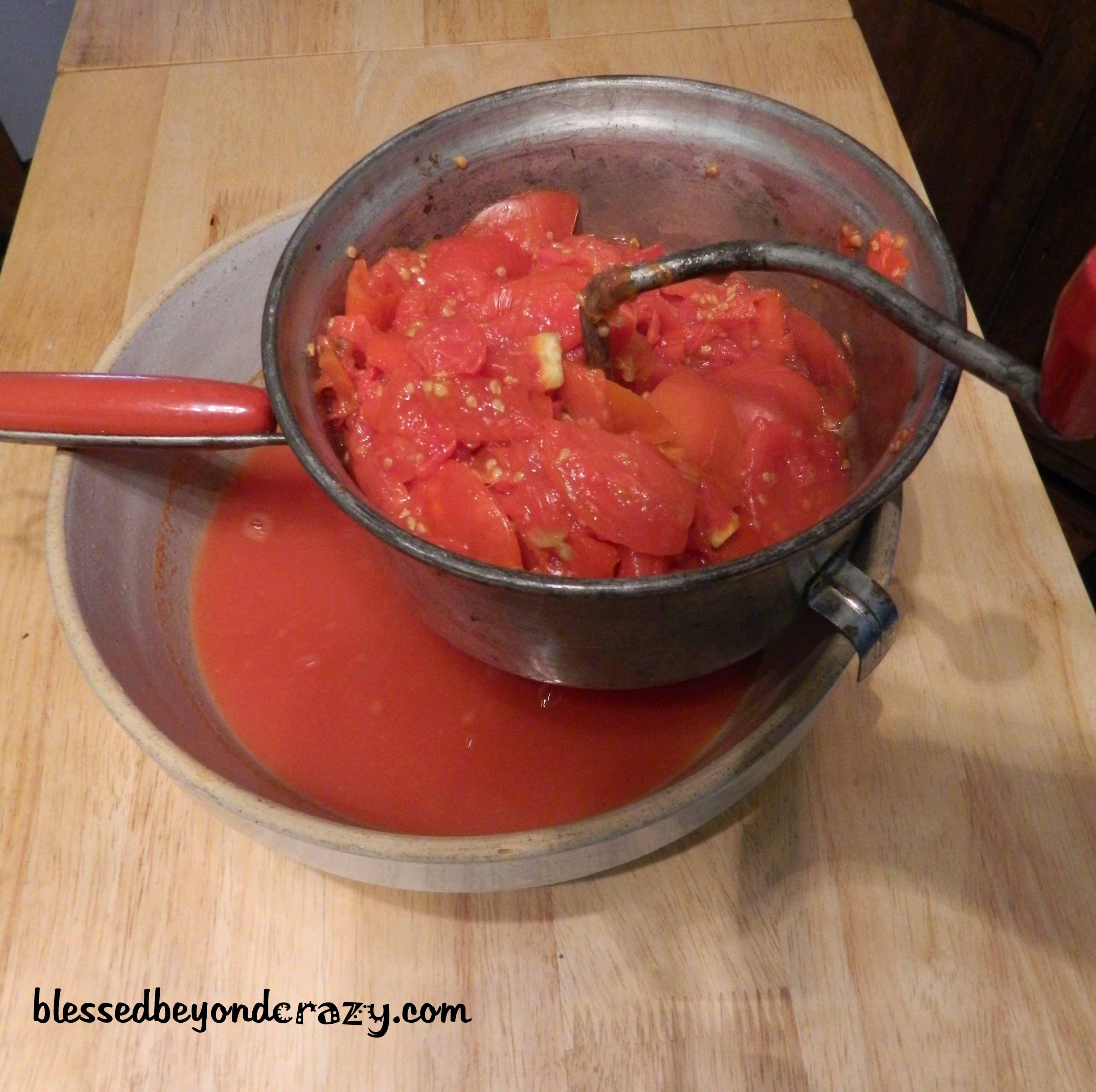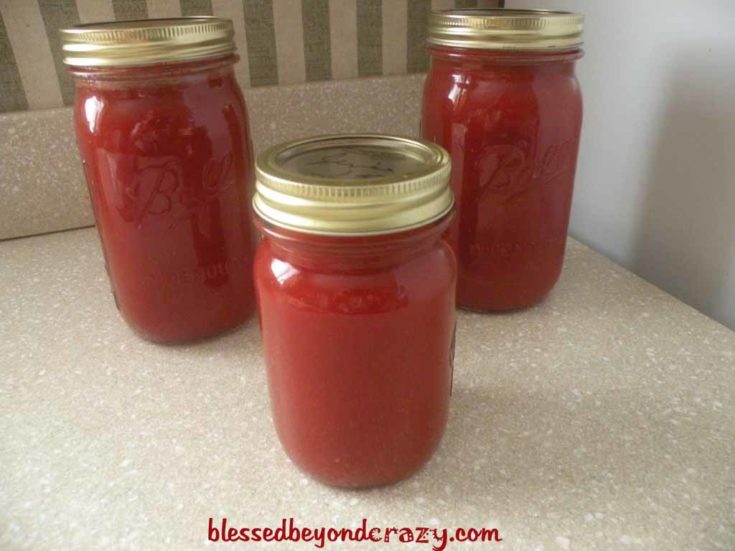 Homemade Versatile Tomato Sauce
Total Time:
1 hour
40 minutes
Ingredients
1/2 Bushel tomatoes
1 bottle Red Hot Sauce
1/2 tsp Mustard, dry
1 tsp Allspice
1/4 cup Brown sugar
1 tsp Cinnamon
1/2 tsp Cloves
6 tbsp Salt
6 cup Sugar
4 cups Vinegar
Instructions
Wash tomatoes, cut off stems, and any spots or discolorations.
Heat tomatoes until they come to a complete boil for 4 minutes, then remove from heat and allow to cool for 15 minutes.
Place the vegetable mill over a large bowl.
Run tomatoes through a vegetable mill; separating the tomato skins and seeds from the juice.
Add spices, Red Hot sauce, and vinegar. Simmer for approximately 30 - 40 minutes.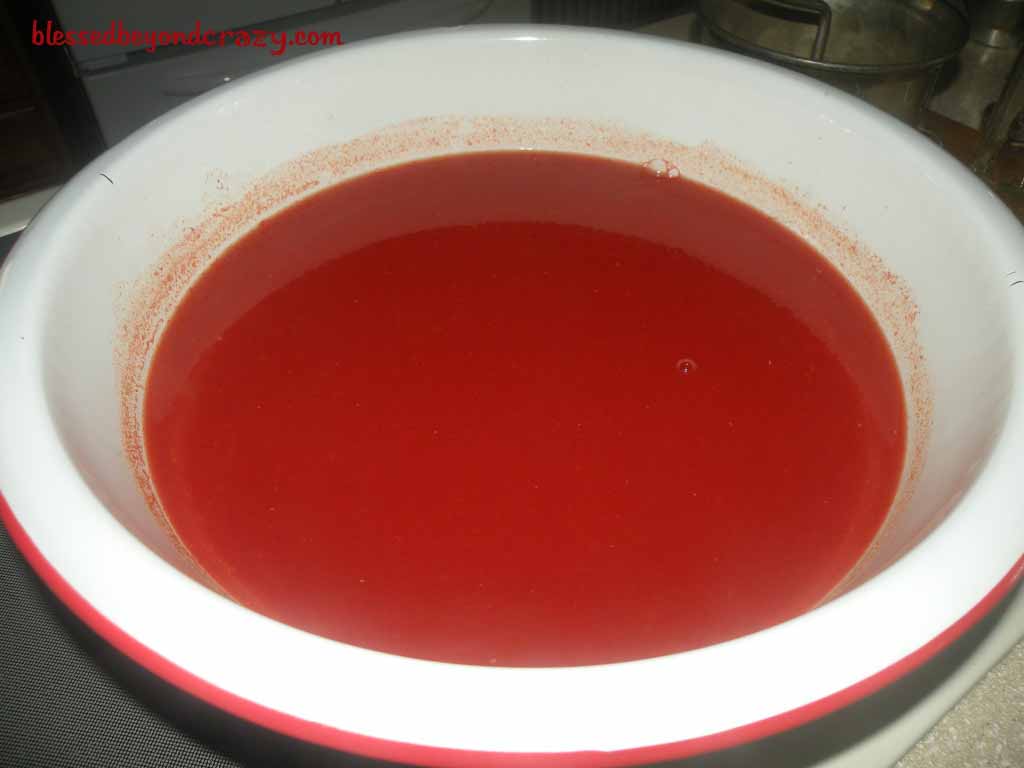 Juice
If you want to omit the spices just go ahead and can your juice. When you are ready to make a batch of spaghetti or chili you can add your spices then.
If you want to add your spices, go ahead and do that now. Add all of your spices and let the juice simmer so that all the flavors blend together. When ready, go ahead and can the sauce while it's still hot. If you are not canning the sauce, allow it to cool completely, divide it into portioned containers, and freeze. Thaw whenever you need tomato sauce.
See how to do the water bath canning method HERE.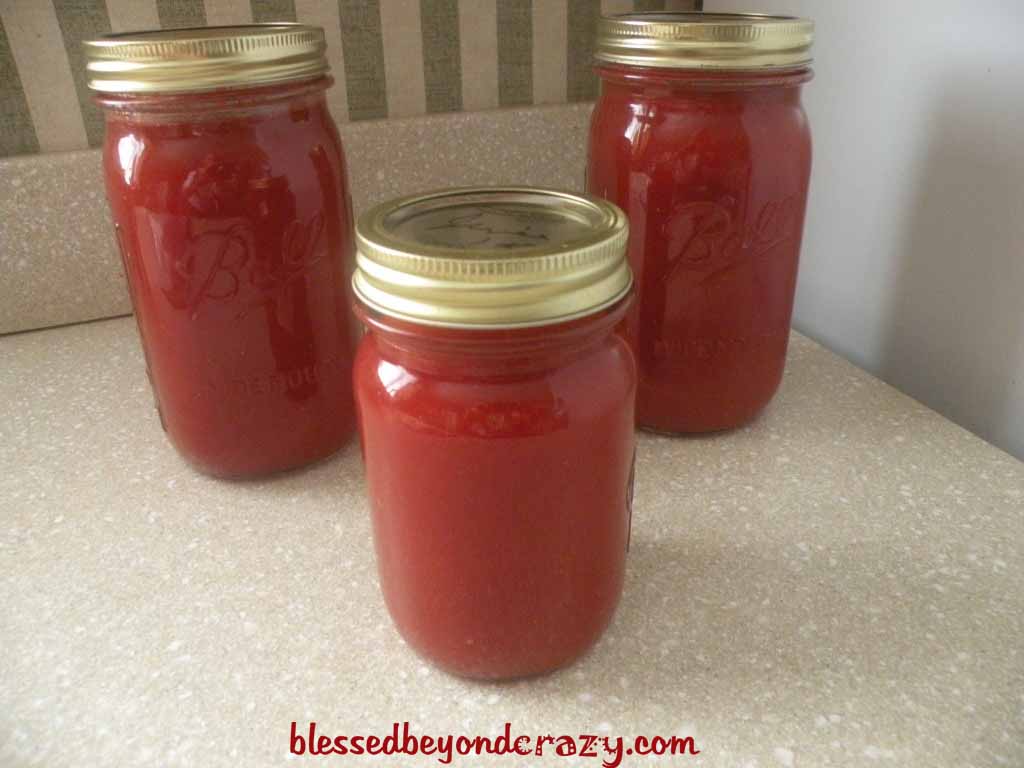 Now you are set for the whole winter!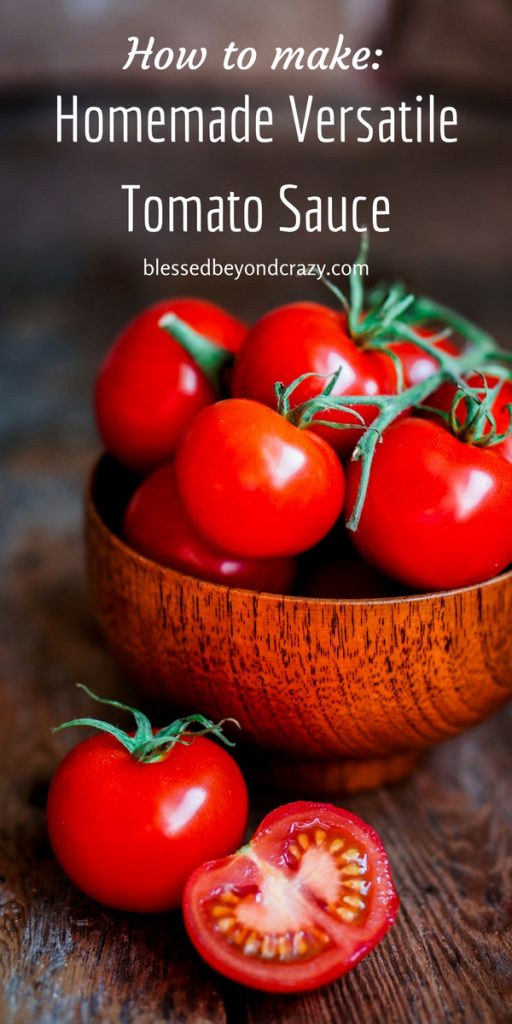 What will you make with your versatile tomato sauce?
Enjoy!
Linda
More great ideas: