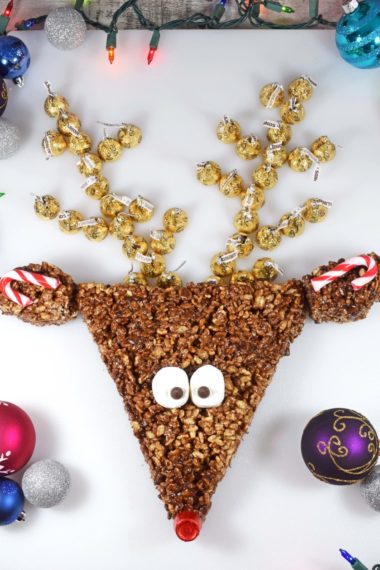 HERSHEY'S No-Bake Christmas Reindeer Centerpiece
In traditional folklore, Santa Claus's sleigh is led by eight reindeer: Dasher, Dancer, Prancer, Vixen, Comet, Cupid, Donner, Blitzen, and of course, Rudolph. According to the story, each reindeer has its own personality and strengths and weaknesses, however, Rudolph's glowing red nose made him a social outcast among the other reindeer. One year, Santa Claus' worldwide flight was hindered by severe fog, but when delivering Rudolph's presents to him, Santa observed that Rudolph's glowing red nose lit up a darkened room. Santa decided to ask Rudolph if he would be willing to let his nose be a makeshift lamp to guide his sleigh. Rudolph accepted Santa's invitation to lead the sleigh for the rest of the night, and he returned home a hero for having helped Santa Claus save Christmas. 
Since reindeer seem to play such a huge role every Christmas, why not place them front and center stage; right in the middle of the table as a fun centerpiece!!! This is a quick and easy dessert that is adorable and large enough to double as a centerpiece (easily covers a 15 x 20 cutting board when fully assembled). I present HERSHEY'S No-Bake Christmas Reindeer Centerpiece.
Supplies you will need:
HERSHEY'S Natural Unsweetened Cocoa

HERSHEY'S Milk Chocolate Baking Pieces

HERSHEY'S Kisses with Almonds

HERSHEY'S Rolo Candy

Marshmallows: regular and small

Miniature Candy Canes

Rice Krispies

Butter
Make the chocolaty rice krispie treats according to the directions below and place the mixture into a greased 9 x 9 pan. Allow the mixture to cool, then turn the pan upside down onto a cutting surface. With a sharp knife, carefully slice off two segments of rice Krispie treats (as shown in the picture above). Set the two cut segments off to the side. 
To make the eyes, cut one regular size marshmallow in half and place each half in the center of the triangle shaped rice krispie treat. Place one HERSHEY'S Milk Chocolate Baking Piece on top of each half of marshmallow. To make the nose, place one HERSHEY'S unwrapped red ROLO candy on top of the tip of the treat.
Next, to make reindeer antlers place two rows of unwrapped HERSHEY'S Kisses with Almonds on top of the head. To form the brow tines, add a few extra Kisses off the side of each antler.
To make the ears, take the two remaining rice Krispie treat segments and cut and shape them into smaller segments, forming ears. Place one ear on each corner of the head. Place one miniature candy cane on top of each ear.
5 cups Crispy rice cereal
1/4 cup Hershey's cocoa powder
2 Hershey's milk chocolate chips
1 bag Hershey's almond kisses
4 tbsp Butter
1 Marshmallow, regular size
2 Size candy canes, mini
1 bag Size marshmallows, mini
1 Hershey's Rolo with red wrapping
Melt butter in a large saucepan over medium-high heat.
Once butter is melted add the whole bag of marshmallows and stir constantly until marshmallows are melted and smooth.
Add the Hershey's cocoa powder and stir until well combined with the melted marshmallows.
Add rice cereal and stir until well combined.
But cereal mixture in a  well greased 9 x 9 pan.
Once cereal mixture is cooled and set, use a knife to release cereal from edge of pan. Flip pan upside down to release square cereal form.
Cut square into 3 triangles, as demonstrated in above images.
Cut and shape the two smaller triangles into ears and place at either side of Reindeer head. Add one mini candy cane to each ear.
Place on Red Rolo on the tip of the large triangle for the nose.
Cut one regular sized marshmallow in half and place both halves in the center of the large triangle.
Place one Hershey's baking chip one each of the marshmallow halves.
Arrange Hershey's Almond Kisses to form antlers at the top of the Reindeer head.
This HERSHEY'S No-Bake Christmas Reindeer makes an adorable edible centerpiece that is perfect for any holiday party! To make my centerpiece more festive, I surrounded my reindeer with a few twinkle lights and ornaments and placed it right in the center of my table. Quick. Easy. Simple. Adorable. HERSHEY'S No-Bake Christmas Reindeer.
HERSHEY Sponsored Blogger
All opinions are strictly my own.