Spice blends are incredibly easy to make and add marvelous flavor to recipes. Buying spices in bulk, then mixing your own spice blends, can actually save you money in the long run. If purchasing organic spices you can rest assured knowing they are free of fillers, preservatives, and chemical additives.
To help support our blogging activities, our site contains affiliate links. If you make a purchase from a link on our site, we may receive a small percentage of that sale at no extra cost to you. Blessed Beyond Crazy is a participant in the Amazon Services LLC Associates Program, an affiliate advertising program designed to provide a means for sites to earn advertising fees by advertising and linking to amazon.com.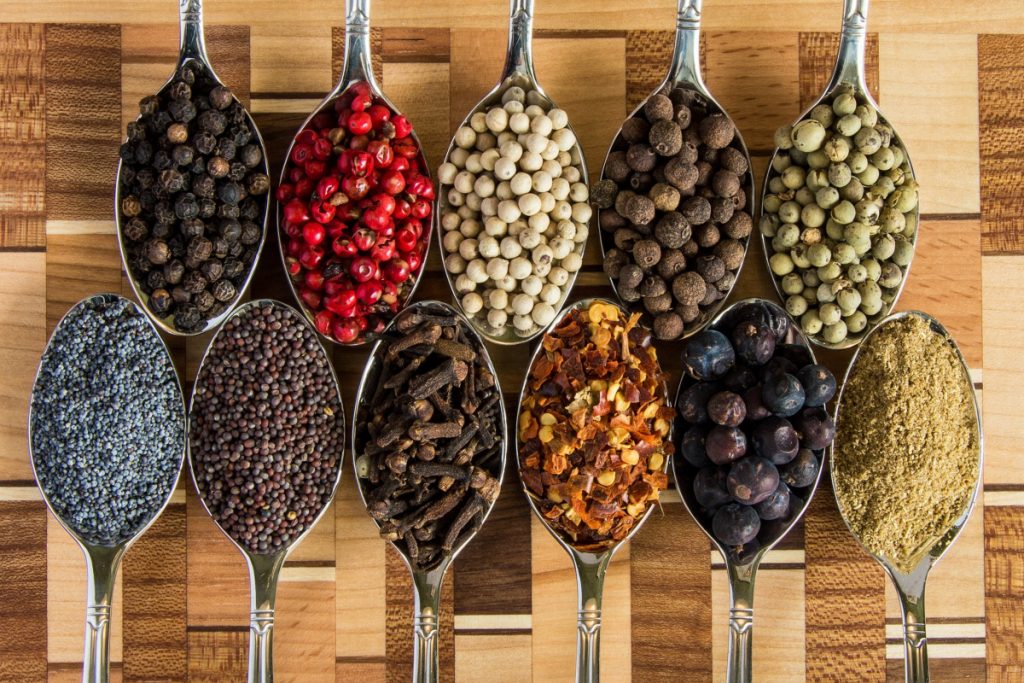 Spice bottles of DIY spice mixes make perfect stocking stuffers or a nice gift for the person who loves to bake and/or cook. Since there are so many delicious herbs and spices to choose from, you can easily customize the flavors to suit the individual and their taste. Simply pour the desired spices together in a large mixing bowl and blend until well incorporated. Use a kitchen funnel to pour the spice blends into air-tight containers or spice jars. Attach a cute gift label with kitchen twine tied around the neck of the jar to finish off the look.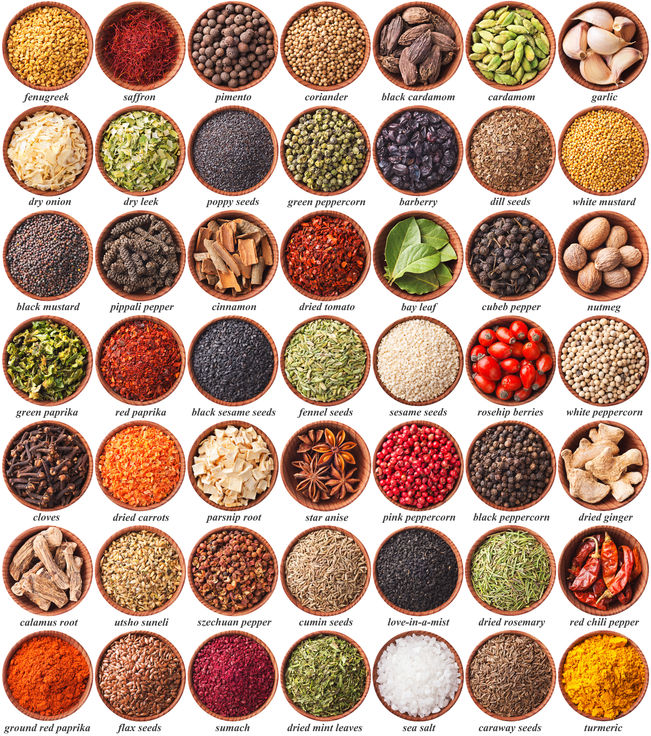 Popular herbs and spices:
Fenugreek spice -Has a bitter, burnt sugar taste and smells like maple syrup when heated. Used in many Indian and Middle Eastern dishes.
Saffron – A small pinch adds bright yellow color, as well as a subtle but distinct floral flavor and aroma. It's best to add saffron early on in cooking so its flavor can infuse into the other ingredients. Saffron is often touted as the world's most expensive spice.
Pimenta – is also known as allspice or Jamaican pepper: Has a strong spicy taste and aroma. Used most often in soups, BBQ sauce, curries, vegetarian, and Indian dishes.
Coriander Seeds – Have an earthy, spicy slightly peppery flavor.
Black Cardamom – Preferred in savory dishes, rice pilaf, meat stews, and lentil curry.
Cardamom – An expensive and delicate spice that provides hints of eucalyptus and camphor. Used as a flavoring agent in sweet dishes, soups, and refreshing drinks. It is mainly in the Near and Far East. Often combined with spices such as cloves and cinnamon.
Garlic Powder – Gives dishes a soft garlic flavor. Whole garlic cloves add a sharp, penetrating, and lasting flavor.
Minced Onion – Dehydrated onions are used in place of fresh onions and used in a wide variety of dishes.
Leek Spice – Has a flavor that is sweeter and more subtle than the standard dried onion. Used most often in loaves of bread, soups, stews, and casseroles.
Poppy Seeds – Have a mild flavor, until heated. Once heated, the flavor becomes nutty with sweet and spicy undertones. Used as a topping or in fillings for baked foods.
Green Peppercorns – Unripened black peppercorns with a fresh, crisp flavor and fiery kick.
Barberry – Tastes like a combination of raisins and cranberries. Delicious in rice dishes, chicken, mutton, jelly, curries and omelets.
Dill – Similar in taste to caraway. The flavor is aromatic, sweet with a hint of citrus, but also slightly bitter. Often used for pickling.
White Mustard – used to make traditional American yellow mustard.
Black Mustard: Used as a spice to flavor mustard condiments.
Pippali Pepper (also known as Long Pepper): Similar taste to (but hotter than), black, green, and white pepper. Used in European, Indian, North African, Pakistan, Indonesian, and Malaysian cuisines.
Cinnamon: A fragrant and warm flavored spice that is used in both sweet and savory dishes. Cinnamon is found in almost every cuisine.
Dried Tomatoes: Intense flavor, slightly salty and very concentrated so a little goes a long way. Wonderful with pasta, vegetables, meats, and dressings.
Bay Leaves: Used to flavor soups, stews, braises, and Mediterranean cuisine. The leaves should be removed from the cooked food before eating.
Cubeb Pepper: Peppery, aromatic, and slightly bitter. Can be used in place of allspice to provide more of a peppery flavor. Goes well with meat, cheese, and vegetable dishes.
Nutmeg: Sweet and pungent. Has a nutty, warm, and slightly sweet flavor. Used often in baked goods, but also adds a warm flavor to savory dishes.
Paprika (both red and green): Ranges from sweet and mild, to pungent and fiery. Used in soups, stews, casseroles, and vegetables.
Black Sesame Seeds: Nutty and earthy flavor. Used frequently in Chinese, Japanese and Korean dishes.
Fennel Seeds: Lightly sweet, licorice-flavored, and similar to anise. Often used in French, Italian, and English cuisines. Used to flavor fish dishes, bread, and cakes.
Sesame Seeds: Have a nutty, earthy flavor. Often sprinkled over cakes and bread. Is mixed with sumac and green herbs to make the condiment known as Za'atar.
Rose Hip Berries: Used for herbal teas, jams, jelly, syrups, beverages, pies, bread, wine, marmalade, and rosehip soup.
Peppercorns: Pungent and pack a mild heat. Peppercorns come in many colors, with black, white, pink, and green being the most popular. White peppercorns taste hotter than black.
Cloves: Sweet and warming spice. Lends flavor to meats, curries, marinades, pies, hot beverages and used often in Mexican cuisine.
Dehydrated Carrots: Used in soups, stews, and casseroles. If ground into a powder can be added to smoothies, cakes, bread, pancakes, and more.
Parsnip Root: Closely related to the carrot family of vegetables and have a unique sweet taste. Often used in salads, coleslaw, and toppings or added to soups, stews, stir-fries, and mashed potatoes.
Star Anise: Is the unusual fruit of a small oriental tree. Has a powerful licorice flavor. Used in sauces, soups, and beverages.
Ginger Spice and Ginger Root: Warm, sweet, and pungent flavor. Essential to Asian and oriental cooking. Used in pickles, chutneys, curry, salads, cakes, biscuits, cookies, bread, and beverages.
Calamus Root (also known as Sweet Flag): Used in custards, rice pudding, baked black bread, and beverages. Usually used in Indian and Arab sweet dessert dishes.
Utskho Suneli (also known as Blue Fenugreek): Tan powder that is aromatic and mildly spicy. Often used in vegetables. Szechuan Pepper: Although they resemble black peppercorns, they are not of the pepper family but a dried berry of a tree of the rue family. The berries are mildly peppery, woodsy, and acrid. The leaves have a citrus fragrance. Often used in Chinese, Japanese, Tibetan, and Bhutani cuisines.
Cumin Seed: Strong, heavy, warm, and slightly bitter flavor with a spicy-sweet, aroma. Used in curry powders, stews, beans, cakes, grilled meats, and chicken dishes. Frequently used in Southwestern U.S and Mexican cuisine, as well as North Africa, Middle Eastern, and Indian.
Love-in-a-Mist: The seeds taste somewhat spicy and resemble the flavor of nutmeg. Used as a condiment, in candies and sweets, and to flavor certain wines.
Dried Rosemary: Has a distinctive woodsy flavor, with a slight hint of mint and ginger. Used in sauces, vegetables, soups, marinades, potatoes, salad dressings, eggs, and meats.
Crushed Red Chili Peppers: Dried chili pepper are often used in curries, sauces, pickles, chutneys and paste.
Flax Seeds (also known as Linseeds): They have a nutty flavor that disappears in most sweet and savory foods. Flax seeds have a high level of omega-3 fatty acids and have many health benefits.
Sumac – Slightly aromatic with a sour, fruity, and lemony flavor. Used in salad dressings, marinades, stews, vegetables, and chicken dishes. Widely used in Middle Eastern countries.
Mint Leaves: Has a sweet flavor imparting a cool sensation to the palate. Used with lamb, potatoes, vegetables, salad, desserts, and chocolate.
Sea Salt: Contains many more minerals than ordinary salt; including magnesium, calcium, sodium, and potassium.
Caraway Seeds: Licorice-tasting seeds that pair well with apples, meats, bread, sauerkraut, cheese, and beverages.
Turmeric Root Powder – Has a warm, earthy, mild woodsy flavor. Sometimes used more for its yellow color than its flavor. Can be used in place of saffron. Used in curry, and to season lamb, fish, and vegetables.
Oregano Leaves: Have an aromatic, warm, and slightly bitter taste. Often used in pizza sauce, on vegetables, a variety of meats, and fish.
Basil Leaves: Have a clove-like aroma and is often used to season tomatoes, soups, stews and salad dressings.
Marjoram Leaves: Is a cousin of the oregano family. Used in sauces, soups, salads, cheeses, vegetables and a variety of meats.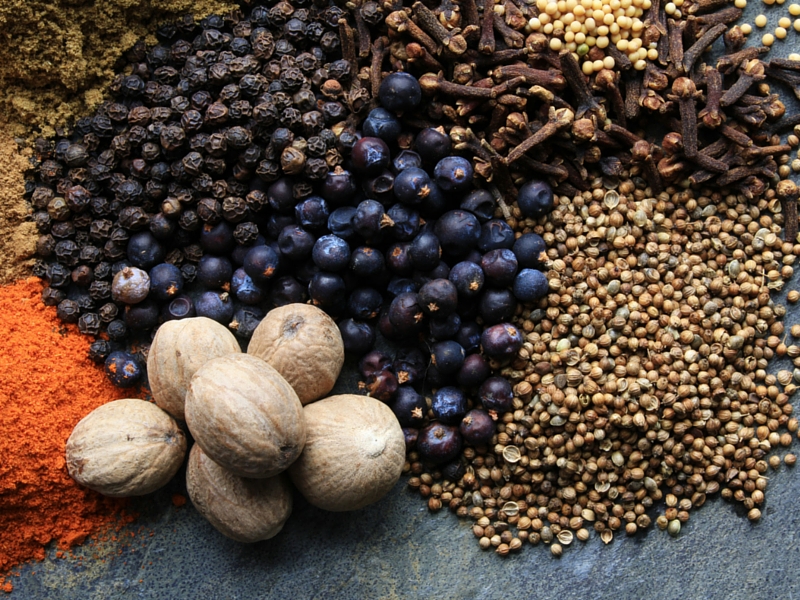 Roasting Spice Blend
3 teaspoons rosemary
3 teaspoons garlic salt
1 1/4 tablespoon sage
1 1/2 teaspoon onion powder
1/2 teaspoon celery seeds
1 teaspoon oregano
1/2 teaspoon paprika
1 1/2 tablespoon black pepper
1 /2 teaspoon sea salt
2 teaspoons thyme
Dash of curry powder, cinnamon, and cloves
Optional: ground nuts (preferably hazelnuts)
Good on all meats, especially poultry.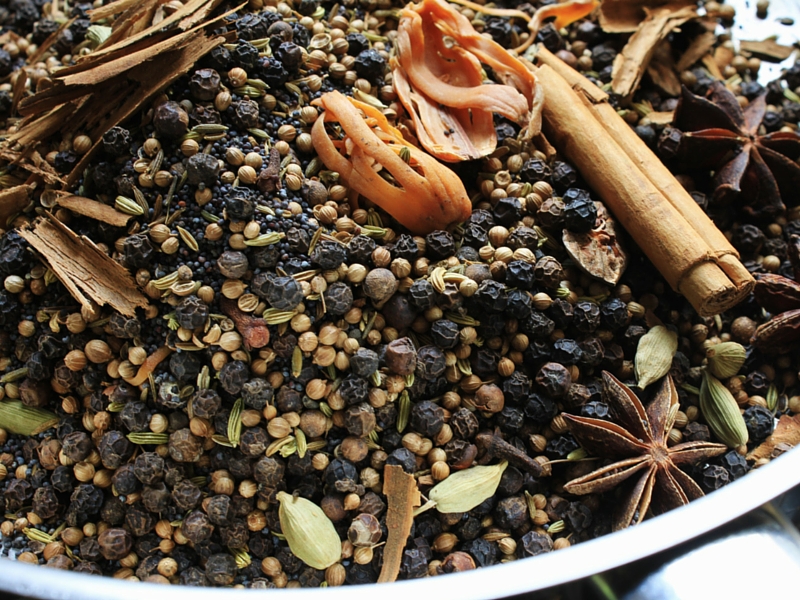 Asian Spice Blend
3 teaspoons rosemary
3 teaspoons garlic salt
1 1/4 tablespoon sage
1 1/2 teaspoon onion powder
1/2 teaspoon celery seeds
1 teaspoon oregano
1/2 teaspoon paprika
1 1/2 tablespoon black pepper
1 /2 teaspoon sea salt
2 teaspoons thyme
Dash of curry powder, cinnamon, and cloves
Optional: ground nuts (preferably hazelnuts)
Good on all meats, especially poultry.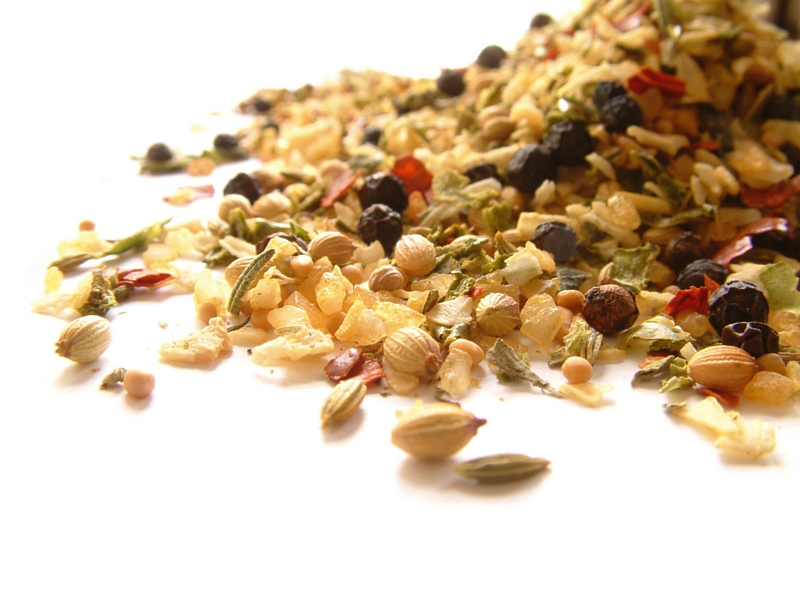 Italian Spice Blend
2 tablespoons dried basil
2 tablespoons dried parsley
2 tablespoons dried oregano
1 tablespoon dried thyme
1 tablespoon dried rosemary
1 1/2 teaspoon marjoram
1 teaspoon fennel seeds
1 tablespoon garlic powder
1/4 teaspoon onion powder
1/4 teaspoon sea salt
Good with any meat paired with garlic or any Italian dish such as Chicken Parmesan, spaghetti, lasagna and more.
Curry Blend
1/4 cup paprika powder
1/8 cup cumin powder
1/2 teaspoon fennel powder
1 tablespoon garlic powder
1 tablespoon ground mustard powder
1 1/2 tablespoons ground coriander
1 tablespoon ground turmeric root
1 1/2 teaspoon ground cardamom
1/2 teaspoon ground cinnamon
1/2 teaspoon ginger
1/2 teaspoon nutmeg
1/2 teaspoon cayenne pepper
1/2 teaspoon black pepper
1/4 teaspoon ground cloves
1 tablespoon fenugreek powder
Good with chicken, shrimp, vegetables, or in any Indian dish.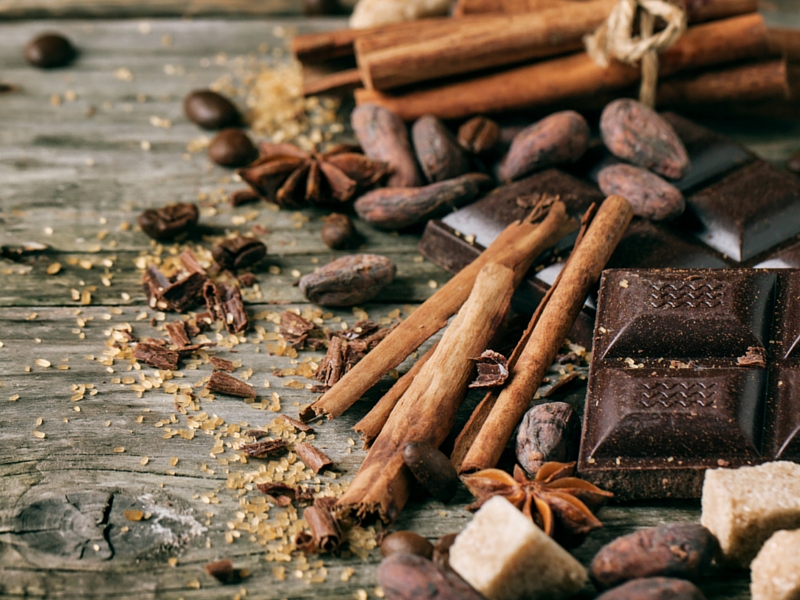 Mocha Spice Blend
1/4 cup espresso powder or instant ground coffee
1/4 cup unsweetened cocoa powder
1/3 cup brown sugar
1/2 teaspoon cayenne pepper powder
1/2 teaspoon paprika
1/2 teaspoon ground allspice
1/2 teaspoon ground cinnamon
2 teaspoons salt
Tastes great rubbed on grilled chicken, pork, and seafood.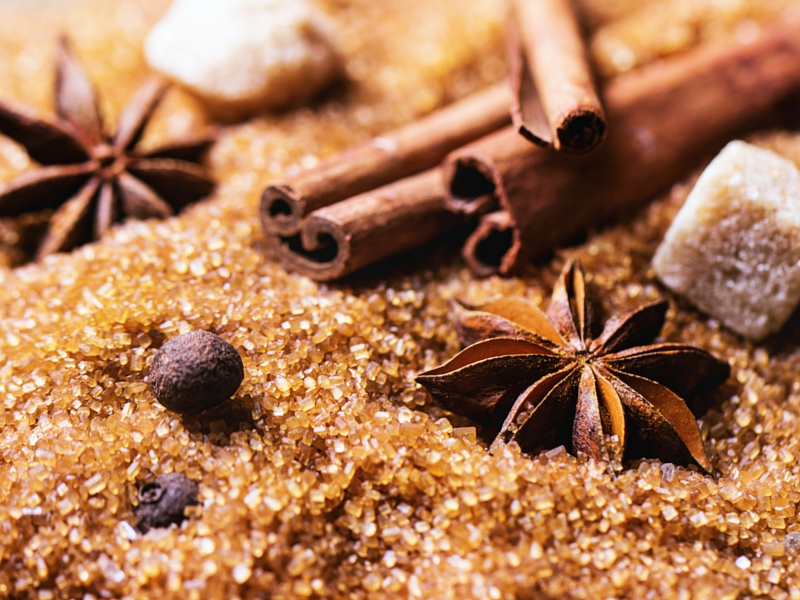 Bakers Spice Blend
2 teaspoons ground cinnamon
1 teaspoon ground ginger
1/2 teaspoon ground nutmeg
1/2 teaspoons allspice powder
1/4 teaspoon ground cloves
1/4 teaspoon cardamom
Good in pies, cookies, cakes, muffins, and hot beverages.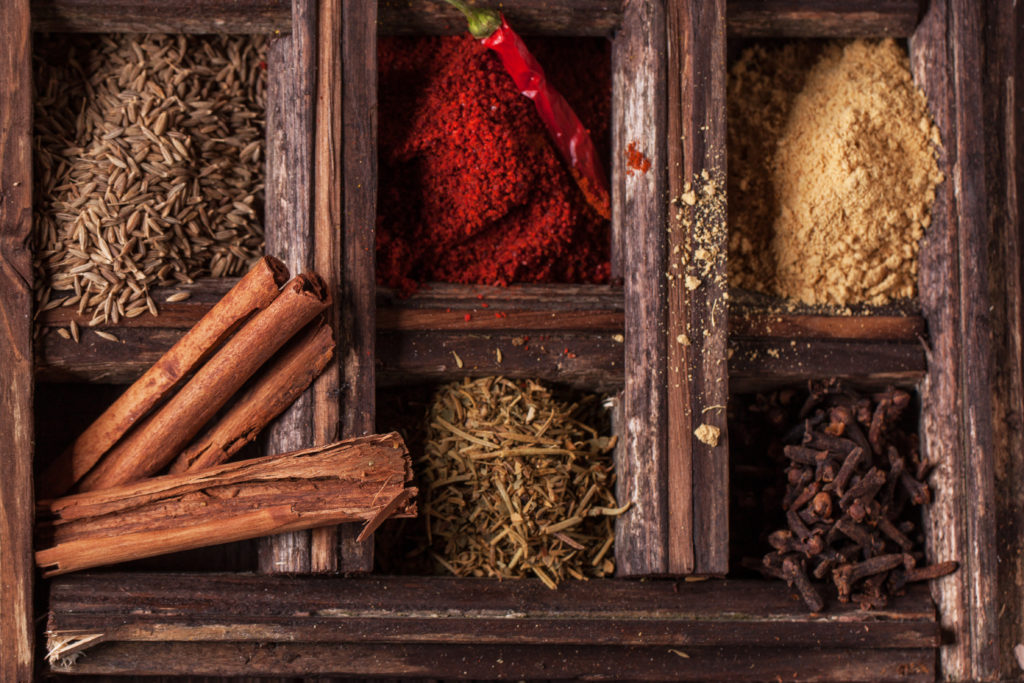 Dry-Roasting Herbs and Spices
Dry-roasting whole seeds and spices are done for several reasons. First, dry-roasting allows excess moisture to escape, therefore seeds and spices become crisper and easier to grind or pulverize. Second, dry-roasting changes their flavor. You'll be getting a completely different flavor out of one spice. For example, raw coriander seeds taste different once they have been roasted. The raw seeds taste lemony, while the roasted seeds taste grassy and earthy.


Since powdered spices have been broken down into powdered form, they generally are not dry-roasted because they are prone to burning easily.
To dry-roast, toss whole seeds and spices into a dry skillet (no oil). To prevent burning, heat over medium heat, stirring and tossing frequently. Heat until they begin to smell aromatic and toasty. Remove from heat and pour into a bowl to cool. Once cooled, grind to the desired consistency and incorporate into your dishes.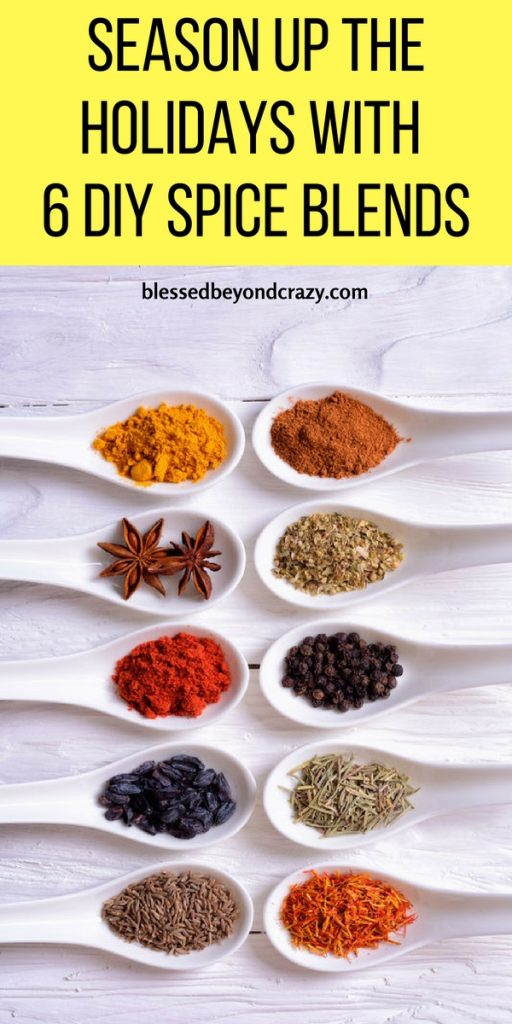 For an easy DIY gift idea: make your favorite DIY Spice Blend and place the mixture into a small jar. Don't forget to add a cute bow and label/tag. Now you have a perfect DIY stocking stuffer!
Happy Holidays!
Linda
More great ideas: