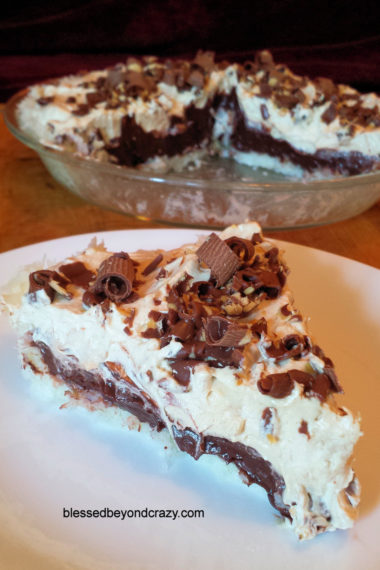 Coconut Pistachio Pie and Chocolate Peanut Butter Pudding Pies are fabulous no-bake desserts! In addition, they are easy to modify to be gluten-free!
To help support our blogging activities, our site contains affiliate links. If you make a purchase from a link on our site, we may receive a small percentage of that sale, at no extra cost to you. Blessed Beyond Crazy is a participant in the Amazon Services LLC Associates Program, an affiliate advertising program designed to provide a means for sites to earn advertising fees by advertising and linking to amazon.com.
It was way too hot to heat up the oven over the weekend. Therefore, I decided to make a refreshing gluten-free no-bake dessert.
When I scrolled through several of my cookbooks, I found a fabulous no-bake Coconut Pistachio Pudding Pie recipe. It looked yummy. Guess what? It was super yummy and surprisingly easy to make.
*How to make toasted shredded coconut flakes.
For garnish, a few chopped pistachios sprinkled on top did the trick. Just a little refrigeration time is required to allow everything to set up.
No-Bake Pistachio Pudding Pie is fabulous any time of the year, but especially on a hot summer day.
If you like pistachio flavor then this is certainly a great recipe for you. It's loaded with a wonderful combination of coconut and pistachios! My family loved this pie! They all voted that I need to make this pudding pie again, soon! 
Since my family loved this particular recipe so much, I decided to try another combination of flavors: chocolate and peanut butter! 
I made a coconut crust exactly like the one for the pistachio pudding pie. However, instead of using pistachio pudding, I used chocolate fudge pudding mix. I placed the pudding into the coconut crust like before. This time I scooped all of the pudding into the crust and didn't keep any in reserve.
For the topping, I mixed 2 tablespoons of creamy peanut butter into a small carton of whipped topping. Then slathered it on top of the chocolate fudge pudding.
For the final touch, I used a potato peeler to make chocolate curls and swirls. I used a Hershey's Chocolate Almond candy bar so there are tiny little chunks of almonds mixed with the chocolate curls. If I would have had any peanuts on hand I would have sprinkled a few chopped peanuts on top instead.
Coconut Chocolate Fudge Pudding Pie turned out just as fabulous as the Coconut Pistachio Pudding Pie did, just as I suspected it would!
In conclusion, experiment with various flavors and make your own personalized pudding pies! There really is no limit to the flavor combinations you can create. (Because everyone has their favorite flavor or pudding pie.)
Have fun making your very own personalized pudding pies!
Linda
Disclaimer: Manufacturers' formulations and policies may change at any time, therefore it's important to always read product labels yourself and contact the manufacturer with concerns. We have found that most companies are eager to help answer your questions.
More great recipes: