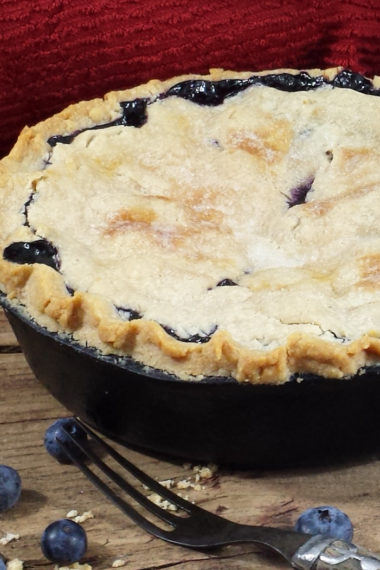 Rustic Cast Iron Skillet Blueberry Pie is such a delicious dessert and one that's easy to make. Grab your mixing bowl, a cast-iron skillet, and a few ingredients, and let's bake a pie!
To help support our blogging activities, our site contains affiliate links. If you make a purchase from a link on our site, we may receive a small percentage of that sale at no extra cost to you. Blessed Beyond Crazy is a participant in the Amazon Services LLC Associates Program, an affiliate advertising program designed to provide a means for sites to earn advertising fees by advertising and linking to amazon.com.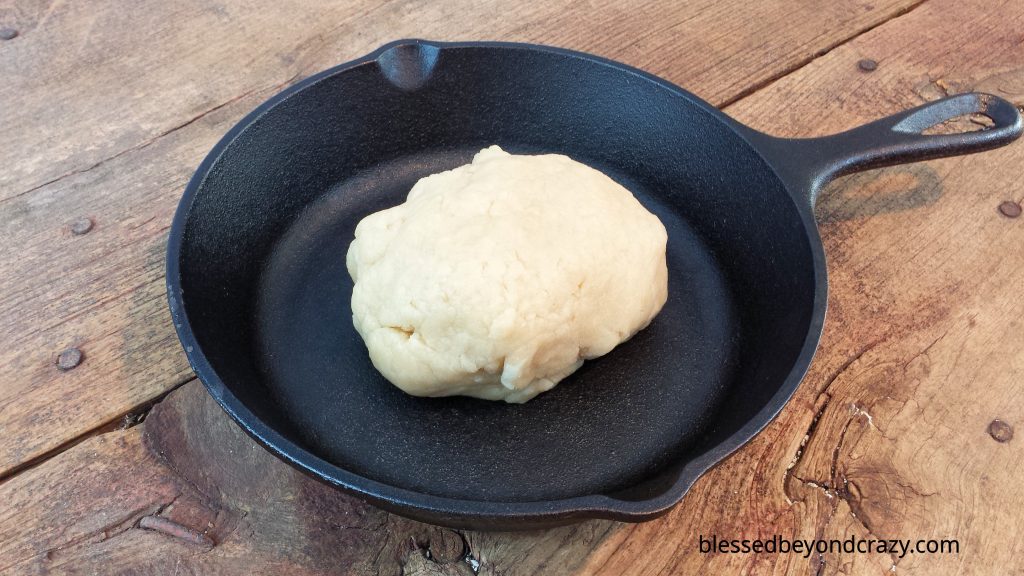 First, let's make the crust. Combine the pie dough ingredients together and divide the dough in half, forming each half into a ball. Set one ball of dough to the side and place the other ball of dough into a well seasoned 8 inches cast iron skillet.
Gluten-Free Option: use premade store-bought gluten-free pie dough or make your favorite gluten-free pie dough recipe. All other ingredients are naturally gluten-free.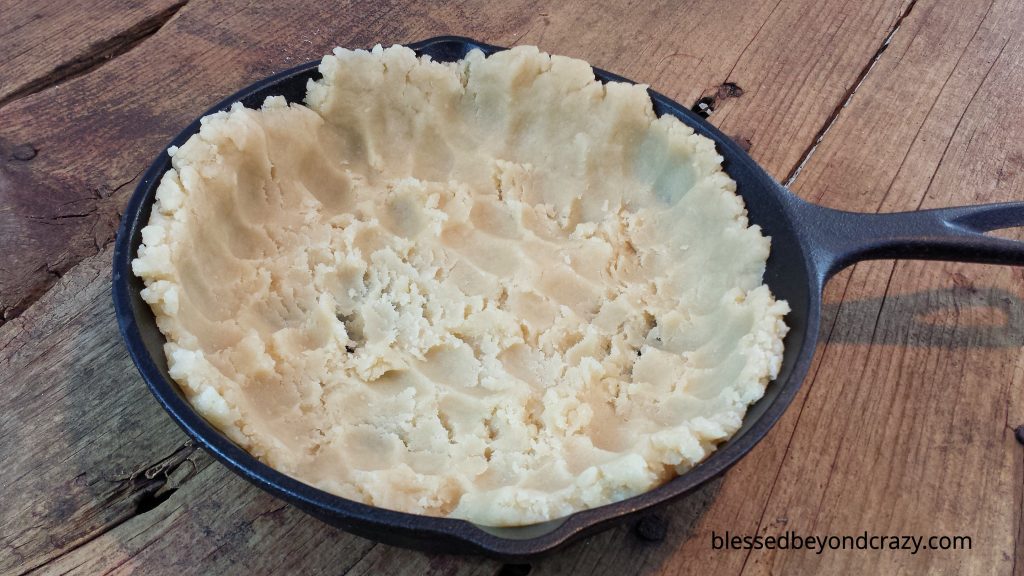 Next, pat the dough until it completely covers the bottom and sides of the skillet.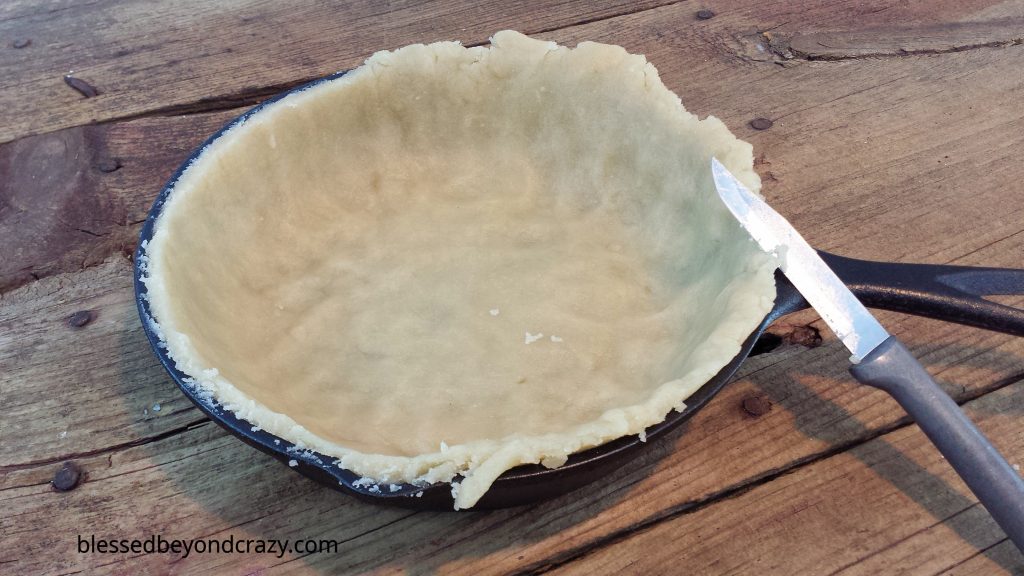 Carefully trim the excess dough from around the top rim of the skillet with a sharp knife.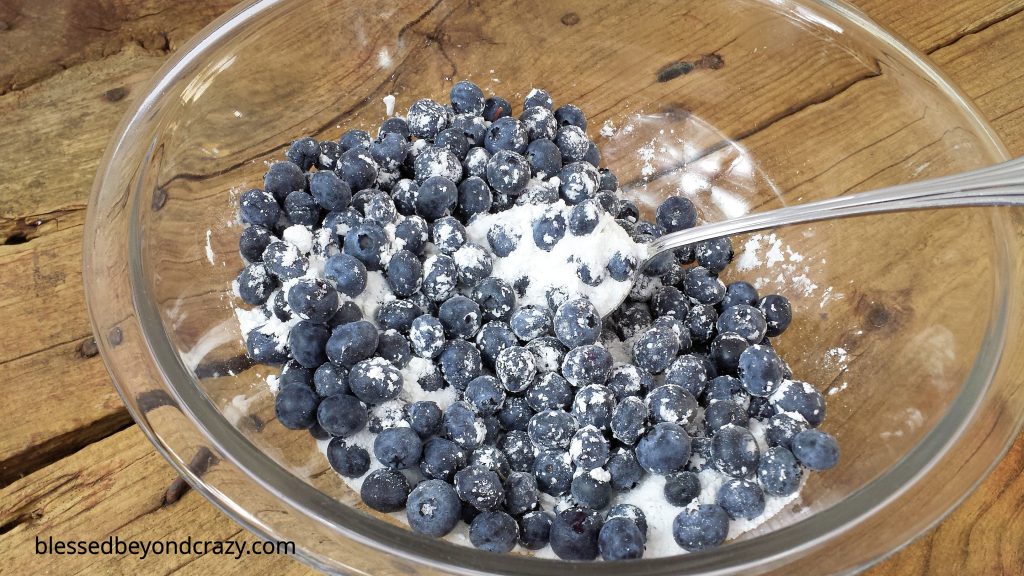 For the filling place the following ingredients in a large mixing bowl:
2 pints of fresh blueberries
3 tablespoons minute tapioca (uncooked)
1 heaping tablespoon cornstarch
1 cup granulated sugar
pinch salt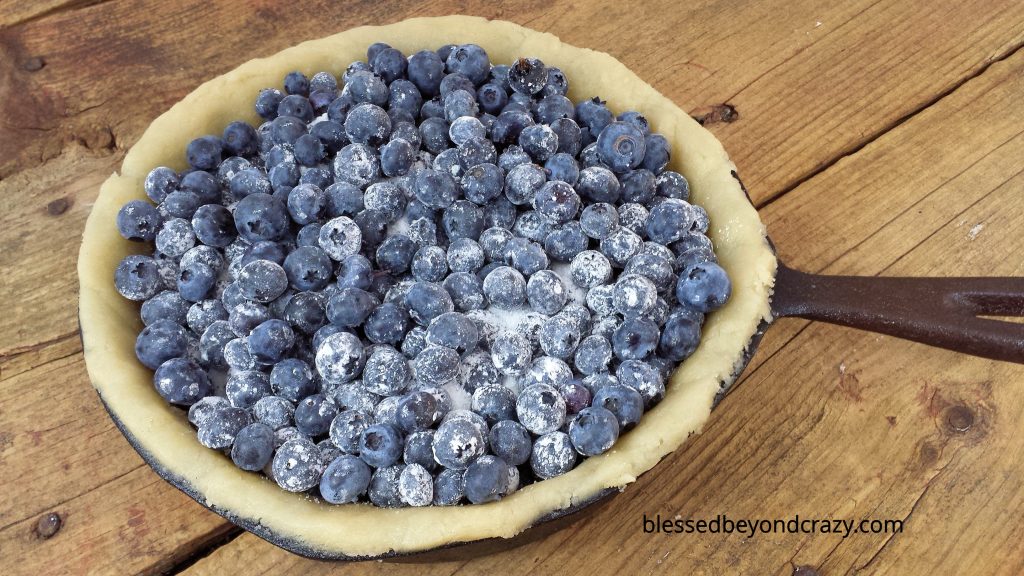 Carefully spoon the blueberry mixture into the pie crust.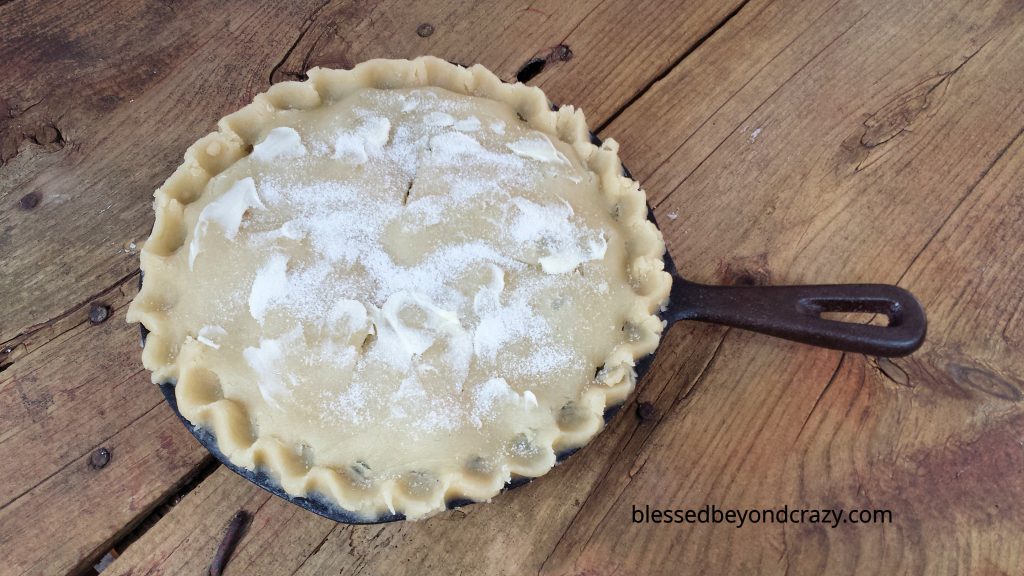 Next, place the remaining ball of pie dough between two pieces of waxed paper. Use either your hands to pat or use a rolling pin to roll out the dough. Make it large enough to cover the top of the skillet. Peel the top sheet of waxed paper off and flip the dough over onto the pie. (See pictures > HERE)

Pinch the edges together. Smear softened butter on top of the dough and a light sprinkle of sugar. To prevent the top crust from bubbling, make four small slits in the top of the dough with a knife.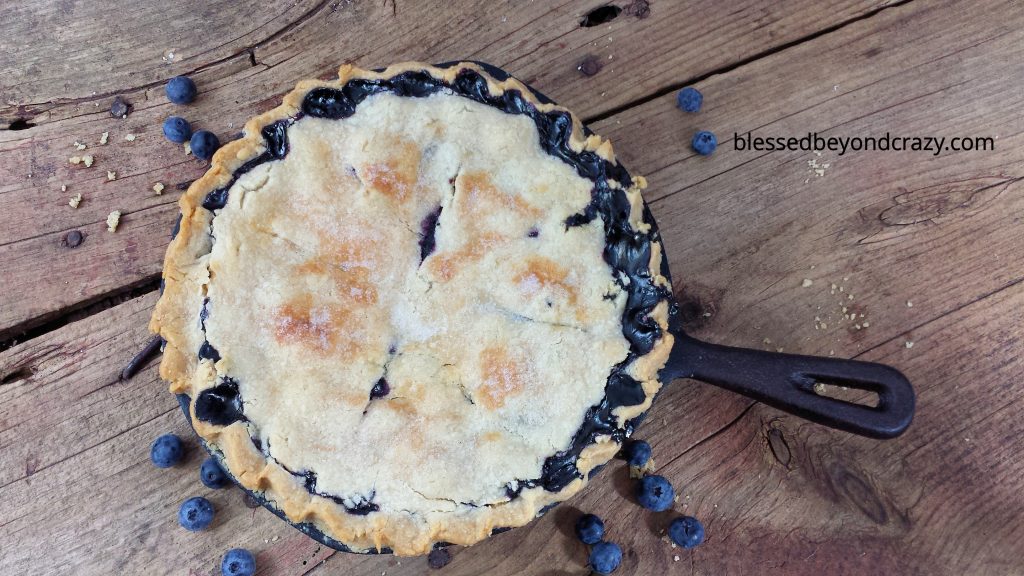 Sometimes the blueberry mixture oozes out during the baking process so you may want to place the skillet on a baking sheet with sides in order to keep your oven clean. Bake the pie in a preheated 350-degree oven for approximately 1 hour 25 minutes, or until the center is set and the top crust is golden brown.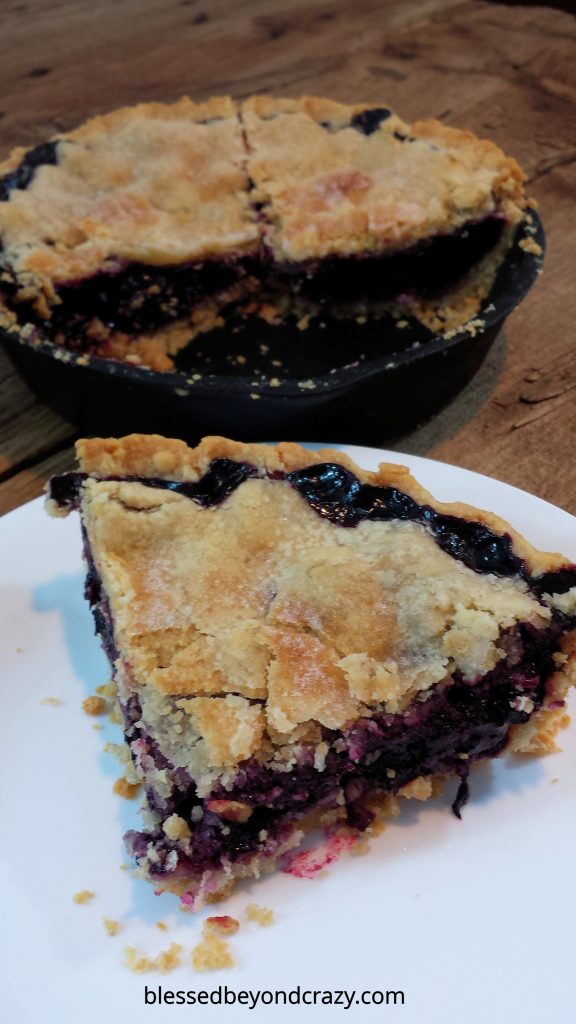 This Rustic Cast Iron Skillet Blueberry Pie will serve three to four people, depending on how big of slices you cut. I recommend serving each slice with a big scoop of ice cream or frozen yogurt. So yummy!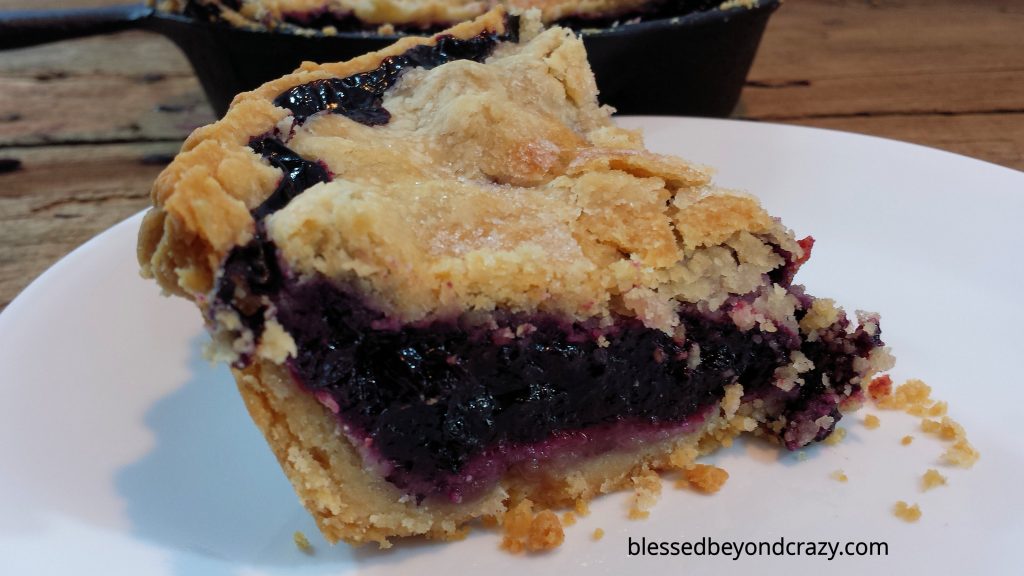 A homemade pie is always a hit with my family and perfect for any holiday. Some of our all-time favorites are Easy Thanksgiving Pumpkin Pie, Grandma's Favorite Apple Pie, Butternut Squash Pie, Rustic Cast Iron Skillet Peach Pie and No-Bake Orange Creamsicle Pie.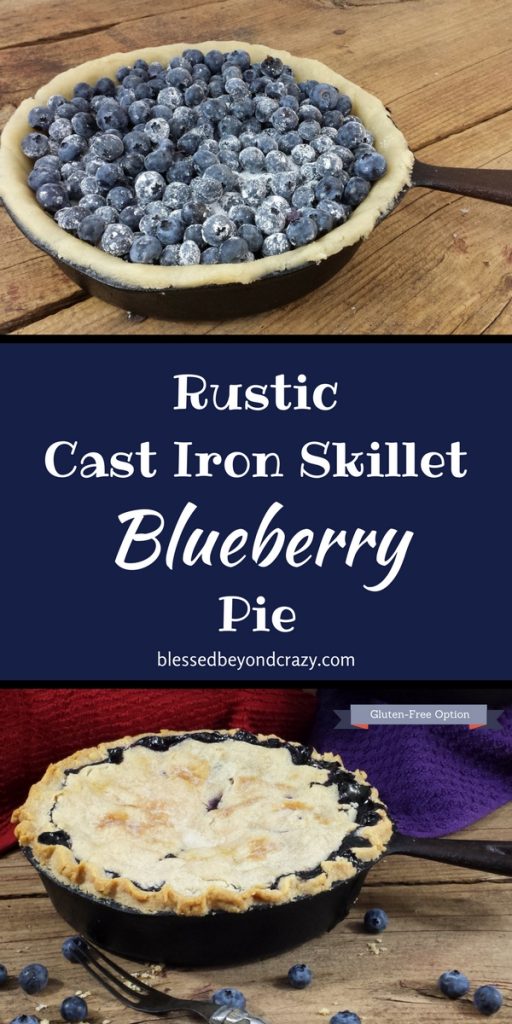 What's your favorite pie?
Linda
More great ideas: