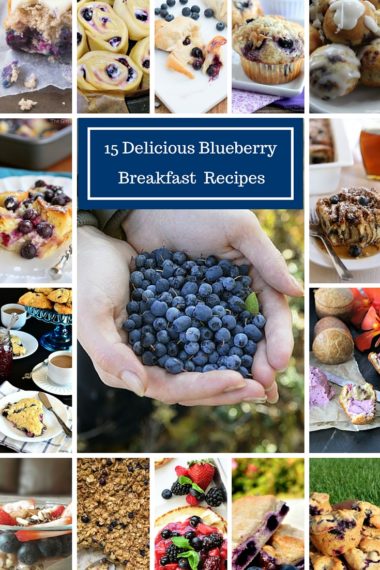 Today, we are featuring 15 delicious blueberry breakfast recipes.
I love blueberries! I especially love blueberry breakfast recipes. I try to refrain from inhaling a whole carton before tossing them into a recipe. Sometimes I buy an extra carton just so I can nibble on them at the same time I am baking a recipe with them. (No joke!) Since I love them so much, it's a good thing these plump, juicy, sweet little gems offer many nutritional benefits!
Packed with Vitamin C which helps maintain healthy gums and capillaries as well as a healthy immune system.

A good source of dietary fiber which helps in preventing constipation.

Full of phytochemicals that may help to prevent many types of chronic diseases, cancers, and heart disease.

80 calories per cup, virtually no fat, and low in sodium.

Excellent source of manganese, which plays an important role in bone development and converting proteins, carbohydrates, and fats into energy.
Blueberries grow in clusters and are at their best from May through October when they are in season.
Blueberries retain their maximum amount of nutrients and their maximum taste when they are fresh, not baked or cooked. That is because their nutrients (including vitamins, antioxidants, and enzymes) undergo damage when exposed to baking/cooking temperatures (350°F/175°C and higher).
The size of the berry does not indicate maturity, but the color does. Blueberries should be deep purple-blue to blue-black. (Reddish blueberries aren't ripe, and won't ripen once they are picked, but you can use them in cooking.) Look for berries that are firm, dry, plump, and smooth-skinned. Do not purchase berries that look soft or shriveled or have any signs of mold. If the packaging has juice in it, it probably means that the berries are bruised and will not keep well.
Refrigerate fresh blueberries when you get them home and be sure to rinse them before consuming them. It's best to use fresh blueberries within 8 – 10 days of purchase.
Fresh blueberries freeze well. Place the berries on a cookie sheet and freeze until firm. Place the frozen blueberries into a freezer zip-lock bag and keep them frozen until you are ready to use them. When using frozen berries in recipes that do not require cooking, thaw well and drain prior to using.
So now that you know a little more about blueberries, let's look at some yummy blueberry recipes for breakfast.
Nutella Parfait by Blessed Beyond Crazy.
Quick Gluten-Free Blueberry Muffins by Blessed Beyond Crazy
White Chocolate Blueberry Pancakes by Oh, Sweet Basil.
Homemade Blueberry Cream Scones by TidyMom.
Blueberry Cream Cheese Swirly Bread by Lovefoodies.
Healthy Flourless Blueberry Breakfast Cake by The Big Man's World.
Blueberry Croissant Puff by The Girl Who Everything.
Honey Blueberry Cheese Danish by Oh, Sweet Basil.
Blueberry Baked Oatmeal by Crazy for Crust.
Mixed Berry Breakfast Pizza by TidyMom.
Breakfast Butter Rolls with Blueberry Whipped Butter by Peas and Peonies.
Blueberry Pancake Bake by Oh, Sweet Basil.
Blueberry Pancake Bites by Cincy Shopper.
Coconut Blueberry Muffins by Oh, Sweet Basil.
Blueberry Crescent Roll Cheesecake Bars by Lovefoodies.
What is your favorite blueberry recipe?
Check out this Chic Breakfast Tray – great gift idea for Mother's Day!

References: