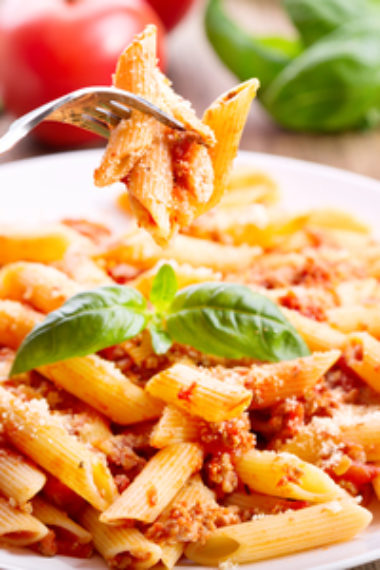 I have a weakness for pasta and although I love all types of pasta dishes, this Easy Mostaccioli Pasta Recipe is one of my favorites. Not only is this recipe tasty, but the recipe is also easily modified to be gluten-free.

To help support our blogging activities, our site contains affiliate links. If you make a purchase from a link on our site, we may receive a small percentage of that sale, at no extra cost to you. Blessed Beyond Crazy is a participant in the Amazon Services LLC Associates Program, an affiliate advertising program designed to provide a means for sites to earn advertising fees by advertising and linking to amazon.com. As an Amazon Associate, I earn from qualifying purchases.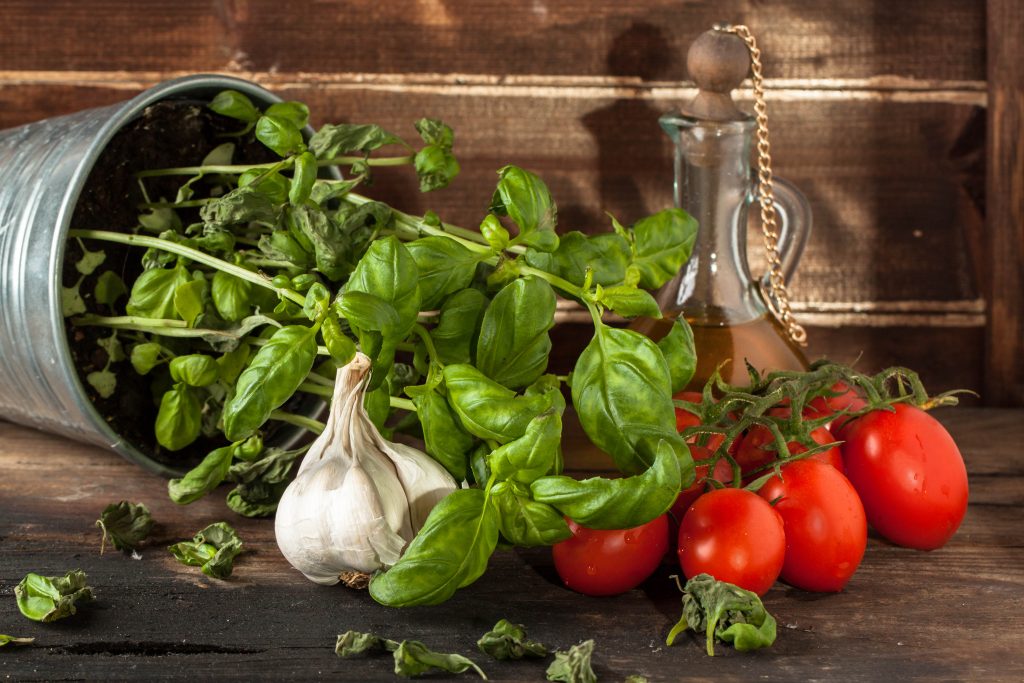 This Easy Mostaccioli Pasta Recipe is perfect for a busy weeknight. It comes together pretty quickly, is full of flavorful ingredients, it's a filling meal and it's great the next day as leftovers.
As per the name, I suggest you use mostaccioli or penne noodles and in my case, I use gluten-free noodles. Fear not; this recipe will work well with just about any noodle! When in a pinch, I've used elbow macaroni or spiral noodles before and they work well too.
I started by cooking the noodles according to the packaging directions. While the noodles were cooking I started making the sauce.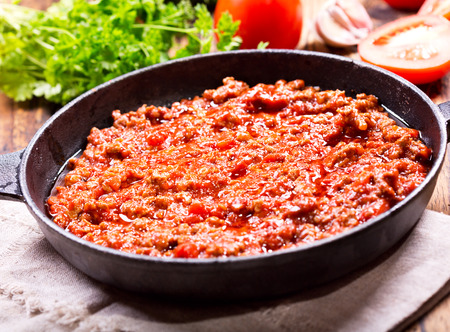 First, I heated up my large cast-iron skillet on medium heat. Next, I added extra virgin olive oil, chopped garlic, and chopped onion to the skillet. I cooked the garlic and onions until soft, but not brown. I added ground beef, cooked it until the meat was no longer pink then drained the excess grease. Finally, I added homemade versatile tomato sauce (or you can use your favorite tomato sauce), seasonings, and herbs to the meat mixture. I cooked the sauce on low until it started to thicken.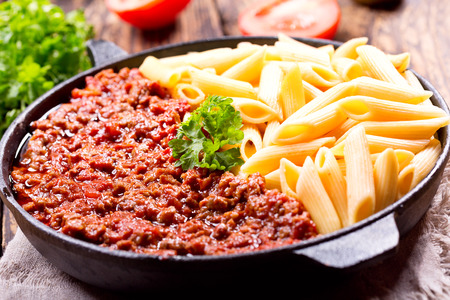 By now my noodles were fully cooked, drained, and ready to add to the sauce. I gently stirred the noodles and sauce together until just combined.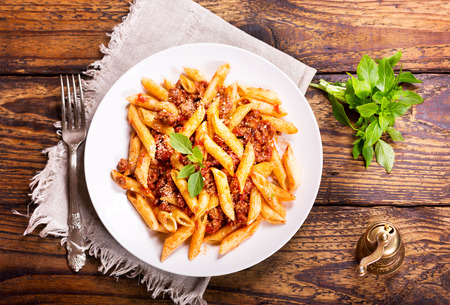 Finally, I garnished the pasta with fresh basil and a sprinkle of grated Parmesan cheese. I served the pasta along with a side salad and cheesy garlic bread.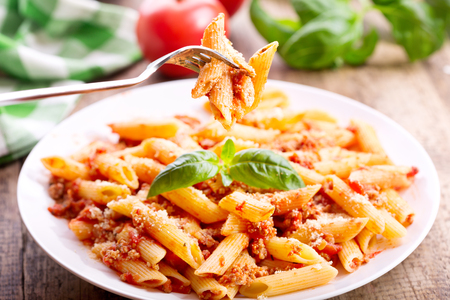 Yield:

4 - 5 Servings
Easy Mostaccioli Pasta Recipe
A delicious pasta dish that everyone will love.
Ingredients
1 pound box Mostaccioli or penne noodles (*GF Option - use gluten-free noodles)
1 1/2 pounds ground beef
2 tablespoons olive oil
2 cloves garlic, chopped
1/4 cup onion, chopped
24 ounces tomato sauce (*GF Option - use a gluten-free sauce)
1 1/2 tablespoons sweet basil leaves
1 1/2 tablespoons parsley leaves
1/2 teaspoon tarragon leaves
1/2 teaspoon oregano leaves
1 teaspoon salt
1 teaspoon pepper
1 tablespoon sugar (optional)
1/2 teaspoon anise seed (optional - will provide a hint of licorice flavor)
1/2 teaspoon cilantro leaves (optional)
Garnish - fresh basil, Parmesan or mozzarella cheese
Instructions
Cook Mostaccioli noodles according to package directions, drain.
Meanwhile, add olive oil to a large skillet, cook garlic and onion over medium heat until tender.
Add ground beef, cook until meat is no longer pink, drain excess grease.
Return to heat and add tomato sauce, basil, parsley, tarragon, oregano, salt, pepper, sugar, anise seed, and cilantro.
Cook sauce over medium heat, stirring occasionally, until mixture starts to thicken.
Gently stir together the drained noodles with sauce.
Garnish with fresh basil and grated Parmesan or mozzarella cheese.
Serve hot.
Notes
Optional additions: mushrooms, diced tomatoes, peppers, zucchini and/or black olives. Optional: Use 1/2 pound ground Italian sausage with 1/2 pound ground beef.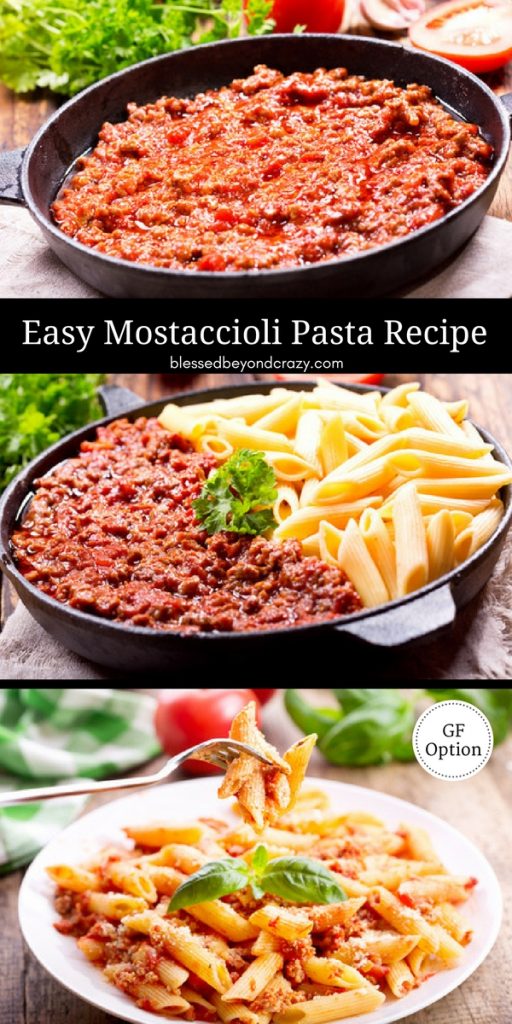 Because this Easy Mostaccioli Pasta Recipe is so tasty it's a family favorite standby dish. In addition, you can easily add extra ingredients such as mushrooms, diced tomatoes, peppers, and/or black olives to change up the recipe a bit.
Enjoy!
Looking for more pasta sauce recipes? Check out this post: Mouthwatering Pasta Sauces for Every Occasion.
(Since I am allergic to garlic and onions I divide the recipe and omit these in mine but do add them to my husband's sauce.)
Linda
More great ideas: