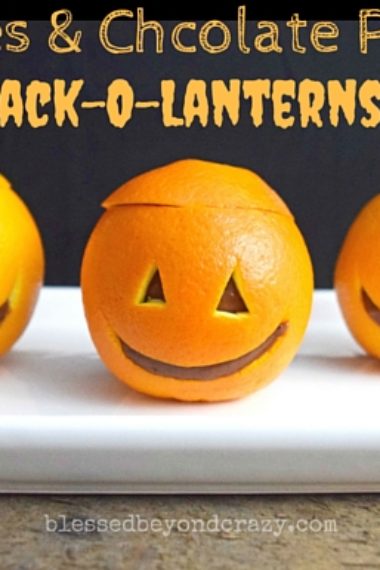 If you're looking for the perfect Halloween treat that is adorable, yet fast and simple, then look no further! These Orange and Chocolate Pudding Jack-O'-Lanterns are so cute and take no time at all to make!
Start with oranges! One batch will make 5 Jack-O'-Lanterns.
To help support our blogging activities, our site contains affiliate links. If you make a purchase from a link on our site, we may receive a small percentage of that sale, at no extra cost to you. Blessed Beyond Crazy is a participant in the Amazon Services LLC Associates Program, an affiliate advertising program designed to provide a means for sites to earn advertising fees by advertising and linking to amazon.com.
First, make the chocolate pudding. I made instant which was one package of pudding and two cups of milk. It took 5 minutes to set up in the fridge. You can use a homemade pudding if you want (look at you overachiever!).
While the pudding was setting up I prepared the oranges. If you have ever carved a pumpkin, let me tell ya, carving an orange is easier!
Start by cutting the tops of the oranges off (as pictured below). Save the tops, they will be the lids.
Using a large spoon scoop out the orange, leaving a hallow orange rind. You'll want to wedge the spoon between the fruit and the rind and wiggle it back and forth until you can scoop the fruit out. This takes just a tiny bit of patience. You'll have to be somewhat gentle with the spoon or you'll rip the rind apart. It sounds harder than it is.
Make sure you do this over a bowl because it gets juicy! Save the oranges and the juice for a snack…because fresh squeezed OJ… YUM! Plus winter is coming up, get your Vitamin C!
Just like carving a pumpkin, you can never get it perfectly clean. I had some leftover pulp left in the rind and that is okay!
Once you have the empty orange rinds it's time to turn them into Jack-O'-Lanterns.
Get a sharp knife (adults only please). You can draw your design with a marker first if you want. Honestly, it is so much easier to cut through an orange than a pumpkin that I had an easy time making these without tracing first. I also used the simplest design possible.
You can make whatever design you want for your Jack-O'-Lanterns… try a scary design or whatever floats your boat. But remember you are putting pudding inside of them so any hole that is bigger than a straw will have pudding oozing out.
When you're done with your carving, spoon the pudding into the orange rind and pop the tops back on.
See that was easy!
Captain Obvious here! Oranges are round. Round things roll. If you put these on a platter/plate/cutting board/etc. and try to walk while carrying a platter/plate/cutting board/etc. the round oranges will roll right off and make a small mess. Not saying I know this from experience… but I do. Just a heads up in case you make these for a party or something to be careful when transferring these from one location to the next. 🙂
Check out my Pinterest board for more Fall inspiration.
Happy Halloween!
Anna
More great ideas: