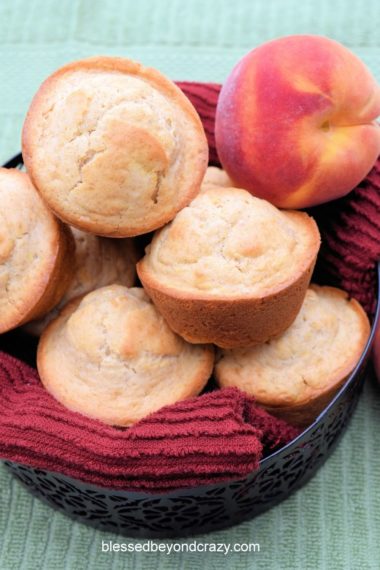 Fresh peaches are in season right now and therefore it's the perfect time to make these amazing Peachy Peach Muffins! These delightful muffins are loaded with delicious flavor and are especially great served warm with a pad of fresh butter. 

To help support our blogging activities, our site contains affiliate links. If you make a purchase from a link on our site, we may receive a small percentage of that sale, at no extra cost to you. Blessed Beyond Crazy is a participant in the Amazon Services LLC Associates Program, an affiliate advertising program designed to provide a means for sites to earn advertising fees by advertising and linking to amazon.com. As an Amazon Associate, I earn from qualifying purchases.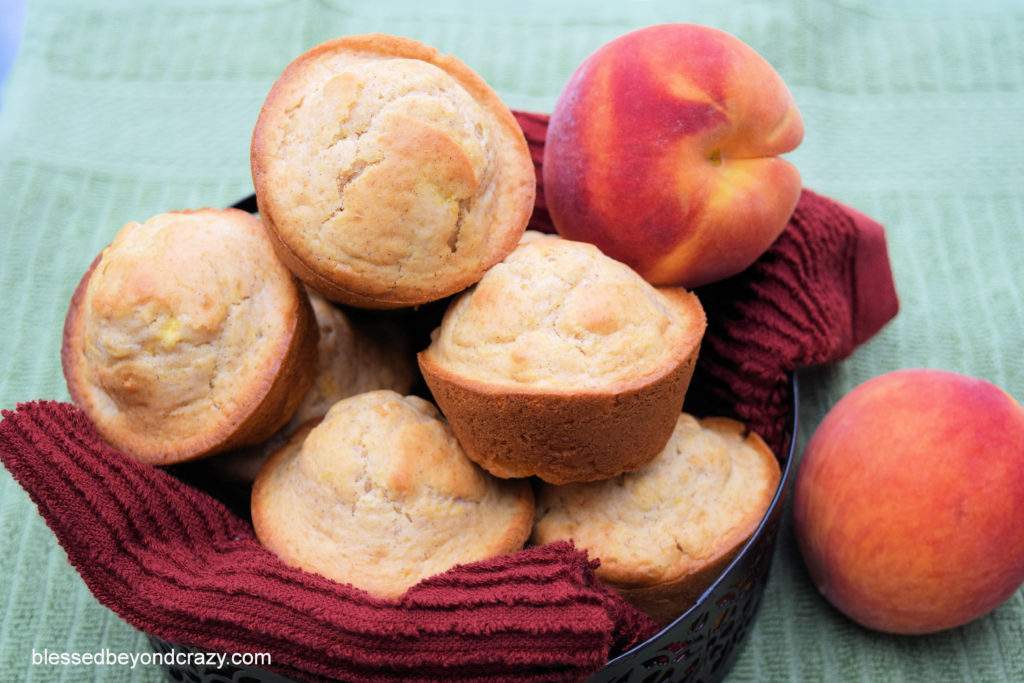 Fresh Peaches
Ripe, juicy, fresh peaches are always a tasty treat. Last week my parents purchased a bushel basket of fresh peaches at a local open-air market and were kind enough to share their bounty with us. Although I love eating a fresh peach straight from the tree, I also enjoy a fabulous recipe that includes peaches.
Regular All-Purpose Flour
First of all, it's always fun experimenting with a recipe, so I whipped up two separate batches of muffins. I used regular all-purpose flour in one batch and gluten-free flour blend in the second batch then placed the batter in two separate non-stick muffin tins. Both turned out well. 
Gluten-Free Flour Blend
Peachy Peach Muffins made with all-purpose flour turned out a little lighter, while the gluten-free muffins were somewhat heavier.
It seems this is often the case whenever comparing baked products made with wheat flour vs gluten-free flour. As a result, either version received "two thumbs up" during a taste-testing trial by my husband.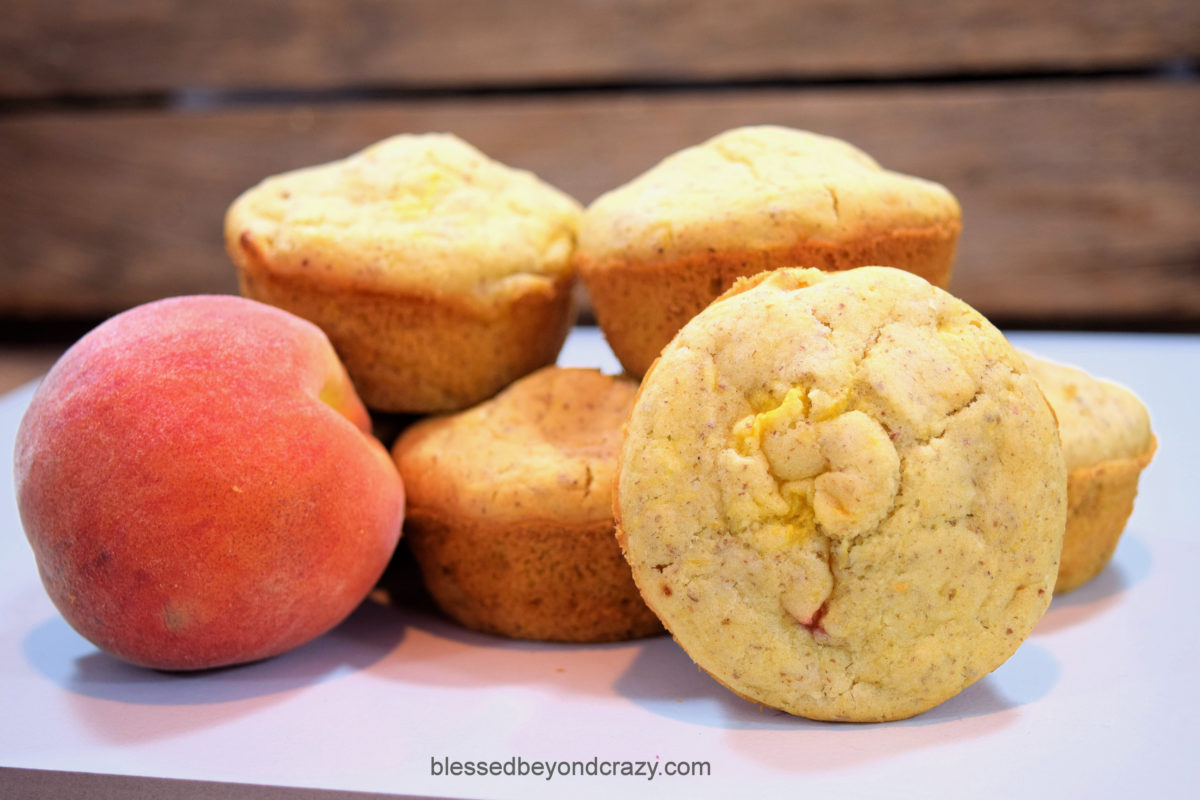 Peachy Peach Muffins are so delicious that I predict you will be making these muffins on a regular basis.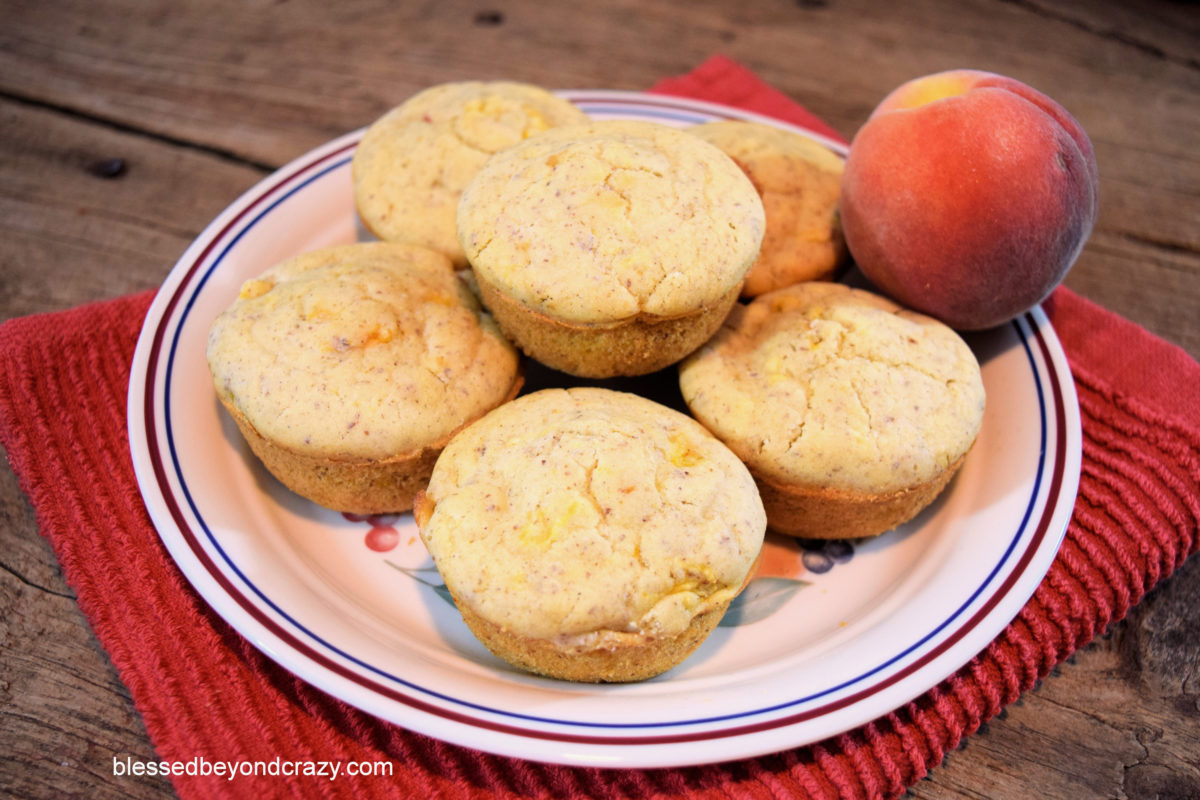 In conclusion, both sets of Peachy Peach Muffins turned out to be moist and loaded with chunks of fresh peaches. Additionally, you can easily tweak this recipe by stirring in a handful of chopped pecans or walnuts into the batter for even more flavor.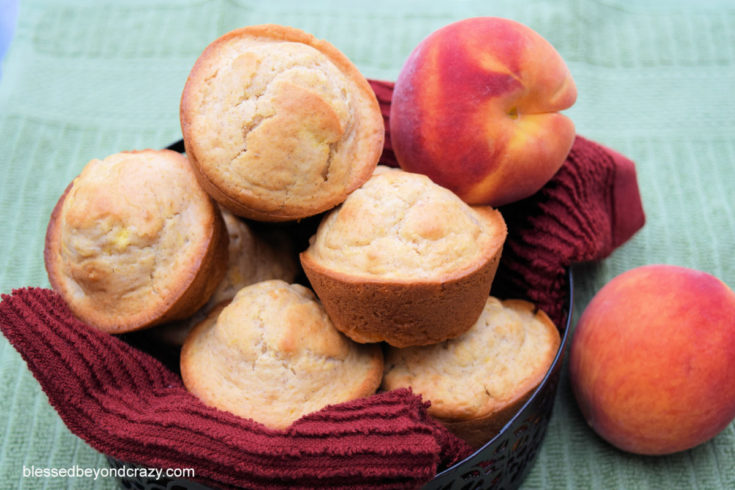 Yield:

Yields approx. 15 muffins
Peachy Peach Muffins
A deliciously moist peach muffin recipe.
Ingredients
2 cups all-purpose flour (*GF option: use gluten free flour blend + 1 teaspoon xantham gum - unless flour contains it already).
1/2 cup sugar
1/2 teaspoon salt
4 teaspoons baking powder (*GF option: use gluten free baking powder)
1 teaspoon ground cinnamon
(*GF option only: 2 heaping tablespoons ground flax)
1 cup milk (I used rice milk in the gluten free recipe and it worked fine)
1/2 teaspoon vanilla
1 egg
6 tablespoons butter, melted
1 cup fresh peaches, chopped into small chunks
Optional: 1/4 cup chopped pecans or walnuts
Instructions
Preheat the oven to 400 degrees F.
In a mixing bowl, mix flour, sugar, salt, baking powder, and cinnamon together - *plus ground flax for a gluten-free option.
In a separate mixing bowl, combine milk, eggs, vanilla, and butter.
Stir wet ingredients into dry ingredients.
Fold in peaches.
Optional: Fold in chopped pecans or walnuts
Spoon batter into greased muffin tins.
Bake 25 minutes.
Serve warm with butter and/or a dollop of peach preserves.
Store in an airtight container.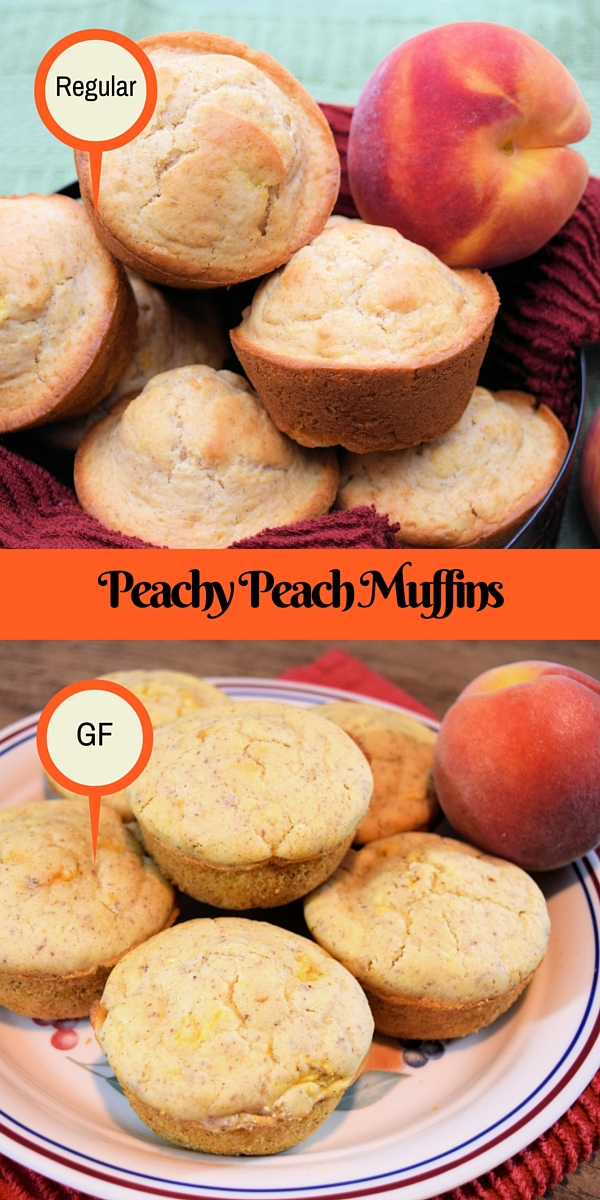 Fresh peaches easily bruise and quickly spoil so this recipe is a fabulous way to keep from throwing them out.
Happy baking!
Linda
Disclaimer: Manufacturer's formulations and policies may change at any time. Therefore it's important to always read product labels yourself and contact the manufacturer with concerns. We have found that most companies are eager to help answer your questions.
Check out more great recipes: