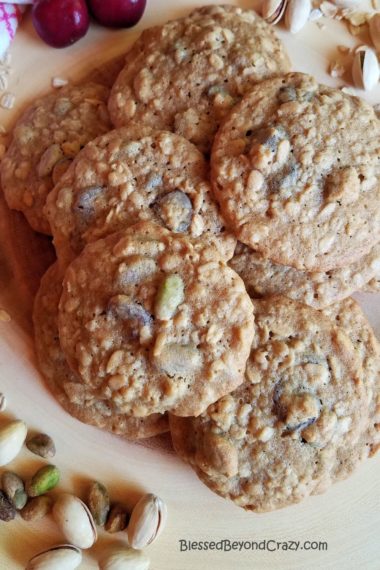 Cherry Pistachio Oatmeal Cookies are absolutely delicious and make a fabulous DIY cookies-in-a-jar gift. The flavors and tantalizing texture in these cookies truly are abundant. But, don't take my word for it. Make a batch yourself and you'll see what I mean. 

---
To help support our blogging activities, our site contains affiliate links. If you make a purchase from a link on our site, we may receive a small percentage of that sale, at no extra cost to you. Blessed Beyond Crazy is a participant in the Amazon Services LLC Associates Program, an affiliate advertising program designed to provide a means for sites to earn advertising fees by advertising and linking to amazon.com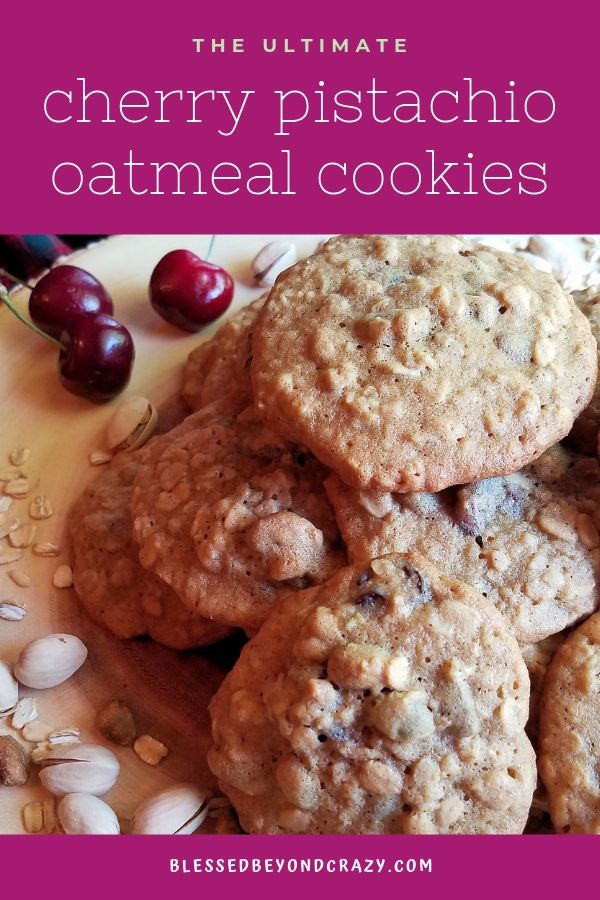 Personally, I think cookies are a fun dessert. Mainly because serving them requires no plates or utensils. Simply use your hands. Besides that, since cookies come in a wide variety of shapes, sizes, flavors, and styles everyone can find a cookie they love.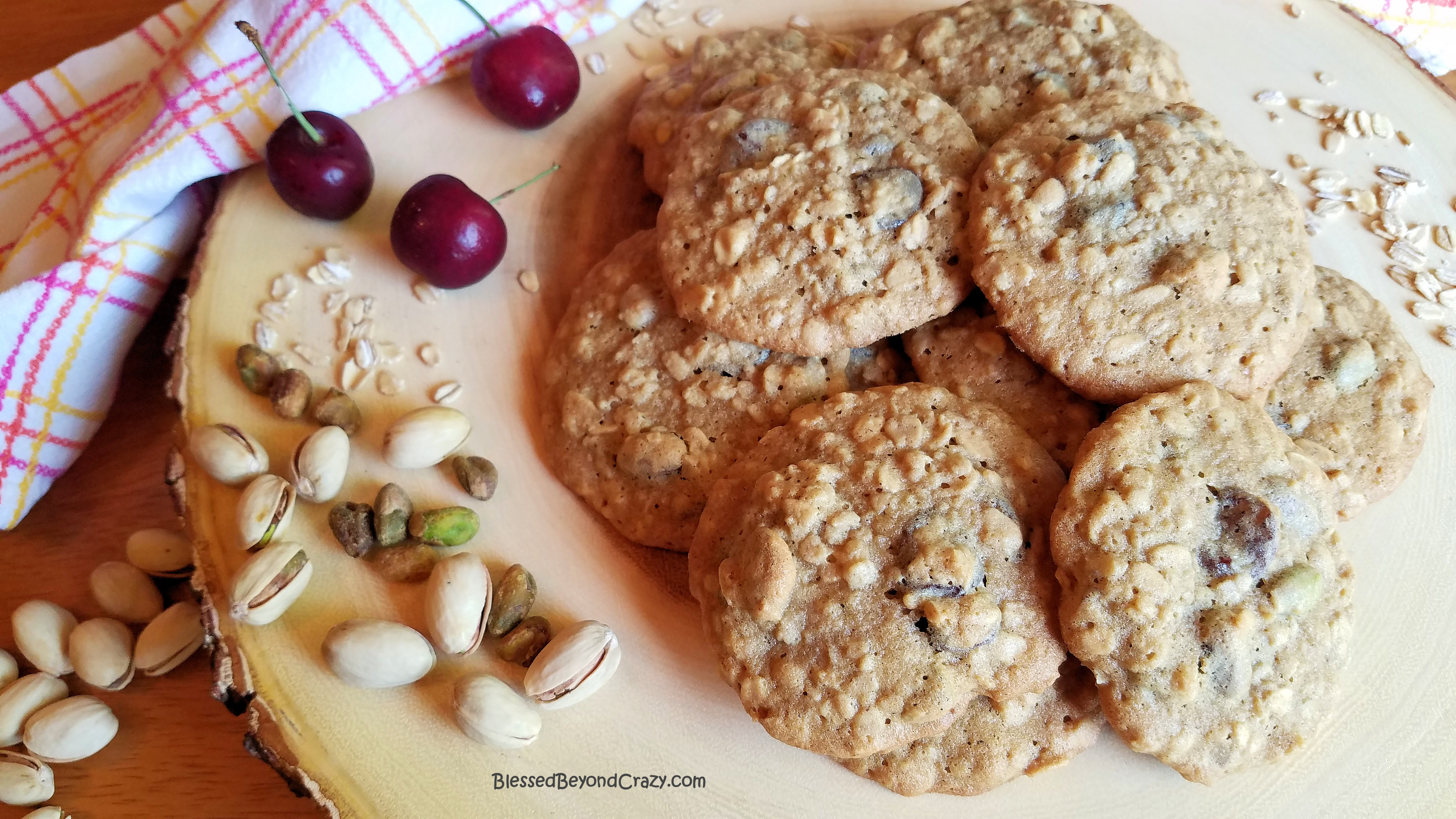 I don't exactly remember where I found this recipe. However, I can tell you that these slightly chewy cookies are a fabulous treat!
It's funny, but making cookies is just one activity that my grandchildren like to do with me. (Somehow sprinkles are usually involved!) Maybe that's because I like trying new recipes and they consider themselves to be part of my taste-testing team. 🙂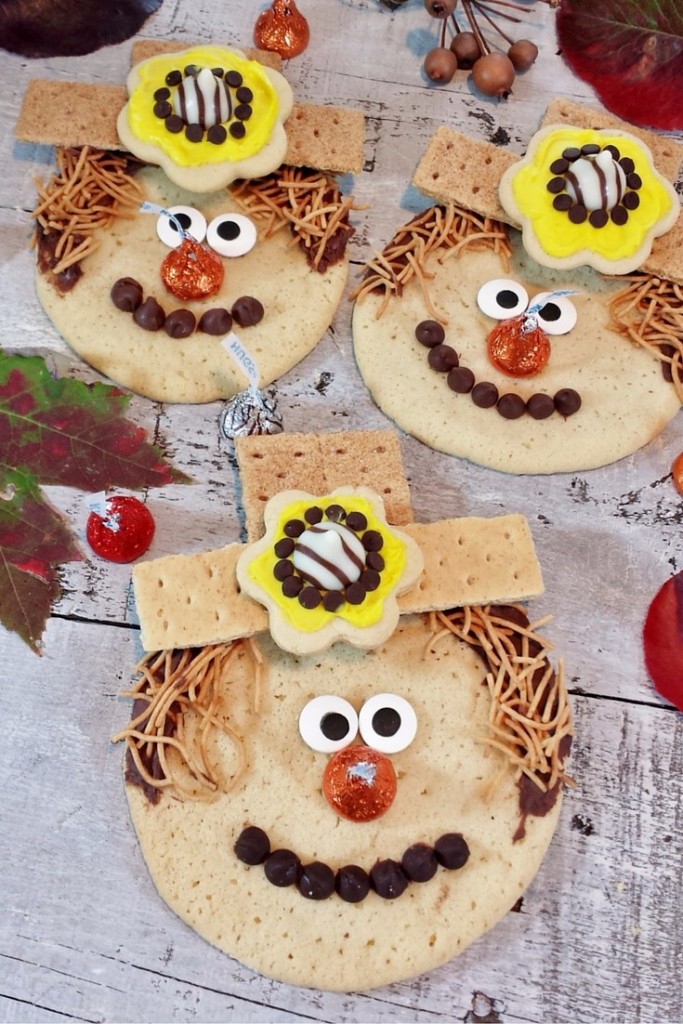 Some of our personal favorite cookies recipes are: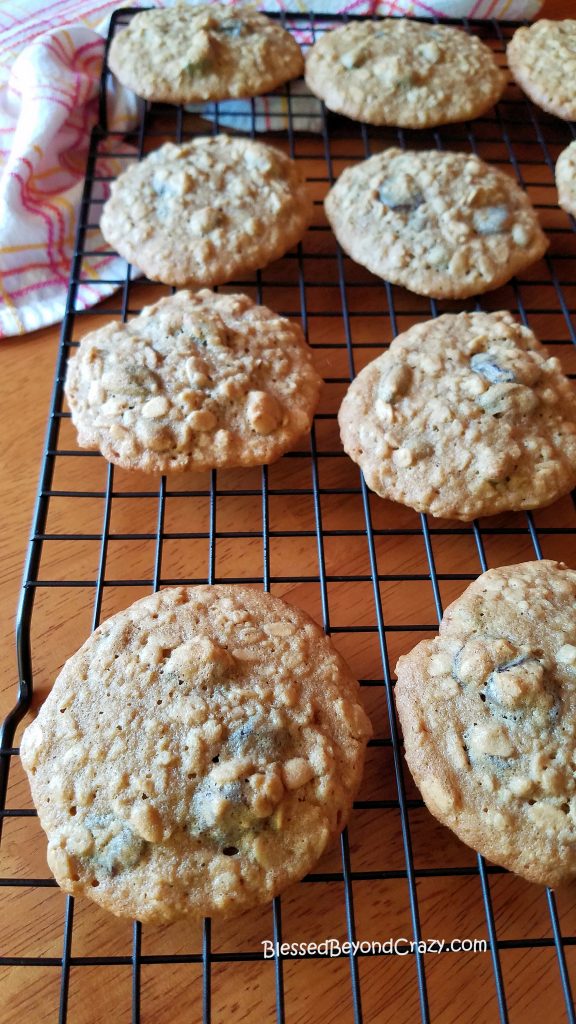 Oats – for the win!
Did you know you can make these delicious cookies using old-fashioned rolled oats, quick oats, or even gluten-free oats? Yes, ma'am!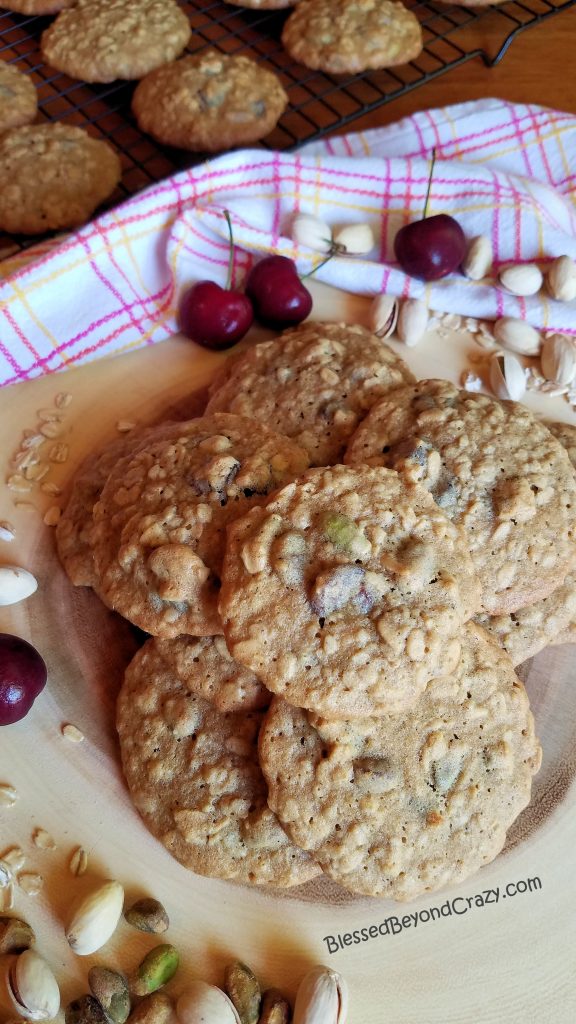 Can you spot the pistachios and cherries peeking out of the cookies in the photo above?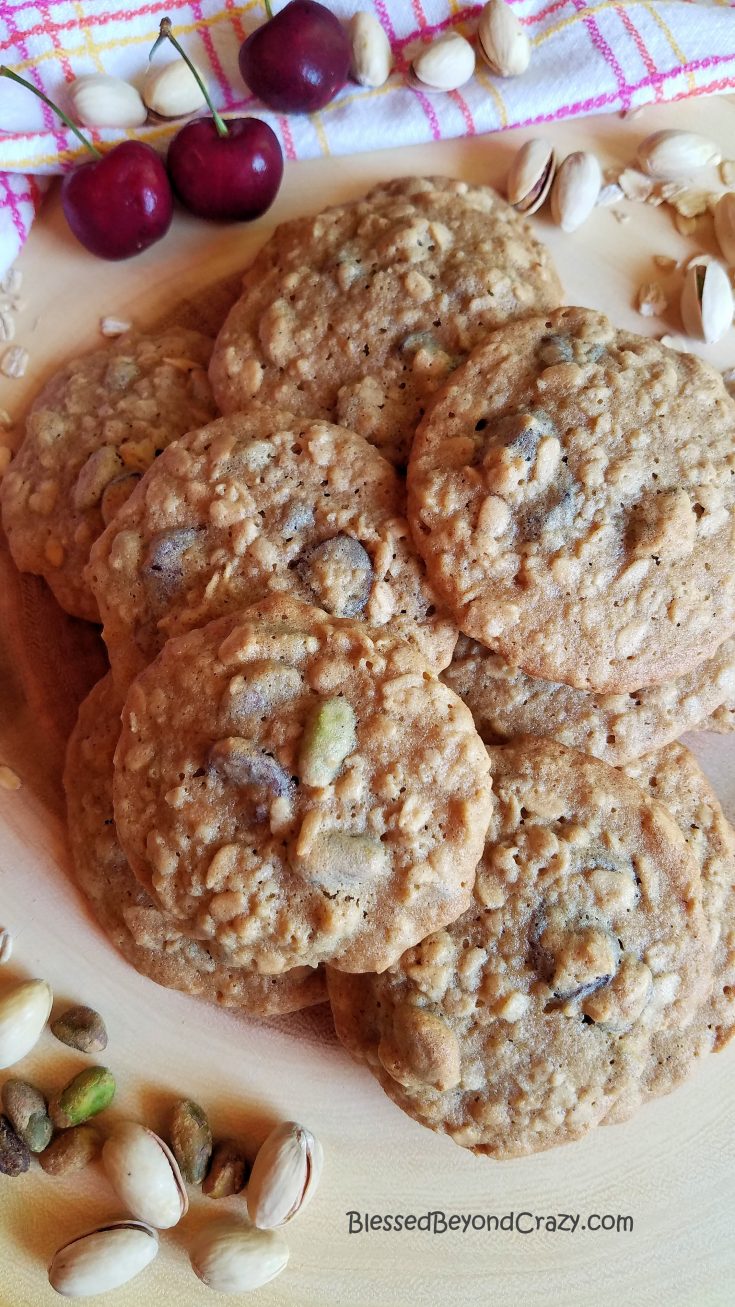 Yield:

2 Dozen Cookies
Cherry Pistachio Oatmeal Cookies
Delicious cookies that are loaded with fabulous flavor and texture.
Ingredients
DRY INGREDIENTS:
3/4 cups all purpose flour (GF Option: use gluten-free flour blend + 1 teaspoon xanthan gum - unless flour already contains it)
1/2 teaspoon ground cinnamon
1/4 teaspoon baking powder (GF Option: use a gluten-free brand)
1/4 teaspoon baking soda
1/4 teaspoon salt
3/4 cup packed brown sugar
3/4 cup granulated sugar
1 cup old-fashioned oats (GF Option: use certified gluten-free oats)
WET INGREDIENTS:
1/2 cup butter, softened
1 large egg
1/2 teaspoon vanilla (GF Option: use a gluten-free brand)
CHERRIES & PISTACHIOS
1/2 cup dried tart cherries (I use all-natural sulfite & preservative-free dried cherries)
1/2 cup pistachios, shelled
Instructions
Prehat oven to 350 degrees F.
In a large bowl, whisk flour, cinnamon, baking powder, baking soda and salt. Stir in oats.
In separate bowl, cream butter, brown sugar, and granulated sugar until light and fluffy. Beat in eggs and vanilla.
Gradually mix dry ingredients into creamed mixture. Stir in cherries and pistachios.
Drop by tablespoons (2-inches apart) onto lightly greased baking sheet.
Bake 10 - 12 minutes or until edges are golden brown.
Cool. Store in air-tight container.
Notes
NOTE: Feel free to use quick oats in place of old-fashioned oats.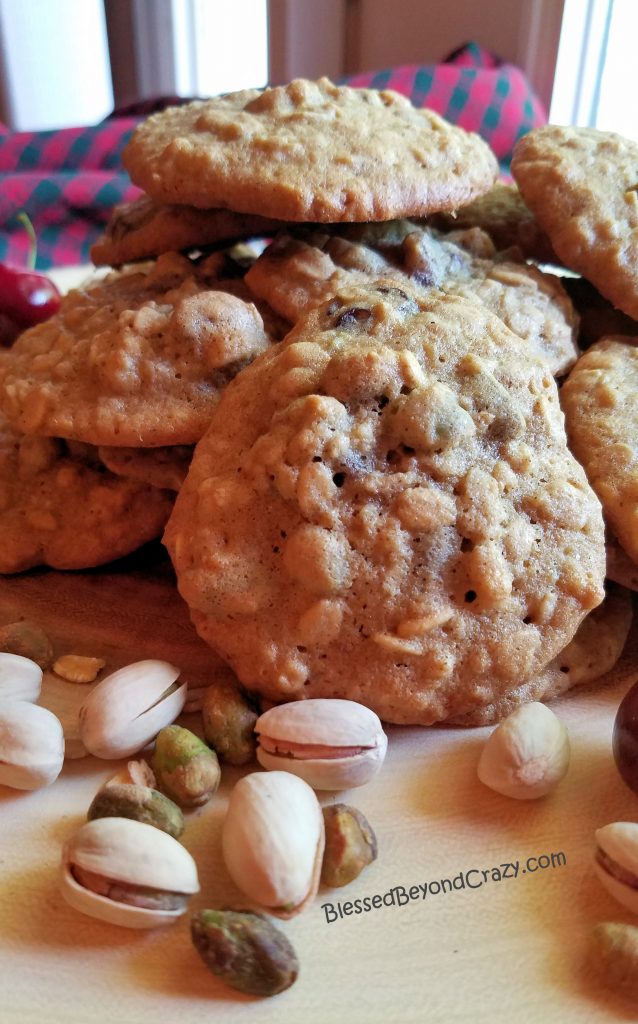 Don't you just want to reach through your computer screen and grab a few cookies?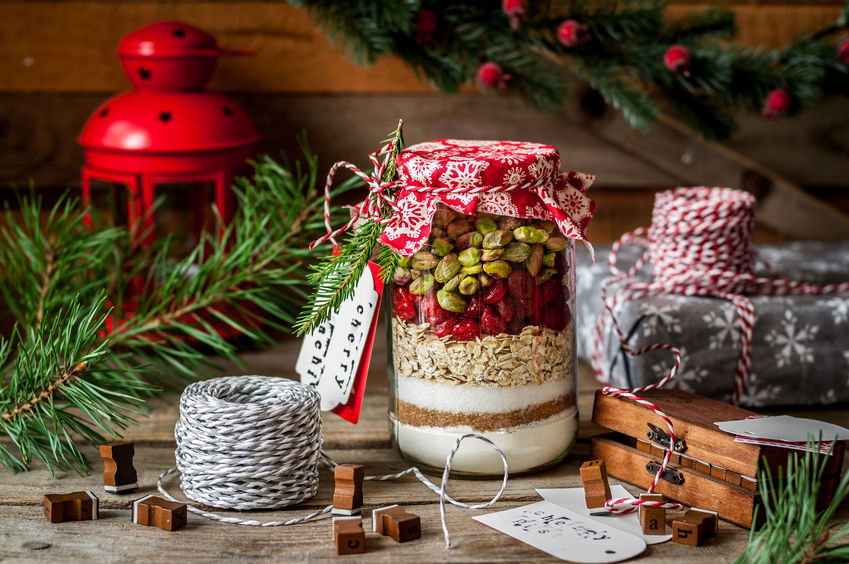 A jar of cookie mix is always a fun and easy DIY gift. Simply layer the dry ingredients in a quart-size wide-mouth canning jar. (NOTE: After the wet ingredients are added, one jar of cookie mix should yield approximately 2-dozen cookies.)
Finally, cover the lid with a swatch of fabric and adorn it with a piece of bakers twine and a pine sprig. Attach a tag with a list of remaining wet ingredients and directions. Cute. Easy. Delicious!
Here's to a day filled with warm cookies served fresh out of the oven!
Linda
More great ideas: