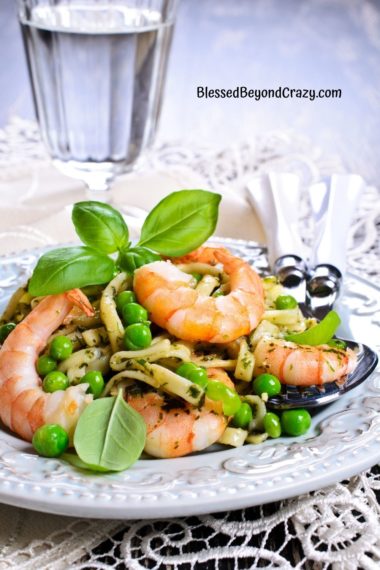 A 16 Minute Shrimp Pasta Meal is perfect for those busy days when you are pressed for time.
But wait! It's also a great dish to serve to those who are gluten intolerant because the recipe can easily be modified to be gluten-free. Therefore, grab a spoon, meet me in the kitchen and let's get started! 

To help support our blogging activities, our site contains affiliate links. If you make a purchase from a link on our site, we may receive a small percentage of that sale, at no extra cost to you. Blessed Beyond Crazy is a participant in the Amazon Services LLC Associates Program, an affiliate advertising program designed to provide a means for sites to earn advertising fees by advertising and linking to amazon.com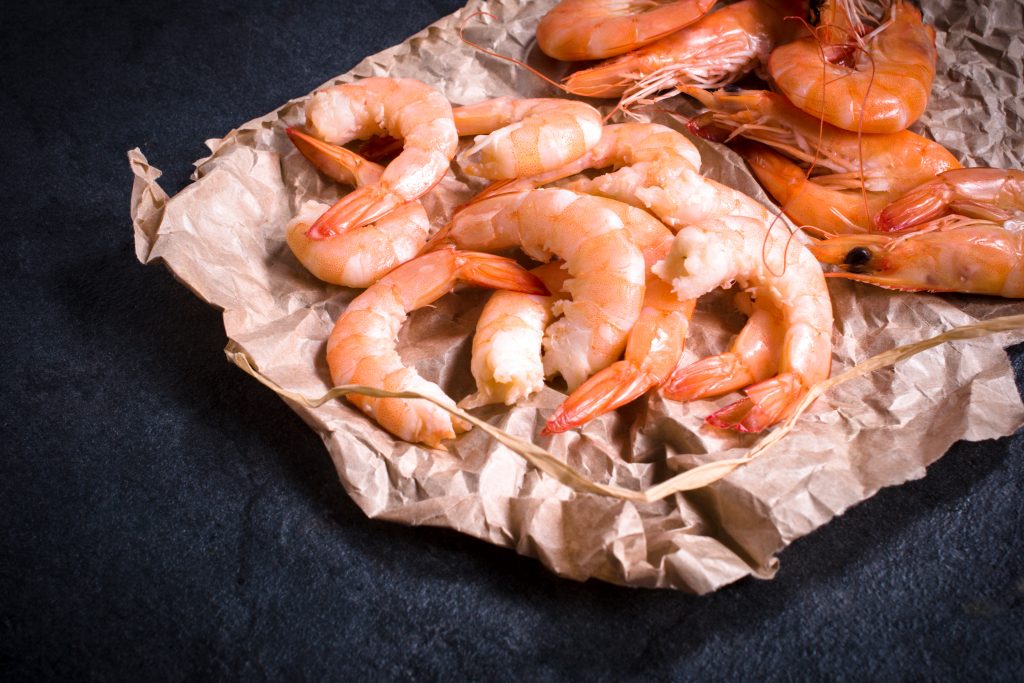 SHRIMP
First of all, I need to tell you that my entire family seems to love any dish that includes shrimp.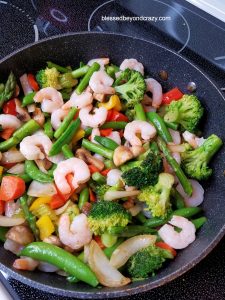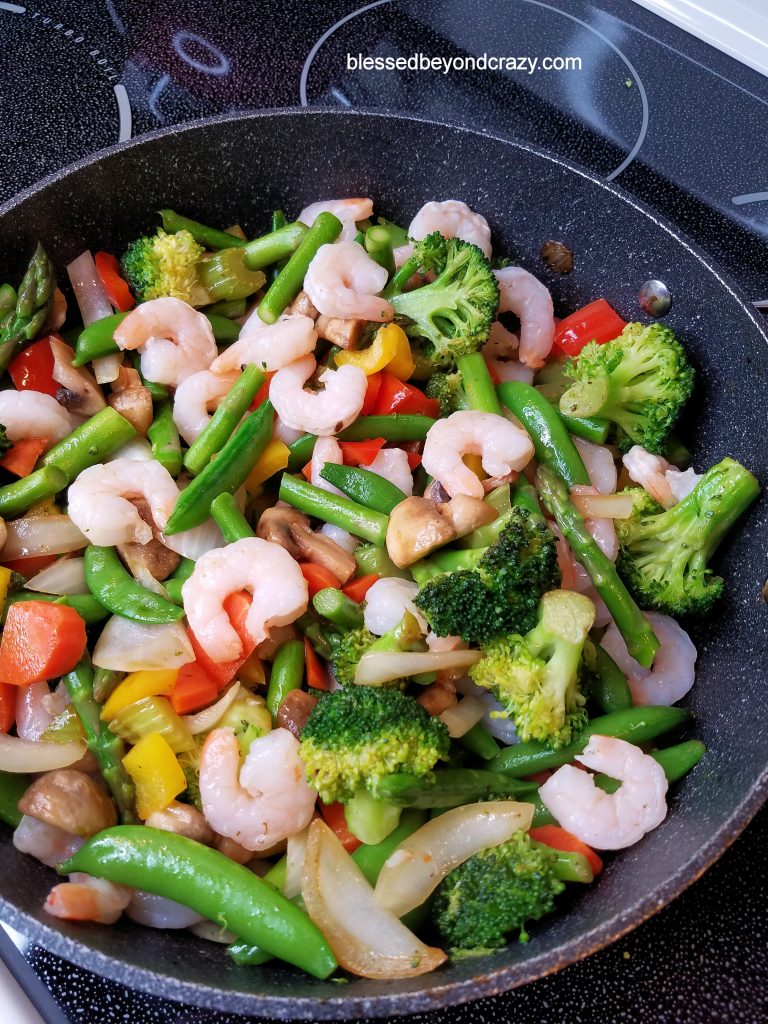 That is to say, they enjoy things such as shrimp cocktail, shrimp tacos, and my Low-Carb Shrimp Veggie Stir fry (which is also quick and easy to make).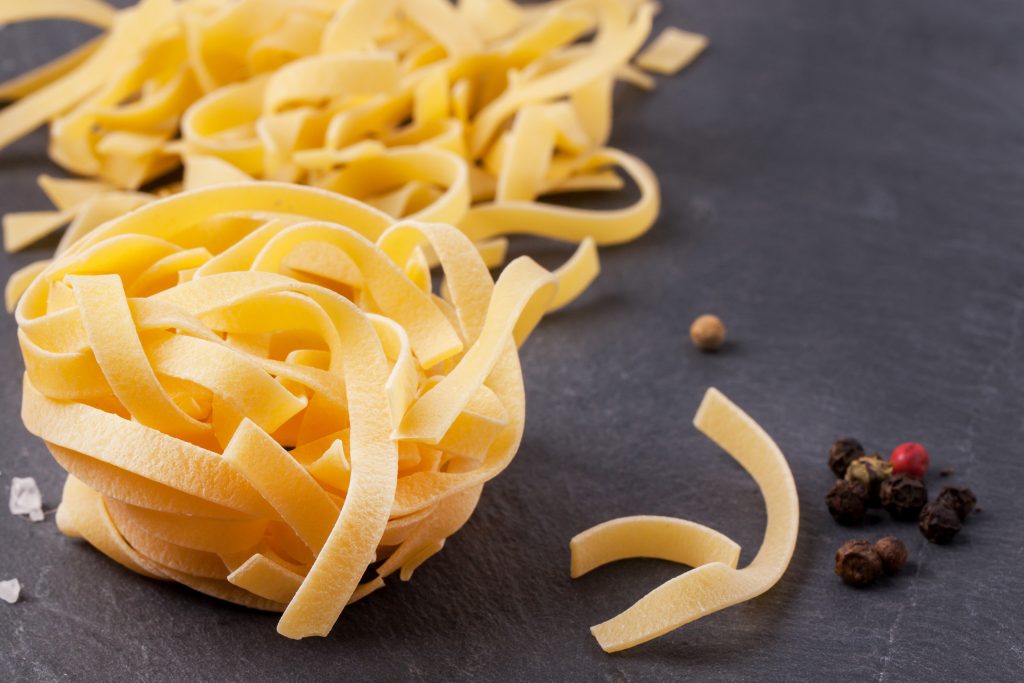 PASTA
Secondly, in addition to shrimp, my family also enjoys a good pasta dish.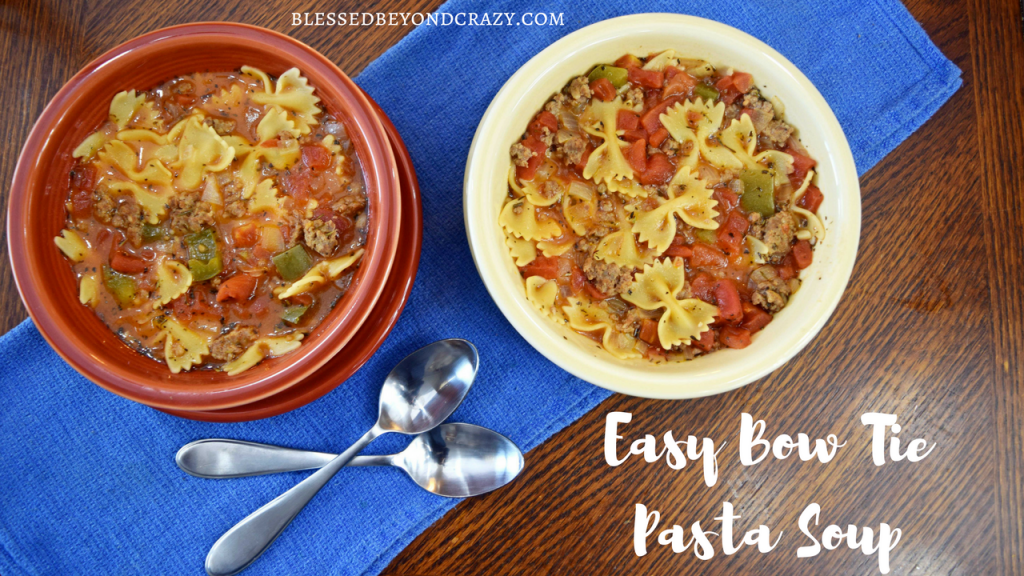 For example, everyone loves Anna's Easy Bow Tie Pasta Soup and my Easy Mostaccioli Pasta Recipe.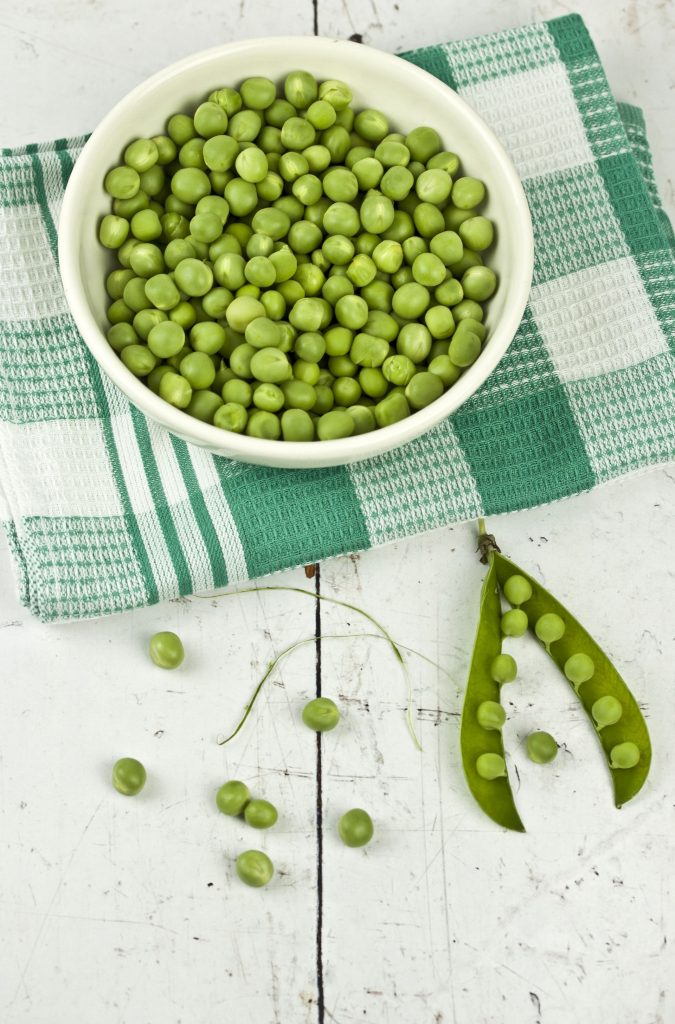 PEAS
Peas are yet another key ingredient. These tiny green gems are exceptionally delicious when eaten fresh, right out of the shell. (I know because I've personally done this many times.)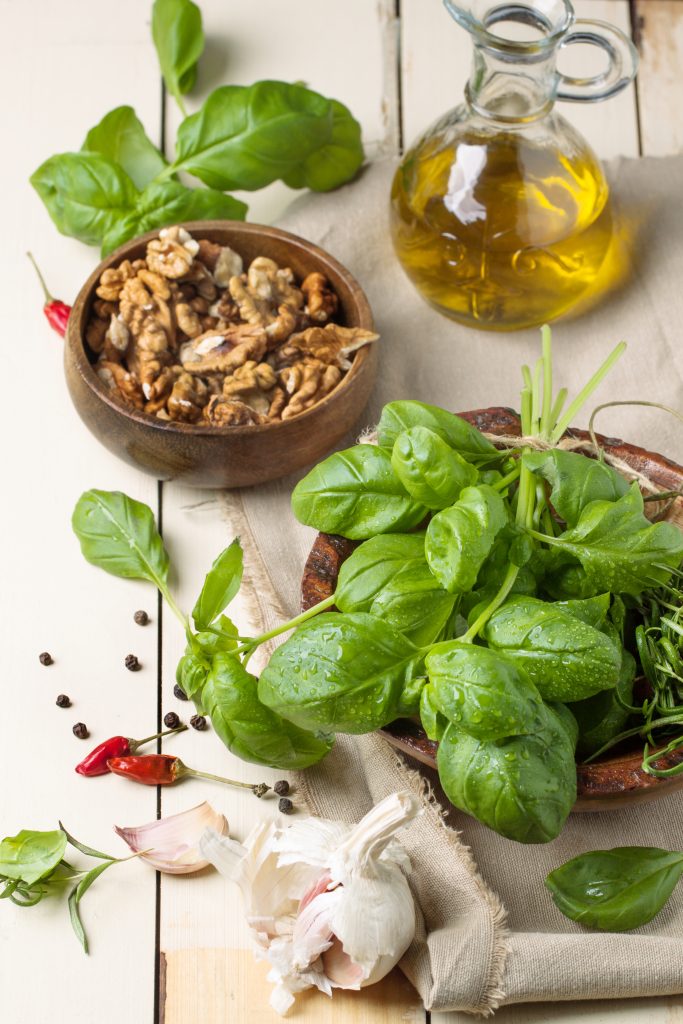 HOMEMADE PESTO
Likewise, feel free to use a jar of pesto sauce or make your own homemade pesto. My son, Isaac, can attest that homemade pesto is easy to make. All you need is a blender or food processor and a handful of ingredients:
2 cups (packed) fresh basil
2 or 3 cloves garlic
1/4 cup toasted pine nuts, pecan, or walnuts
1/2 cup grated Romano, or Parmesan cheese
salt and pepper to taste
1/2 cup olive oil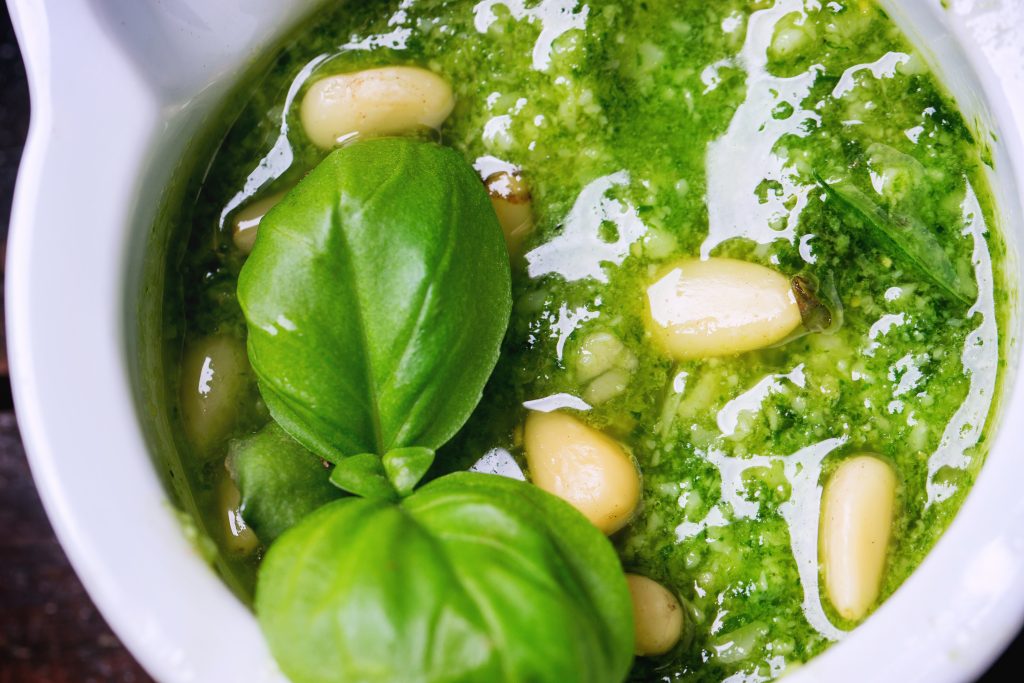 PESTO
Place all the ingredients (except olive oil) into your blender or food processor. Turn the unit on and slowly add a continual stream of olive oil until the mixture turns into a sauce.
After blending, feel free to add additional whole pine nuts and fresh basil leaves. Store pesto sauce in a Mason jar in the refrigerator for up to one week.
16 Minute Shrimp Paste Meal requires:
linguine pasta (GF Option: use gluten-free pasta)
olive oil
garlic
shrimp
cups peas
pesto sauce (GF Option: make homemade pesto or use a gluten-free brand)
fresh basil for garnish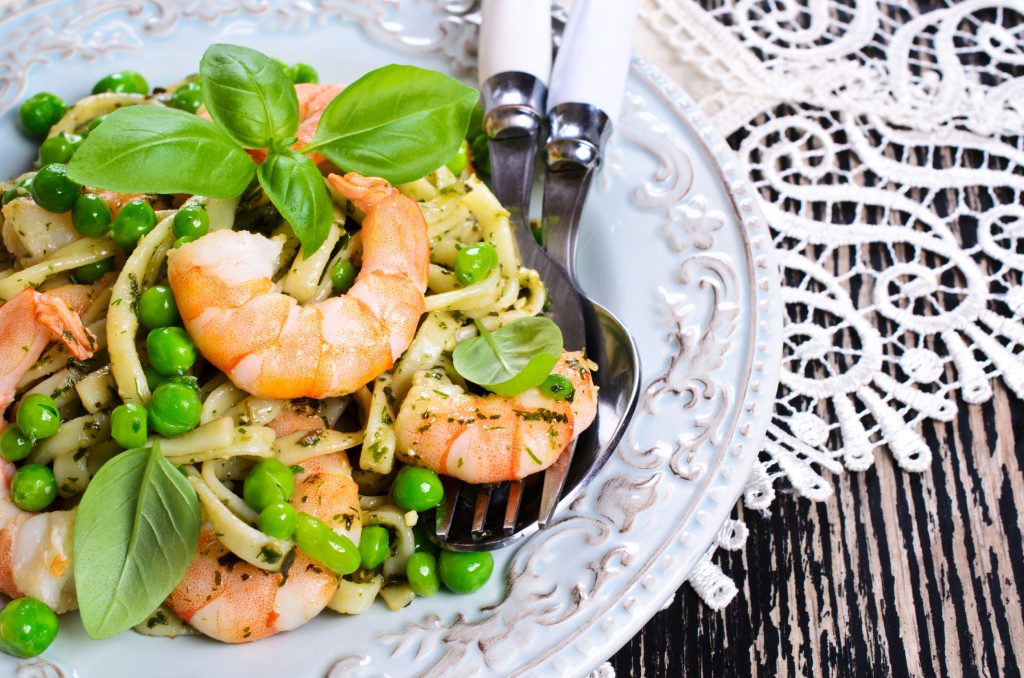 First, cook the pasta according to the package instructions. Meanwhile, heat the olive oil in a nonstick skillet and add garlic and shrimp. Now cook the mixture over medium-low heat until thoroughly heated. Next, stir in the peas and pesto sauce and continue cooking until the mixture is hot. Finally, drain the cooked noodles and gently stir them into the mixture. Garnish with fresh basil and serve hot.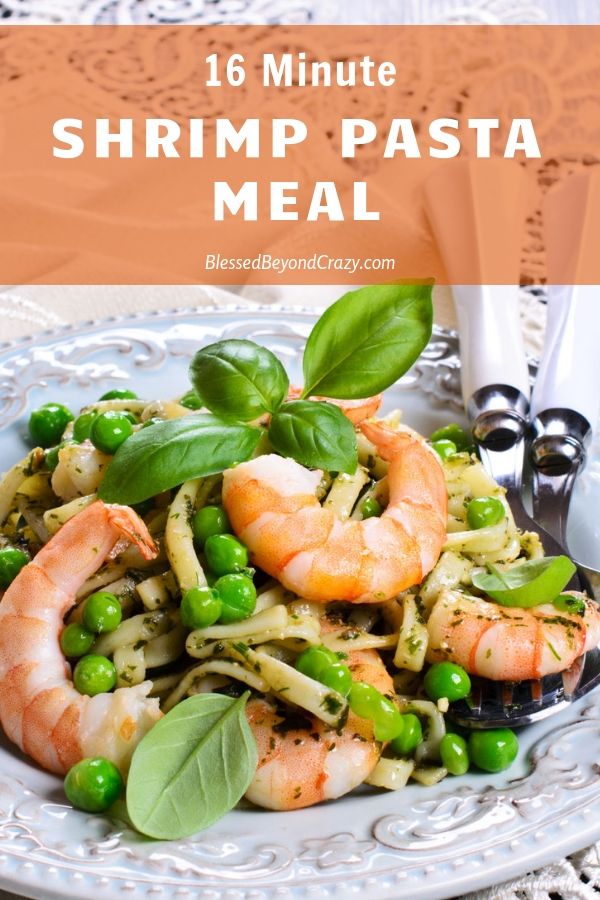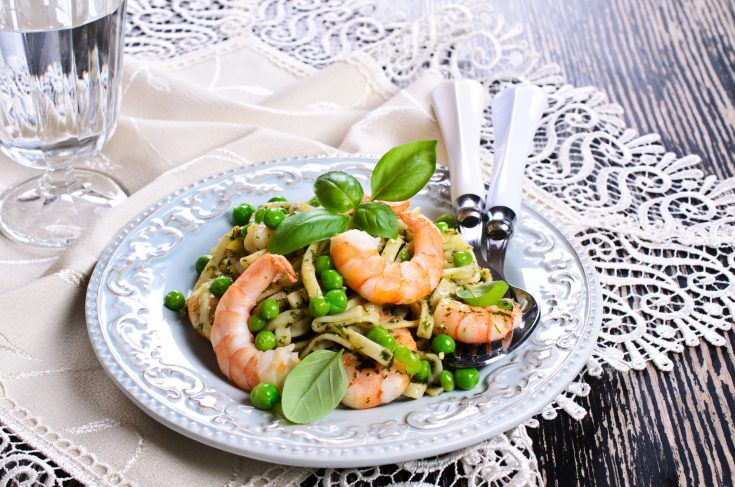 Yield:

Approx. 4 Servings
16 Minute Shrimp Pasta Meal
A quick, delicious, and hearty seafood meal that can easily be made gluten-free.
Ingredients
1 (16-ounce) package linguine pasta (GF Option: use gluten-free pasta)
2 Tbsp. olive oil
3 cloves garlic
2 pounds cooked shrimp
1 1/2 cups peas
2 cups pesto sauce (GF Option: use a gluten-free brand)
Fresh basil for garnish
Instructions
Cook pasta according to package instructions.
In a skillet, heat olive oil; add garlic and shrimp. Cook over medium-low heat until thoroughly heated. Add peas and pesto sauce; stir. Continue cooking until mixture is hot.
Drain noodles; stir into the shrimp mixture.
Garnish with fresh basil.
Serve.
If I have all of my ingredients ready to go I can easily make this meal in 16 minutes. However, this delicious meal is quick and super simple even if it takes you a little longer than 16 minutes to make.
In conclusion, I truly believe that you and your family will enjoy this quick, easy and scrumptious shrimp pasta meal as much as mine does. 
Enjoy!
Linda
More great ideas: