Roasted Spaghetti Squash Veggie Meal is simple and delightful.
Spaghetti squash is considered a fabulous winter fruit that is wholesome, nutritious, and a marvelous low-carb, naturally gluten-free food. Because this particular squash is so versatile, it pairs well with other ingredients. It's certainly easy to create an entire meal around it.
To help support our blogging activities, our site contains affiliate links. If you make a purchase from a link on our site, we may receive a small percentage of that sale, at no extra cost to you. Blessed Beyond Crazy is a participant in the Amazon Services LLC Associates Program, an affiliate advertising program designed to provide a means for sites to earn advertising fees by advertising and linking to amazon.com.
Squash
Spaghetti squash is often used as a healthy nutrient-rich, low-carb, low-calorie substitute for pasta. When cooked, the inside of a spaghetti squash resembles spaghetti noodles – hence the name. Because spaghetti squash is naturally gluten-free it's a perfect pasta alternative for anyone on a restricted gluten-free diet.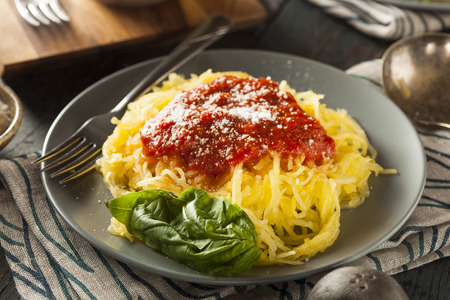 You gotta try > Gluten-Free Made-From-Scratch Spaghetti Sauce!
When buying spaghetti squash pick a squash that has an even, bright yellow color and one that feels solid and heavy for its size. Avoid buying a squash that has bruising, dimpling, cracks, or one that has a wet or moldy stem. Store the squash in a cool, dark, and dry location.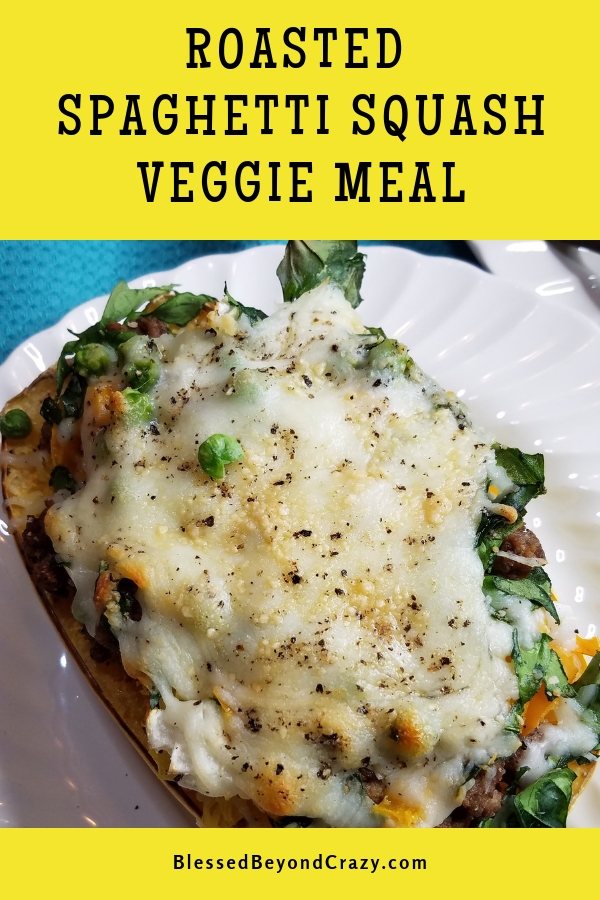 A few key nutritional values in one cup of cooked spaghetti squash:
42 calories
10 grams carbs
3% of vitamin A
9% of vitamin C
3% calcium
5% potassium
9% dietary fiber
Along with all of those wonderful nutrients, spaghetti squash provides manganese, folate, omega-3 fatty acids, B vitamins, copper, tryptophan, iron, and beta-carotene.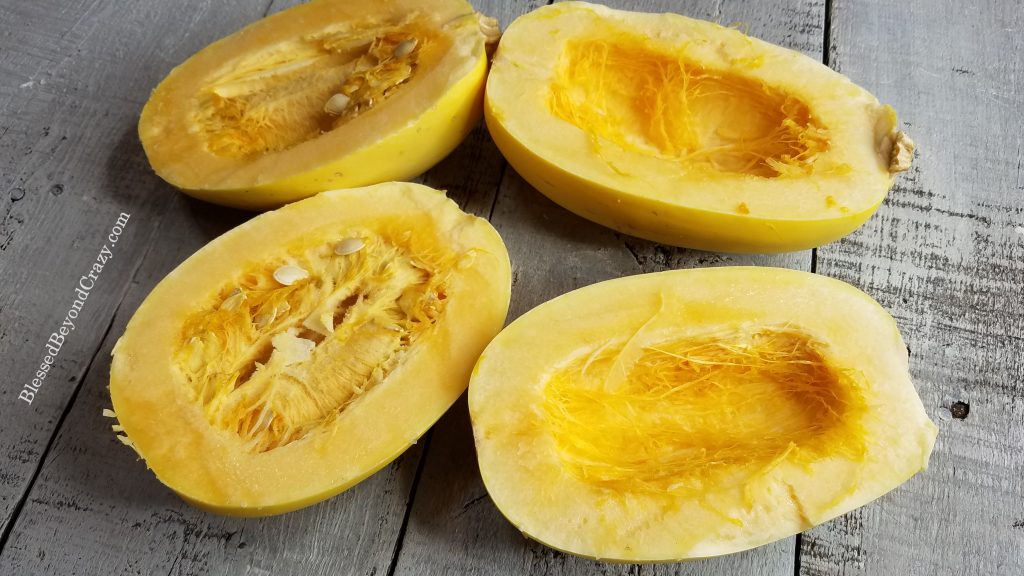 Prepare the Squash
Before cooking, scrub the outside of the squash, pat it dry, then cut it in half and remove the seeds.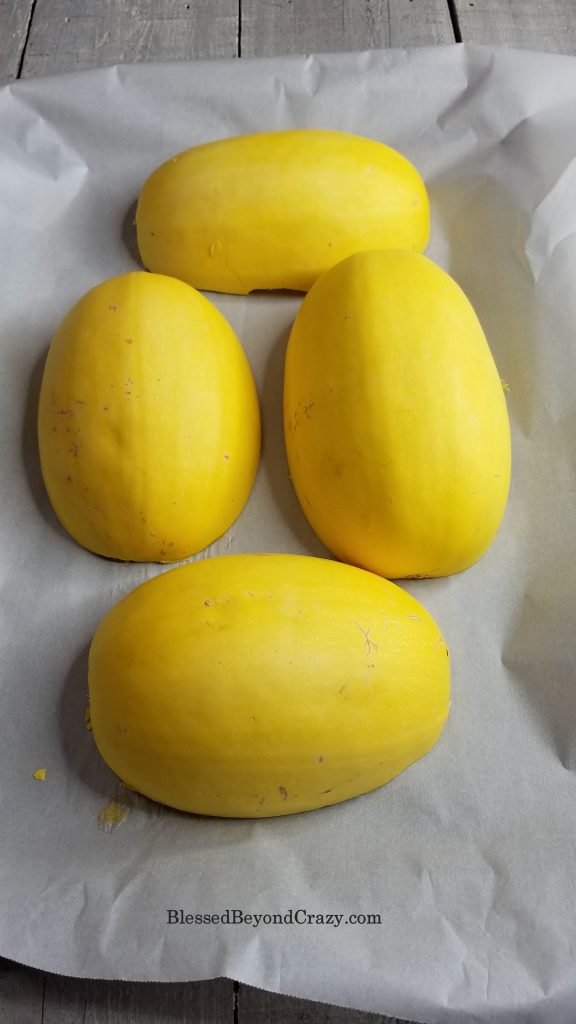 Line a 10 x 15 inch jelly roll pan with parchment paper to catch the moisture that escapes during the baking process. Place the cut sides of the squash (facing down) into the pan.
Bake in a preheated 375 degrees F oven for approximately 40 – 45 minutes. You can check doneness by piercing the skin with a fork. If the fork slides in and out easily, the squash is ready.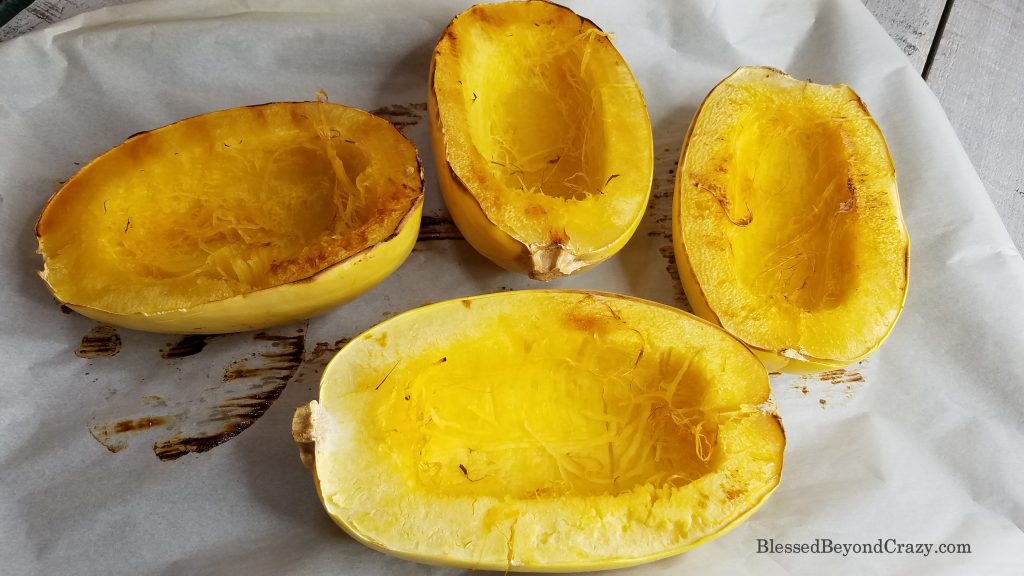 Baked Spaghetti Squash
Allow the squash to rest in the pan for 5 minutes then flip each half over.
Shred the inside fleshy part of the squash with a fork until it resembles strands of spaghetti noodles.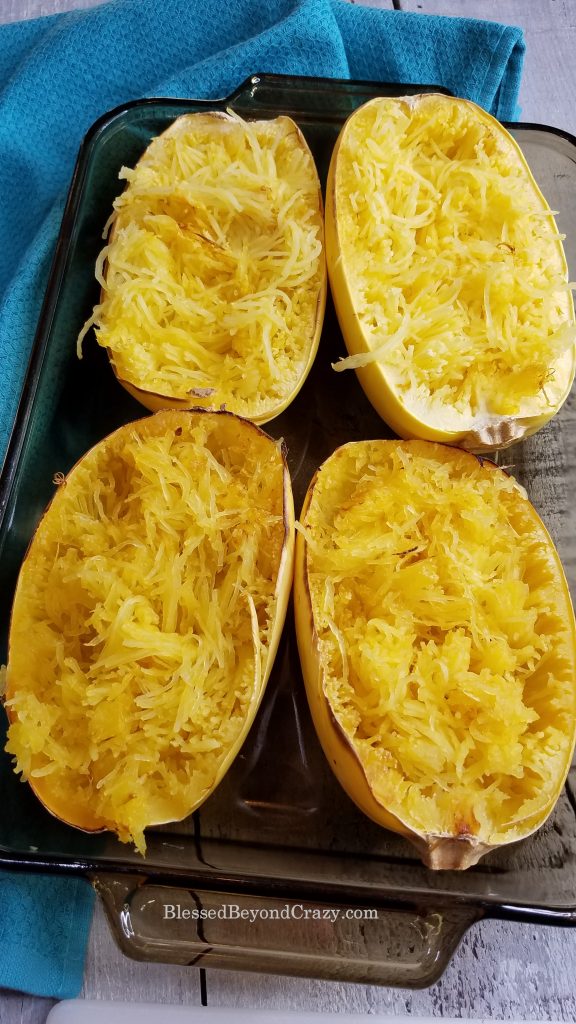 At this point, you can scoop out the spaghetti-like strands into a bowl or onto a plate. However, to make this Roasted Spaghetti Squash Veggie Meal I simply place the squash halves into a 9 x 13 baking dish and use the squash's natural skin as a bowl. Now I can build the meal from there. Fewer dishes for me to do later, right?
NOTE: All pictures in this post are showcasing gluten-free ingredients!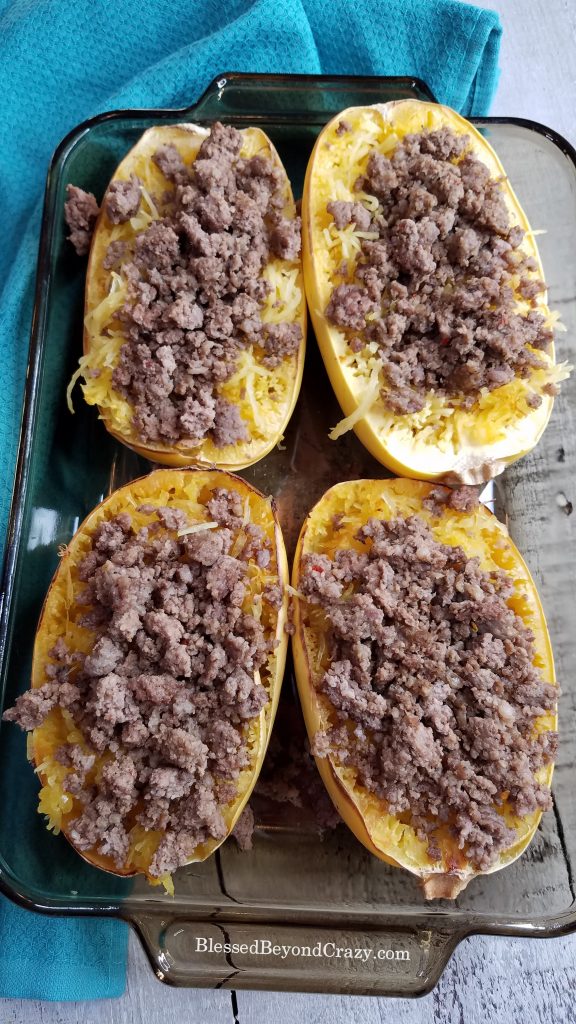 A yummy mixture of seasoned sausage and ground beef make-up the first layer of a Roasted Spaghetti Squash Veggie Meal.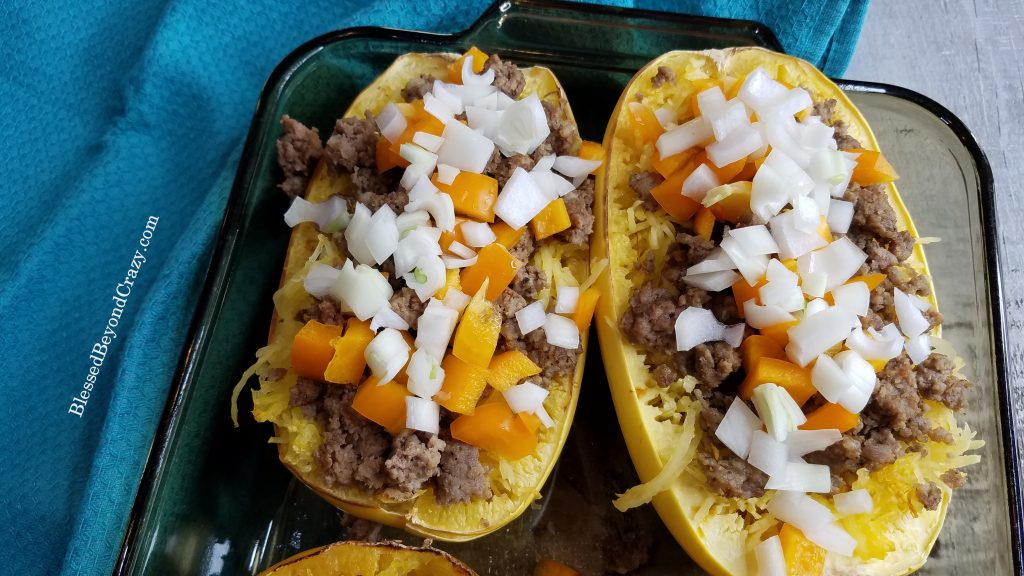 Next, I add a layer of chopped yellow bell peppers and onions.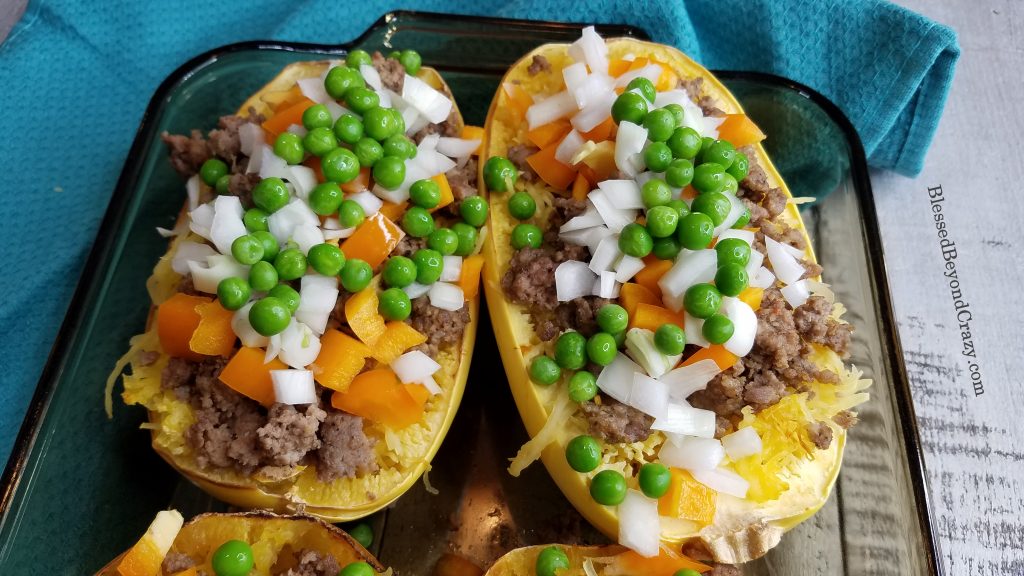 Followed by a layer of peas.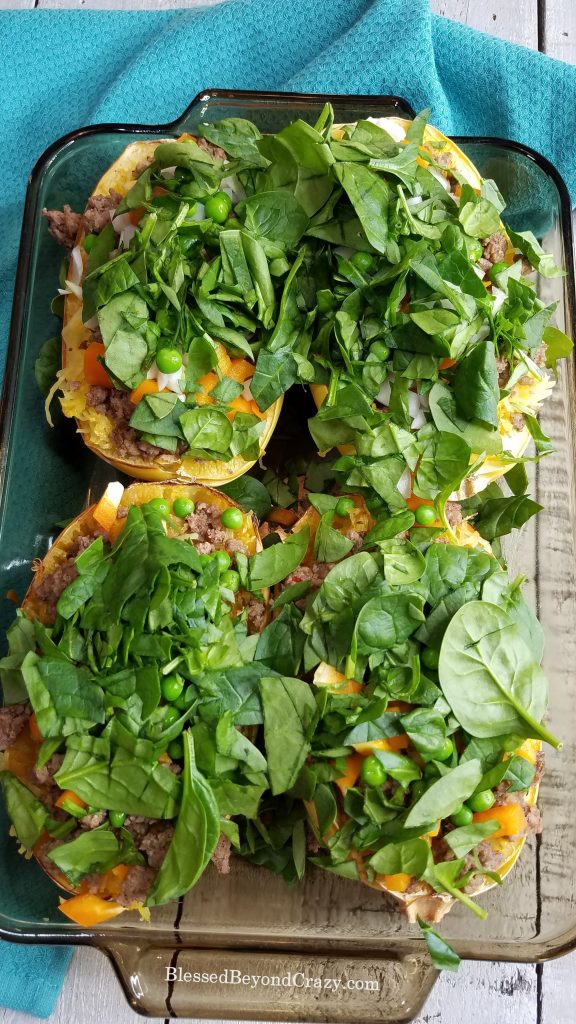 I also add an additional layer of chopped fresh baby spinach.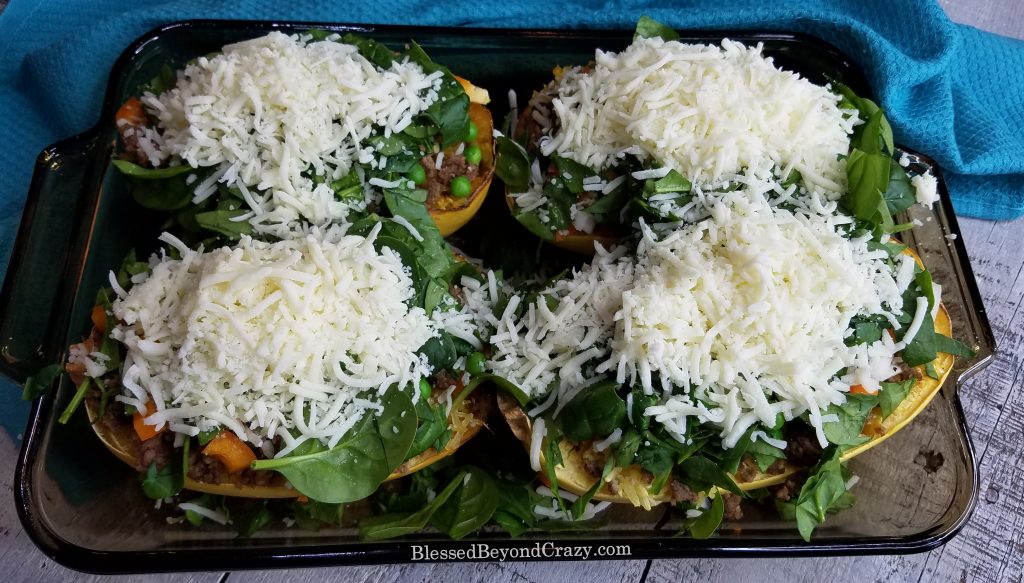 Shredded mozzarella cheese tops the spinach layer.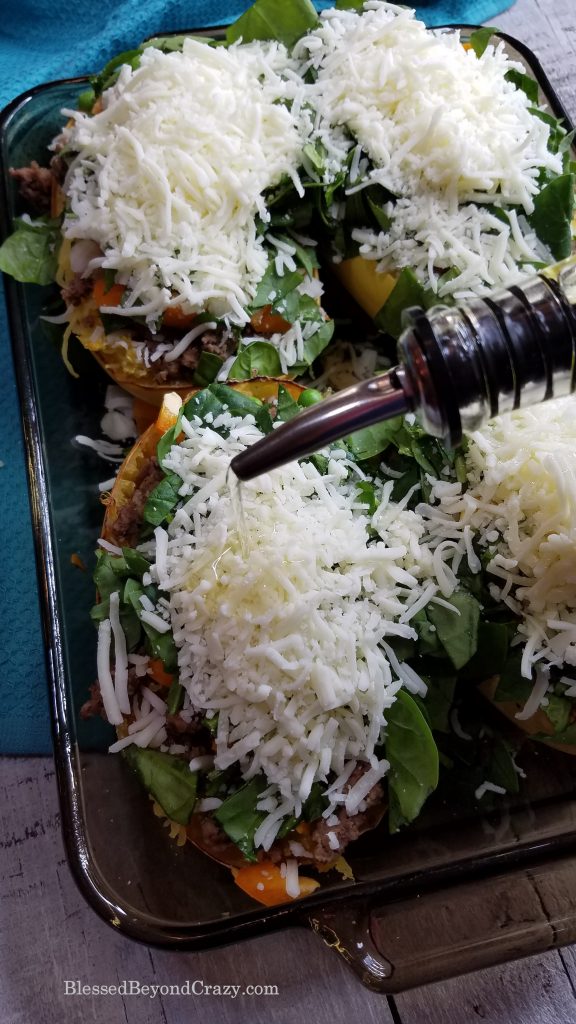 Next, I give each Roasted Spaghetti Squash Veggie Meal a drizzle of olive oil.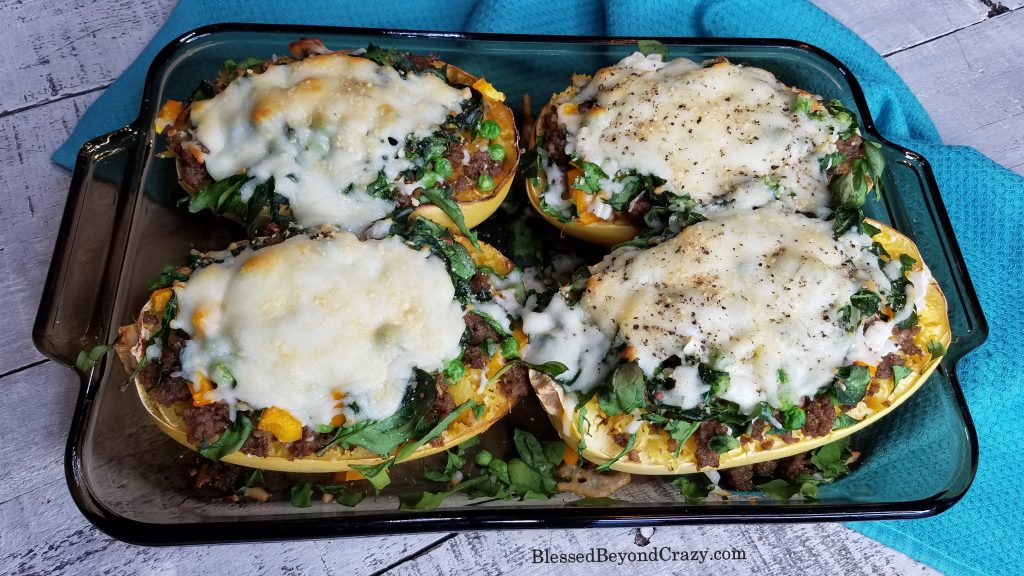 Finally, I season each meal with a hint of Himalayan sea salt and a sprinkle of parmesan cheese. Since my hubby doesn't have to deal with food allergies I also add freshly ground black pepper to his meal.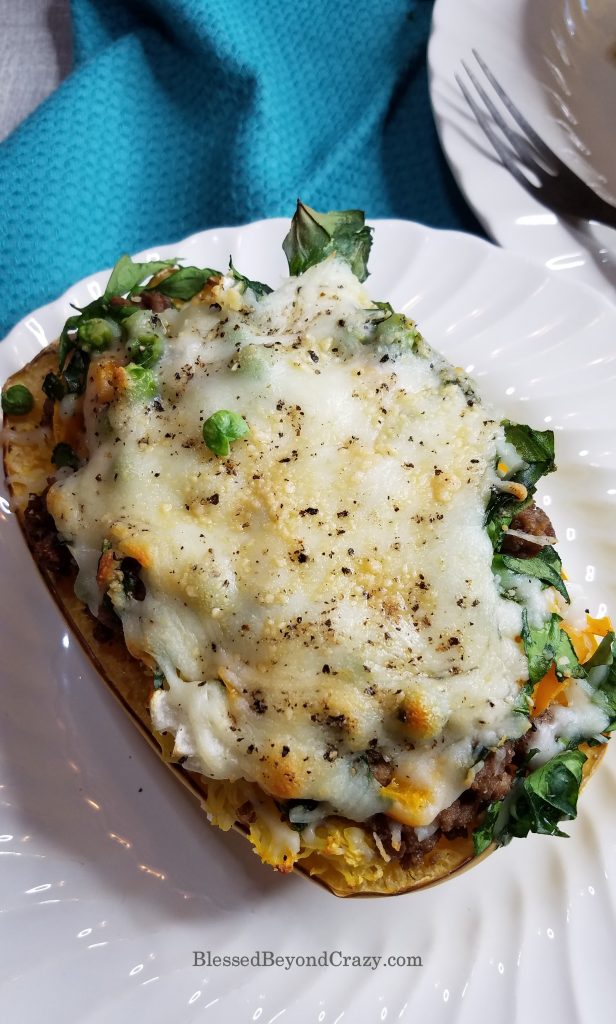 This meal is incredibly easy to modify to suit individual tastes or dietary restrictions. Therefore, enjoy a Roasted Spaghetti Squash Veggie Meal as is, or feel free to add additional ingredients; e.g., black beans, crushed red pepper flakes, toasted pine nuts, carrots, tomatoes, asparagus, garlic, pesto, marinara or pasta sauce, etc…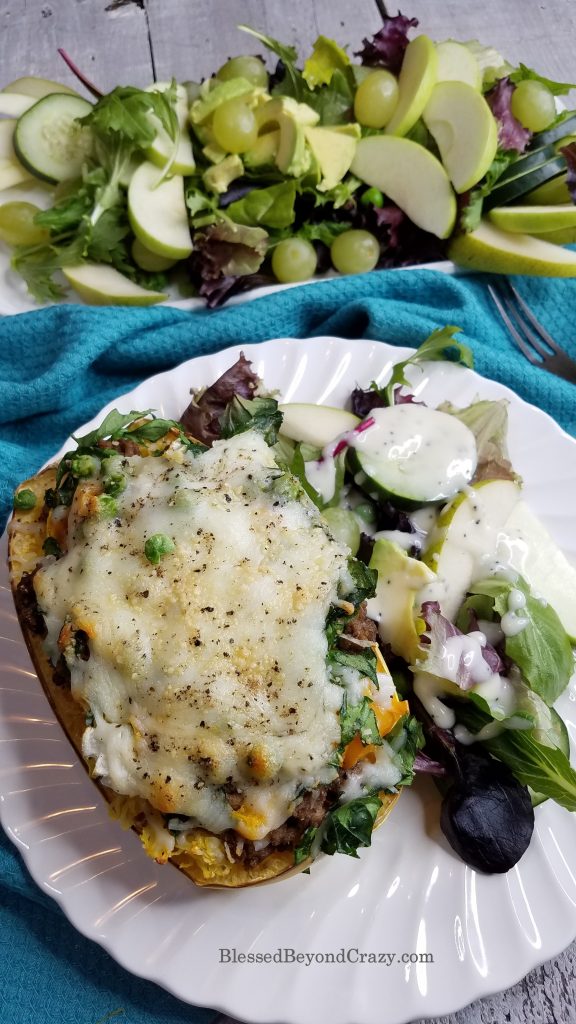 A Go Green Salad makes a great companion to a Roasted Spaghetti Squash Veggie Meal.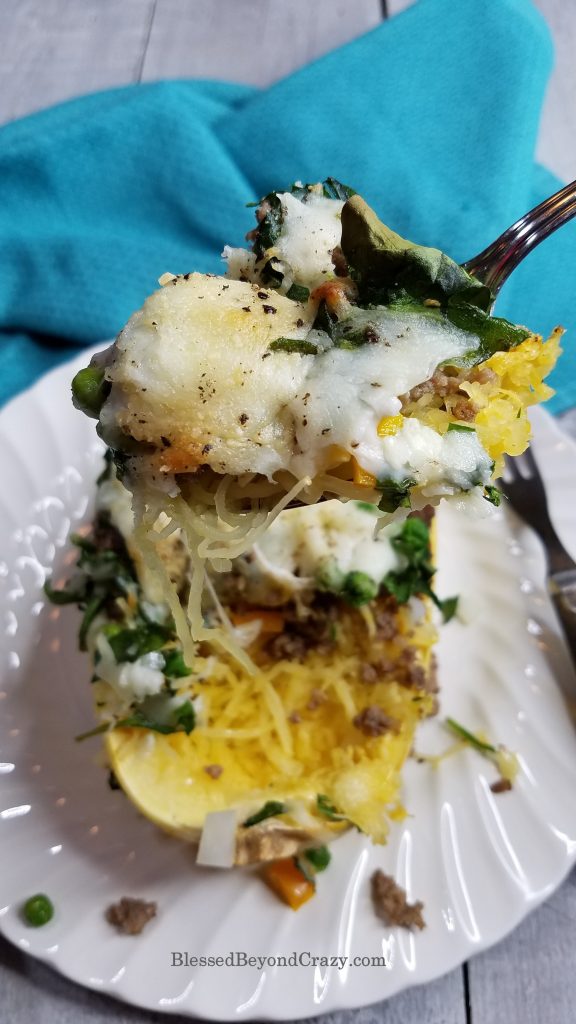 I hope you enjoy this wonderful meal as much as we do!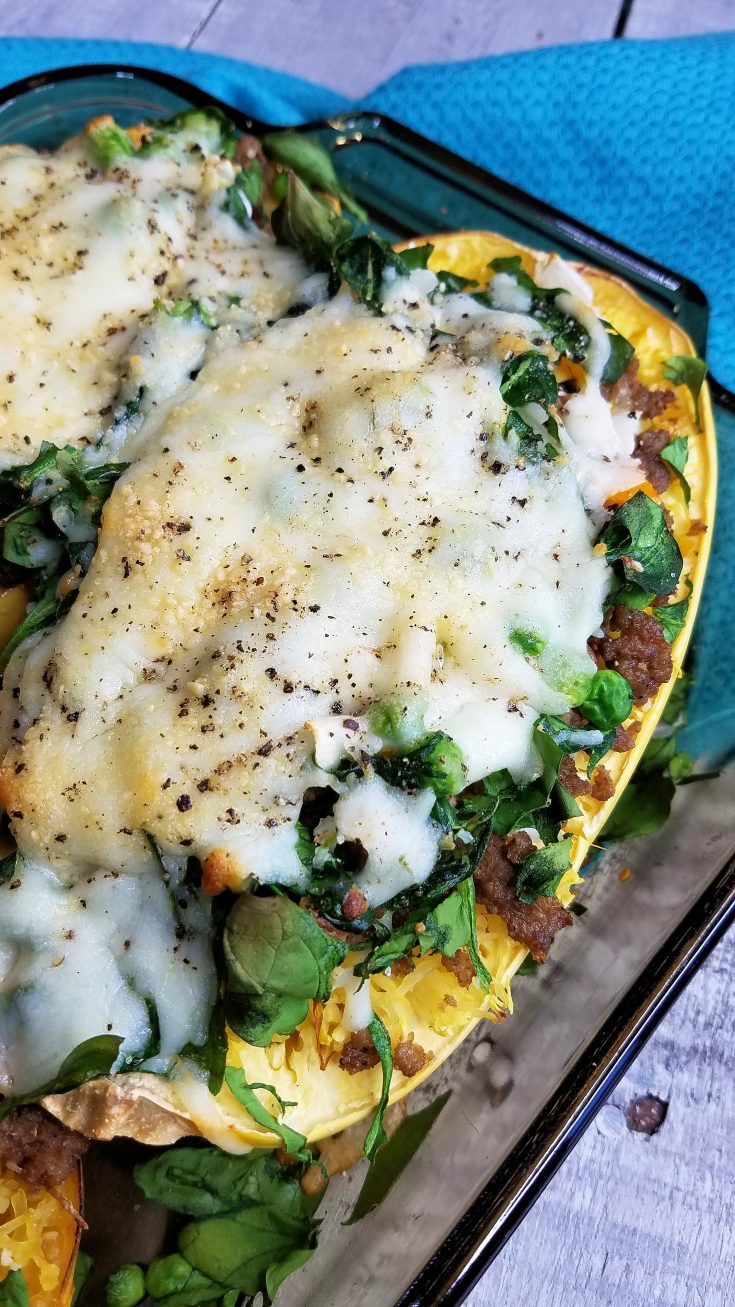 Yield: 4 meals
Roasted Spaghetti Squash Veggie Meal
Prep Time: 15 minutes

Cook Time: 1 hour 30 minutes

Additional Time: 10 minutes

Total Time: 1 hour 55 minutes

A delicious, hearty and healthy meal that's loaded with flavor, texture, and nutrition.
Ingredients
2 medium (about 1 pound, each) spaghetti squash
1/2 pound ground sausage (GF Option: use a gluten-free brand. I use Jimmy Dean All Natural & Gluten-Free Regular ground sausage)
1/2 pound ground beef
1 yellow bell pepper, chopped
1 small onion, chopped
1 cup peas
2 cups fresh baby spinach, chopped
2 cups shredded mozzarella cheese (GF Option: use a gluten-free brand. I use Sargento)
1/2 cup olive oil
Salt & Pepper, to taste
1/2 cup parmesan cheese (GF Option: use gluten-free brand)
Instructions
Preheat oven to 350 degrees F.
Scrub squash; pat dry. Cut squash in half lengthwise. Remove seeds. Place squash halves, cut sides down, in a shallow roasting pan. Roast for 50 minutes or until tender (If you can easily poke through the squash skin with a fork, the squash is done.)
While squash is baking, chop vegetables; set aside. Place both sausage and ground beef in a medium skillet and cook over medium-low heat until browned. Drain excess grease; set aside.
When squash is tender, remove from oven and let rest for 10 minutes. Turn squash over so that the cut sides are facing up. Loosen the squash with a fork to form spaghetti-like strands.
Top each squash with sausage-hamburger mixture. Top with chopped bell peppers, onions, peas, spinach and cheese.
Drizzle olive oil over each squash half. Season with salt and pepper and sprinkle of parmesan cheese.
Return to oven and roast an additional 40 minutes, or until vegetables are tender and cheese turns golden brown.
Serve hot.
Notes
Feel free to add additional ingredients of choice such as: black beans, crushed red pepper flakes, toasted pine nuts, carrots, tomatoes, asparagus, garlic, pesto, marinara or pasta sauce, etc...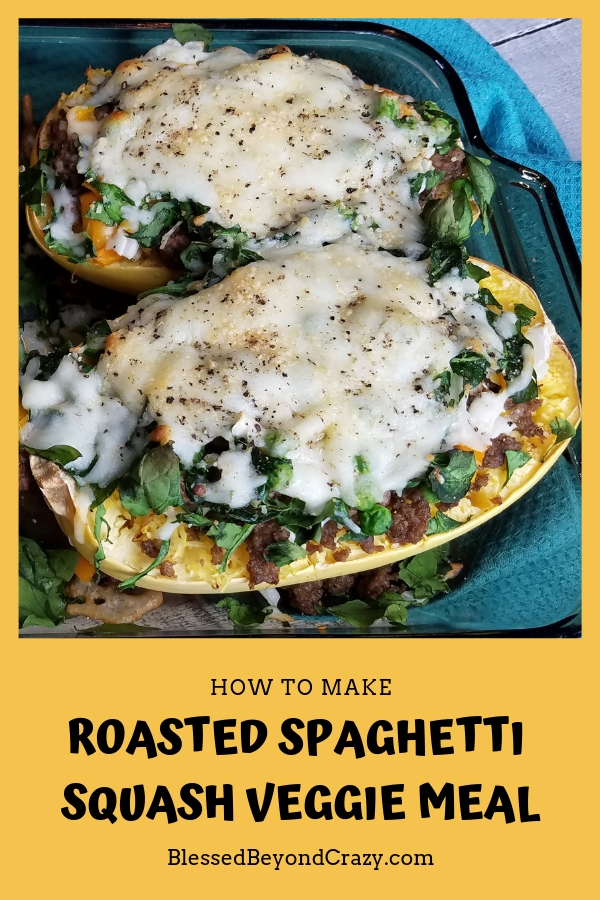 What's your favorite way to fix spaghetti squash?
Linda
Sources:
More great ideas: