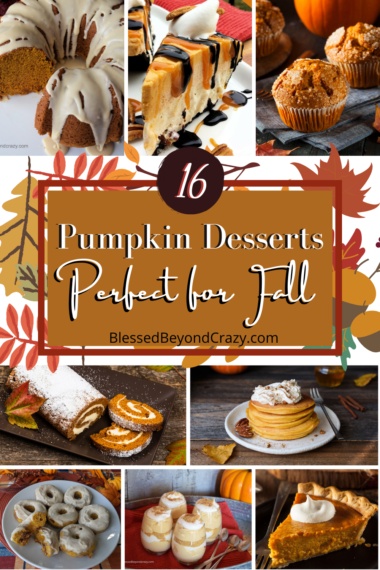 Now that fall is officially here, I want to make all the pumpkin desserts! Here are 16 pumpkin desserts to get you through until winter! Which one will you make first?
Pumpkin Donuts with Cream Cheese Icing
You would never know these Pumpkin Donuts are gluten-free because they are so deliciously moist! Pumpkin anything + cream cheese is one of my favorite food combos!
Mini Lite Maple Pumpkin Crustless Pies
These mini Maple Pumpkin Pies are the perfect serving size after a huge Thanksgiving dinner, or in the middle of the week… just because. And because they are crustless, they are naturally gluten-free. Don't forget to add a huge dollop of whipped cream!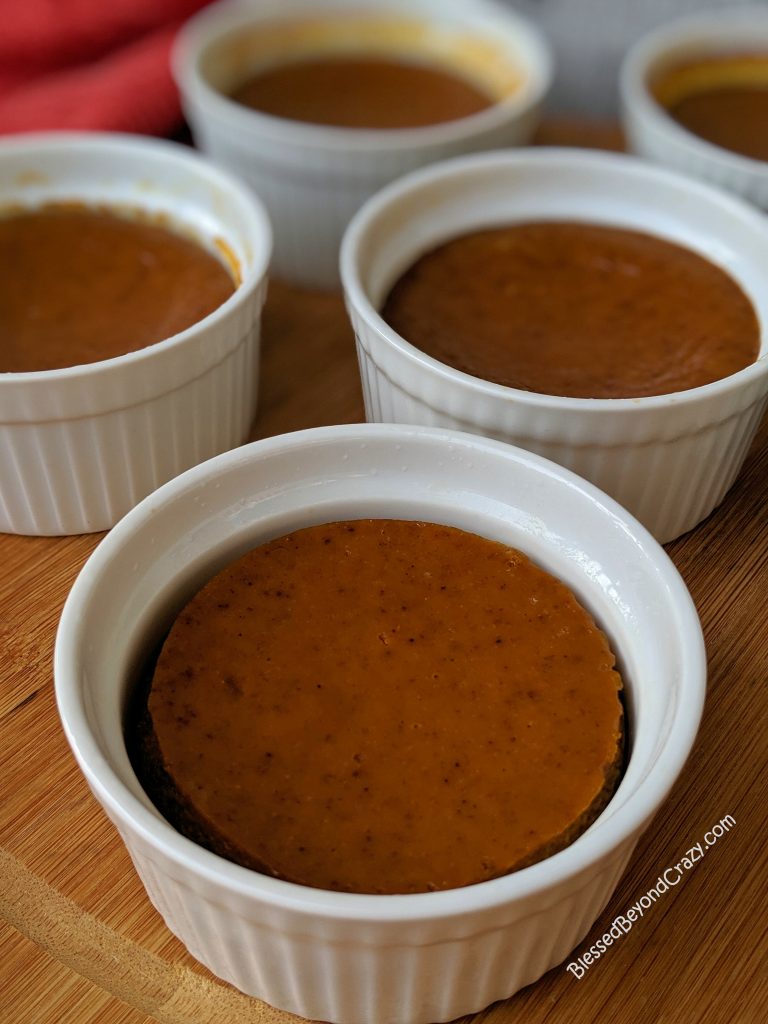 Pumpkin Pecan Chia Overnight Oats
Okay, these Pumpkin Pecan Chia Overnight Oats are not technically dessert, but that means you get to eat them for breakfast! Make them the night before for an easy and delicious fall breakfast.
Individual Pumpkin Mousse Parfaits
Another wonderful single-serve dessert option are these Pumpkin Mousse Parfaits. These parfaits have a creamy and light texture and are loaded with delicious pumpkin spice. Because these scrumptious parfaits are extremely easy to make, they are the perfect dessert to make on a busy day.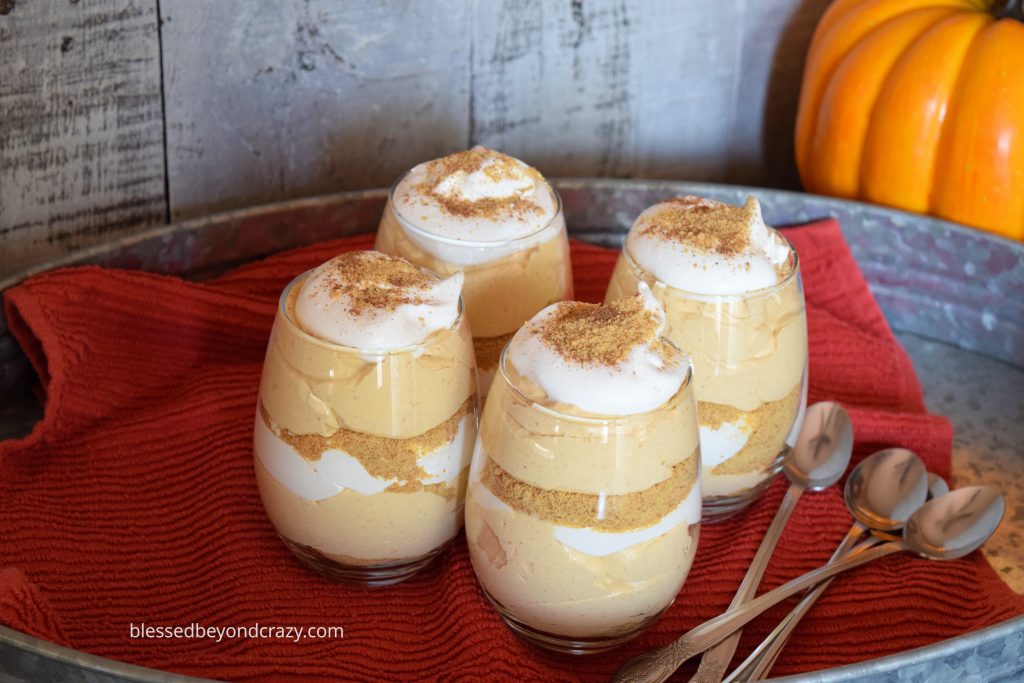 Pumpkin Roll
My family loves Pumpkin Roll for a Thanksgiving Dessert! It never lasts long before it's completely devoured.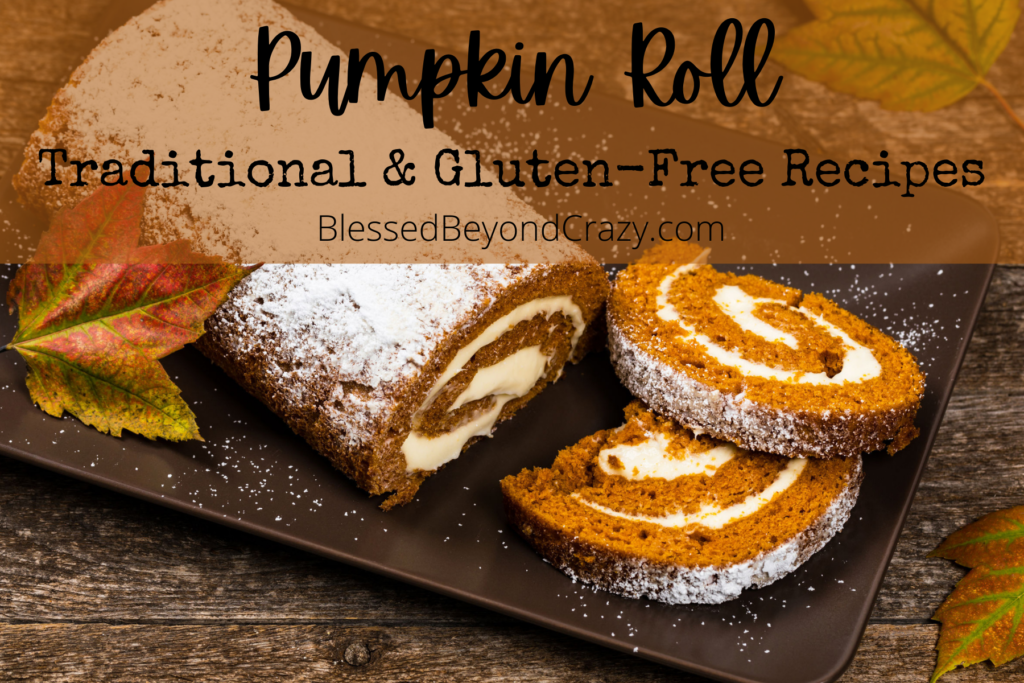 Pumpkin Pie
What is autumn without pumpkin pie? Check out these two recipes for Pumpkin Pie: Easy Thanksgiving Pie (which everyone needs to have on standby for the holidays) and Pecan Pumpkin Pie, which combines two favorite pie flavors into one glorious pumpkin dessert!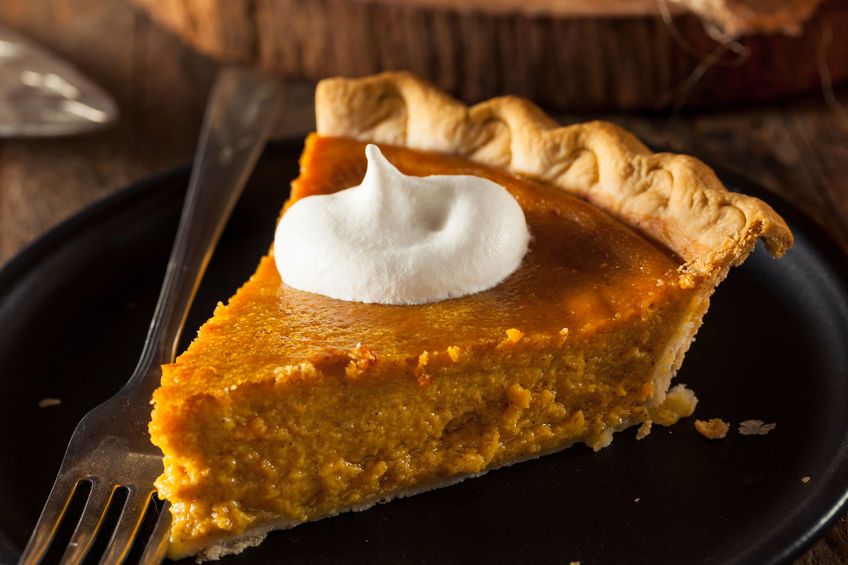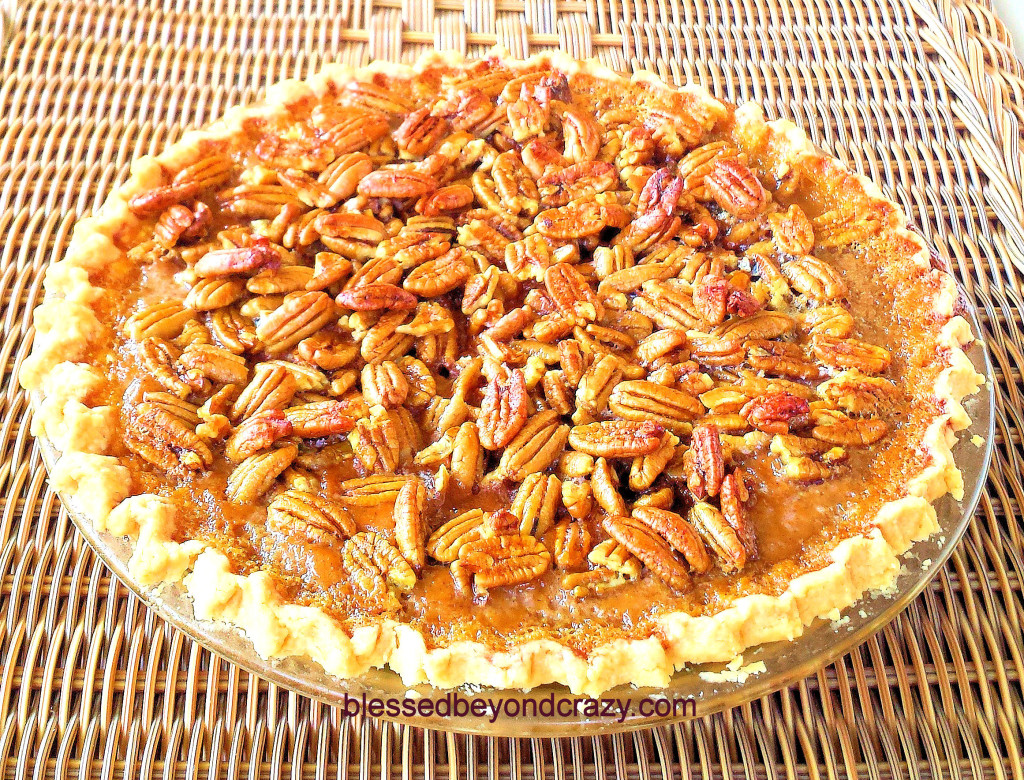 Another twist on the famous pumpkin pie is this Frozen Butter Pecan Pumpkin Pie. This pie is so incredible that we actually had a magazine feature this recipe! Blessed Beyond Crazy is honored to have this recipe featured in the 2015 November edition of Bella Magazine. This isn't a recipe you want to scroll past!
Pumpkin White Chocolate Drop Cookies
Pumpkin White Chocolate Drop Cookies practically melt in your mouth, and therefore it's easy to eat several in one sitting. (Not that I know this from experience or anything! lol)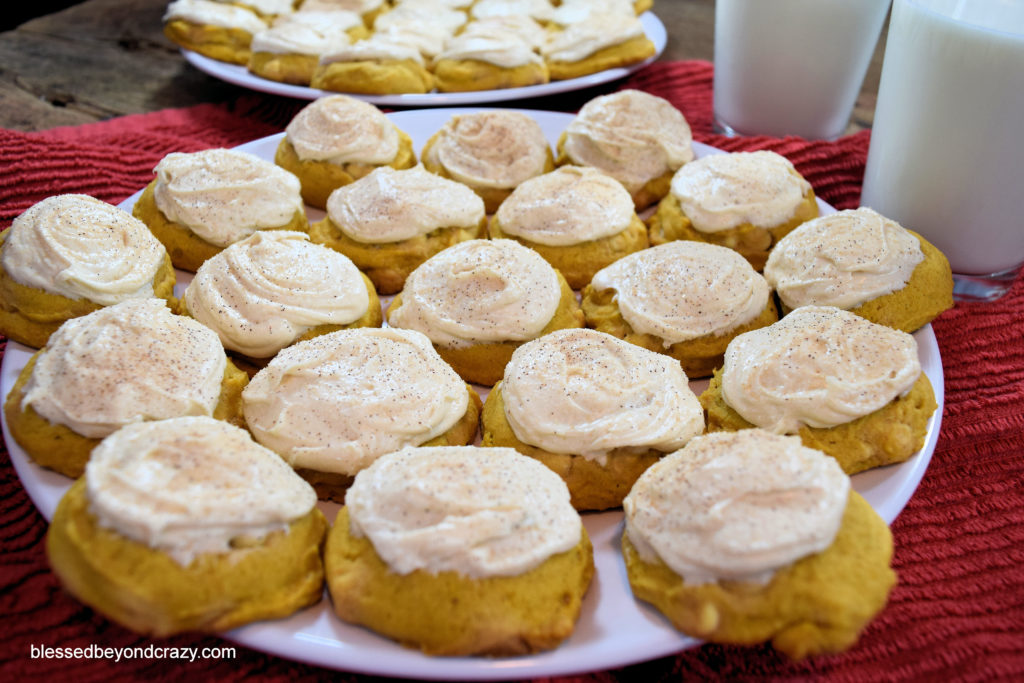 Pumpkin Cake
It doesn't have to be anyone's birthday to eat pumpkin cake! We have lots of different versions of pumpkin cake like this Easy Pumpkin Bundt Cake, which looks so beautiful drizzled with white chocolate!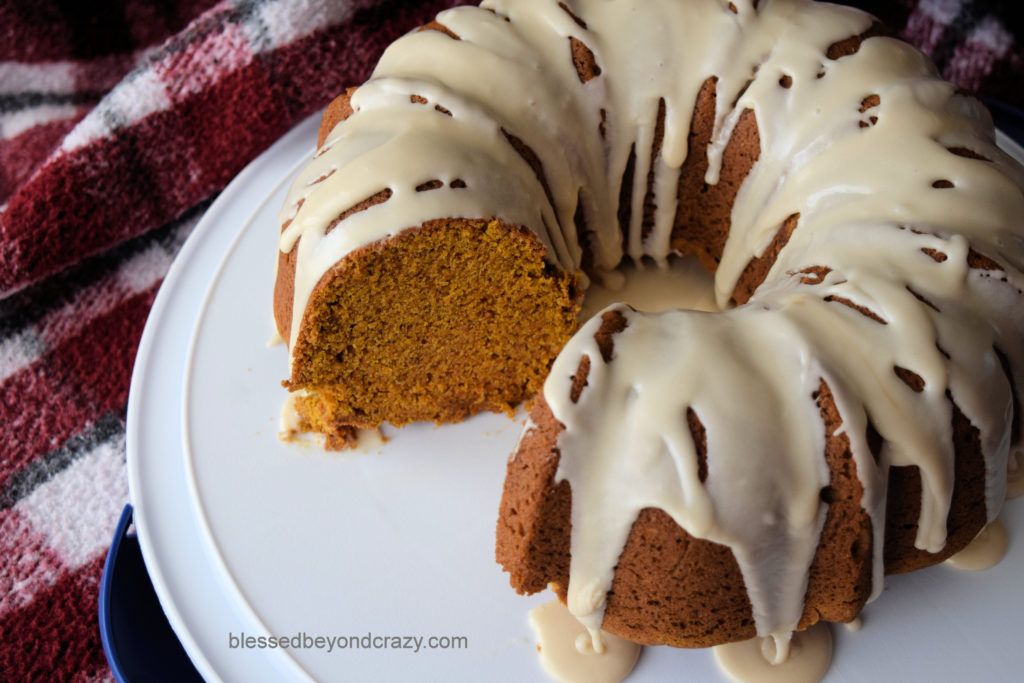 Pumpkin Swirl Coffee Cake has so many different flavors, all packed into one amazing cake! Since this is called a "coffee cake," don't forget to eat a piece with a cup of coffee (an excuse to eat it for breakfast…right?!).
A Maple Cream Cheese Pumpkin Bar Trifle is a splendid dessert for fall. This trifle features a delicious combination of pumpkin, whipped topping, cream cheese, and a touch of maple, all topped with a generous drizzle of caramel sauce. It really is lip-smacking good! 
Pumpkin Muffins
Similar to pumpkin cake, but in individual servings, Simple Pumpkin Muffins is an easy recipe to whip up in no time.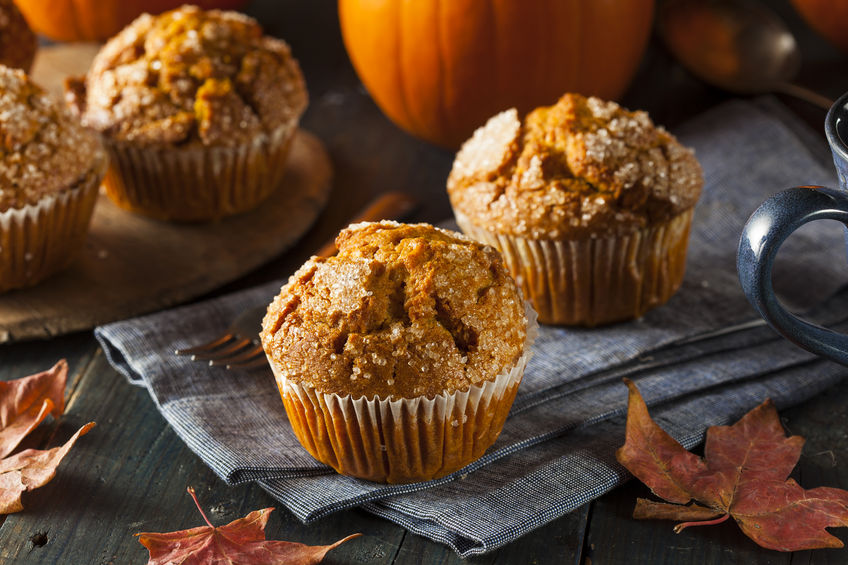 Bountiful Harvest Pumpkin Pecan Chocolate Muffins will make a great addition to your Thanksgiving meal or any other day between September and Christmas. (Notice the two tones of pumpkin and chocolate?)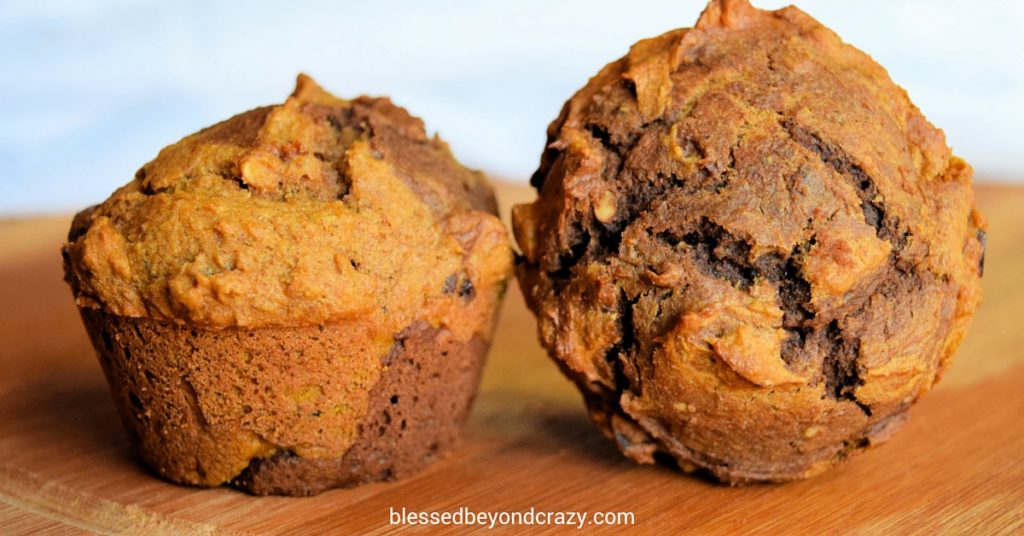 Pumpkin-Chia Cheesecake with Caramel-Rum Sauce
Can you even read that title or look at this picture without your mouth watering? If you can, you might not be human. Anyone who knows me knows that cheesecake is one of my all-time favorite desserts. I love trying new cheesecake recipes and experimenting with various flavors and combinations. However, this particular recipe for Pumpkin-Chai Cheesecake with Caramel-Rum Sauce really is heavenly.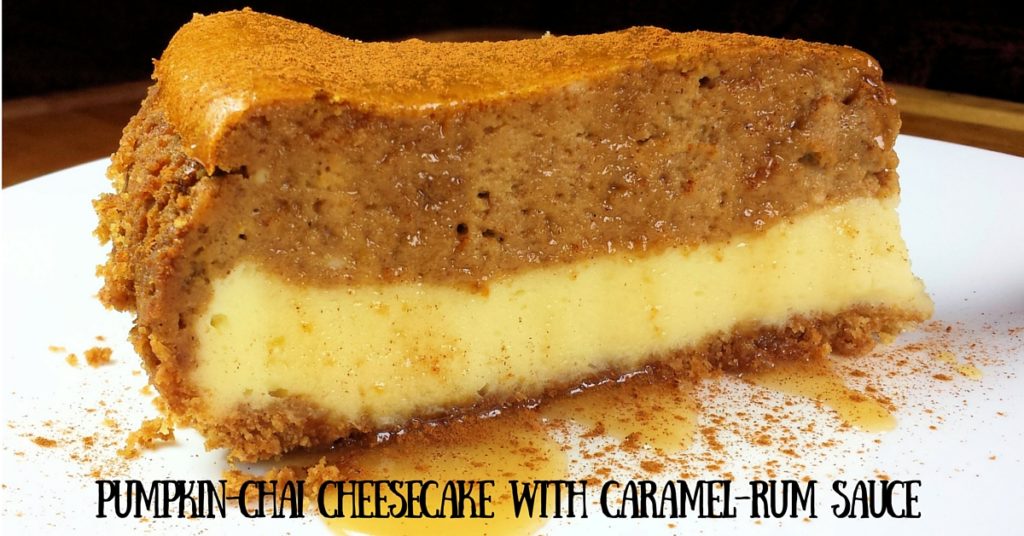 Pumpkin Pancakes and Funnel Cakes
Dessert for breakfast, or breakfast for dessert? Either way, make this one batter and use it two different ways! These Pumpkin Pancakes and Funnel Cakes are a must make this fall.
Pumpkin Pie Smoothie
To end on a healthy note, this Pumpkin Pie Smoothie tastes exactly like pumpkin pie. Not only is this super easy and fast to make, but it is also naturally gluten-free, paleo, sugar-free, dairy-free, and low-carb! Yes, it's healthy, but you would never know! That's exactly how I like my desserts.