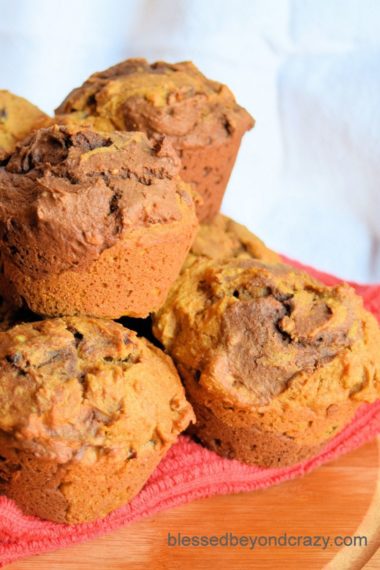 Bountiful Harvest Pumpkin Pecan Chocolate Muffins go hand-in-hand with fall. Because cooler weather will quickly be approaching, everyone will soon be thinking about foods associated with fall. Consequently, today I am introducing a great new muffin recipe. In addition, I think it is a fantastic combination of flavors! 

To help support our blogging activities, our site contains affiliate links. If you make a purchase from a link on our site, we may receive a small percentage of that sale, at no extra cost to you. Blessed Beyond Crazy is a participant in the Amazon Services LLC Associates Program. This affiliate advertising program is designed to provide a means for sites to earn advertising fees by advertising and linking to amazon.com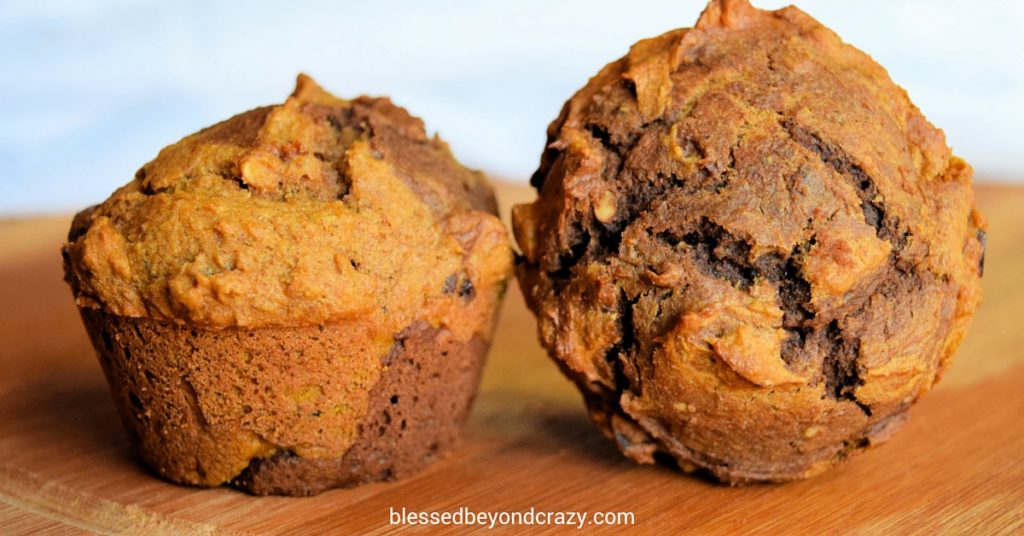 First of all, I must confess that a picture of muffin batter is not sexy. Rather, the very opposite is true of the end result!
My muffins began by placing ingredients into my KitchenAid Stand Mixer that my loving husband gave me a few years ago as a gift. I HIGHLY recommend owning one! (Perhaps Santa will bring you one this Christmas?)
Once all of the ingredients were combined, I placed 1 1/2 cups of the batter into a separate mixing bowl. The picture above is of the pumpkin muffin batter before being divided.
This portion of the batter turns chocolaty by adding cocoa powder.
The next step to making Bountiful Harvest Pumpkin Pecan Chocolate Muffins is to fill a well- greased 12 cup muffin pan, alternating batters. To prevent baked goods from sticking to a pan, my favorite product is Wilton Bake Easy Non-Stick Spray. In my opinion, this product is exceptional! Especially relevant is the fact that it contains flour to prevent sticking and therefore it is NOT a gluten-free product.

While these muffins are wonderful "naked," using fall cupcake liners adds a nice touch. Almost everyone enjoys a colorful and stylish presentation.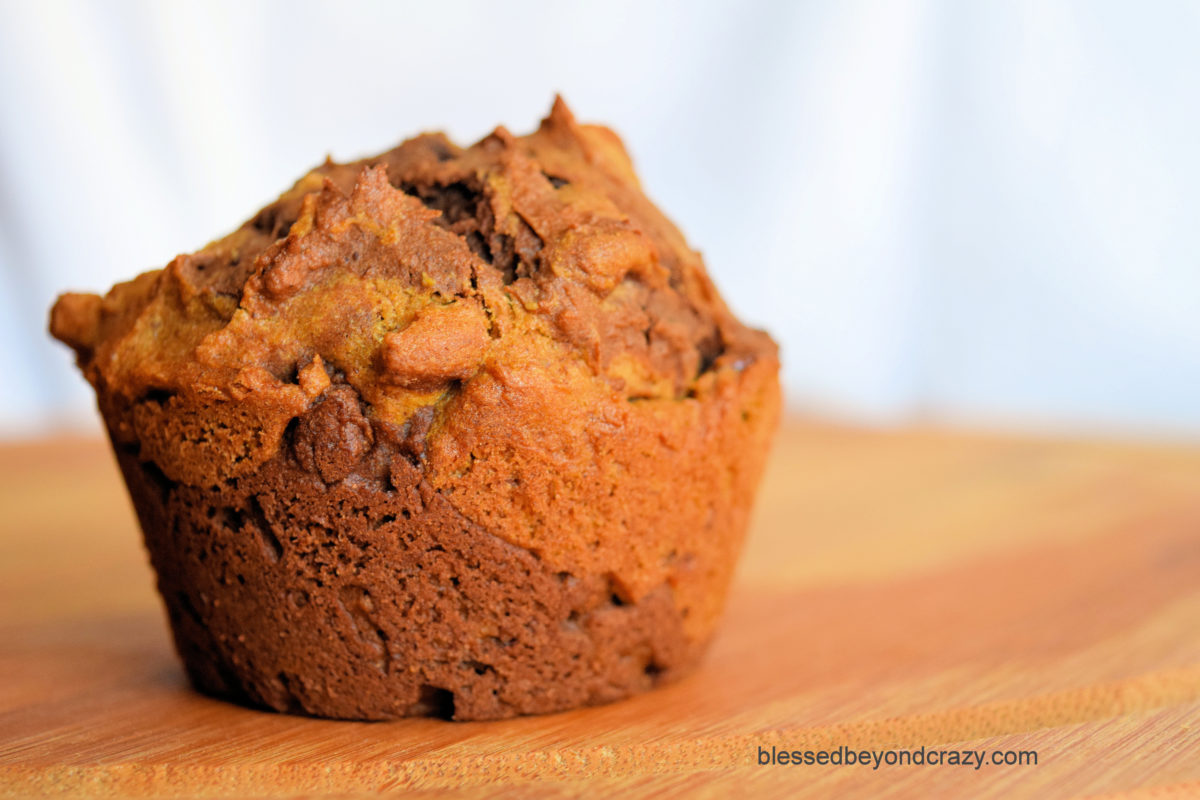 Bountiful Harvest Pumpkin Pecan Chocolate Muffins will make a great addition to your Thanksgiving meal. (Notice the two tones of pumpkin and chocolate?)
They also make a wonderful DIY gift! A suggestion would be to place the muffins in a cute basket lined with a fall-themed towel, along with a jar of pumpkin butter with a handwritten note.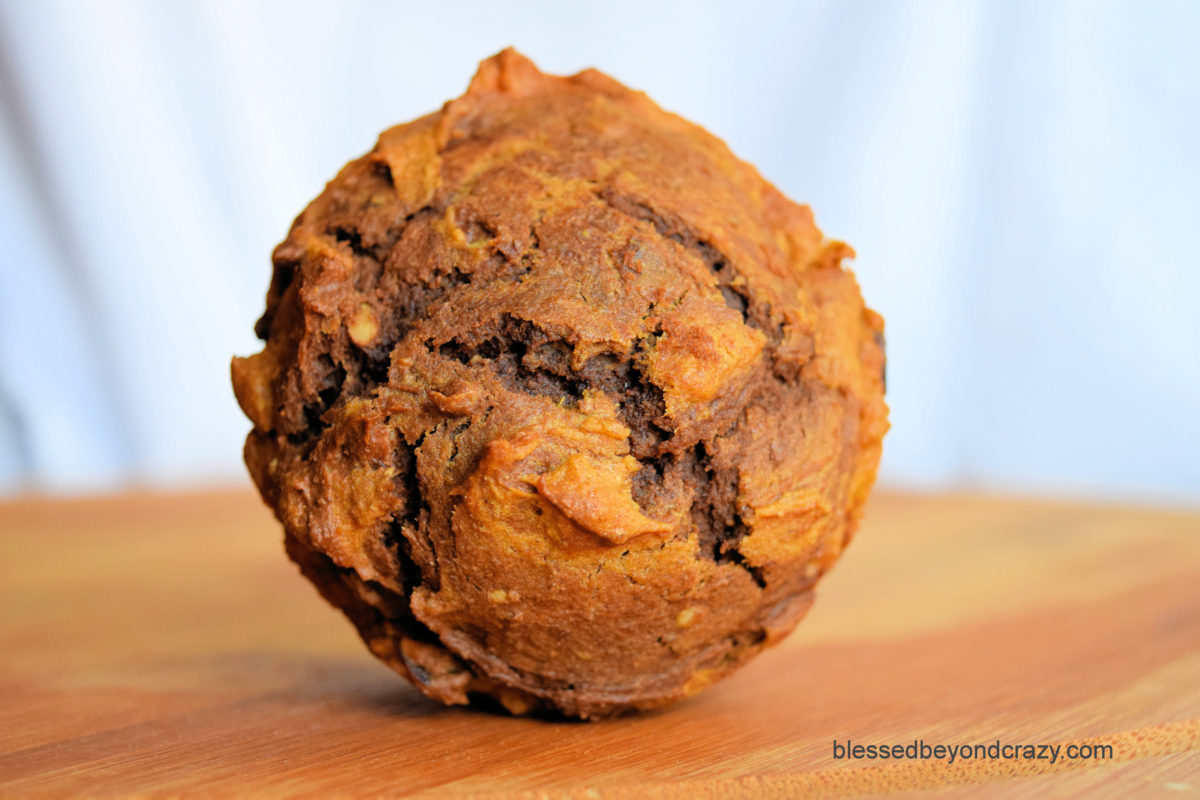 In addition, a few minor changes, and the muffins instantly become gluten-free. Therefore this is a perfect recipe for your gluten-free guests. AND, these muffins freeze well. Less work = less stress! Most of all, it's the same great recipe and yet it's so simple to tweak.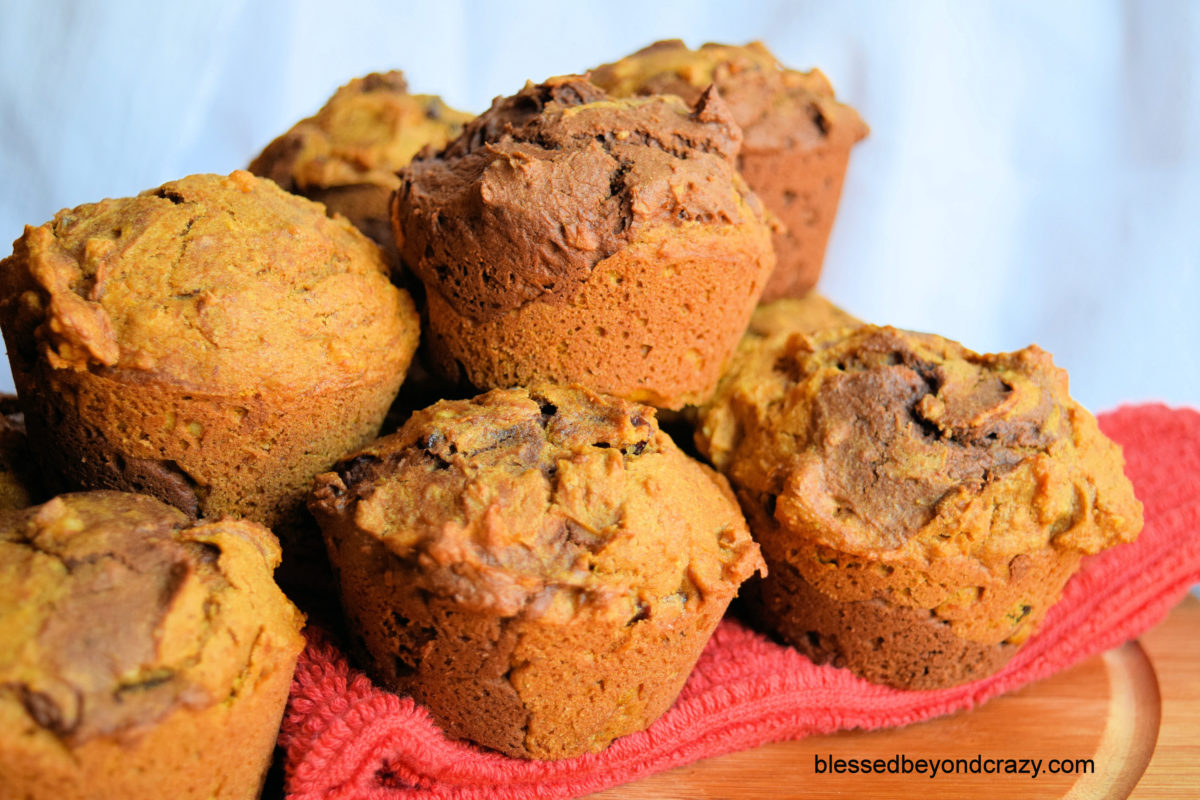 My father always told me that the older I get the faster time flies. Seems like that is very true. Another year will soon come to an end. As much as I love the holidays, I do wish time would slow down a bit. While I always believed what my Dad said to be true, I finally understand exactly what he meant. Either I'm getting old… or maybe I'm getting wiser. Maybe it's a combination of both! Ha!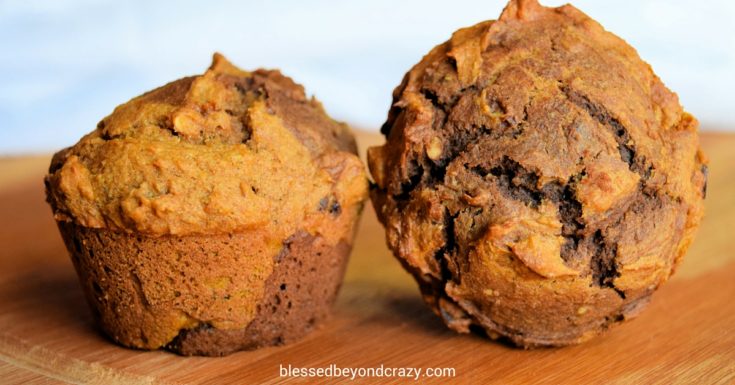 Yield:

Yields Approx. 12 Muffins
Bountiful Harvest Pumpkin Pecan Chocolate Muffins
A delicious combination of pumpkin, pecans, chocolate, and spices all rolled up into a tasty muffin!
Ingredients
1-2/3 cups all-purpose flour (GF option: use gluten free flour blend)
1 cup sugar
2 teaspoons pumpkin pie spice
1 teaspoon baking soda
1/4 teaspoon baking powder (GF option: use gluten free baking powder)
1/4 teaspoon salt
(For GF option: 2 heaping tablespoons flax meal + 1 teaspoon guar gum OR 1 teaspoon xanthan gum, unless your gluten free flour already contains this ingredient)
2 tablespoons cocoa
2 large eggs
1 cup canned pumpkin
1/2 cup butter, softened
1 tablespoon grated lemon peel
1 cup chopped pecans
1 cup cranberries
Instructions
In a large mixing bowl combine flour, sugar, pumpkin spice, baking soda, baking powder, and salt, (if making gluten-free: also add flax and guar gum or xanthan gum).
In medium mixing bowl whisk eggs, pumpkin, butter, and lemon peel; stir in pecans and cranberries.
Pour the pumpkin mixture into dry ingredients.
Stir just until mixed. (Do not over stir).
Fold in pecans and cranberries.
Place 1 1/2 cups batter into mixing bowl, stir in cocoa powder.
Spoon batters alternately into 12 greased, 2 1/2-inch muffin cups.
Bake in a preheated 350-degree F oven for 30 minutes or until golden brown.
Yields 12 muffins.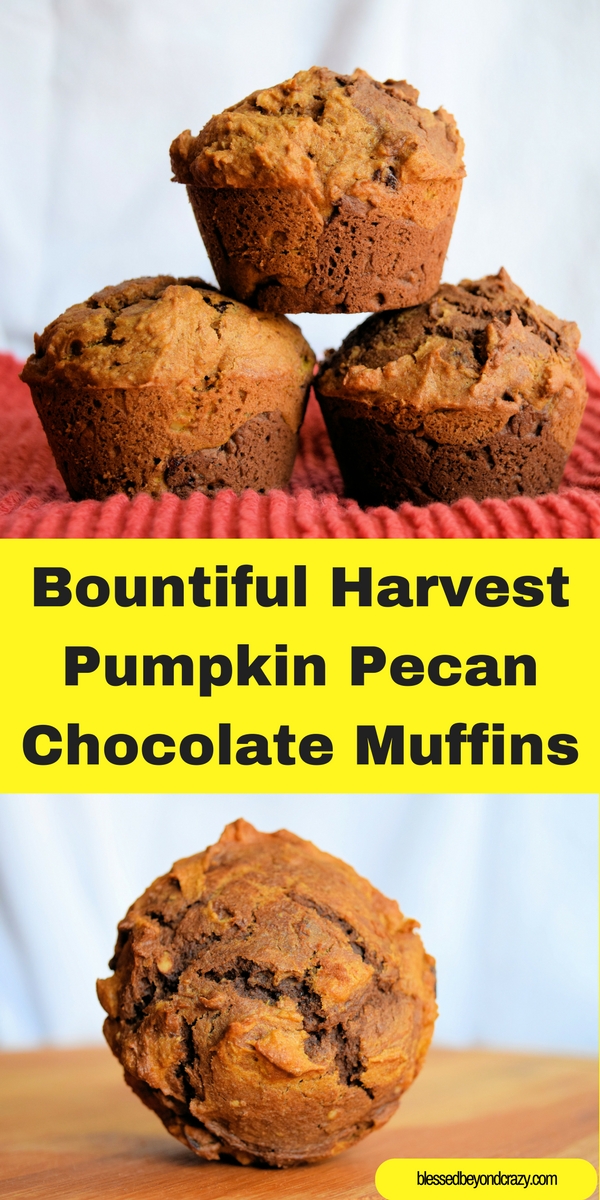 It seems like my family enjoys any good pumpkin recipe. Due to that fact, you can find some of their favorite recipes by scrolling down this page.
Maybe you have a favorite pumpkin muffin recipe that you are willing to share? I am always looking for another great recipe to add to my collection. 🙂
Linda
Disclaimer: Manufacturers' formulations and policies may change at any time, therefore it's important to always read product labels yourself and contact the manufacturer with concerns. We have found that most companies are eager to help answer your questions.
Find more great pumpkin recipes: