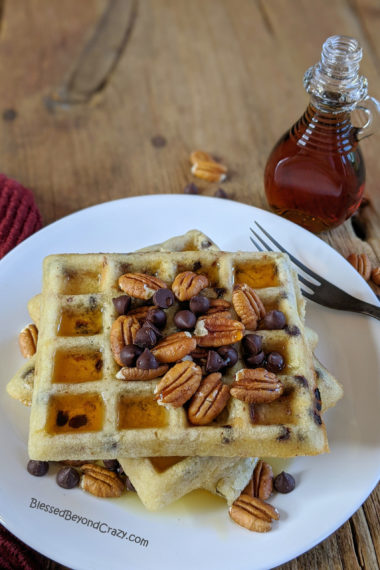 I love breakfast food for a variety of reasons. Mainly, because it can be served for any meal of the day. For example, a heaping plate of Pecan Chocolate Chip Waffles is deliciously served at breakfast, lunch, or dinner. They also made a tasty little mid-afternoon snack.
These scrumptious waffles can easily be made gluten-free!

---
To help support our blogging activities, our site contains affiliate links. If you make a purchase from a link on our site, we may receive a small percentage of that sale, at no extra cost to you. Blessed Beyond Crazy is a participant in the Amazon Services LLC Associates Program. This is an affiliate advertising program designed to provide a means for sites to earn advertising fees by advertising and linking to amazon.com.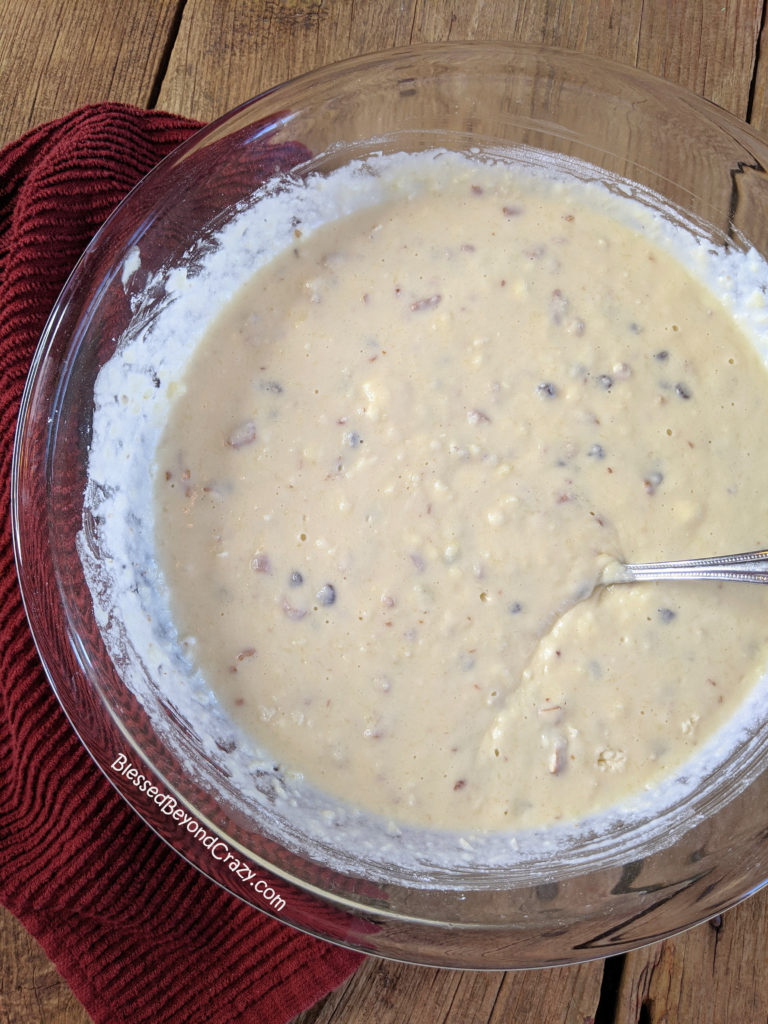 Waffle Batter!
Before we talk about how to make Pecan Chocolate Chip Waffles I want to tell you that all of the pictures in this post are of the gluten-free version. You may notice that when using regular all-purpose wheat flour the waffles turn out a tad bit fluffier and thicker.
One recipe yields 12 average-size waffles although you can certainly cut the recipe in half. In other words, you can make 6 waffles instead of 12.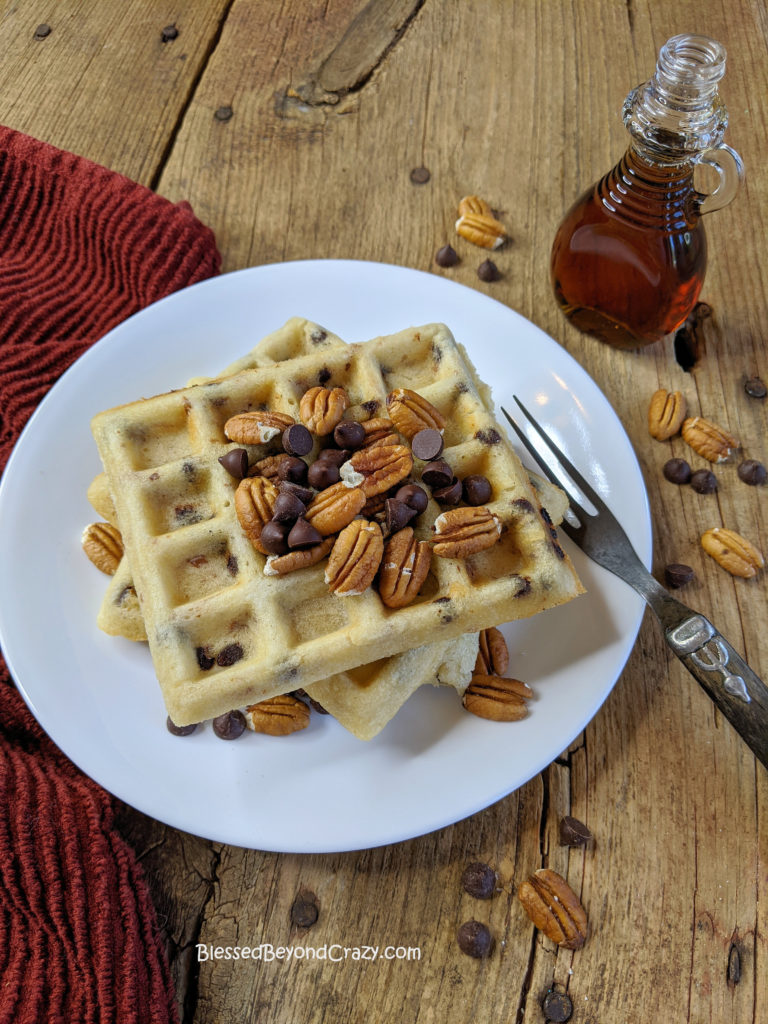 The above photo was taken before drizzling syrup over the waffles. Notice the mini chocolate chips and chopped pecans peeking through? (Note: I use organic pecans from my parent's farm.)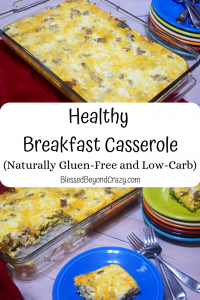 Anna's Healthy Breakfast Casserole is yet another fabulous breakfast option that you can serve for any meal.
Pure Maple Syrup!
Everyone seems to have their favorite brand of syrup. However, I personally do not care for syrup that's made from corn syrup and/or laden with preservatives. Therefore, I always buy pure maple syrup. To me, there is no comparison. I like the real stuff.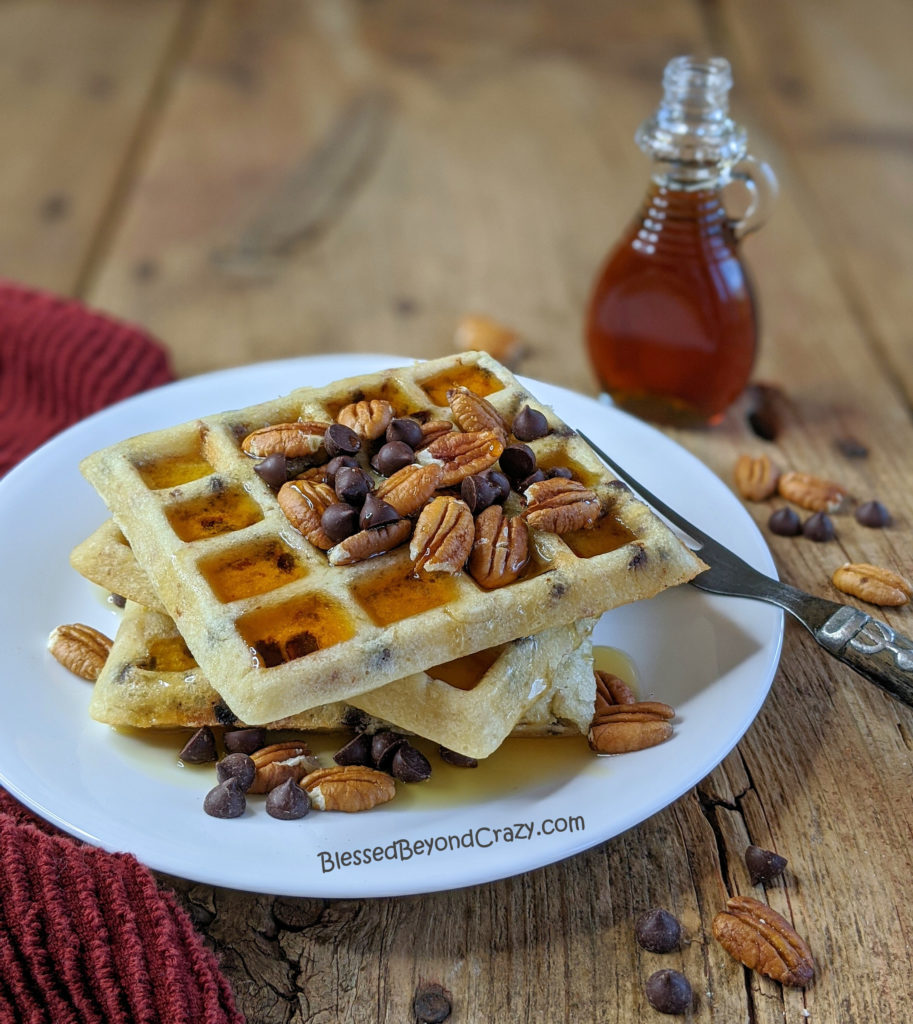 Kids Love Them!
It's funny how people of all ages "ooh and aww" over a plate of toasty warm Pecan Chocolate Chip Waffles. Even little kids love them (although you need to make sure the pecans are finely chopped when serving them to small children).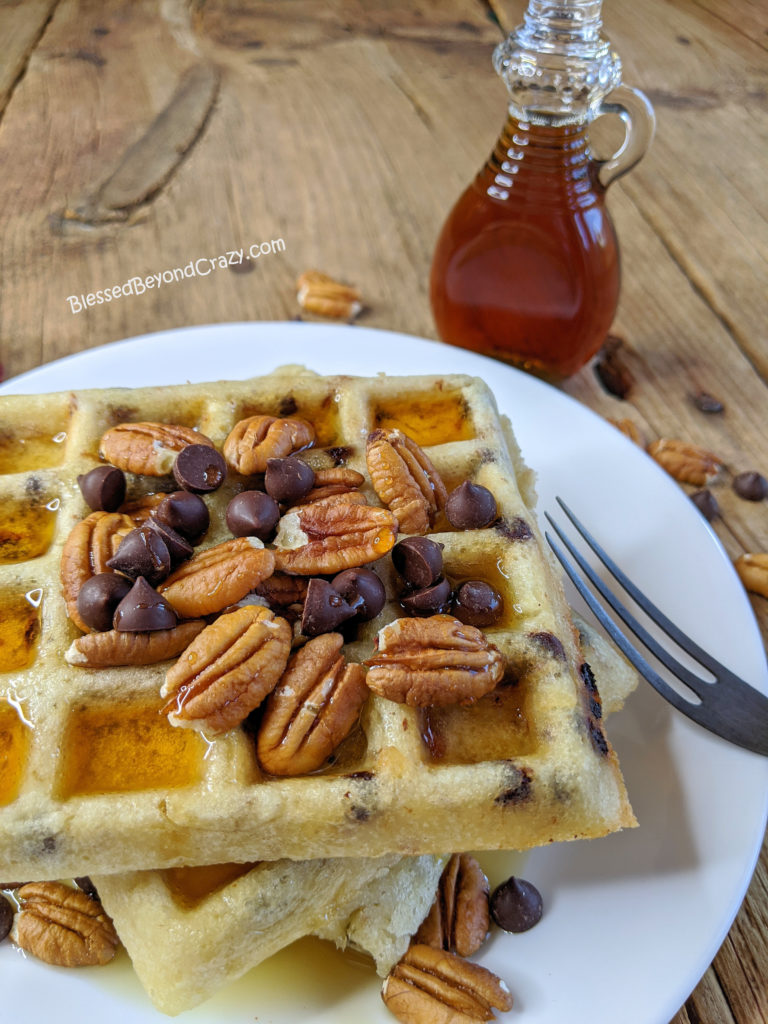 Waffles & Pancakes!
Similarly, my family also loves a plate of warm pancakes.
Some of our favorites are: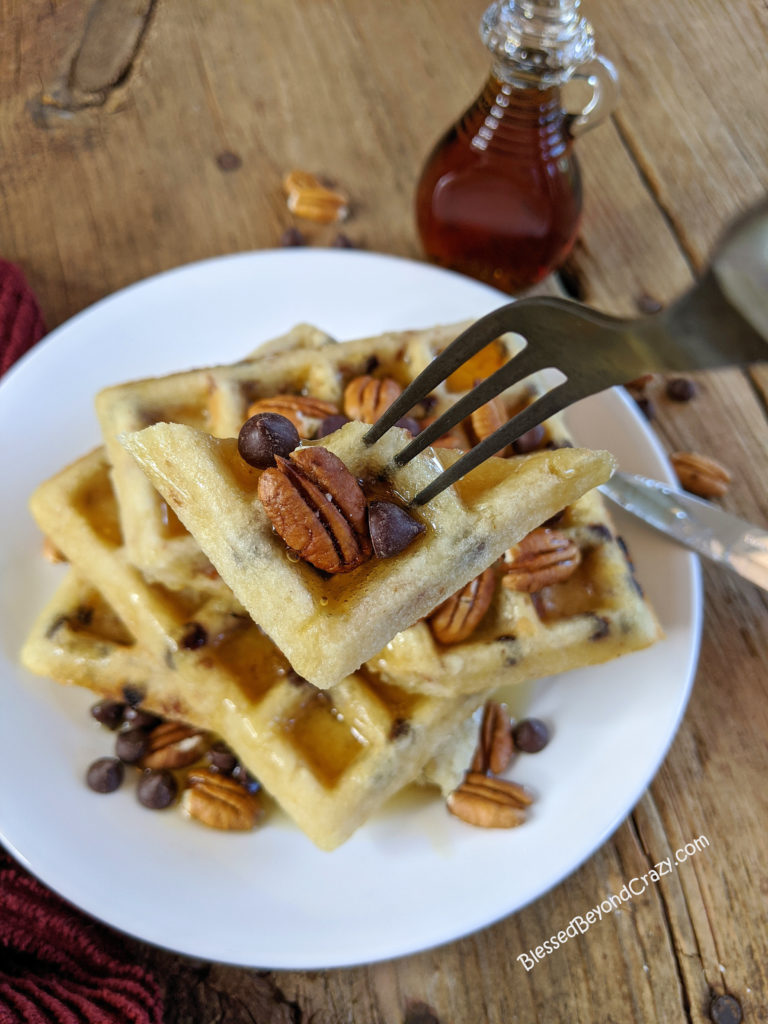 Every Bite!
It seems that something as simple as a bite of a delicious waffle can put a smile on my face.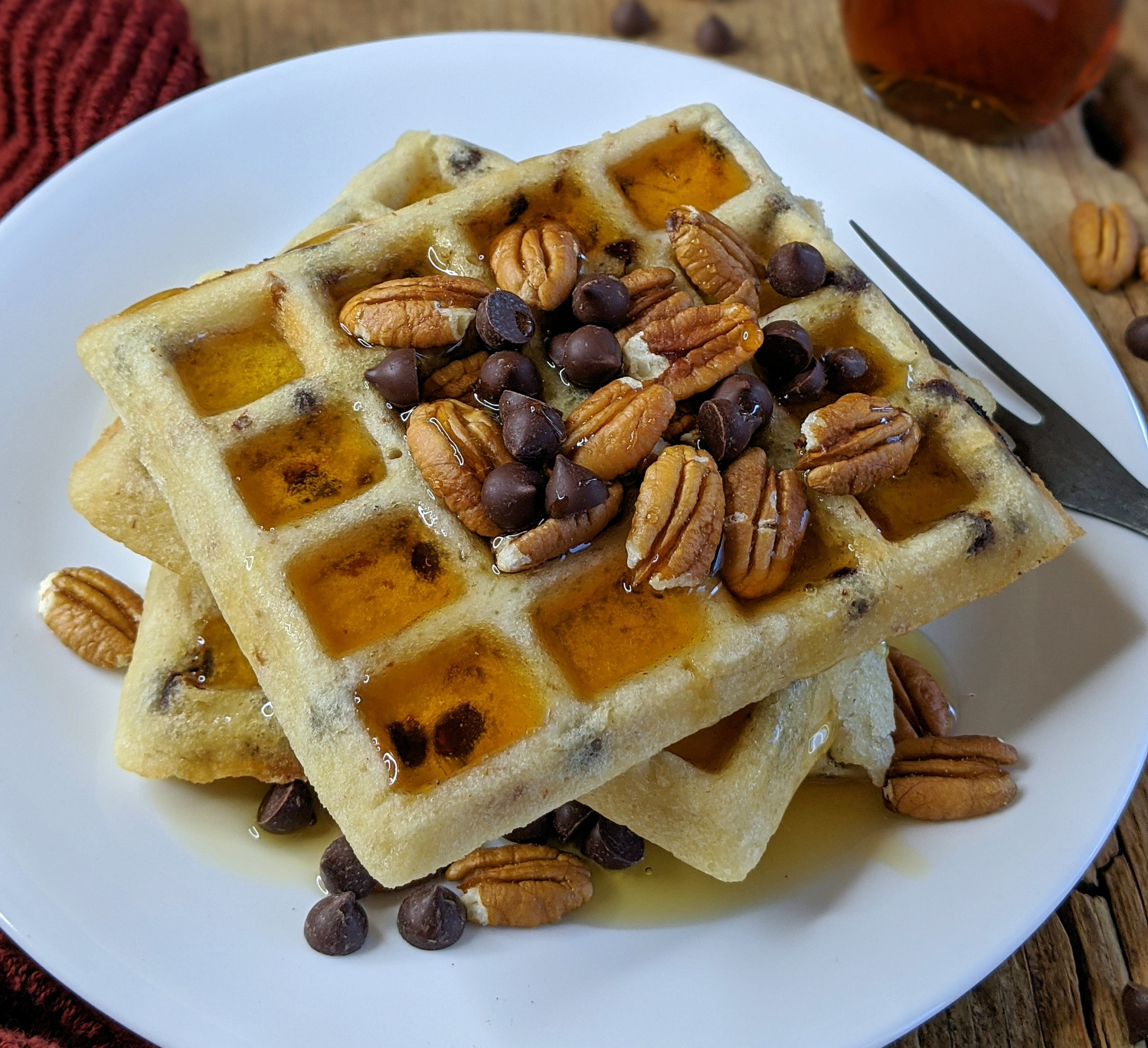 Pecan Chocolate Chip Waffles
Prep Time: 10 minutes

Cook Time: 15 minutes

Total Time: 25 minutes

Begin your morning with a plate of toasty warm waffles.
Ingredients
3 cups all-purpose flour (GF Option: use a gluten-free brand of flour + 3 teaspoons xanthan gum unless flour already contains it)
1 tablespoon baking powder (GF Option: use a gluten-free brand)
1/4 cup granulated sugar
Pinch of salt
3/4 cup finely chopped pecans
2/3 cup miniature semisweet chocolate chips (GF Option: use a gluten-free brand)
4 eggs
1 cup butter, softened
2 1/2 cups milk or milk alternative such as soy, coconut, almond, etc...
2 teaspoons vanilla (GF Option: use a gluten-free brand)
Pure maple syrup
Additional chopped pecans and miniature chocolate chips for garnish
Instructions
Heat waffle maker. In a large bowl, mix flour, baking powder, sugar, salt, pecans, and chocolate chips. In a medium bowl, beat eggs, butter, milk, and vanilla with a wire whisk. Pour over dry ingredients; stir just until moistened.
Spoon batter onto waffle maker, following manufacturer's directions for the recommended amount. Close lid of the waffle maker. Bake until waffles are golden brown.
Garnish with chopped pecans and sprinkle of chocolate chips. Serve with pure maple syrup.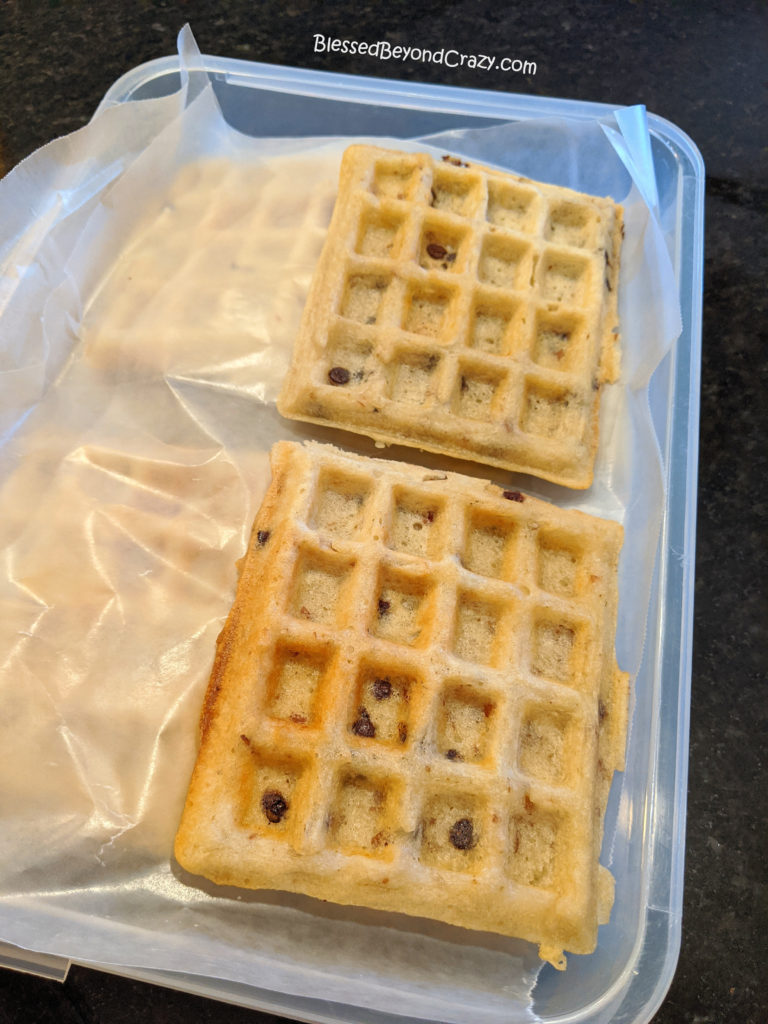 Freeze Them!
As I mentioned previously, Pecan Chocolate Chip Waffles can be frozen for use later. I store mine in a rectangular plastic storage container.
First, to prevent the waffles from sticking together make sure the waffles are completely cool. Next place a sheet of wax paper between every layer making sure the waffles are flat. After that, the waffles are ready for the freezer.
Another option is to lay the waffles flat onto a parchment-lined pan and freeze them until firm. Finally, place them into freezer baggies then into the freezer.
When ready to serve, simply remove the desired number of waffles from the container. While still frozen, place the waffles in a toaster or toaster oven and reheat them. (This method works best if you like a crispier waffle.)
Furthermore, the waffles can be reheated in a preheated 350 degrees F oven for 10 – 15 minutes or in a microwave.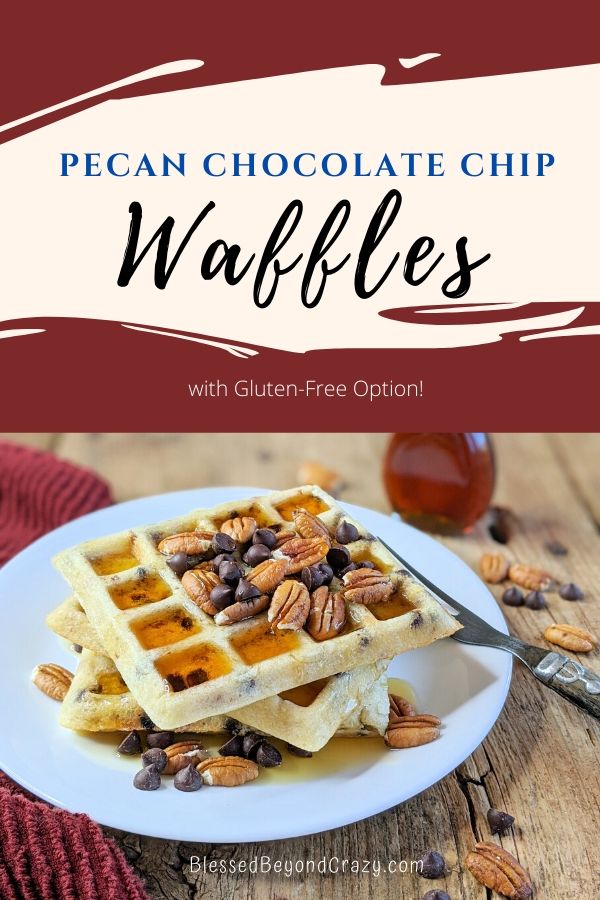 To sum up, I think Pecan Chocolate Chip Waffles make the perfect comfort food!
What's your favorite breakfast food?
Linda
More great ideas: