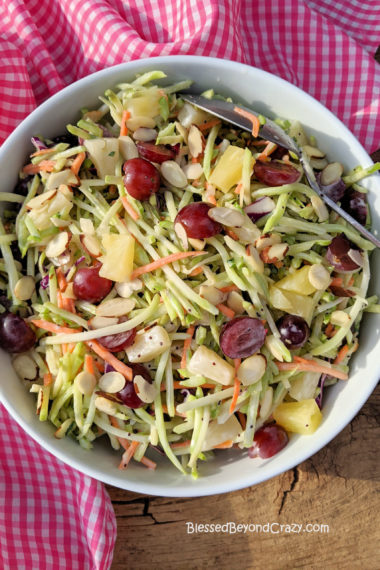 It seems that slaw is one of those things that you either love or hate. For me, it all depends on the recipe and how it's made. Personally, I don't like slaw that's soggy, overly tangy, or too sweet. Now having said that, this Easy Broccoli Slaw with Homemade Poppy Seed Dressing is one of my favorite slaw recipes. Not only does it provide wonderful nutrition, but it also provides excellent texture, great flavor, and just the right combo of sweet vs tang. 

To help support our blogging activities, our site contains affiliate links. If you make a purchase from a link on our site, we may receive a small percentage of that sale, at no extra cost to you. Blessed Beyond Crazy is a participant in the Amazon Services LLC Associates Program. This is an affiliate advertising program designed to provide a means for sites to earn advertising fees by advertising and linking to amazon.com.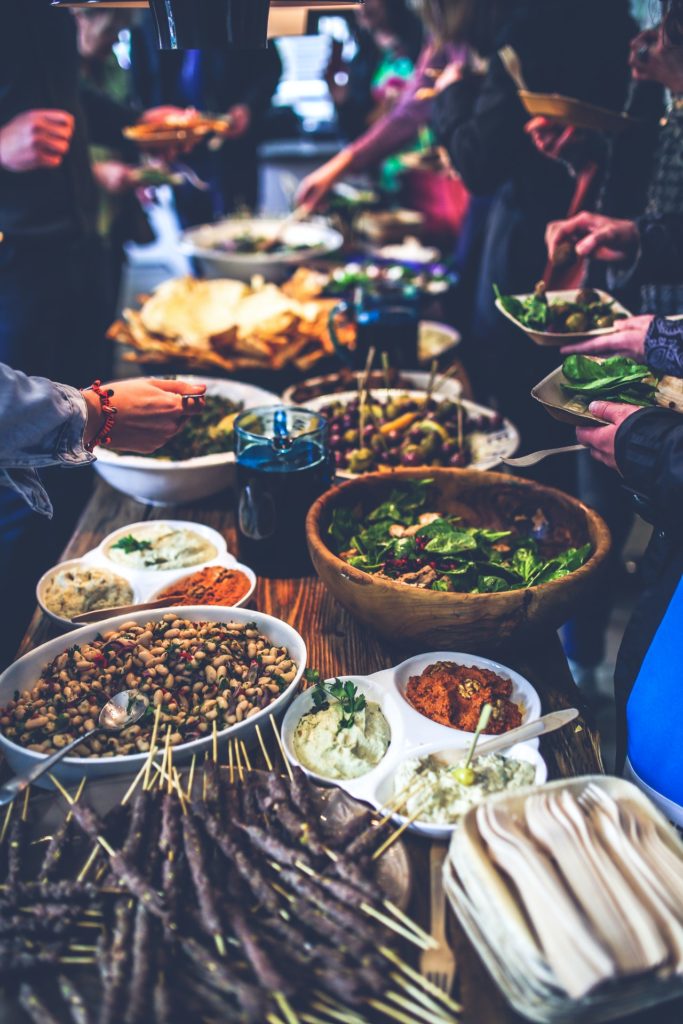 Great Take-Along Dish!
Whenever I think of upcoming picnics, family reunions, the 4th of July, or summer in general, I think of Easy Broccoli Slaw with Homemade Poppy Seed Dressing. It's a fabulous take-along dish that's extremely easy and quick to create so you can make it fresh right before you leave the house.
Quick & Easy Recipes!
Speaking of quick and easy… the older I get, the more I gravitate towards simple recipes. You know, the kind of recipes you can make in just a matter of minutes.
For example, check out the many different ways you can use Easy Poppy Seed Dressing in recipes, including this easy Broccoli Slaw! (Shown in the photo above. Find the recipe by clicking on the link at the bottom of the picture.)
A few other examples of easy recipes are: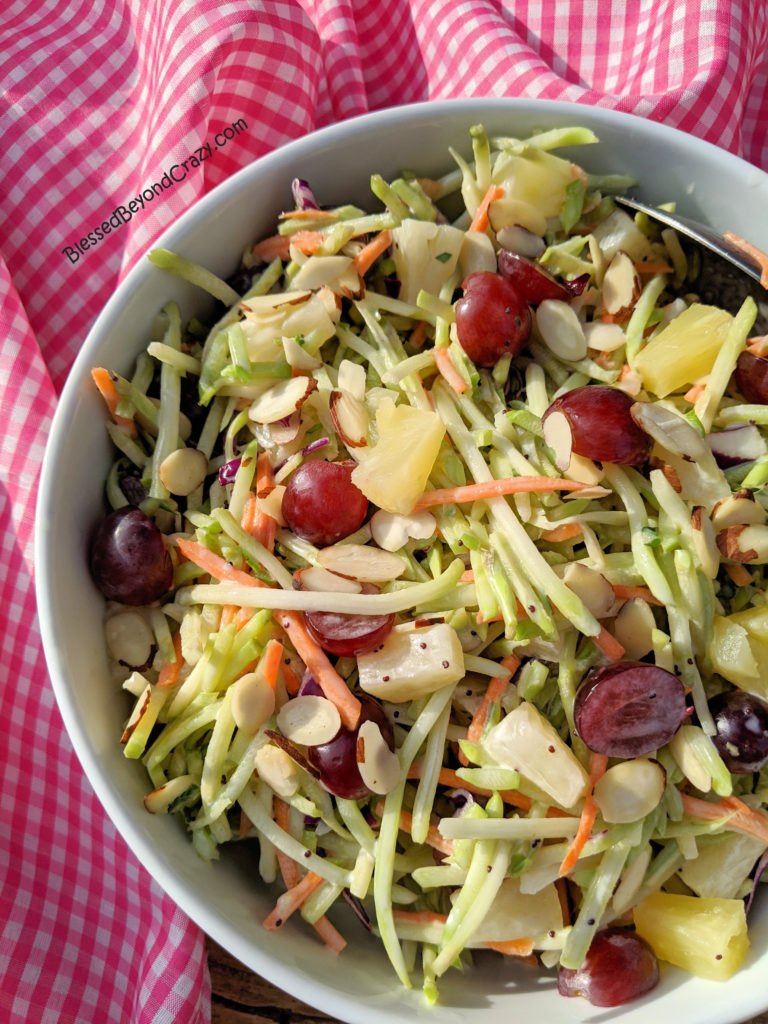 Naturally Gluten-Free!
Another wonderful thing about this recipe is that it's naturally gluten-free. (Yet one more reason it's a good side dish to serve at picnics, reunions, etc…)
Yummy Ingredients!
If you feel creative you can add additional ingredients such as raisins, Ramen noodles, (Note: these noodles are not gluten-free), walnuts, or pine nuts, etc…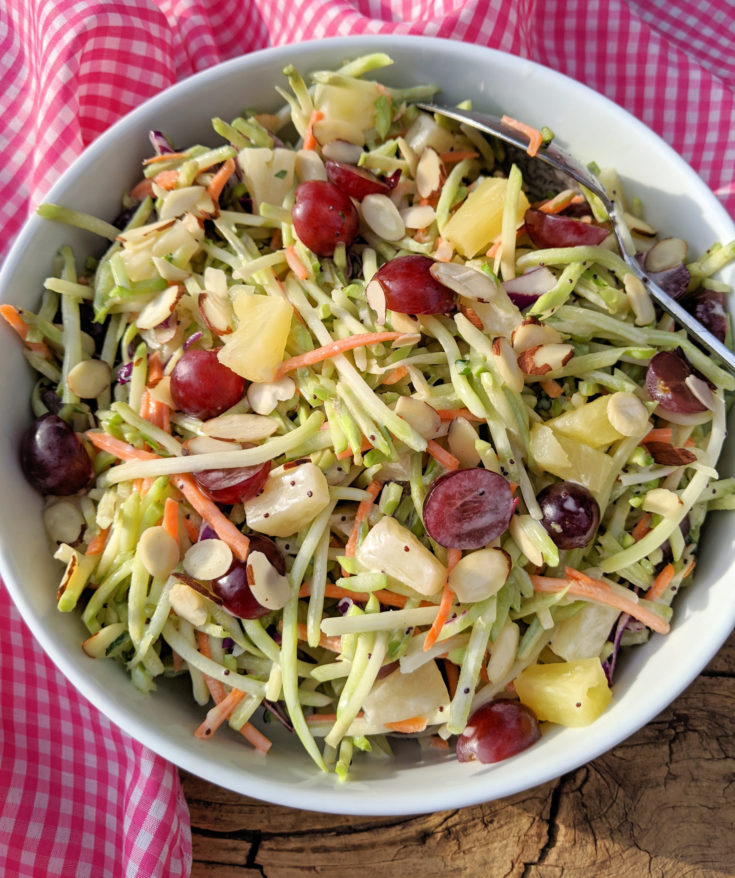 Yield:

Approx. 8 Servings
Easy Broccoli Slaw with Homemade Poppy Seed Dressing
Summertime is the perfect time to make this easy take-along Broccoli Slaw. Not only is it delicious, but it's also naturally gluten-free!
Ingredients
1 (12-ounce) package broccoli slaw
1 cup seedless red grapes, cut in half
1/2 cup sliced almonds
1 cup pineapple tidbits, drained
3/4 cup Easy Poppy Seed Dressing
Instructions
Combine broccoli slaw, grapes, almonds, and pineapple in a large bowl.
Make Easy Poppy Seed Dressing recipe. Pour over broccoli mixture; toss to evenly coat.
Serve. Refrigerate leftovers.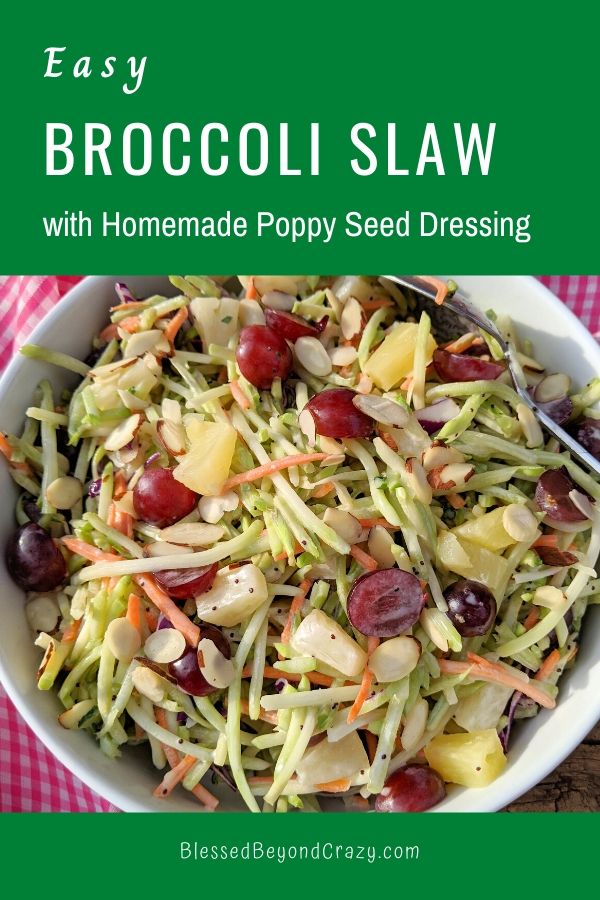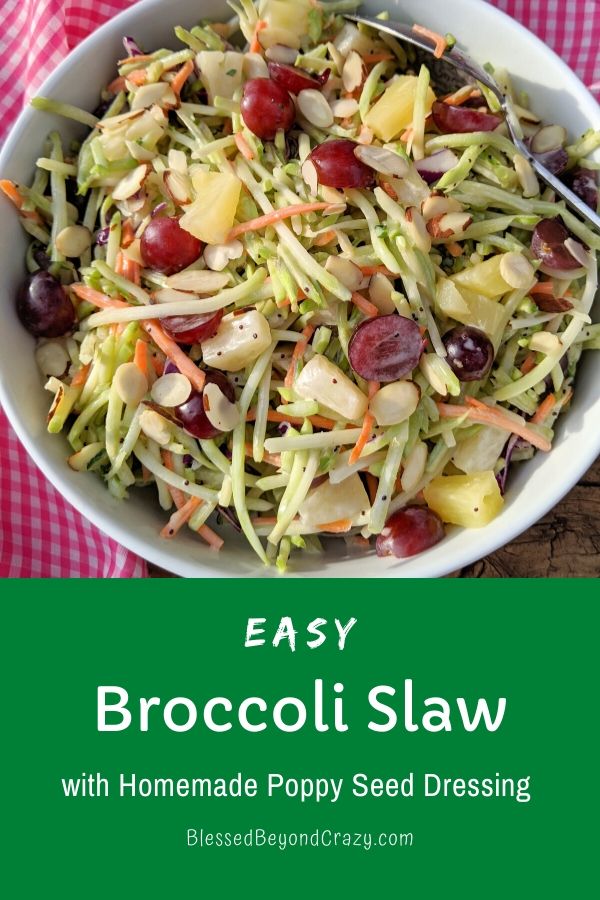 What's your favorite summertime take-along dish?
Enjoy!
Linda
More great ideas: