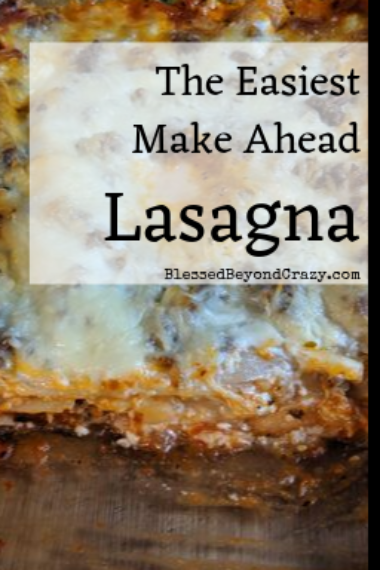 This Lasagna recipe is a family favorite,
but that shouldn't surprise you because every recipe I share is a family favorite. I only give you guys the best! If everyone isn't raving over my cooking, then it's not worth sharing. And everyone is raving over this lasagna recipe, even my extended family! Kate, Caleb, and Anna — this one is for you!

The nice thing about lasagna is you just need to add a side salad (and maybe some garlic bread) and boom, supper is done!
I cannot stress how simple and easy this lasagna recipe is, or how much everyone raves about this! This is my brother's favorite meal, and my brothers/sisters-in-law frequently request I make this for game night!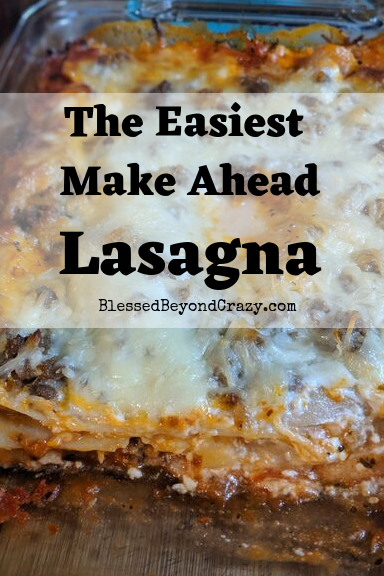 Did I mention that this lasagna recipe only has 5 ingredients!?!
1 jar of your favorite spaghetti sauce
Lasagna noodles (regular noodles, not oven-ready)
2 cups of cottage cheese
1 lb. crumbled sausage, cooked and grease drained (beef could also work)
4 cups mozzarella cheese
Ready for the directions?
Layer half of each ingredient, in the order listed above, in a 9×13 cake pan
Repeat with the remaining half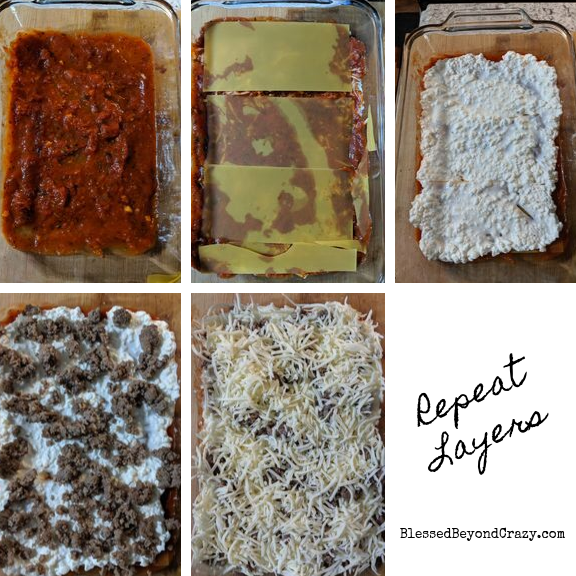 How easy is that?!?!
Now you can throw it in the freezer, or stick it in the fridge until you are ready to bake it. When you are ready to bake it, thaw (if necessary), bake at 350° F for 45 minutes. Let it cool for 10 minutes (literally impossible in my home), slice, and eat! If you don't let it cool (because you're so impatient like my family), then it will be a little runny/sloppy when you serve it–worth it!
If you are making a meal for someone, this is the PERFECT make-ahead meal! Make the lasagna, freeze it, when they are ready to eat it, they can thaw it and bake it! Be sure to put it in a disposable pan, so they don't have to wash dishes, remember who's dishes belong to who, or try to remember to give it back.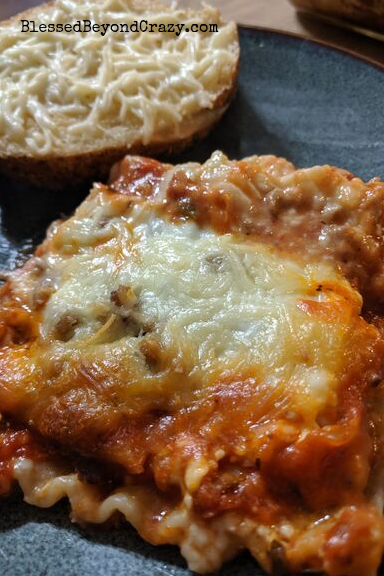 To make a gluten-free lasagna, simply use gluten-free lasagna noodles!
What if you don't want to make it ahead of time and you're ready to bake it right when you assemble it? That's fine! Go ahead and bake it.
Want to make it low-carb? Replace the noodles with fresh spinach leaves!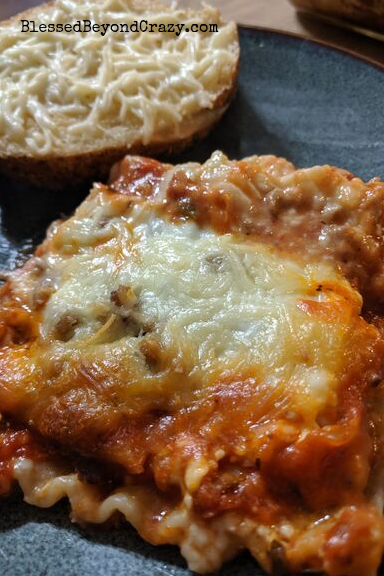 Yield:

Serves 8 to 10
The Easiest Make Ahead Lasagna -Freezer Friendly
A delicious and freezer-friendly lasagna recipe.
Ingredients
24-ounce jar of Pasta Sauce
Lasagna noodles (GF if necessary)
24-ounces cottage cheese
1 lb of cooked ground sausage - grease drained
4 cups of shredded mozzarella cheese
Instructions
1. Cover bottom of 9×13 cake pan with half of the pasta sauce.
2. Add a single layer of uncooked lasagna noodles to cover the pasta sauce.
3. Use half of the cottage cheese to cover the lasagna noodles.
4. Sprinkle half of the sausage evenly over the top of the cottage cheese.
5. Cover the sausage with 2 cups of shredded mozzarella cheese.
6. Repeat steps 1-5 for the second layer.
7. Freeze or refrigerate until ready to use.
8. When ready to use, thaw (if needed). Bake at 350F for 45 minutes or until heated throughout and cheese is bubbly.
9. Let rest for 10 minutes before serving.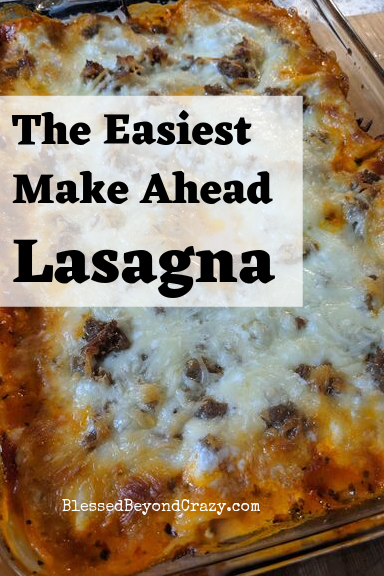 Enjoy!
Anna