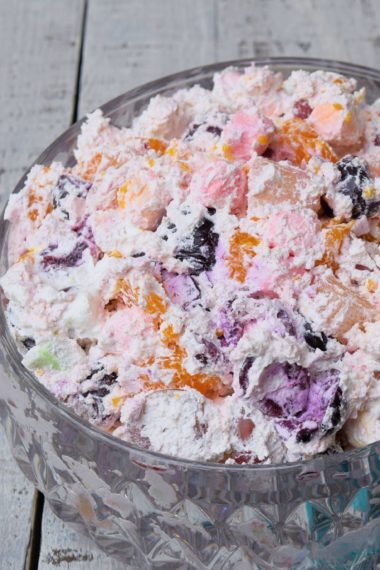 Life is busy and therefore it's nice to have a few quick and easy recipes on hand. Recipes that do not require a lot of time, effort, or energy such as this recipe for Quick and Easy 5 Cup Salad.

To help support our blogging activities, our site contains affiliate links. If you make a purchase from a link on our site, we may receive a small percentage of that sale, at no extra cost to you. Blessed Beyond Crazy is a participant in the Amazon Services LLC Associates Program, an affiliate advertising program designed to provide a means for sites to earn advertising fees by advertising and linking to amazon.com. As an Amazon Associate, I earn from qualifying purchases.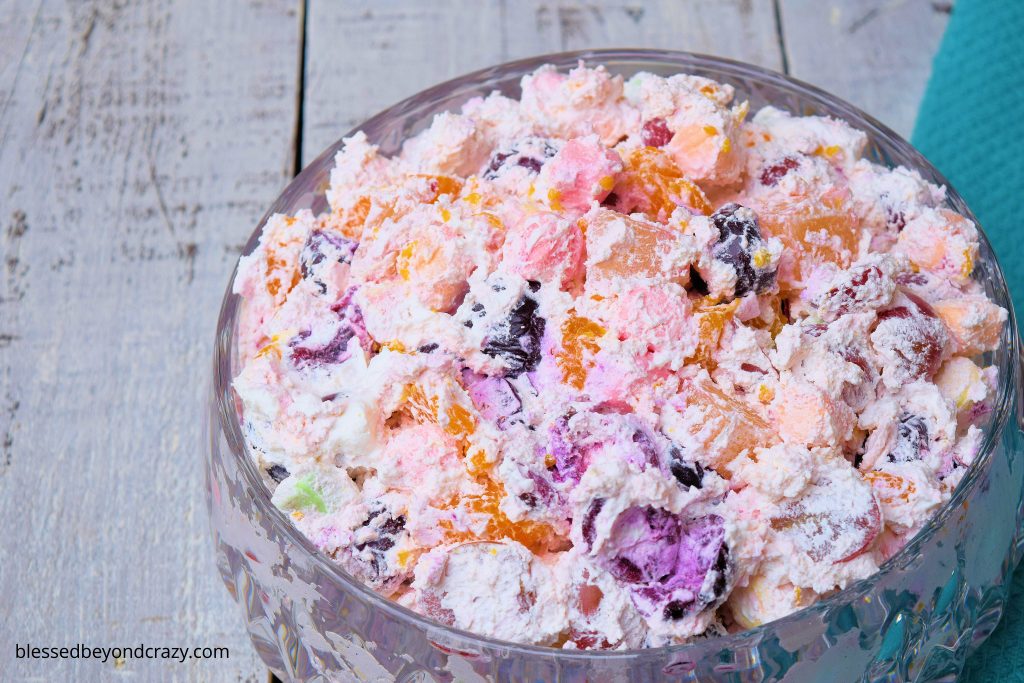 Because this salad is so easy to make, older children can actually help assemble it or even make it themselves. Not only is this a scrumptious recipe, but it's also a colorful and fun salad that's perfect to serve at any holiday or family gathering.
A few years ago my mother gave me a beautiful sparkling cut glass serving bowl which helps highlight the pretty colors in the salad. I use this pretty bowl quite often, especially around the holidays.
Speaking of the holidays, you might also enjoy this yummy recipe for Holiday Cranberry Salad! It's another family favorite recipe!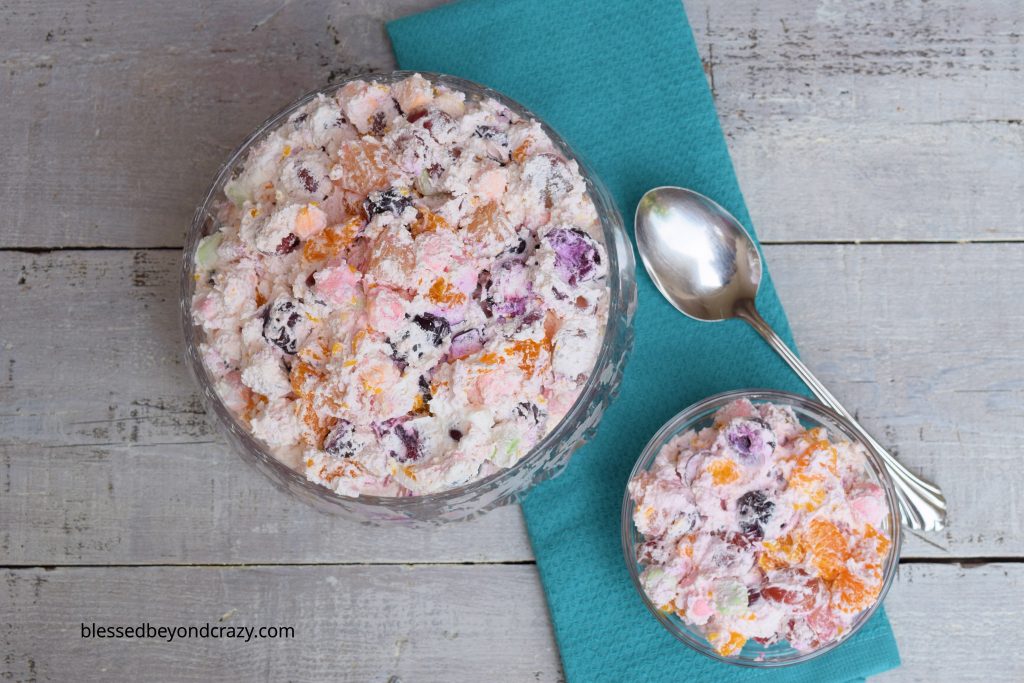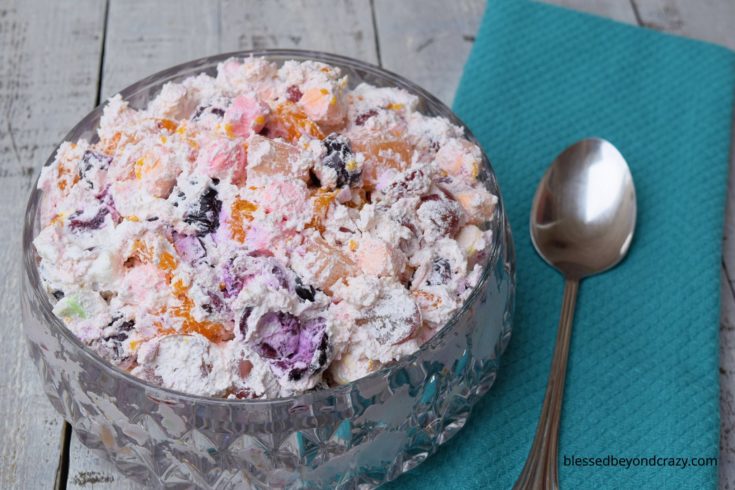 Yield:

Approx. 1.5 quart
Quick and Easy 5 Cup Salad
A festive and delicious salad that is perfect for any holiday, party, or family gathering, plus it's gluten-free!
Ingredients
1 cup pineapple chunks, well drained
1 cup seedless grapes, purple or green
1 cup dark sweet cherries, pitted and halved
1 cup Mandarin oranges, well drained
1 cup miniature flavored marshmallows
16 ounces whipped topping (GF option: use a gluten-free brand)
Instructions
In a large mixing bowl combine pineapple, grapes, cherries, Mandarin oranges, and marshmallows. Gently stir ingredients together.
Add whipped topping; gently stir until ingredients are combined.
Pour into a serving bowl and refrigerate until ready to serve.
Notes
You may substitute whipped heavy cream or whipped coconut cream in place of the whipped topping.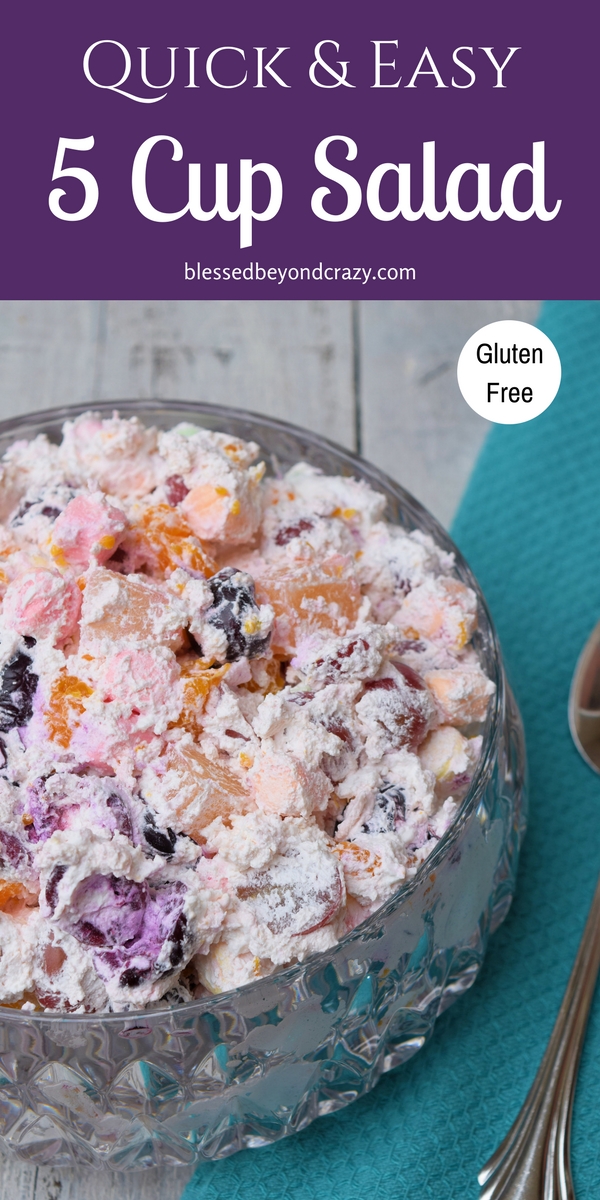 As you can see, Quick and Easy 5 Cup Salad is ridiculously easy to make. I personally think it is a fabulous combination of flavors, is not overly sweet, and has a great chunky texture. I also think it's a festive salad that everyone will enjoy and is perfect for all of your gluten-free guests.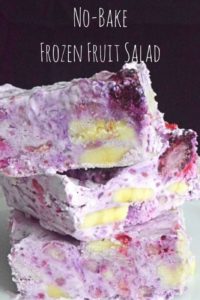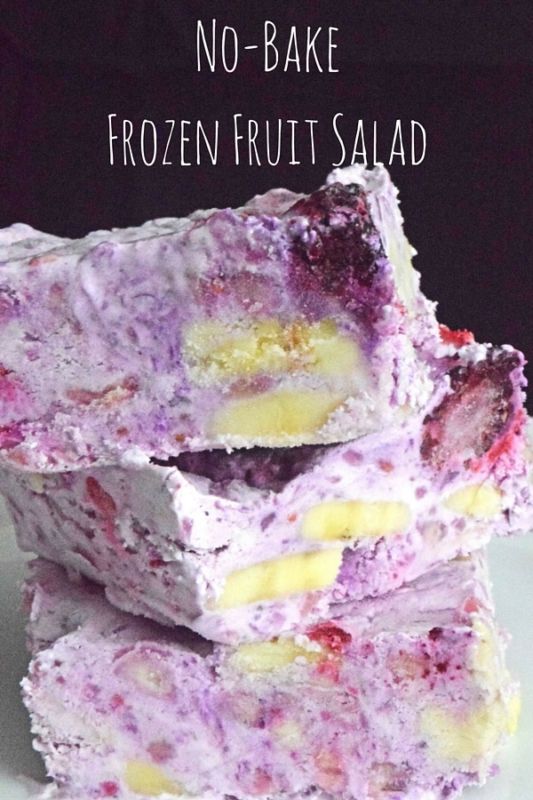 Anna makes a refreshing No-Bake Frozen Fruit Salad that's also easy to make and naturally gluten-free.
What's your favorite salad recipe?
Linda
Is Cool Whip gluten-free? Click > HERE < to find out!
More great ideas: