I can't help but think that every summer picnic needs a delicious bowl of Creamy Pasta Salad.
Okay, let me make something clear, we have literally NEVER taken pasta salad on a picnic! HAHA! However, we do eat it often! I do THINK we should take this pasta salad to our next summer BBQ or picnic. Why this recipe? Because it is our absolute favorite pasta salad, and because it is a cold dish, which is always simpler to travel with. 

To help support our blogging activities, our site contains affiliate links. If you make a purchase from a link on our site, we may receive a small percentage of that sale, at no extra cost to you. Blessed Beyond Crazy is a participant in the Amazon Services LLC Associates Program, an affiliate advertising program designed to provide a means for sites to earn advertising fees by advertising and linking to amazon.com. As an Amazon Associate, I earn from qualifying purchases.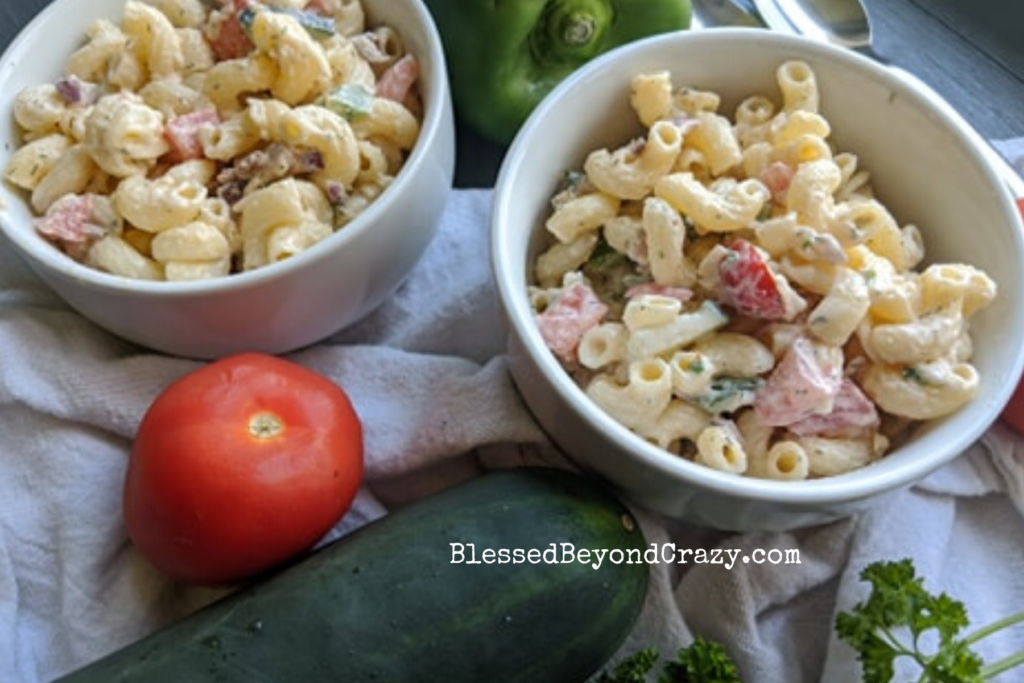 I love adding vegetables to my pasta salad. Vegetables give it a crunch, flavor, and some beautiful color!
Here are the vegetables my family likes to eat with pasta salad:
grape tomatoes (or Roma tomatoes if I don't have grape tomatoes)
cucumbers
bell peppers
red onion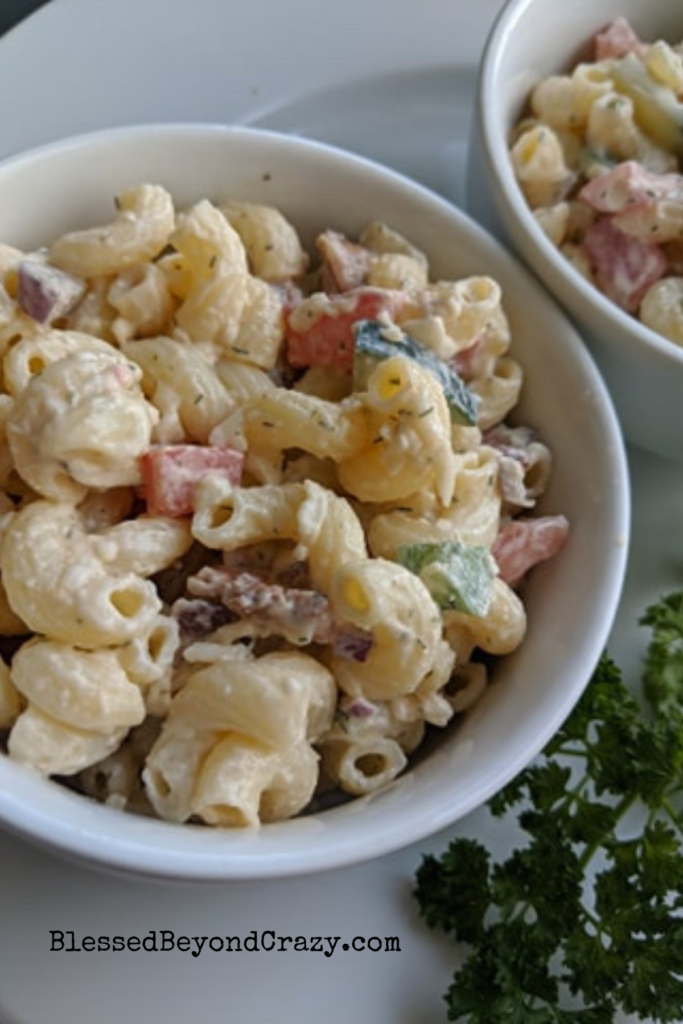 I also add crumbled bacon and shredded mozzarella cheese in addition to spices, which are included in the recipe card.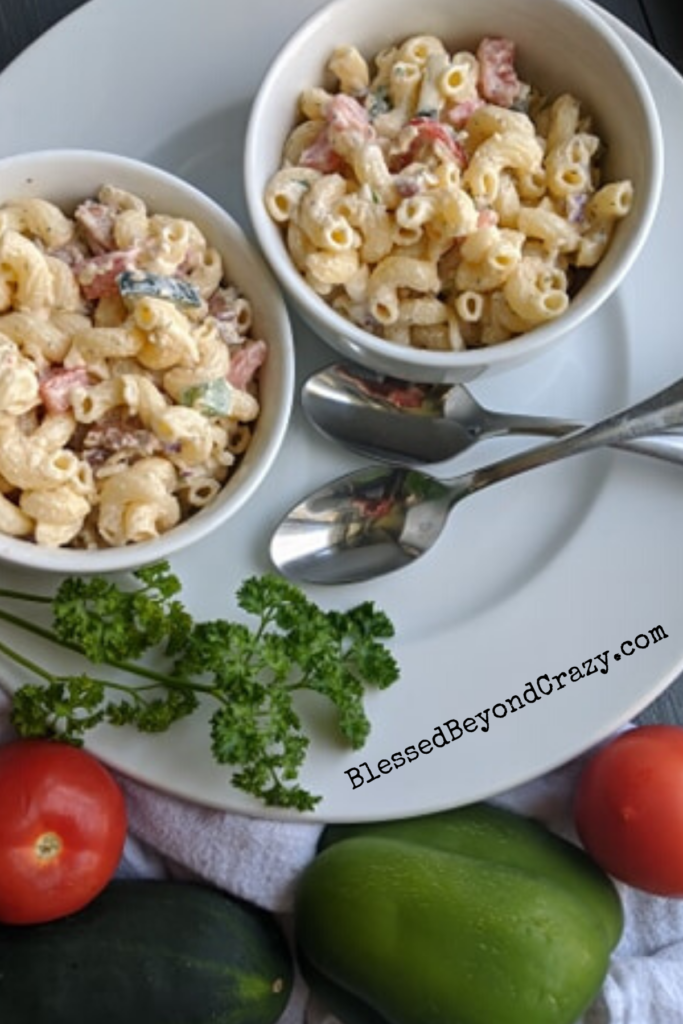 I always suggest that you add what your family likes to eat! If they don't like tomatoes, leave them out! If you love olives, avocados, or beans, throw some it! That is the beauty of this recipe!
The spices are what make this so delicious! I always use fresh if I have it on hand, otherwise, dried spices will work fine. Usually, I just eyeball it instead of measuring, but here are the measurements from the first time I made this.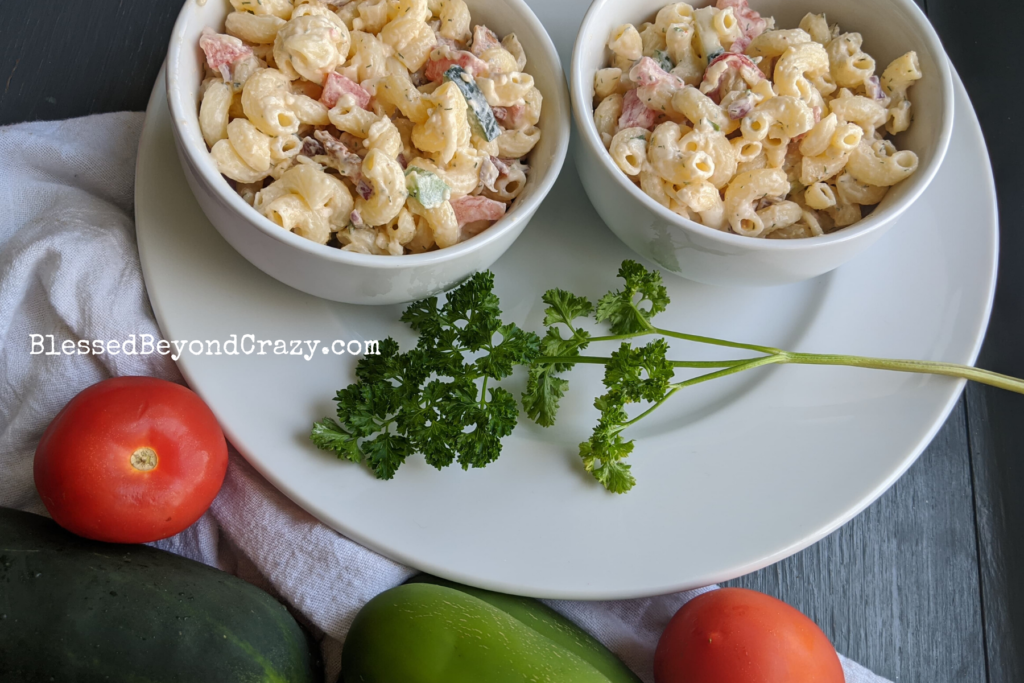 Fry up about 4 slices of bacon and crumble.
Make a whole box of macaroni noodles (gluten-free if needed).
When the noodles are done boiling, strain them and rinse with cold water to cool them off.
Add all your ingredients together. Add 1 cup of mayo. Stir to combine and chill until ready to serve (full recipe below in recipe card).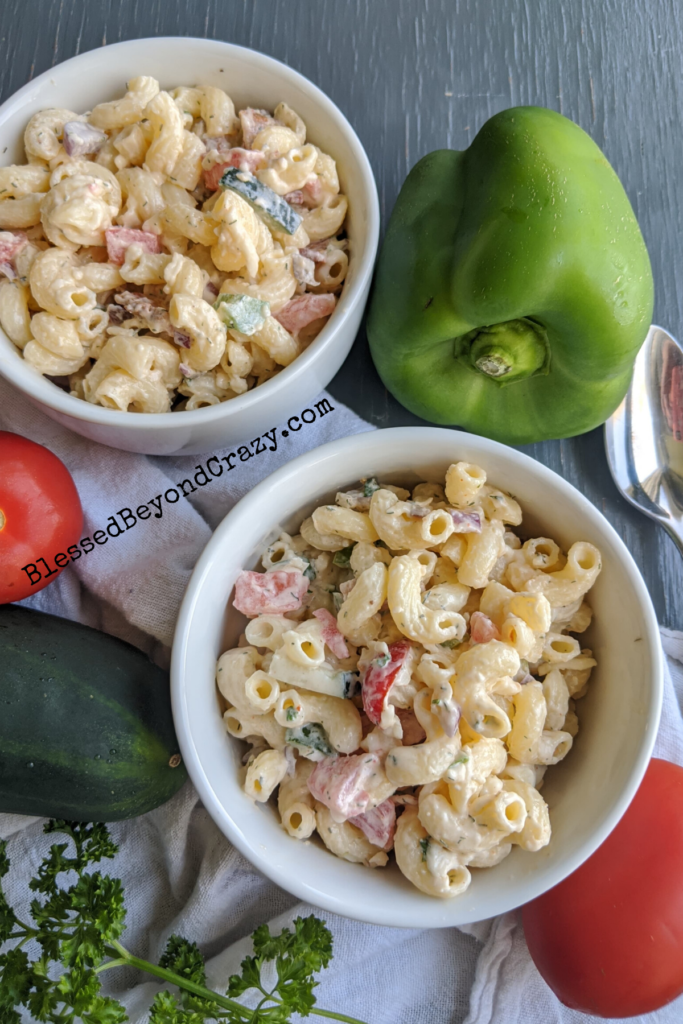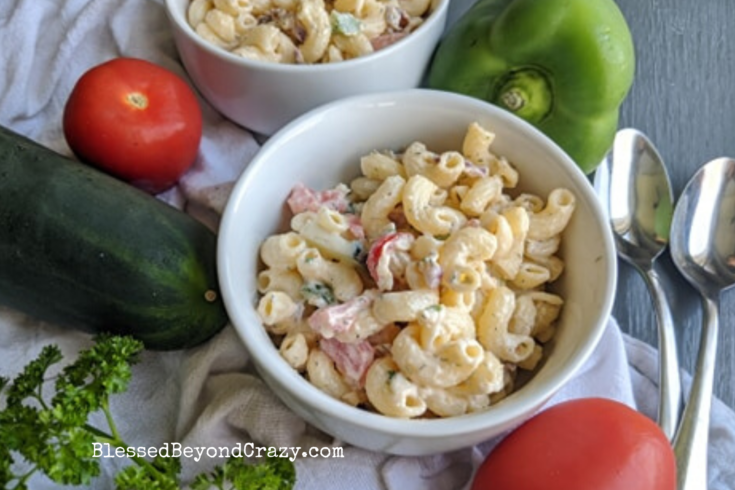 Creamy Pasta Salad, Gluten Free Option
Ingredients
1 box of macaroni noodles, use gluten-free noodles if needed
4 slices bacon, cooked and crumbled
2/3 cup shredded mozzarella cheese
1 cup grape tomatoes cut in half (or diced Roma tomatoes if I don't have grape tomatoes)
1/4 red onion diced
3 teaspoons dill
4 teaspoons garlic powder
1 bell pepper diced
4 Tablespoons parsley
2 teaspoon Lawry's Seasoning Salt
1/4 cucumbers, thinly sliced and diced
1 cup mayo
Instructions
Cook noodles according to package directions. When they are done rise with cold water until they are cooled. Strain well.
Add all seasonings, diced vegetables, crumbled bacon, and cooled noodles to a large bowl.
Stir in mayo and mozzarella cheese.
Chill until ready to serve.
Notes
Omit or substitute any vegetables you don't like for ones that you do enjoy.
Don't forget to pin it!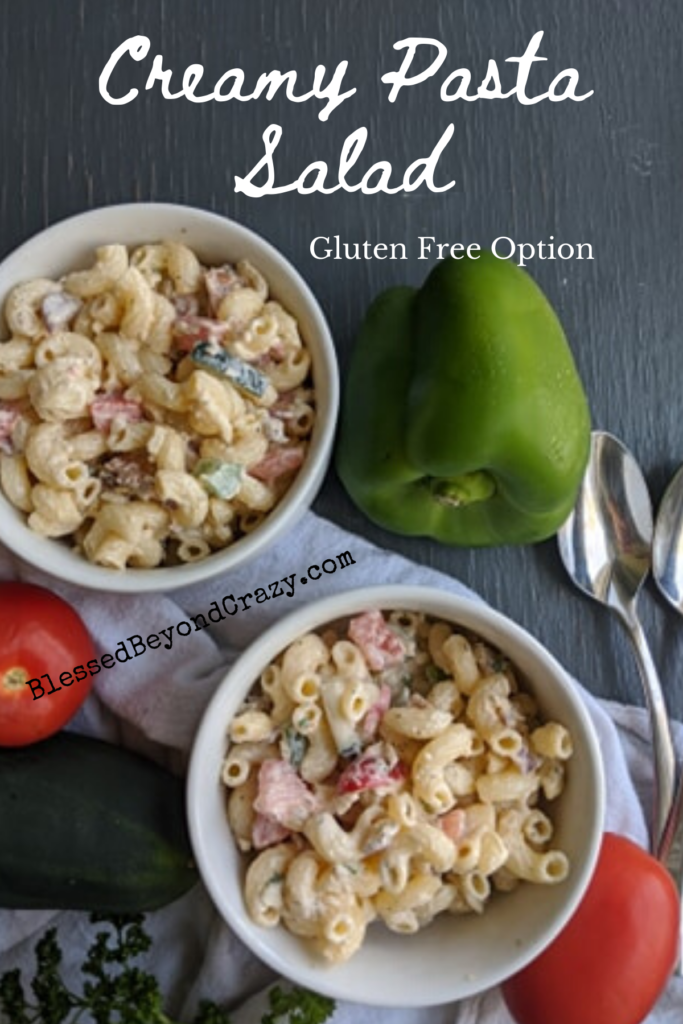 If you prefer a lighter pasta salad without the Mayo, be sure to check out this Gluten-Free Pasta Salad: