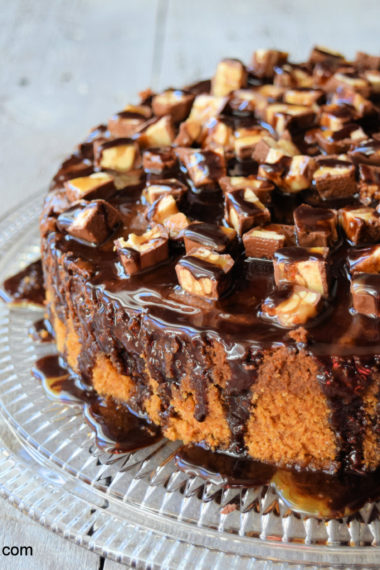 Anyone who loves cheesecake and Snickers candy bars will appreciate this recipe for Snickers Chocolate Cheesecake! This delicious and decadent dessert is perfect any day of the week!  
To help support our blogging activities, our site contains affiliate links. If you make a purchase from a link on our site, we may receive a small percentage of that sale, at no extra cost to you. Blessed Beyond Crazy is a participant in the Amazon Services LLC Associates Program, an affiliate advertising program designed to provide a means for sites to earn advertising fees by advertising and linking to amazon.com.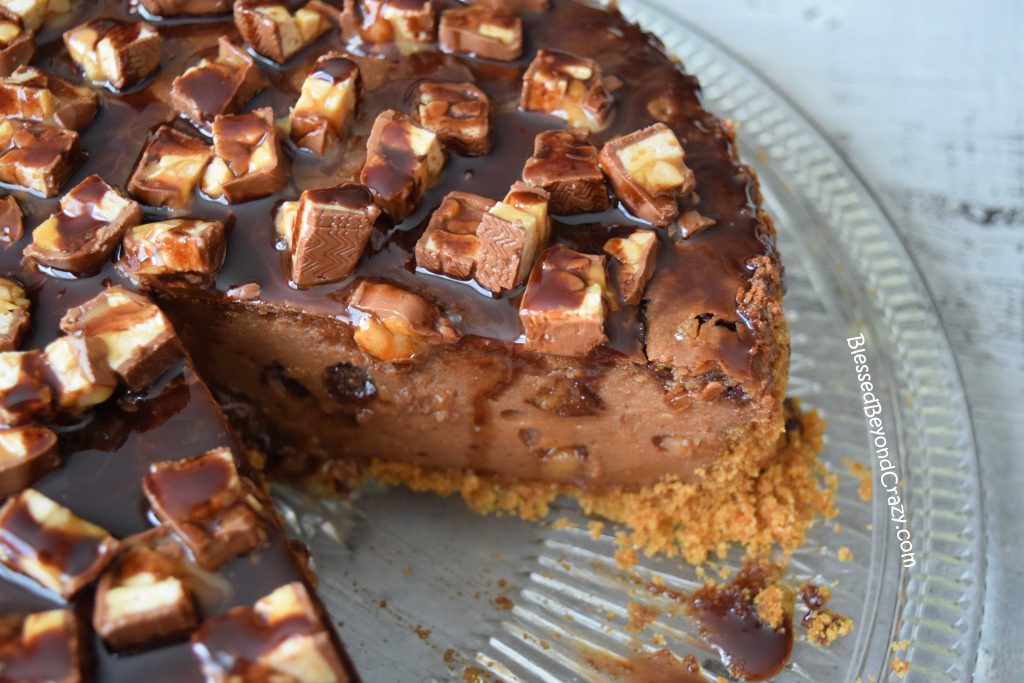 Chocolate
First of all, I am super excited to participate in this month's recipe challenge with several other amazing bloggers. The theme for our recipe creations this month is chocolate. (Probably because we all love chocolate so much.) All of the recipes are found at the end of this post.
Snickers Chocolate Cheesecake
So, without further ado… I present Snickers Chocolate Cheesecake!
Like most cheesecakes, this cheesecake recipe starts by making a graham cracker crust. Both regular or chocolate-flavored graham crackers work well in this recipe.
Snickers
It seems that Snickers is high on the list of the most popular candy bars. Therefore these chopped morsels of yumminess really do send this recipe over the top! (Tip: buy a few extra candy bars to nibble on while you create this recipe. Lol)
Luscious Mixture
Just look at this luscious chocolate cream cheese mixture. Umm… Need I say more?
Ready to Bake
I surrounded the bottom of the springform pan with a double thickness of heavy-duty foil. Before baking, I place the foil-lined springform pan into another baking pan with sides, along with approximately 1-inch of hot water to create a water bath. This process is especially relevant and prevents the cheesecake from cracking.
Now it was time to bake this scrumptious concoction in my preheated 325 degrees F oven for approximately 75 – 80 minutes. It was finished when the center was barely set and the top appeared dull.
Bake
While it looks rather plain at this stage, this cheesecake lends itself well to almost any combination of candy bars. Allow me to explain.
Rather than toss out leftover candy bars (is there such a thing?) feel free to use them in place of Snickers. Because this chocolate cheesecake recipe is so versatile you can potentially create almost any candy bar combination. Even a gluten-free version! (See the note at the end of this post.)
Cool
Now once the Snickers Chocolate Cheesecake was cool I slid it onto my pretty cake platter. A sprinkle of chopped candy bars and a healthy drizzle of chocolate and caramel syrups provided the final touch.
Serve
Finally, just look at all of that lusciousness!
While my family loves all types of cheesecake, Snickers Chocolate Cheesecake is probably one of our favorites.
Heath Bits Cheesecake , German Chocolate Cheesecake, and Caramel Pecan Chocolate Cheesecake are front-runners as well.
In addition, Pumpkin-Chai Cheesecake with Caramel-Rum Sauce and Cheesecake Cupcakes are yet a couple of other great versatile (non-chocolate) options.
This Snickers Chocolate Cheesecake is such a delectable dessert so it's perfect for any occasion, event or holiday. (Think Valentine's Day, Father's or Mother's Day and Christmas!)
Check out all the other delicious CHOCOLATE recipes below from bloggers who took part in our 30 Day Chocolate Challenge.
Here's to all of you cheesecake monsters out there!
Linda
Note: I personally spoke with a representative for Mars, Incorporated who is the maker of Snickers candy bars. Snickers' ingredients are gluten-free but the manufacturing facility is not. Therefore, Mars, Incorporated does not promote Snickers candy bars to be gluten-free because of potential cross-contamination during processing. Therefore, Snickers are NOT considered to be gluten-free.
More great ideas: