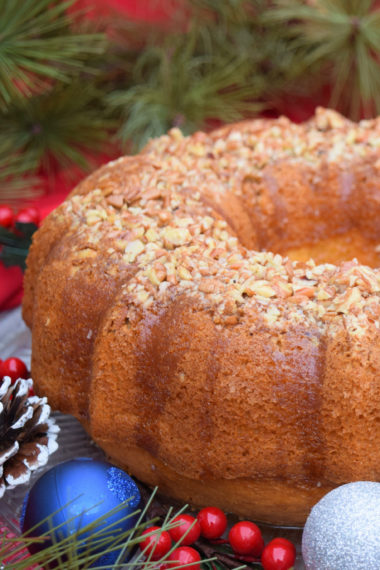 Today was a super fun day!!! Why? Because today I made a Classic Holiday Rum Cake that's so good it will knock your socks off!
First, I'll let you in on a secret! This cake is extremely easy to make and truly an exceptional dessert! Therefore, be prepared and print off several copies of this recipe ahead of time because your guests will probably beg you for the recipe!!!

To help support our blogging activities, our site contains affiliate links. If you make a purchase from a link on our site, we may receive a small percentage of that sale, at no extra cost to you. Blessed Beyond Crazy is a participant in the Amazon Services LLC Associates Program. This affiliate advertising program is designed to provide a means for sites to earn advertising fees by advertising and linking to amazon.com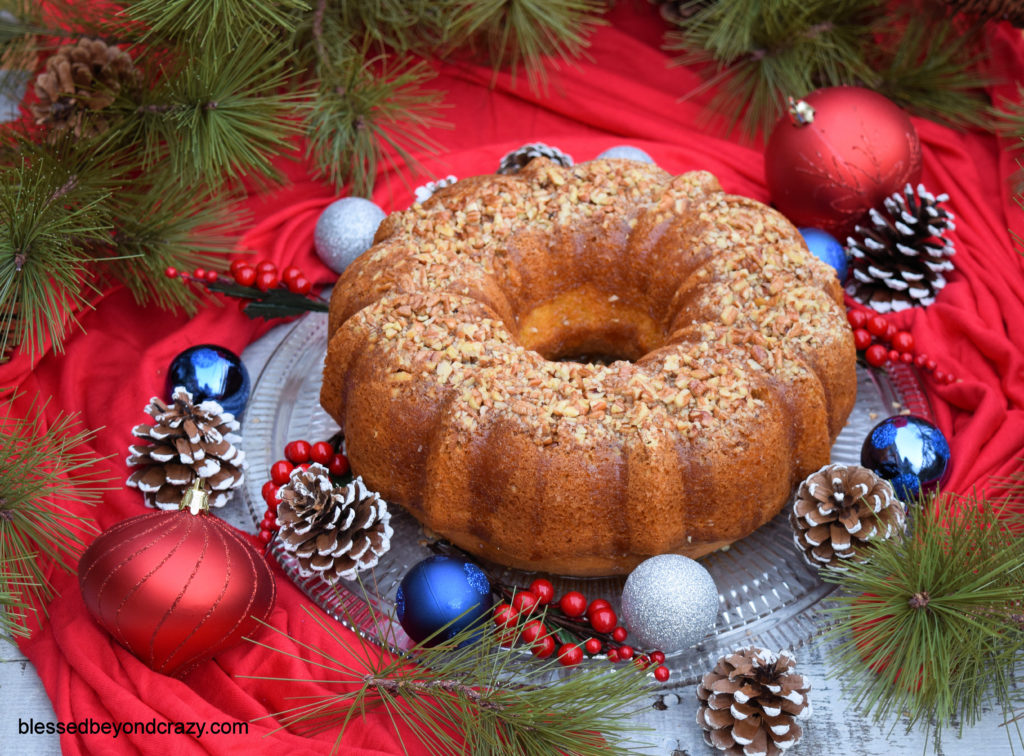 A few weeks ago my mother gave me a rum cake recipe that dates back to the 1970s. Because I seem to always love a good old-fashioned recipe I was excited to make this bundt cake.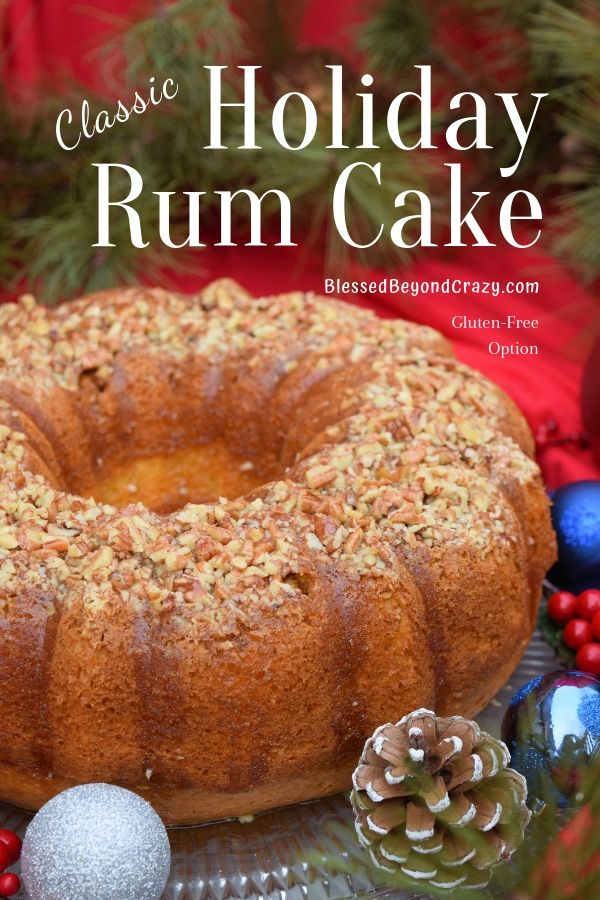 Not only does this Classic Holiday Rum Cake taste amazing, but it's also a super simple recipe and one that can easily be modified to be gluten-free. I just love that option because no one likes to feel left out, right? (You can find a gluten-free option included in the recipe card.)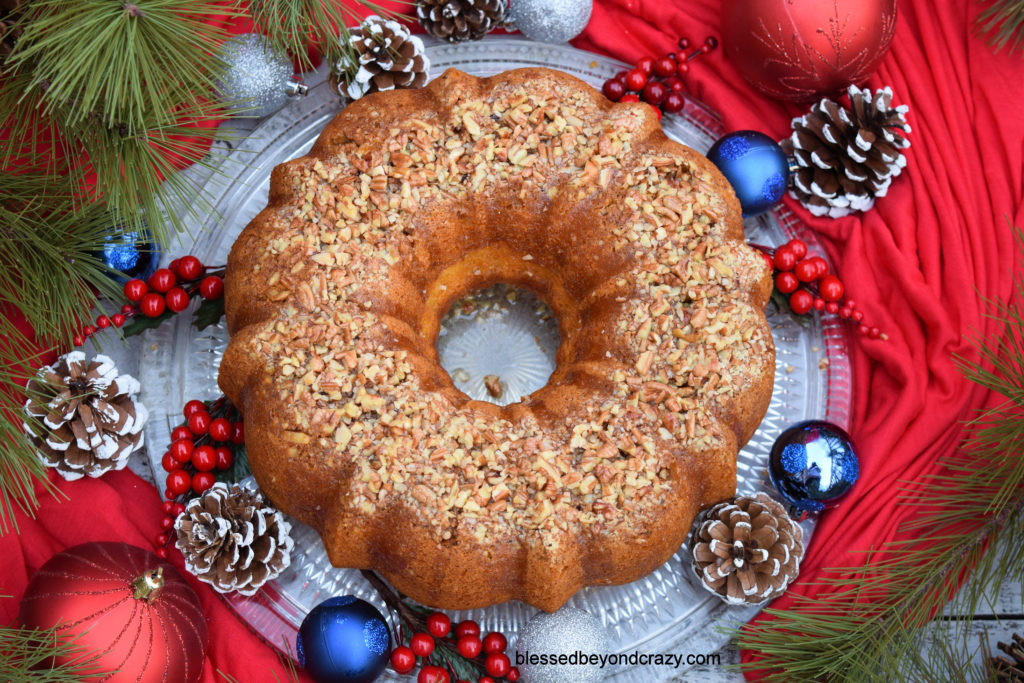 When making a gluten-free rum cake you must be careful to find gluten-free rum. Whenever in doubt, it's always best to contact the company directly and verify if a particular product is considered to be gluten-free. Often a product itself may be gluten-free but may be cross-contaminated during processing or packaging. (See additional note at the end.)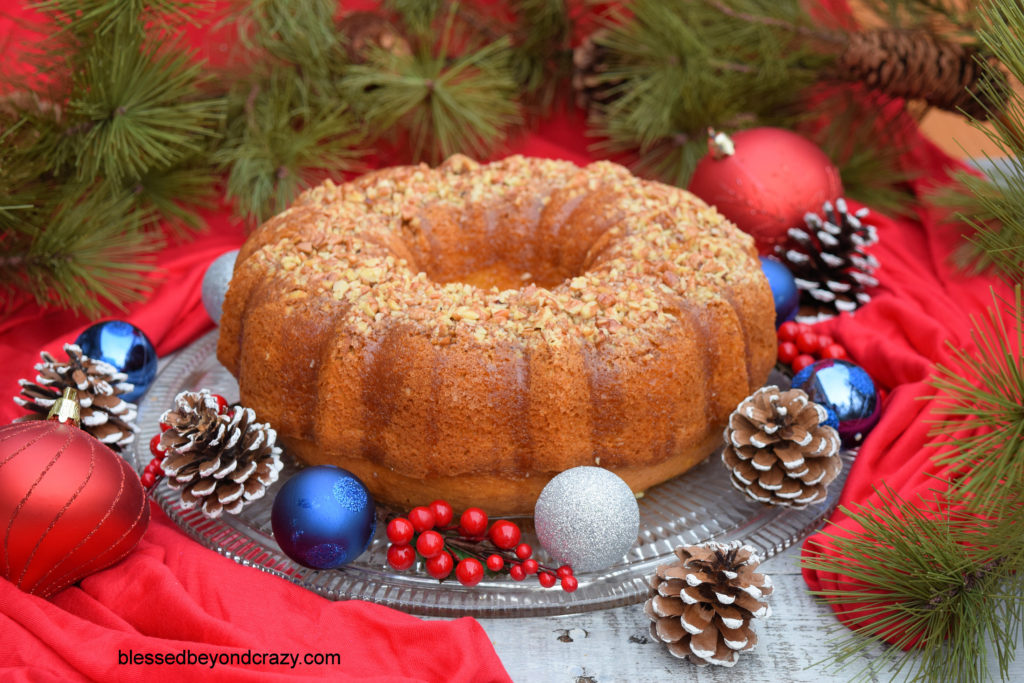 The original recipe calls for Bacardi dark rum (80 proof) however I used Captain Morgan Original Spiced Rum (70 proof). The cake turned out just fine and the spiced rum adds additional flavor.
Hey, did I mention that there is a scrumptious rum glaze drizzled all over the top of this cake? Although most of the glaze soaks right into the cake you'll see streaks where it cascades over the sides. Therefore, you'll want to slowly pour the glaze over the cake while it is still warm. As a result, there's rum flavor in every single bite.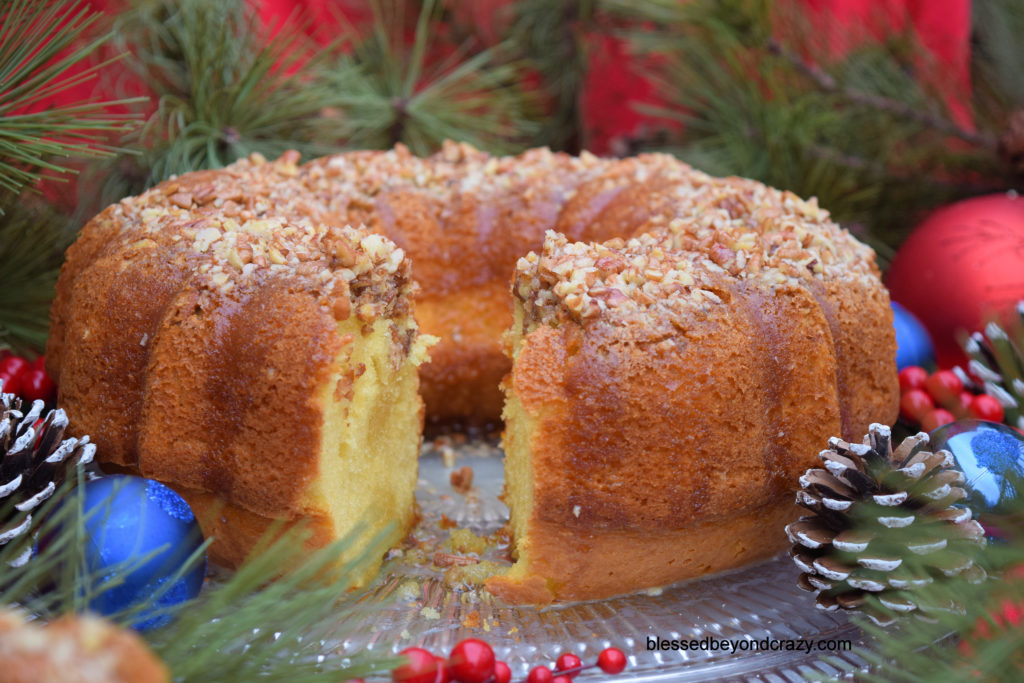 If you look closely you can see where the rum glaze soaked into the cake in the picture above.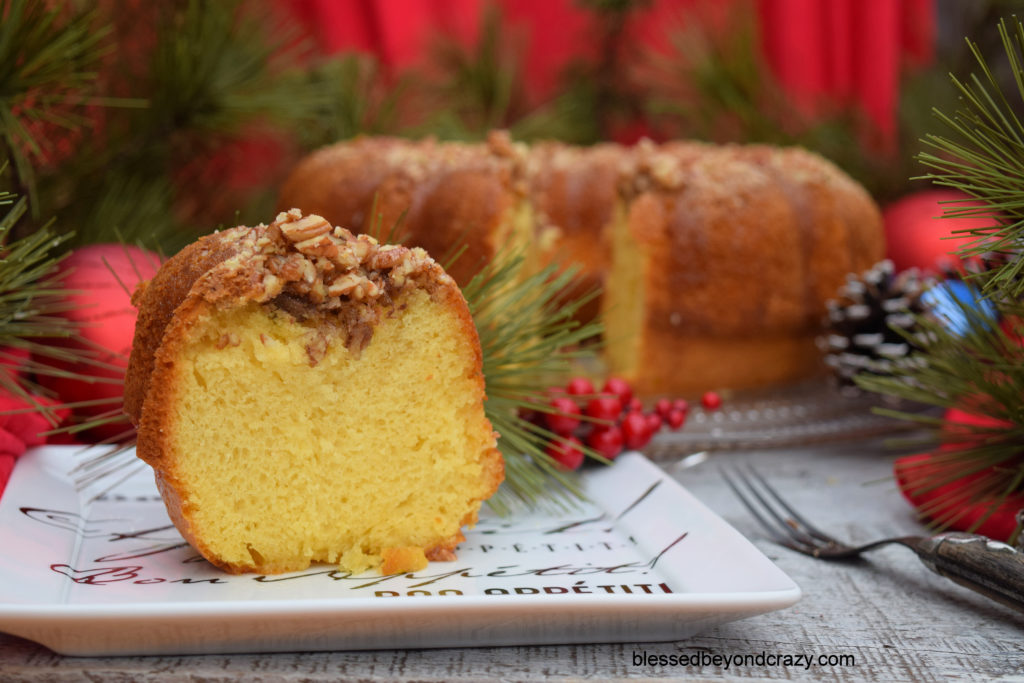 To make Classic Holiday Rum Cake even more festive, garnish each slice with a dollop of whipped cream, red and green maraschino cherries, or green grapes.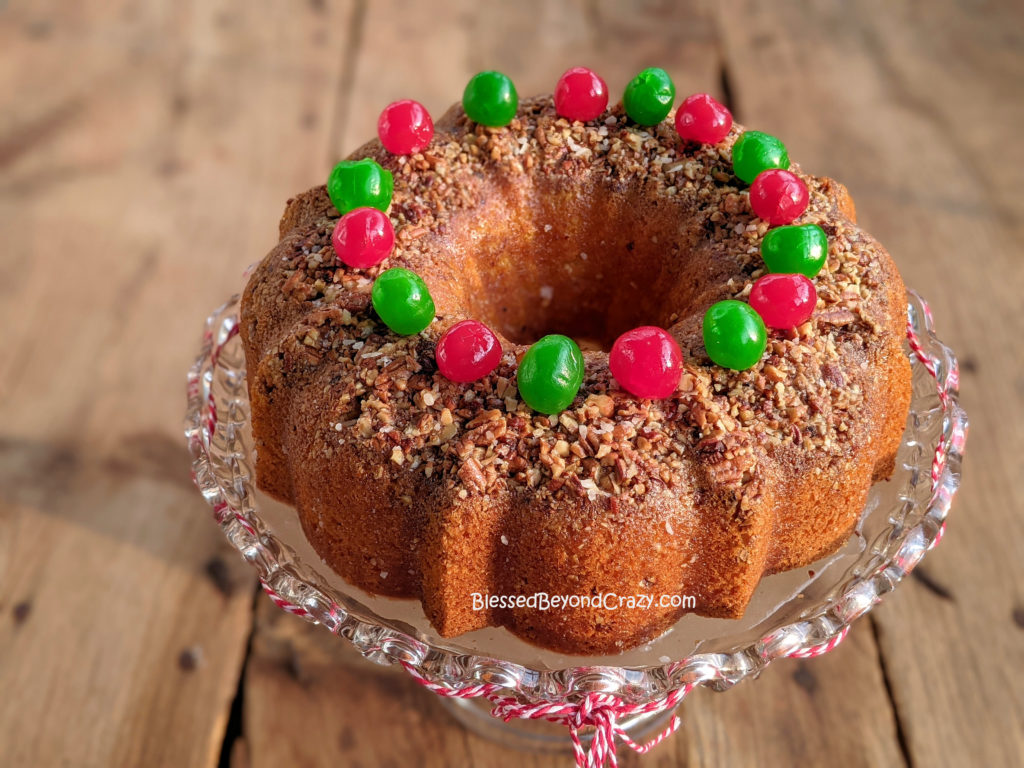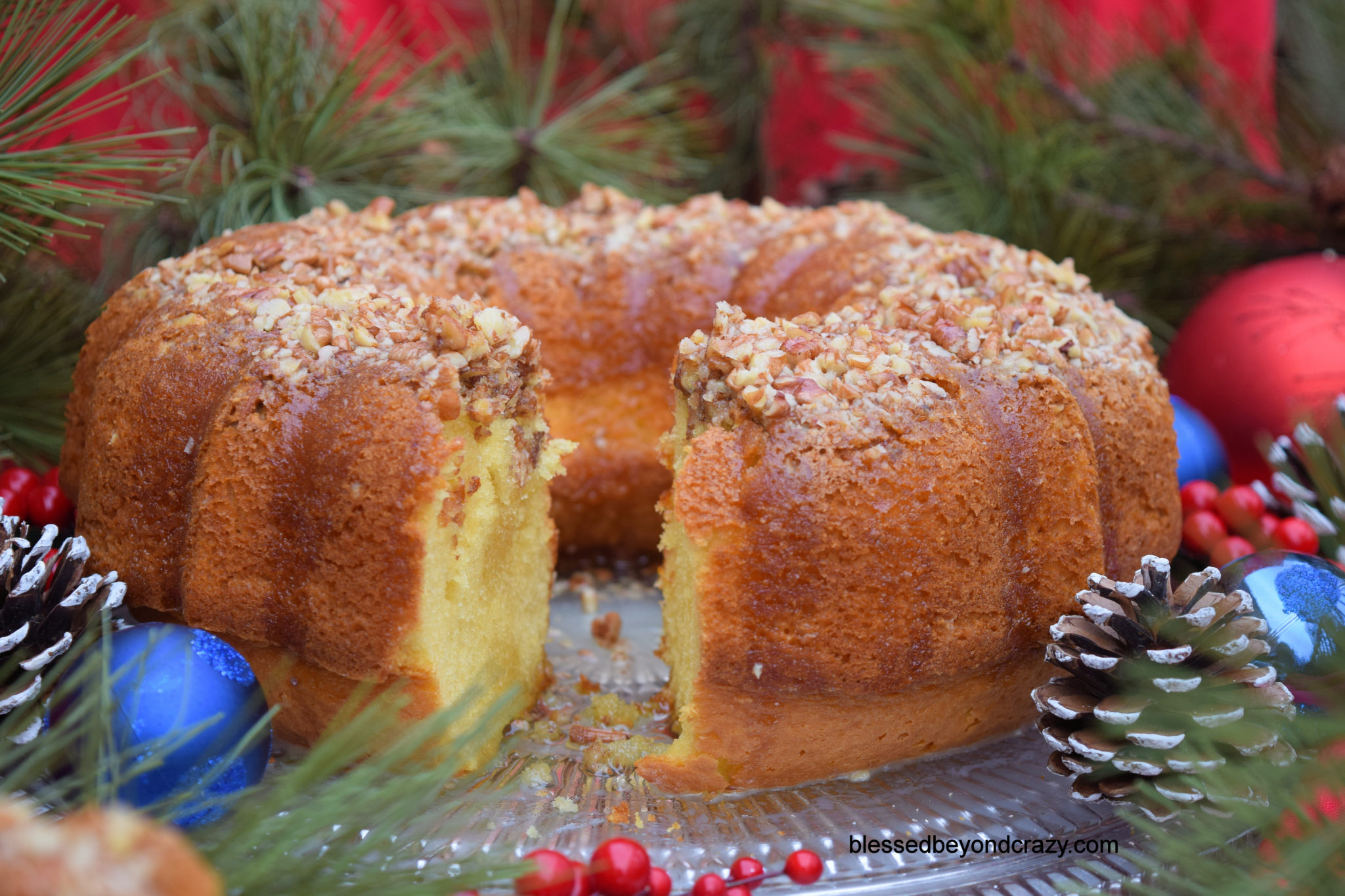 Yield:

Serves 12
Classic Holiday Rum Cake
Total Time:
1 hour
30 minutes
A delicious and moist rum cake that's perfect for all of your holiday entertainings. A gluten-free version is included!
Ingredients
CAKE:
1 cup chopped pecans
1 (15.25 ounce) box yellow cake mix (GF Option - use a gluten-free cake mix)
1 (3.4 ounces) box vanilla instant pudding & pie filling (GF Option - use a gluten-free pudding mix)
4 eggs
1/2 cup cold water
1/2 cup canola oil
1/2 cup rum (80 proof) (GF Option - use a gluten-free brand of rum - see list at the end of the post)
GLAZE:
1/2 cup butter, melted
1/4 cup water
1 cup granulated sugar
1/2 cup rum (80 proof) (GF Option - use a gluten-free brand of rum)
Optional: whipped heavy cream, maraschino cherries and green grapes (*Do not use maraschino cherries if making gluten-free version)
Instructions
Preheat oven to 325 degrees F.
Grease and flour 10-inch bundt pan.
Sprinkle nuts over bottom of the pan.
Mix all cake ingredients together. Pour batter over nuts.
Bake for 1 hour.
Invert on serving plate.
For Glaze - melt butter in a saucepan. Stir in water and sugar. Boil for 5 minutes stirring constantly. Remove from heat. Stir in rum.
Prick top of the cake. Drizzle glaze evenly over top and sides. Allow cake to absorb glaze. Repeat until glaze is used up.
Serve.
Optional: garnish with a dollop of whipped heavy cream, maraschino cherries, and green grapes.
]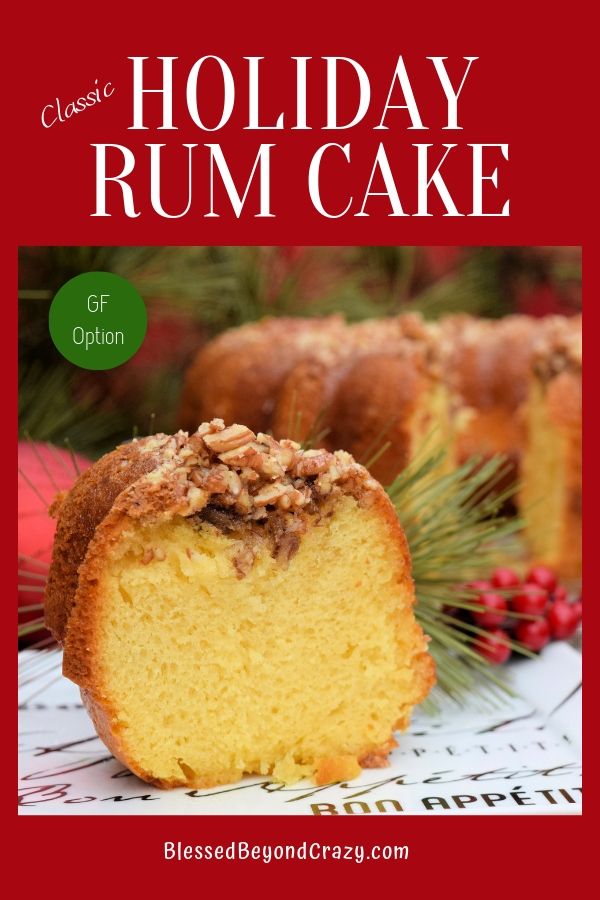 Merry Christmas and Happy Holidays!
Linda
Information regarding gluten-free rum:
Gluten Free Alcohol List
Is Rum Gluten Free?
Gluten Free Alcoholic Beverages – scroll to the bottom of the page.
Disclaimer: Manufacturer's formulations and policies may change at any time. Therefore, it's important to always read product labels yourself and contact the manufacturer with concerns. We have found that most companies are eager to help answer your questions.
More great ideas: