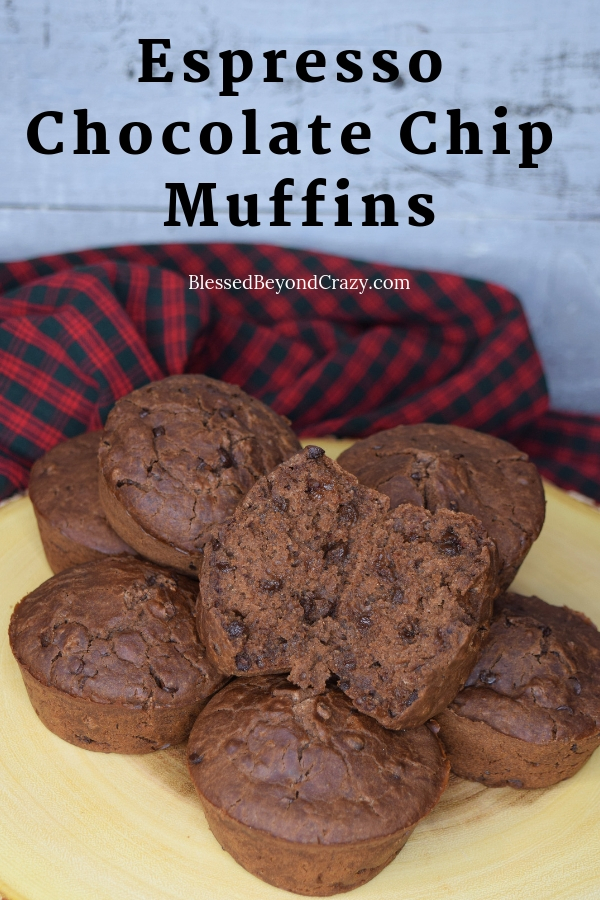 Oh my goodness! If you love all things chocolate then you are simply going to go crazy over these Espresso Chocolate Chip Muffins! Every single bite is loaded with melt-in-your-mouth chocolate, and did I mention the texture? It is perfect!
While the photos shown in this post are the gluten-free version (showcasing jumbo muffins), you can also make these muffins with all-purpose flour. However, since I am on a gluten-free diet, naturally I made them gluten-free. Duh… I want to enjoy this chocolate delectable goodness too!
To help support our blogging activities, our site contains affiliate links. If you make a purchase from a link on our site, we may receive a small percentage of that sale, at no extra cost to you. Blessed Beyond Crazy is a participant in the Amazon Services LLC Associates Program, an affiliate advertising program designed to provide a means for sites to earn advertising fees by advertising and linking to amazon.com.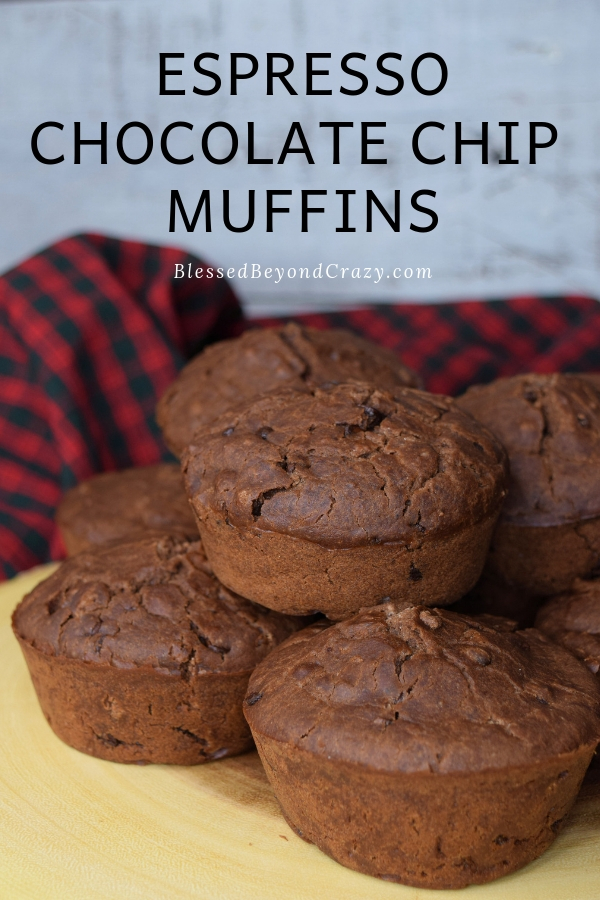 Before we begin talking about these scrumptious Espresso Chocolate Chip Muffins, I need to tell you something. Nearly everyone in our family loves coffee!
Interestingly enough, I am not a huge fan of coffee, BUT, I do love, love, love the smell of coffee brewing and I do love a good mocha frappuccino!!!
I, on the other hand, really do not enjoy coffee. Guess what? These Espresso Chocolate Chip Muffins are making me change my mind about coffee.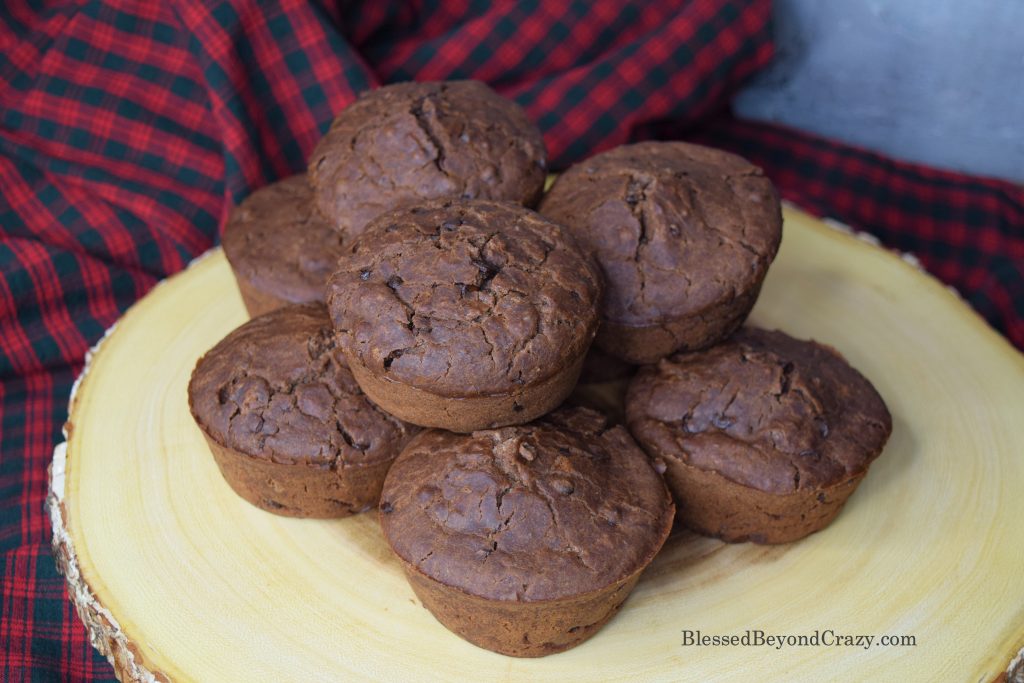 After I gobbled down half of a muffin I couldn't tell that the recipe calls for 2 teaspoons of espresso powder. Do you know that espresso powder truly can be a secret weapon when using cocoa or chocolate in recipes? Yep! Espresso powder is definitely chocolates' best friend because it enhances the flavor which yields a chocolaty richness that otherwise might be lacking.
Since espresso powder is actually a powder made from intense dark coffee crystals, it dissolves quickly and therefore incorporates well into both dry and liquid mixtures. It makes a lovely addition to both sweet and savory recipes. You really should try using it sometime.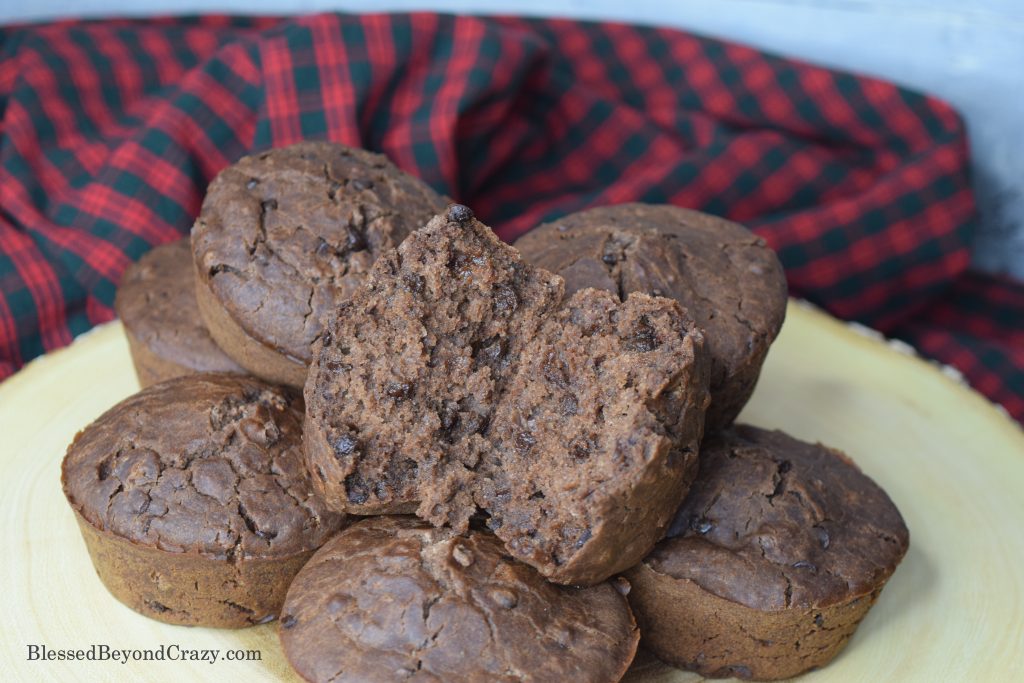 I tore a muffin apart so that you could see all of the chocolaty goodness! Check out all of the mini chocolate chips! YUM!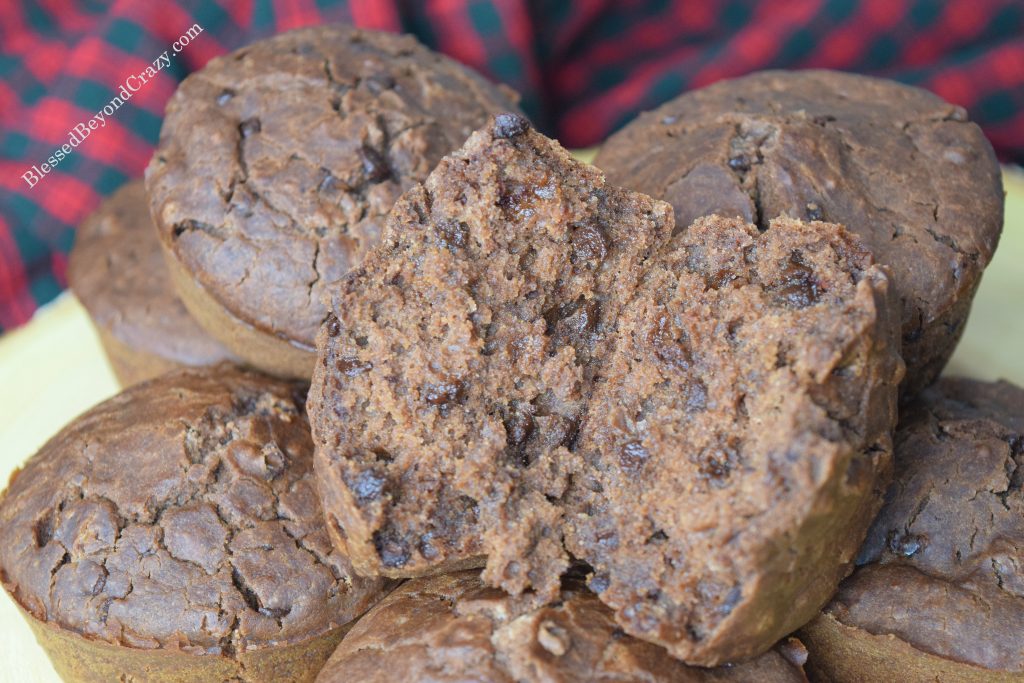 One recipe yields 12 regular-size muffins and 8 to 10 jumbo muffins. (Pictured are gluten-free jumbo muffins.)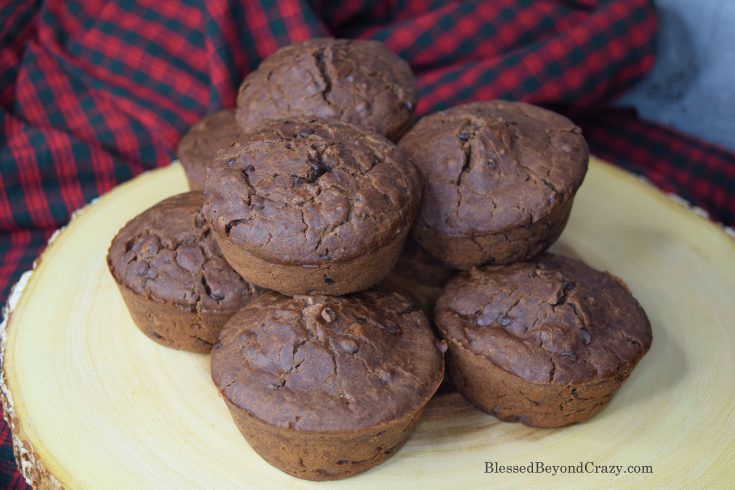 Yield: 12 muffins
Espresso Chocolate Chip Muffins
Prep Time: 15 minutes

Cook Time: 20 minutes

Total Time: 35 minutes

Deliciously rich chocolate flavored muffins.
Ingredients
2 1/4 cups all-purpose flour (GF Option: use gluten-free brand + 1 teaspoon xanthan gum - unless flour mixture already contains it)
3/4 cup unsweetened cocoa powder
1/2 cup sugar
1 tablespoon baking powder
2 teaspoons instant espresso powder
2 large eggs
1 1/2 cups milk
1/2 cup butter, melted
1 teaspoon vanilla extract
1 1/2 cups mini chocolate chips
Instructions
In a large bowl combine flour, cocoa, sugar, baking powder and espresso powder.
In a separate mixing bowl whisk together eggs, milk, melted butter, and vanilla.
Pour liquid ingredients into dry ingredients; add chocolate chips, stir just until mixed. Do not over stir.
Spoon batter into 12 greased, 1 1/2-inch muffin cups. Fill each muffin cup 3/4 full.
Bake in a preheated 400 degree F. oven for 20 minutes or until the center is set.
Serve warm with butter.
Store leftovers in air-tight container.
Notes
You will need to adjust baking times when making mini or jumbo muffins.

Muffins freeze well for up to two weeks.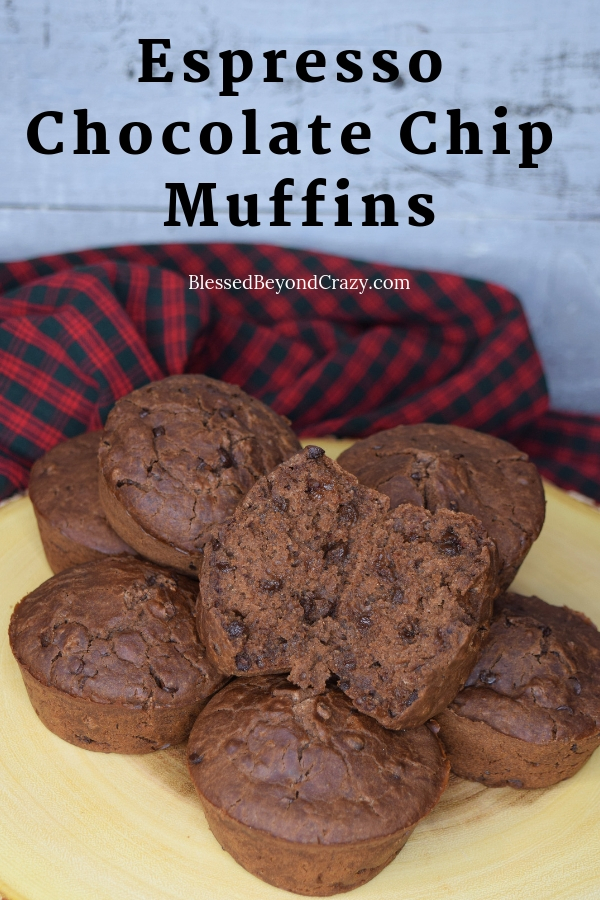 Excuse me while I kick up my feet and enjoy delicious Espresso Chocolate Chip Muffins!
Linda
More great ideas: