There are very few things that compare to a steamy, hot bowl of Benny's Famous Sweet and Spicy Crockpot Chili on a cold and blustery day. And this scrumptious chili recipe isn't your average chili either. Loaded with delicious flavors and just the right combination of sweet vs spice.
---
To help support our blogging activities, our site contains affiliate links. If you make a purchase from a link on our site, we may receive a small percentage of that sale, at no extra cost to you. Blessed Beyond Crazy is a participant in the Amazon Services LLC Associates Program, an affiliate advertising program designed to provide a means for sites to earn advertising fees by advertising and linking to amazon.com.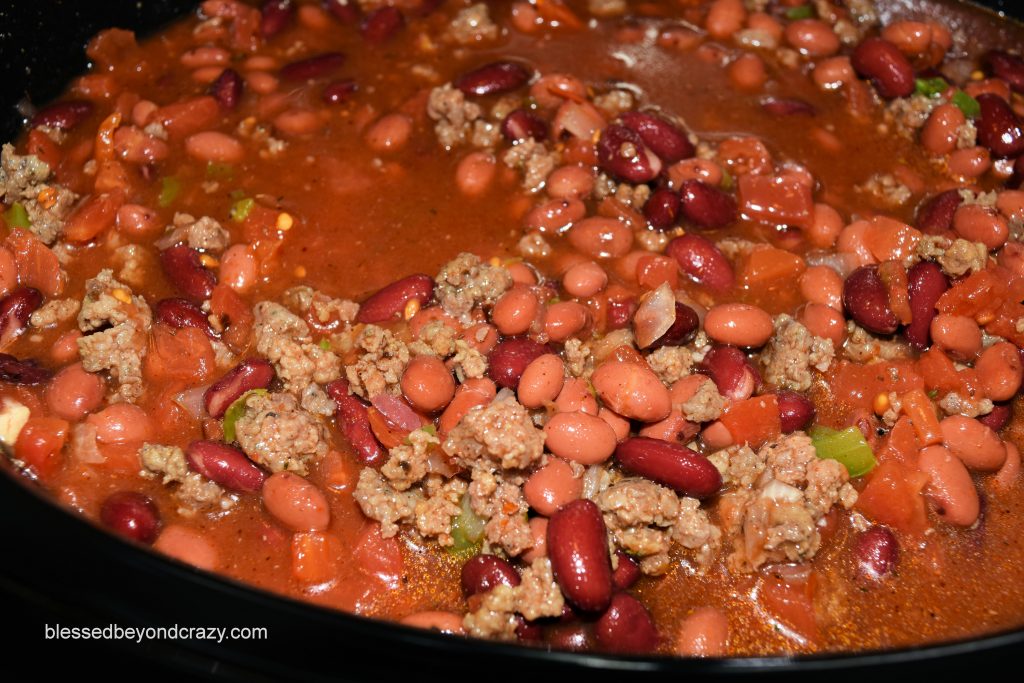 Have I told you that over the past few years my son, Ben, has become quite the cook? (Perhaps he is trying to keep up with his siblings, Isaac and Anna.) Because Ben enjoys adding different combinations of seasoning and spices to his cooking, he often creates his own unique recipes.
Ben is also up for a fun challenge. About this time a year ago (before he was married), he was invited by friends to join in on a small chili cooking contest between several different couples. Game on!!! Thus, the birth of Benny's Famous Sweet and Spicy Crockpot Chili!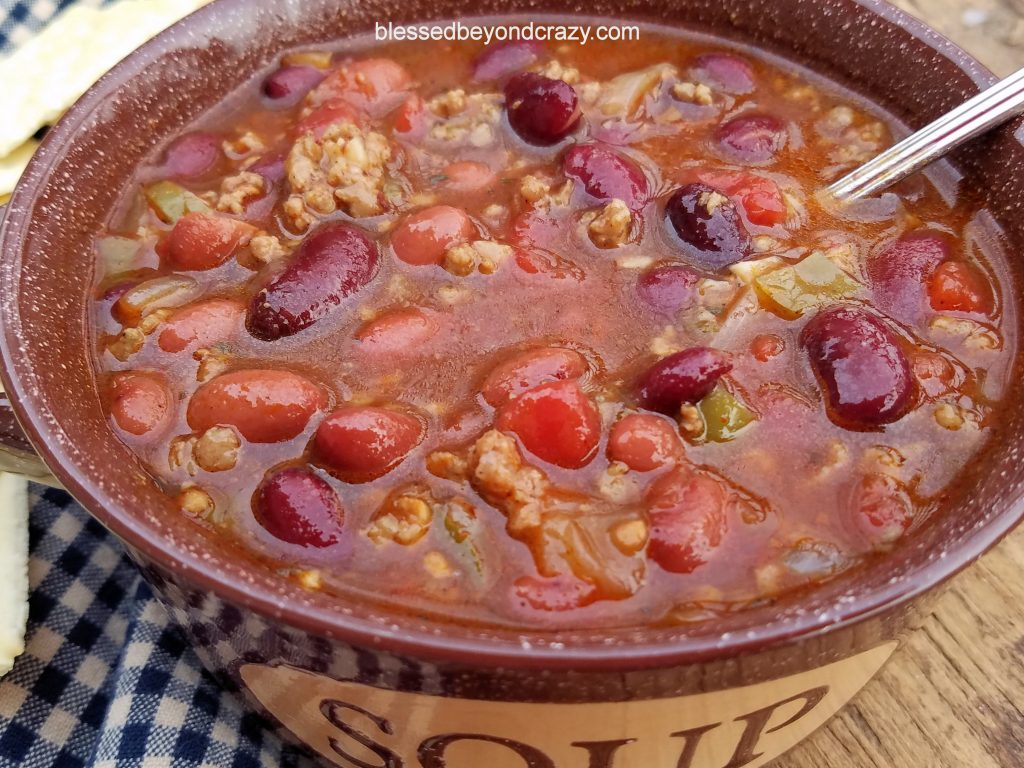 At the party, after each person finished their meal, they voted for their favorite chili. Guess what? Benny's Famous Sweet and Spicy Crockpot Chili was the winner! Yes, ma'am! Way to go, son!!!

Okay now, doesn't that make you want to grab your crockpot (I LOVE my programmable crockpot that my hubby gave me last Christmas), and make a big batch? Nothing screams "comfort food" like a big bowl of bone-warming chili! And, I promise your home will be filled with the most intoxicating aroma as it cooks. (Just imagine the combination of garlic, onion, peppers, cumin, thyme, cinnamon, sage, and more slowly simmering! Uh, yum!)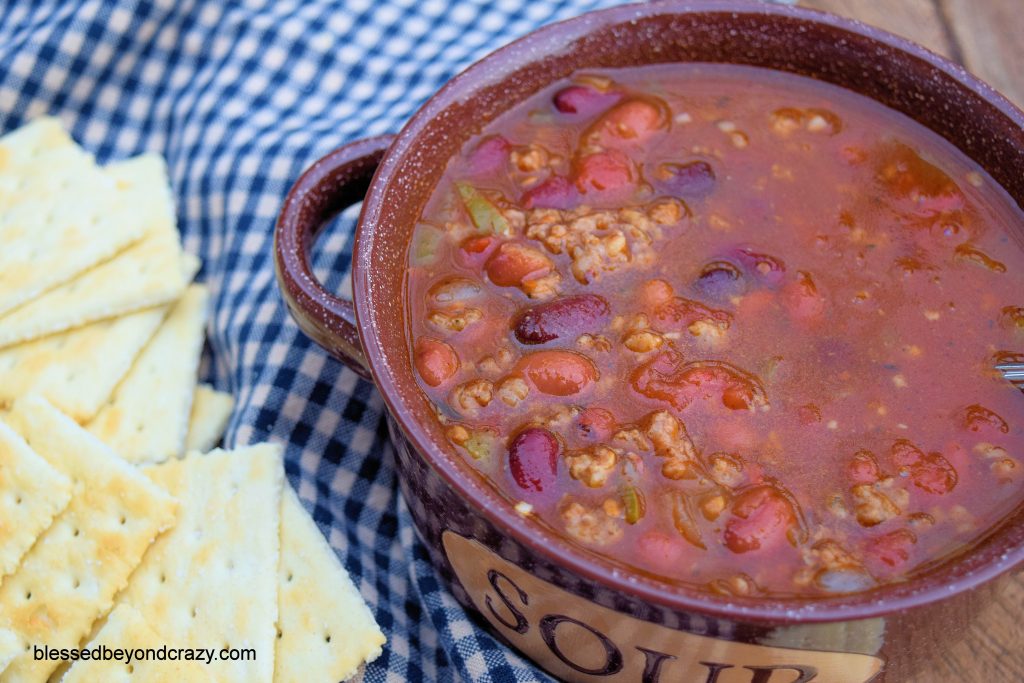 In addition, everyone knows that you can do a lot with leftover chili. (Think chili dogs, cheesy chili bean dip, nachos, baked potatoes or fries covered with chili, tamale chili pie or chili cheese enchiladas.)
Benny's Famous Sweet and Spicy Crockpot Chili
---
Ben Speckhart
Yields Approx. 1 gallon
A delicious sweet and spicy chili recipe that can easily be modified to be gluten-free.
20 minPrep Time
3 hrCook Time
3 hr, 20 Total Time
Ingredients
1 pound ground beef
1 pound sage sausage (GF Option: use a gluten-free brand)
1 clove garlic, minced
1 1/2 jalapenos, diced
1/2 cup green bell pepper, diced
1 cup sweet onion, diced
1 1/2 teaspoons chili powder
1 teaspoon cumin
1 teaspoon thyme
1 teaspoon celery salt
2 tablespoons seasoning salt
1 teaspoon cinnamon
1/2 cup brown sugar
1/2 cup honey
1 tablespoon crushed red pepper flakes
3 (15 ounces, each) cans red chili beans (GF Option: use a gluten-free brand)
3 (15 ounces, each) cans kidney beans (GF Option: use a gluten-free brand)
1 (14.5-ounce) can of petite diced tomatoes
Instructions
In a large skillet brown ground beef and sausage; drain off excess fat. Add garlic, jalapenos, green pepper and onion; cook until tender.
Add meat mixture and all remaining ingredients to a 7-quart crockpot.
Cook on low heat 6 hours or on high heat for 4 hours.
Serve.
7.8.1.2
219
https://blessedbeyondcrazy.com/bennys-famous-sweet-spicy-crockpot-chili/
www.blessedbeyondcrazy.com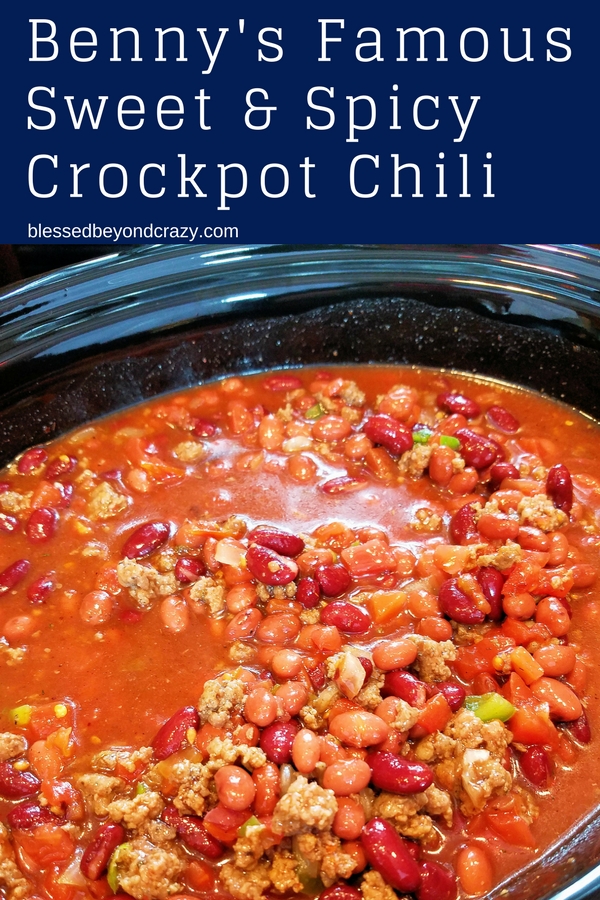 Oh, did I mention that you can easily make Benny's Famous Sweet and Spicy Crockpot Chili gluten-free? Yep! That's just one more reason to fall in love with this recipe.
Thanks for sharing Ben! Love you!
Mom
More great ideas: