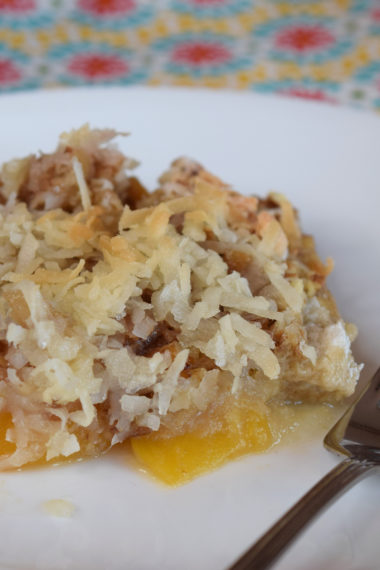 Butter Pecan Nutty Peach Dump Cake is one of those fabulous desserts that can be thrown together in minutes. Even people that don't consider themselves to be good in the kitchen can still make this scrumptious dump cake. It's as easy as layering five ingredients, then baking, and voila! Dessert is ready! 
To help support our blogging activities, our site contains affiliate links. If you make a purchase from a link on our site, we may receive a small percentage of that sale, at no extra cost to you. Blessed Beyond Crazy is a participant in the Amazon Services LLC Associates Program. This affiliate advertising program designed to provide a means for sites to earn advertising fees by advertising and linking to amazon.com.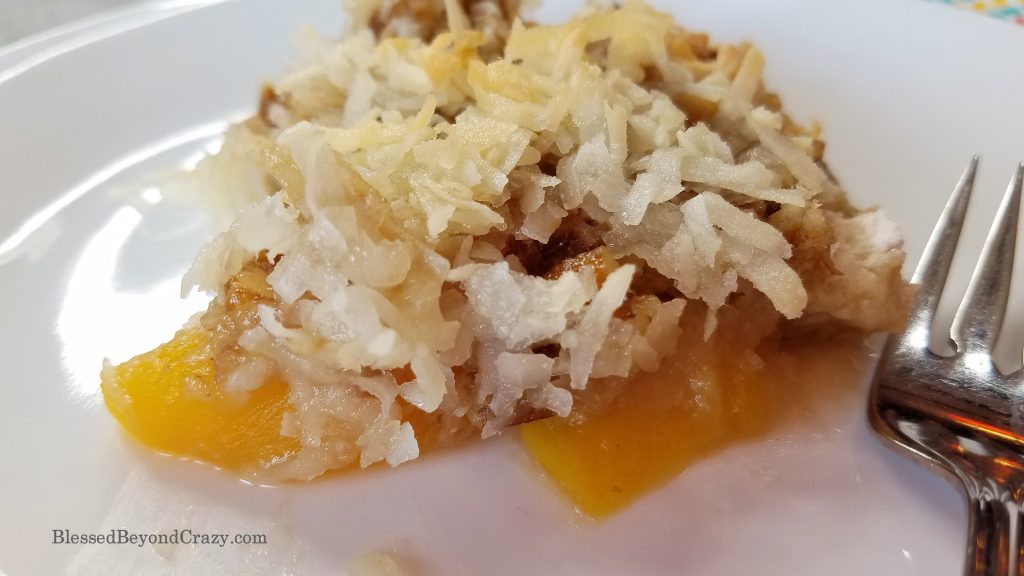 Easy Recipe
I really am not kidding when I say dump cake recipes are as easy as they get. With a little supervision, even older children can make one – practically all by themselves!
And MEN!!! Listen up! Both Apple Pecan Dump Cake and Butter Pecan Nutty Peach Dump Cake recipes are calling your name! Effortless and delicious! Surprise your wife or significant other by whipping up a dump cake for dessert tonight. I am pretty sure you can count on them being impressed!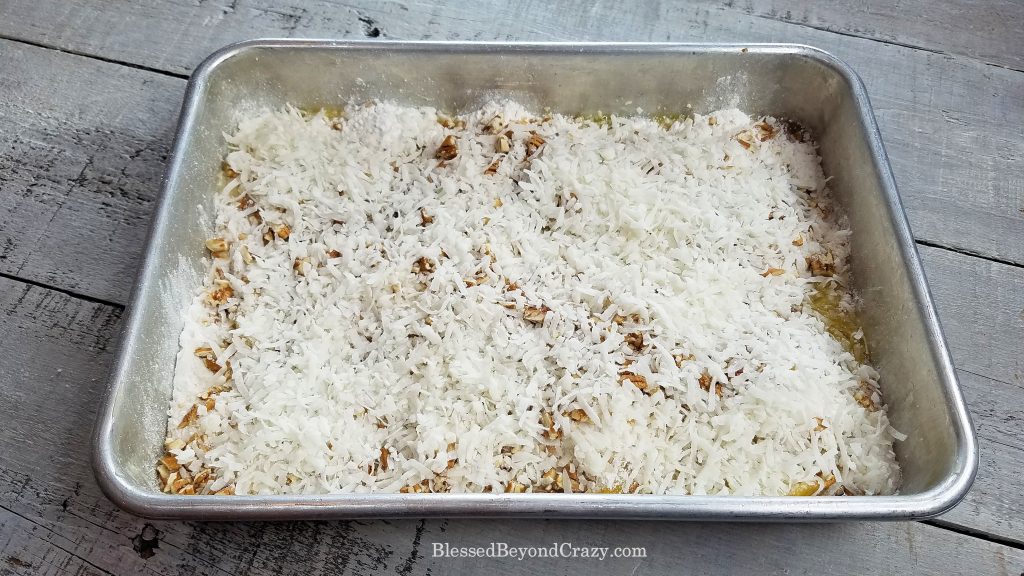 First step – grease a 9 x 13 inch baking pan. Next, pour sliced peaches (along with the juice) into the bottom of the pan. Evenly sprinkle a butter pecan cake mix over top of the peaches. Top with chopped pecans and shredded coconut.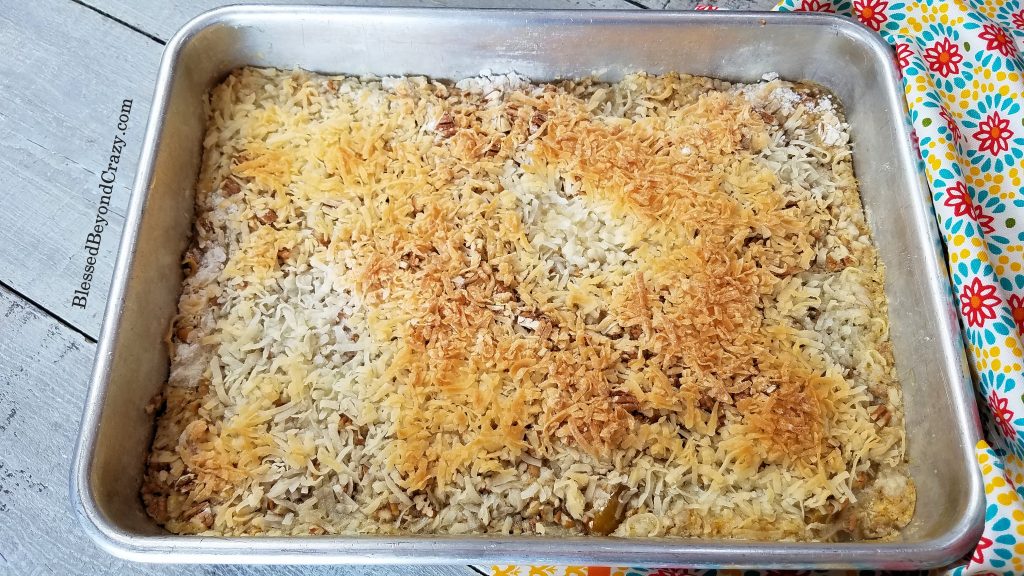 Bake in a preheated oven set to 325 degrees F for approximately 55 minutes or until golden brown.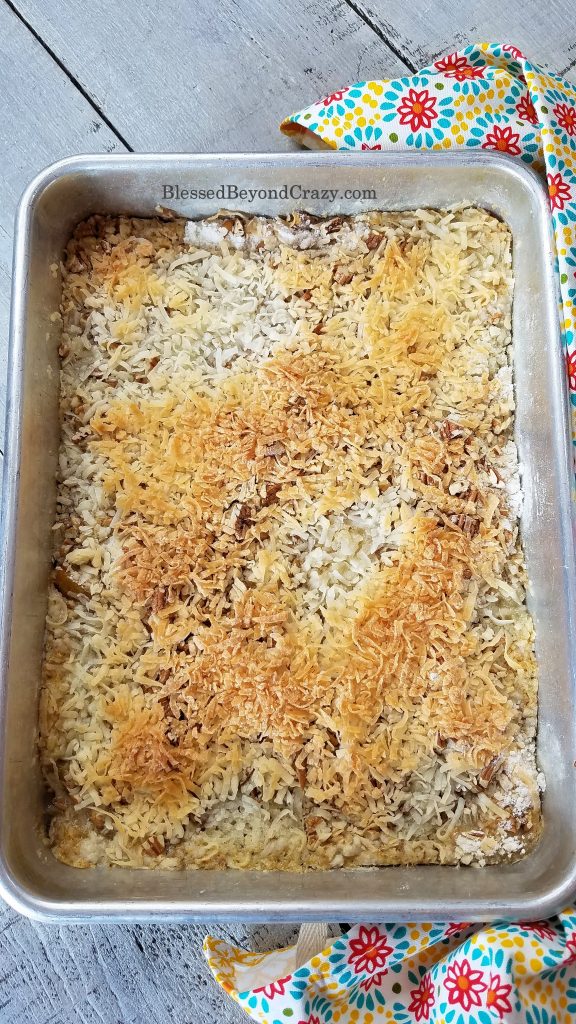 Dump cakes are a wonderfully easy dessert to make on a busy day when you don't have spare time to mess with things in the kitchen. Just layer, bake, and come back to a delicious, gooey, hot dessert!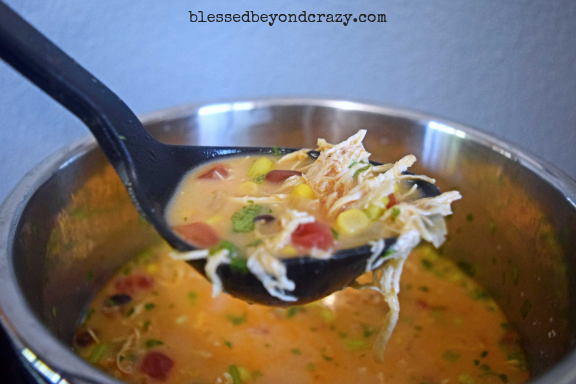 These types of cakes are also good for potlucks and carry-ins and make a great companion to Instant Pot Chicken Chili, Loaded Crock-Pot Campfire Beans, Old Fashioned German Potato Salad, Crockpot Mississippi Roast & Gravy, or Benny's Famous Sweet & Spicy Crockpot Chili.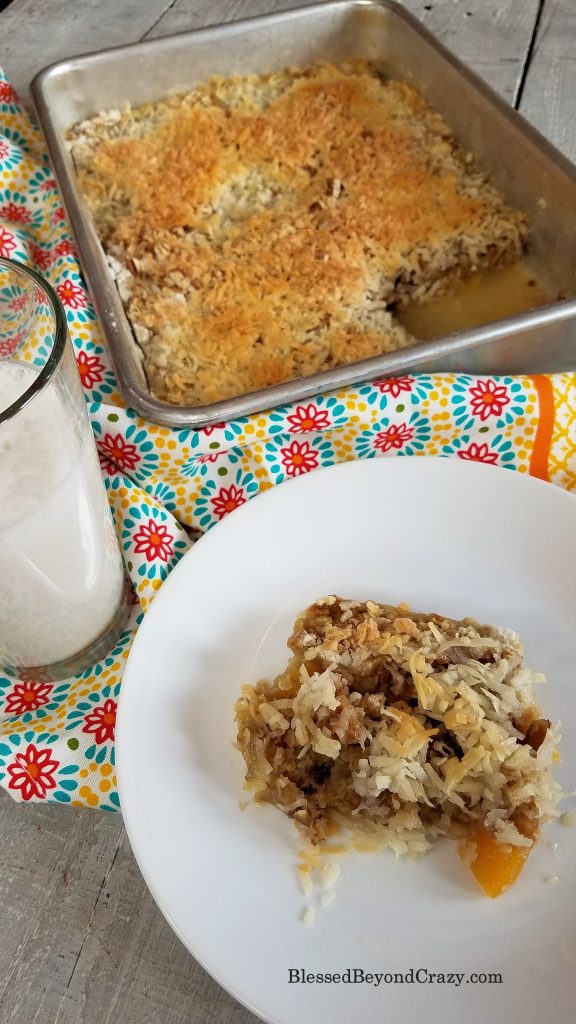 Feel free to garnish each serving of luscious Butter Pecan Nutty Peach Dump Cake with a scoop of ice cream or a generous dollop of freshly whipped cream.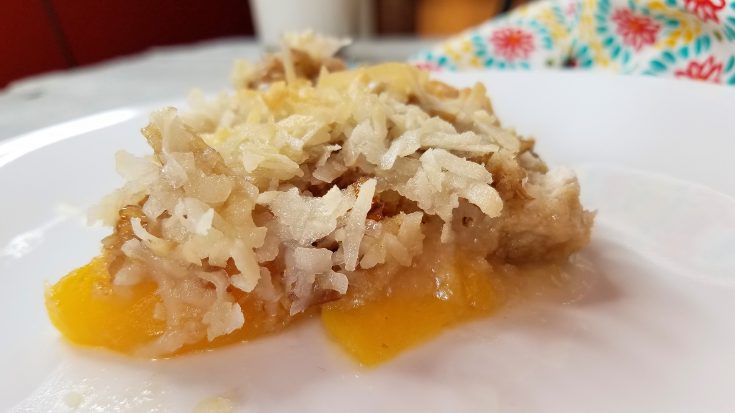 Yield: 10 - 12 Servings
Butter Pecan Nutty Peach Dump Cake
Prep Time: 10 minutes

Cook Time: 55 minutes

Total Time: 1 hour 5 minutes

An exceptionally easy dessert recipe that perfect for busy weeknights.
Ingredients
1 (29-ounce) can sliced unsweetened peaches and their juice
1 (15.25-ounce) Butter Pecan cake mix (GF Option: use a gluten-free cake mix, e.g., spice, yellow, or vanilla)
1/2 cup melted butter
1 cup pecans, chopped
1 cup shredded coconut (GF Option: use natural, unsulphured coconut)
Enough shortening to grease baking pan
Instructions
Preheat oven to 325 degrees F.
Pour peaches into botton of greased 9 x 13-inch baking pan. Sprinkle cake mix evenly over the top of peaches. Drizzle melted butter over cake mix. Sprinkle chopped pecans and coconut evenly over top of cake.
Bake for approximately 55 minutes or until top is golden brown.
Serve warm.
Notes
Optional: Garnish with scoop of vanilla ice cream or dollop of freshly whipped heavy cream.

NOTE: Gluten-Free Option - be sure to use gluten-free ice cream.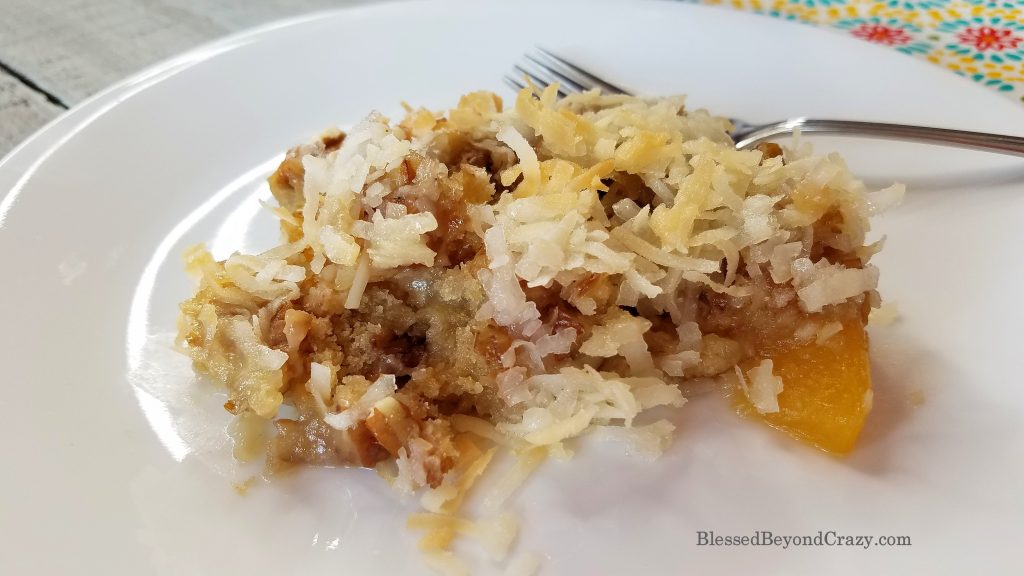 I love a good dump cake recipe, don't you?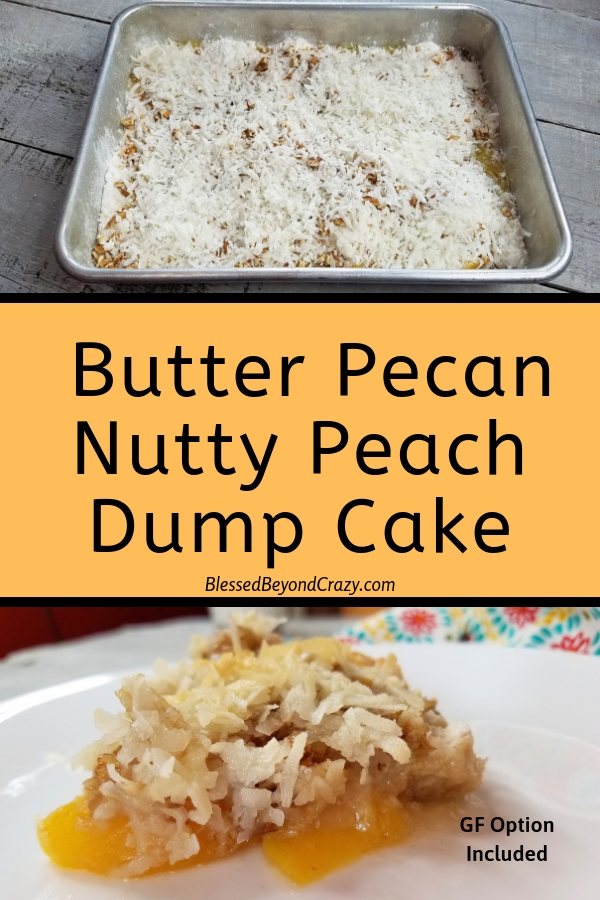 Please remember… to PIN IT!
Enjoy!
Linda
More great ideas: