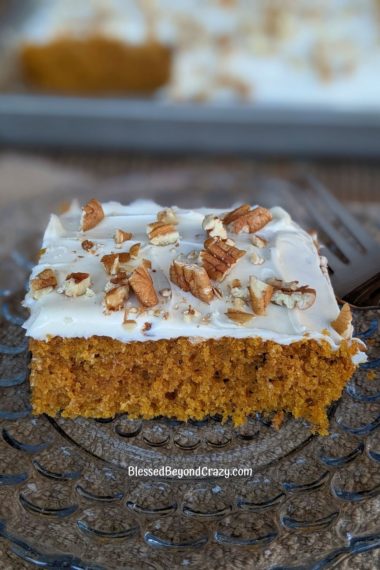 Whenever I'm in need of a good ole' classic dessert I often turn to this pumpkin bar recipe. First, this recipe is fantastic because it's absolutely delicious. Secondly, no one can seem to tell whenever I make a gluten-free version. Thirdly, it's a dessert that freezes really well, so it can be made ahead of time.

To help support our blogging activities, our site contains affiliate links. If you make a purchase from a link on our site, we may receive a small percentage of that sale, at no extra cost to you. Blessed Beyond Crazy is a participant in the Amazon Services LLC Associates Program, an affiliate advertising program designed to provide a means for sites to earn advertising fees by advertising and linking to amazon.com. As an Amazon Associate, I earn from qualifying purchases.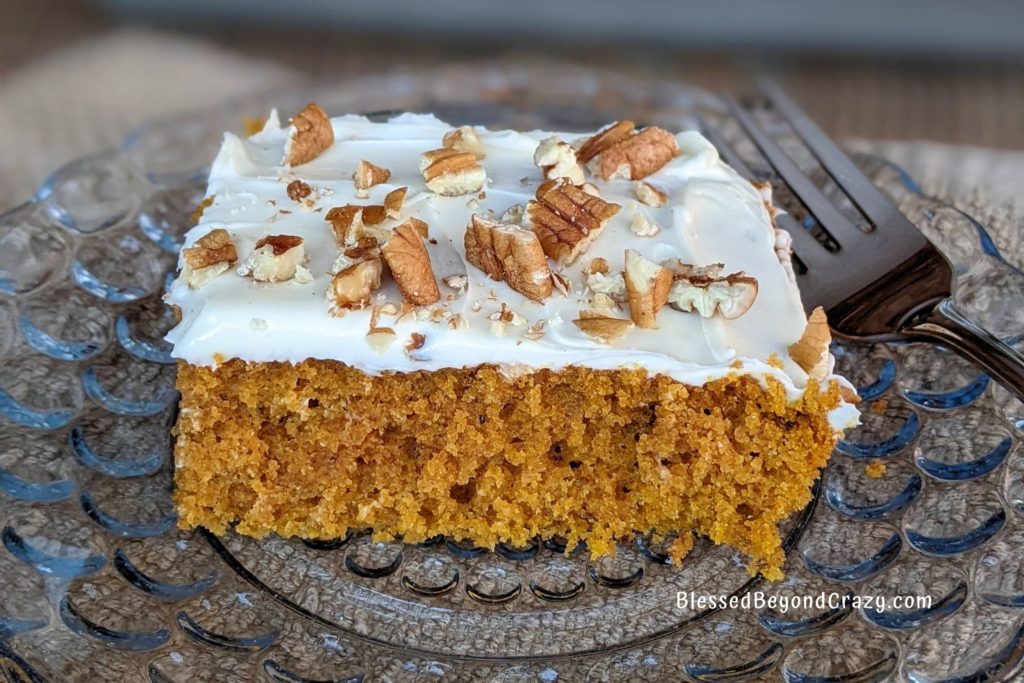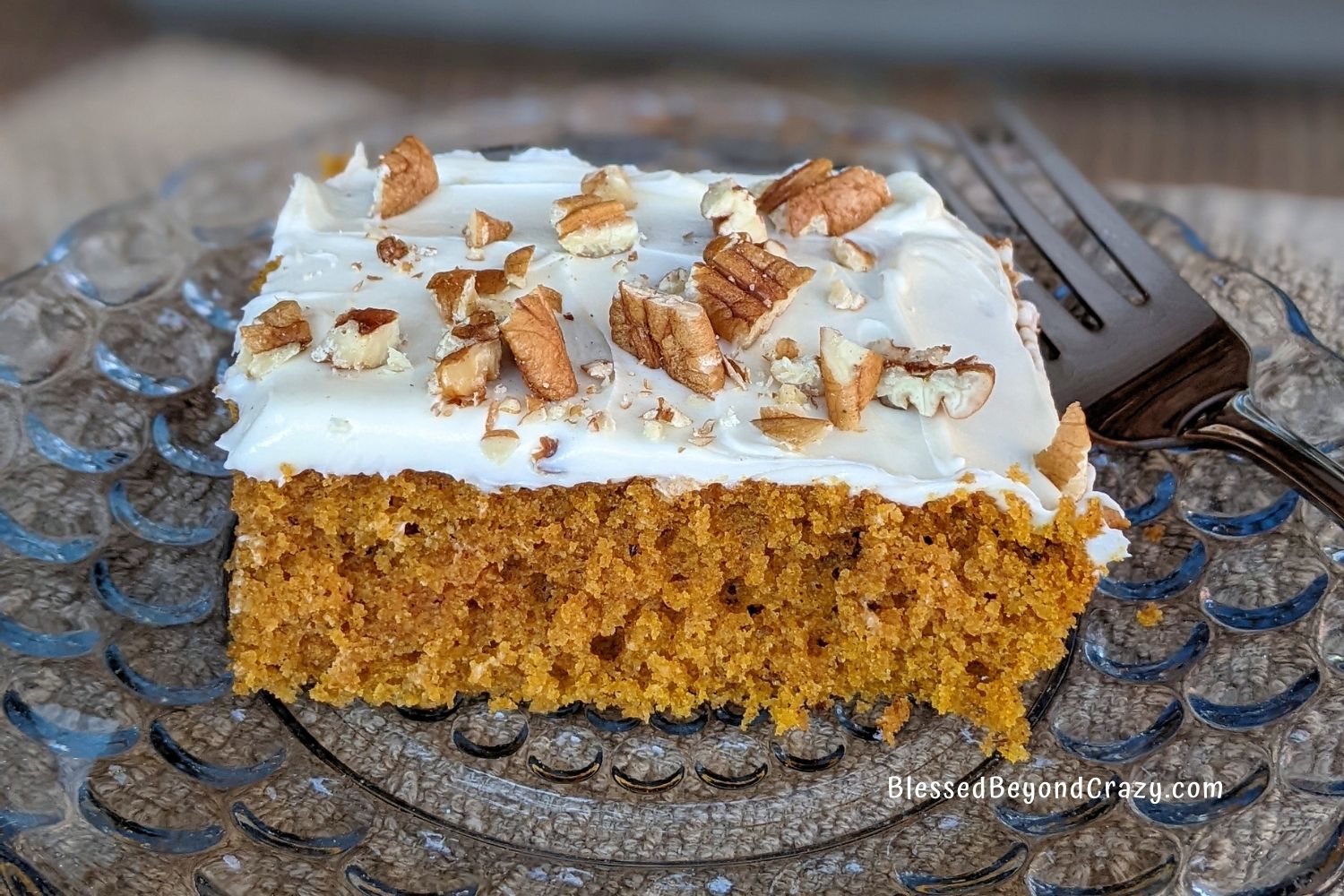 Pumpkin Lovers!
Yes, I admit I am one of those people who love all things pumpkin. As a matter of fact, I enjoy pumpkin recipes all year long, not just during the fall months.
Along with pumpkin bars, my family and I also enjoy pumpkin donuts, pancakes, smoothies, muffins, cookies, cake, trifles, parfaits, pie, and mini pumpkin pie bites, cheesecake, and even frozen butter pecan pumpkin pie! (I told you that I love all things pumpkin.)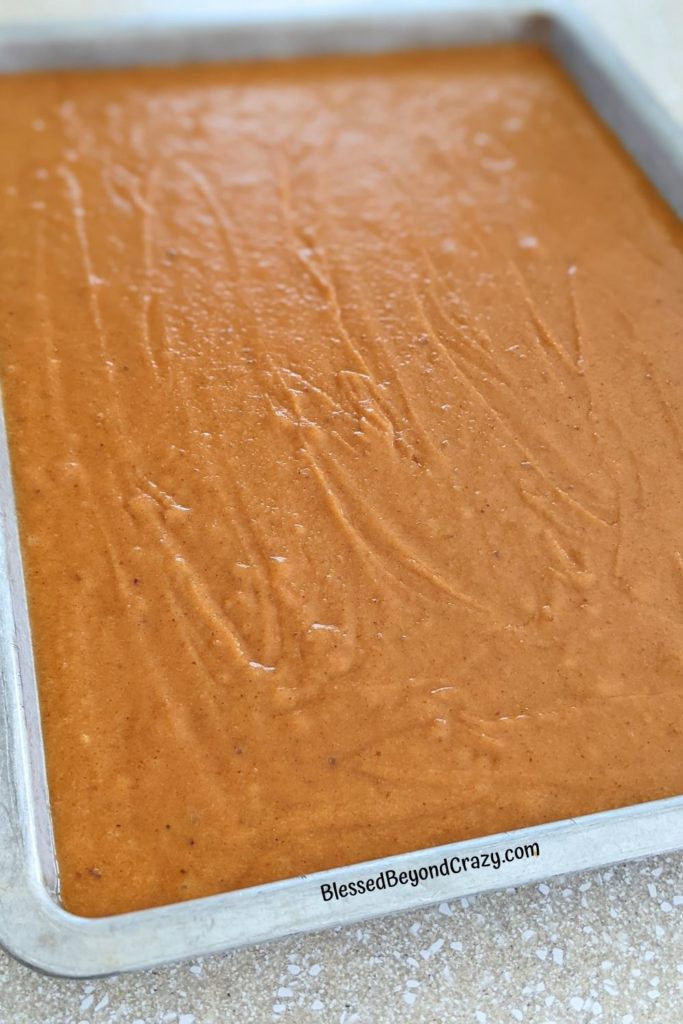 Pumpkin Bar Ingredients
The ingredients consist of eggs, sugar, oil, baking powder, baking sugar, salt, cinnamon, flour (or gluten-free flour, and of course, 100% pure pumpkin.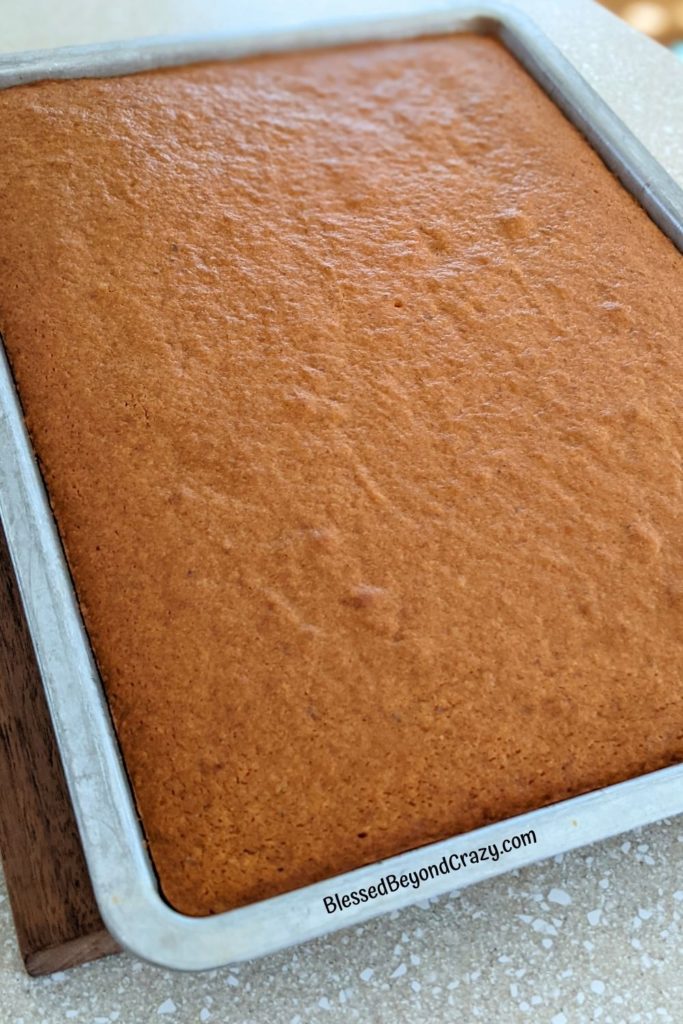 Bake at 350 degrees F for 25 to 30 minutes or until a toothpick inserted into the center comes out clean. (If you look closely at the photo above you can see where I poked the pumpkin bars with a toothpick to see if they were ready to take out of the oven.)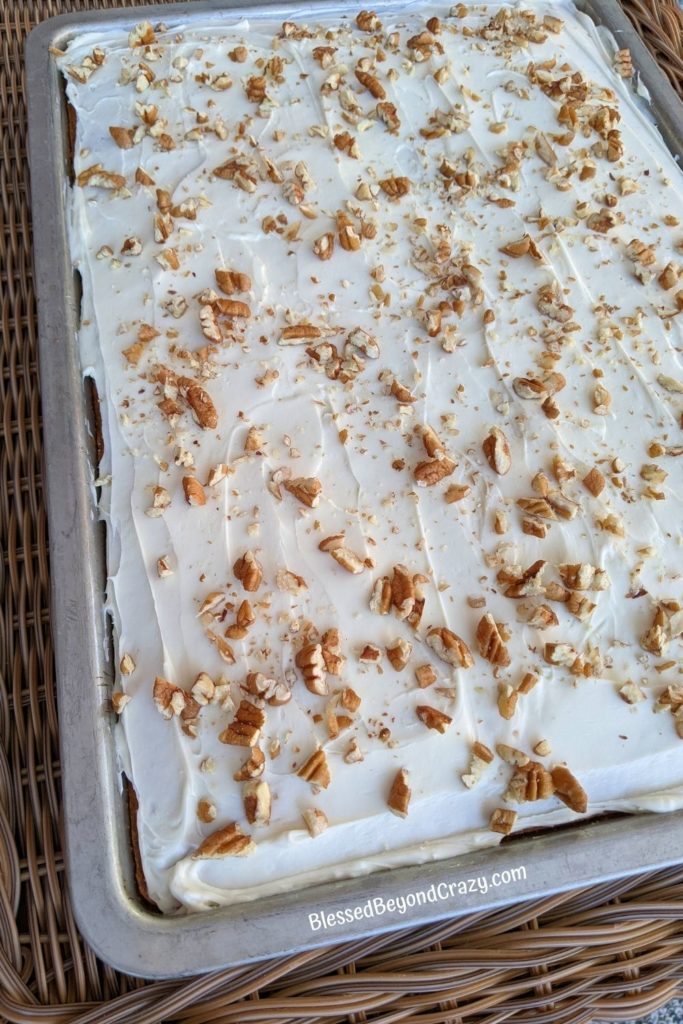 The icing consists of softened cream cheese, powdered sugar, butter, vanilla extract, and milk.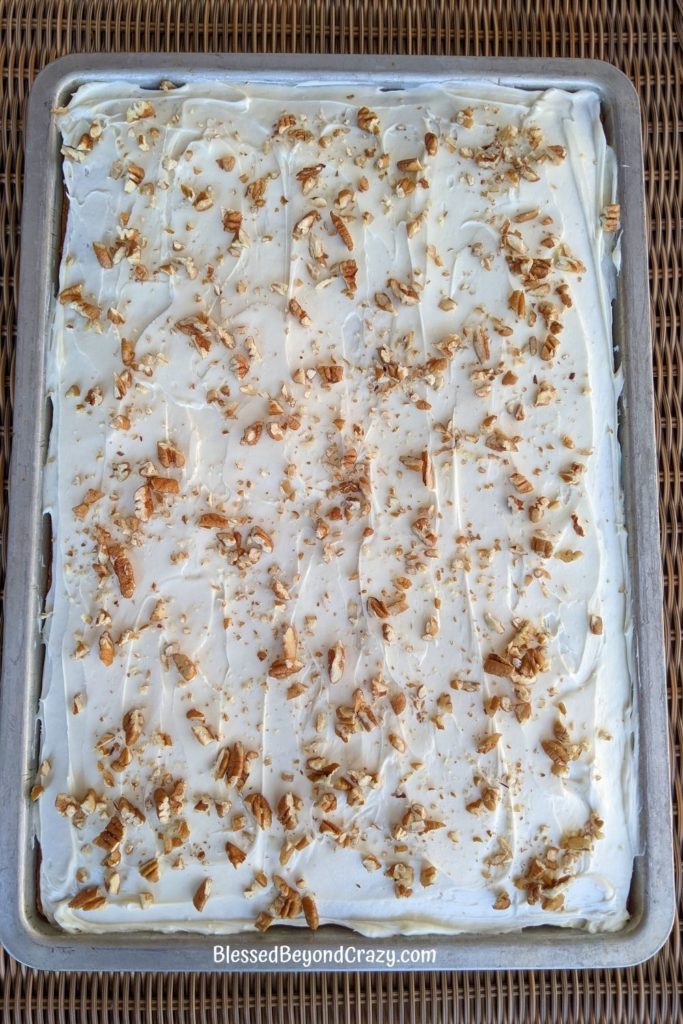 I personally like to garnish my pumpkin bars with a generous sprinkle of chopped pecans. You can also use chopped walnuts, or leave them plain.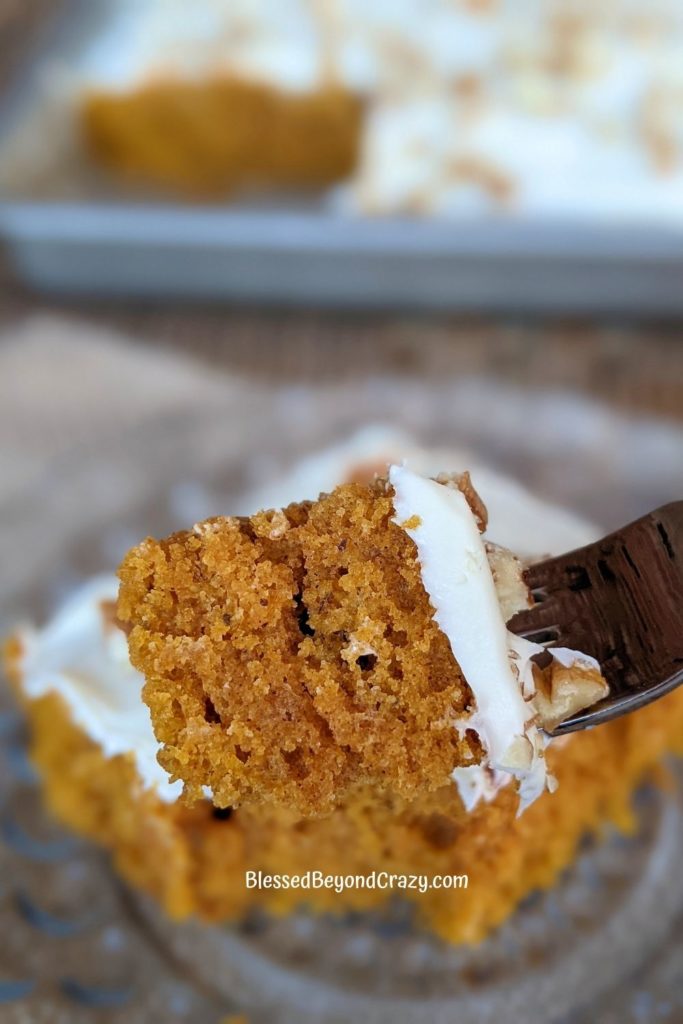 Every bit is loaded with abundant texture and flavor. The pumpkin, the smooth, creamy icing, and crunchy pecans make an excellent combination.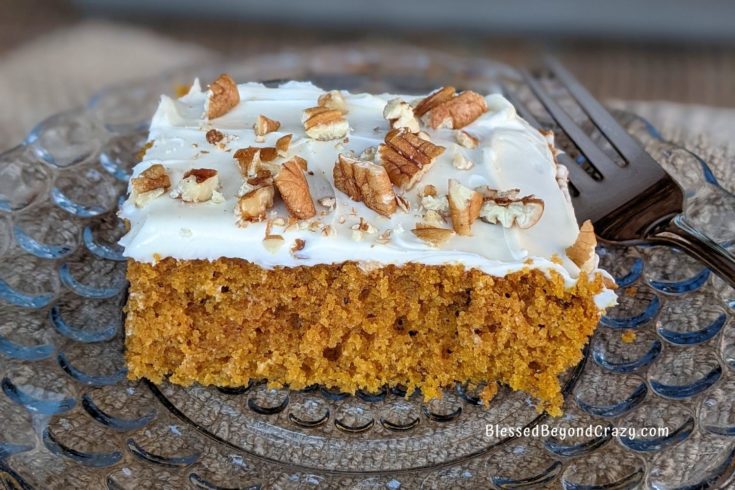 Yield:

2 Dozen
The Best and Easiest Pumpkin Bars (Gluten-Free Option)
A deliciously moist and tender pumpkin dessert that everyone seems to love.
Ingredients
PUMPKIN BARS
4 eggs
1-2/3 cups granulated sugar
1 cup canola oil
1 can (16-ounces) 100% pure pumpkin
2 cups all-purpose flour (GF Option: use a gluten-free flour blend + 2 teaspoons xanthan gum unless flour already contains it.)
2 teaspoons ground cinnamon
2 teaspoons baking powder
1 teaspoon baking soda
1 teaspoon salt
Optional: add 1 tablespoon ground flax (for extra fiber/nutrition)
ICING
3-ounces cream cheese, softened
2 cups powdered sugar
1/4 cup butter, softened
1 teaspoon vanilla extract
1 - 2 tablespoons milk
GARNISH
1/3 cup pecans, chopped
Instructions
In a mixing bowl, beat together eggs, sugar, oil, and pumpkin. In a separate bowl, combine flour, cinnamon, baking powder, baking soda, and salt; gradually add to pumpkin mixture and mix well.
Pour into a lightly greased 15-in x 10-in x 1-in jelly roll pan.
Bake at 350 degrees F for 25 to 30 minutes. Cool completely.
For the icing, beat cream cheese, sugar, butter, and vanilla in a mixing bowl. Add enough milk to achieve desired spreading consistency. Spread evenly over bars. Sprinkle with chopped pecans. Cut and serve.
Notes
These bars freeze well up to 1 month.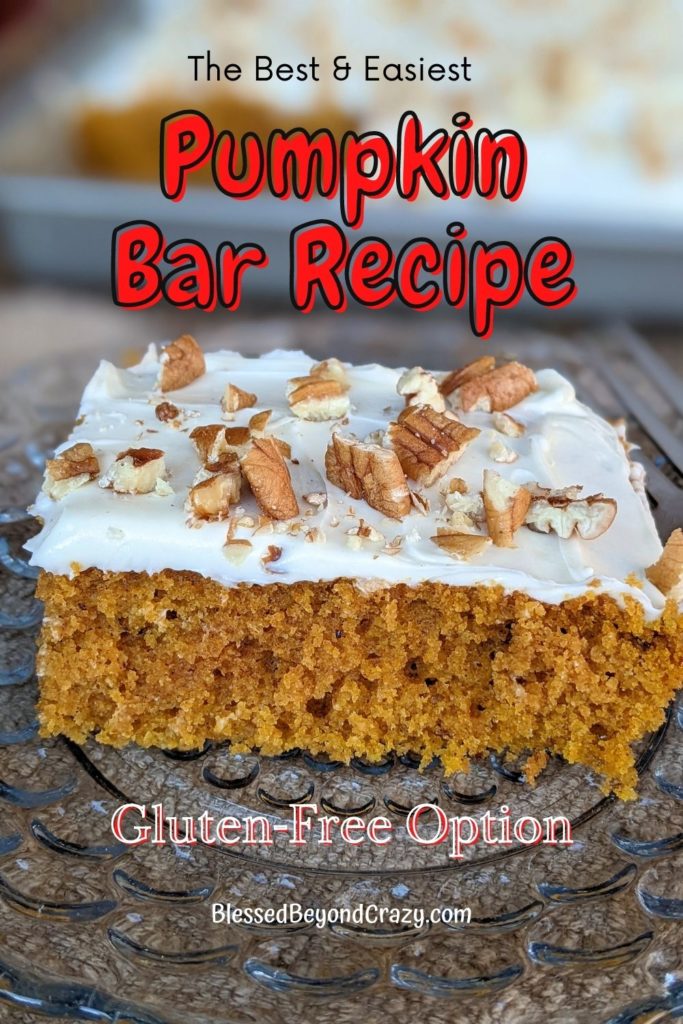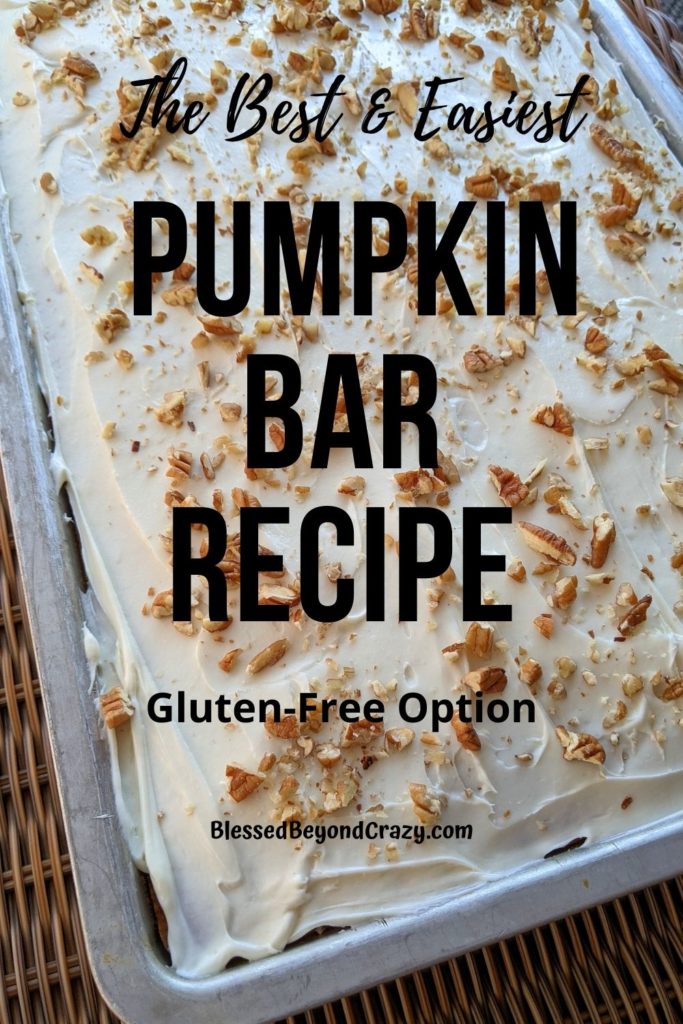 What's your favorite pumpkin recipe?
Enjoy!
Linda
More great ideas: