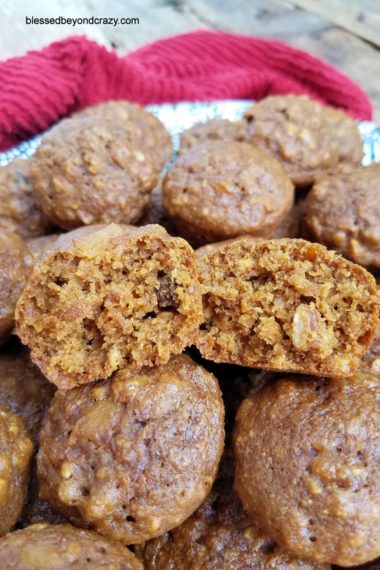 Baby Bran Bites are tasty little morsels, loaded with fiber and a few surprise ingredients. These powerful mini muffins make a nutritious snack or a portable breakfast. Baby Bran Bites are also the perfect portion size for toddlers and fit nicely in their small little hands.  Whip up a batch, enjoy half now and freeze the other half for later.

To help support our blogging activities, our site contains affiliate links. If you make a purchase from a link on our site, we may receive a small percentage of that sale, at no extra cost to you. Blessed Beyond Crazy is a participant in the Amazon Services LLC Associates Program, an affiliate advertising program designed to provide a means for sites to earn advertising fees by advertising and linking to amazon.com.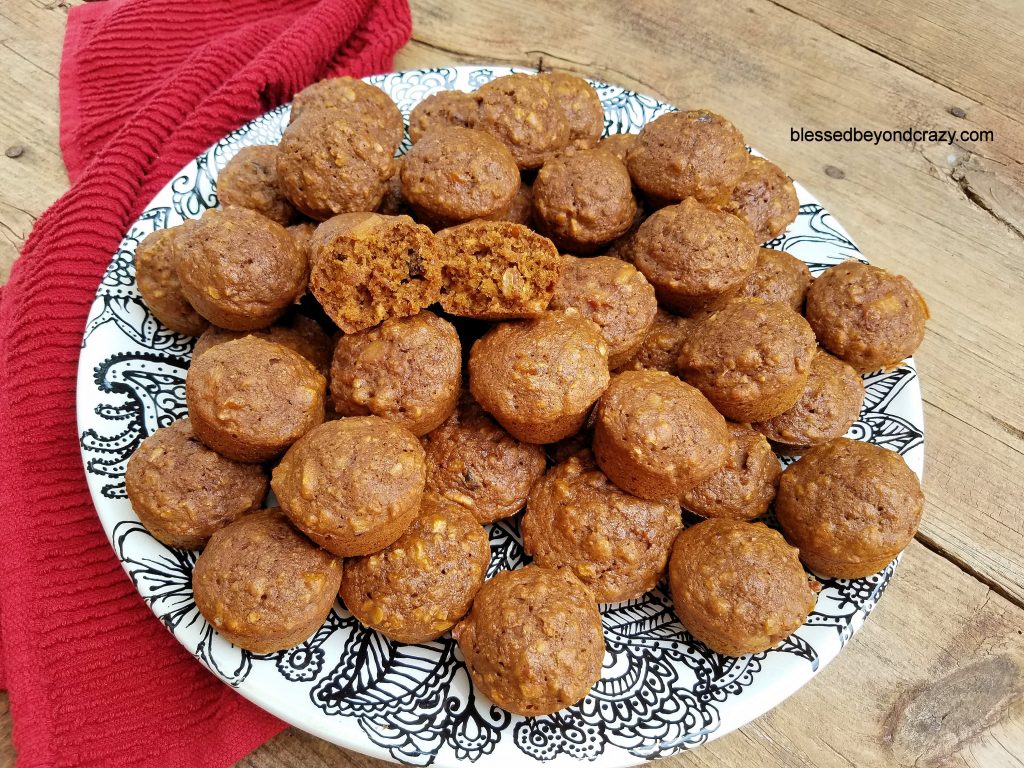 Delicious Little Morsels
You'll love these mini muffins, especially if you need a little help in the elimination department. Personally, I know that whenever I travel I need a little extra help. That's why I think it's a good idea to plan ahead.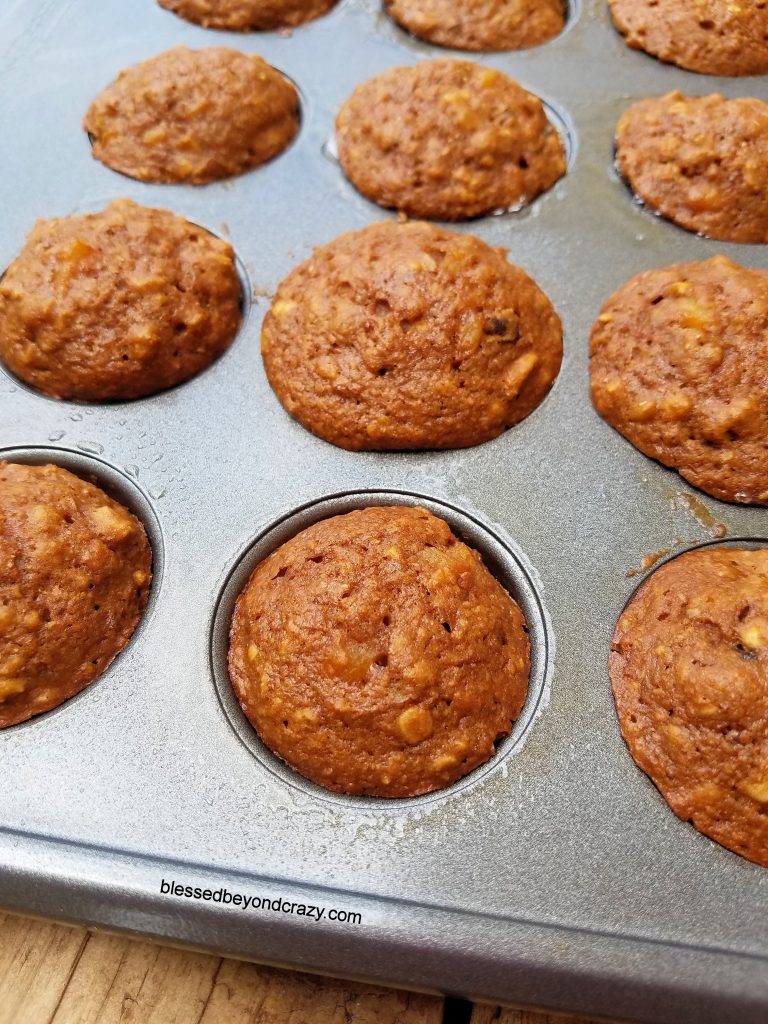 Yields 48 Mini Muffins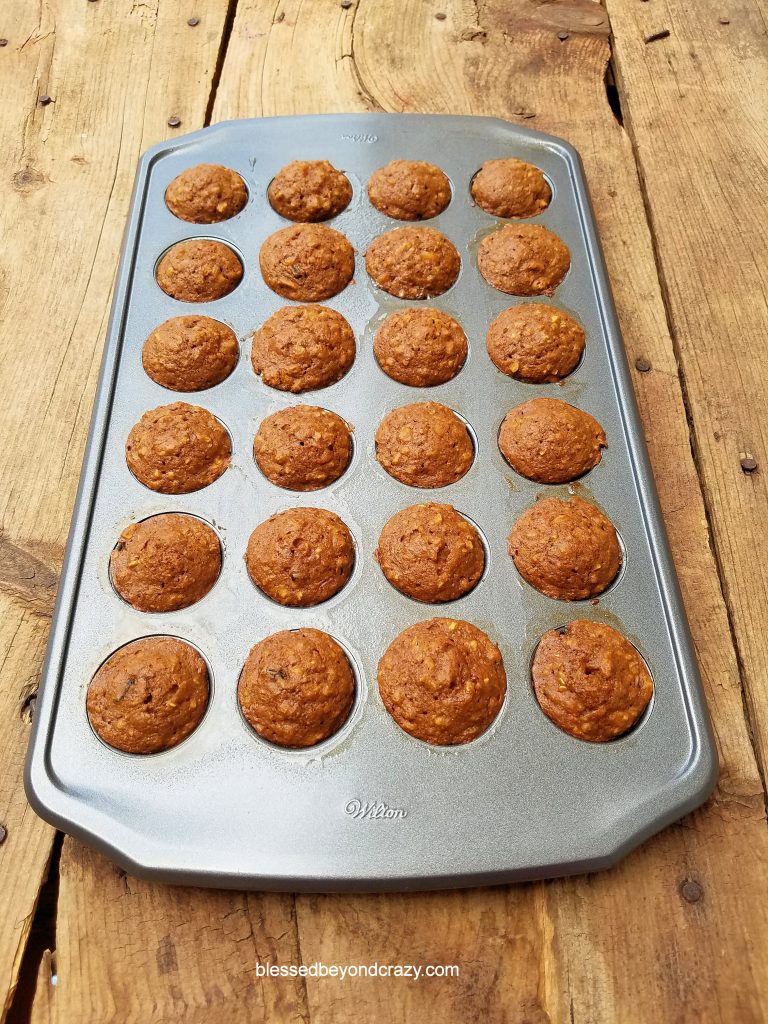 Okay, moving on. Let's talk a little more about Baby Bran Bites. These tiny little muffins are moist and just sweet enough to be a treat. One recipe yields 48 mini muffins.
Nutritious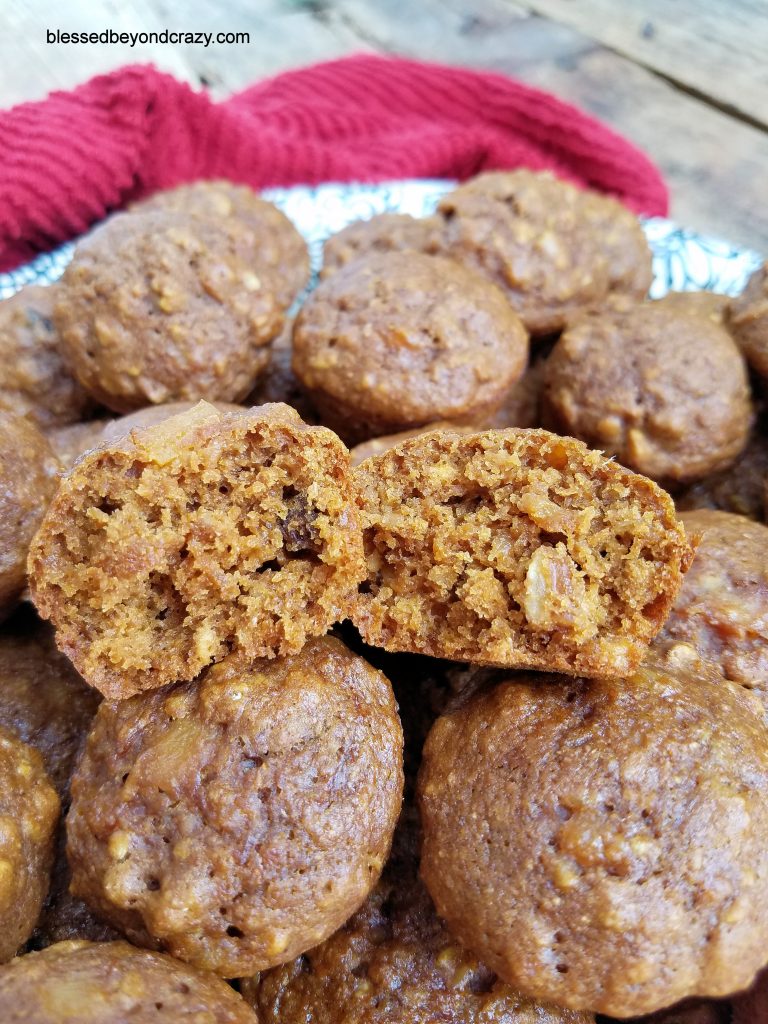 You may be surprised to learn that along with bran cereal, some other key ingredients are pineapple, molasses, whole wheat flour, oats, and buttermilk. Optional ingredients include nuts, seeds, dates, and raisins. (Tip: generously grease your muffin pan and the muffins will slide right out!)
Freezer Friendly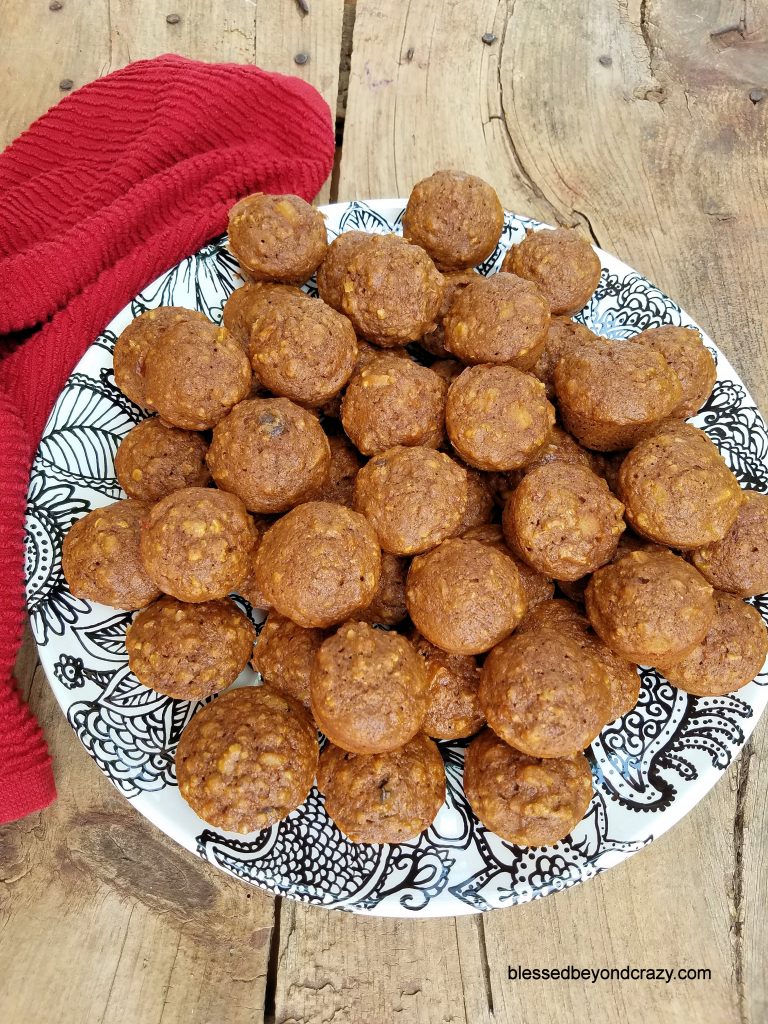 To retain their freshness, I store Baby Bran Muffins in the refrigerator or freeze them for a later date. I recommend using frozen muffins within one month and refrigerated muffins within a week. (If you look closely you can see some of these scrumptious ingredients peeking out of the muffins.)
Best Bran Muffins
---
Suzanne Smith / Taste of Home
Yields 18 muffins
Start your day off right with these deliciously moist bran muffins.
15 minPrep Time
12 minCook Time
27 minTotal Time
Ingredients
1/2 cup rolled oats
1 cup all-purpose flour
1 cup wheat flour
1/2 cup all-bran cereal
1/2 teaspoon salt
1 teaspoon baking powder
1 teaspoon baking soda
1 egg, beaten
1/4 cup vegetable oil
1/2 cup molasses
3/4 cup buttermilk
1 can (8 ounces) crushed pineapple in natural juice, undrained
(Optional: 1/2 cup chopped nuts, sunflower seeds, dates, and/or raisins
Instructions
In a mixing bowl, combine first seven ingredients. Make a well in the center. Combine egg, oil, molasses, buttermilk and pineapple with juice. Pour into well; mix until dry ingredients are moistened.
Stir in optional ingredients: nuts, seeds, dates or raisins.
Fill 24 greased muffin cups 2/3 full. Bake at 400 degrees F for 12 minutes or until golden brown.
7.8.1.2
227
https://blessedbeyondcrazy.com/baby-bran-bites/
www.blessedbeyondcrazy.com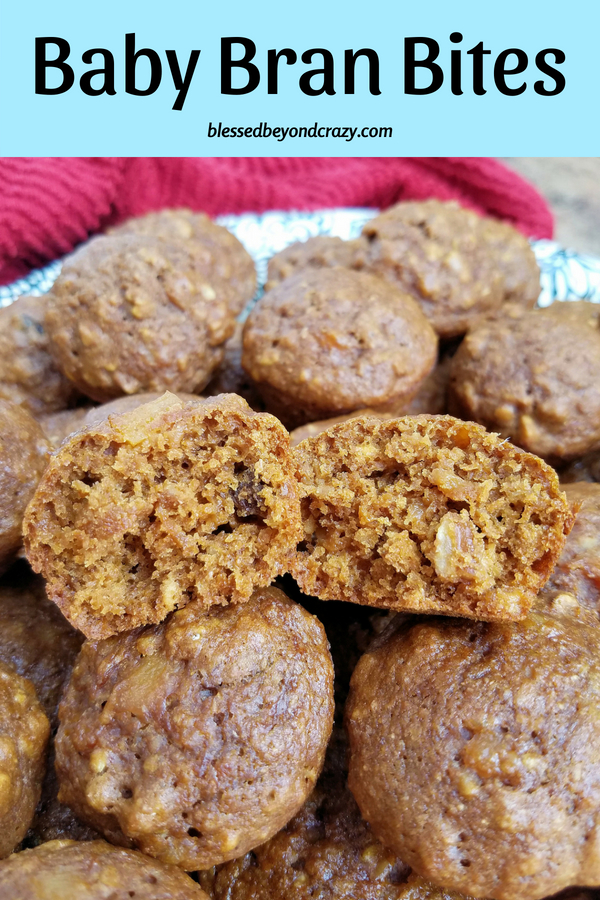 Now, don't you want to grab mini muffin pan and make muffins?
Enjoy!
Linda
More great recipes: