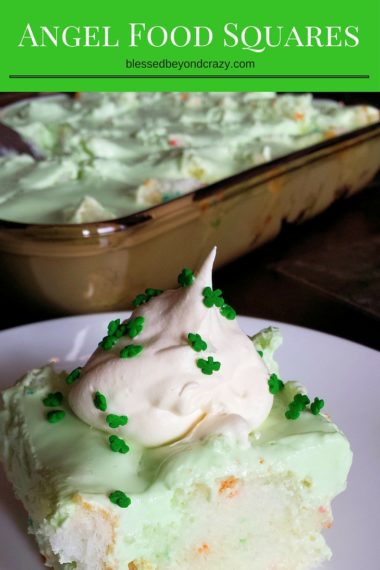 Most people I know love angel food cake. Myself included. This recipe for Angel Food Squares is a super simple recipe and one that you can easily tweak to suit any holiday or occasion with one simple change. Let me show you what I mean.

To help support our blogging activities, our site contains affiliate links. If you make a purchase from a link on our site, we may receive a small percentage of that sale, at no extra cost to you. Blessed Beyond Crazy is a participant in the Amazon Services LLC Associates Program, an affiliate advertising program designed to provide a means for sites to earn advertising fees by advertising and linking to amazon.com. As an Amazon Associate, I earn from qualifying purchases.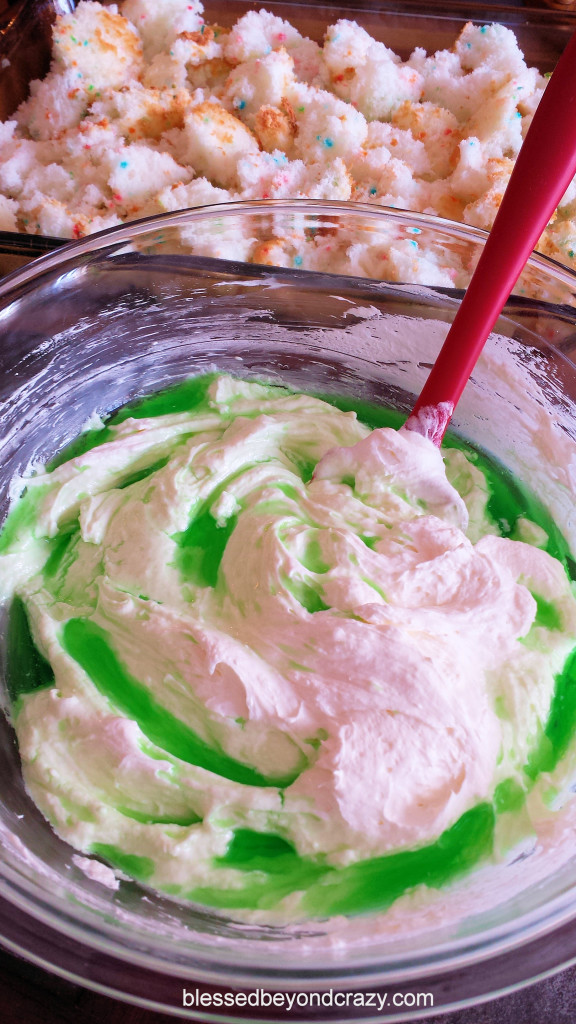 Angel Food
Naturally, this recipe starts with an angel food cake. (You can make one from scratch, use a box mix, or purchase one already baked from your local bakery.) Since St. Patrick's Day is coming up I used a colorful Funfetti Angel Food cake mix.
*To make this a gluten-free recipe, simply swap out a regular mix for Pillsbury's Funfetti Gluten Free Angel Food Cake Mix. I've used their gluten-free Angel Food cake mix many times and it's really good. Here's a post I did last year for a Gluten-Free Birthday Cake Trifle using a Pillsbury GF Angel Food cake mix and it turned out amazing!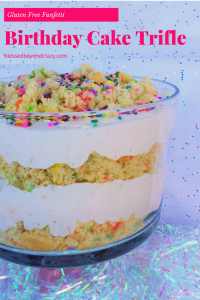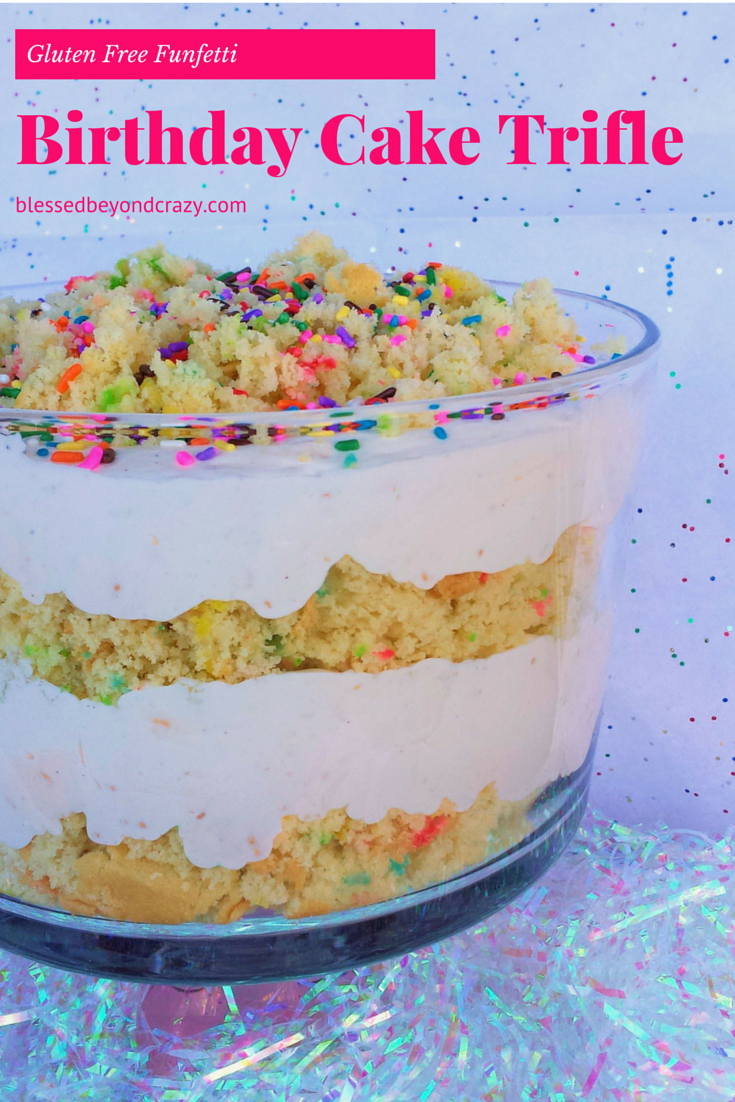 Once your angel food cake is ready, tear the cake into small chunks and place chunks in a lightly greased baking dish. Set aside.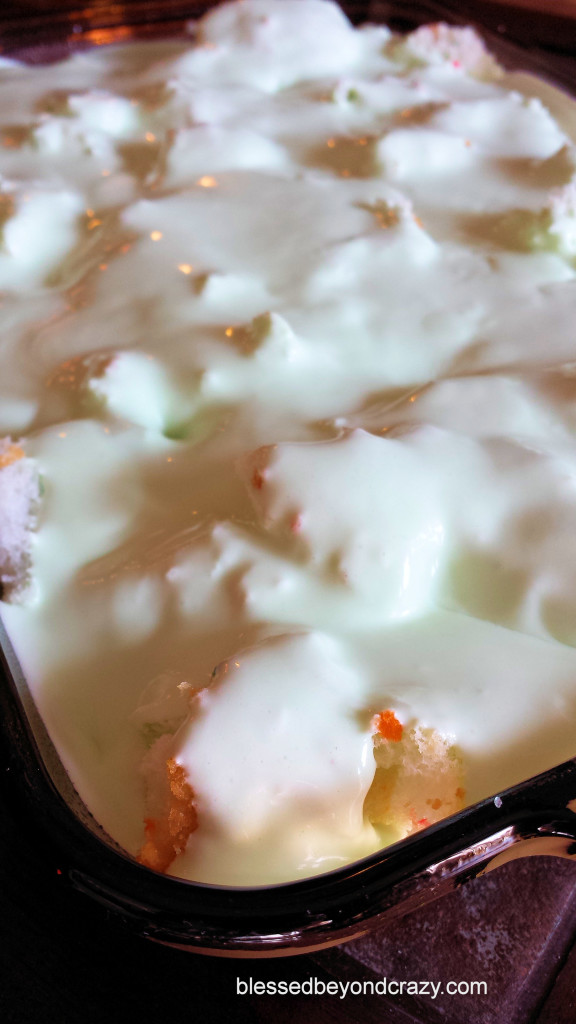 Topping
The next step is to make a mixture of dissolved gelatin, sugar, cream cheese, whipped topping, and a little fresh lemon juice. Pour this yummy creation over the top of the angel food chunks and place it in the refrigerator to set-up.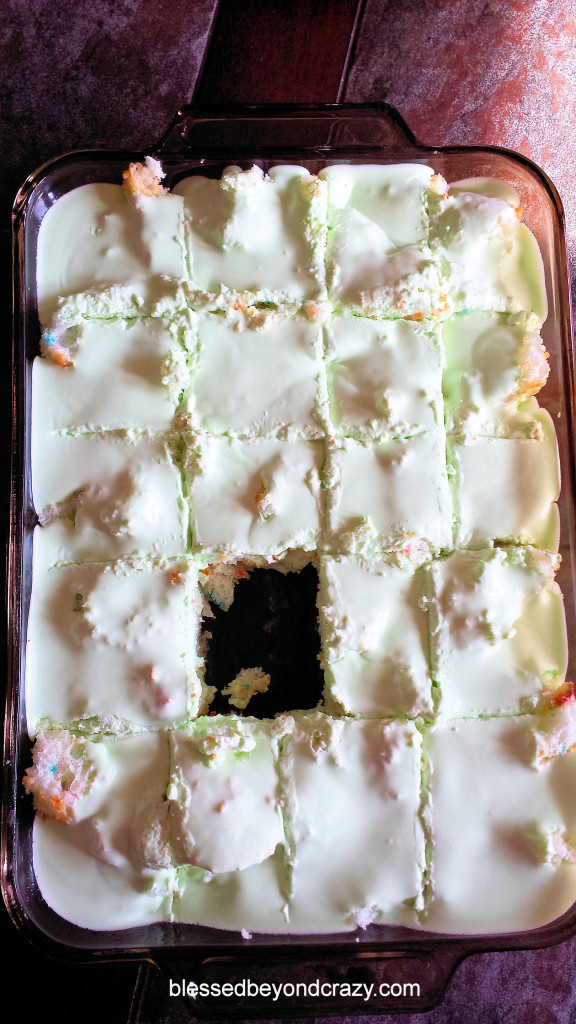 Refrigerate
After a couple of hours in the refrigerator, your Angel Food Squares are ready to serve. Garnish each square with a generous dollop of whipped topping and a few candy sprinkles.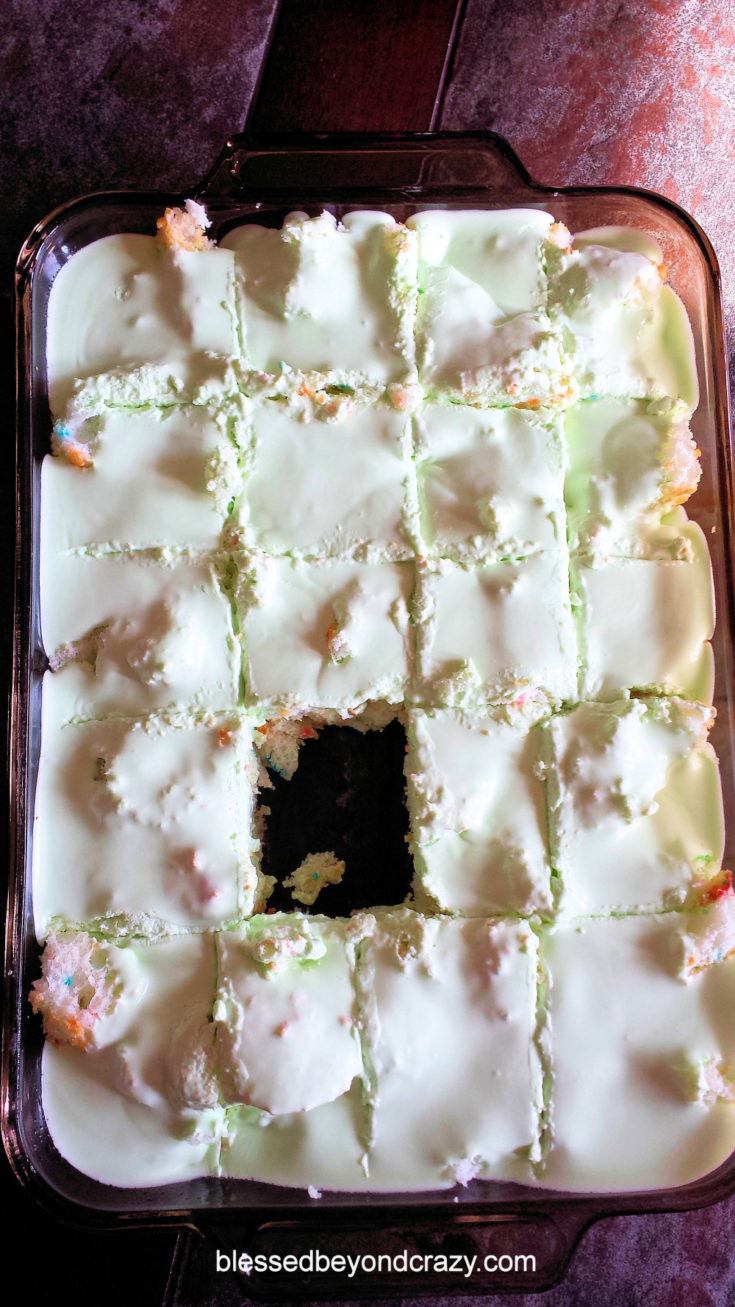 Yield:

Serves 15 - 20
Angel Food Squares
Ingredients
1 package (.3 ounces) sugar-free lime gelatin
1 cup boiling water
1 prepared angel food cake (8 inches), tear into 1-inch chunks (*gluten-free version: use a Gluten Free Angel Food Cake Mix).
1 package (8 ounces) reduced-fat cream cheese, softened
1/2 cup sugar
2 teaspoons freshly squeezed lemon juice (optional)
1 carton (8 ounces) reduced-fat whipped topping, thawed
Garnish:
Reduced-fat whipped topping
Candy sprinkles, optional (*GF version: use gluten free candy sprinkles or candies)
Instructions
In a bowl, dissolve gelatin in boiling water. Refrigerate until mixture just begins to thicken, about 35 minutes.
Place cake cubes in a lightly greased 13" x 9" dish; set aside.
In a small bowl, beat cream cheese until smooth. Beat in the sugar and lemon juice.
Add the chilled gelatin mixture; beat until combined. Fold in 1 1/2 cups whipped topping. Spread over top of the cake, covering completely.
Refrigerate for at least 2 hours or until firm.
Cut into squares; garnish with remaining whipped topping.

You can easily change the flavors of gelatin to change the flavor and appearance of this Angel Food Squares dessert.
For example:
Strawberry or cherry gelatin is perfect for Christmas or Valentine's Day. Garnish with a few sliced fresh strawberries or cherries.

Blueberry gelatin is great for the 4th of July.

Peach or lemon gelatin works fabulously for a refreshing summertime dessert.
Use your imagination and see what flavor combinations you can come up with.
Happy St. Patrick's Day!
Linda
Disclaimer: Manufacturer's formulations and policies for gluten-free products may change at any time. Therefore it's important to read product labels yourself and contact the manufacturer with questions or concerns. We have found that most companies are eager to help answer your questions.
See more great ideas: