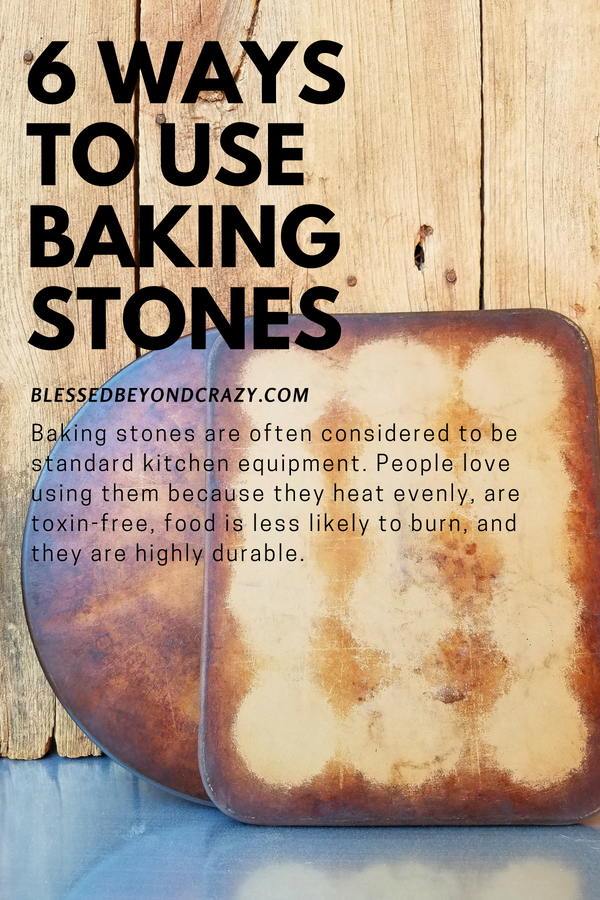 Baking stones are favored kitchen tools and can help improve the overall texture and flavor of food. People love using them because they heat evenly, are toxin-free, food is less likely to burn, and they are highly durable. They may also save time and a few dirty dishes because food can be prepared, cooked, and served directly from the stoneware.
To help support our blogging activities, our site contains affiliate links. If you make a purchase from a link on our site, we may receive a small percentage of that sale, at no extra cost to you. Blessed Beyond Crazy is a participant in the Amazon Services LLC Associates Program, an affiliate advertising program designed to provide a means for sites to earn advertising fees by advertising and linking to amazon.com.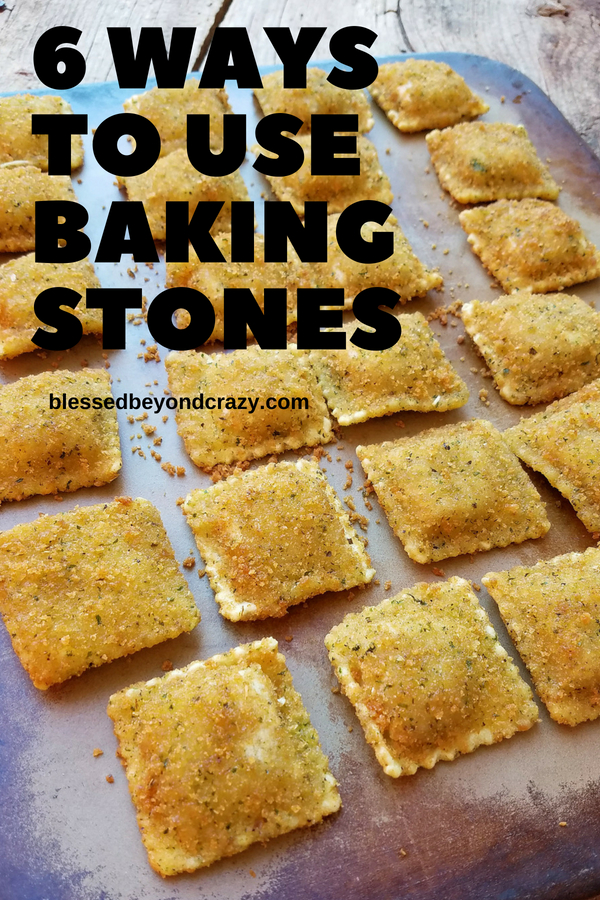 Cooking food on a baking stone is actually a variation of cooking on hot stones, which is one of the most ancient cooking methods known to man. Because baking stones are so versatile, they can be used in the oven or on the grill in much the same way you would use cookie sheets. They are also good for reheating leftovers or baking anything that needs a crispy bottom.
Season
In order to develop a non-stick surface, season a baking stone just as you would a cast-iron skillet. Over time, baking stones gradually become dark and discolored. (You can see the discoloration of our own personal baking stones shown in the pictures). This is simply a sign of a well-seasoned stone.
Preheat
For the best results, place your baking stone in a cold oven and preheat it before use. Since the stone absorbs and retains heat, the preheating process helps food bake evenly. When finished, be sure to allow the stone to cool gradually to prevent cracking or fracturing.


Cleaning
Because baking stones are porous they absorb liquids and possibly the flavor of dish soaps. Therefore, it's best to clean the stone by using a plastic scraper to release any stuck-on food remnants, rinse with hot water, and dry it with a soft towel.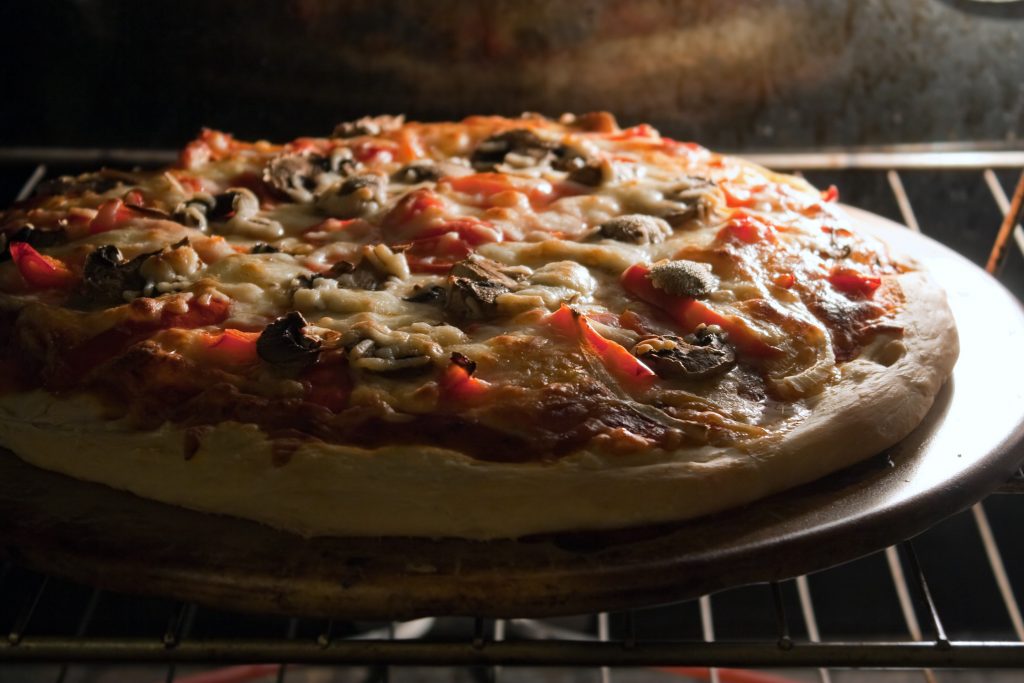 1. Pizza
Pizza is probably the most common food item baked on a baking stone because the crust ends up nice and crispy. TIP: Before placing unbaked pizza dough onto a baking stone, sprinkle a little cornmeal on the surface to prevent the dough from sticking.
Smaller, individual baking stone tiles allow each person to create their own personalized pizza and work perfectly on a grill.


2. Roasting
Toss your favorite vegetables in a bowl or pan, and add a drizzle of olive oil and seasoning. Next, dump the vegetables out onto a baking stone and roast them in the oven or on the grill until tender. Throw a couple of fish fillets or thinly sliced chicken breast alongside and you'll be amazed at the delicious roasted flavor. TIP: Place an oven liner on the bottom rack to catch any overflow of juices.


3. Bread
You can also use your baking stone to get a golden-brown crust on breadsticks, cheesy garlic bread, stuffed French bread, pita bread, naan, and more.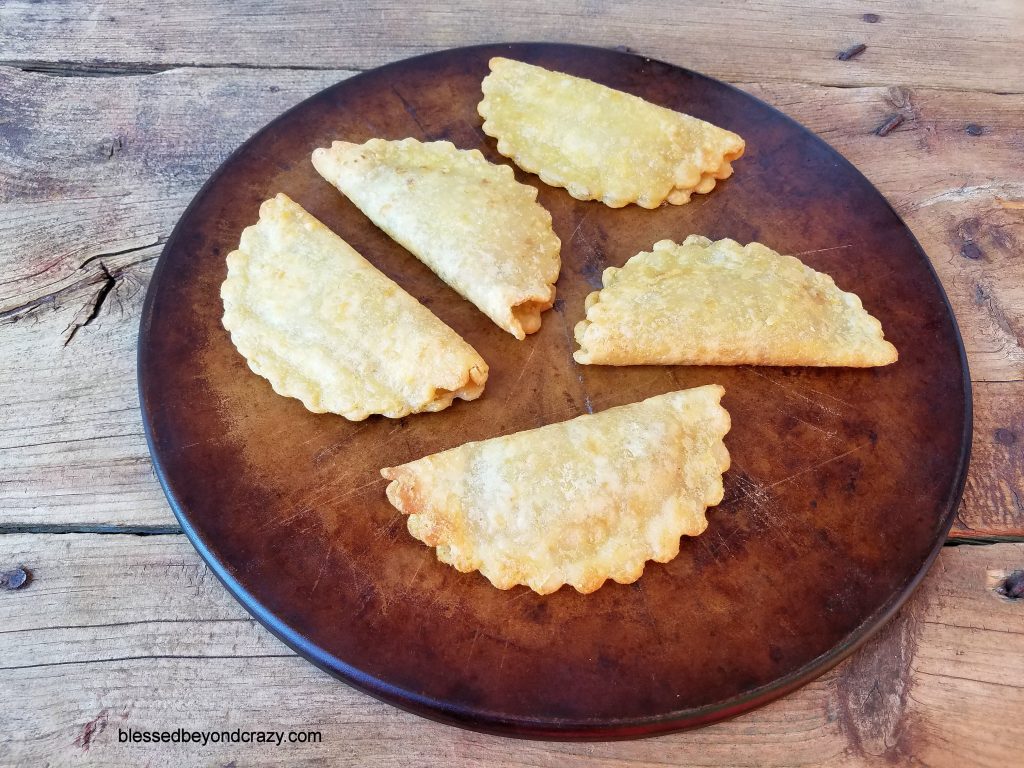 4. Dinner
Dinner items such as chicken nuggets, falafels, and quesadillas baked on a baking stone turn out light and crispy, instead of soggy and limp.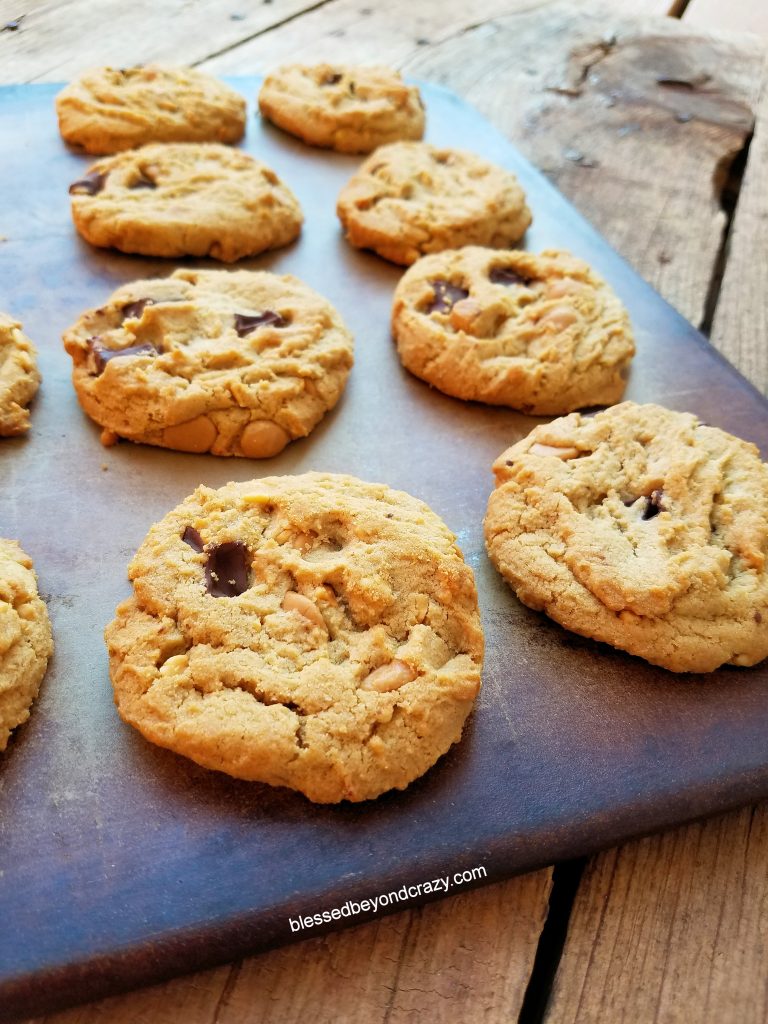 5. Desserts
Baking stones are also perfect for making a wide variety of desserts. Desserts such as fruit pizza, cookies, and apple strudel are just a few things you can make on a stone.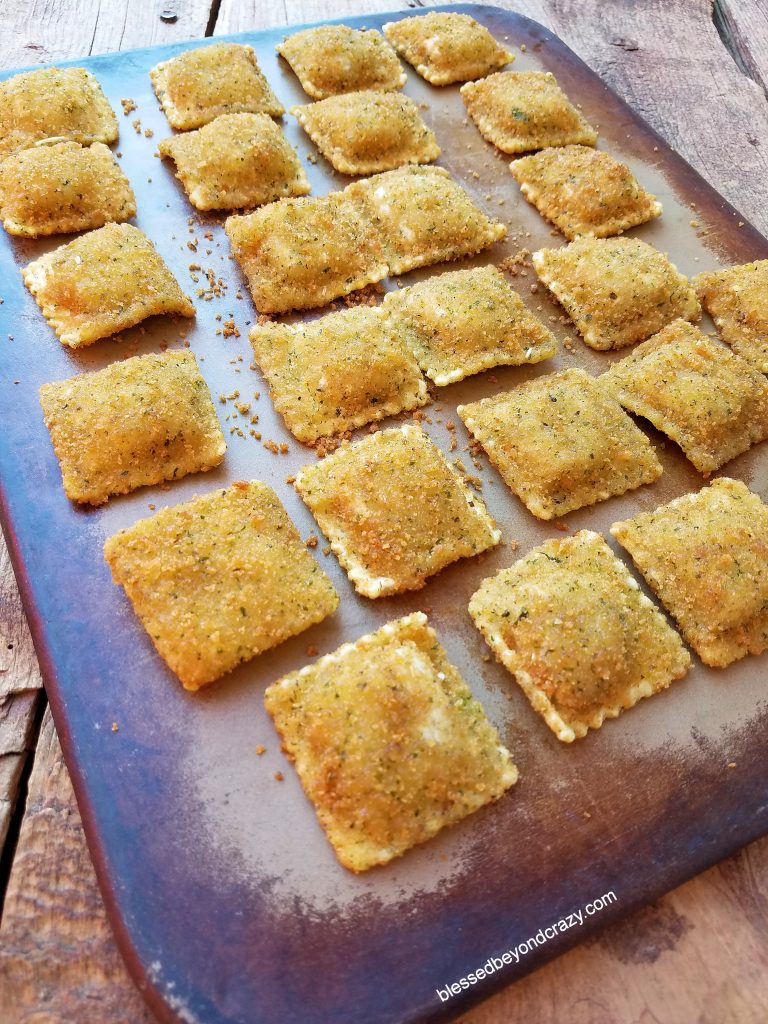 6. Appetizers/Snacks & A Warm Serving Platter
Appetizers such as jalapeno poppers, pizza bites, French fries, loaded potato skins, stuffed mushrooms, prosciutto asparagus, and more turn out fabulous when baked on a stone.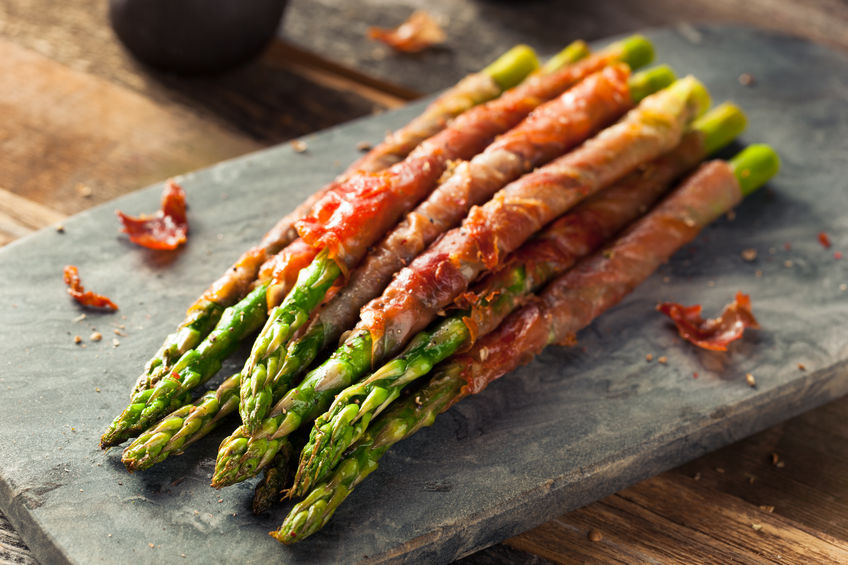 Snacks such as homemade pretzels, potato chips, and crackers turn out nice and crisp. Baking stones also serve well as warming platters since they absorb and retain heat so well.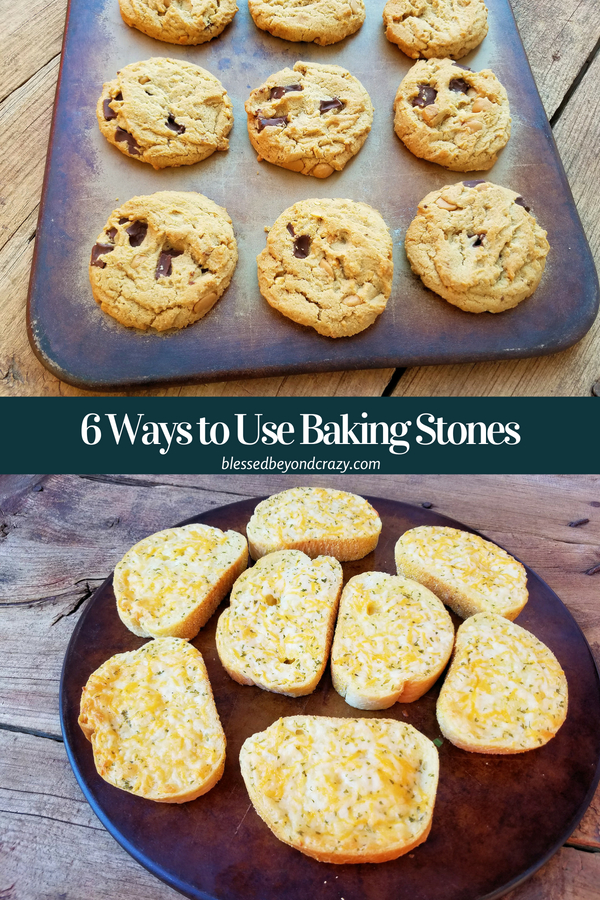 Need a gift for Christmas, a wedding, or a bridal shower? Consider gifting a baking stone! It just may become the recipient's most cherished kitchen item.
Linda
More great ideas: