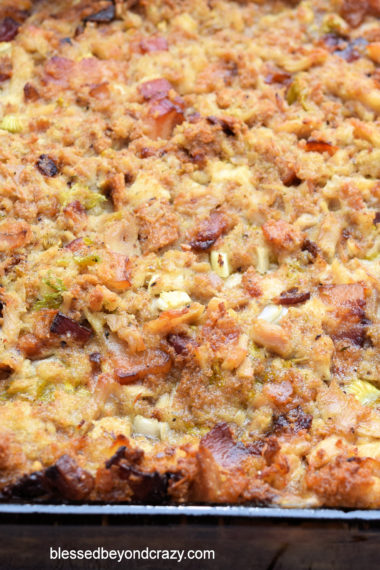 Now that we have officially kicked off the holiday season, I would like to introduce you to the most fabulous recipe for Thanksgiving Stuffing with a Twist! This recipe is loaded with all kinds of yummy ingredients and I think it will be a recipe you'll want to keep close at hand.

To help support our blogging activities, our site contains affiliate links. If you make a purchase from a link on our site, we may receive a small percentage of that sale, at no extra cost to you. Blessed Beyond Crazy is a participant in the Amazon Services LLC Associates Program, an affiliate advertising program designed to provide a means for sites to earn advertising fees by advertising and linking to amazon.com.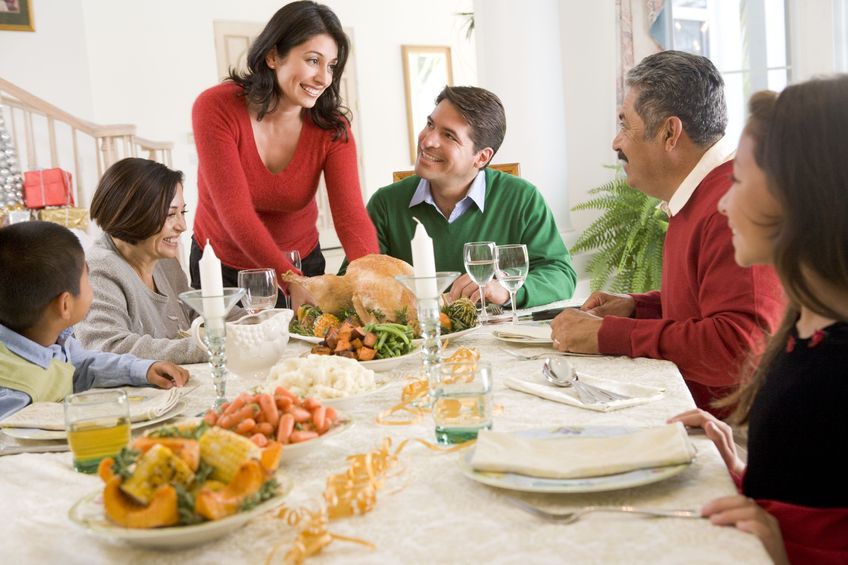 Personally, I have never been a fan of stuffing because it seems it's too soggy or it is flavorless. Neither one appeals to me.
However, this Thanksgiving stuffing is different. In my opinion, it's neither too dry nor too moist, plus it has a twist! It's loaded with BACON!!! Yes! B.A.C.O.N!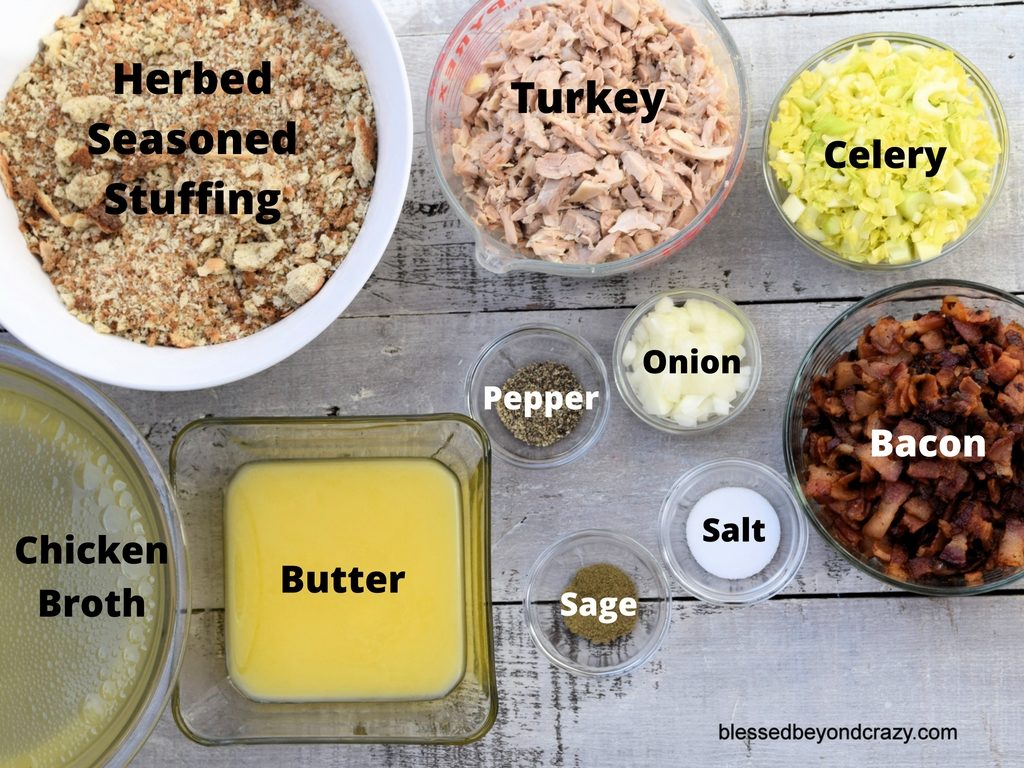 Pictured above are the ingredients you will need and the video shows just how easy it is to assemble. So, grab a large mixing bowl and a large spoon and let's make a batch of stuffing!
TIP: I always like to do as many things as I can the day before hosting a party. Therefore I cooked some turkey in my slow cooker the day before assembling the stuffing. Since I knew that I didn't have enough giblets to make 3 1/2 to 4 cups of chopped turkey, I opted to buy a couple of extra fresh turkey legs and cooked them with the giblets.
While the turkey was cooking I also pan-fried half an onion with 2 pounds of bacon I had chopped into small pieces. After it had finished cooking I drained off the excess fat. Now the turkey, bacon, and broth were ready to go the next day when it was time to assemble the stuffing. All I needed to do was warm up the broth a little before tossing everything together.
It's actually easy to modify this recipe to be a gluten-free stuffing. (Be sure to check the recipe card to see how.) Looking for gluten-free turkey? Click to read about gluten-free Butterball turkeys.
In addition, feel free to add other yummy ingredients such as raisins, dried cranberries, chopped apples, pecans, and oysters. In place of stuffing mix, you can also use crumbled seasoned cornbread or toasted day-old bread that has been seasoned with 2 teaspoons thyme leaves, 1 1/2 teaspoons poultry seasoning, and 1 teaspoon seasoning salt.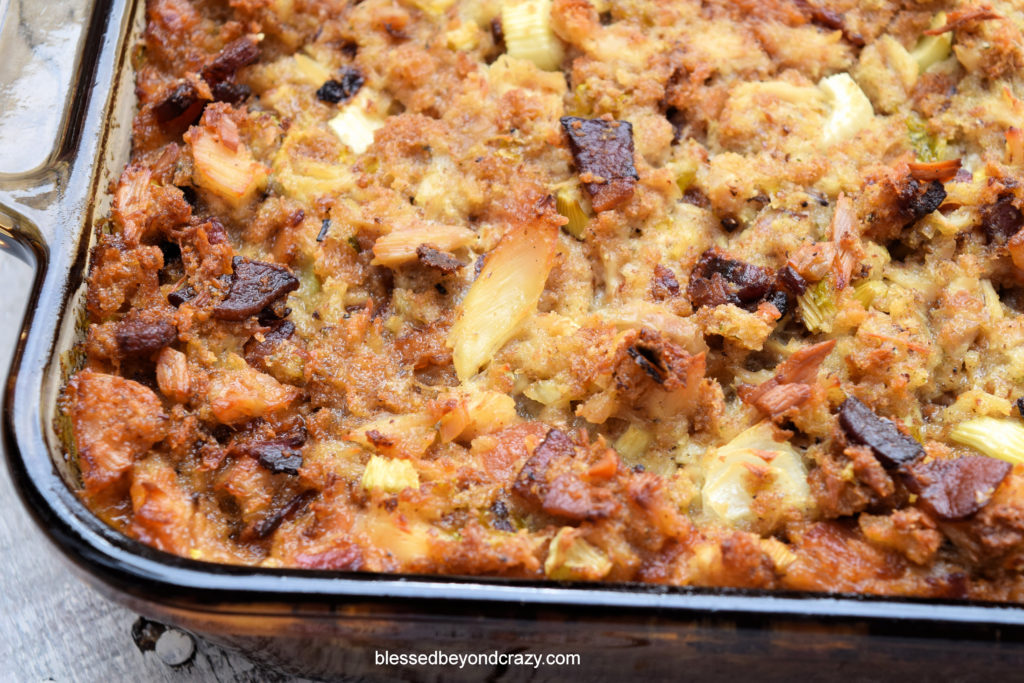 Just look at this yummy Thanksgiving Stuffing with a Twist that's straight out of the oven! Delish!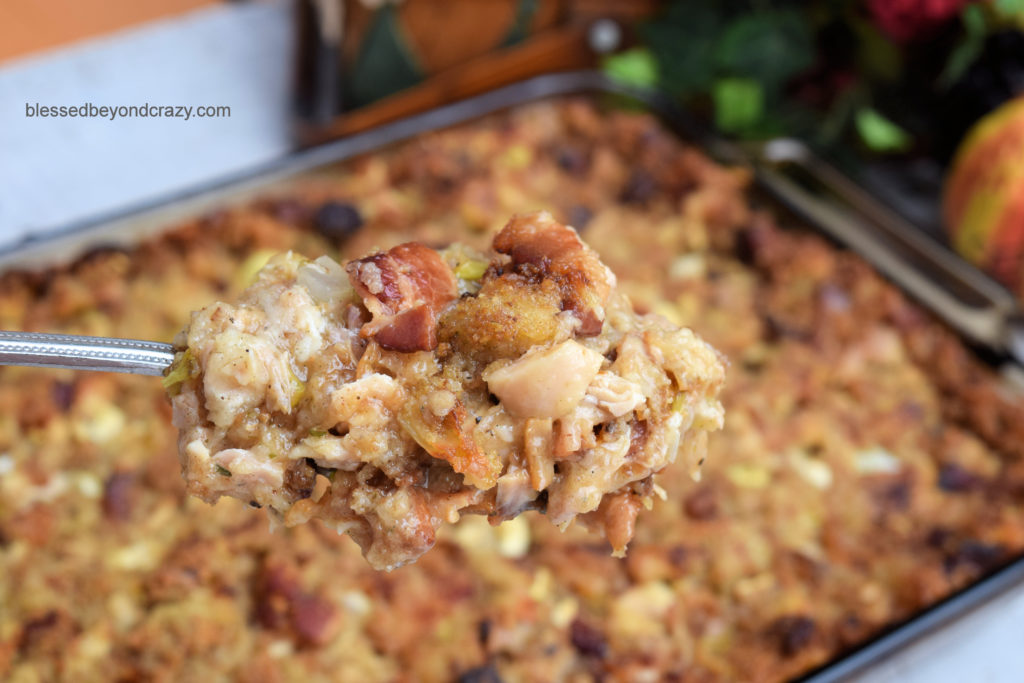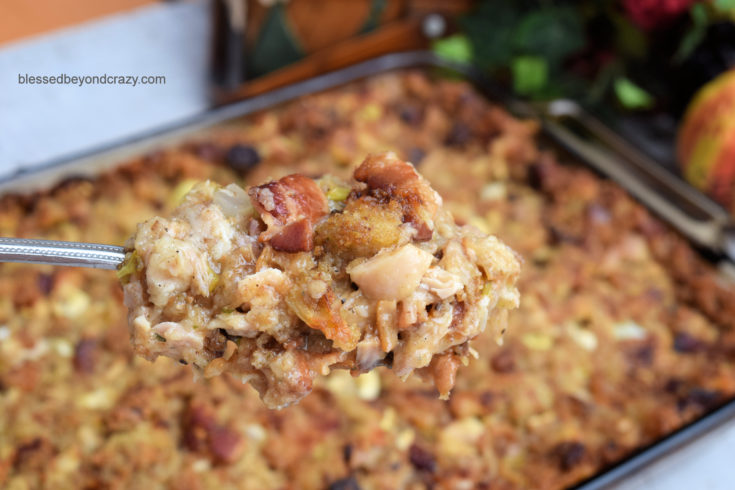 Yield:

9 x 13 pan
Thanksgiving Stuffing with a Twist
Total Time:
1 hour
40 minutes
This is the best Thanksgiving stuffing I have ever tasted!
Ingredients
1 package (14 ounces) Pepperidge Farm Herb Seasoned Classic Stuffing Mix (GF Option - use a gluten-free stuffing mix or toasted and seasoned GF bread crumbs)
3 1/2 to 4 cups diced turkey and meat from giblets (GF Option - use gluten-free turkey)
2 pound bacon (GF Option - use a gluten-free brand of bacon.)
1 cup chopped onion, divided
1 cup chopped celery
2 teaspoons sea salt
2 teaspoons cracked black pepper
1 teaspoon ground sage
1 1/2 sticks butter, melted
6 cups turkey or chicken broth (GF Option - use a gluten-free brand of broth)
Instructions
Place turkey meat/giblets into a small stockpot or crockpot. Add 6 1/2 cups of water and a pinch of salt. Simmer until fully cooked.
Place turkey meat/giblets into a bowl; reserve the broth. When the meat is cool enough to handle, cut into small, bite-size pieces.
Cut bacon into bite-size pieces, place in a medium-size skillet. Add half of chopped onion, reserving the other half. Saute until bacon is brown and crispy; drain off excess grease.
Place herb seasoned stuffing mix into a large mixing bowl.
Add bacon and remaining chopped onion, celery, salt, pepper, sage, and melted butter; stir together.
Add broth to the stuffing mixture. Stir until well combined. Let mixture rest for 5 minutes to allow broth to soak in and soften stuffing mix.
Stir again and pour mixture into a well-grease 9 x 13 baking dish.
Bake in a preheated 350 degrees F oven for approximately 1 hour, or until browned and the center is set.
Remove from oven.
Serve hot.
Notes
Optional additions: chopped apples, pecans, raisins, dried cranberries, or oysters. May use seasoned cornbread or toasted seasoned day-old bread in place of stuffing mix.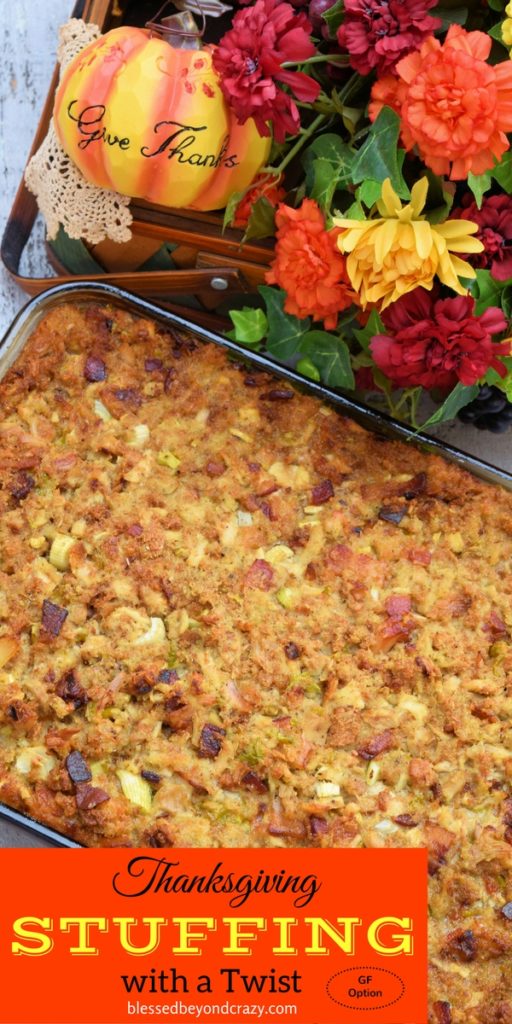 Most of all, I hope that you and your loved ones enjoy the upcoming holidays as well as this scrumptious recipe for Thanksgiving Stuffing with a Twist!
Enjoy!
Linda
Disclaimer: Manufacturers' formulations and policies may change at any time. Therefore it's important to always read product labels yourself and contact the manufacturer with concerns. We have found that most companies are eager to help answer your questions.
More great ideas: