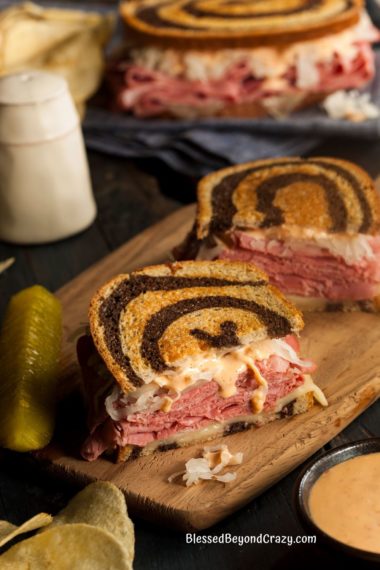 This delicious Reuben Sandwich is perfect when you don't want to spend a lot of time in the kitchen. The recipe is extremely easy and we've included a gluten-free version in the recipe card.

To help support our blogging activities, our site contains affiliate links. If you make a purchase from a link on our site, we may receive a small percentage of that sale, at no extra cost to you. Blessed Beyond Crazy is a participant in the Amazon Services LLC Associates Program. This affiliate advertising program is designed to provide a means for sites to earn advertising fees by advertising and linking to amazon.com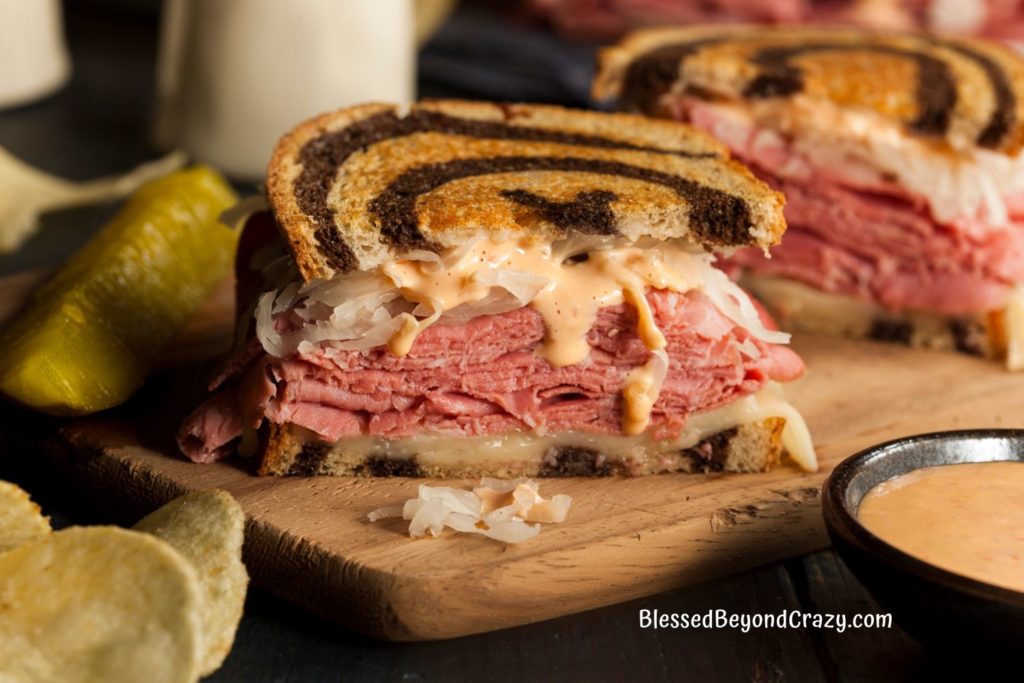 A Delicious Sandwich
Not only is a Reuben sandwich perfect for St. Patrick's Day, but sometimes, a delicious, messy sandwich really seems to hit the spot.
Naturally, this recipe starts with your favorite brand of light or dark rye bread, although you may enjoy using marble rye bread. If you need a gluten-free option, be sure to use gluten-free rye bread.
You'll also need either canned or fully cooked deli corned beef, sauerkraut, Swiss cheese, Thousand Island dressing, or Russian dressing, and a little butter to fry the sandwiches in.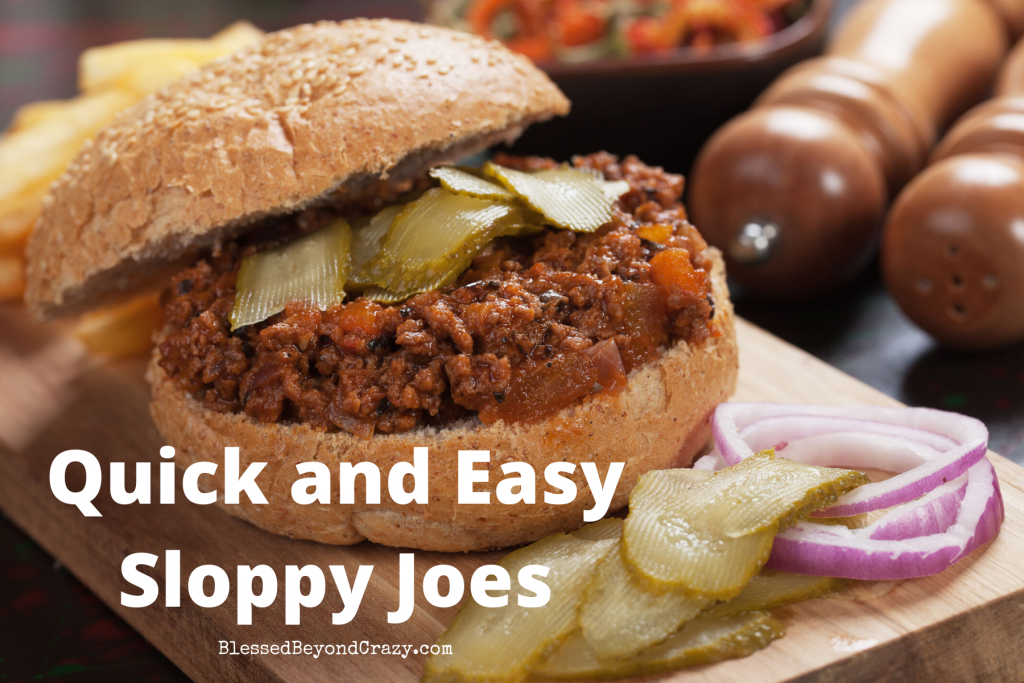 Other sandwich recipes you might enjoy: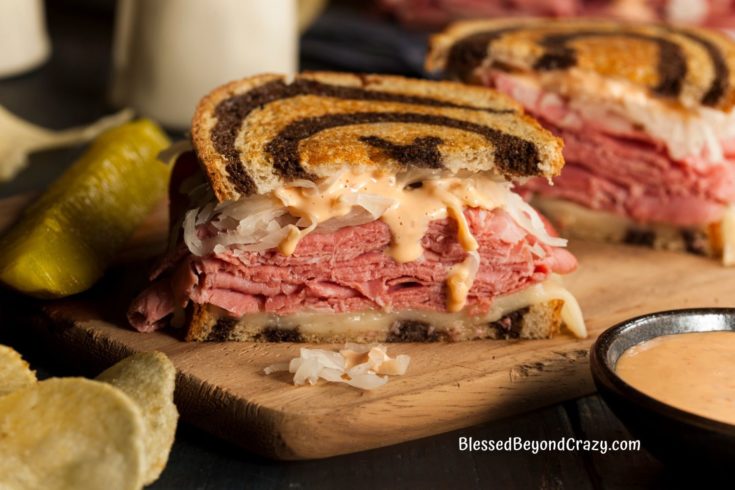 Yield:

Serves 4
Simple and the Best Reuben Sandwich Recipe
A delicious and messy Reuben Sandwich is an excellent dinner option, especially when you don't want to spend a lot of time preparing a meal.
Ingredients
12-ounces thinly sliced canned or fully cooked deli corn beef (GF Option: most corned beef is naturally gluten-free but always check the label to be sure)
8 slices rye bread (GF Option: use a gluten-free brand)
8-ounces sauerkraut, well drained
4 slices Swiss cheese
Thousand Island or Russian dressing (GF option: use a gluten-free brand)
Butter to fry sandwiches in
Instructions
Evenly divide corn beef and place it onto four slices of bread. Top each with sauerkraut, a slice of cheese, and dressing. Place another slice of bread on top.
Melt butter in a skillet over medium-low heat. Add sandwiches to the skillet and toast until bread is lightly browned on one side. Carefully flip the sandwiches over and brown the other side. (Add more butter if necessary.)
Cook until cheese is melted and meat is heated through.
Serve hot.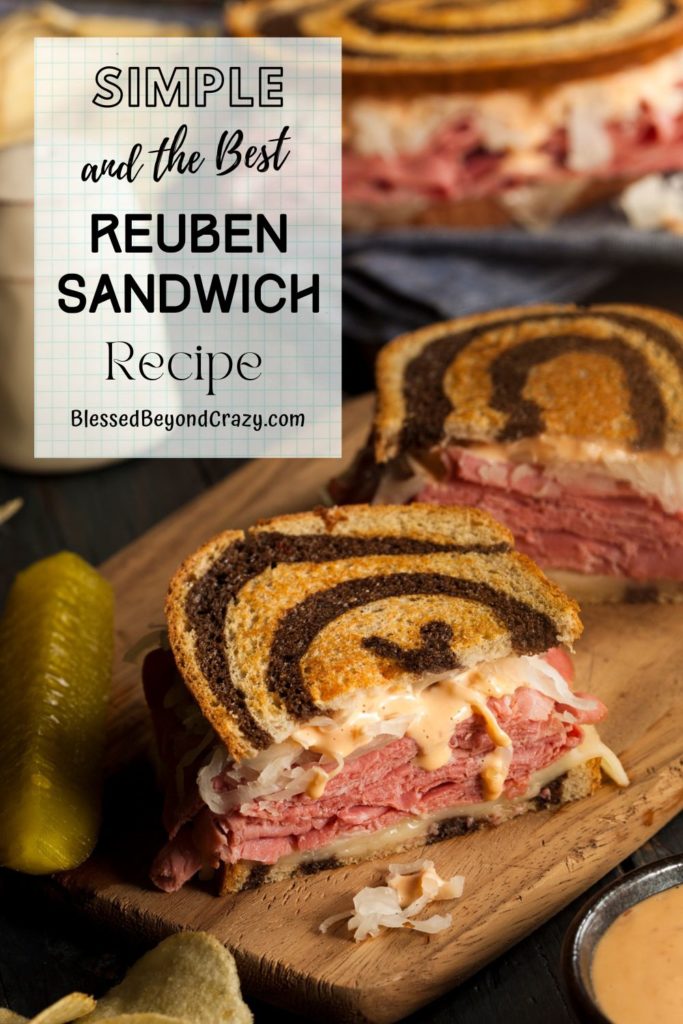 We hope you enjoy this amazing Reuben Sandwich recipe!
Happy eating!
More Great Ideas: