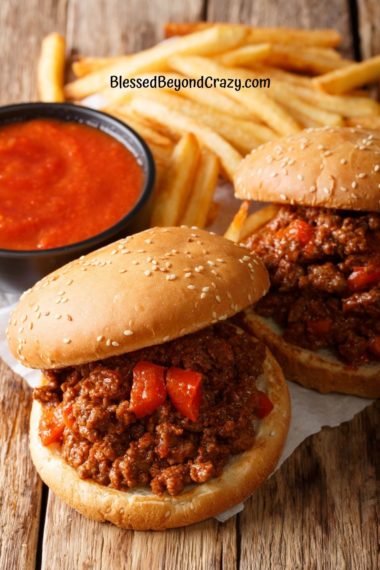 Hosting a party? Easy Maid-Rites to Feed a Crowd may be just the ticket! These yummy sandwiches are perfect for any family gathering or party. Serve them along with chips, a salad, and dessert, and voila; you now have a great meal!

To help support our blogging activities, our site contains affiliate links. If you make a purchase from a link on our site, we may receive a small percentage of that sale, at no extra cost to you. Blessed Beyond Crazy is a participant in the Amazon Services LLC Associates Program. This affiliate advertising program is designed to provide a means for sites to earn advertising fees by advertising and linking to amazon.com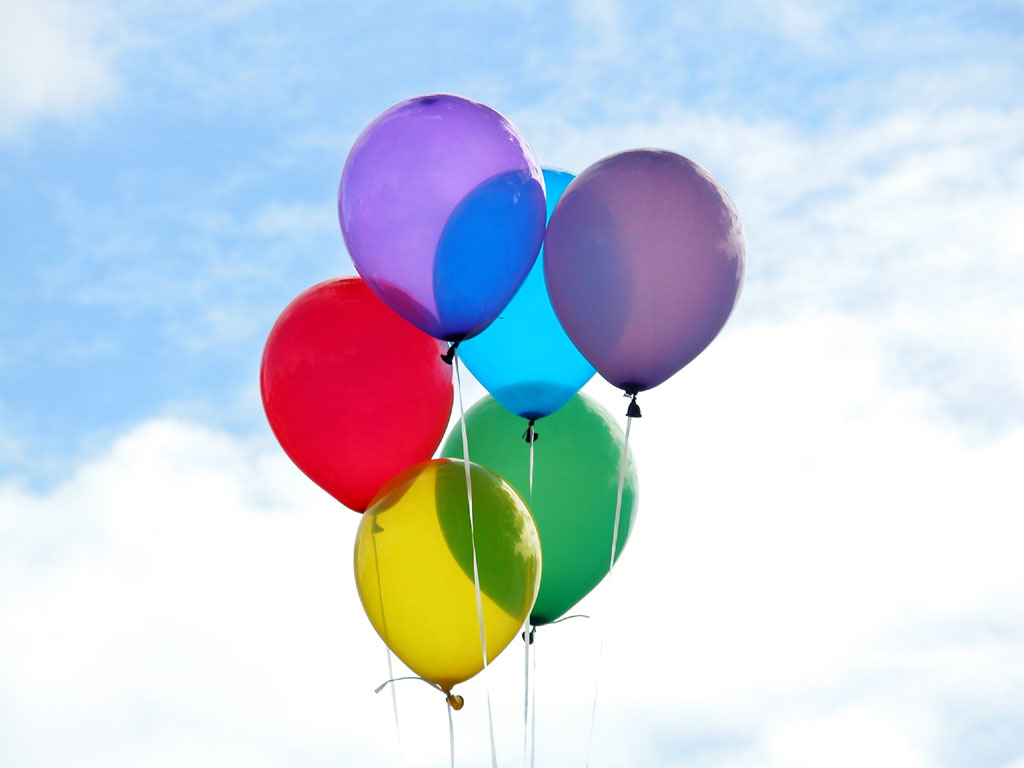 Party Time!
First, I need to tell you that a close family member will soon be celebrating a birthday. Naturally, that gives me a great reason to host a party! I like to make recipes that are easy, yet tasty and delicious.
Since this party is a "come-and-go" party, friends will stop by at different times throughout the evening. Therefore I really want to incorporate the use of my crockpot. This recipe for easy Maid-Rites fits the bill!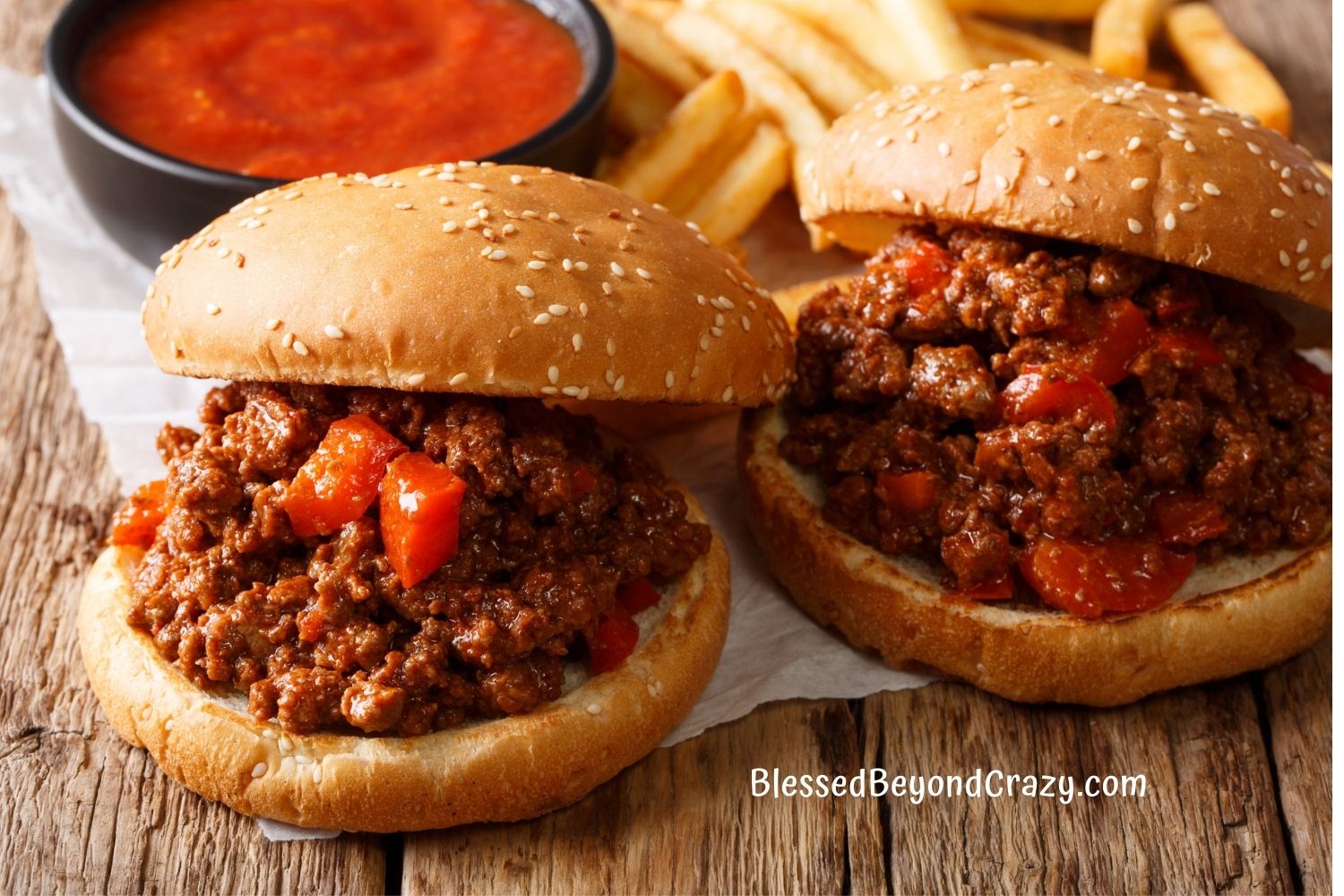 To make Easy Maid-Rites to Feed a Crowd, start by cooking 2 1/2 pounds of ground chuck. When the meat is done, drain off the excess grease and place the meat into a 4-quart crockpot. Next, add two 15.5-ounce cans of MANWICH Original Sloppy Joe Sauce.
(*Is Manwich gluten-free? As of the writing of this post, the Rep. I spoke to said the company is working on labeling their gluten-free products. At this time, however, they can not officially state that it is gluten-free. The company currently lists any allergens in their labeling, e.g., dairy, wheat, soy, peanuts, etc…)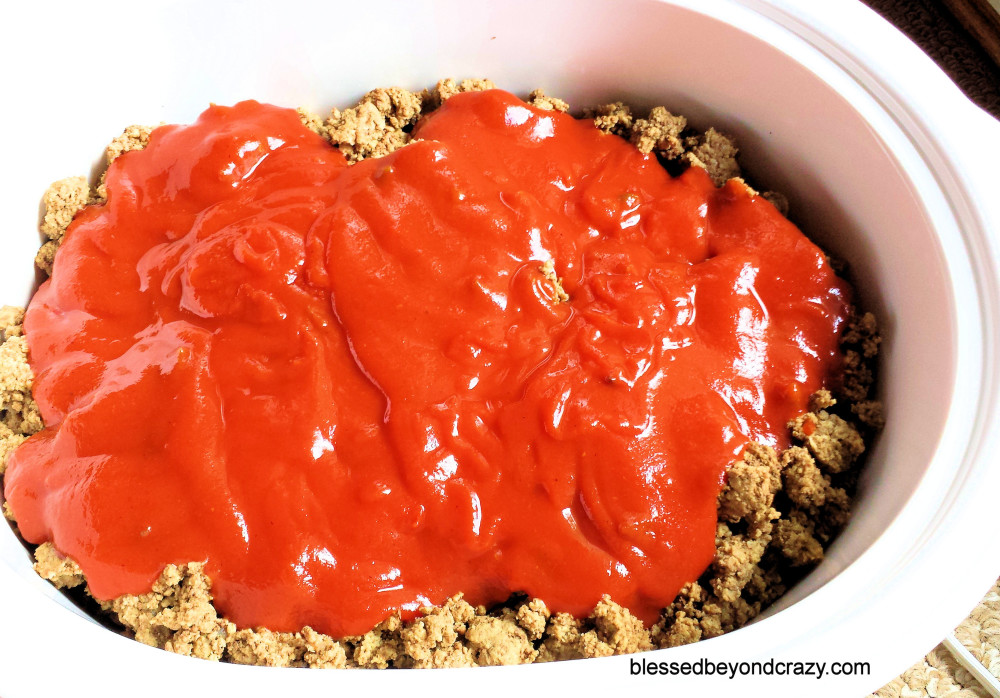 Next, add 4 -5 dashes of Tone's Liquid Smoke. (*I personally called the company and they assured me that this product is gluten-free).
Now add chopped red, yellow, and orange baby bell peppers, onion, salt, pepper, a touch of brown sugar, and dry mustard.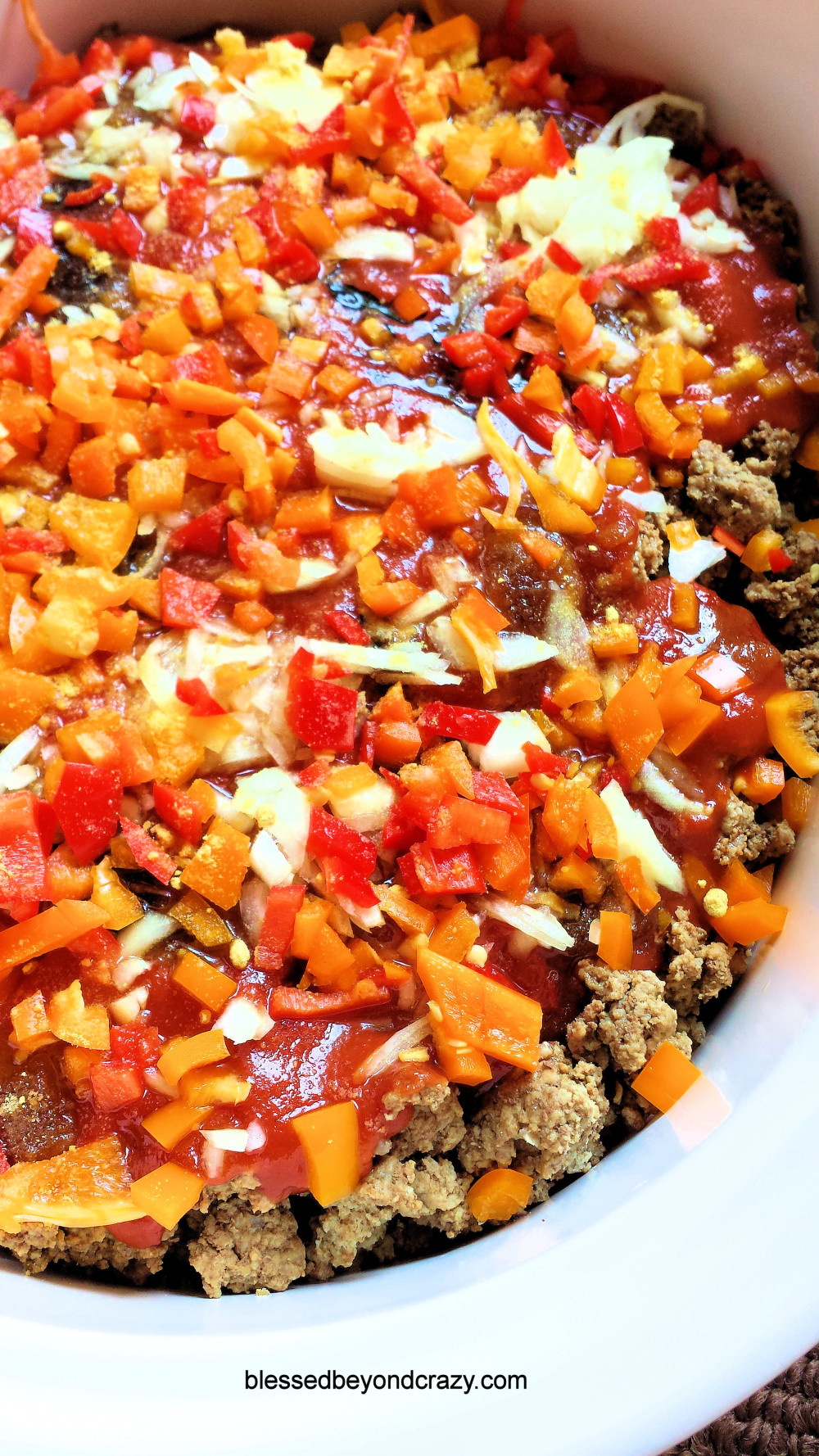 Crockpot Friendly!
Mix all of the ingredients together and turn the crockpot on low for 2 1/2 hours; stirring occasionally.
When guests arrive, the Maid-Rites will be ready and waiting for them. Yay! I love a great crockpot recipe!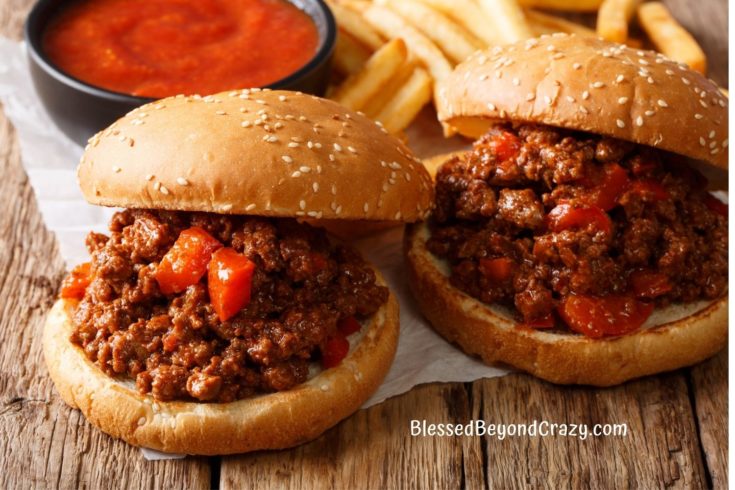 Yield:

12 - 14 Sandwiches
Easy Maid-Rites to Feed a Crowd
Cook Time:
2 hours
30 minutes
Total Time:
2 hours
50 minutes
These delicious and easy-to-make sandwiches are wonderful for parties and family gatherings.
Ingredients
2 1/2 pounds ground chuck, cooked and drained
2 (15.5-ounce cans each) MANWICH Original Sloppy Joe Sauce
4 -5 dashes of Tone's Liquid Smoke
1 cup red, yellow, and/or orange bell peppers, chopped
1/2 cup onion
2 teaspoons salt
2 teaspoons pepper
3 tablespoons brown sugar
1 teaspoon dry mustard
Instructions
I mixed all of the ingredients together and place them in a crockpot. Cook on low for 2 1/2 hours; stirring occasionally. Serve on buns.
This recipe will easily serve 12 – 14 people using regular-size hamburger buns, (or gluten-free buns). I usually serve Maid-Rites with the usual condiments, a variety of chips, green beans, Fruity Lemonade, and a Red Velvet White Chocolate Trifle for dessert. 
*Side note: Anna's husband is on a gluten-free diet. He loves eating maid-rites with tortilla chips in place of a gluten-free bun!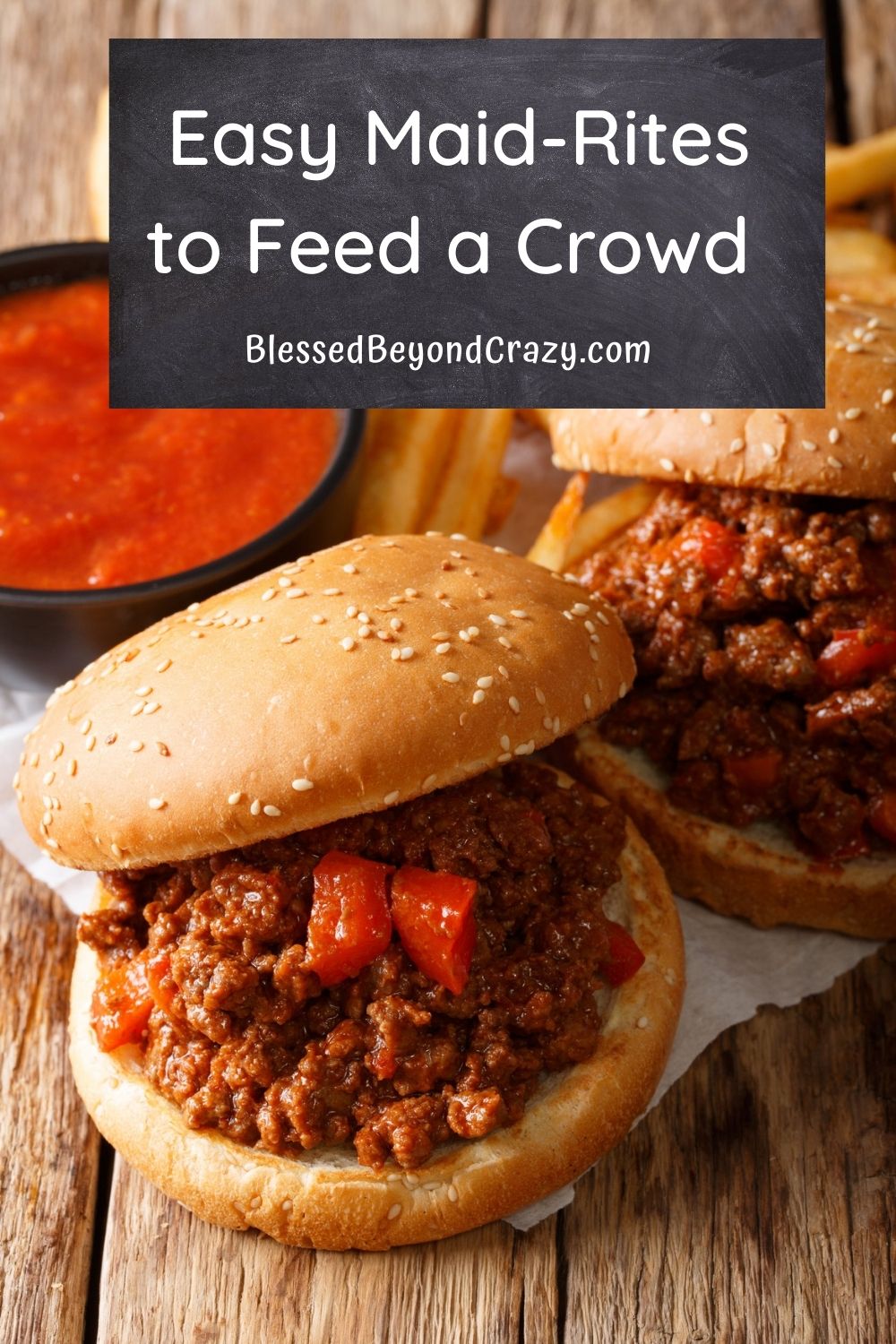 I love hosting parties and spending time with good friends.
Linda
More great recipes: