Chocolate Peanut Butter Cup Cookie Bowls are not only fun to eat, they're also fun to make!
To help support our blogging activities, our site contains affiliate links. If you make a purchase from a link on our site, we may receive a small percentage of that sale, at no extra cost to you. Blessed Beyond Crazy is a participant in the Amazon Services LLC Associates Program, an affiliate advertising program designed to provide a means for sites to earn advertising fees by advertising and linking to amazon.com. As an Amazon Associate, I earn from qualifying purchases.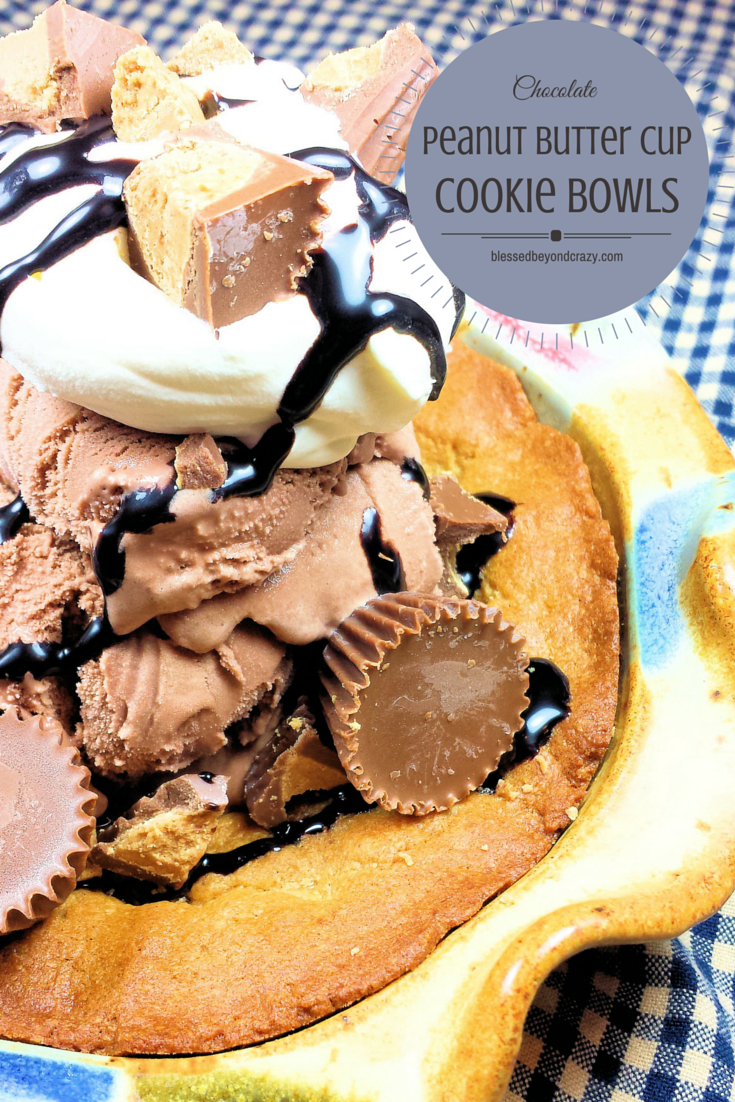 Last weekend I was hungry for cookies and ice cream. Since peanut butter is one of my husband's favorite things I decided to make peanut butter cookies. Then I remembered that a few weeks ago my Mother had given me some super cute stoneware baking bowls. I decided to bake the peanut butter cookies in them. Using pretty bowls and dishes always makes baking more fun!
I whipped up the peanut butter cookie dough then divided it into two baking bowls. Easy Peasy! I baked the cookies until they were nice and golden brown.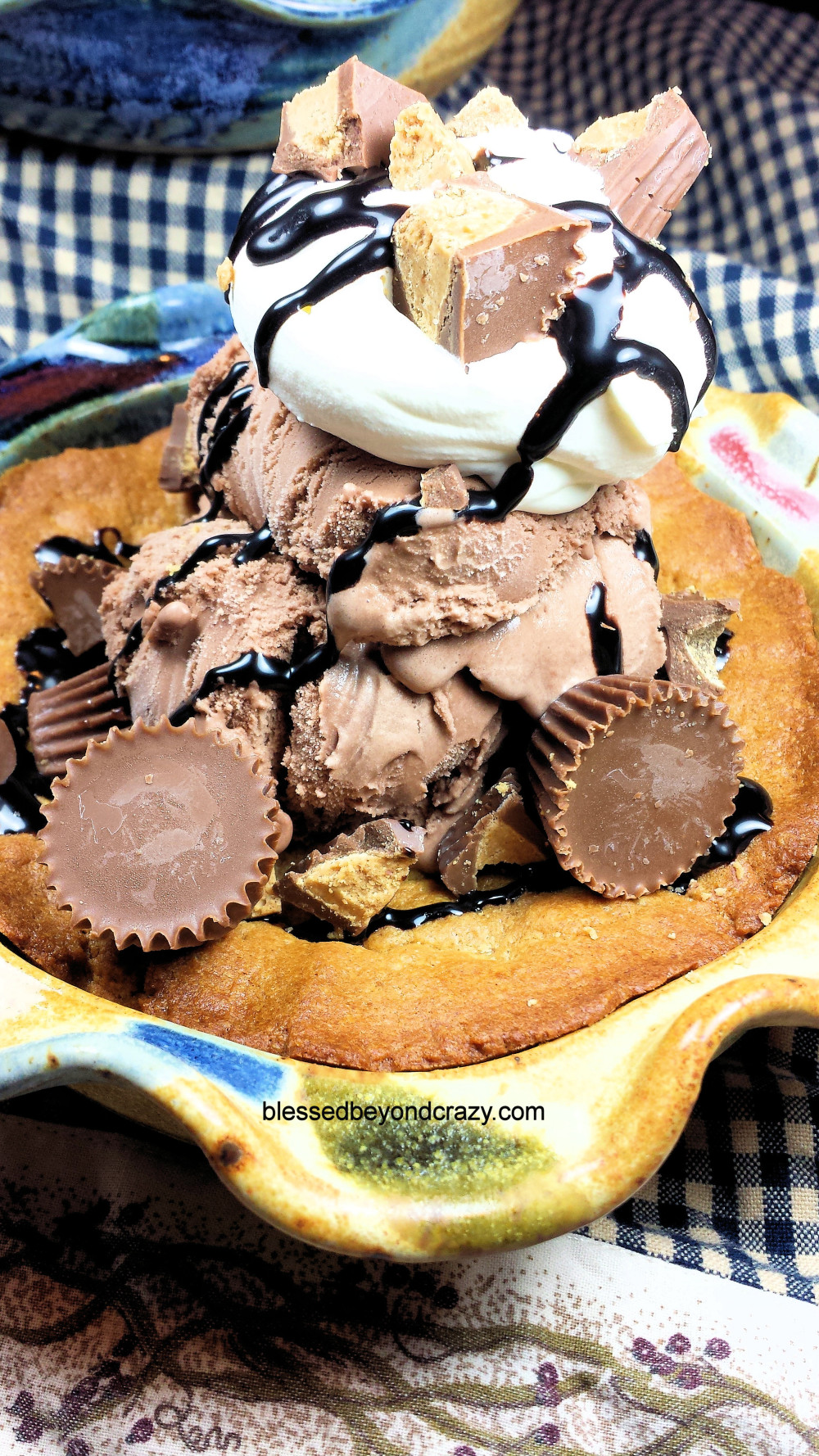 Once the cookies cooled completely I started adding the extra yummy stuff. (This is where you can get totally creative!)
In our freezer, we had several flavors of gluten-free frozen yogurt. I topped the cookies with several scoops of frozen chocolate peanut butter cup yogurt. I then added a generous dollop of whipped topping, some chopped peanut butter cup candies, and a drizzle of Hersey's dark chocolate syrup.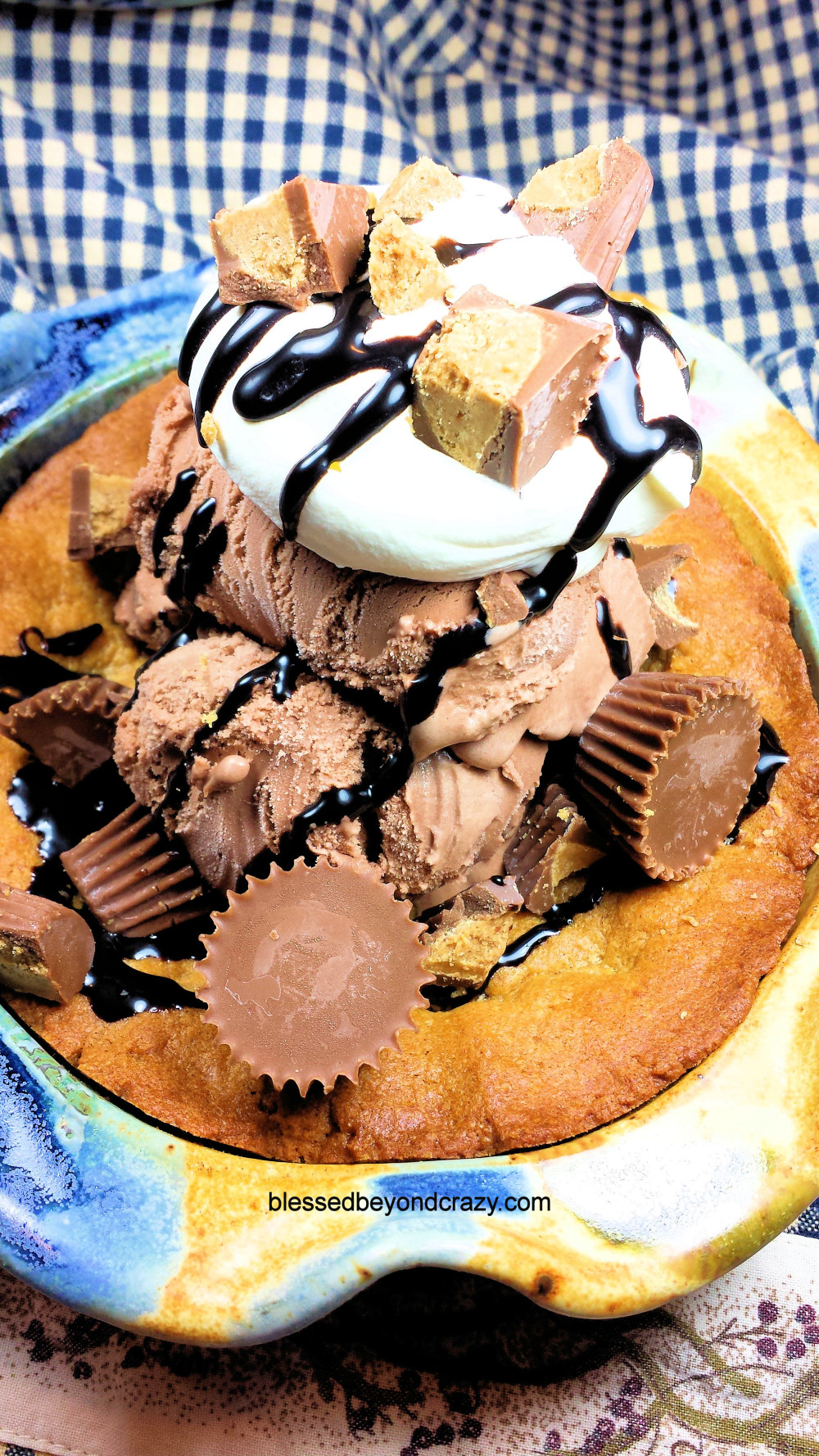 I was pleasantly surprised to see how deliciously appealing these chocolate peanut butter cup cookie bowls turned out. I think it would be fun to set up a "topping station" where people can select their very own favorite ice cream/yogurt and toppings, such as nuts, candies, marshmallows, caramel sauce, sprinkles, etc… Since you can easily tweak the ingredients to be gluten-free and allergy friendly, (for those guests who has a food intolerance or food allergies), this would be a great dessert to serve at any party. No one ever needs to feel "left-out" of the fun.
Chocolate Peanut Butter Cup Cookie Bowls
---
Linda Wiseman
Yields Two 6-inch cookie bowls.
15 minPrep Time
20 minCook Time
35 minTotal Time
Ingredients
1/2 cup shortening (or coconut oil)
1 tbsp vanilla
3 tbsp milk
1 egg
1 1/4 cup brown sugar
3/4 cup peanut butter
1 3/4 cup all-purpose flour (GF Option: use gluten free flour blend)
3/4 tsp baking soda
3/4 tsp salt
Instructions
In a mixing bowl, combine shortening, vanilla, milk, egg and brown sugar.
Add peanut butter.
In a separate mixing bowl, combine flour, baking soda and salt.
Stir dry ingredients into wet ingredients.
Divided dough into two parts.
Place half of the cookie dough into a well greased 6-inch baking dish, pat flat. Repeat with the other half of the dough.
Bake in a preheated 350 degree F oven for 20 minutes, or until golden brown.
Remove from oven and cool completely.
Top with ice cream.
Garnish with candies, chocolate, nuts, etc...
7.8.1.2
107
https://blessedbeyondcrazy.com/chocolate-peanut-butter-cup-cookie-bowls/
www.blessedbeyondcrazy.com
Top your cookie bowl with your favorite ice cream or frozen yogurt and all the fixings.
(*To make this dessert gluten-free I made gluten-free peanut butter cookies and topped them with Kemps (GF) Chocolate Peanut Butter Cup Frozen Yogurt, Reese's Peanut Butter Cups (GF), and Hershey's Dark Chocolate Syrup (GF).
Have fun making your very own version of Chocolate Peanut Butter Cup Cookie Bowls!!!
Enjoy!
Linda
Disclaimer: Manufacturers' formulations and policies may change at any time, therefore it's important to always read product labels yourself and contact the manufacturer with concerns. We have found that most companies are eager to help answer your questions.
More great ideas: