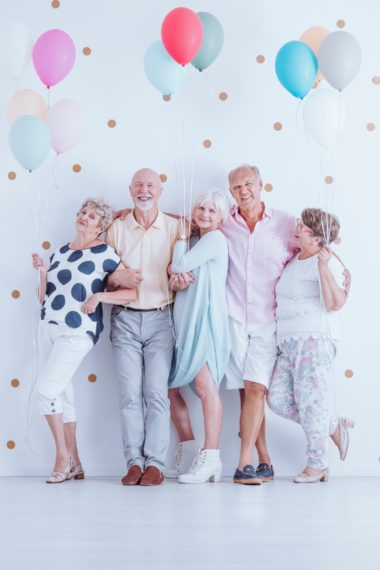 Today we are excited to share several easy and memorable birthday party ideas for elderly people.
Obviously, any birthday should be memorable, however, there are many things to consider when hosting a party for an elderly friend or loved one. For example, does the venue have easy access for people who can't walk very far, who are in a wheelchair, or who use a walker or cane? Does the birthday man or woman have dietary needs? These are just a couple of elements to consider.
Recently, I hosted a 90th. birthday party for my dad. I had a lot of fun planning the event with my daughter, Anna, and her husband, Seth, and my son, Isaac, and his wife, Becky. Thankfully, everything went smoothly on the day of the party. The weather was sunny and nice and therefore more people (both young and old), ventured out to help my dad celebrate. Dad said he really enjoyed seeing everyone and catching up with his family and friends. After the party, we counted and there were just shy of 100 guests in attendance. We all agreed, it was a great day!
To help support our blogging activities, our site contains affiliate links. If you make a purchase from a link on our site, we may receive a small percentage of that sale, at no extra cost to you. Blessed Beyond Crazy is a participant in the Amazon Services LLC Associates Program. This affiliate advertising program is designed to provide a means for sites to earn advertising fees by advertising and linking to amazon.com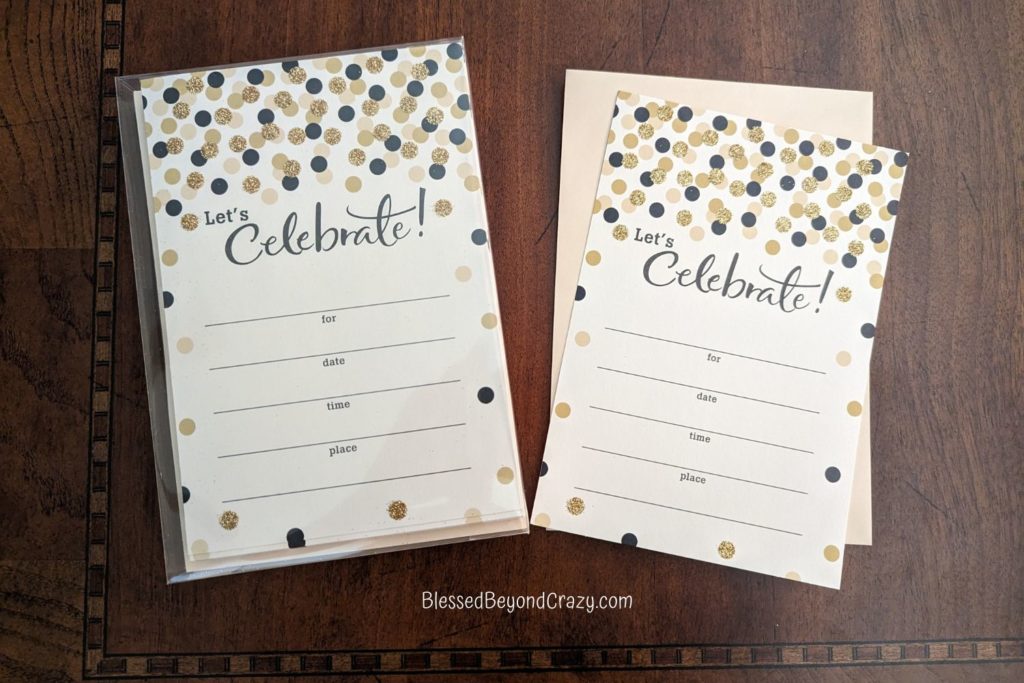 Invitations
Obviously, the first things to consider when hosting a party are the date, the venue, the overall theme, and who to invite. *When picking a venue for a birthday party for elderly people be sure to find a safe place that has easy access and good lighting.
Once the preliminary things are decided, you'll want your invitations to reflect the overall theme of your party. I personally think it's a good idea for any elderly guests invited to have an actual invitation they can hold and post somewhere. Because many older people are not good with technology, seeing an actual invitation is a good visual reminder of the upcoming event.
When planning my dad's birthday party, I wanted it to be masculine, mature, and classy, and ended up choosing a color scheme of black, gold, and white.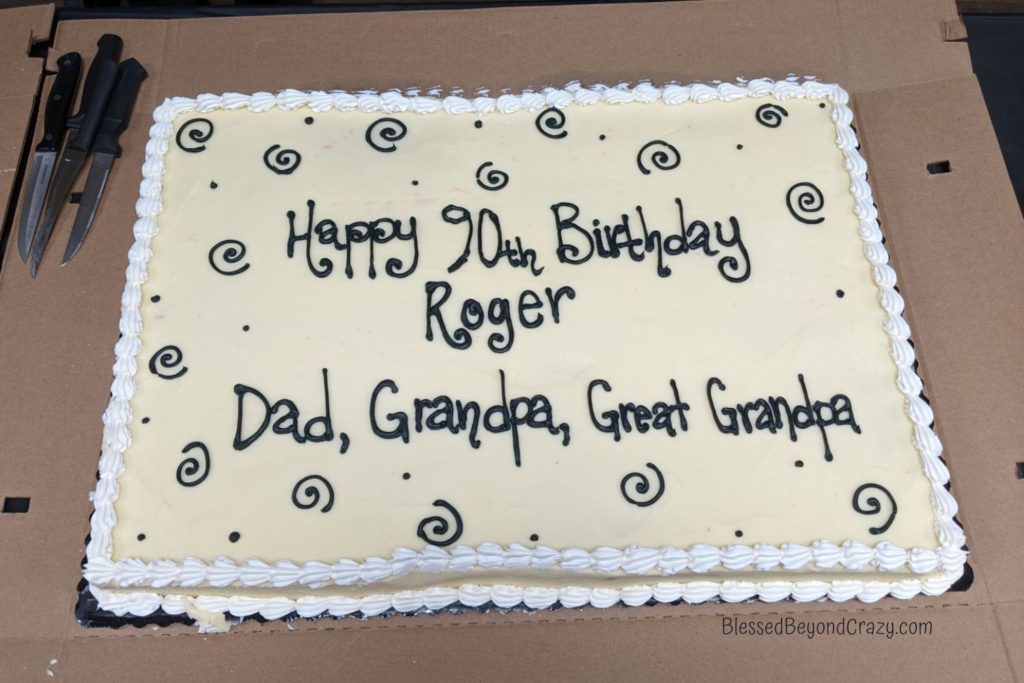 Birthday Party Food
Naturally, you'll want to serve refreshments when hosting any party. However, when planning a birthday party for elderly people, be sure to consider dietary needs. For example, if the birthday man/woman is a diabetic, be sure to have several sugar-free refreshment options for them.
At my dad's party, we served four different flavors of birthday cake; carrot, strawberry, red velvet, and marble. We also had bowls of mixed nuts and mini chocolate candy bars and served coffee, iced tea, and water.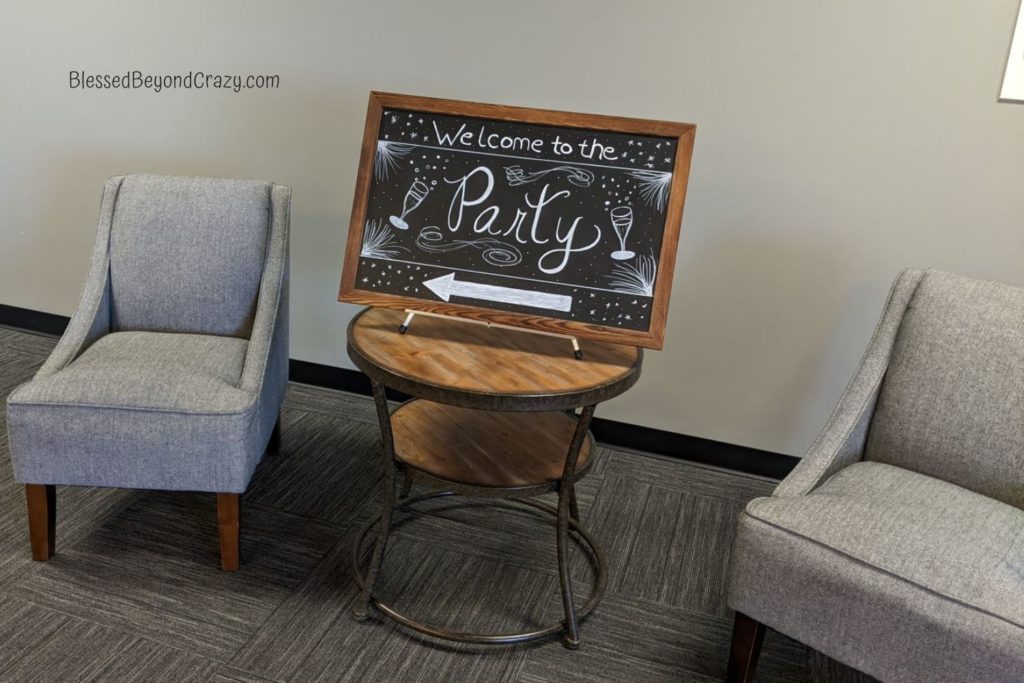 Birthday Party Signage
Posting good and clear signage is also on our list of memorable birthday party ideas for elderly people It's wise to post an abundance of signs so that guests who are not particularly familiar with the venue can easily find their way to the party room. This is especially important for elderly guests.
At my dad's party, not only did we have several balloons tied to the outside of the unlocked doors of the church, but my daughter-in-law, Becky, made several arrow signs which she posted throughout the hallways, pointing the way to the party. In addition, I made a welcome sign using my chalkboard and placed it in the foyer.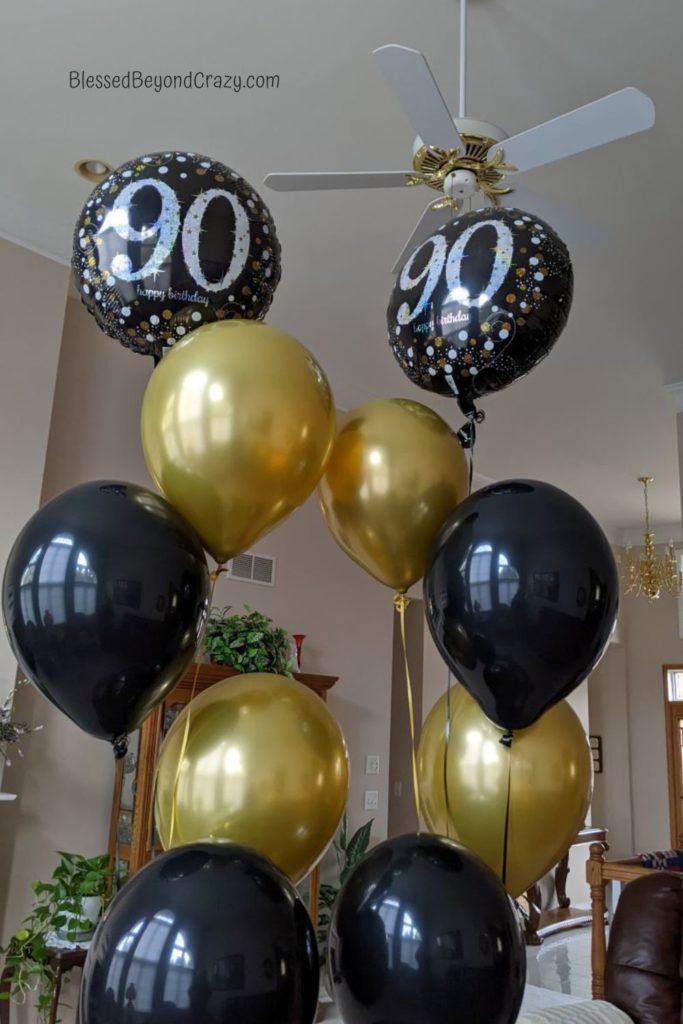 Birthday Balloons
I don't know about you, but colorful balloons are super festive, fun, and a great addition to any party. In my particular case, I purchased a couple of 90th. birthday balloons as well as numerous black and gold balloons. My son, Isaac, brought along a small air compressor to blow up all of the non-helium balloons for me.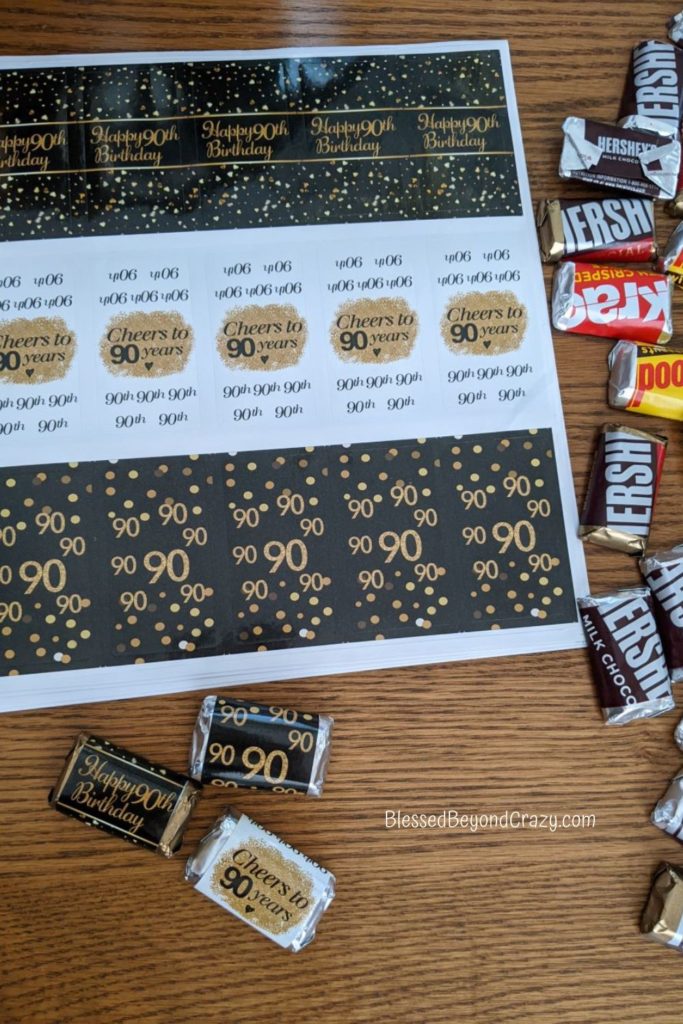 Birthday Treat Ideas
To add another little extra nod to my dad's 90 years on this earth, I purchased Miniature Chocolate Candy Bar Wrappers as seen in the photo above. They were easy to use and added a nice touch. In addition to having a big bowl of mini candy bars on the cake table, we also sprinkled them around the centerpieces on the guest's tables.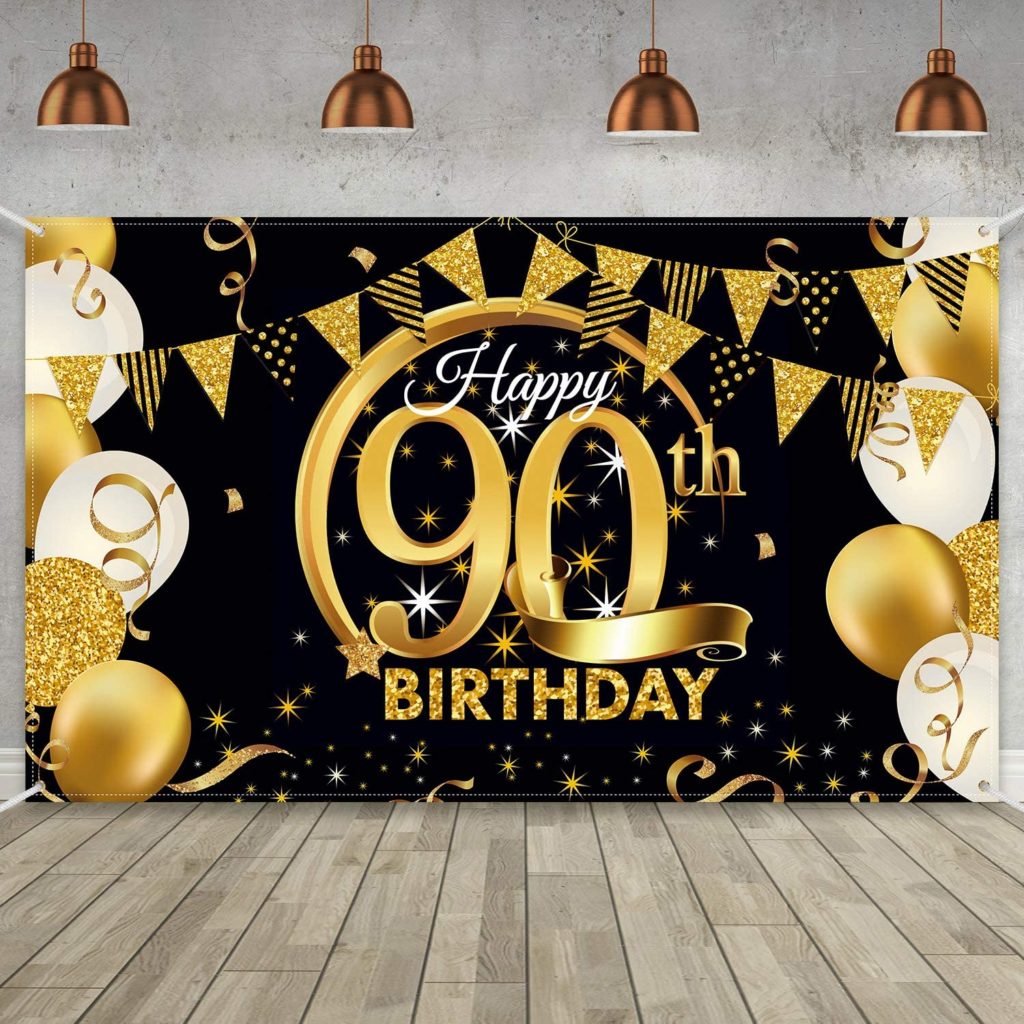 Birthday Party Banner
A big, bright, and bold banner always adds a festive element to any party.
For my dad's party, I purchased a 90th. birthday banner and placed it behind the cake table. It made a wonderful backdrop for photos, it was eye-catching and really highlighted his 90th birthday. We also placed gold, black, and white balloons around the top of the banner.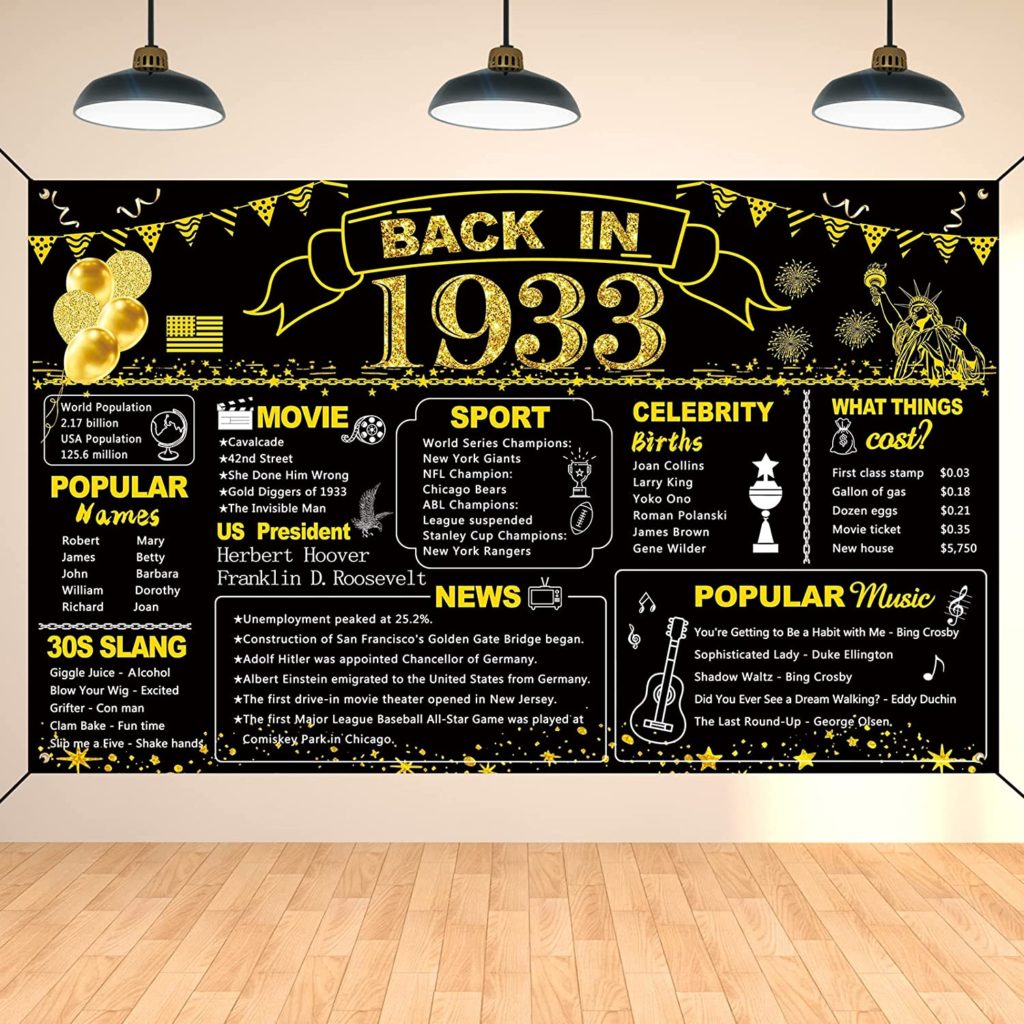 Back in the Day…
Another banner I purchased for the occasion was this Back in 1933 birthday banner. It was fun reading different fun facts about the year of my dad's birth. This banner was also a good conversation starter.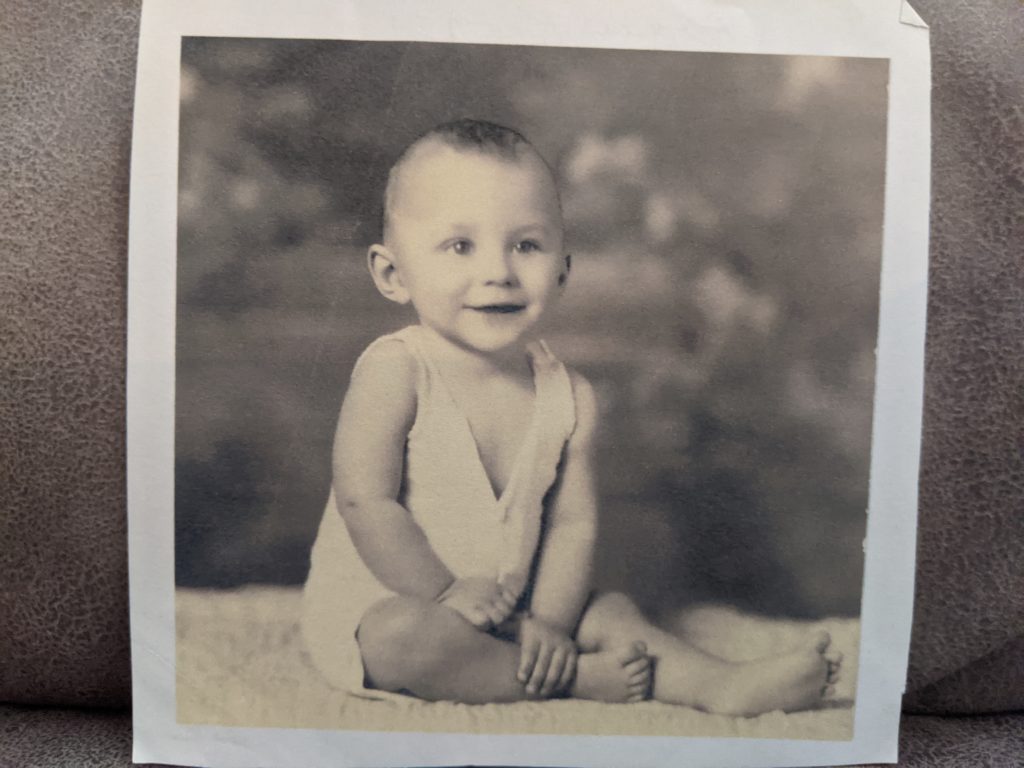 Memorable Photos
Setting up a memory photo table is yet another idea when hosting a birthday party for elderly people. When a person lives to be in their 80s and 90s, they've seen a lot, done a lot, and have a lot of memories. Therefore, I thought it would be fun to set up a couple of tables and display a variety of photos of my dad through the years. These photos certainly reflected a life well lived.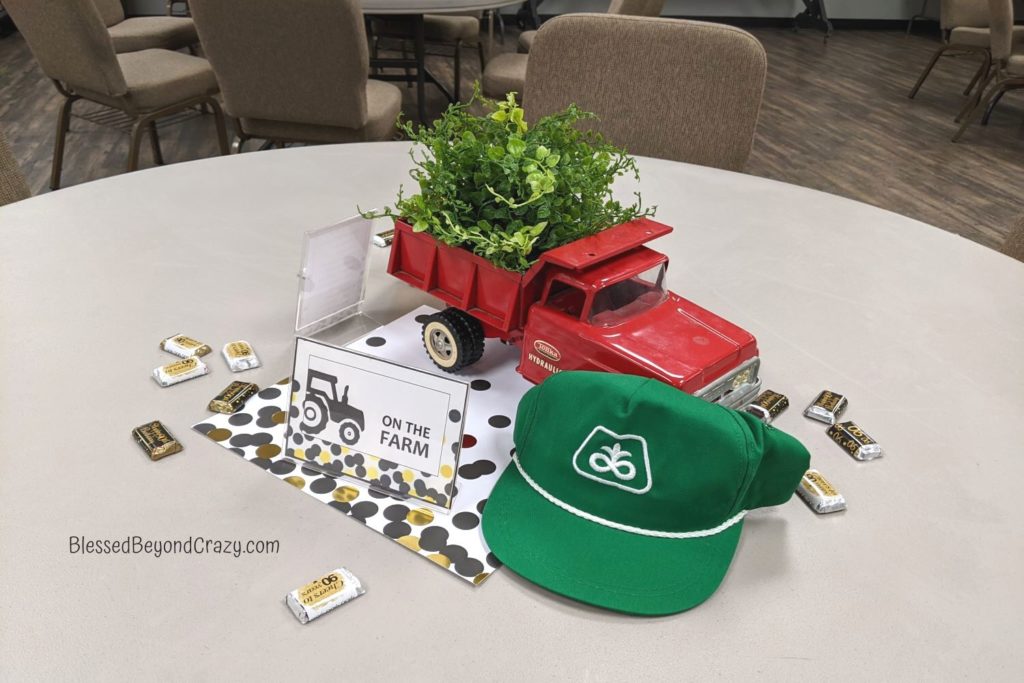 Party Centerpieces
The centerpieces for my dad's party were different at each table and represented different interests, hobbies, and careers he had throughout his lifetime.
In his younger days, my dad farmed and raised livestock. He still owns farm ground to this day so it was only fitting that one centerpiece should represent farming.
Psst… Notice the mini candy bars sprinkled around the centerpiece?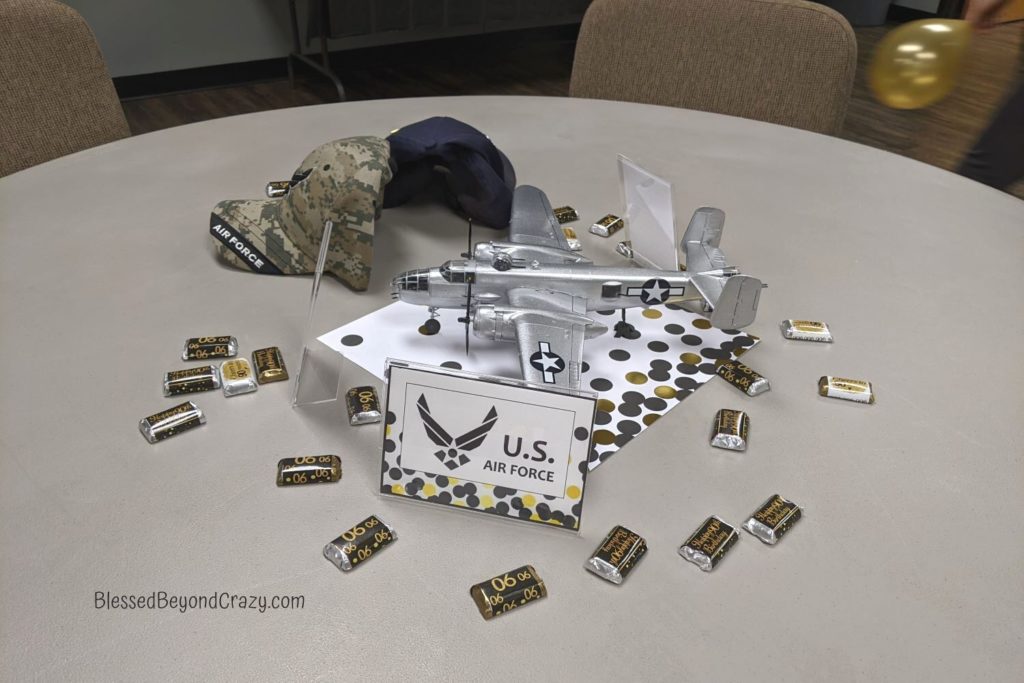 Another centerpiece represented his time served in the United States Air Force.
If you look closely you can see two other small signs. In addition to the display signs, my daughter-in-law, Becky, created a list of fun facts about my dad relating to each of the different centerpieces.
Facts such as:
U.S. AIR FORCE
His love of flying began as a young boy during WWII. He lived 1 mile from the airport where they were training pilots to serve in the war. He watched as the planes flew overhead and thought how fun it would be to become a pilot himself
Went through the ROTC program
Was called into active duty within 9 months after attending 4 years of college
Retired with the rank of Captain
Eventually owned his own plane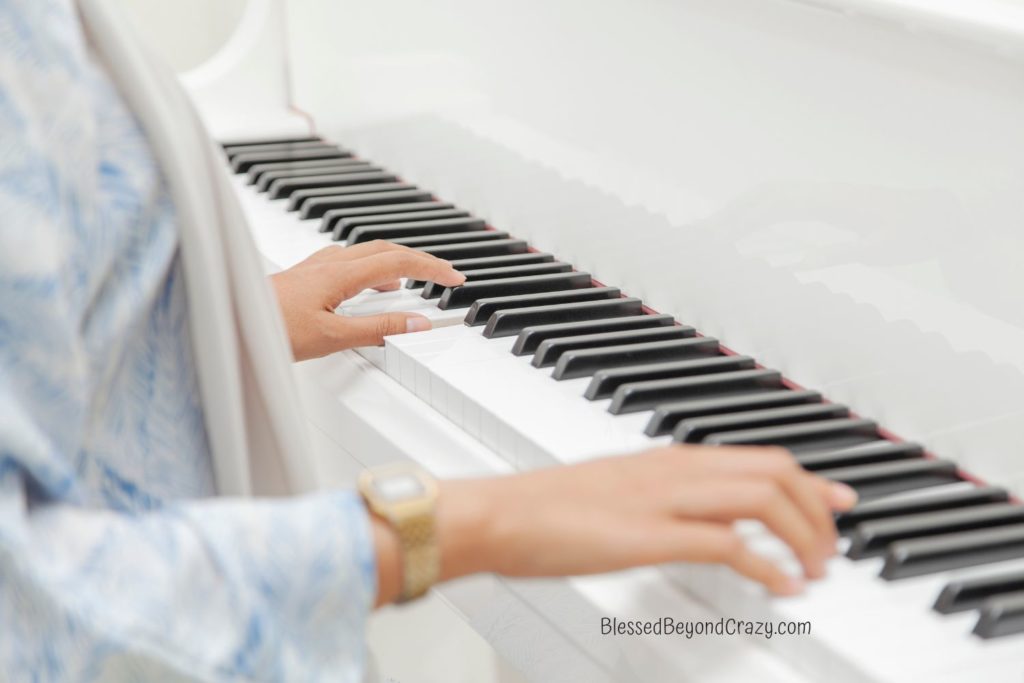 Background Music
We want to include music in our list of birthday party ideas for elderly people. Why? Because music is an easy way to create a lovely ambiance. Consider having someone play an instrument, or have soft, background music playing (which is what we did). You may also want to play music of the era. Remember to play music quietly because most elderly people don't hear well or have hearing aids and background noise can be very distracting for them.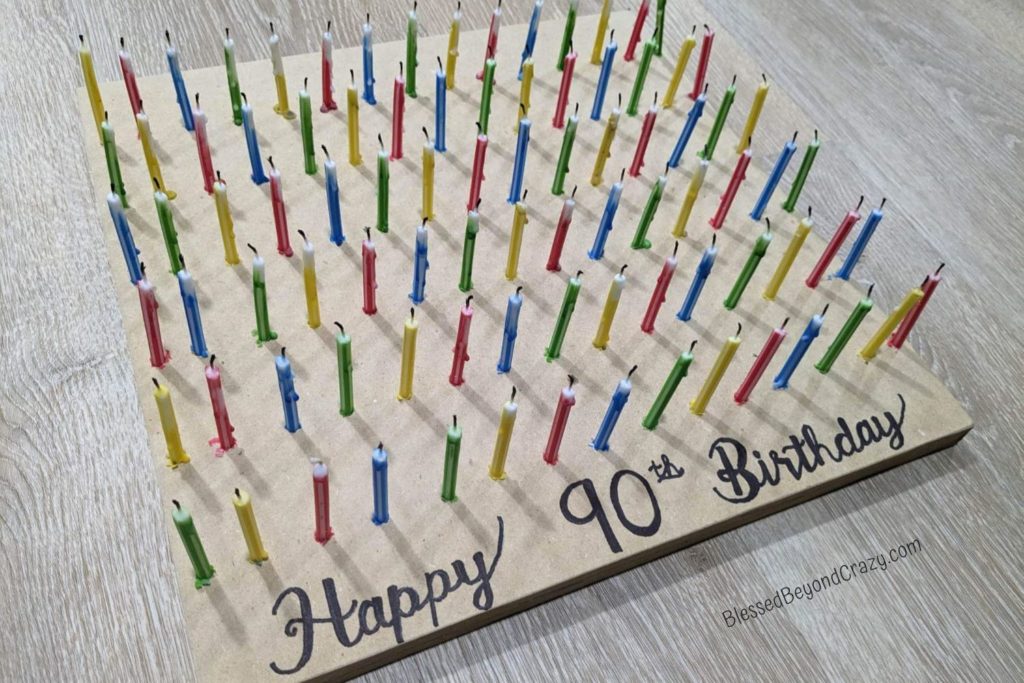 Birthday Party Candles
What would a birthday party be without birthday candles?
In the photo above you can see what my son-in-law, Seth, and Anna, created for my dad's birthday party. Seth lit the candles with a small blow torch and everyone sang Happy Birthday. Afterward, Anna was standing by with a mini airblower to help my dad blow out the candles.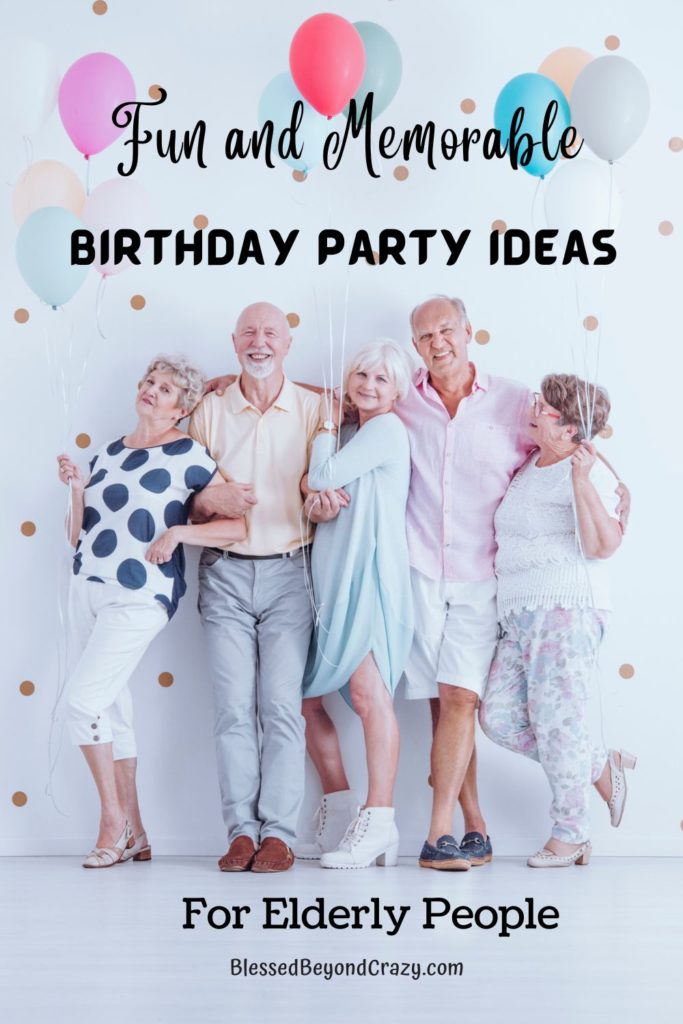 The next time you host a party, we hope you can implement some of these fun and memorable birthday party ideas for elderly people.
Enjoy!
More great ideas: