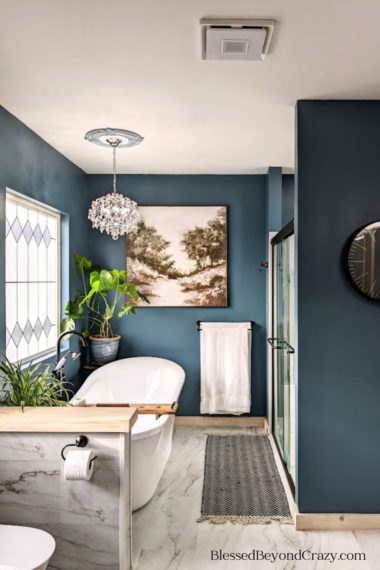 My master bathroom is my favorite room in my house. It has been finished for about 8 months now, and people have asked for photos so often, I decided to put them here with as many links to where we bought stuff as possible. I will not mention prices, because prices have already changed so much since we bought these things less than a year ago.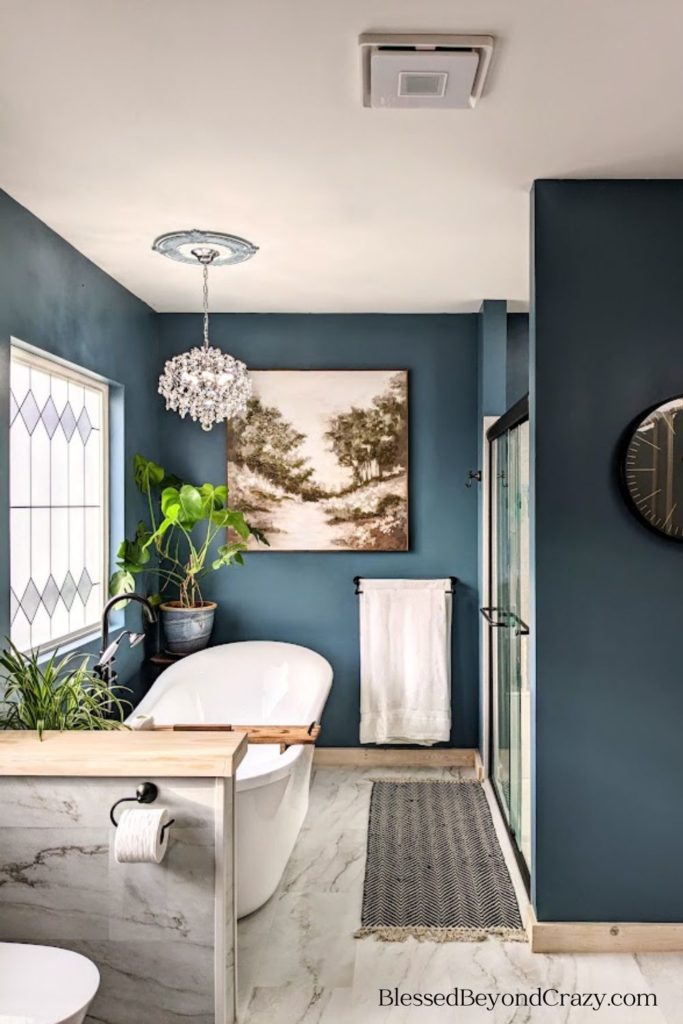 To help support our blogging activities, our site contains affiliate links. If you make a purchase from a link on our site, we may receive a small percentage of that sale, at no extra cost to you. Blessed Beyond Crazy is a participant in the Amazon Services LLC Associates Program. This affiliate advertising program is designed to provide a means for sites to earn advertising fees by advertising and linking to amazon.com
The Bathtub
I have forever wanted a soaking tub, and I am so grateful that I finally have one, and yes I use it ALL the time!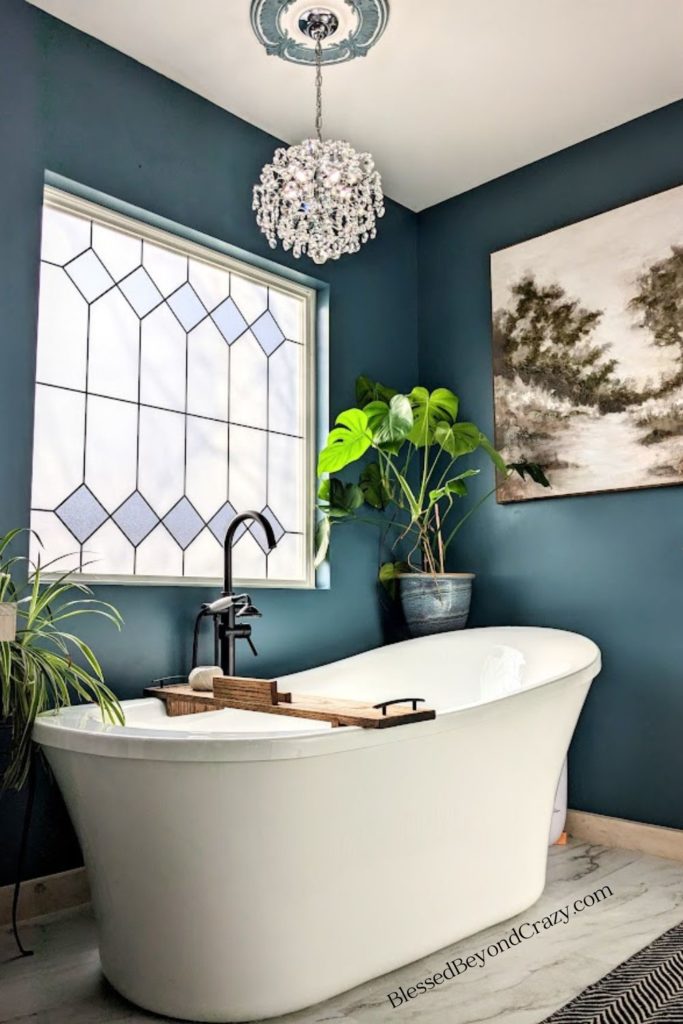 The bathtub came from Home Depot. It is huge (70 inches) and I love it so much!
My husband built me the wooden bathtub tray.
Peeking out from behind the tub you can see our towel warmer. It was a Christmas gift, that we use every day.
The window was specially ordered from Lowe's. I do not regret splurging on it!
The large painting is from Hobby Lobby.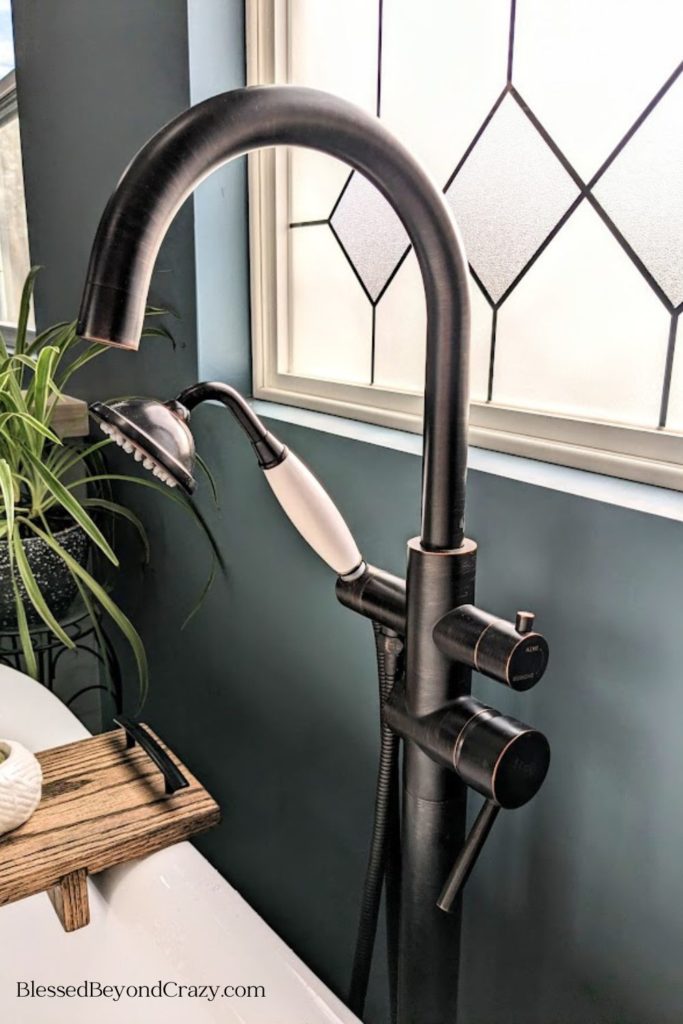 I LOVE the freestanding faucet I chose for the bathtub. It is a nice combination of antique and modern. Plus, it has a flow rate of 11. 9 gallons! It fills my tub up quickly! I knew a handheld shower would be a must for the bathtub, not only for cleaning reasons but also when I want to wash my hair in the bathtub.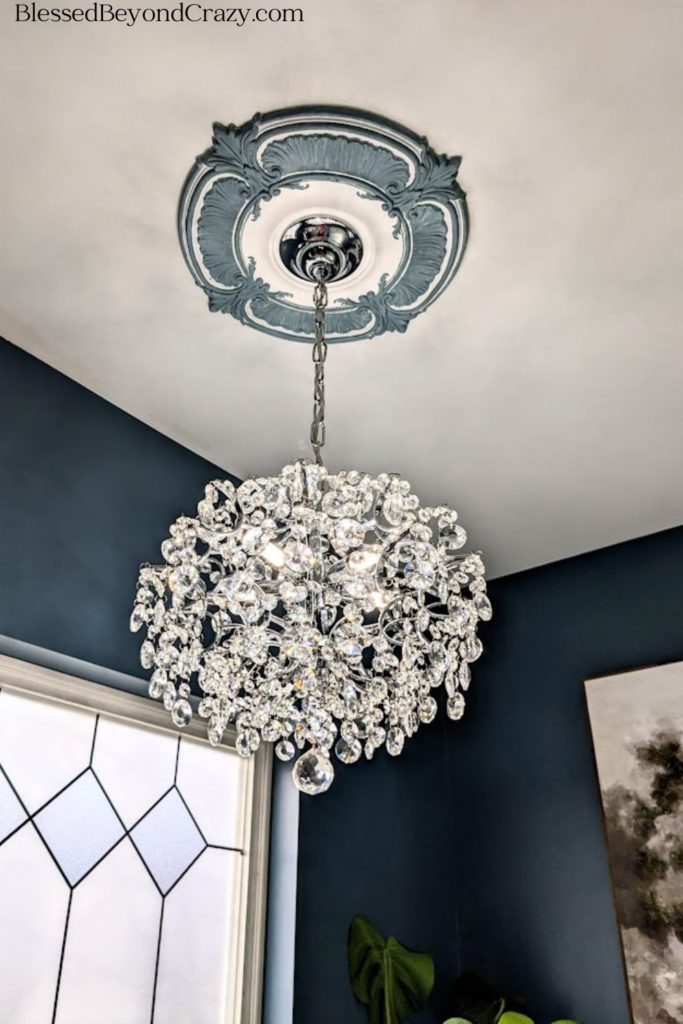 Part of my soaking tub dreams was having a small chandelier hanging above it. I found this gorgeous chandelier on Amazon. My husband insisted that a ceiling medallion would really make it look classier. He was right. It was an inexpensive thing to add. I painted it the same blue as our walls.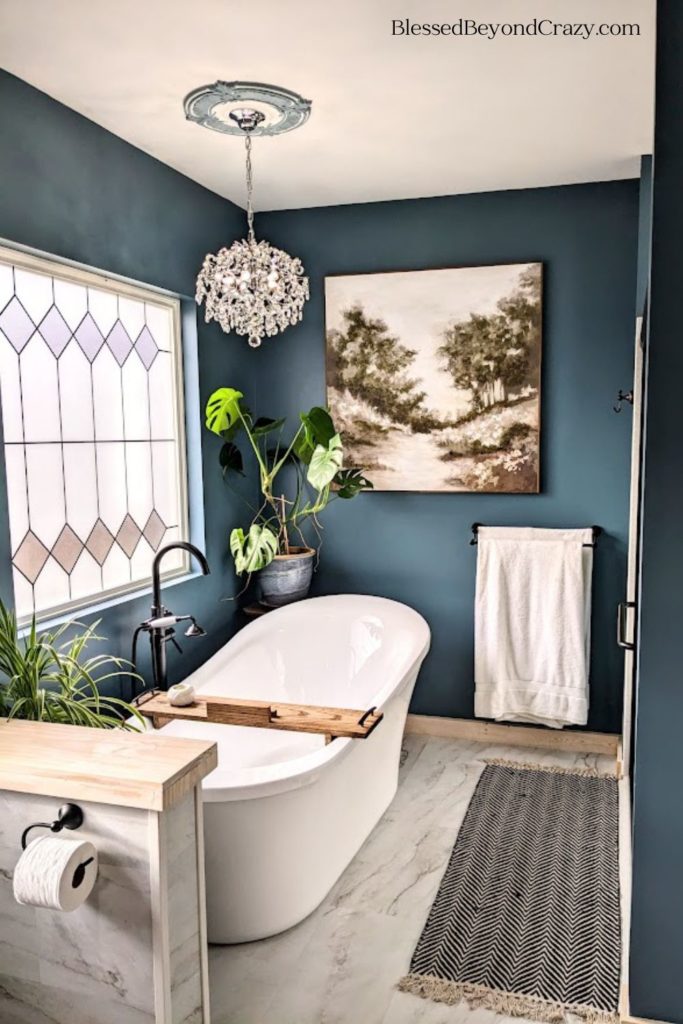 The rug was a special purchase item from Aldi. I think they have them around autumn.
There is a small towel hook next to the shower door.
We love the double towel rod that saves wall space.
Master Bathroom Shower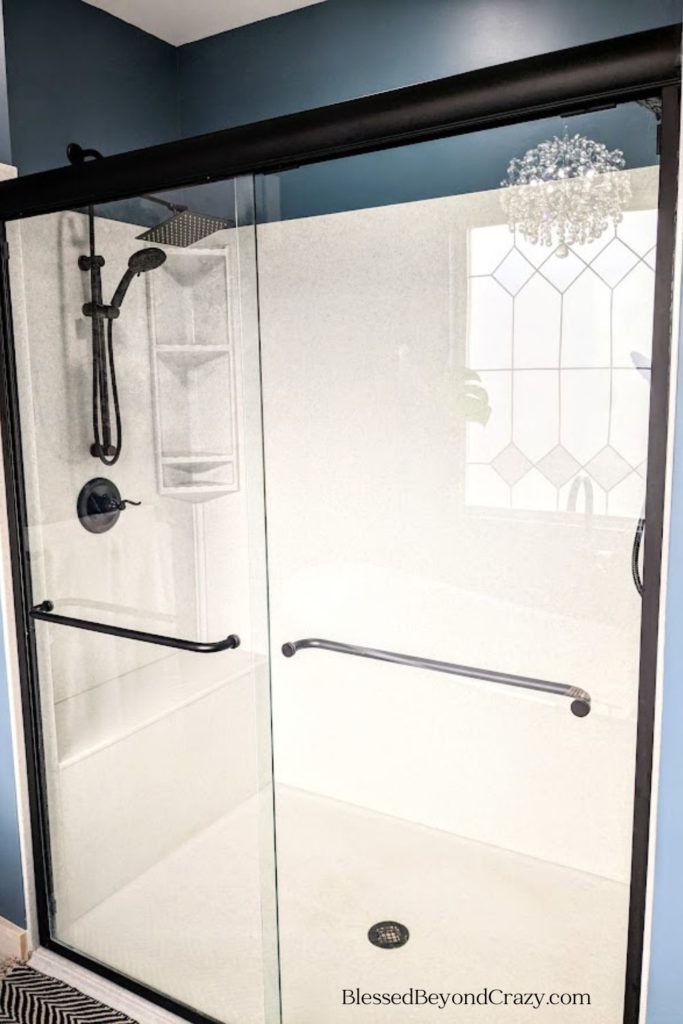 Our shower was custom ordered and designed through a local Onyx dealer. (If you are local, private message me, and I'll give out her contact info). Our general contractor HIGHLY recommends Onyx over a tile shower.
He said it is faster to install (half a day vs 1 – 2 weeks)
Longer lasting / more waterproof
Cheaper in the long run (fewer materials)
Easier to clean and keep clean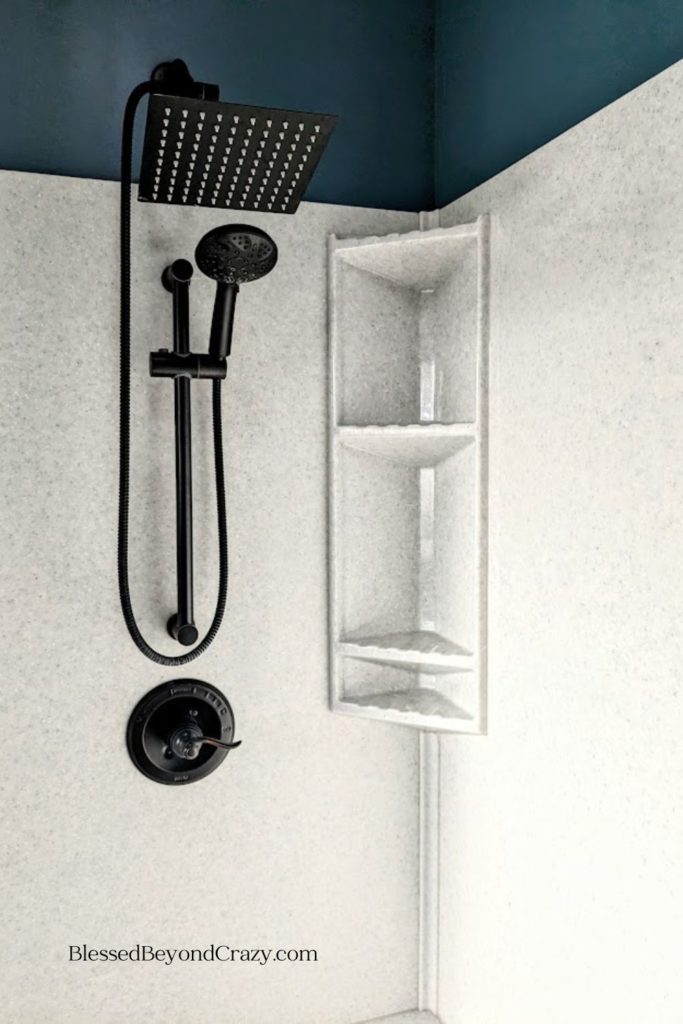 One side of the shower, with a rain shower head...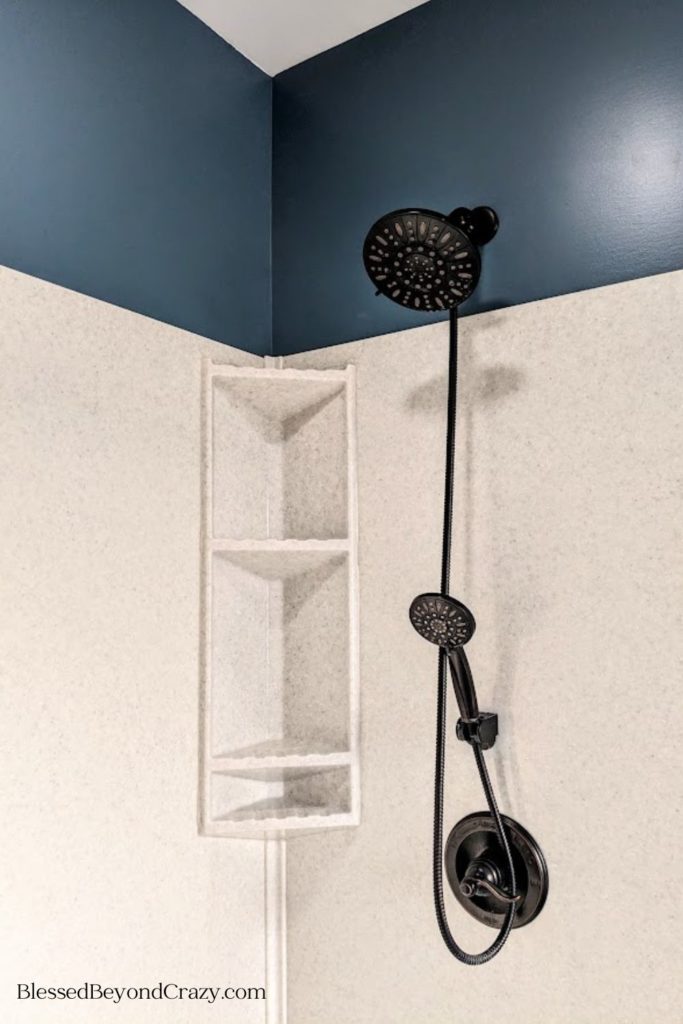 The other side of the shower, with a different shower head. Here are the shower handles we bought.
Honesty time: normally these shelves have stuff on them, but that doesn't make for a pretty picture, so I removed the stuff. We do however have wall-mounted soap dispensers that can't be seen through the glass door. These help our shower seem less cluttered.
Master Bathroom Vanity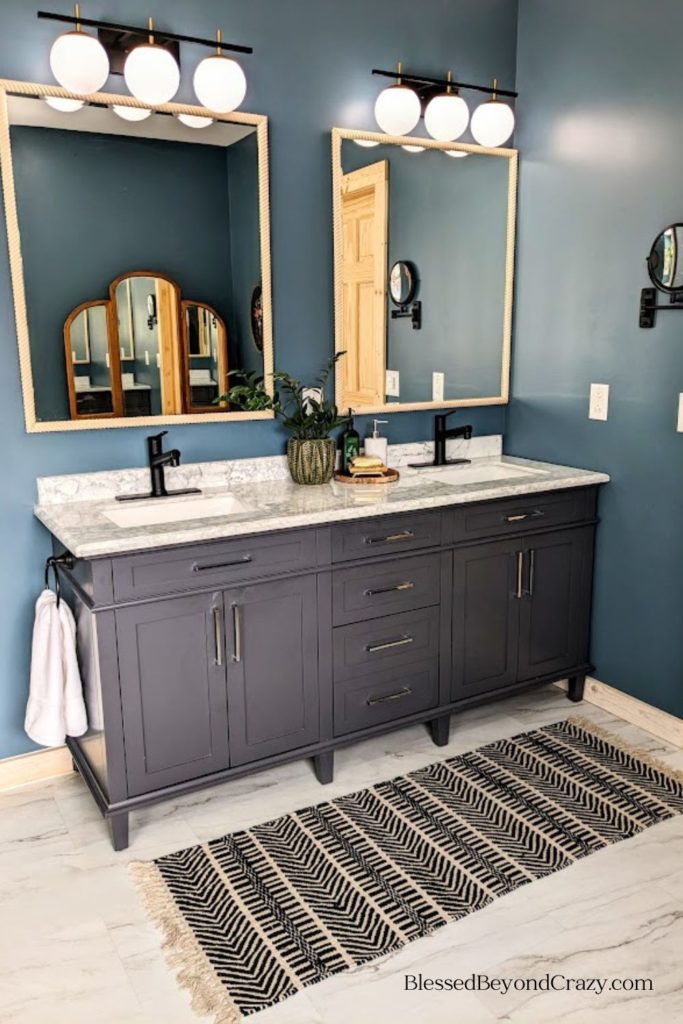 This rug was also a special purchase from Aldi.
The vanity came from Home Depot. It was majorly discounted (when I bought it), and while I love it, I am afraid it might not last long. The paint is becoming discolored just from where we touch the doors/drawers, and the top easily scratches.
My husband made the mirrors by buying two 24″ x 38″ unframed mirrors and some fancy rope trim that he used to make a frame. He then attached a French cleat hanger to the back to hang them on the wall. We saved at least 50% by him making these mirrors vs us buying framed mirrors.
Our gorgeous vanity light fixtures
The coolest most functional ever bathroom faucets! These can pull out like a kitchen sink, so you can rinse out the sink! They also have a built-in water fountain!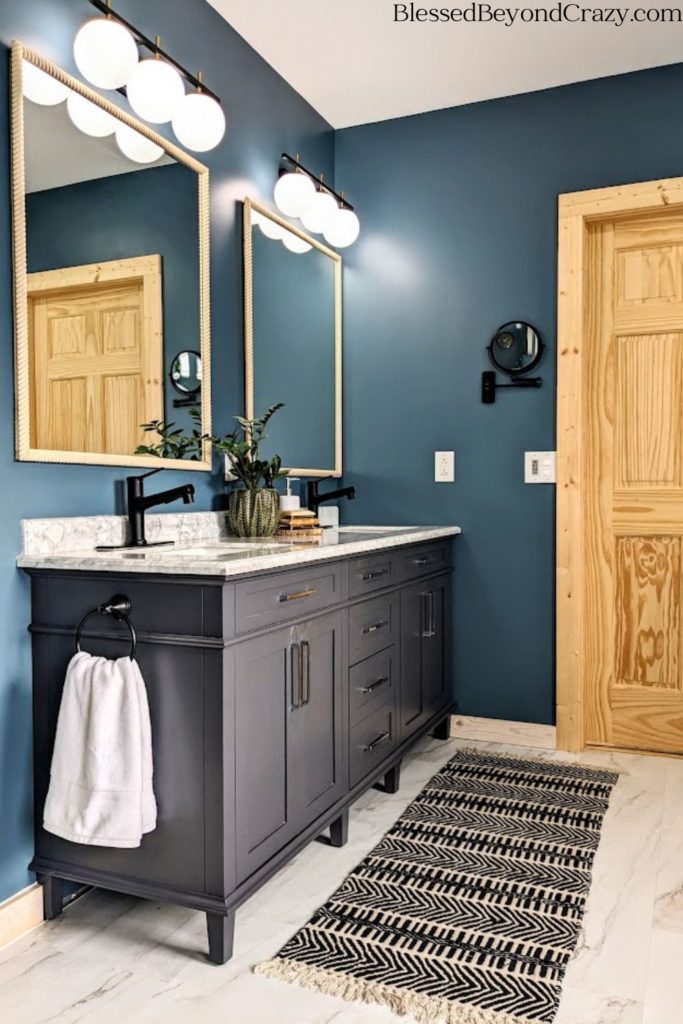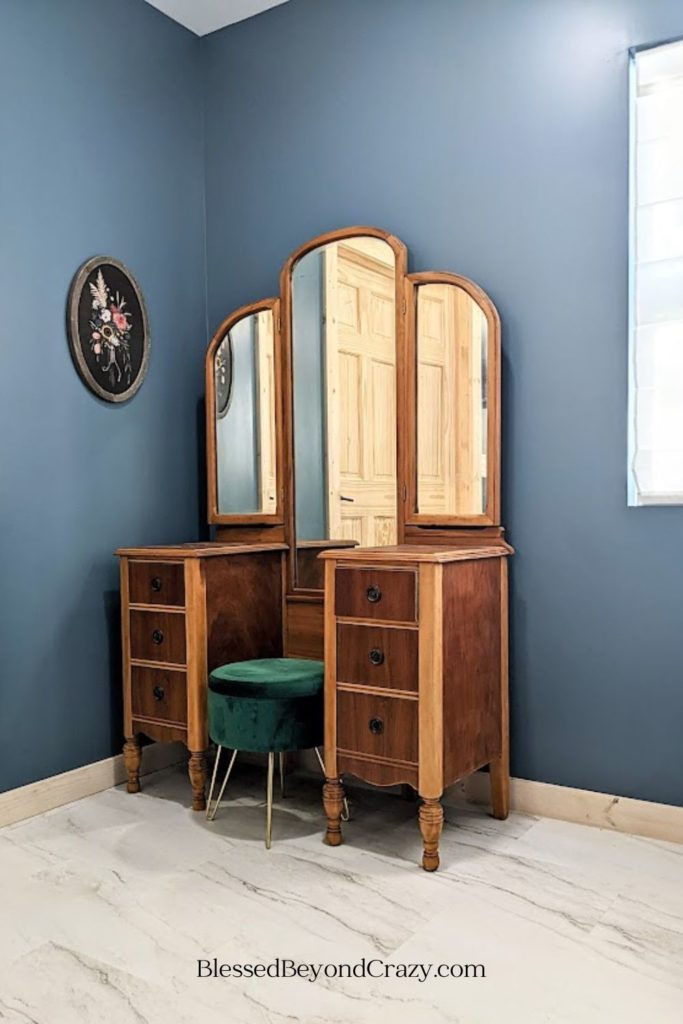 Opposite the double sink vanity, is my Great-grandma's vanity, which I have had since I was a child. A few years ago my husband sanded it down and refinished it for me, restoring this beautiful wood. My mom bought me the green velvet stool for Christmas last year. The oval floral picture came from Hobby Lobby. I designed this corner of our master bathroom specifically for this piece of furniture.
Other Bathroom Details
The paint color is Hamilton Blue by Benjamin Moore.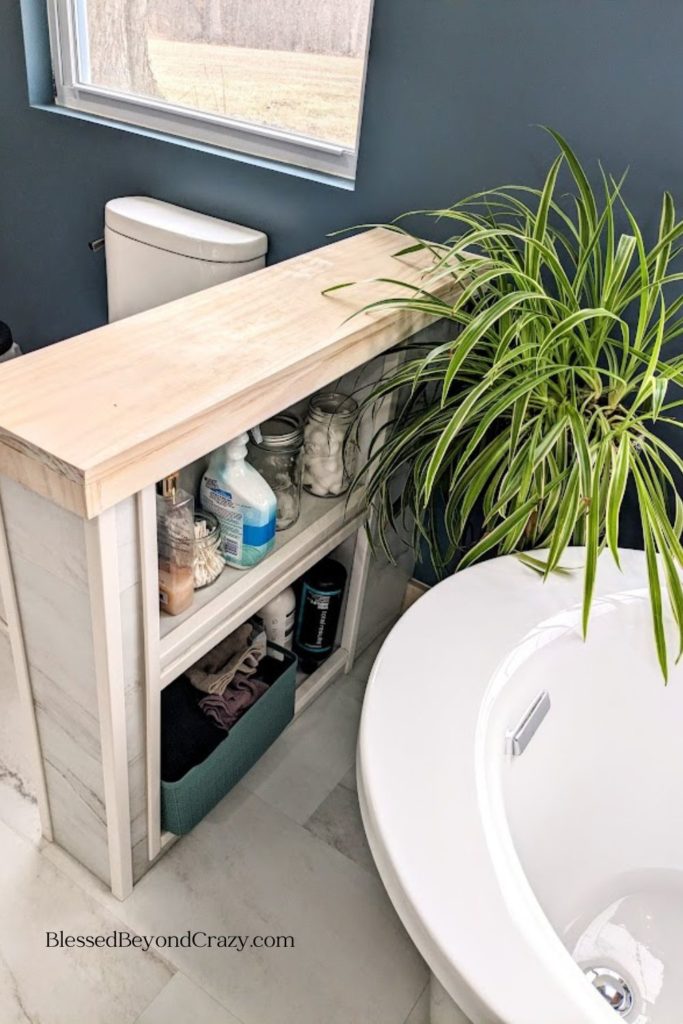 Separating my bathroom from the toilet is this half-wall. One side is open shelving for extra storage for cotton balls, q-tips, extra soap, etc. The other side has extra storage for toilet paper. I love this half-wall so that I don't have to stare at the toilet while I'm in the bathtub. Also having the countertop space is nice for both the tub and toilet side. I designed this wall and my husband was able to perfectly build it and bring it to reality.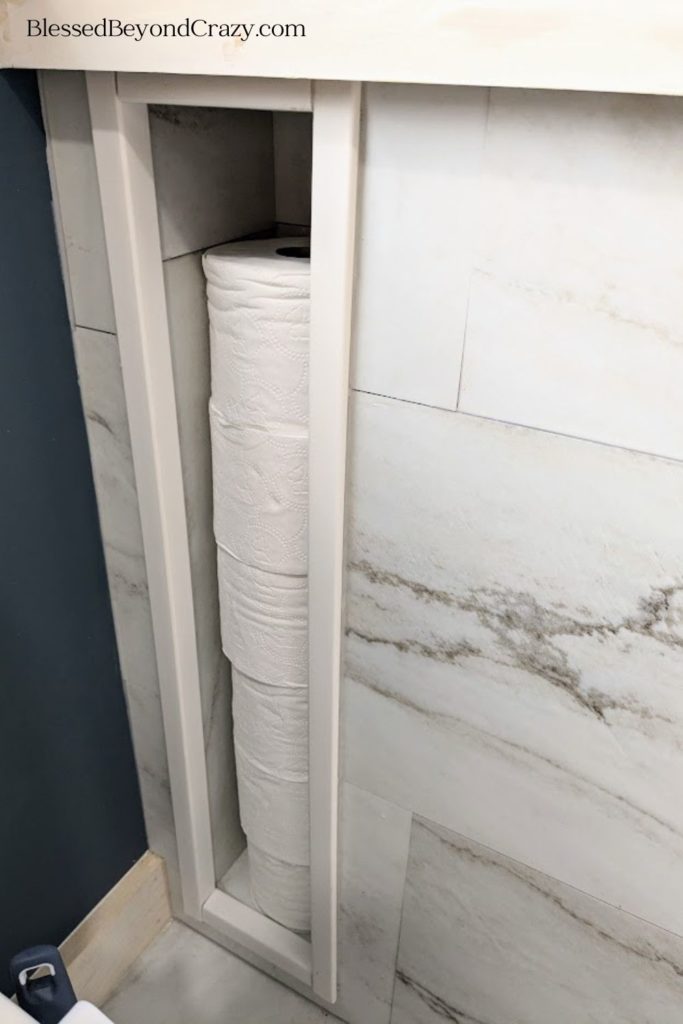 Not pictured, but we have a roman shade for the window above the toilet. I love that it always lets light in, but gives us privacy when we need it.
Also, not pictured, but we have a bidet attached to our toilet. Some people get weird about that, but it's a game changer (especially for women 😉 10/10 recommend!)
We have this vent fan that is also a Bluetooth speaker and night light. (It can be seen in the very first picture.)
Check out more home posts: