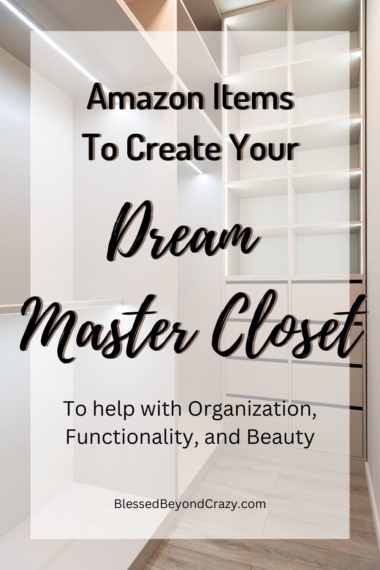 Recently I had the opportunity to create from scratch my dream master closet. I was still working with a tight budget, so it isn't out of reach or unrealistic. Here are my favorite (inexpensive!) items I found on Amazon to help with organization and functionality.
To help support our blogging activities, our site contains affiliate links. If you make a purchase from a link on our site, we may receive a small percentage of that sale, at no extra cost to you. Blessed Beyond Crazy is a participant in the Amazon Services LLC Associates Program. This affiliate advertising program is designed to provide a means for sites to earn advertising fees by advertising and linking to amazon.com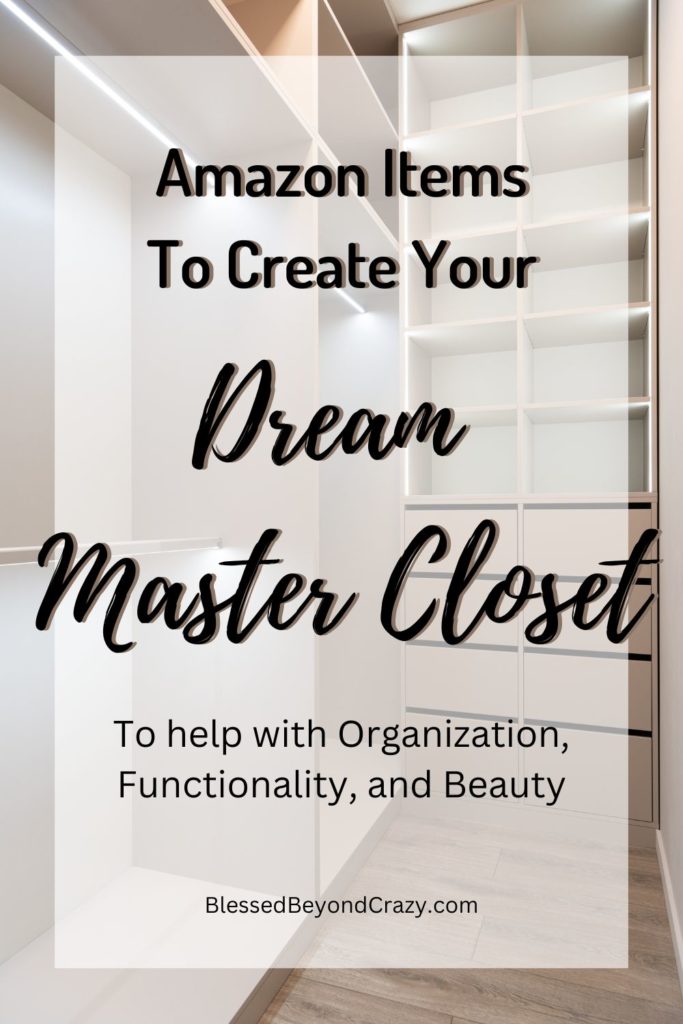 Specialty Hangers for your Master Closet
When designing a closet you have to think about every category of clothing you have, and then where/how will you store those. There are probably a lot more than you think, it isn't just pants and shirts.
Previously I had folded all my pants on a shelf, but I found that to be too chaotic for me. I knew I wanted to hang them up. I LOVE these pant hangers, that come in a pack of 20. It makes it so easy to keep my pants tidy and organized.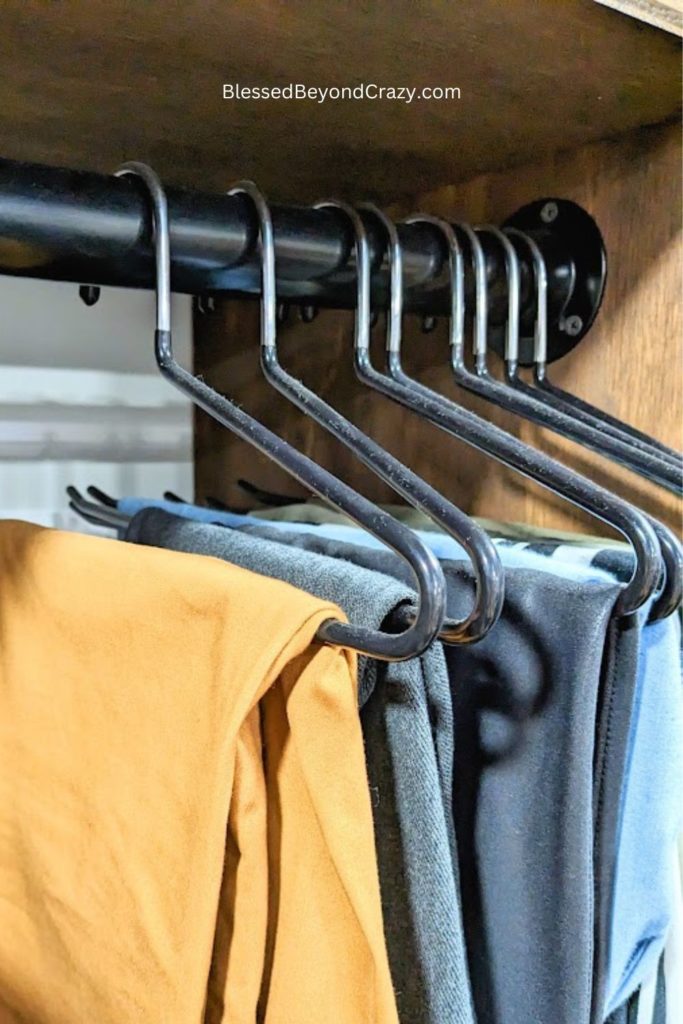 I also found this amazing hanger that can be used for many different things, such as tank tops, dress ties, or bras. I use it to keep my tank tops visible and neat. Also, it takes up hardly any space at all. It is a much better system than the basket they were all shoved into before.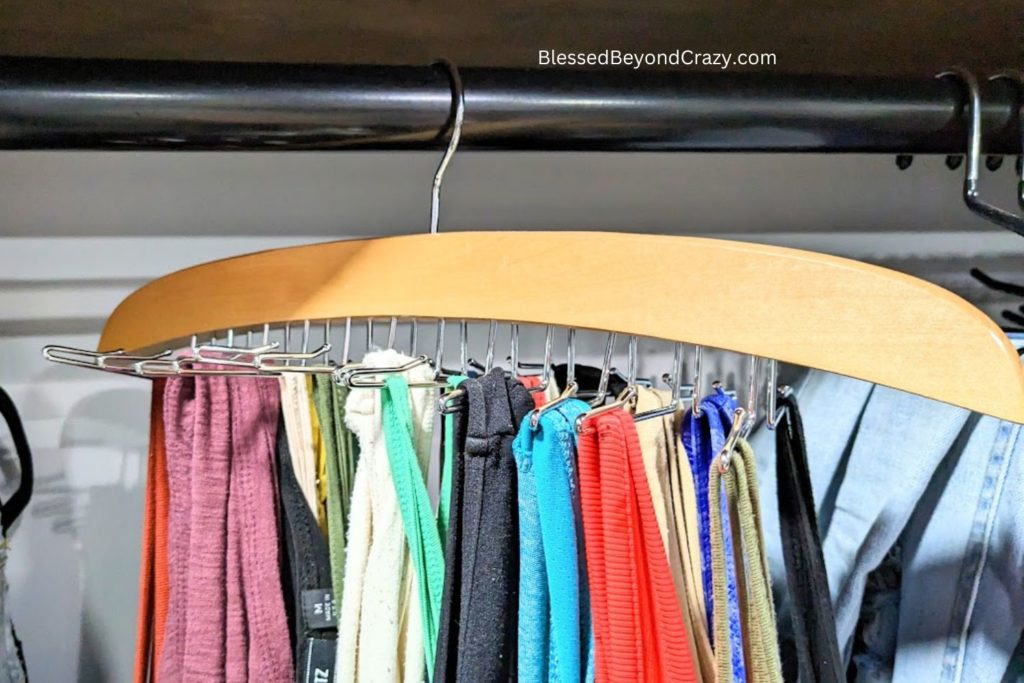 A belt hanger is another way to store belts that take up little room and keeps everything in a quick and easy place to find.
A completely unnecessary set of hangers, but ones that I really like anyway, is having all matching felt hangers. It makes my closet look nice and my clothes don't fall off the hangers onto the floor.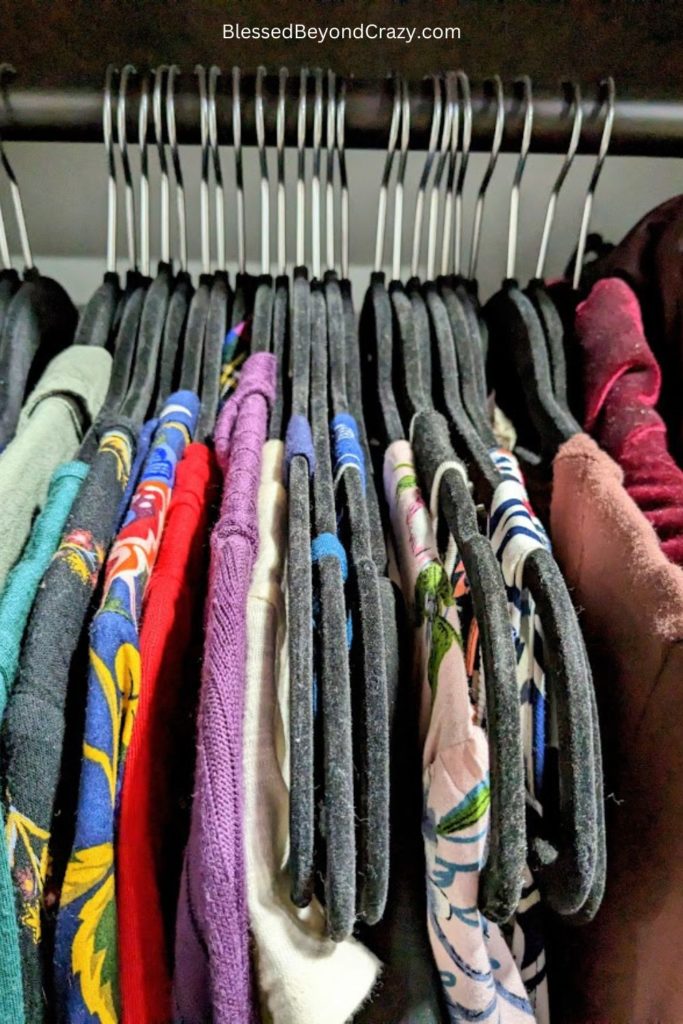 Folding Hooks
We have quite a bit of blank wall space where the closet system ends. I really wanted a place to hang up the clothes that I set in advance for the next day or my wallet. These folding hooks are perfect! When we don't use them, they fold up and are out of the way.
If you don't have wall space for these hooks, there are hooks that hang over your clothes rod or the door. I have used these in the past.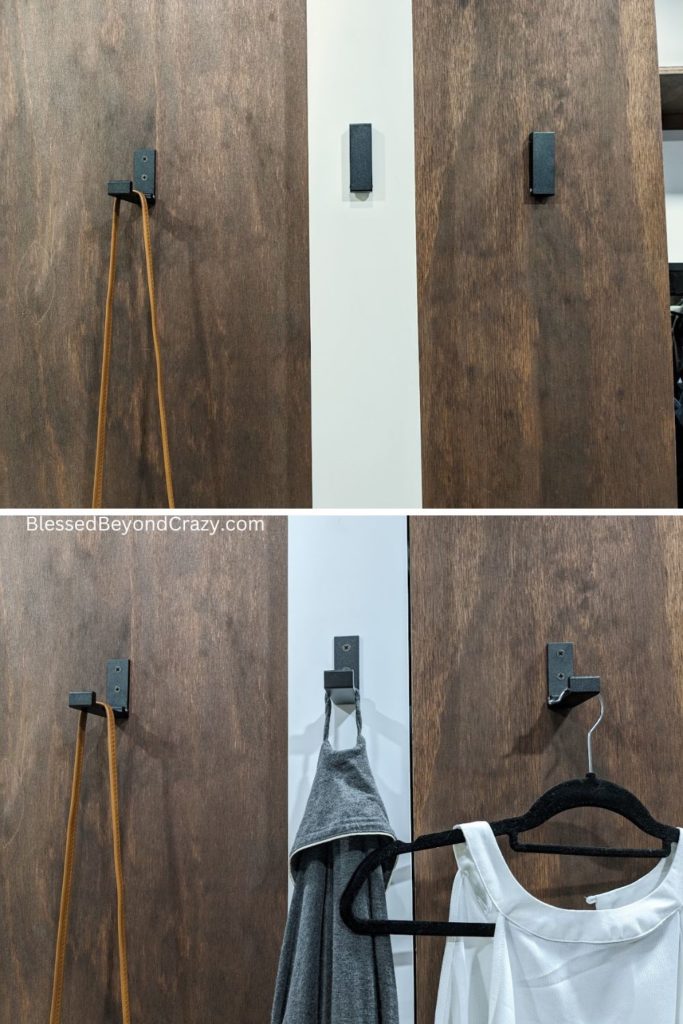 Shelf Dividers
We have a lot of shelf space in our closet. I love these shelf dividers because they are see-through, so my space doesn't look small or crowded, and they can always be adjusted.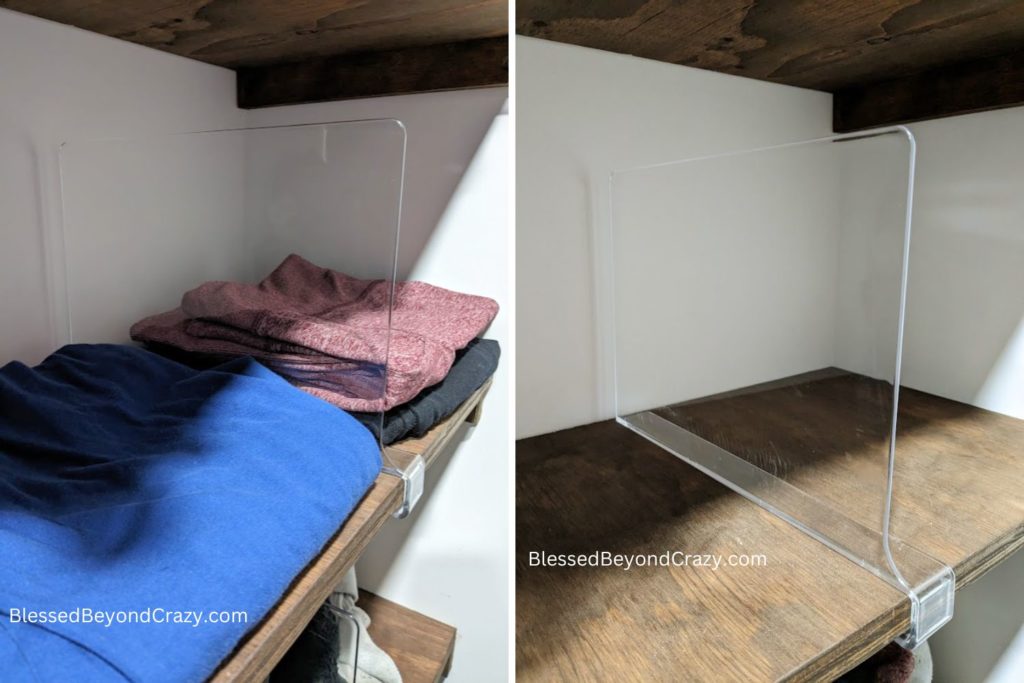 A Large Mirror
It just makes sense to have a full-length mirror in your closet.
Not Necessary but I Love it Because it's Pretty
Part of my dream master closet was having a chandelier in it. It is absolutely not necessary, but it was less than $40! And it looks beautiful. These are the other lights we have, so our closet is super bright.
We also put a dimmer light switch in our closet, so when we wake up and get ready the lights are not blinding us. Again, totally unnecessary… but an inexpensive upgrade.
Both the light switch and the chandelier were SO much cheaper on Amazon than the home stores around us. Plus I had a lot more lighting options.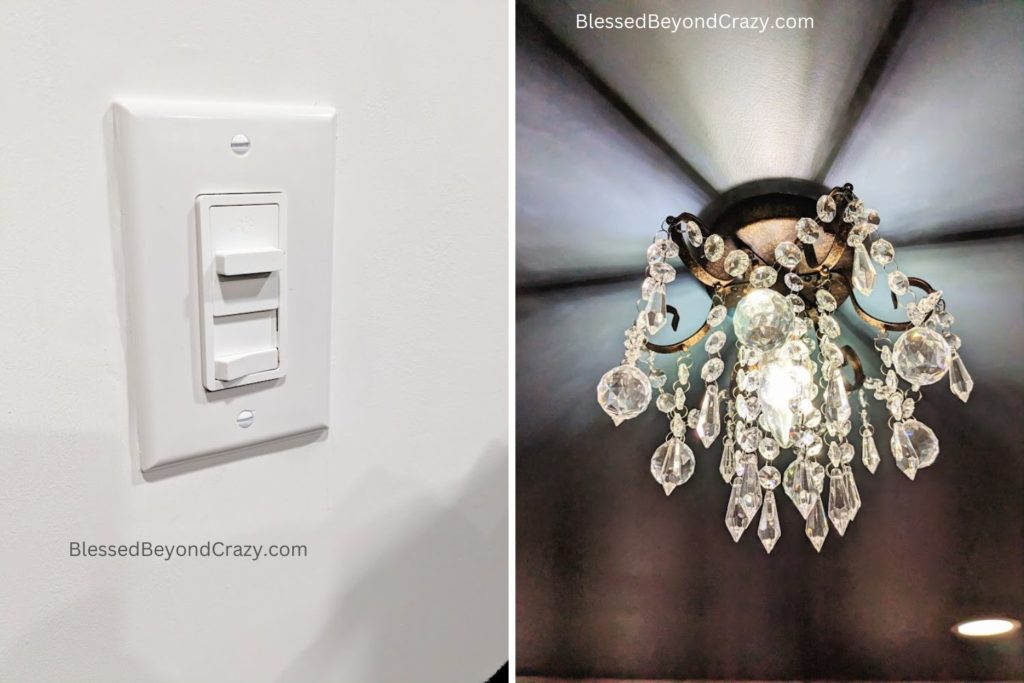 Backlighting is another totally unnecessary, but beautiful upgrade for a dream master closet. I don't have this yet, but it's on my wishlist.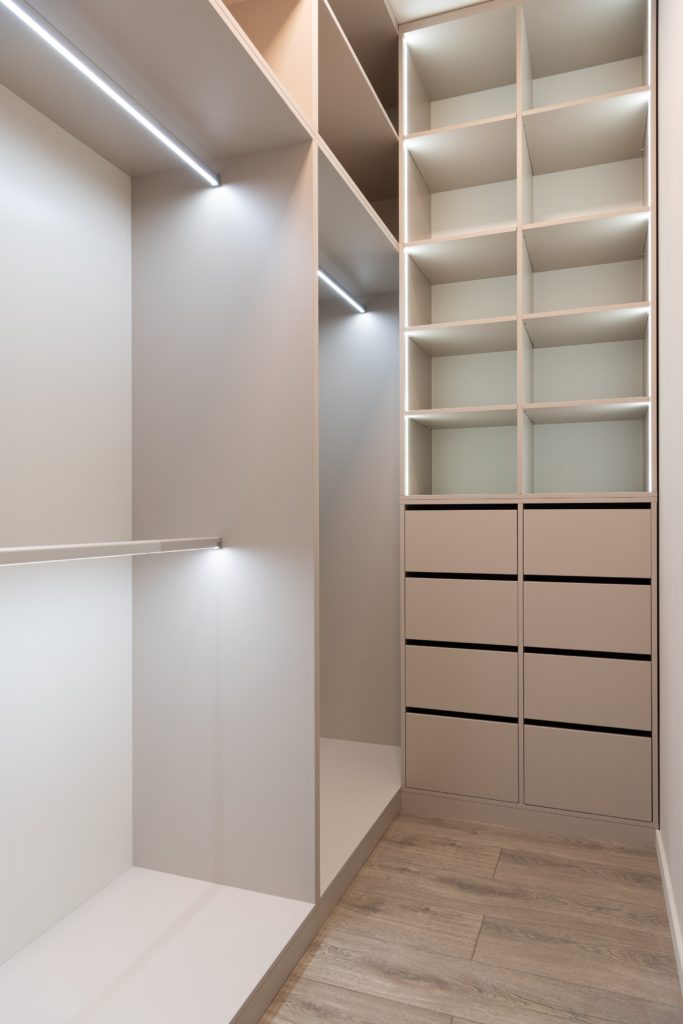 Liked this post? Check out How We Saved THOUSANDS of Dollars on Our Home Renovation.