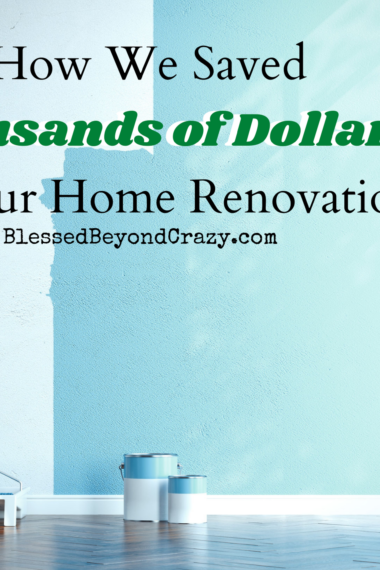 Doing a Home Renovation will cost a lot of money, these tips will help save you Thousands of Dollars!
Last year, my husband and I bought a home and did a full renovation. Our budget was super small, but we managed to make our home beautiful and fit our needs. Here is how we saved thousands of dollars.
To help support our blogging activities, our site contains affiliate links. If you make a purchase from a link on our site, we may receive a small percentage of that sale, at no extra cost to you. Blessed Beyond Crazy is a participant in the Amazon Services LLC Associates Program, an affiliate advertising program designed to provide a means for sites to earn advertising fees by advertising and linking to amazon.com. As an Amazon Associate I earn from qualifying purchases.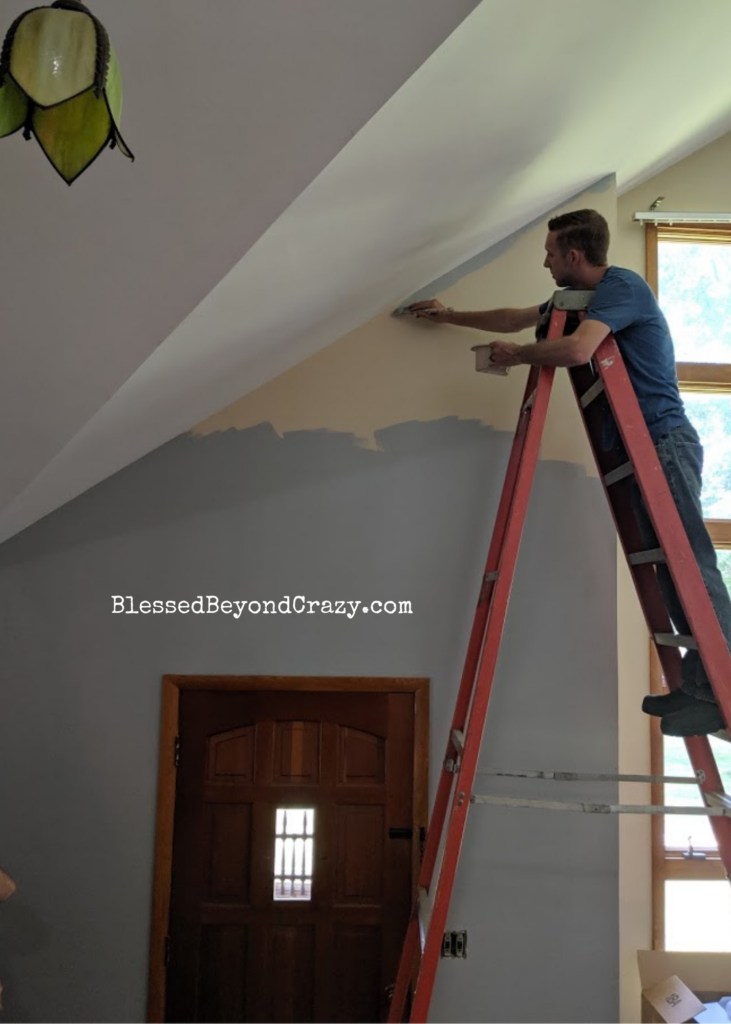 1. We did almost all the renovation ourselves
Now, this is probably a given for saving money. The more you do yourself, the more money you'll save. Between us and some close family members, the only thing we couldn't do (or didn't want to try to do) was finishing work on some drywall.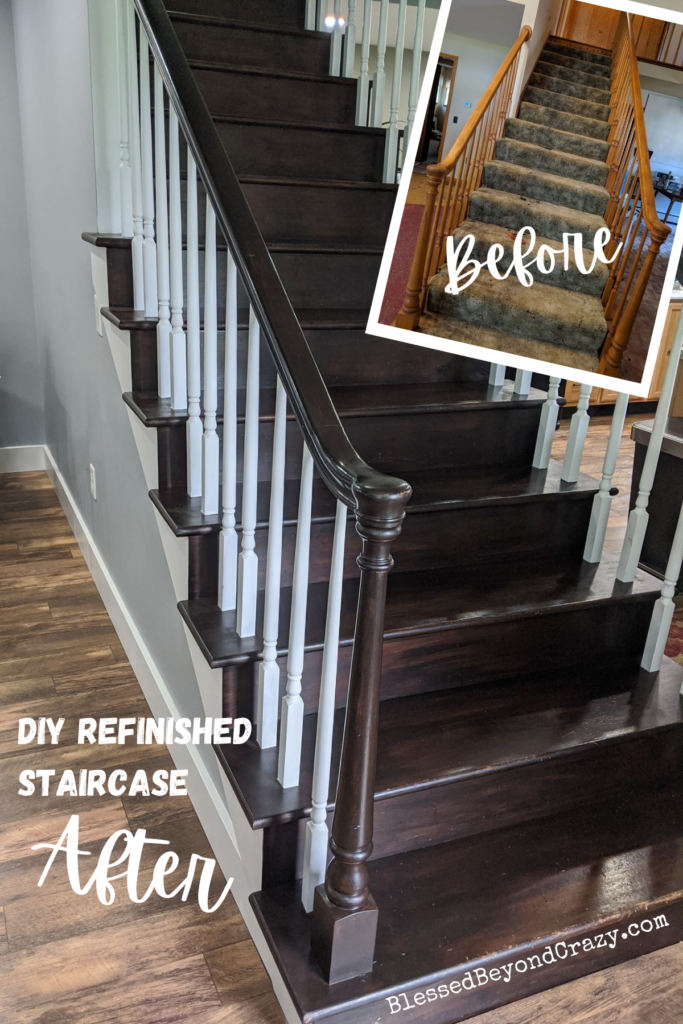 1-1/2. Look it up on YouTube
Okay, what if you don't have the skills or experience to do it yourself? First, believe in yourself, and then look it up on YouTube! Yes, we did this ourselves, often!
If you don't have the tools to do it yourself, you will still probably save more money by buying those tools instead of hiring someone. Also, never be afraid to ask friends to borrow tools.
2. Shop Around for Renovation Supplies
It will take you extra time, but do not buy all your materials, supplies, paint, appliances, etc from the same store. Spending extra time to price compare will save you a lot of money on your home renovation.
3. Buy From Amazon
Of course, it's common to buy small everyday things from Amazon, but I didn't realize just how much money we could save by buying house fixtures from Amazon. We bought all our light fixtures, underlayment flooring pad (the blue stuff pictured below), faucets, and lots of other things. The faucets alone were about 50% cheaper than buying from a store near us.
One of my absolute favorite finds on Amazon from this home renovation is my kitchen faucet! It was over 50% cheaper than buying one of a similar style from a local store. I love the style, and I am OBSESSED with the three sprayer settings, especially the blade sweep (it is like a mini power-washer for your dishes).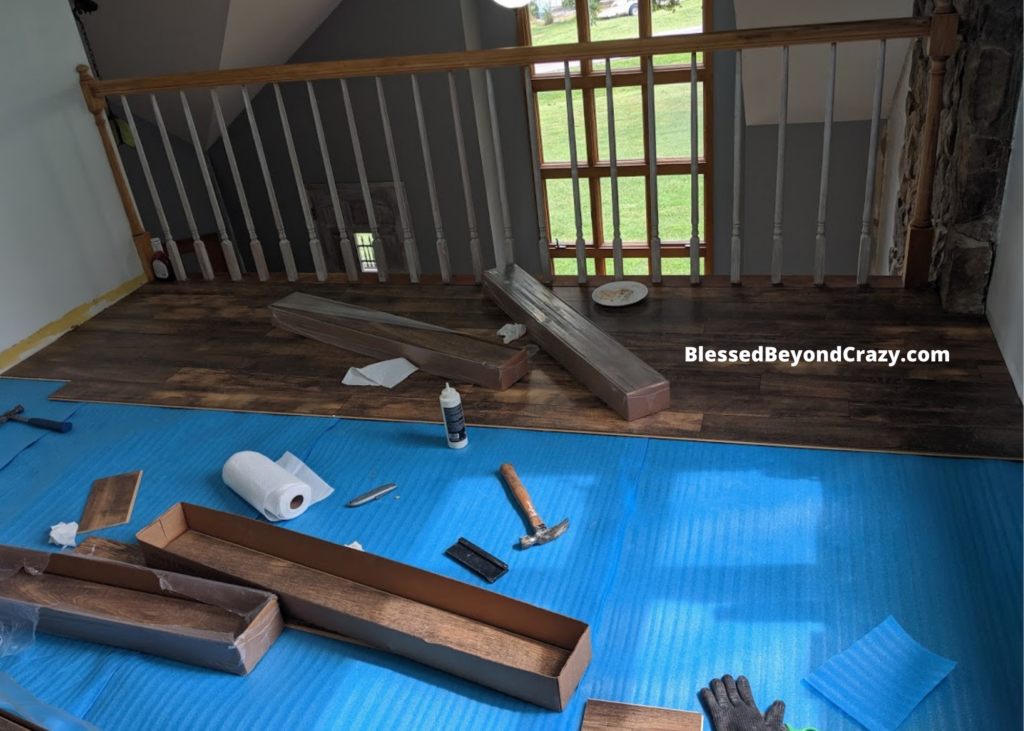 Our home Amazon Finds saved us a lot on our Renovation!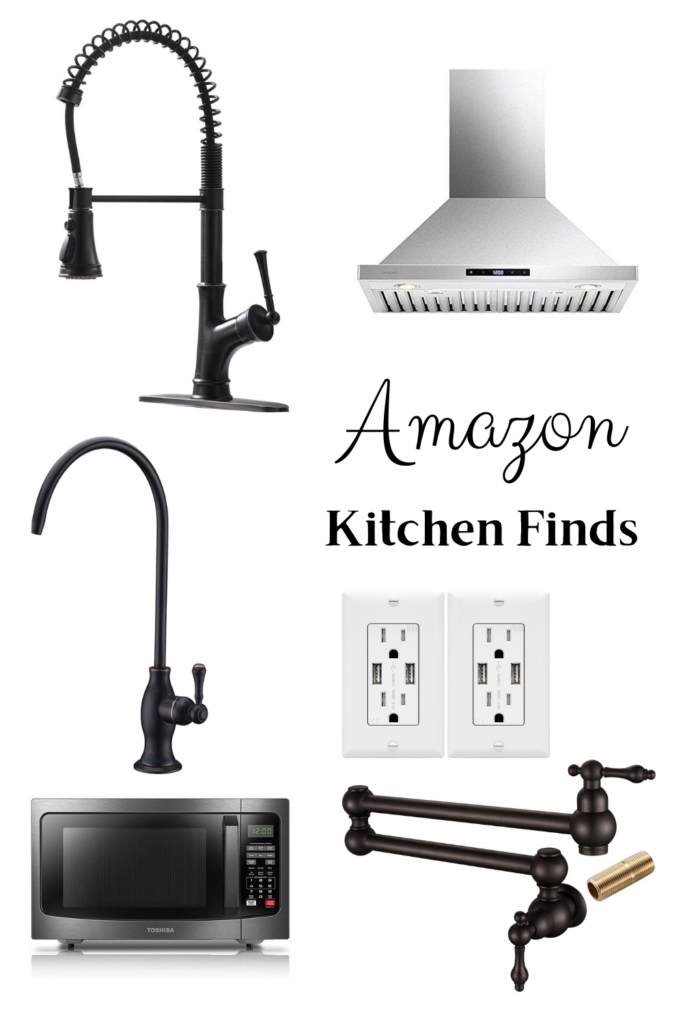 High Arc Kitchen Sink Faucet | Range Hood | Drinking Water Purifier Faucet | USB Wall Outlet | Microwave Oven with Smart Sensor |Pot Filler Faucet Wall Mount

3-Light Bathroom Vanity Light Fixture | Single-Handle High-Arc Stainless Steel Faucet | Curved Bathroom Shower Curtain Rod | Single Towel Rod Bar | Toilet Tissue Paper Holder | Sliding Barn Door Hardware Kit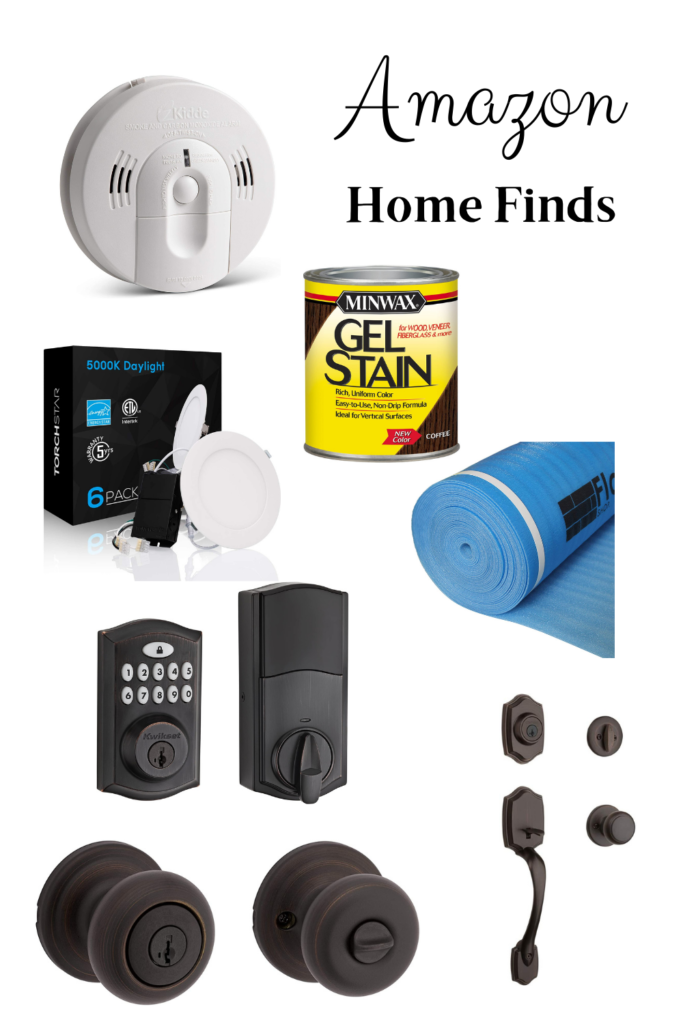 Combination Smoke/Carbon Monoxide Alarm | 6-Inch Slim LED Recessed Light | Gel Stain | Laminate Flooring Vapor Barrier Underlayment | Keyless Entry Electronic Keypad Deadbolt | Entry Knob |Single Cylinder Handleset with Cove Knob
4. Buy All Your Items at Once
Make a list of everything you need to buy (which won't be perfect, and you'll constantly add to it, but do the best you can). Then start price shopping between local stores and online. Once you have decided what items will be purchased at which store, buy all those items at once if possible.
The closest home-improvement store to us is Lowe's. First, we figured out what we would be buying from them. We ended up buying most of our big items there, such as toilets, a bathtub, kitchen appliances, kitchen cabinets, and flooring. When we bought all of these things at one time we became eligible for free home delivery. We also saved a huge percentage (which ended up being thousands of dollars) on the overall price because we put it on a store credit card. The only way this worked was because we bought them all at the same time! I'm not normally a fan of store-credit cards, but when we were spending this much money at one time, the savings were definitely worth it!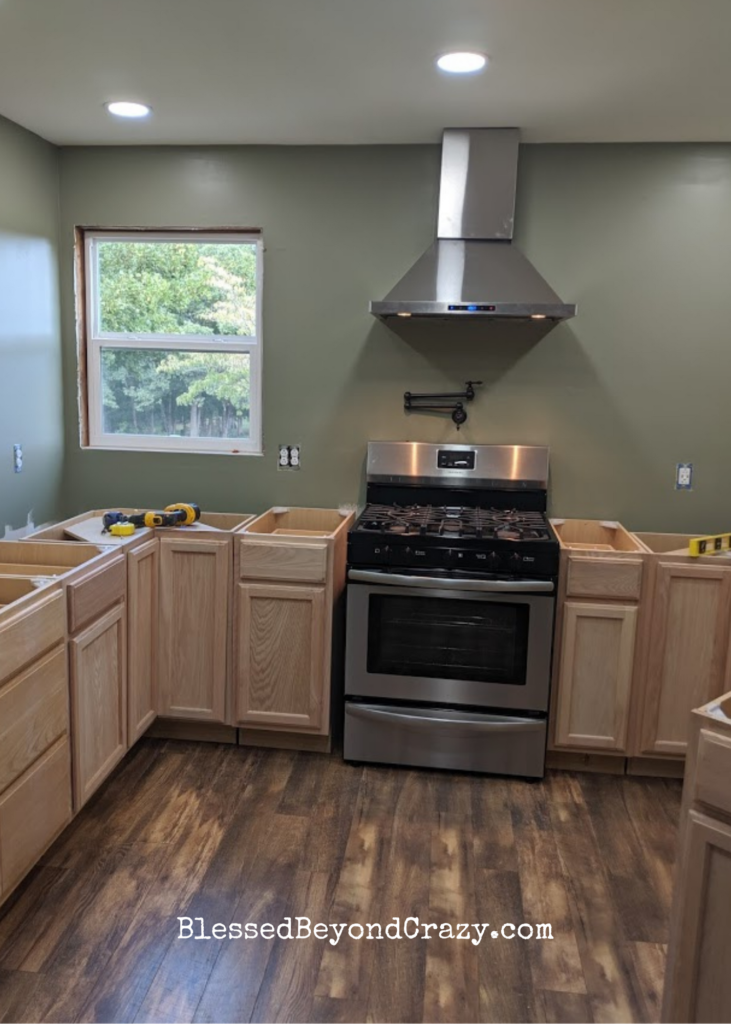 5. Shop Sales
We painted every single wall and most of the ceilings in our home. We bought all of our paint from Sherwin-Willams. I always asked them when their next sale was going to be because they usually have at least one big sale every month. Then I would figure out what I needed and wait for that weekend then buy.
Also, if you are able to wait for a big holiday weekend then you can save tons of money on sales, especially on things like appliances. Think Black Friday, Presidents' Day, Labor Day Weekend, Memorial Day, etc.