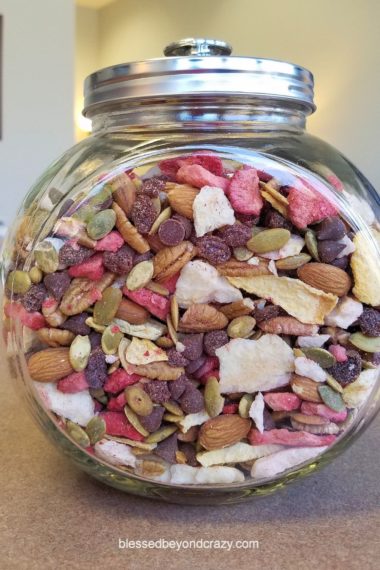 Not interested in consuming a processed, preservative-laden snack? Me either! That's why I love this Quick and Easy All Natural Trail Mix. It's filling, healthy, and a snack that satisfies the munchies. It literally comes together in minutes and there's no baking required! It's the perfect blend of sweet and salty and the ingredients seem to compliment each other perfectly. Grab a handful or two for your next mid-morning or afternoon snack.

To help support our blogging activities, our site contains affiliate links. If you make a purchase from a link on our site, we may receive a small percentage of that sale, at no extra cost to you. Blessed Beyond Crazy is a participant in the Amazon Services LLC Associates Program, an affiliate advertising program designed to provide a means for sites to earn advertising fees by advertising and linking to amazon.com.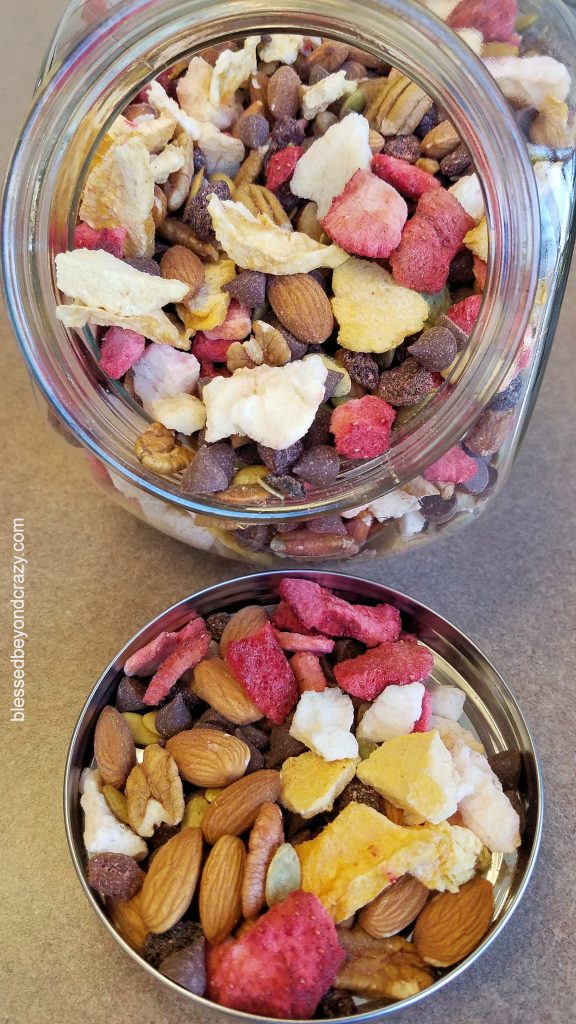 I confess. Nearly every day I seem to get the munchies. (Sigh) Although I try to power through the urge to nibble, it's always best (and I'm always the happiest) if I keep a few healthy treats on hand.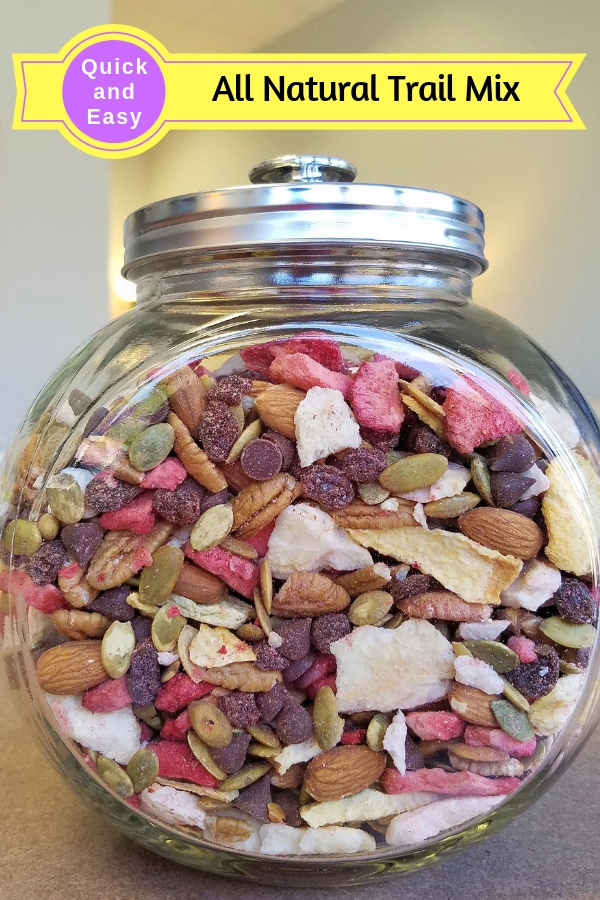 Because I am on a gluten-free diet and have other food allergies and/or intolerances, I am careful to try to use ingredients that are all-natural and preservative-free. (Psst, you might also like my Old Fashioned Vegetable Soup and my All-Natural Colon Cleanse Slushy!)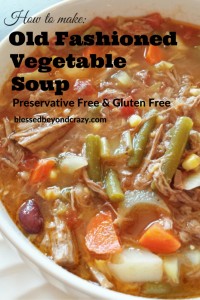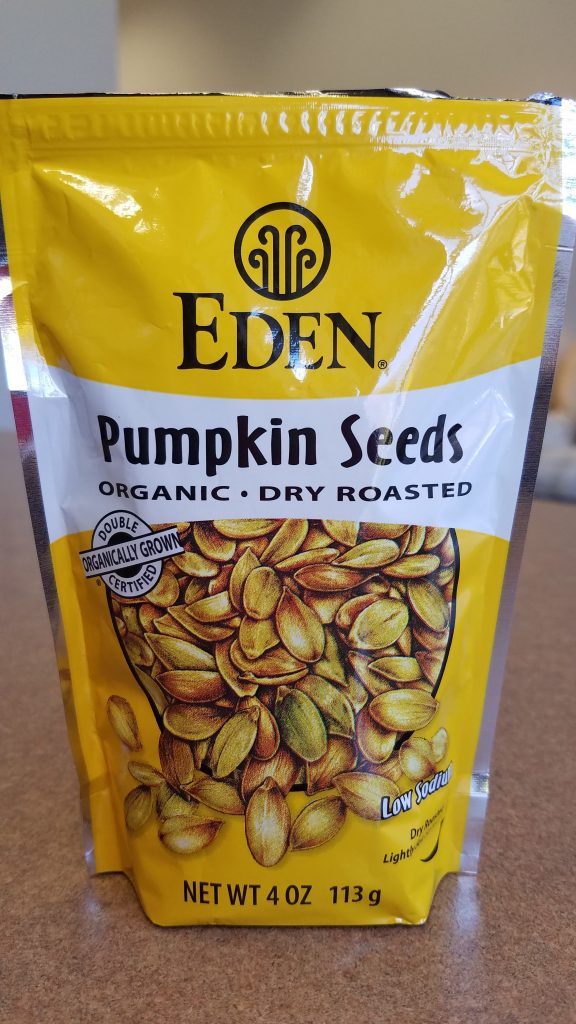 Just one of my favorite (single) snacks to keep on hand are organic pumpkin seeds. (Add pumpkin seeds to salads for a little extra crunch and nutrition!)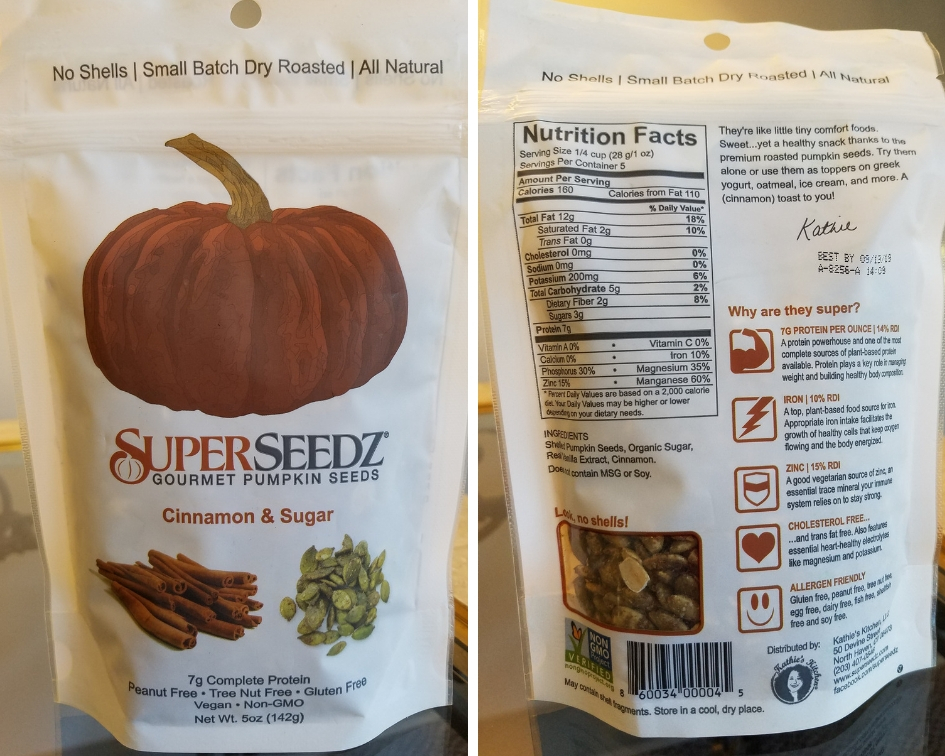 I also enjoy pumpkin seeds that have a hint of cinnamon and sugar such as the package of Super Seedz pumpkin seeds pictured above. (These are also great as an ice cream topping!)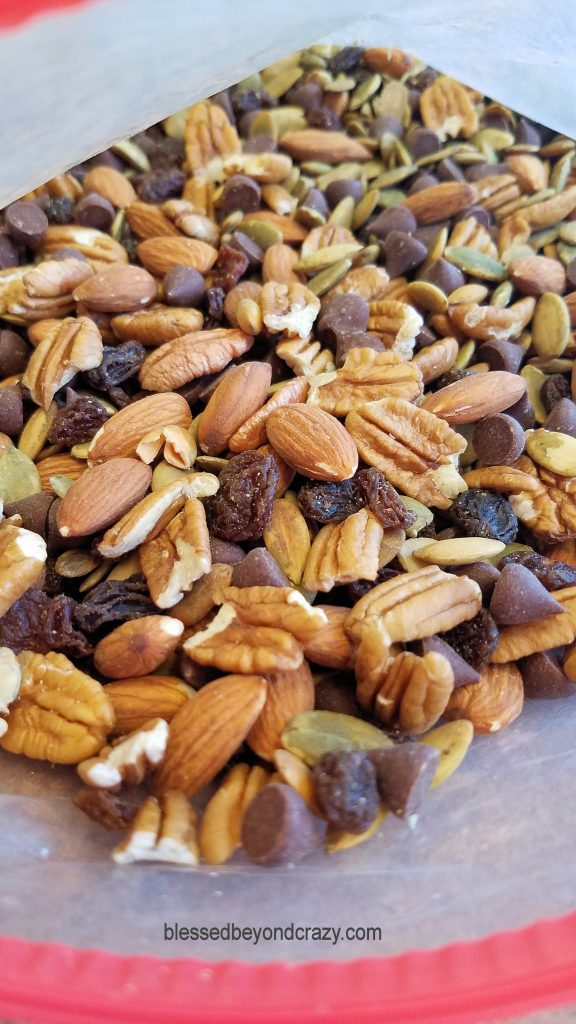 Besides being quick and easy to make, trail mix can easily be personalized by adding or subtracting ingredients. Just remember to use preservative-free and all-natural ingredients!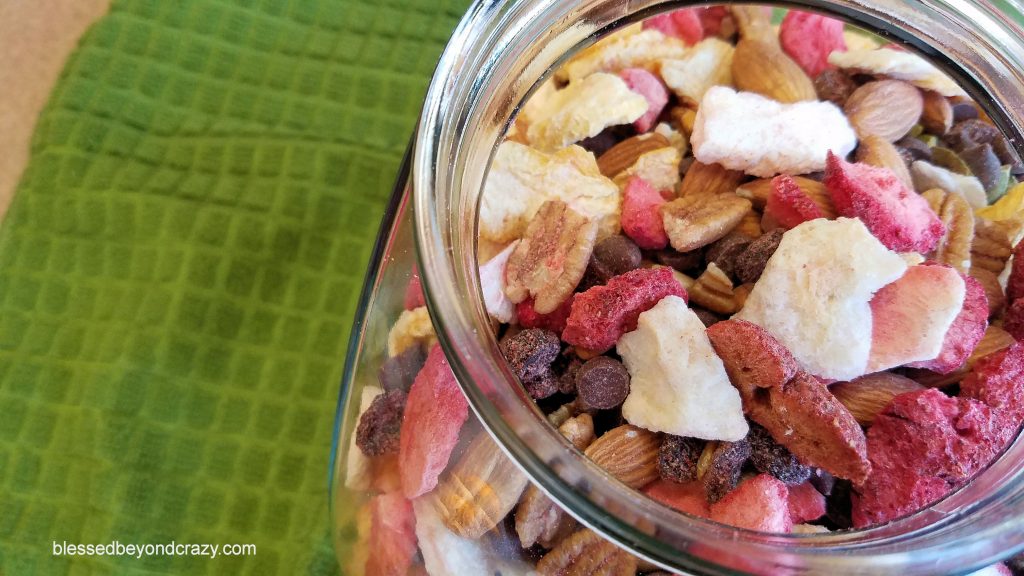 The base:
Unsulfered preservative-free raisins (which are an excellent source of fiber and minerals such as iron, selenium, and potassium).
Organic almonds (an excellent source of fiber, protein, magnesium, Vit. E, and healthy fats. They can also help reduce hunger).
Organic pecans (contain compounds that act as antioxidants and may help lower "bad" LDL cholesterol).
Pumpkin seeds (are high in antioxidants and magnesium).
Allergen-free chocolate chips (cocoa beans contain flavanols that have antioxidant effects that can help reduce cell damage and improve vascular function. Dark chocolate is best).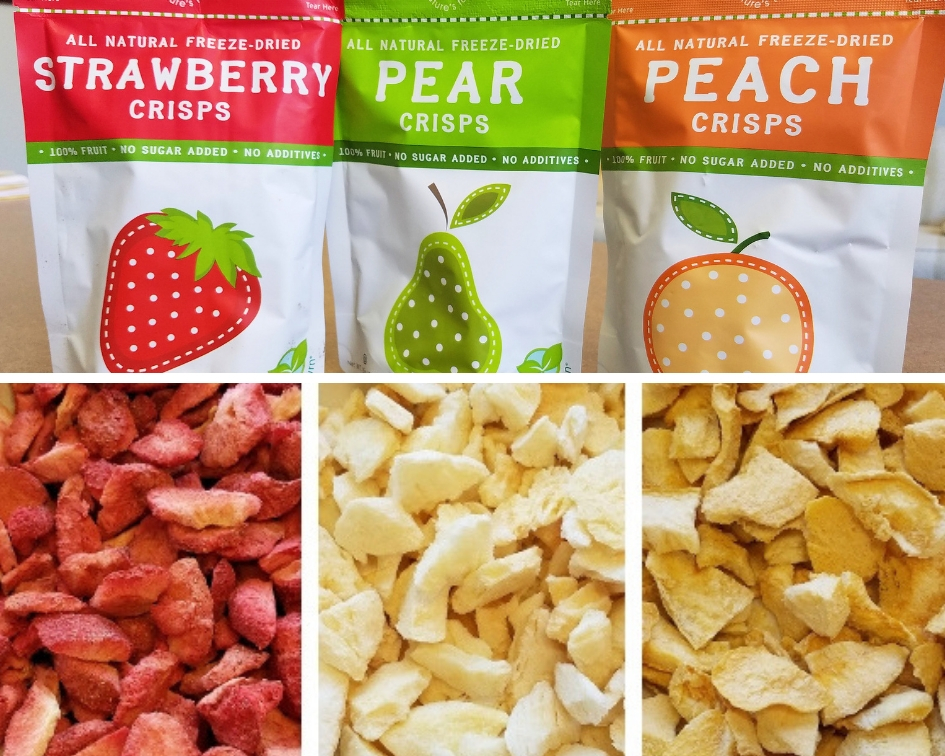 Sometimes I also like to add freeze-dried fruits to my trail mix to give it additional texture and sweetness. Recently I discovered all-natural freeze-dried fruit made from 100% fruit, no added sugar, and no additives or preservatives. Yum!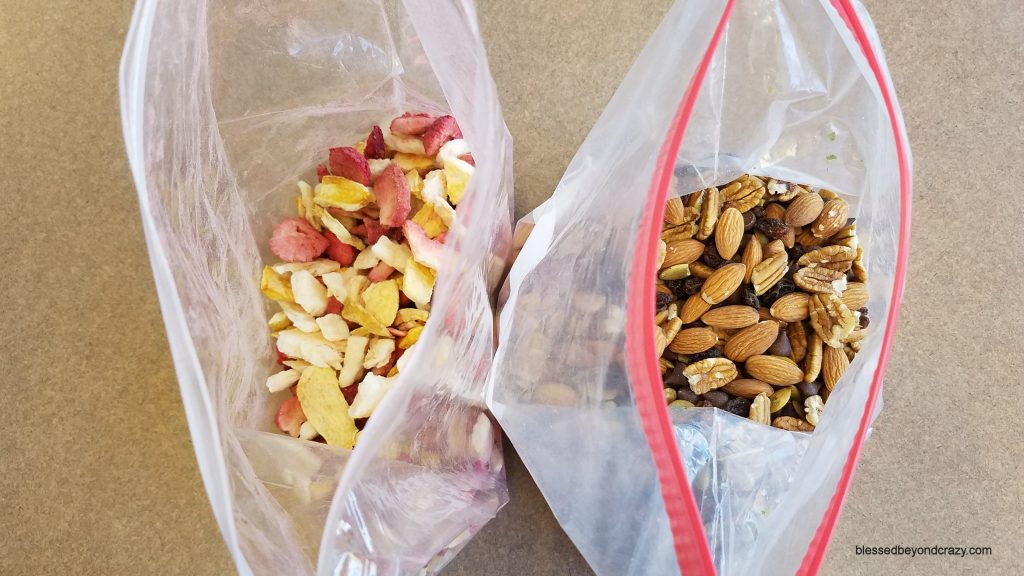 Combining the mix is easy. I simply combined the freeze-dried fruit and nut mixtures together in a large Ziploc freezer baggie. (At first, I separated them because I didn't want to overpower the trail mix with fruit. In the end, the amount was just right.)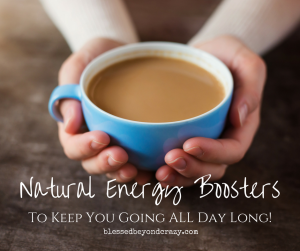 Check out: Natural Energy Boosters To Keep You Going All Day Long!
I recommend storing trail mix in a glass container or in a Ziploc baggie (kept in the freezer).
Other suggested ingredients:
Air-popped popcorn
Dehydrated or freeze-dried banana chips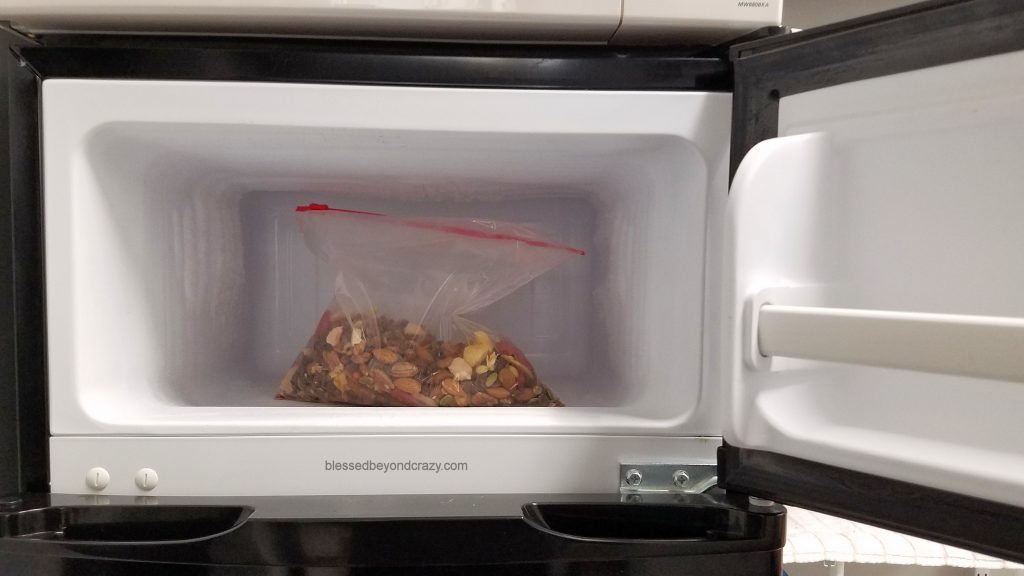 Pressed for time? No problem! Make a batch of this Quick and Easy All Natural Trail Mix ahead of time and store it in the freezer. This helps preserve and maintain its freshness.
Quick and Easy All Natural Trail Mix
---
Linda Wiseman
Yields Approx. 16 cups
A healthy and delicious snack that comes together in mintues!
5 minPrep Time
5 minTotal Time
Ingredients
2 pounds organic raw almonds
2 pounds organic raw pecans
10 ounces all natural, pure dark chocolate chips
8 ounces all natural pumpkin seeds
1 cup unsulfered preservative-free raisins
2 bags EACH (15g per/bag) preservative-free freeze dried fruit: strawberry, pear, and peach. (I broke the fruit up into smaller bite-size pieces)
Instructions
Place all of the ingredients into a large mixing bowl or 2-gallon size Ziploc freezer baggie. Stir or shake well until all ingredients are mixed together. Serve or store in an airtight container. Keeps well in freezer for months.
Notes
Feel free to add additional ingredients such as organic raw nuts (walnuts + pistachios + cashews, etc...), organic raw sunflowers seeds and coconut chips, air-popped popcorn, and other freeze-dried all natural fruits (such as bananas or raspberries).
7.8.1.2
278
https://blessedbeyondcrazy.com/quick-and-easy-all-natural-trail-mix/
www.blessedbeyondcrazy.com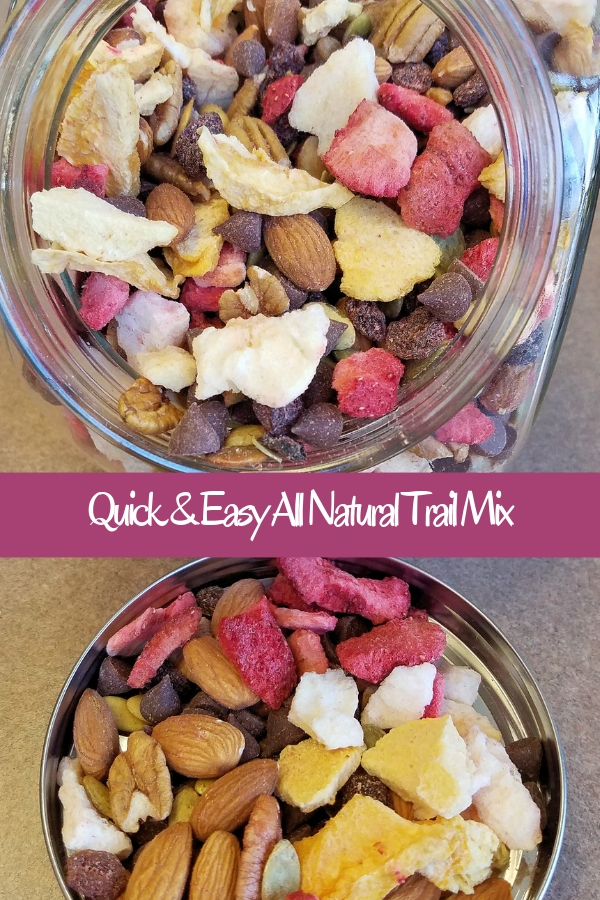 I hope that you enjoy this Quick and Easy All Natural Trail Mix as much as I do!
Happy munching!
Linda
Sources:
Other great ideas: