A few weeks ago my daughter-in-law, Sarah, graciously shared a couple of her yummy recipes with me. One recipe was for her Pineapple Salsa (click on the video below to see how to make it). In today's post, we are sharing her second recipe for delicious Pineapple Tomato Salsa. Both recipes are delightful and make scrumptious condiments for grilled meats or fish, tacos, burritos, fajitas, nachos, salmon burgers, and much more! Either of these salsa recipes will also suffice as a fabulous healthy snack or appetizer.
To help support our blogging activities, our site contains affiliate links. If you make a purchase from a link on our site, we may receive a small percentage of that sale, at no extra cost to you. Blessed Beyond Crazy is a participant in the Amazon Services LLC Associates Program, an affiliate advertising program designed to provide a means for sites to earn advertising fees by advertising and linking to amazon.com. As an Amazon Associate, I earn from qualifying purchases.

Both Pineapple Salsa and Pineapple Tomato Salsa make wonderful condiments. Salsa also adds flavor, color, and vital nutrients to your food creations.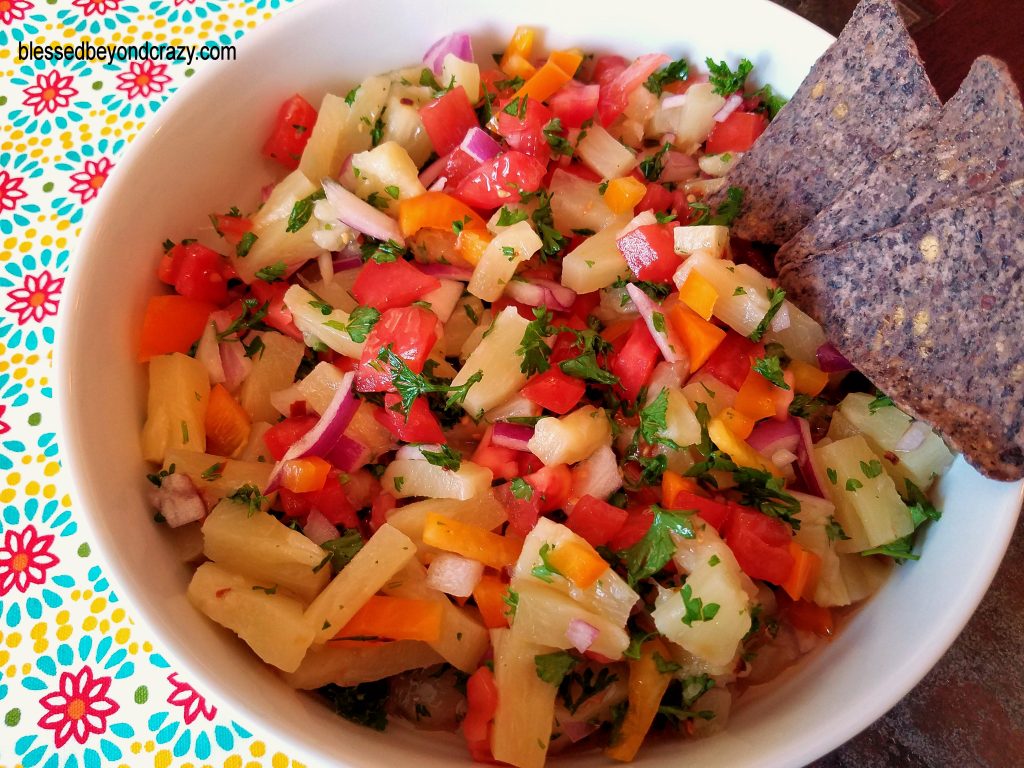 Pineapple Tomato Salsa is colorful, healthy, and exquisitely delicious! In addition, all of the ingredients are naturally gluten-free, paleo, vegan and vegetarian. How's that for a winning recipe?
Naturally, Pineapple Tomato Salsa begins with golden chunks of juicy pineapple and luscious red tomatoes. The recipe also calls for diced red onion and chopped red, yellow, or orange bell peppers.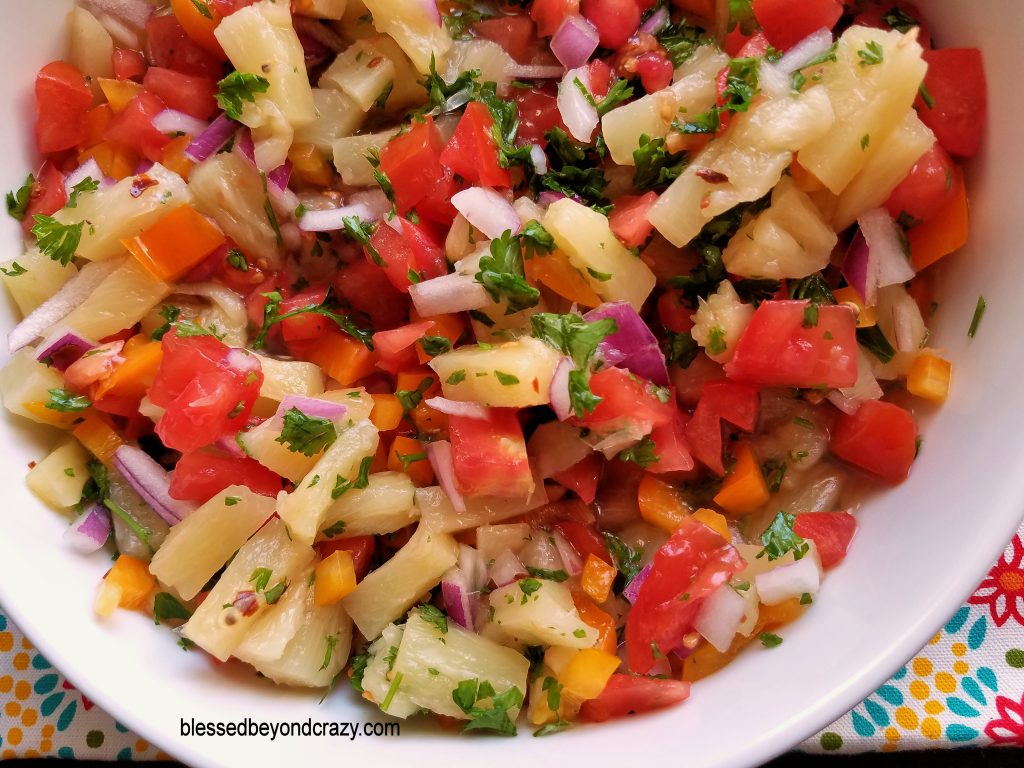 The final ingredients include fresh cilantro (if you do not care for cilantro then use parsley instead), freshly squeezed lime juice and a few crushed red pepper to add a touch of heat.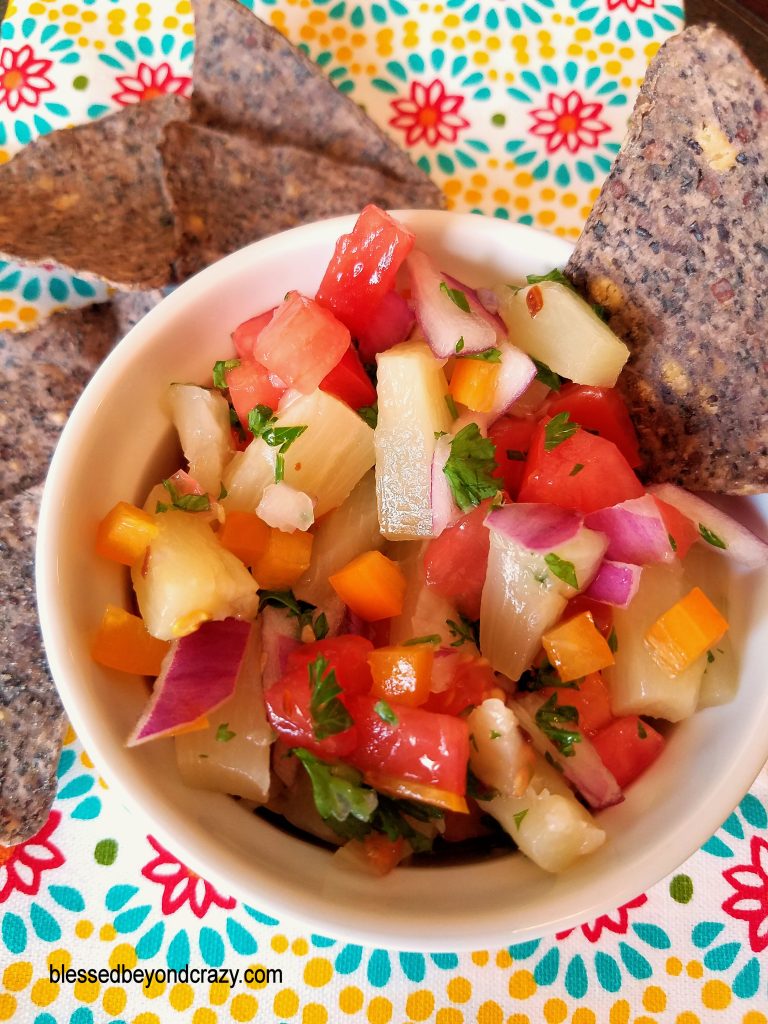 Place all of the ingredients in a mixing bowl and gently stir until well combined. Serve immediately, or place the salsa in a Mason jar and store in the refrigerator until needed. It will keep well in the refrigerator for about 3 – 4 days.


Pineapple Tomato Salsa
---
Sarah Speckhart
Yields Approx. 1 1/2 pints
An easy salsa recipe that is naturally GF, Paleo, Vegan, & Vegetarian.
15 minPrep Time
15 minTotal Time
Ingredients
1 1/2 cup pineapple, chopped
1 cup tomatoes, chopped
1/2 cup red onion, chopped
1/4 cup orange (or yellow or red) bell pepper, chopped
2 limes, juiced
1/4 cup fresh cilantro (or parsley)
red pepper flakes, to taste
Instructions
Place all ingredients in a medium mixing bowl; gently stir until well combined.
Serve immediately or place in a glass jar and store in refrigerator until ready to serve.
Notes
Keeps well for 3 - 4 days when stored in a glass container in the refrigerator.
7.8.1.2
213
https://blessedbeyondcrazy.com/pineapple-tomato-salsa/
www.blessedbeyondcrazy.com
Serve Pineapple Tomato Salsa with your favorite tortilla chips. I like to serve mine with gluten-free black bean tortilla chips (as seen in the pictures).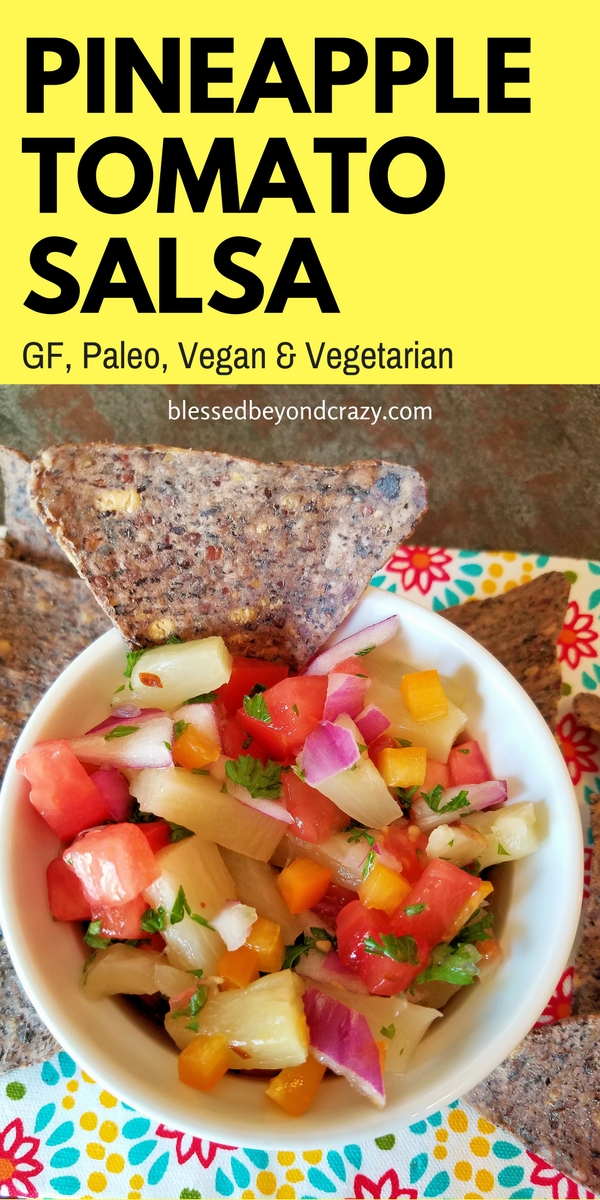 Homemade salsa is a wonderful way to use leftover fresh produce. It really doesn't take any time to make and it's easy to modify it to your own particular tastes.
Thanks again, Sarah, for sharing your yummy salsa recipes with us!
Love you bunches!
Linda
More great ideas!