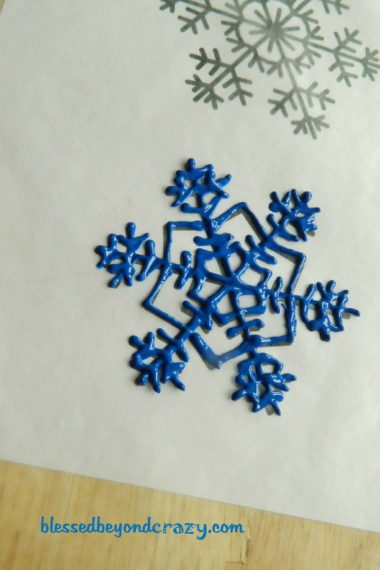 Welcome to the Christmas Season! Christmas is only 12 days away!!!
This year we are counting down to Christmas by creating a new Christmas craft each day! Now don't panic and get overwhelmed with me! I tried to keep it simple!
All of these Christmas crafts are geared toward younger kids. My 6-year-old and 3 years old LOVED these!
In order for a craft to make this list it had to meet several criteria:
FUN
Easy!
Not too messy or time-consuming
Require only normal household items (also it cannot be expensive)
Is not food (Christmas food is great! I just didn't want to cook desserts/junk food 12 days in a row)
I did not list any age requirements or which steps parents should help with. I left that for each parent to decide based on their own children and their ages.
Another goal I had for these crafts was that I wanted to try as often as possible to point my children back to the real meaning of Christmas, which is the birth of Jesus, our Savior. While some of these crafts might be a bit of a stretch looking for something meaningful, there is also nothing wrong with just making a really fun craft!
I do not do the whole Elf on the Shelf deal (I personally have nothing against it) However, if your family likes the Elf, these crafts could easily play into that. For example, have your elf holding all the supplies for the craft of the day.
1. Make your own window decorations using Puffy Paint
This is a simple, easy, and super fun craft.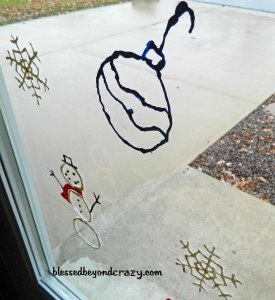 Supplies:
Different colors of puffy paint
Some wax paper
Directions: Simply paint a Christmas scene, snowflakes, ornaments, reindeer, snowmen, trees, words, whatever you can think of! If you want you can draw your picture on a piece of paper, place it under your wax paper and then trace over it with paint. This might make it easier for smaller kids. Paint it on the wax paper, let it dry overnight, carefully peel off the wax paper, and stick them on your windows!
Things to remember: Make your paint lines thick so they don't crack when you're trying to peel them off the wax paper. Make sure all your lines are touching.
This craft doesn't take very much time.
For more detailed instructions, tips and tricks, and free printables of snowflakes and ornaments (for tracing) click here.
Make it meaningful: If you painted a star, you could talk about the three wise men that followed the star to Jesus. As your children observe their final project on the window talk about how the sun is shining through their paintings making them bright and beautiful, and how when Jesus shines through us that makes us bright and beautiful.
Check out the other posts in this series!
12 Days of Christmas Crafts for Kids-Day 2: Make a homemade Ornament
12 Days of Christmas Crafts for Kids– Day 3: Make a Drum for Little Drummer Boy
12 Days of Christmas Crafts for Kids–Day 4: Footprint Art
12 Days of Christmas Crafts for Kids–Day 5: Turn your Door into a Snowman
12 Days of Christmas Crafts for Kids– Day 6: Make Snowflakes from Popsicle Sticks
12 Days of Christmas Crafts for Kids– Day 7: Made Homemade Christmas Cards
12 Days of Christmas Crafts for Kids– Day 8: Make a Nativity Scene
12 Days of Christmas Crafts for Kids– Day 9: Hanging Paper Ornaments
12 Days of Christmas Crafts for Kids– Day 10: Make a Sock Snowman
12 Days of Christmas Crafts for Kids– Day 11: Paper Plate Crafts
12 Days of Christmas Crafts for Kids– Day 12: Make an Elf Hat

Merry Christmas!
Anna