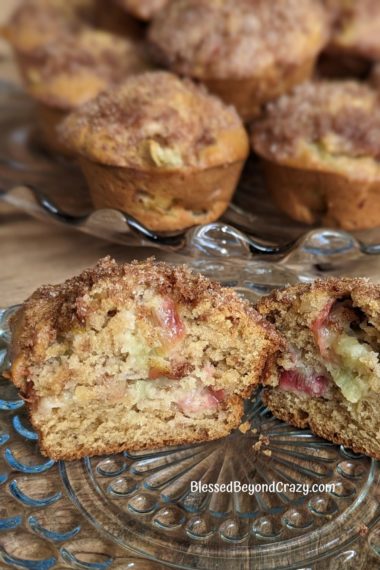 Every spring I look forward to making some pretty amazing recipes using fresh, tart rhubarb. Today, I made a batch of Easy and the Best Rhubarb Muffins with this delicious perennial vegetable. I should also mention that it's extremely easy to make these Rhubarb Muffins gluten-free and dairy-free. (You can find the options in the recipe card.)

To help support our blogging activities, our site contains affiliate links. If you make a purchase from a link on our site, we may receive a small percentage of that sale, at no extra cost to you. Blessed Beyond Crazy is a participant in the Amazon Services LLC Associates Program. This affiliate advertising program is designed to provide a means for sites to earn advertising fees by advertising and linking to amazon.com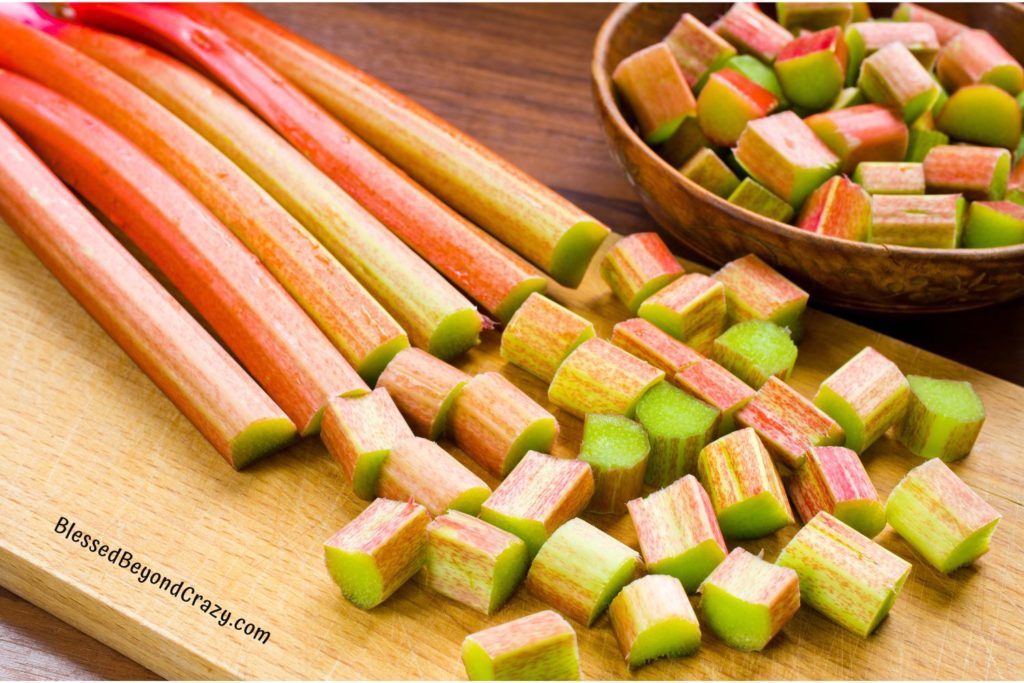 Delicious and Fresh Rhubarb
Years ago my parents planted a big patch of rhubarb on their farm. Thankfully, we've been enjoying it ever since. This patch has been there for numerous years. My dad and I decided we should probably start a new patch and therefore we are planning on planting new rhubarb plants next spring.
Some of our other favorite rhubarb recipes are: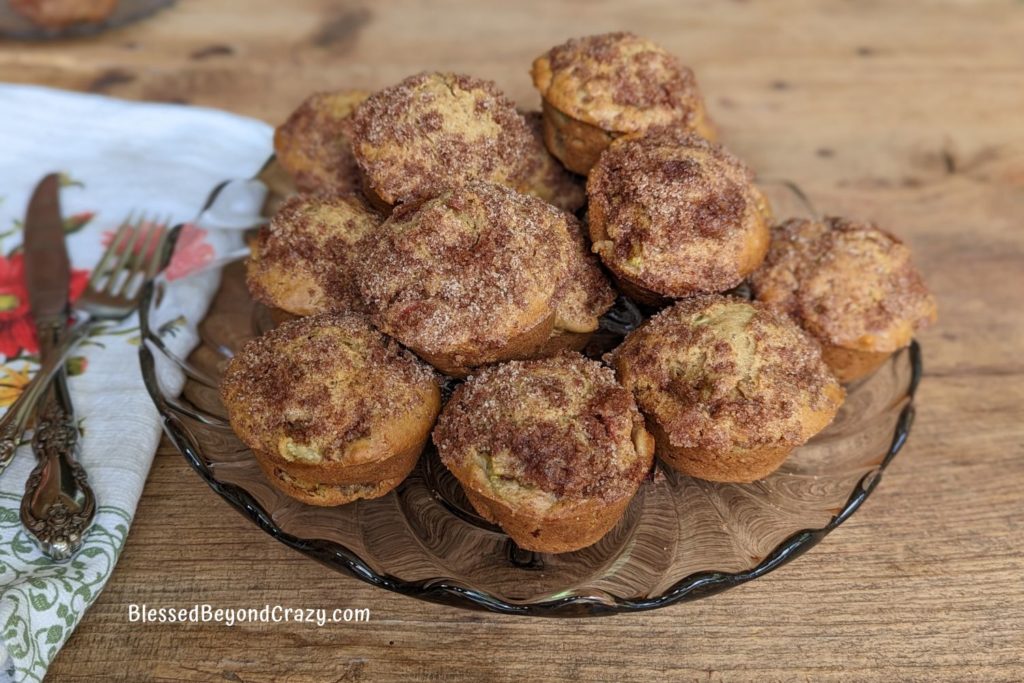 Carry-in Rhubarb Muffins
Today, my 90-year-old father is attending a carry-in at his church. Because we have an abundance of fresh rhubarb I made a batch of fresh Rhubarb Muffins and Raspberry Muffins and placed them in a couple of cupcake/muffin carriers for him to take along. When serving muffins at home I like to place them on a pretty serving platter or cute little serving basket.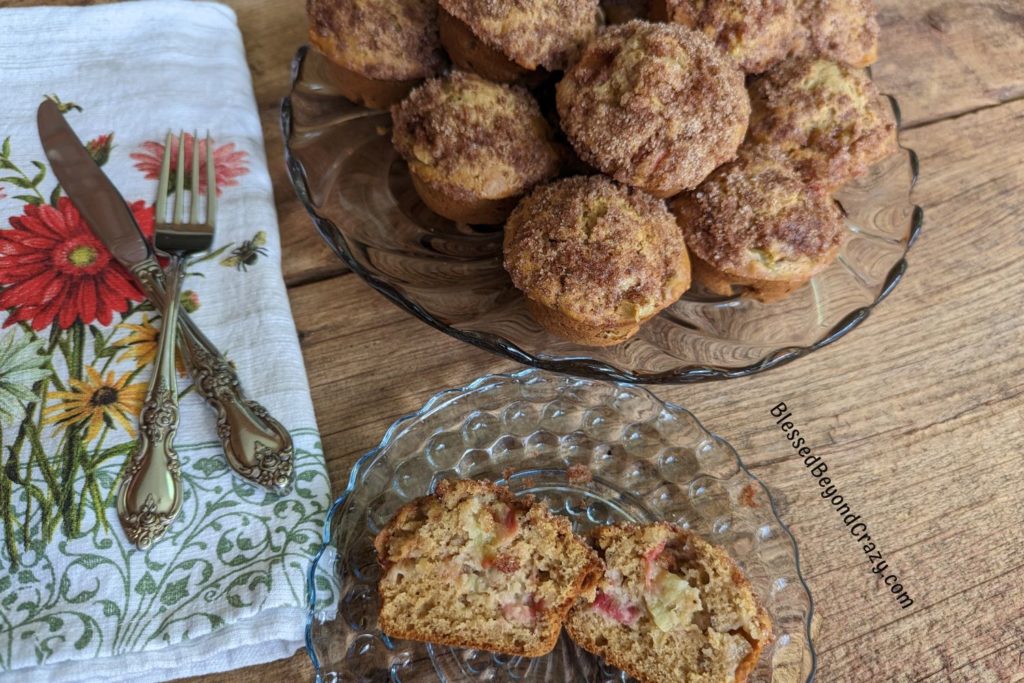 Don't you just love a warm, tasty muffin straight out of the oven? I sure do!
You may have noticed that these Rhubarb Muffins are topped with a generous sprinkle of a cinnamon-sugar mixture which obviously adds a bit more sweetness. If you want to decrease the sweetness simply omit the topping.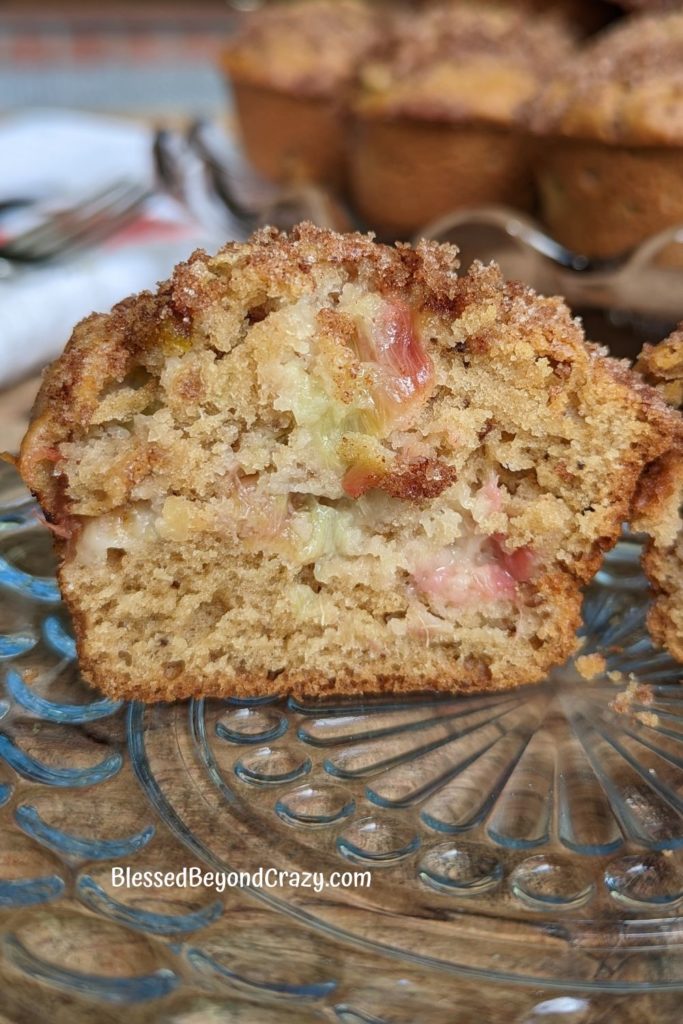 As you can see in the photo above, each muffin is loaded with rhubarb. Also, because rhubarb pairs well with strawberries feel free to add a few of them to the batter as well.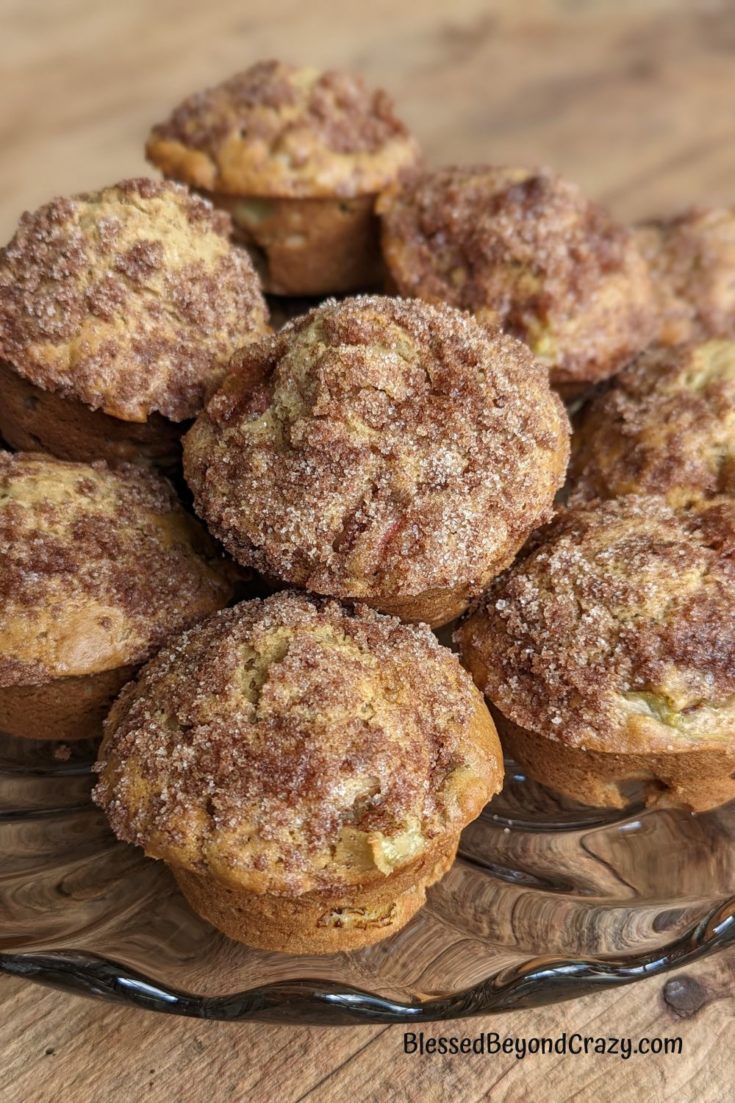 Yield:

1.5 dozen
Easy and the Best Rhubarb Muffins
These delicious Rhubarb Muffins are a great way to use some of your fresh rhubarb. They're also easy to make gluten-free and dairy-free.
Ingredients
MUFFINS:
1 egg
1-1/4 cup packed brown sugar
1 cup buttermilk (Dairy-Free Option: use coconut or soy milk)
1/2 cup canola or vegetable oil
2 teaspoons vanilla extract
2-1/2 cups all-purpose flour (GF Option: use 3-1/4 cups gluten-free flour blend + 1 Tablespoon xanthan gum or arrowroot unless flour blend already contains it. NOTE: use 2-1/2 cups GF flour if you use a cup-4-cup GF brand of flour)
1 teaspoon baking soda
1 teaspoon baking powder
1/2 teaspoon salt
1-1/2 cups diced fresh rhubarb OR 1 cup diced rhubarb and 1 cup chopped strawberries)
1/2 cup chopped walnuts or pecans
TOPPING:
1/3 cup sugar
1 teaspoon ground cinnamon
1 teaspoon butter, melted
Instructions
Preheat oven to 375 degrees F.
In a mixing bowl, beat egg, brown sugar, buttermilk, oil, and vanilla.
In a separate mixing bowl, combine flour, baking soda, baking powder, and salt; stir into wet ingredients just until moistened. Fold in rhubarb and walnuts.
Fill greased muffin cups 3/4 full. Combine topping ingredients; sprinkle over muffins.
Bake for 20-25 minutes or until a toothpick inserted into the center comes out clean.
Notes
These muffins freeze well for up to 2 weeks.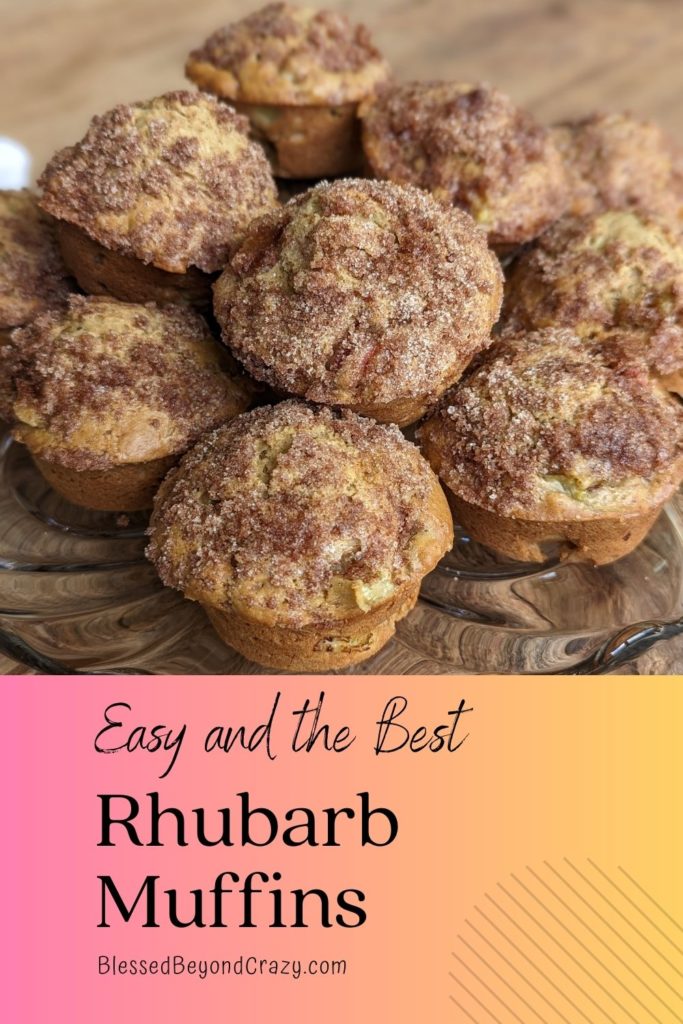 What are some of your favorite rhubarb recipes?
Enjoy!
More great ideas: