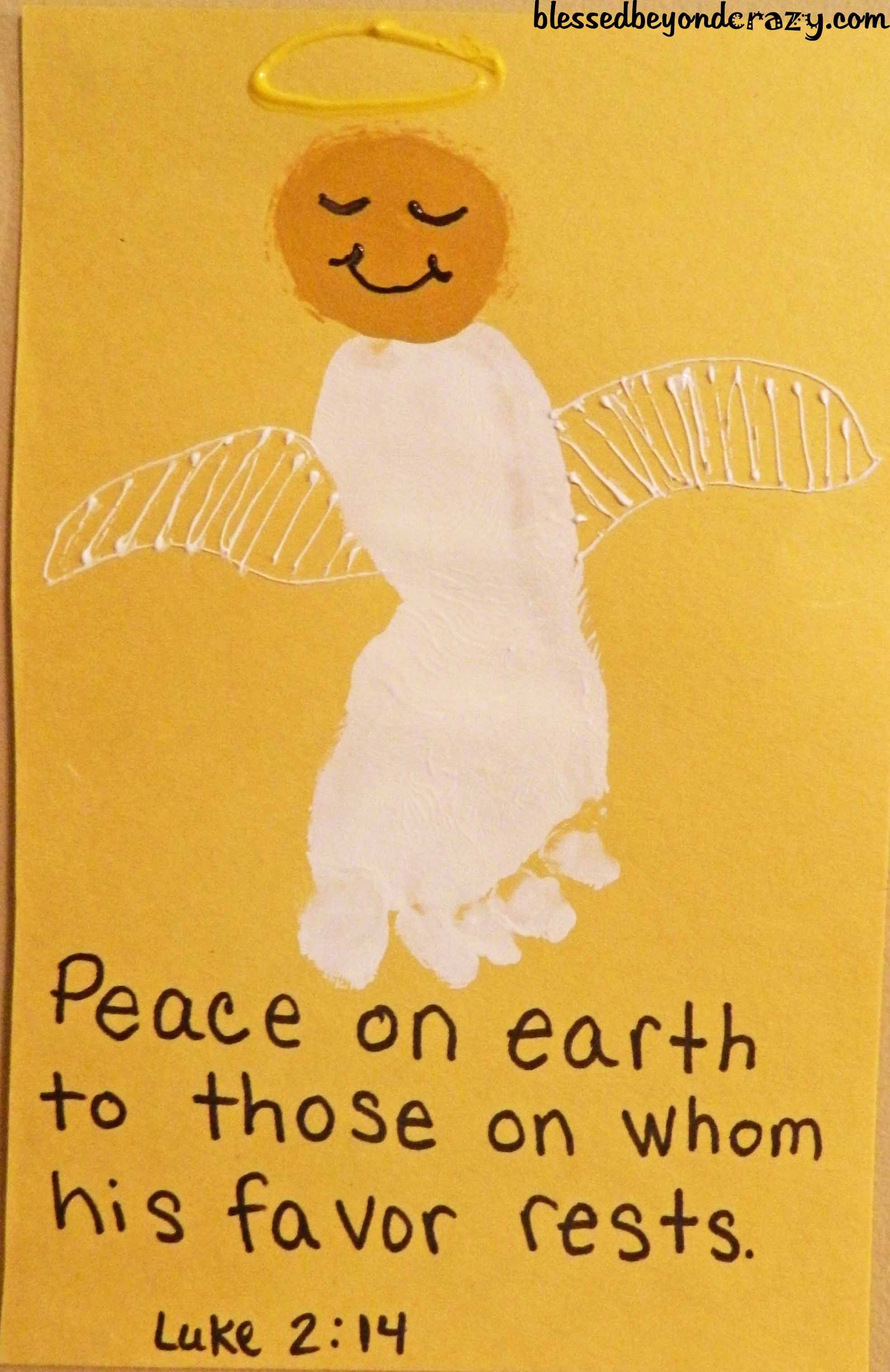 Christmas Craft Day 4! That means only 9 days until Christmas!
This year we are counting down to Christmas by creating a new Christmas craft each day! Now don't panic and get overwhelmed by me! I tried to keep it simple!   
In order for a craft to make this list it had to meet several criteria:
FUN
Easy!
Not too messy or time-consuming 
Require only normal household items (also it cannot be expensive)
Is not food (Christmas food is great! I just didn't want to cook desserts/junk food 12 days in a row)
I did not list any age requirements or which steps parents should help with. I left that for each parent to decide based on their own children and their ages. 
Day 4: Make Christmas Footprint Art
Make a reindeer, mistletoe, snowman, penguin, a manger with baby Jesus, or a Christmas tree. Anything using a footprint! 
I LOVE making crafts using my toddler's handprints and footprints. I love it so much I have an entire Pinterest Board dedicated to these types of crafts. They are so little and adorable. They grow up so fast that I just want to capture their tiny little hands and feet. So that is what we are doing today! I've given you several options, you can pick one or do them all 🙂 
Supplies:
Paint
Paint brushes
Construction Paper
Frame (optional–You could just stick it on the fridge or in a scrapbook)
Baby wipes, a tub of soapy water, or something to immediately clean off the painted foot! 
Another adult (very young children might not like having their foot painted (it's ticklish) and might try to run away from you, which is bad news when they have paint on the bottom of their foot!
Directions:
Paint the bottom of the child's foot with the desired color and make a firm footprint on a piece of construction paper. (I recommend using a paintbrush and not your finger to spread the paint onto the child's foot. If you use your hand you are more likely to run into a huge mess because then you and the child are covered in paint. 
Wash their foot off before preceding to the next step
Use additional paint and paint brushes to transform their footprint into a penguin, reindeer, or other Christmas symbol. 
Make it meaningful: If you make an angel and a manger with footprints, read Luke 2 and have your child pick out scripture to caption the angel and the manger scene. 
Have fun with this craft! Let me know what other pictures you can make from a footprint!
Be sure to check out the other crafts in this series!
12 Days of Christmas Crafts for Kids– Day 1: Make Window Decorations using Puff Paint
12 Days of Christmas Crafts for Kids– Day 2: Make Homemade Ornaments
12 Days of Christmas Crafts for Kids– Day 3: Make a Drum for Little Drummer Boy
12 Days of Christmas Crafts for Kids–Day 5: Turn your Door into a Snowman
12 Days of Christmas Crafts for Kids– Day 6: Make Snowflakes from Popsicle Sticks
12 Days of Christmas Crafts for Kids– Day 7: Made Homemade Christmas Cards
12 Days of Christmas Crafts for Kids– Day 8: Make a Nativity Scene
12 Days of Christmas Crafts for Kids– Day 9: Hanging Paper Ornaments
12 Days of Christmas Crafts for Kids– Day 10: Make a Sock Snowman
12 Days of Christmas Crafts for Kids– Day 11: Paper Plate Crafts
12 Days of Christmas Crafts for Kids– Day 12: Make an Elf Hat

Merry Christmas!
Anna