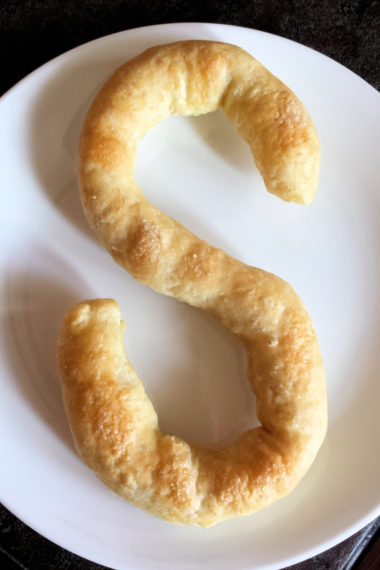 Dutch Letter Pastries are one of the most beloved holiday desserts of all time. These traditional pastries are light and airy and are filled with a delicious marzipan filling. Before baking, the pastry ropes can be shaped to resemble alphabet letters, although the most common letter is "S" (for Saint Nicholas).
To help support our blogging activities, our site contains affiliate links. If you make a purchase from a link on our site, we may receive a small percentage of that sale, at no extra cost to you. Blessed Beyond Crazy is a participant in the Amazon Services LLC Associates Program, an affiliate advertising program designed to provide a means for sites to earn advertising fees by advertising and linking to amazon.com.
First of all, let's take a quick look at the history of Dutch Letter Pastries.
Banket (bahn-KET), banketstaaf or letterbanket is a sweet pastry that originated in the Netherlands. Dutch letters are served as a treat during December, and particularly on Sinterklaasavond on December 5th.
Furthermore, the term letterbanket or banketletter refers to the tradition of bending the uncooked logs into the shape of letters that represents the initials of a family's surname.
Dutch letters started in the United States by Dutch immigrants and are referred to as a "Dutch Letter" or "Almond Patty." Source: Wikipedia
Since Dutch Letter Pastries only require 5 ingredients, they consequently are easy to make.
You can make a homemade pastry dough if you'd like, but to keep this recipe simple, I used Pepperidge Farm Puff Pastry. In addition, you'll also need Solo Pure Almond Paste, granulated sugar, brown sugar, and an egg white.
****(NOTE: Use a pure almond paste made only with almonds and sugar, NOT corn syrup or fructose! Otherwise, the filling will leak out of the pastry during baking.)****

Start by thawing the frozen puff pastry according to package directions. On a well-floured pastry mat, roll each sheet of thawed puff pastry into a 12 1/2 x 10 -inch rectangle.


Next, place egg white into a mixing bowl and beat it until it starts to form bubbles.
Add granulated sugar, brown sugar and almond paste to the egg white.
Stir together egg white, almond paste, 1/2 cup granulated sugar, and brown sugar. Set aside.
Cut each rectangle into five 10 x 2 1/2-inch strips. Shape a slightly rounded tablespoon of almond filling into a 9-inch long rope. Place the almond rope down the center third of one strip. Roll up the strip lengthwise.

Now brush the edge and ends with water; pinch well to seal. Repeat with the remaining dough strips and filling.
Finally, place the filled strips, seam side down, on a non-greased silicone baking mat, shaping each strip into a letter. Brush with water; sprinkle with additional granulated sugar.

Bake in a 375-degree oven for 20 – 25 minutes, or until pastry is golden brown.
Remove pastries from the baking sheet. Cool completely on wire racks.
Dutch Letter Pastries certainly do not need icing because they are delicious just as they are. Nonetheless, a slight drizzle of melted chocolate and a sprinkle of chopped nuts adds even more texture and flavor. 
It seems like everyone who tries Dutch Letters love them! So much so, that they quickly disappear every time I make them. Consequently, consider making a batch of homemade scrumptious marzipan-filled pastries for your next holiday party!
Excuse me while I go grab my mixing bowl!!!
Linda
More great ideas: