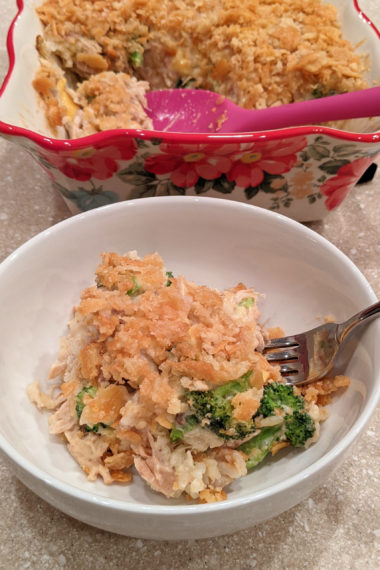 Years ago my friend, Kathy, shared this Easy Chicken Broccoli Casserole with me. I'm so glad she did because it is one of those recipes that's basically foolproof. This casserole requires very little effort, and can be assembled the day before and baked the following day. That means it's an excellent meal choice for busy weeknights.
In addition to all of that, this casserole can be made gluten-free and leftovers are ready in a snap! Simply reheat the amount you need and voila! Dinner is served.

To help support our blogging activities, our site contains affiliate links. If you make a purchase from a link on our site, we may receive a small percentage of that sale, at no extra cost to you. Blessed Beyond Crazy is a participant in the Amazon Services LLC Associates Program, an affiliate advertising program designed to provide a means for sites to earn advertising fees by advertising and linking to amazon.com. As an Amazon Associate, I earn from qualifying purchases.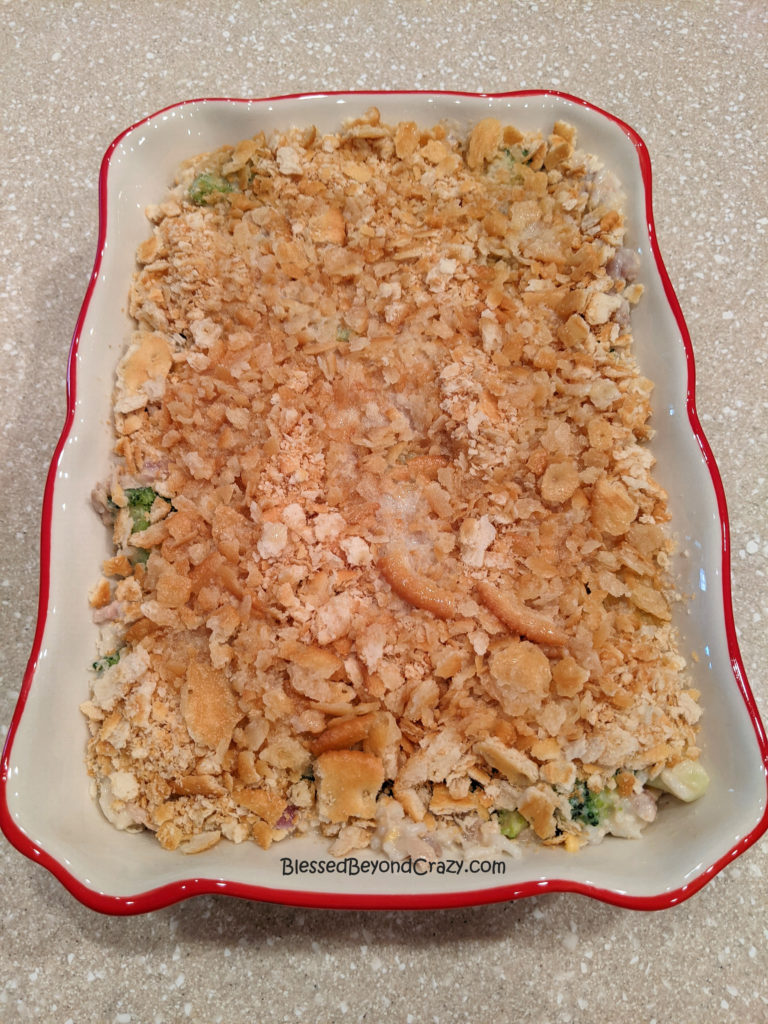 Crowd Friendly!
As you well know, casseroles are wonderful when you need to feed a crowd (especially during the holidays), and this recipe is no exception.
Psst… see that pretty baking dish in the photos? My friend, Veronica, gave me a set of Pioneer Woman baking dishes and this is one of them. I simply love them and use them frequently. You can see them in several of our other blog posts. 🙂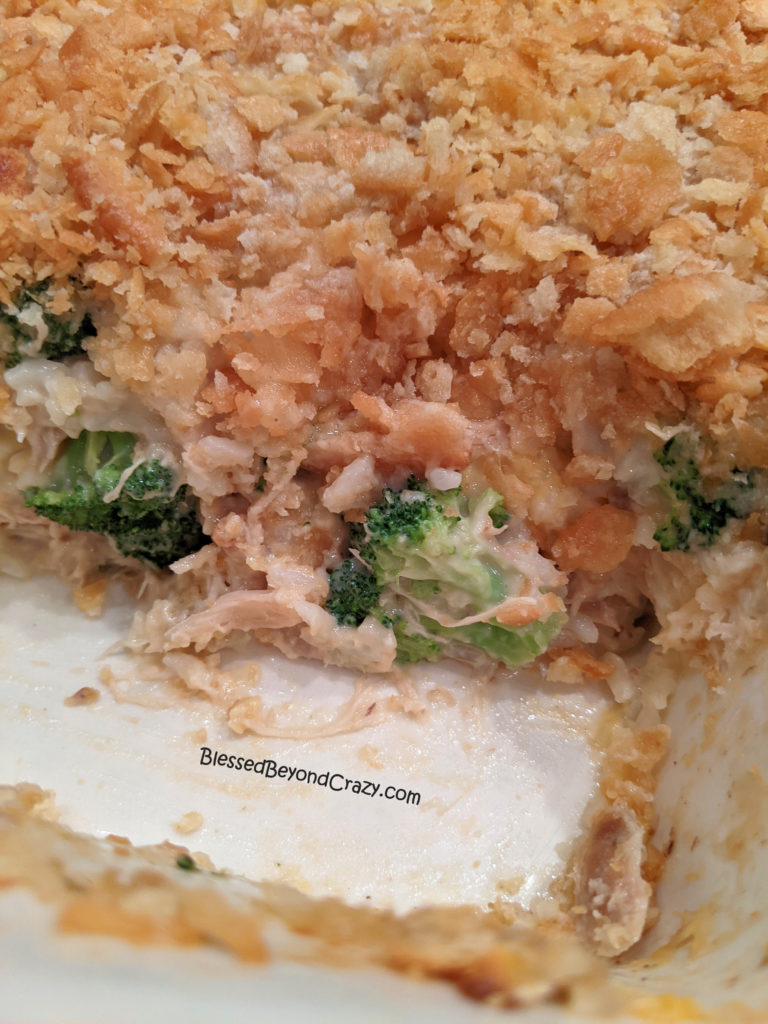 Not So Pretty, but Oh, So Tasty!
Although casseroles typically aren't considered "pretty" they sure do taste amazing! And, they're also good for breakfast or brunch!
Some of our favorites are: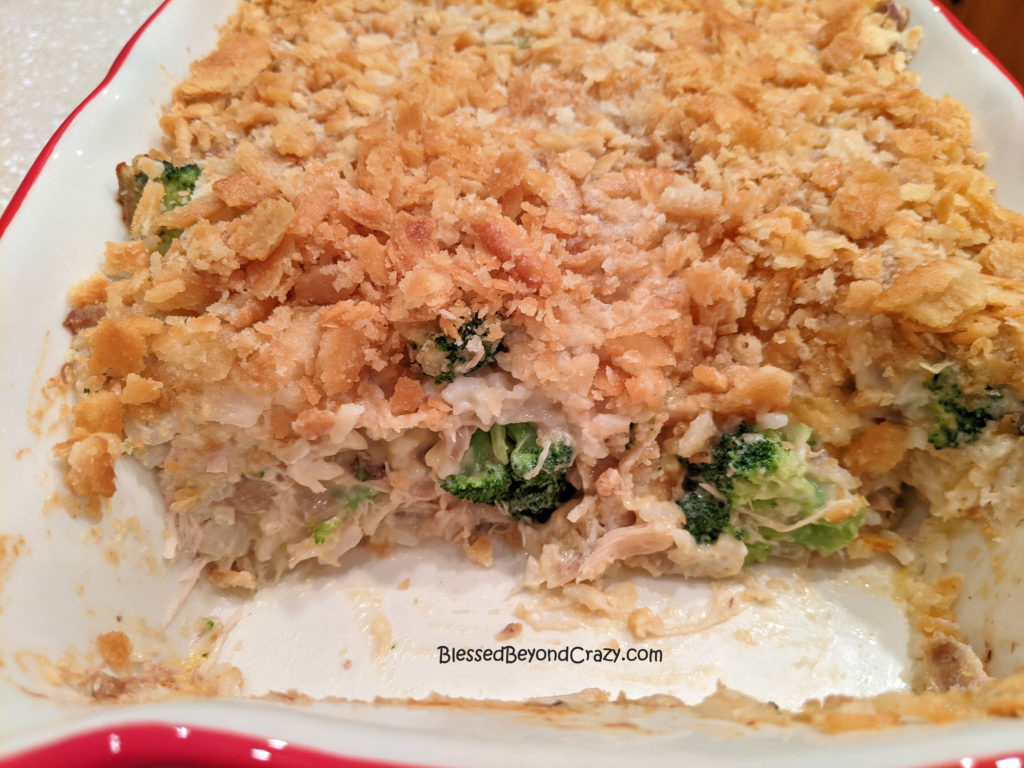 Complete Meal!
Have I mentioned that with the exception of fruit, Easy Chicken Broccoli Casserole is a complete meal? Yep!
It contains:
rice and crackers (bread, cereal, pasta, and rice group)
broccoli and onions (vegetable group)
chicken (meat, poultry, fish, dried beans, eggs, and nut group)
cream of mushroom soup, milk, and cheese (milk, yogurt, and cheese group)
butter (fats and oils group)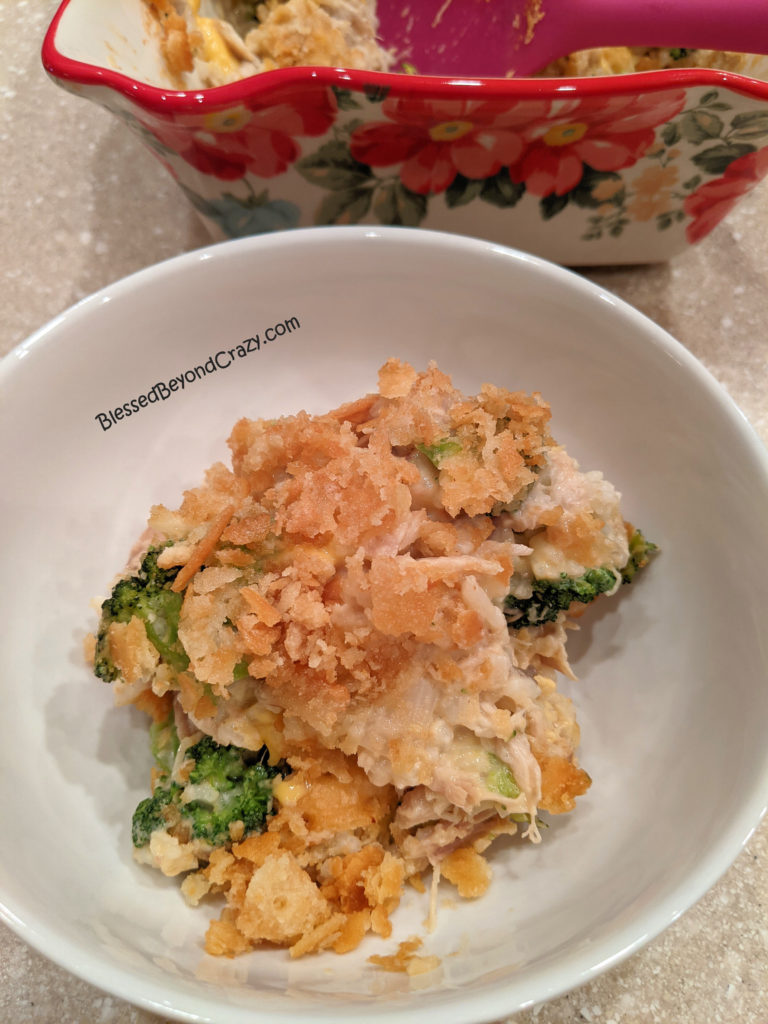 9 to 12 Servings!
This particular casserole is baked in an 8-inch x 11-inch baking dish
and serves 9 to 12 adults, depending on the serving size.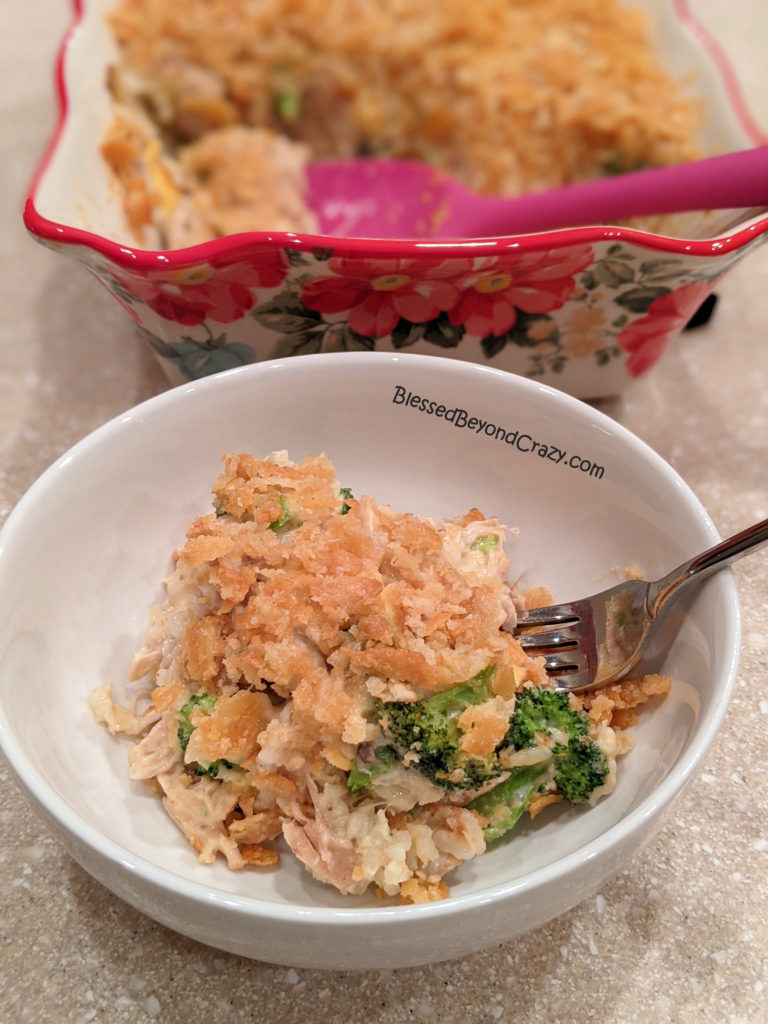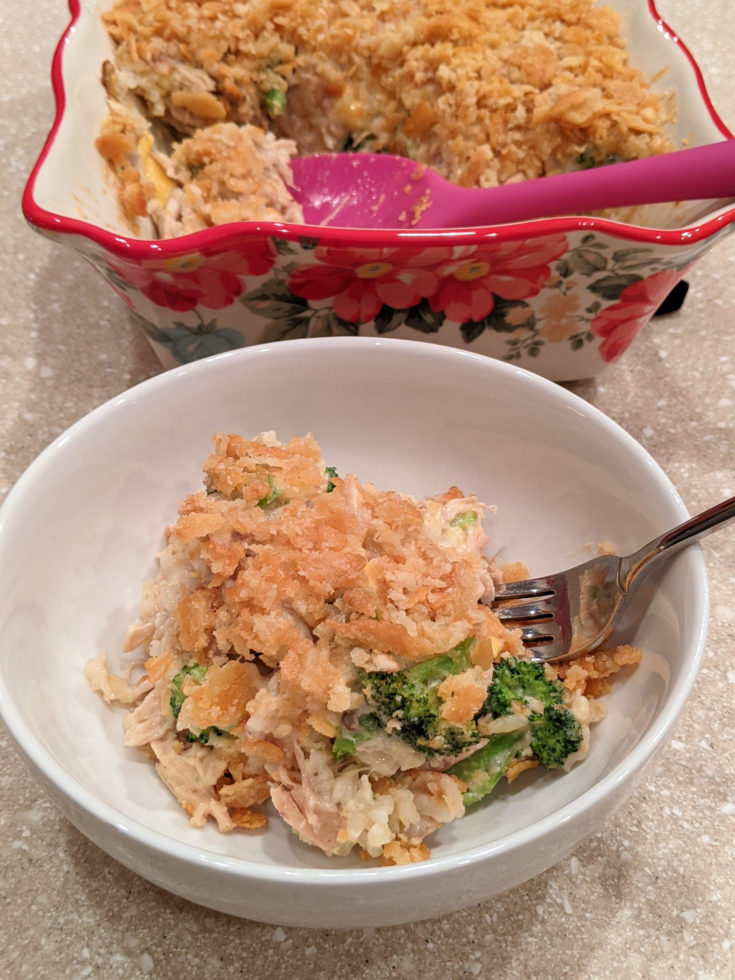 Yield:

9 - 12 Servings
Easy Chicken Broccoli Casserole (Gluten-Free Option)
Total Time:
1 hour
10 minutes
This delicious and filling casserole is perfect for busy weeknights and/or family gatherings. Because it is extremely easy to make a gluten-free version, it's also perfect for your holiday entertaining.
Ingredients
1 1/2 cups instant rice, cooked
3 cups frozen broccoli flowerets, thawed (you can also use fresh but I suggest you blanch it first)
1/2 cup onion, diced and sauteed
3 cups cooked chicken, diced (you can also use rotisserie chicken but when making a gluten-free version be sure to use a gluten-free rotisserie chicken)
1 (10.5-ounce) can cream of mushroom soup (GF Option: use a gluten-free brand)
2/3 cup milk
1 1/2 cups Velvetta cheese, cubed (GF Option: use a gluten-free brand of cheese)
3 cups buttery crackers, crushed (GF Option: use gluten-free crackers)
1/4 cup butter, melted
Instructions
Cook rice according to box directions, set aside. Blanch broccoli. Sautee onions until soft and translucent. Dice chicken.
Whisk together soup and milk in a large mixing bowl. Add rice, broccoli, onions, chicken. Stir in cheese. Pour mixture into a lightly greased 8" x 11" baking dish.
Crush crackers and sprinkle over top of casserole. Drizzle melted butter evenly over top of crackers.
Bake at 350 degrees F. for 50 minutes or until topping is golden brown and casserole is thoroughly heated.
Serve hot. Refrigerate leftovers.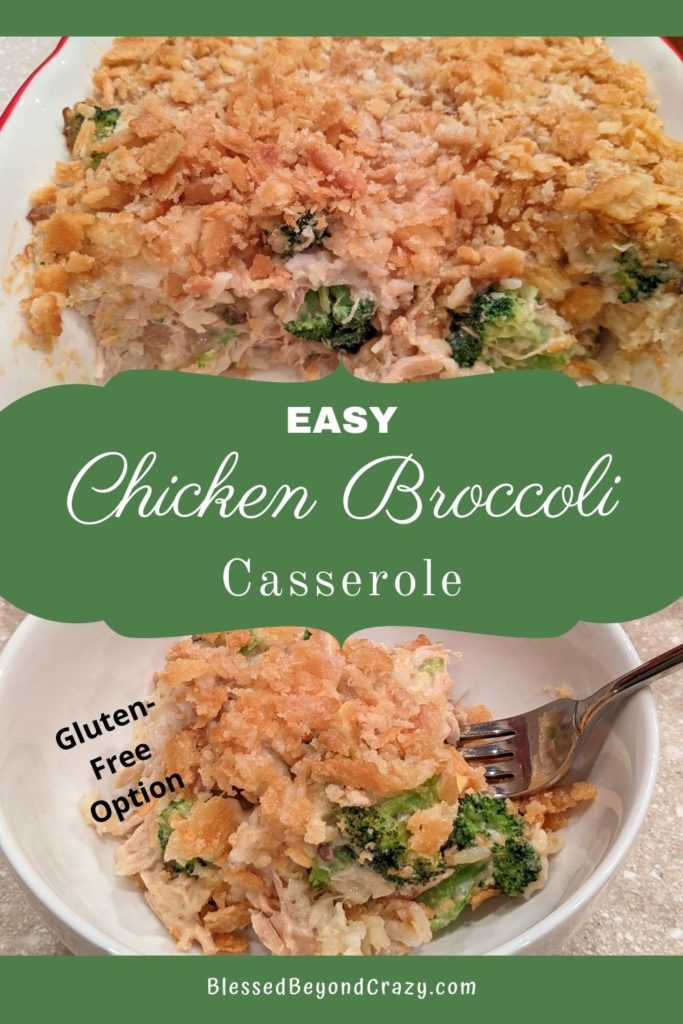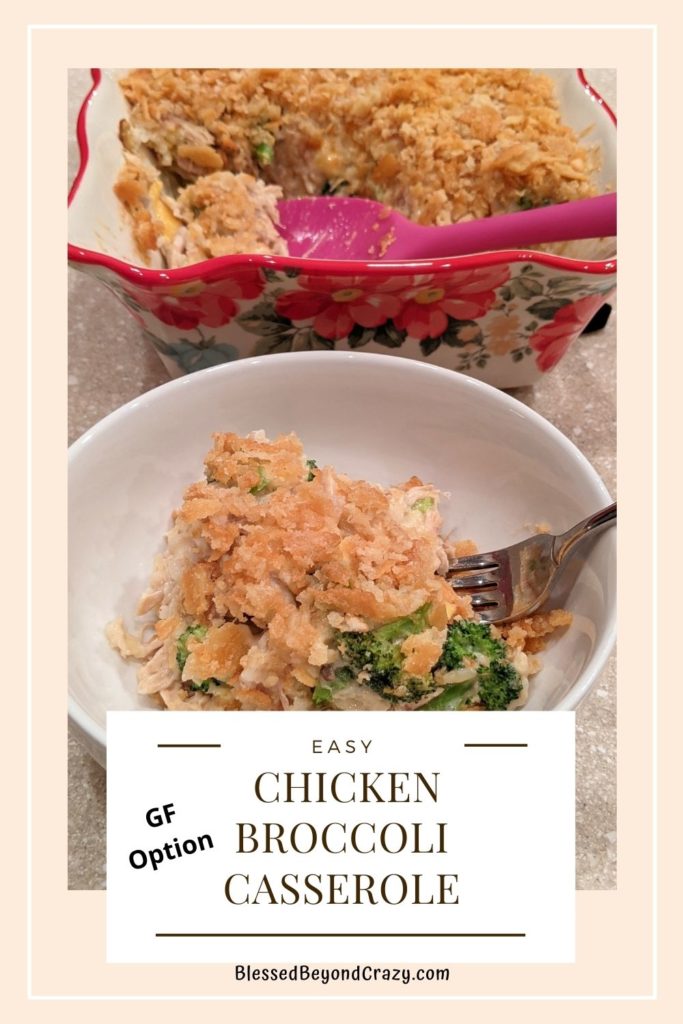 Enjoy!
Linda
More great ideas: