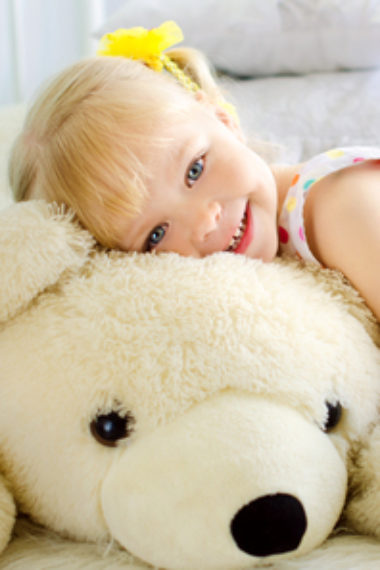 Although stuffed animals are often given as gifts, there seems to be something extra special about a teddy bear. Sweet, cuddly, adorable teddy bears often evoke fond memories of childhood. Maybe that's why many adults still own their favorite teddy bear and/or why they like to give them as gifts (think of those cute Valentine's Day teddy bears). Since so many of us seem to have a love affair with teddy bears, I thought it would be fun to look at some Cute Teddy Bear Ideas.
To help support our blogging activities, our site contains affiliate links. If you make a purchase from a link on our site, we may receive a small percentage of that sale, at no extra cost to you. Blessed Beyond Crazy is a participant in the Amazon Services LLC Associates Program. This affiliate advertising program is designed to provide a means for sites to earn advertising fees by advertising and linking to amazon.com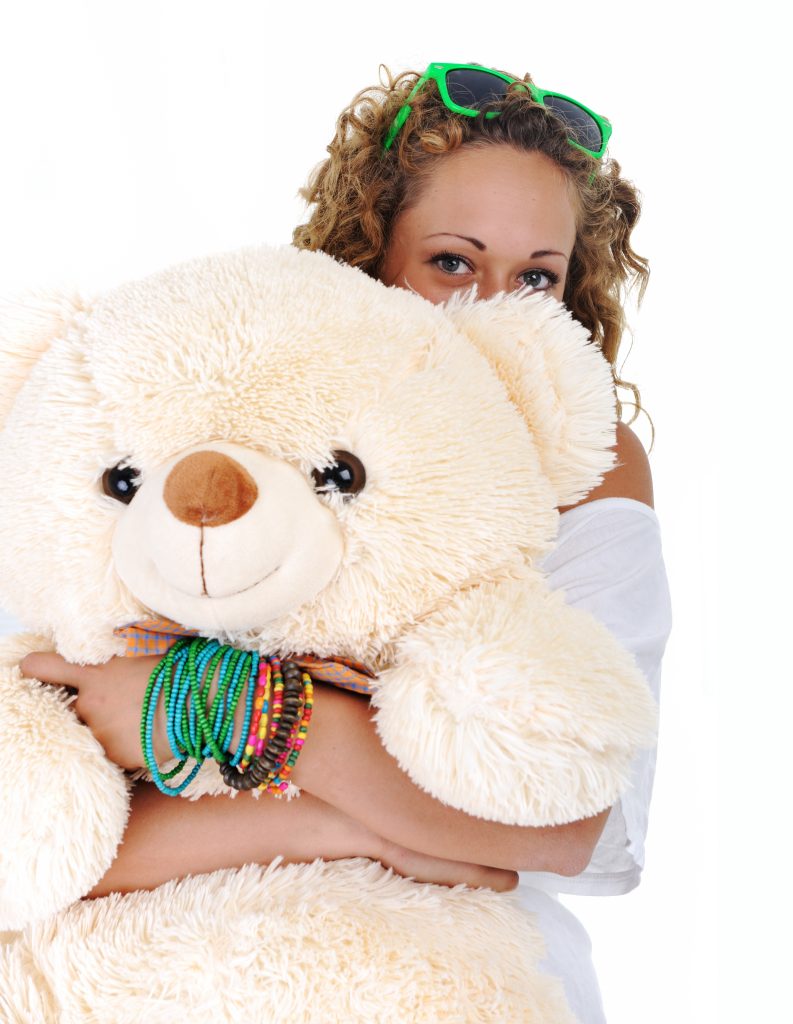 Did you know that the "Teddy Bear" is named after President Theodore "Teddy" Roosevelt? While on a hunting trip in 1902, President Roosevelt refused to shoot a bear, thus resulting in a series of satirical cartoons published in the Washington Post. That's when a cute stuffed bear cub, called 'Teddy's Bear' was created and produced by Morris Michtom.
So now that you know where the actual name "Teddy Bear" comes from, let's look at some Cute Teddy Bear Ideas!!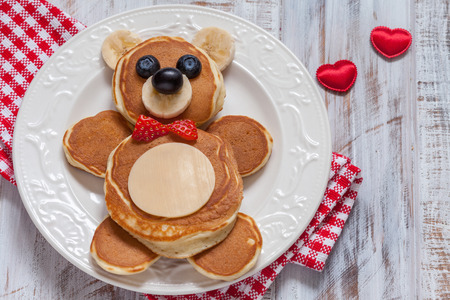 Teddy Bear Pancakes
Let's start this list of cute teddy bear ideas by making teddy bear pancakes, using your favorite pancake recipe. Next, cook one large pancake (belly), a slightly smaller pancake (head), and four equally sized smaller pancakes (arms and legs). Add a thin, round slice of white cheese in the center of the belly, a cut strawberry for a tie, a banana slice for snout/ears, a purple grape for a nose, and two blueberries for eyes.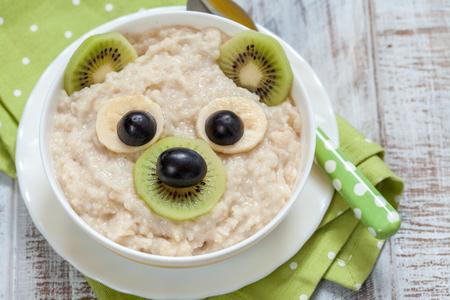 Teddy Bear Porridge
This darling breakfast begins by making your child's favorite porridge/oatmeal. Slices of kiwi create ears and snout, banana slices and a purple grape cut in half work well for the eyes and another whole purple grape works well for a nose.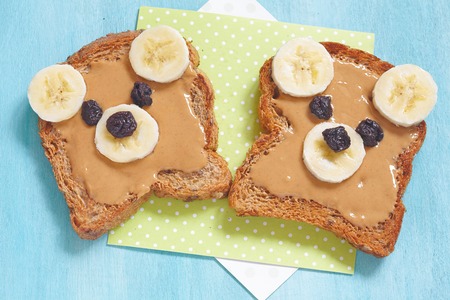 Teddy Bear Toast
How do you turn a simple piece of toast into a darling bear face? Well, simply slather on some peanut or nut butter, add a few banana slices to make ears and a snout, and use raisins to create eyes and a nose.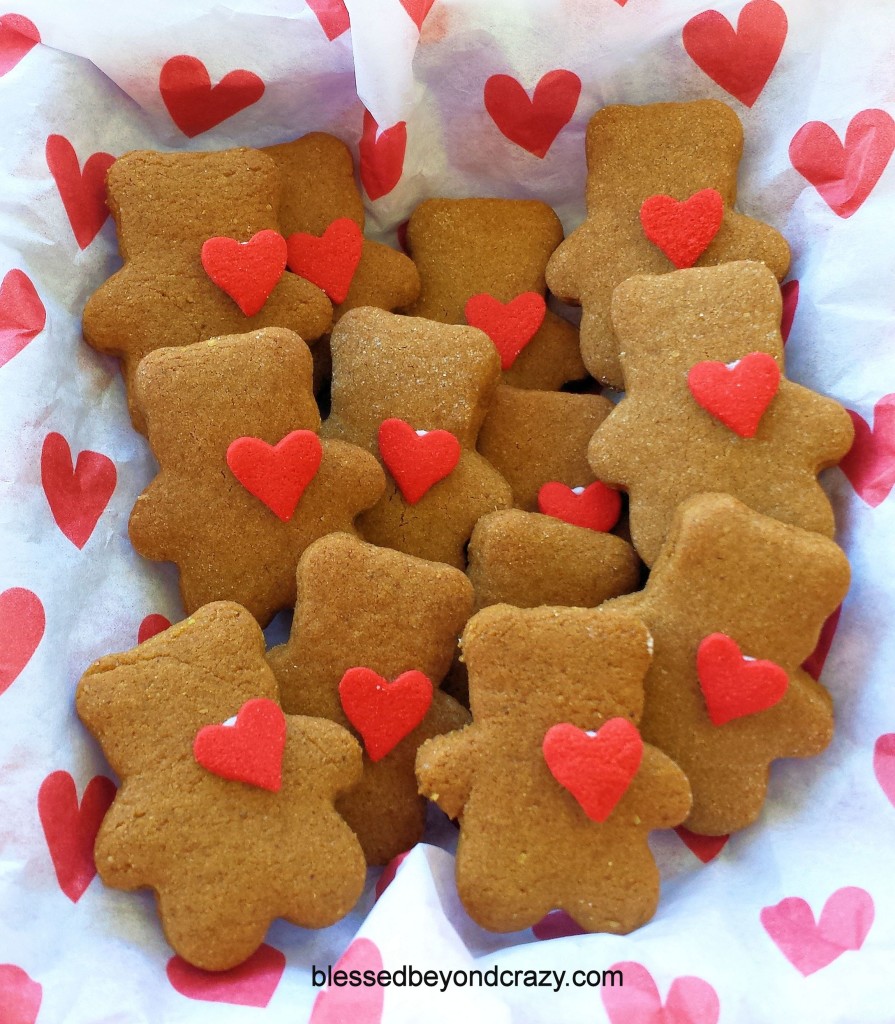 Teddy Bear Cookies
A tiny Teddy Bear cookie cutter is perfect to make mini bite-sized Teddy Bear Cookies. These cookies are super easy to make and are perfect for little hands.
Plus, the recipe can easily be modified to be gluten-free.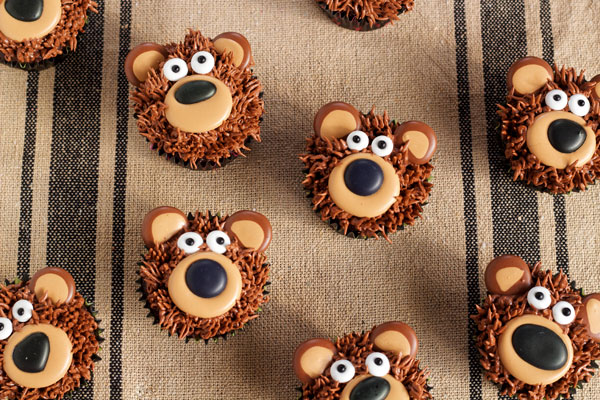 Teddy Bear Cupcakes
Cuteness overload alert!!!
Everyone, young and old alike, will instantly fall in love with these delightful Bear Cupcakes! Lisa, over at The Bearfoot Baker, has a great step-by-step tutorial so that you can see exactly how to make them yourself. These cupcakes are perfect to serve at a birthday party, baby shower, sleepover, camping-themed party, or just for fun!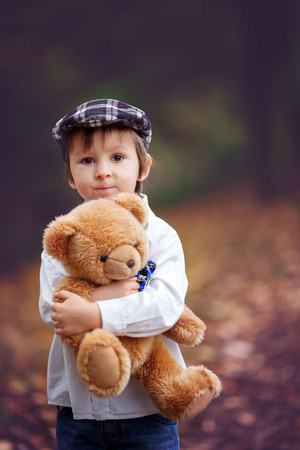 Teddy Bear Props

Did you know that stuffed animals make great props for photo ops? You've probably seen many newborn photos that include a teddy bear, but why stop there? Fluffy stuffed teddy bears also work well as props with older children too.
Check out this post called 15 Retro Inspired Kids Photo Shoot Ideas for teddy bear ideas and inspiration!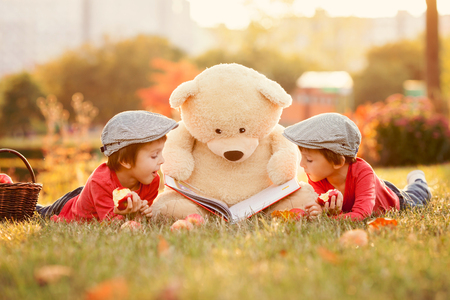 Teddy Bear Picnic
I personally think that every child needs to have a teddy bear picnic at least once in their lifetime! A teddy bear picnic should always be included in a list of Teddy Bear Ideas!
Make some fun memories with your kids! Fill up a picnic basket with all kinds of yummy treats and enjoy a fun day at the park. Remember to snap a few pictures throughout the day so that you can look back on this special picnic.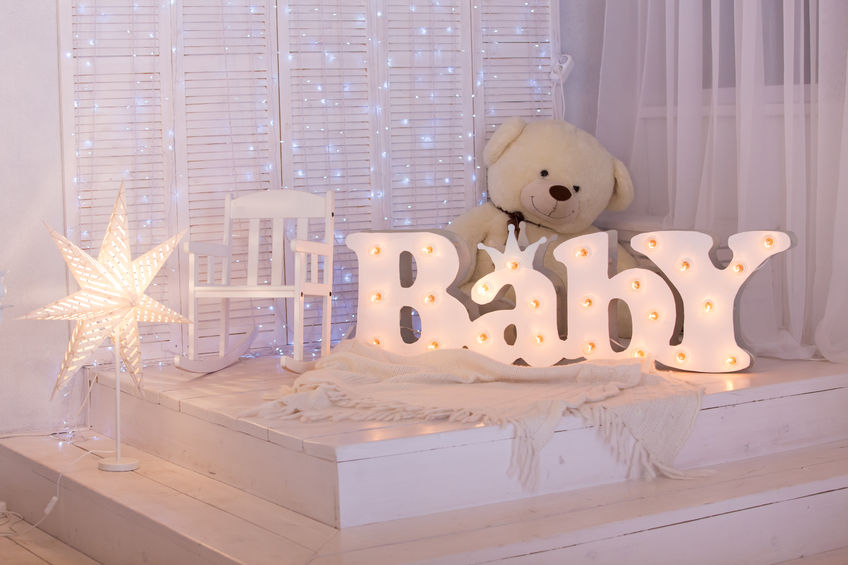 Teddy Bear Decor
Teddy bears make charming decor, especially in a teddy bear nursery or child's bedroom. Strategically placing a teddy bear or two throughout the room can add character, visual appeal, and sweet touch.
Newborn Teddy Bear Hat Crochet Pattern
Isn't this Newborn Teddy Bear Hat just the sweetest thing EVER? Just imagine your little one wearing it! Olivia over at Hopeful Honey provides a list of supplies you'll need along with a full set of directions. If you decide to make your own, she'd love for you to post a picture of it on her Facebook page.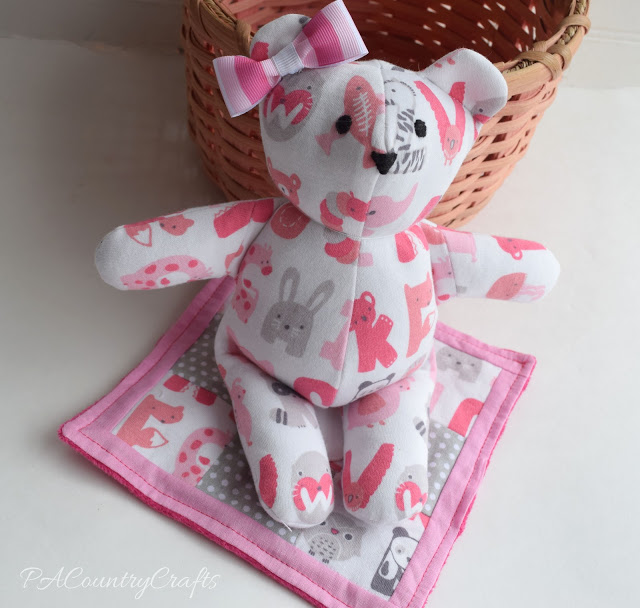 DIY Baby Clothes Memory Teddy Bear
Here's a fun way to turn a onesie that your child has worn and transform it into a cherished keepsake! Lindsay shows you how to make a DIY stuffed teddy bear over at PA Country Crafts. She provides a free pattern and easy step-by-step tutorial so that you can make your very own darling Baby Clothes Memory Bear. Lindsay would love for you to post a picture of your DIY bear on her Facebook page too.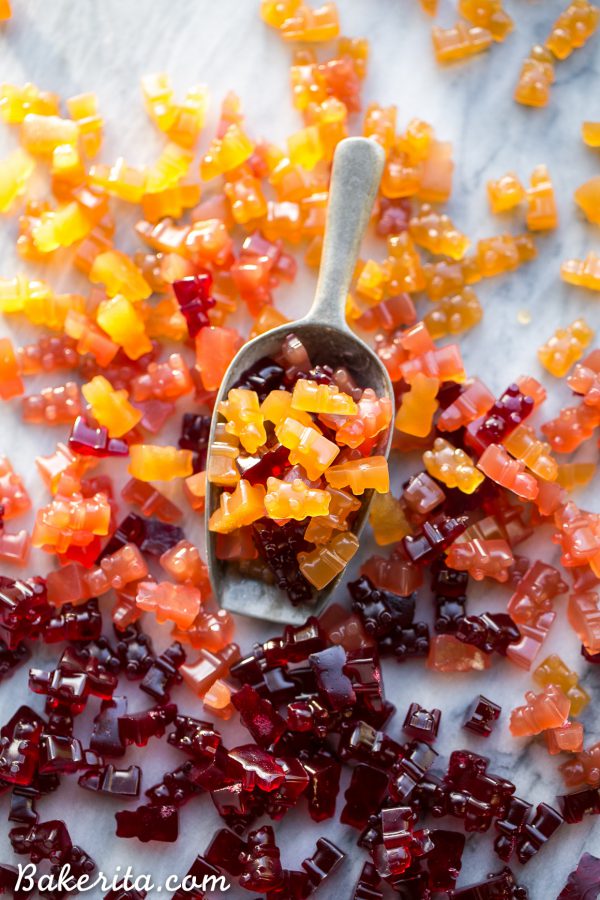 Teddy Bear Gummies
It's easy to make tasty little teddy bear-shaped snacks/treats like these homemade Paleo Gummies by Rachel over at Bakerita. If you check out her blog you'll find a great step-by-step tutorial on how to make three yummy flavors: Pomegranate, Apple Cinnamon, and Cranberry Orange. The gummy bears are flavored with fruit juice and made with gut-healing gelatin for a superfood boost. Rachel says you can easily use other flavors of fruit juice too if you'd like.
You can use a silicone teddy bear mold to make teddy bear gummies, mini chocolate teddy bears, bear-shaped no-bake cookies, and much more.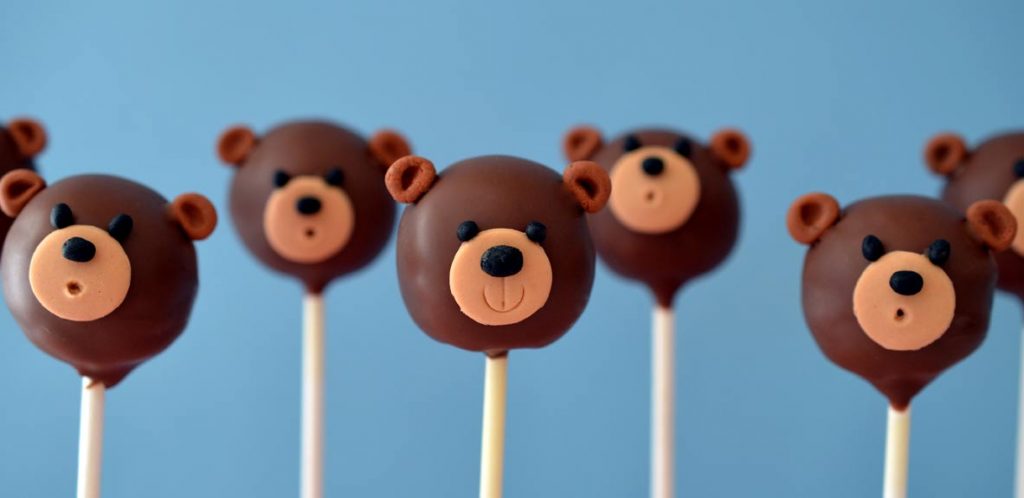 Teddy Bear Cake Pops
"Oh. My. Goodness!" are the words that came out of my mouth when I saw these darling Teddy Bear Cake Pops!!! So adorable and so perfect for any bear-themed party!
Sarah, over at Cake & Cupboard shares an easy-to-follow step-by-step tutorial showing how to make them. Notice how Sarah gave the teddy bear (front and center) a different smile? (Be sure to check out the bear wearing the bowtie at the very end of the post!)
Teddy Bear Care
Did you know that teddy bears are often given to trauma victims? Clinical trials have shown that children can be comforted by cuddling, naming, and/or speaking to a teddy bear. Often times police, fire, and paramedic departments use them to help comfort scared or traumatized children.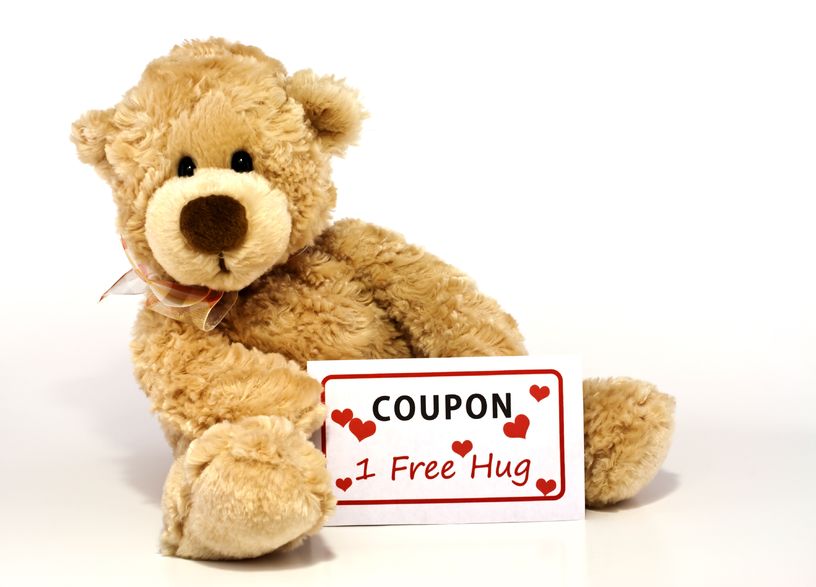 Teddy Bear Love Notes
Not only can teddy bears help trauma victims, but they can also display notes for Valentine's Day, birthdays, anniversaries, or even just to say, "I'm sorry." These cute little furry friends can put a smile on anyone's face.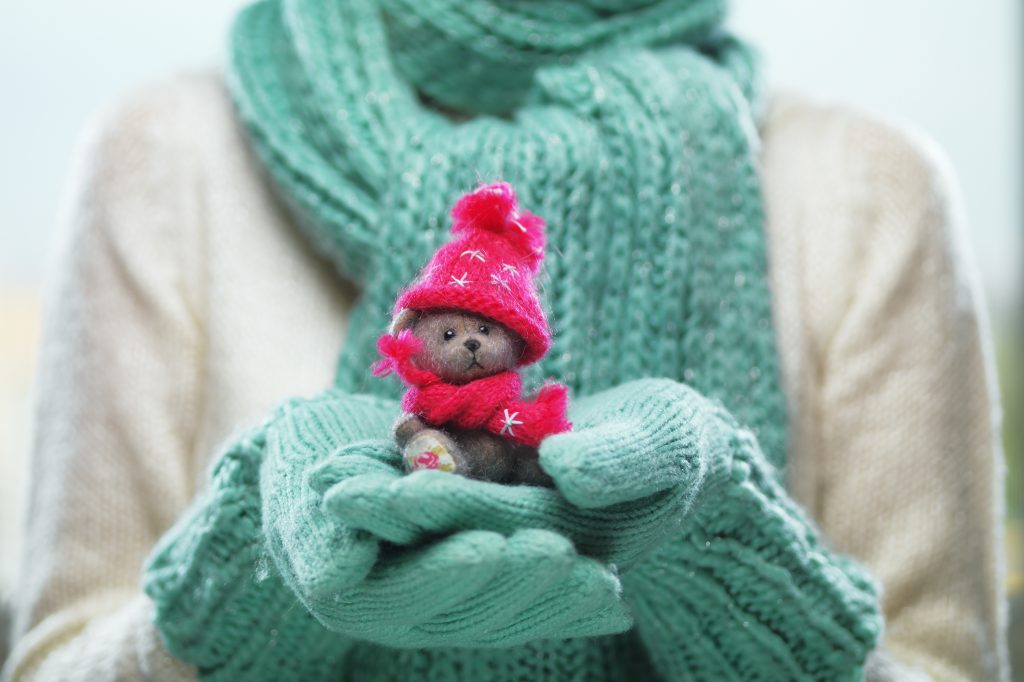 The Gift of a Teddy Bear
Teddy bears come in all sorts of sizes and materials and just their presence can warm the soul. Therefore, never underestimate the influence of these special little friends. The gift of a charming teddy bear may make someone's day just a little brighter.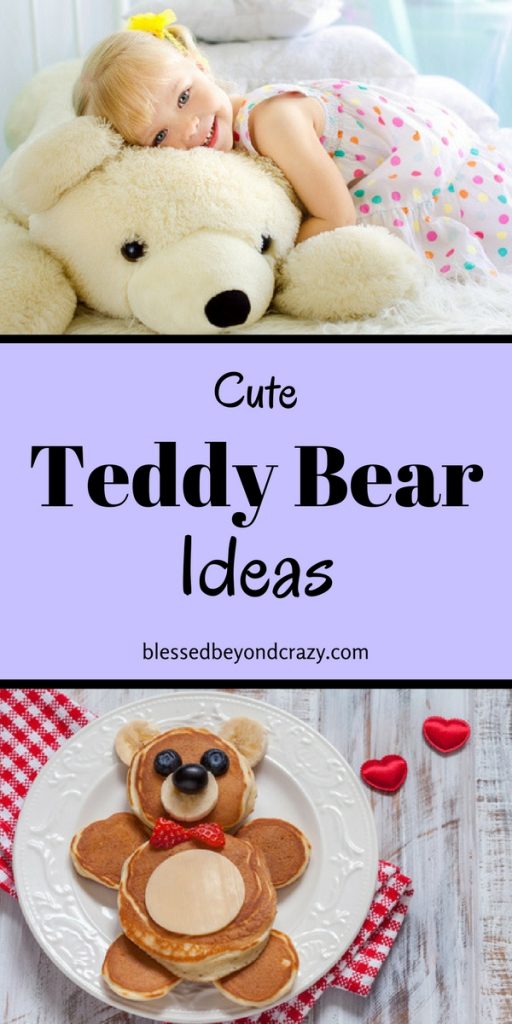 I hope that you are able to incorporate some of these Cute Teddy Bear Ideas into your life.
Have fun!
Linda
More great ideas: