Allow me to introduce you to my husband.
Seth is hilarious. He constantly makes me laugh.
He loves to help people. His love language is definitely acts of service!
He is ridiculously smart! One of the smartest I've ever met, and he's constantly trying to learn new things… like actually enjoying textbooks. 
He's amazing.
To help support our blogging activities, our site contains affiliate links. If you make a purchase from a link on our site, we may receive a small percentage of that sale, at no extra cost to you. Blessed Beyond Crazy is a participant in the Amazon Services LLC Associates Program, an affiliate advertising program designed to provide a means for sites to earn advertising fees by advertising and linking to amazon.com.
He has been in the local fire department for 9 years, and before that, he lived at home and was on that local fire department for 2 years. Seth has an associate's degree in Fire Science as well as an associate's degree in Paramedicine (Pre-hospital Emergency Medicine). He has worked as an EMS captain and paramedic for 7 years now. He is also a board-certified critical care flight paramedic for a local air medical program.
So he wrote this list down because he has a genuine concern about safety. It's his job.
I would say almost all of these are a no-brainer, common sense stuff, but this is his career and he is hyper-aware that many people tend to ignore these things.
But I have to give to them, it's easy to let these things slide. We are so busy that these just get added to our to-do list and then they never get done.
We want you to be safe, and we want your family to be safe.
Some of these will help you avoid an emergency. Some of these will help you in case there ever is an emergency.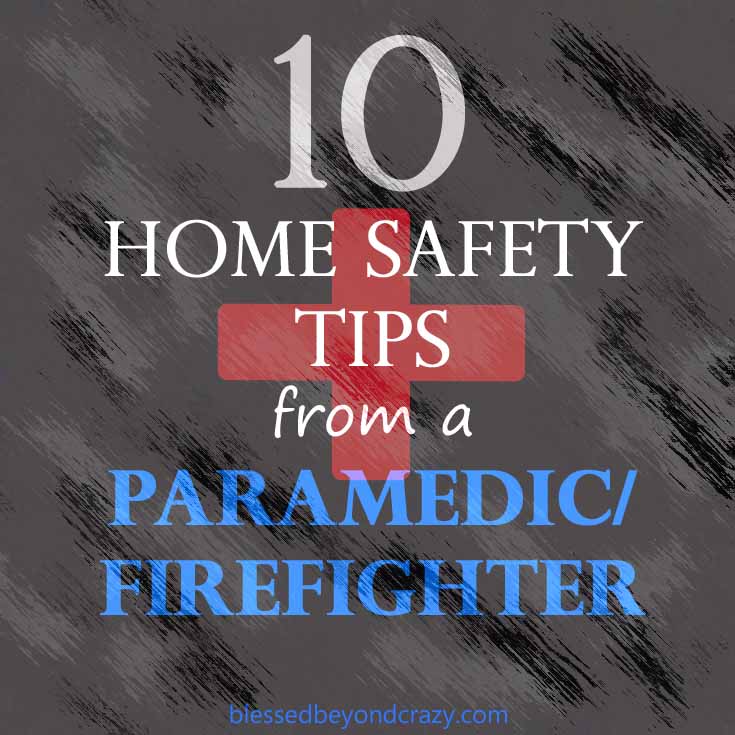 10 Home Safety Tips
By: Seth Martin
EMS Captain
NREMT-Paramedic
CCP-C (Critical Care Paramedic – Certified)
Critical Flight Paramedic
AAS – Fire Science
AAS – Paramedicine
1. Smoke Detectors
Every home should have smoke detectors on every floor and if possible, outside the bedrooms. Smoke detectors are very sensitive to smoke particles and will alarm you when you might not even be able to see the smoke yet. This can give you precious moments to get yourself and your family out of the house. Keep in mind that fire DOUBLES in size every minute. Smoke detectors should have the batteries changed every 6 months. 4th of July and Christmas would be good times to change the batteries.
If you do not have a smoke detector, you need to buy one NOW! This is the exact smoke detector that we have in our hallway outside our bedroom and our children's bedrooms. We also have another one in our basement. If you need to buy one I would recommend this one: Combination Carbon Monoxide and Smoke Alarm with Talking Alarm.
2. Carbon Monoxide (CO) Detector
Carbon monoxide is an odorless, tasteless gas that is a nasty by-product of incomplete combustion (i.e. gas appliances). It will cause nausea, severe headaches, and eventually death if not immediately treated. Many companies make smoke detectors in a smoke/CO combination.
Good news for you–that smoke detector that I recommended for you in the above point has a built-in Carbon Monoxide detector. So you don't need to buy a separate one. Two birds with one stone.
However, if you already have a smoke detector, you need to check to make sure it doubles as a CO detector. You need to have BOTH. If your smoke detector doesn't have one I recommend this one that serves a dual purpose: Combination Carbon Monoxide and Smoke Alarm with Talking Alarm
 (It's the same one from point #1).
3. Fire Extinguisher
Every kitchen should have a charged fire extinguisher handy. Kitchen fires are a common occurrence due to having open flames and heat around grease, oil, and towels. A dry chemical extinguisher will cause a major mess when used but is easier to clean up than fire, water, or smoke damage.
So what does "charged" mean? It means that it is not empty. Look at the picture below. See the little yellow stick pointing at the green? That means it's charged. If you already have a fire extinguisher go check it right now and see if it's charged.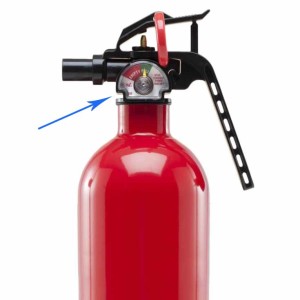 A bit of an embarrassing story, but we actually had a fire in our apartment years ago. Thankfully we had a fire extinguisher and were able to put the fire out without having to call the fire department. If we had not had the fire extinguisher we would have had to call the fire department and probably would have lost all our possessions and possibly the building.
You will want to keep it in a place where every family member knows where it is located. You don't want to search for it once you need it. Under the sink is a commonly known storage place.
If you don't have one, you can find one here: Multi Purpose Fire Extinguisher.
4. Ground Fault Circuit Interrupter (GFCI) Outlets
Ground Fault Circuit Interrupter Outlets (GFCI) should be installed in bathrooms and kitchens where water may come into contact with an outlet. GFCI is built to "trip" off when any variance in current is noted. If you were to accidentally drop your toaster in the sink while doing dishes, the GFCI would shut off before you were electrocuted.
Every house should already have these installed. However, if you are adding an extra outlet, you bought an older house or a home where someone added an extra outlet, you want to make sure all outlets around a water supply have a GFCI.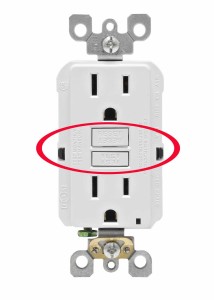 If you're not sure where to buy these, you can find them here.
5. Water Heater Temperatures
I'm sure you like to take a hot shower just like everyone else, but it doesn't need to be lava coming out of the facet. Your water heater temperature should be set at a level where you can hold your hand under the facet when the water setting is at its hottest. This will ensure that children do not accidentally turn their bath time into an ER visit and it will also save you money by not heating water to such an extreme temperature.
6. House and Mailbox Labeling
Working as a paramedic/firefighter for the last eight years, I have been to thousands of emergency calls. One of the most common problems when some calls 911 is actually finding the house.
Most towns have ordinances requiring your house number to be clearly displayed. If you don't have your house numbered, you could be fined.
Your address should be clearly posted on your house and on your mailbox with a minimum 3'' reflective letters and numbers ON BOTH SIDES OF THE MAILBOX.
Having your address on just the flag side isn't going to be very helpful at 3 am in the rain when the ambulance or fire department could be coming from the opposite direction. Having your last name displayed is also very wise. Getting your neighbors to follow suit is also great to help responders figure out which house they are responding to quickly. Having help drive by your house in an emergency is too late to add a number to your mailbox.
If you already have reflective letters on your mailbox, you may need to replace them every year. The letters and numbers can fade and/or peel off in the sun and weather. 3M makes high-quality reflective products that cost about 30 cents apiece at Walmart. Skip Starbucks and get the new shiny numbers for your mailbox.
7. Medicine Cabinet
Keep all prescription and over-the-counter medications out of reach of children and in a cabinet that they cannot access. A vast majority of prescription medications can cause very harmful side effects in children. Medication that is being placed into a Sunday-Saturday tray should be kept on top of the refrigerator or in a closet where children cannot reach it.
You also need to be aware of this when you visit someone else's home (such as grandma and grandpa's) where they do not have children and might not have child-proofed their home. Blood pressure and diabetic medication can cause devastating effects on little bodies.
Yeah, yeah, yeah, we've all heard this many times. Yet it isn't uncommon for me and my coworkers to be called to a home where a small child has swallowed or drank something that should have never been within their reach in the first place! So I went ahead and covered it again!
8. Cleaning Chemicals
Any cleaning product that you can't put in your mouth should be locked up with a childproof device or placed out of reach of children. Bleach and ammonia are commonly found products that cause respiratory problems and chemical burns. If you have to wear gloves when handling it, you don't want your kids using them as perfume.
9. Chimney Care
Chimneys should be cleaned every year before use. Buildup can cause a flue fire to ignite and can lead to a fire spreading outside of the chimney. The goal is to keep the fire in your fireplace, not your attic. Most home improvement stores sell kits to do it yourself.
We don't have a fireplace, so I'm not an expert in this area. However, I do know that every year when it starts getting cold we have several house fires because the owners neglected to clean their chimneys.
10. Vacation
Do not post your vacation schedule or business trips on social media sites. This is telling hundreds or thousands of people that your home is not occupied and would make an easy target for burglary. Once you get home go ahead and tell all your friends about your awesome time on vacation.
All of these things are so simple and easy, but at the same time absolutely necessary! One of these could actually save your life! Don't let a few dollars and some procrastination cost you thousands of dollars in damage, medical bills, or the life of a loved one.
Please share this with your friends and family to make sure they are safe! Try to hold each other accountable!
"uh hmmm… I noticed your mailbox doesn't have any numbers or your last name on it… I'm heading to the store, want to pick some up for you?"
So if you had the opportunity to pick the brain of a paramedic/firefighter would sort of questions would you ask?
Seth & Anna