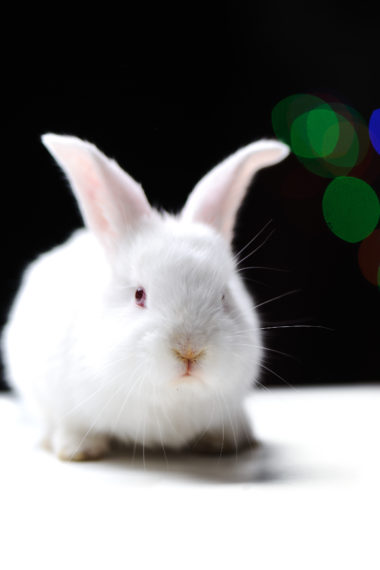 It's that time of year when children look forward to coloring eggs and having an Easter egg hunt. This year, add to the fun by starting their day with these darling Easter Bunny Breakfast Ideas for Kids!
To help support our blogging activities, our site contains affiliate links. If you make a purchase from a link on our site, we may receive a small percentage of that sale, at no extra cost to you. Blessed Beyond Crazy is a participant in the Amazon Services LLC Associates Program, an affiliate advertising program designed to provide a means for sites to earn advertising fees by advertising and linking to amazon.com. As an Amazon Associate, I earn from qualifying purchases.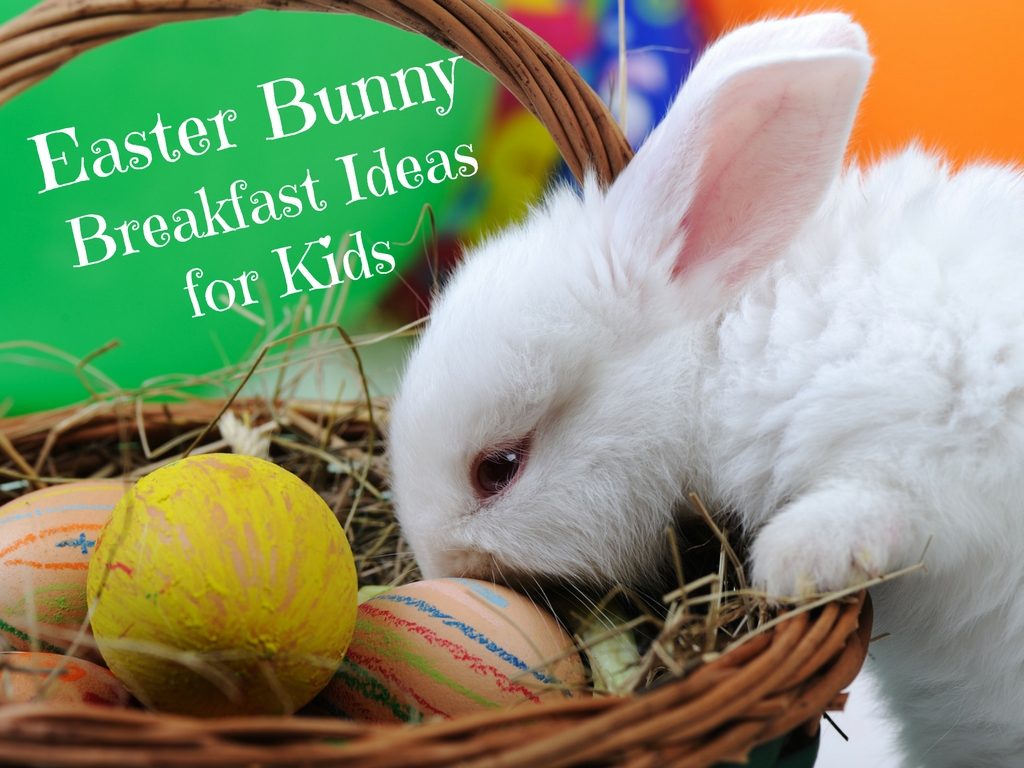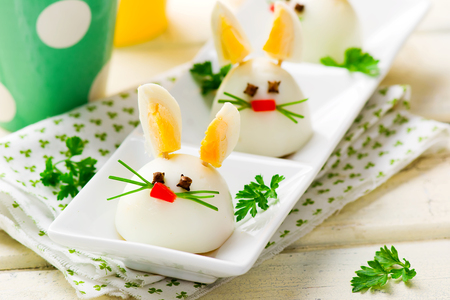 Bunny Eggs!
Children will squeal with delight when they see these adorable Bunny Eggs! These darling creations start by boiling eggs for 5 minutes; drain off water and allow the eggs to cool completely. Remove the outer shells. Using a sharp knife, carefully cut off the larger bottom portion of the eggs and set them off to the side. Place the eggs on a serving platter (cut sides down). Next, carefully cut the segments into two sections to form the ears and carefully attach them with toothpicks (poked into the white part) to the bunny's body.
Green little whiskers are easily made by using thin strips of chives poked into the bunny's body. The eyes are made by gently poking two whole cloves into the bunny, as well as a piece of red pepper for a nose. (You can use a toothpick to make tiny holes before adding the whiskers, eyes, and nose if you need to). Garnish with fresh parsley.
TIP: Eggs may be easier to work with if they are chilled first.
Bunny Pancakes
These darling pancakes begin by making one large pancake (face), two small pancakes (cheeks), and two long pancakes (ears). You can make the bunny's eyes by using cut pieces of prunes, dried plums, small chocolate chips, or a drizzle of chocolate syrup.
Dried apricots (5 – 6 large apricots) and cashews (2 – 3 whole cashews) are blended together in a Magic Bullet or food processor, then shaped to make round bunny noses and the body of the carrots. Sprigs of mint work great for the carrot tops. Right before serving garnish with slices of banana.
Fruity Bunny
This Fruity Funny Bunny is a perfect addition to our list of Easter Bunny Breakfast Ideas for Kids! Perhaps your child will give their bunny a name!?!?
To create this rabbit you will need:
one small green apple (cut to make the body, legs, ears, and teeth)

one slice of pear (face)

two slices of kiwi (cheeks)

one purple grape (cut in half to make the nose)

two to three green grapes (cut to make the tail, eyes, and eyebrows)

two small blueberries (pupils)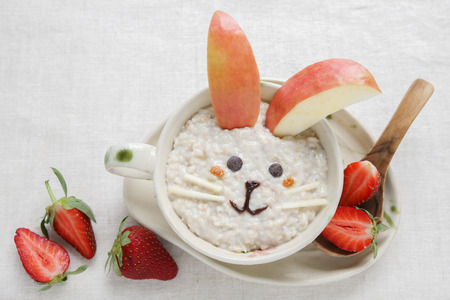 Bunny Cereal
Make your child's favorite oatmeal in a cup and make a sweet Bunny Face. Next, use two slices of apples to make the ears, two chocolate chips for the eyes, and several almond slices to make the whiskers. A drizzle of chocolate syrup creates the nose and mouth and a dot of orange marmalade (or two golden raisins) highlights the bunny's cheeks. Add a few fresh strawberries on the side for garnish.
Bunny Breakfast Sandwich
This list of Easter Bunny Breakfast Ideas wouldn't be complete without this charming Bunny Breakfast Sandwich!
Here is what you'll need:
one slice of bread or toast

two thin slices of ham (one to cover the bread, the other cut into circles to make the tummy, part of the mouth, and feet)

two thin slices of your child's favorite cheese (cut into various shapes to make the bunny's body)

chives (to create whiskers and grass)

ketchup (to create a nose and toes)

pieces of olive, or two dots of chocolate syrup, or two mini chocolate chips (to make eyes)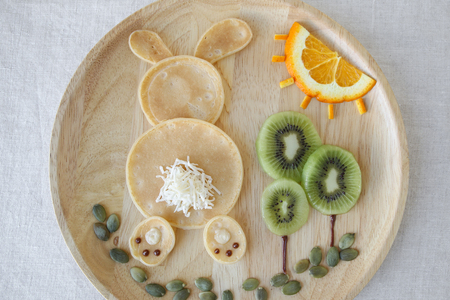 Bunny Butt Pancakes
Aren't the backsides of bunnies cute? Yep! These Bunny Butt Pancakes are super easy to make and your child will love them.
Here is how to make them:
pancakes (made into four different shapes to create the bunny's body)

coconut (tail)

dots of chocolate syrup (toes)

dollops of pureed banana or more coconut (pads of feet)

garnish with sunflower seeds (ground), slices of kiwi for trees with chocolate syrup for tree trunks, and an orange slice to make the sun.
Hippity Hoppity Bunnies
Children of all ages will enjoy finding Hippity Hoppity Bunnies on their plates on Easter morning.
Here is what you'll need:
hard-boiled eggs (make sure the shells are dry)

thick yellow felt (to make feet, arms, and ears)

white felt (for insides of ears)

black, orange, and yellow markers (to draw faces, and for decorating the bottom of the eggs)

craft glue (to attach feet, arms, and ears)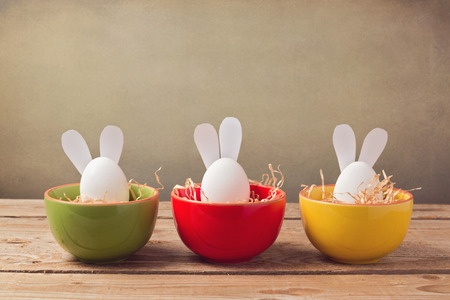 Easy Eggy Bunnies
Pressed for time? Never fear! These Eggy Bunnies couldn't be any easier. Simply boil eggs and allow them to cool completely. Cut out bunny ears using white construction paper and attach the ears with a tiny drop of glue. Place natural colored crinkle paper in the bottom of several colorful soup bowls. Gently place an Egg Bunny in each bowl. Ta-Da! A charming "bunny" breakfast is served!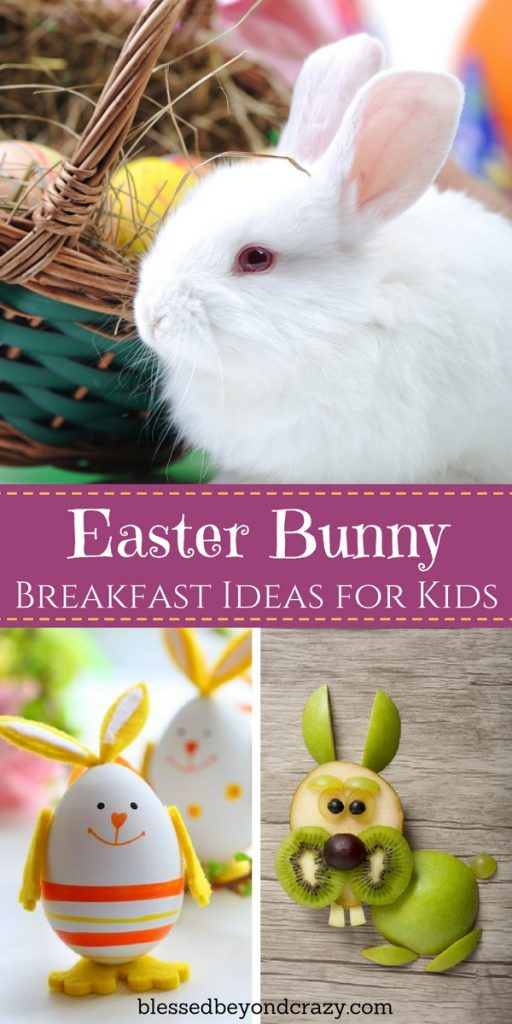 Which of these Easter Bunny Breakfast Ideas is your favorite?
Happy Easter!
Linda
More great ideas:
DIY Resurrection Scene