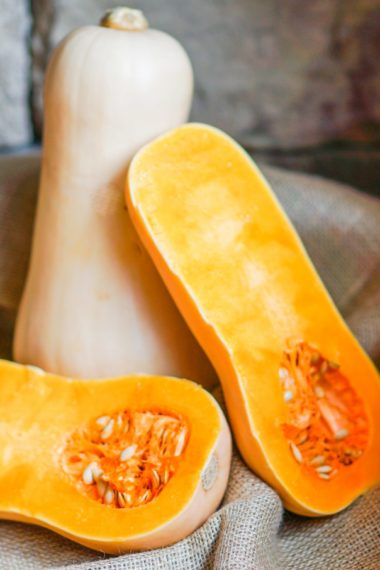 Grilled food is always welcome in our home. Probably because my two sons and son-in-law are always looking for ways to improve their grilling techniques. Recently we tried making grilled butternut squash and although it doesn't look like much, we think it turned out pretty yummy. 
To help support our blogging activities, our site contains affiliate links. If you make a purchase from a link on our site, we may receive a small percentage of that sale, at no extra cost to you. Blessed Beyond Crazy is a participant in the Amazon Services LLC Associates Program, an affiliate advertising program designed to provide a means for sites to earn advertising fees by advertising and linking to amazon.com. As an Amazon Associate, I earn from qualifying purchases.
Now that we are officially into the fall season, there are just a few more weekends to enjoy making meals on our gas grill. It is also that time of year when there is an abundance of butternut squash. I have never tried grilling squash, until now. 
It only took a few minutes to cut up and remove the seeds from two butternut squash. As you can see by the picture, I didn't do anything fancy and I left the thick skin on the squash. (Just look at all of that golden goodness sitting on that pan!)
We preheated the grill to a temp of 400 degrees and placed the squash right onto the grates. We allowed the squash to cook on one side for approximately 15 minutes then flipped it over. The total cooking time was right around 30 minutes. (If you cut your squash thinner it will obviously take less cooking time.) 
Side Note: Try smoking butternut squash on a smoker grill sometime!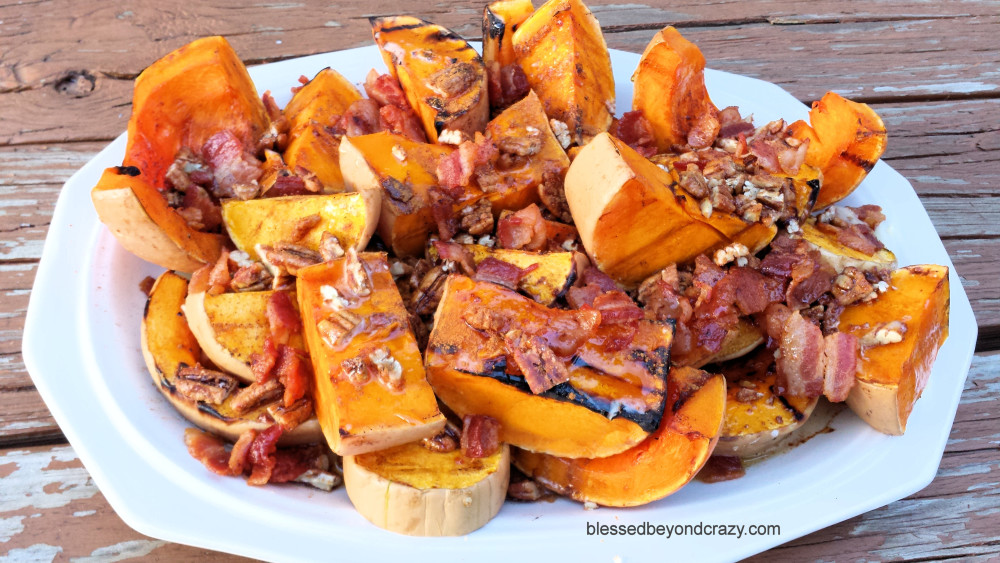 Where you go from here with your grilled butternut squash is totally your decision. It's fantastic simply grilled (and a whole lot healthier) or,  you can doctor it up like I did and make it outstanding! 
Here is how I topped mine:
crumbled gluten-free bacon

a handful of organic pecans

a sprinkle of cinnamon

several pinches of nutmeg

a dash of pink Himalayan sea salt

a sprinkle of brown sugar

a drizzle of pure maple syrup
Now you can make a meal with just this dish, or you can serve it as a side dish. Either way, it is truly delicious!
Grilling butternut squash gives it a rustic and primitive look, and of course, it also gives it a slight grilled flavor. By adding a few extra toppings… well, you send it right over the top on the yummy chart!
What is your favorite way to eat butternut squash?
Enjoy!
Linda
More great ideas: