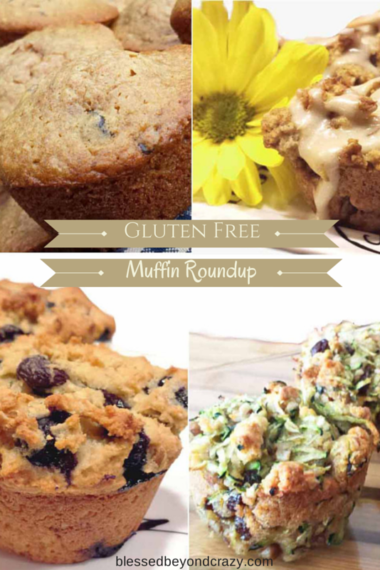 I love to wake up to a cup of tea and a yummy warm muffin! Yummmm… delicious!
In today's post, Anna and I would like to share with you a Gluten Free Muffin Roundup!
Making the first guest appearance in our roundup today is none other than the amazing, the wonderful, the 'drool worthy', one and only:

Breakfast Oatmeal Muffins are deliciously moist and filling. They are made with… you guessed it… oatmeal. Did you know that eating oatmeal can increase your health, one bowl at a time?
It helps lower cholesterol and the risk of cancer.
Helps you lose weight because it makes your stomach feel full and is low in calories.
Contains 'good carbs' so it boosts your energy levels and helps get you going in the morning.
Contains insoluble fiber which aids in fighting constipation.
Helps memory because it contains vitamin B.
It helps your skin. You can make an oatmeal mask for dry skin/acne problems and it helps with itchy skin.
Great for your hair. Just rub it in your hair, (like shampoo), while in the shower, let it sit for a couple of minutes, wash it out completely, then dry your hair. Lots of over-the-counter shampoos have oatmeal in them.
Next on the agenda…. the scrumptious, heavenly, out-of-this-world:
These Mini Flax'n Apple Muffin Cakes are a mix between a muffin and a cake. They contain flax which has amazing health benefits such as:
Contains a compound that helps the body handle estrogen and can help lower the risk of breast cancer, and ease hot flashes and night sweats.
Contains fiber, protein, magnesium, and thiamine.
Who doesn't like to sink their teeth into a delicious apple that contains wonderful health benefits:
Helps to lower your risk for cancer, Parkinson's, Alzheimer's, diabetes, heart disease, gallstones, and cataracts.
Constipation and irritable bowel syndrome relieved.
Helps with weight.
Aids in detoxifying your liver.
Onward now to the delectably delightful and succulent:

I love blueberries. I could eat them by the handfuls! Every. Single. Day. Yep! It's true.
These heavenly little round divine gems are also so good for us.
They contain the highest antioxidant capacity of all fresh fruit.
Neutralizes free radicals which can affect disease and helps prevent aging in the body.
Helps preserve good vision and promotes brain and urinary tract health.
Aids in lowering heart disease, and diabetes and helps prevent cancer.
Helps digestion and with constipation.
Natural anti-depressant.
No wonder I like blueberries so much. I just wish I could grow these puppies in the region where I live!
And finally… the tasty, savory, fit-for-a-king:

This hearty, dense muffin is amazingly healthy too. They are chock-full of zucchini! You guessed it! It's extremely healthy too.
Low in calories, high in Manganese, and contains 10% of the RDA of dietary fiber.
Helps reduce the risk of cancer, stroke, and heart disease by helping to lower blood pressure and cholesterol.
Is a natural anti-inflammatory.
Helps with prostate health.
I just love it when I can incorporate healthy ingredients into recipes that I know will not only be delicious, but healthy as well. So…. which recipe will you make first?
Here's to staying healthy, happy, and whole!
Linda