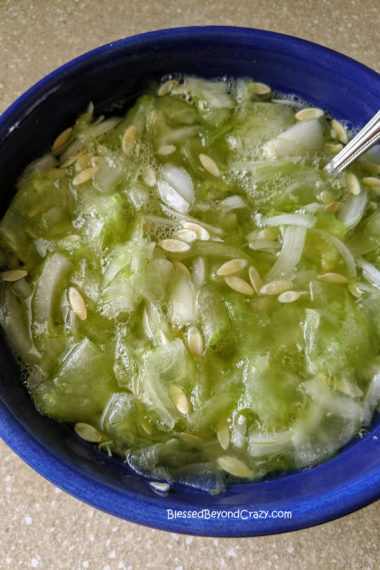 Every summer when fresh garden cucumbers and onions are ready, my dad looks forward to us making him a big bowl of Easy Cucumber Onion Salad (Naturally Gluten-Free). This recipe has been passed down through the generations from my paternal grandmother and is one of my dad's all-time favorite recipes.
This make-ahead recipe is ridiculously simple, requires only 5 ingredients, and takes about 10 minutes to assemble.

To help support our blogging activities, our site contains affiliate links. If you purchase from a link on our site, we may receive a small percentage of that sale, at no extra cost to you. Blessed Beyond Crazy is a participant in the Amazon Services LLC Associates Program, an affiliate advertising program designed to provide a means for sites to earn advertising fees by advertising and linking to amazon.com. As an Amazon Associate, I earn from qualifying purchases.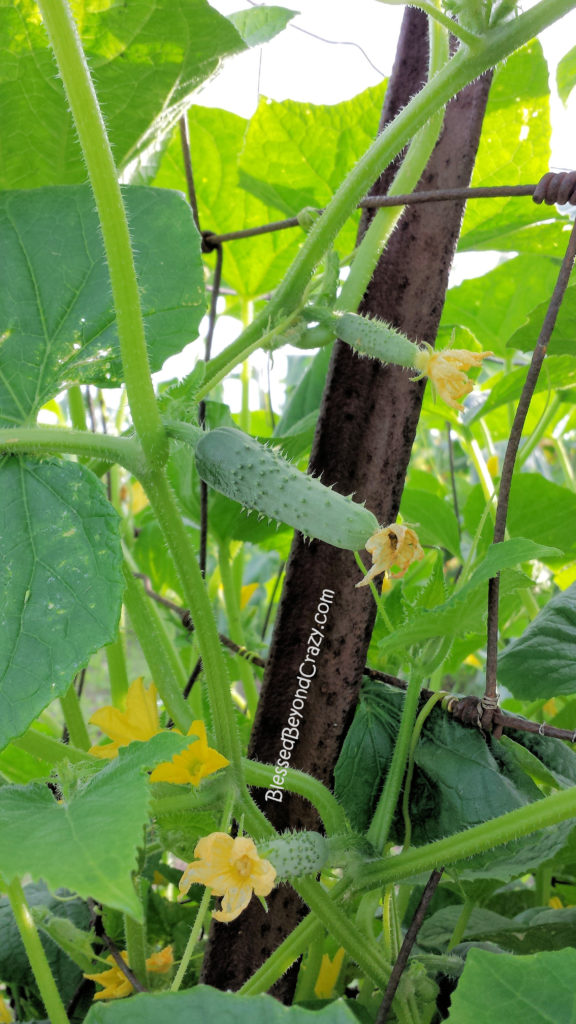 Homegrown Cucumbers
If you follow this blog you'll know that my (now 87-year-old) mom is an avid gardener. Gardening is a form of therapy for her. She always enjoys the process of planting, growing, and harvesting their many homegrown fruits and vegetables. 
Cucumbers are just one of the many things she plants every year. In both of the pictures above and below, you can see cucumbers growing in her garden. Each tiny yellow blossom produces one cucumber.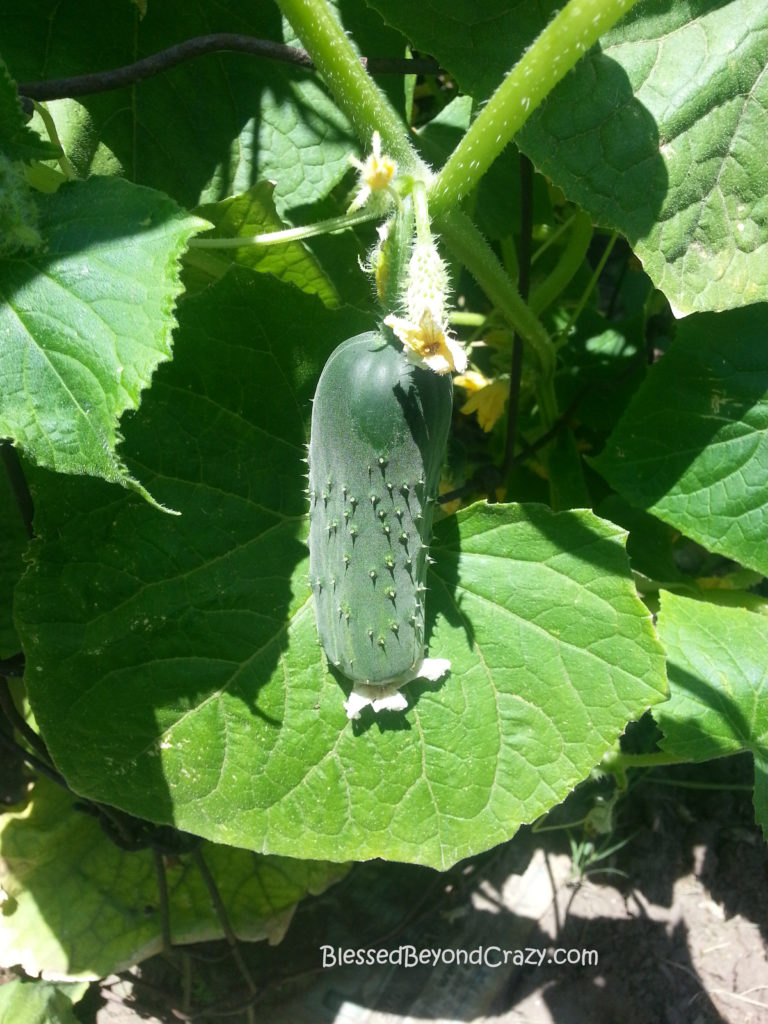 It's really amazing to watch how quickly they change from a tiny little bloom to a nice big cucumber!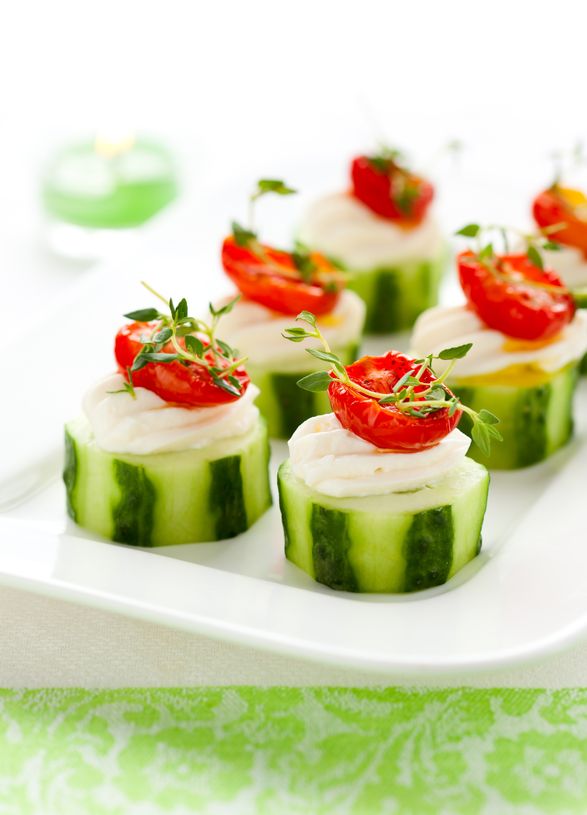 If you love cucumbers you might also enjoy this Easy Cucumber Appetizer!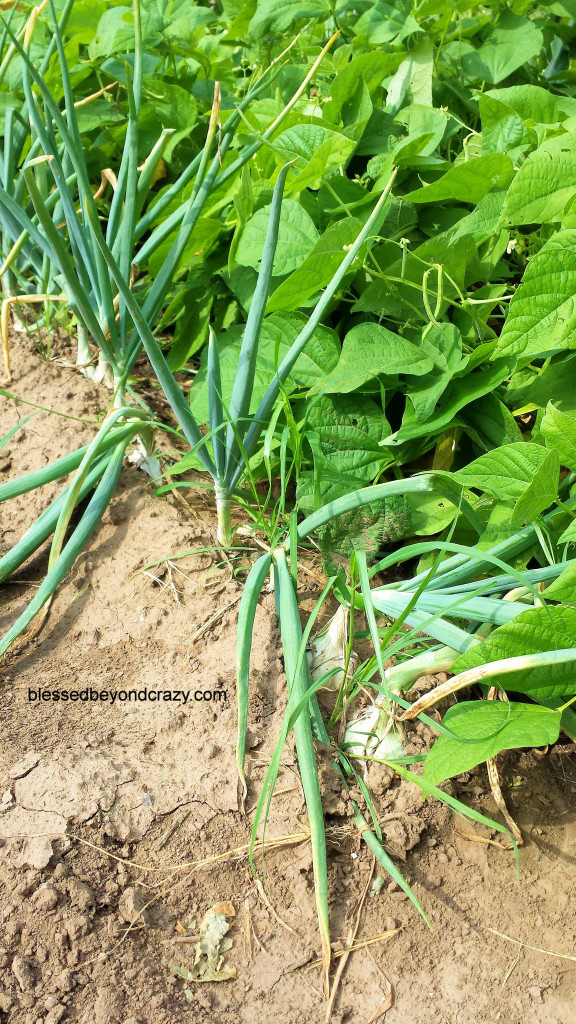 Homegrown Onions
Onions are yet another vegetable my mom grows every year. In the picture above you can see white onions peeking out of the ground. I mention this because onions play a big role in this recipe. (Notice the green beans growing next to the row of onions?)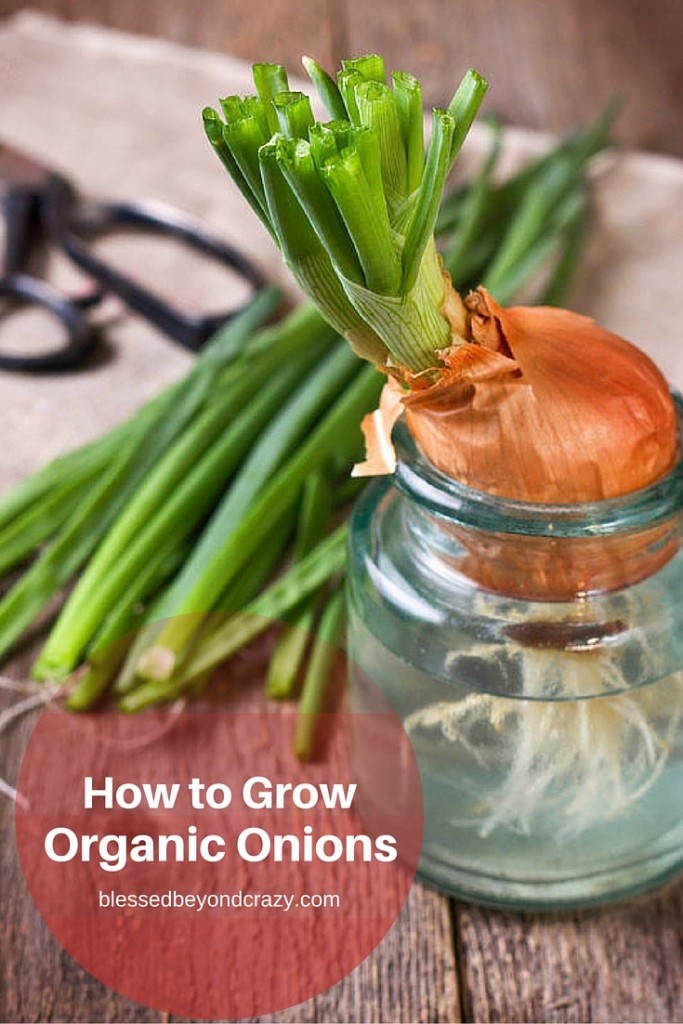 If you are love onions you might be interested in How to Grow Organic Onions!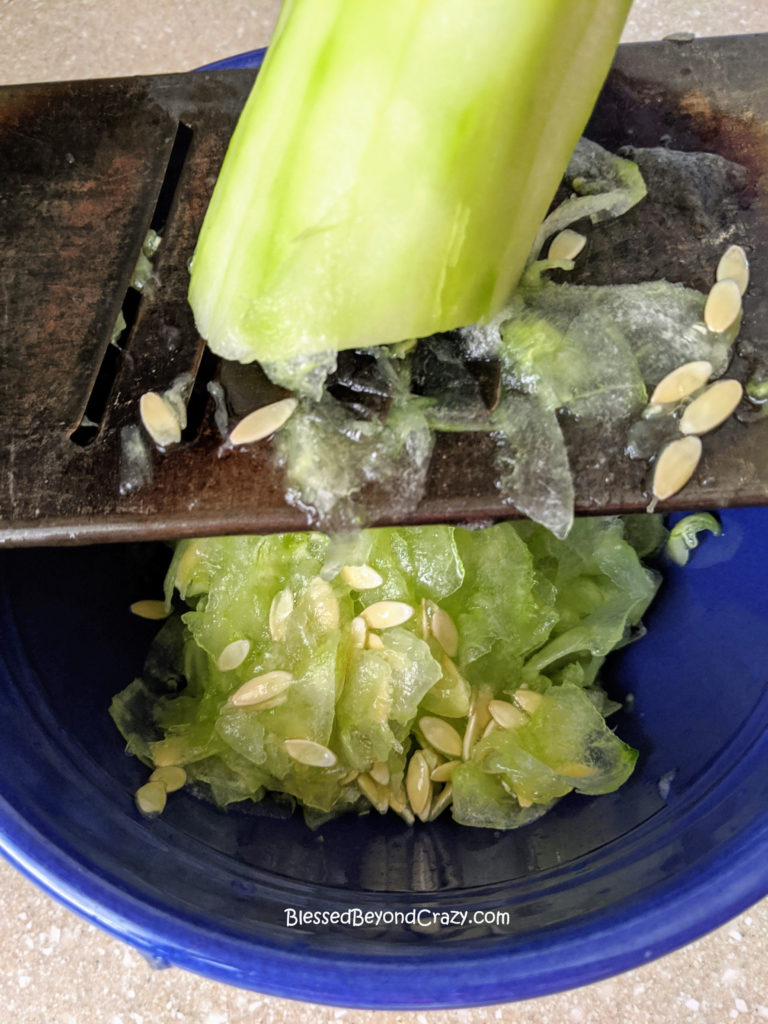 Step One and Two
The first step in creating Easy Cucumber Onion Salad is to peel one large cucumber.
The second step is to use a vegetable mandoline to slice the cucumber into super thin slices.
NOTE: In the photo above you can see that I am using a primitive mandoline that my mother and grandmother used through the years. It's amazing to me how well it works and just how sharp it still is.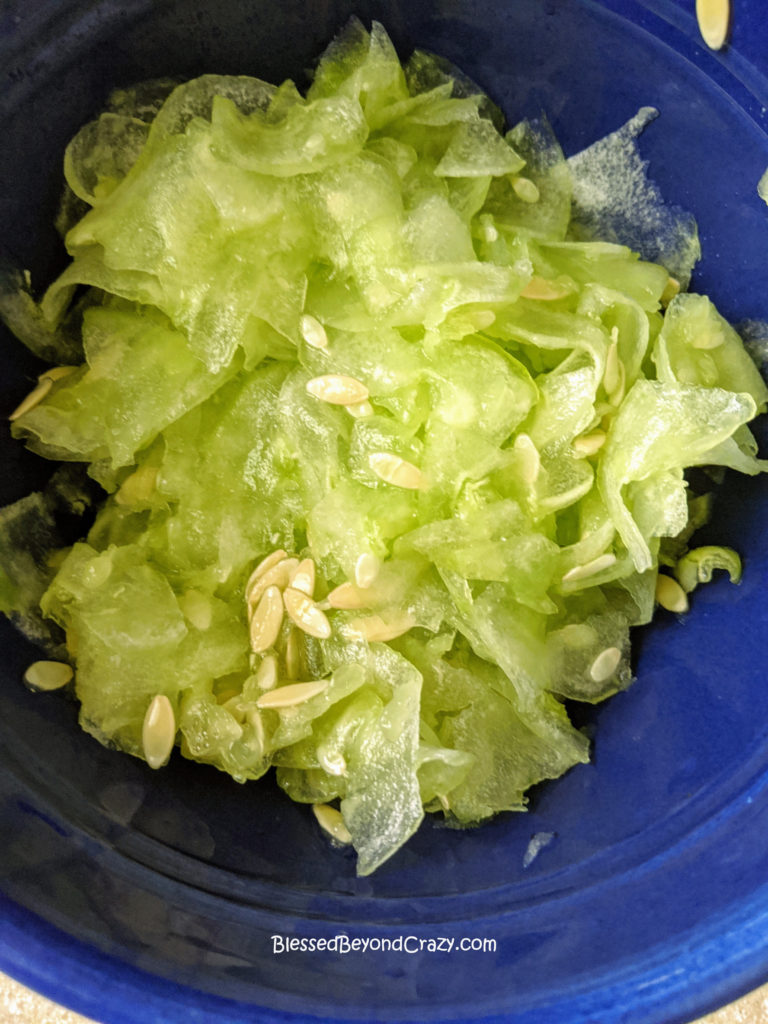 Seeds~vs~No Seeds
If you are not a fan of ingesting cucumbers seeds simply use a less mature cucumber. The bigger the cucumber = bigger and more seeds! However, rather than using one large cucumber, you can use several smaller, less mature cucumbers to equal the same amount as one large cucumber.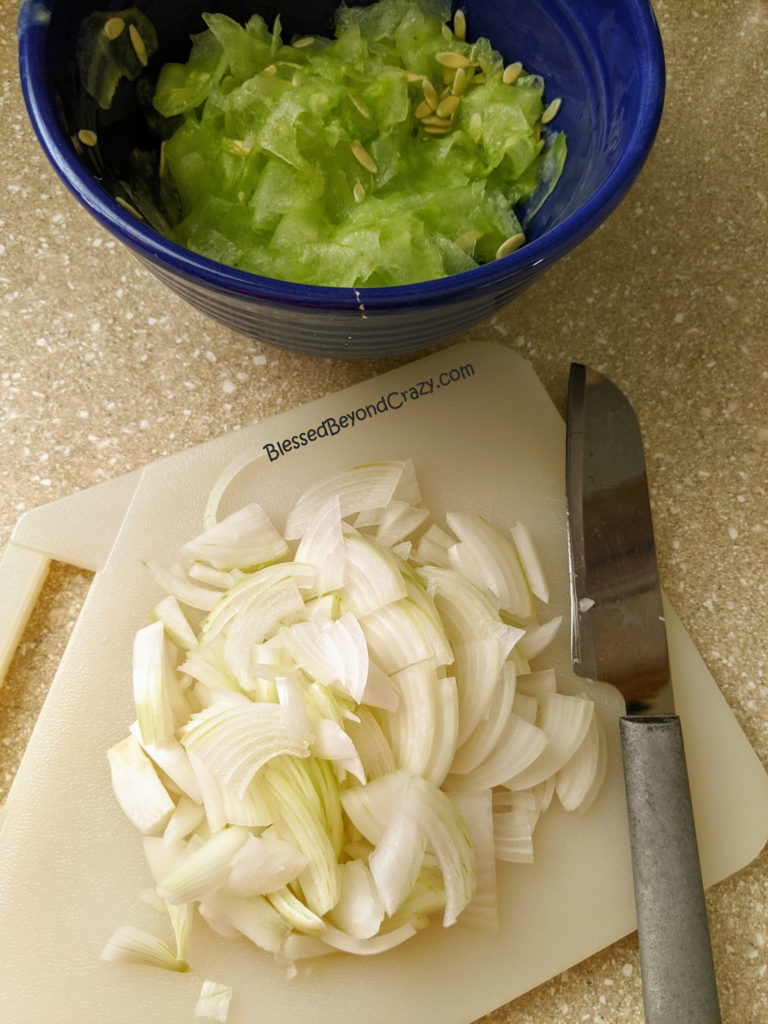 Step Three
The next step is to slice one small to medium size white onion into segments (as shown in the photo above).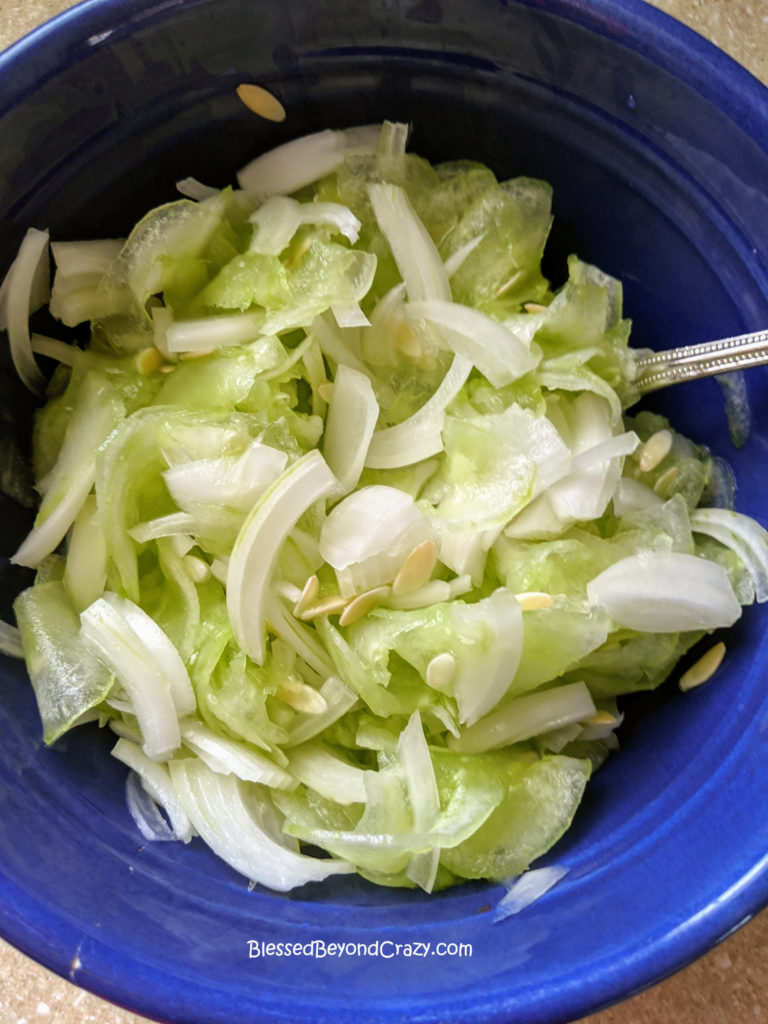 Now add the onion slices to the sliced cucumbers and stir them together.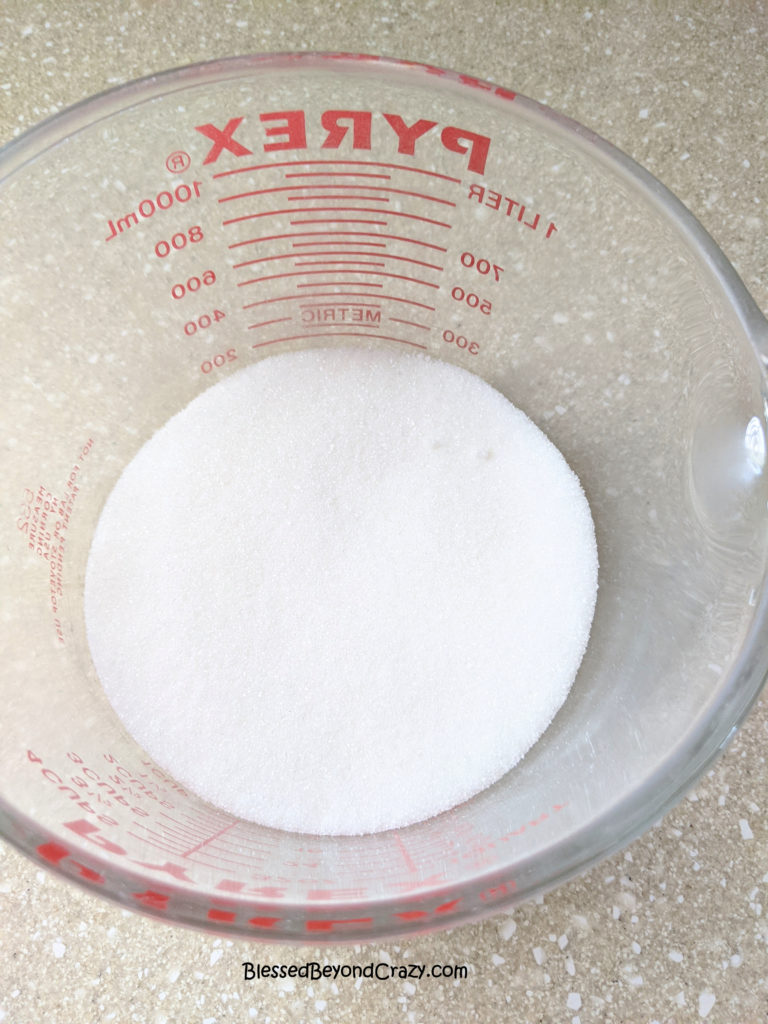 Step Four
The liquid portion of the recipe begins by placing 1 cup of granulated sugar into a large measuring cup.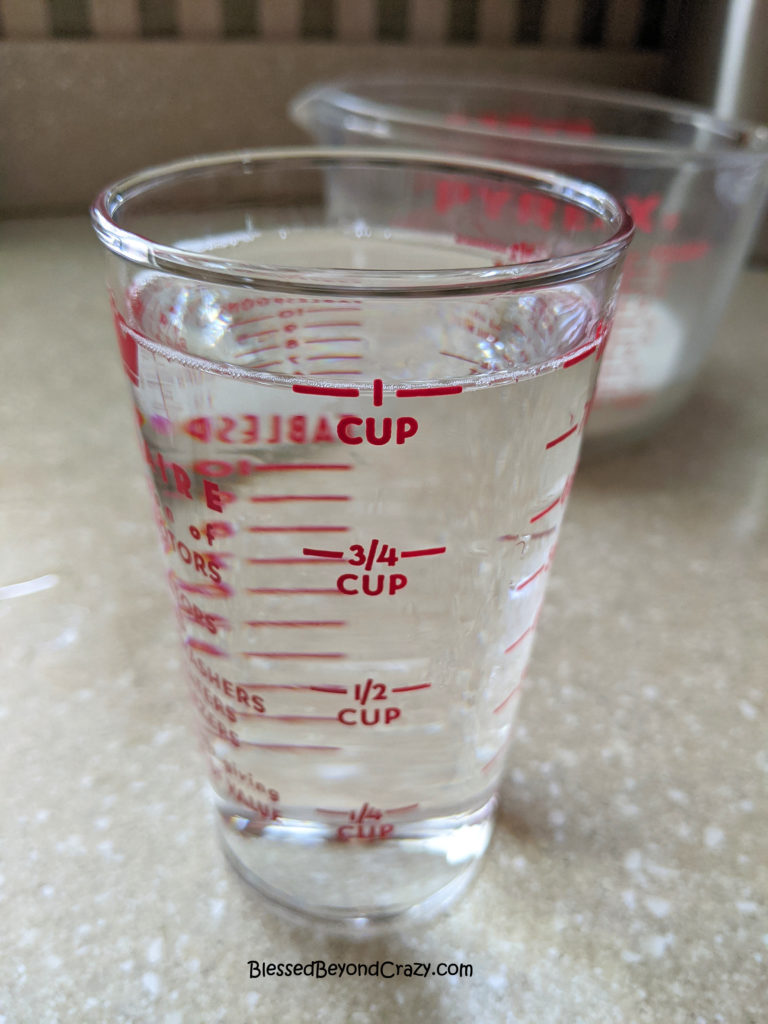 Next, add 1 cup of water to the sugar. (NOTE: I use reverse osmosis water.)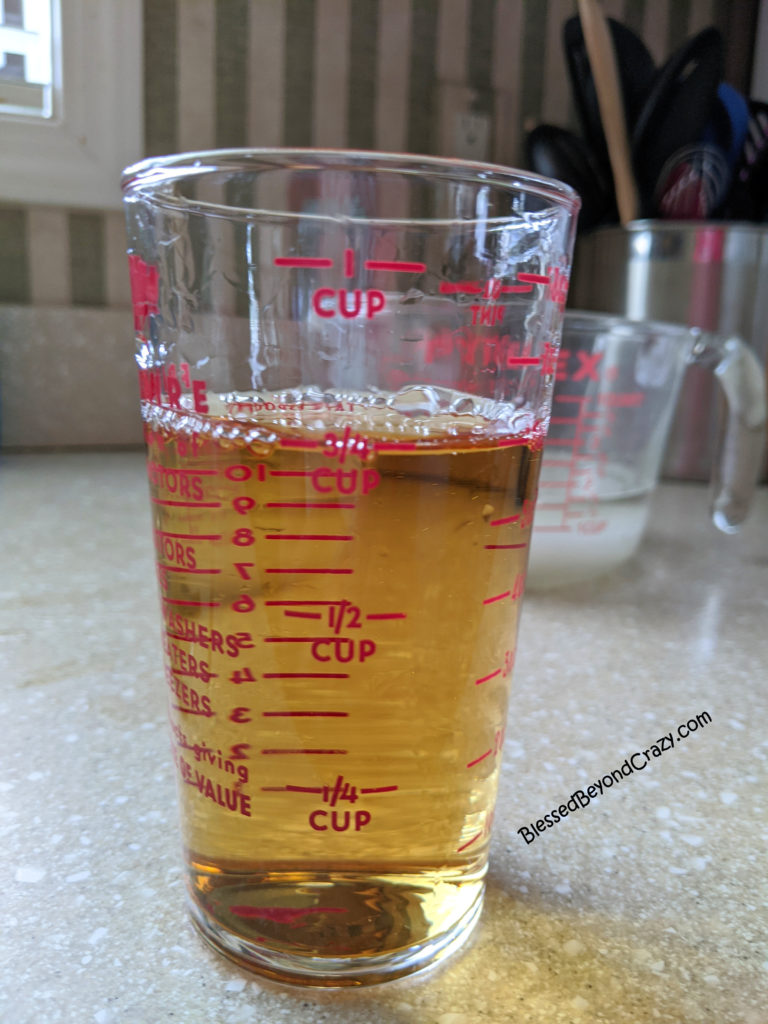 Followed by 1 cup of apple cider vinegar. You can use any apple cider vinegar you want, but I highly recommend using Bragg Organic Apple Cider Vinegar. I really like this particular brand because it's raw, unfiltered, unpasteurized, and naturally gluten-free. In addition to that, I really like how it tastes.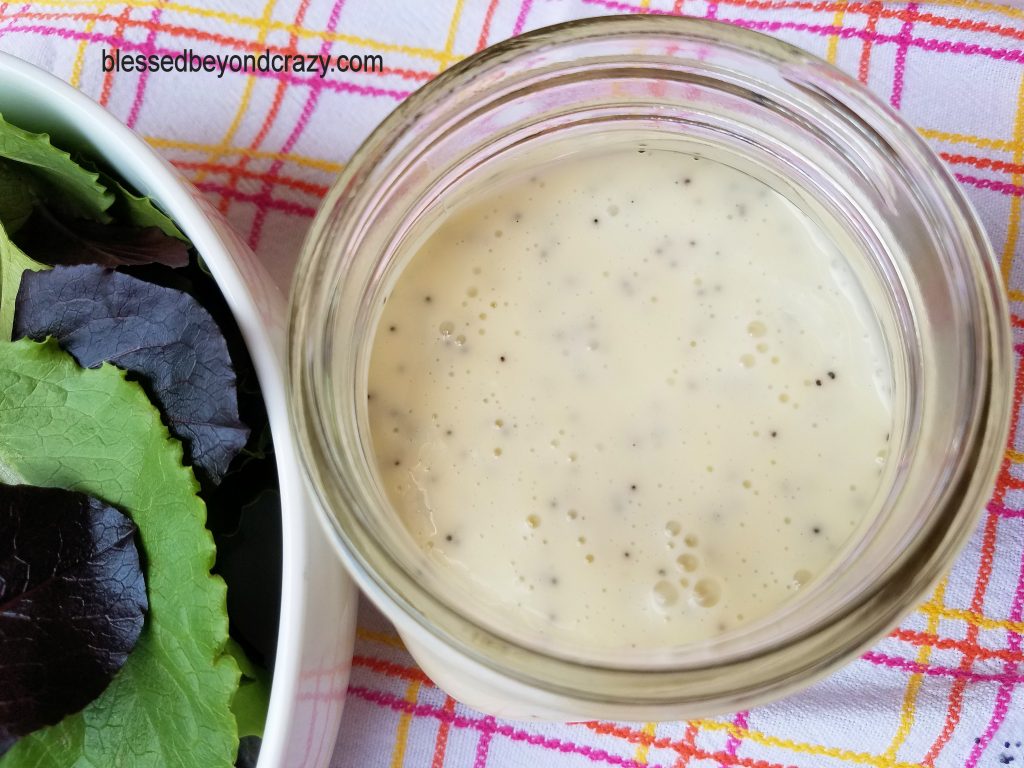 I also use Bragg Apple Cider Vinegar to make Easy Poppy Seed Dressing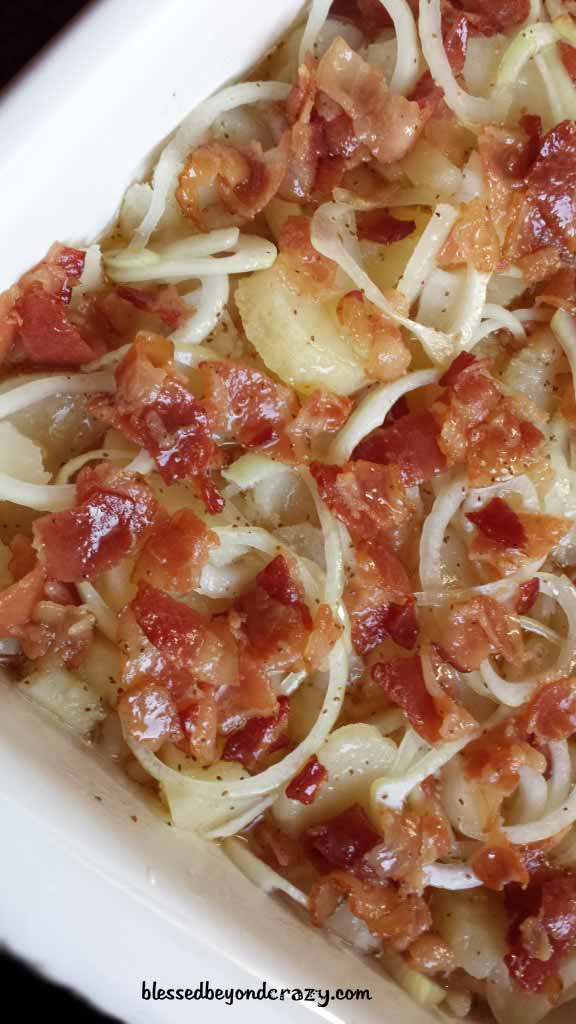 and to make Old-Fashioned German Potato Salad. (This is yet another of my dad's favorite recipes that his mother used to make.)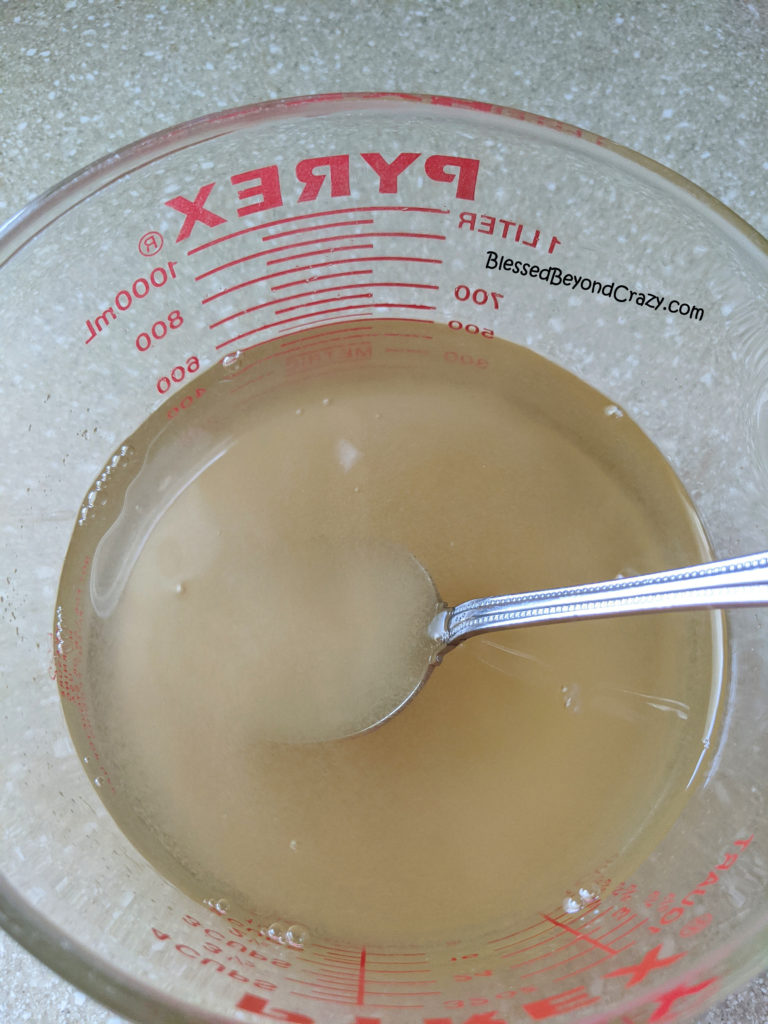 Now, stir the sugar, water, and apple cider vinegar together and pour it over the sliced cucumbers and onions. Gently stir it all together.
NOTE: Any undissolved sugar will end up dissolving as the salad sits.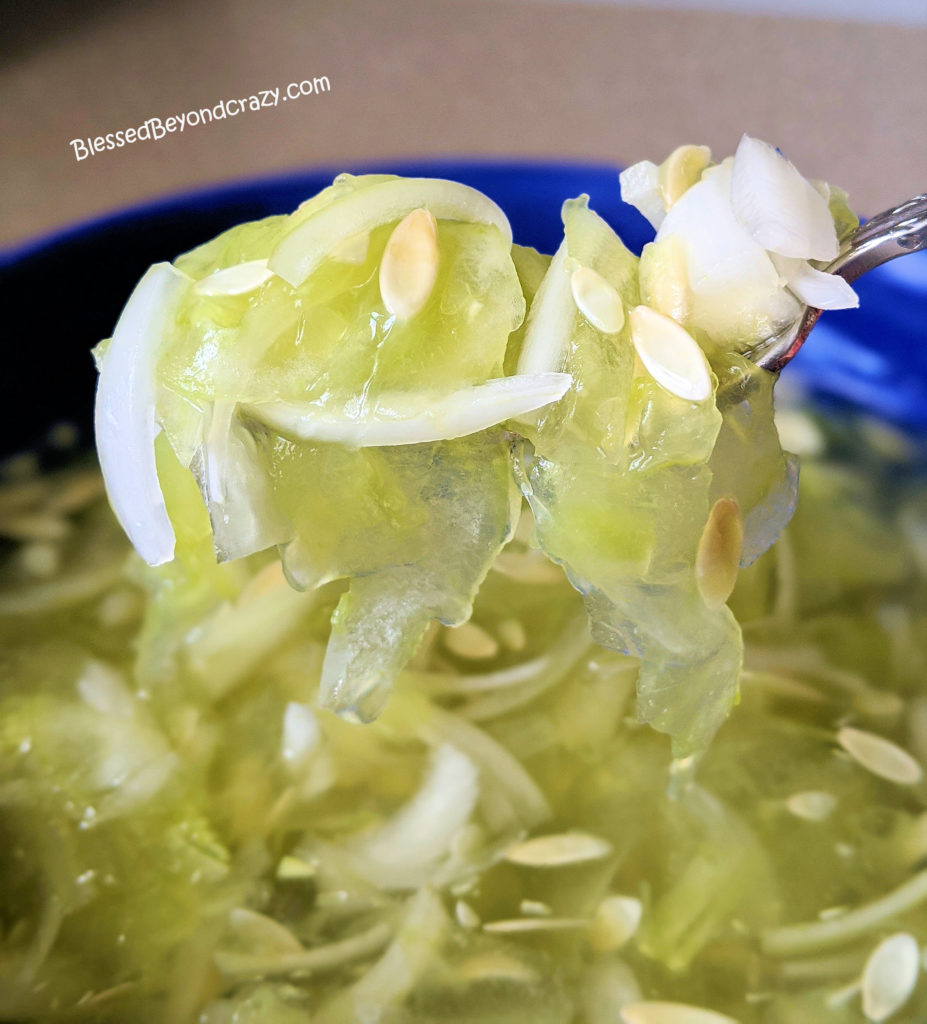 Finally, cover the bowl and place it in the refrigerator for 6 to 8 hours, or overnight.
NOTE: I find that using silicone lid covers works the best for me and I don't have to fight saran wrap.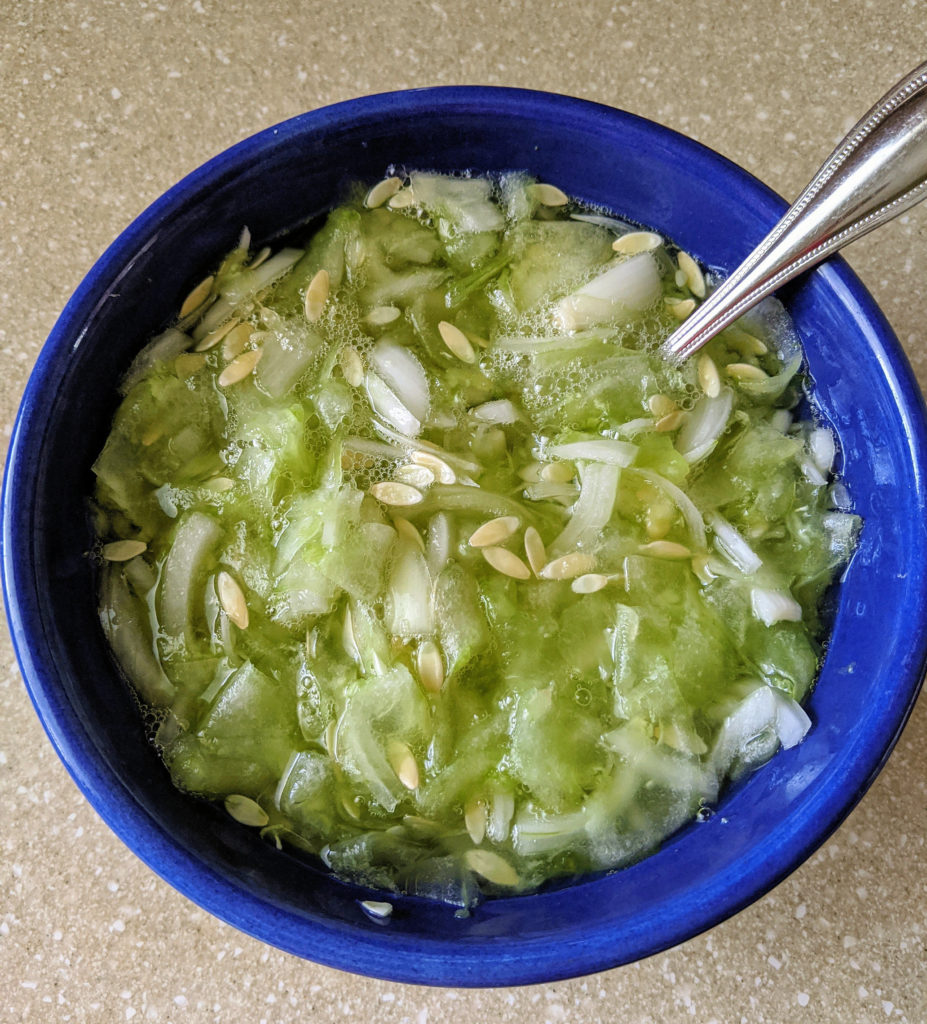 Yield: 6 - 10 Servings
Easy Cucumber Onion Salad (Naturally Gluten-Free)
Prep Time: 10 minutes

Additional Time: 8 hours 6 seconds

Total Time: 8 hours 10 minutes 6 seconds

A delicious and good old-fashioned make-ahead recipe, just like grandma used to make!
Ingredients
CUCUMBER & ONION MIXTURE: 1 large cucumber, peeled and sliced thin using a mandoline (or several smaller, younger cucumbers) + 1 small to medium white onion.
LIQUID MIXTURE: 1 cup granulated sugar + 1 cup water + 3/4 cup apple cider vinegar.
Instructions
Peel the cucumber and using a mandoline, thinly slice a cucumber over a medium-size bowl. Slice onion and add to the same bowl. Stir cucumber and onion together.
Place sugar into a large measuring bowl. Add water and apple cider vinegar. Stir until sugar is well incorporated. Pour over cucumber and onion mixture. Gently stir until cucumber and onion slices are completely covered with vinegar mixture. (Note: any undissolved sugar will dissolve in the vinegar water as the salad sits.)
Cover and refrigerate for 6 to 8 hours, or overnight. Gently stir before serving.
Gently stir the cold Easy Cucumber Onion Salad before serving.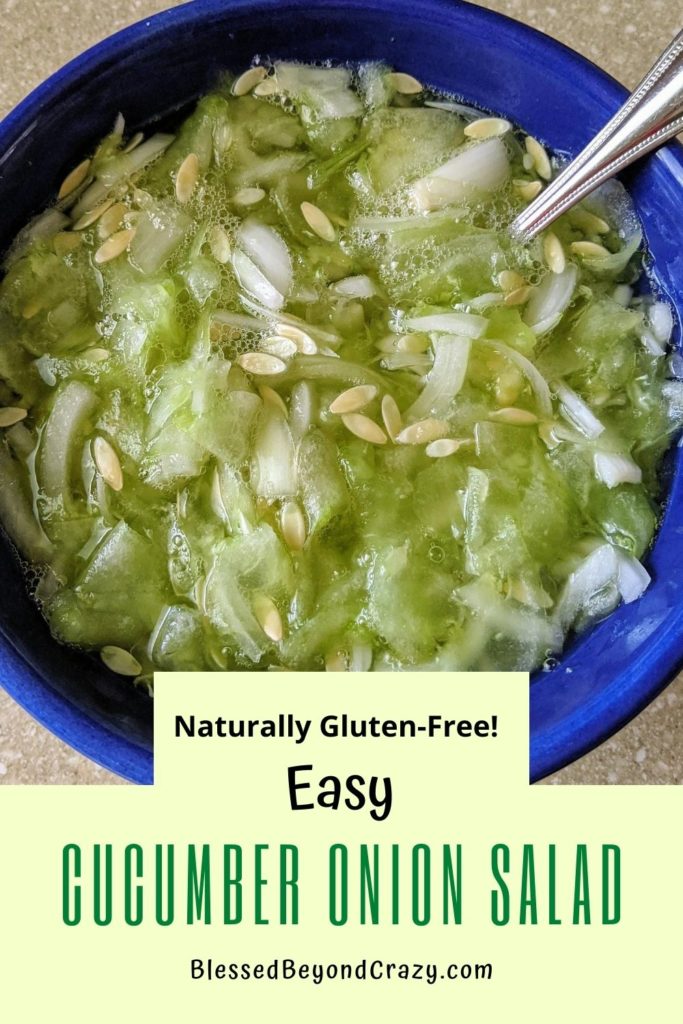 I hope that you enjoy this recipe as much as my dad does!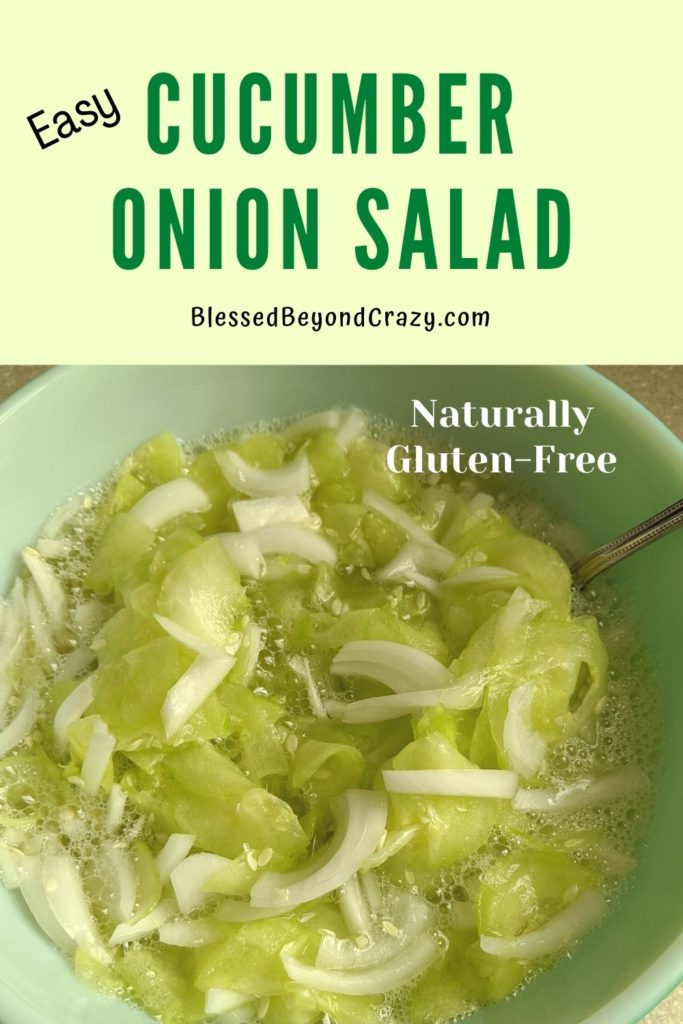 Linda
More great recipes: